Soft, fluffy, warm, and vegan. How about the look and feel of a sweet little lamb without the care and maintenance of wool? Sherpa fleece has become a cold-weather classic for good reasons. From blankets to shoe linings, jackets to even sweatpants, this fabric will leave you warm, cozy, and ready to embrace the cold winter days. Dare I say; you might even look forward to those low temps that allow you to wear this delightfully soft and snuggly fabric.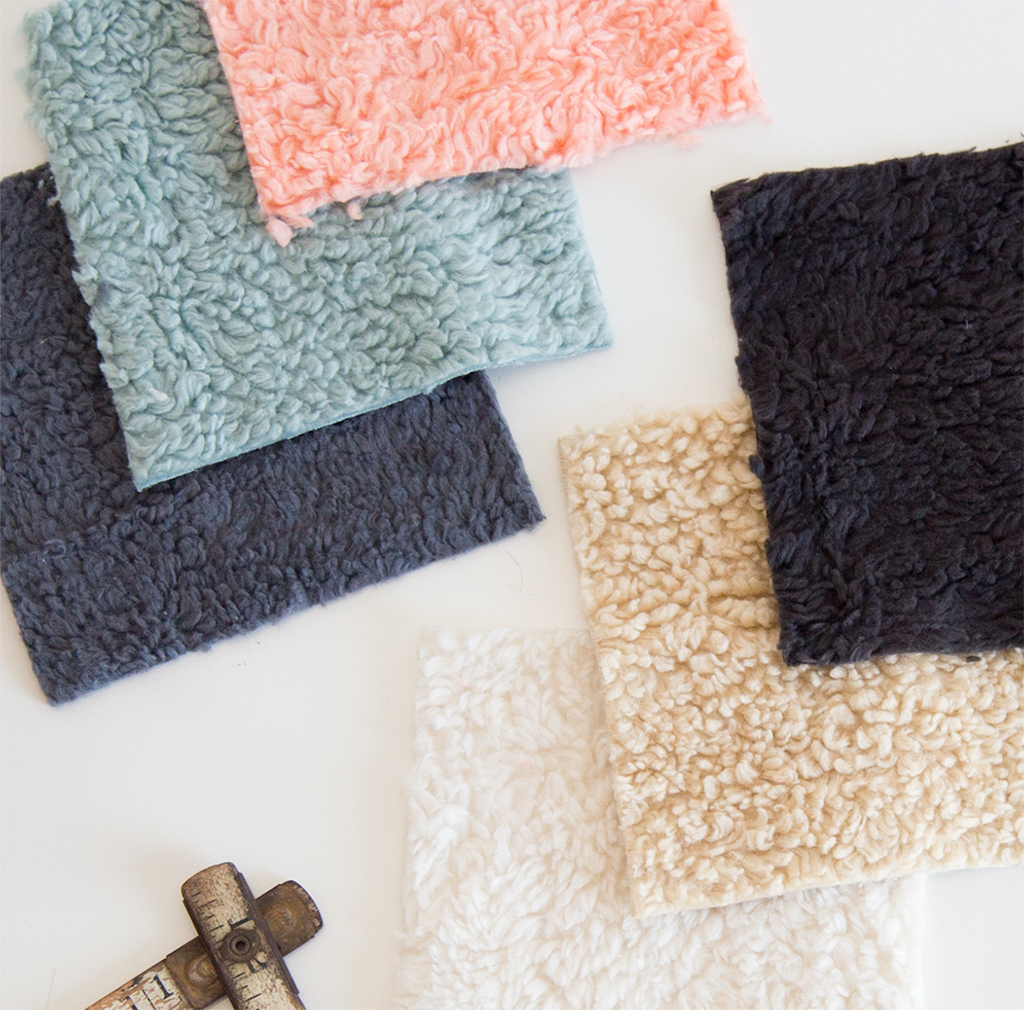 So, What is Sherpa?
Sherpa fleece is a heavyweight and fluffy knit fabric, napped with a sheep-like fluffy pile on one side and smooth knit fabric on the other side. Typically made out of cotton, polyester, or acrylic fibers—or a combination of the three—sherpa can sometimes be made of wool or even bamboo.
Named after the wool-lined clothing worn by the Sherpa people of Nepal, sherpa is also frequently called faux-shearling because of its sheep-like resemblance. It was designed to resemble shearling—the skin and fur of a lamb—and introduced as an eco-friendly and cheaper alternative to animal fur and wool.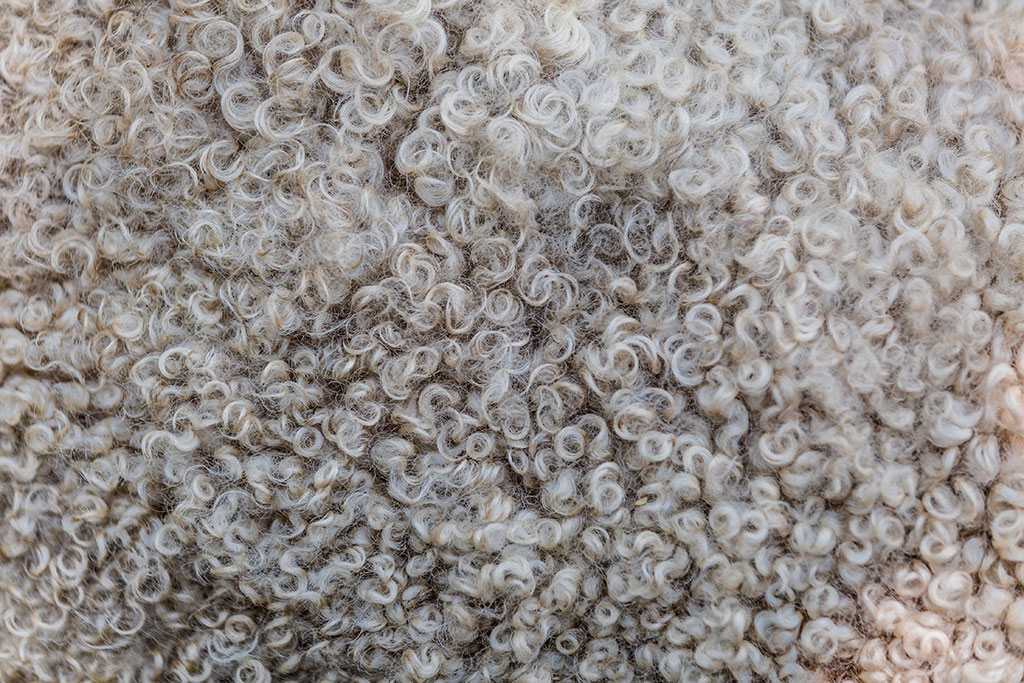 So, how does sherpa get that distinct curly texture without animal fibers? Twisted yarns are knitted into the fleece fabric, and a wire brush roughens it up and creates the nap. The fibers in sherpa fleece are crimped, which most closely resembles a sheep's wool, and best replicates the benefits that wool can offer, most notably lightweight heat insulation.
A garment made entirely of sherpa cannot completely block out cold winds due to its fiber content and the holes created between the knit stitches when the fabric is manufactured—but it keeps you warm when paired with denim, flannel, cotton, or suede fabric for an outer shell.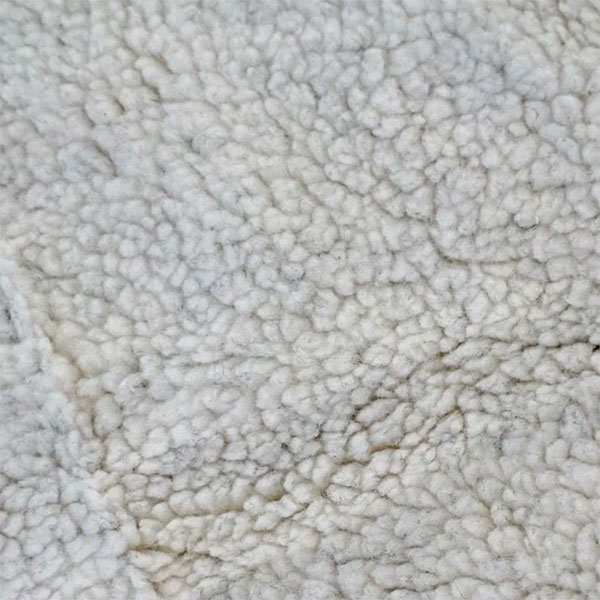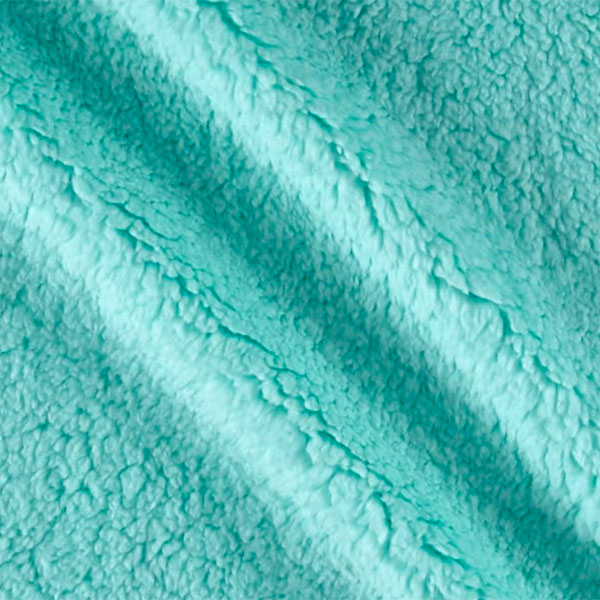 Benefits of Sherpa


Cotton and synthetic fabrics are easy to clean after an initial prewash before sewing.


Sherpa does not use animal fibers or skin, so it is a vegan alternative to wool.


The loft of sherpa makes it a heat-insulating fabric with the benefit of being fluffy and soft to the touch.


Sherpa is quick-drying and wicks moisture.


Drawbacks of Sherpa


Shedding and pilling are common problems.


Sherpa attracts pet furs and lint of all kinds. Having a lint roller around is quite helpful.


Synthetic sherpa fleeces can trap odors, so clean it before any odors have a chance to set into the fabric.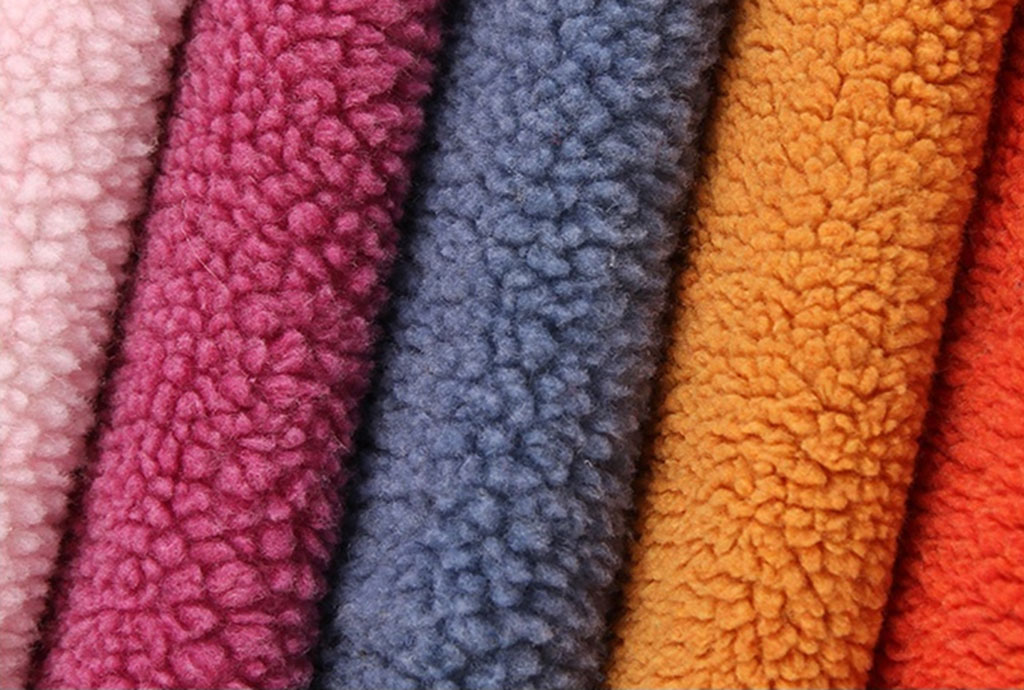 Sherpa Sewing Tips
Prewash your Fabric. If your sherpa fleece is made out of cotton or a cotton blend, prewash your fabric. Cotton is prone to shrinking under high temperatures when washing and drying.
Avoid Ironing. Sherpa fleece has a thick pile that you want to avoid crushing or matting. The iron's heat will smush the fluffy pile and may even melt the fabric if it's a synthetic or synthetic blend. If it is necessary to use fusible interfacing for your pattern, do not iron directly. Use a pressing cloth and then iron and steam in place with moderate settings on your iron.
Use a Walking Foot. Sherpa fleece is a pretty thick knit fabric, which means that your standard machine foot may have trouble sewing through multiple layers of fabric. A walking foot will allow your machine to pull the fabric evenly through the feed dogs, which will make it easier to sew this thick, fluffy fabric.
Use Sharp Scissors. Make sure your scissors are sharp before cutting sherpa, and cut single-layer if the pile is too high. Unfortunately, for rotary cutter fans, a rotary cutter may not be accurate due to the unstable nature of the fuzzy fabric pile.
Pay Attention to Fabric Nap. Cut pattern pieces with the nap in the same direction. If you aren't familiar, nap refers to how the fibers stand up on the fabric's surface. These fibers should all face in one direction–when you run your hand across the napped fabric, it will feel soft in one direction and look and feel different in another. You'll want to lay out all of your pattern pieces so that they face the same direction on the nap. This is called a one-directional layout. If you ignore the nap, you risk sewing two pieces together that, while cut from the same fabric, appear to be slightly different.
Use a Jersey or Ball Point Needle. Since sherpa is a knit, use jersey or ballpoint needles and stretch stitches when sewing your garment.
Staystitch Cross-grain Cuts. If you're making a pullover, vest, or any other fleece item with curved seams, be sure to staystitch your pattern pieces as soon as you cut them. Sherpa, with its stretchy knit structure, is very prone to stretching without reinforcement.
Consider using Clips. It's easy for pins to hide in the nap of the fabric, and you don't want to sew or serge through your pins accidentally. Wonder Clips work well for this, but you can also use binder clips as an alternative.
Finish any Raw Edges. Sherpa fleece is known to shed a lot during the sewing process, so any unfinished seams will continue to shed once your garment is finished. Be sure to finish all raw edges!
Caring for Sherpa Garments
You've sewed up your sherpa garment and worn it a few times. Now it's time to clean it—so what is the best way to clean sherpa? There are some important considerations to consider when washing and drying sherpa garments that will benefit the rest of your laundry as well—remember, this fabric can shed. You may want to consider handwashing your sherpa garment to try and avoid any laundry mishaps. However, with a few precautions, sherpa can be machine washed.
Machine Washing


Wash your fabric using cold water on a gentle cycle setting.


To avoid shedding, it's best to put the garment inside out in a laundry bag when you wash it. Go a step further and reduce microplastics that come from synthetic fibers, by investing in a microfiber laundry bag or filter.


Do not use bleach or fabric softeners on sherpa.


Do not wash sherpa with other clothes, especially your dark-colored clothes. The lint will spread to your other clothes and is hard to remove.


Do not wash sherpa with lint-producing garments like towels. Static electricity in the fabric will attract lint like a magnet!


Drying


To avoid pilling, you may consider air-drying your garment. The dryer movement can agitate the fibers, which increases the chances that the fabric will pill.


If you do use a dryer, use it on the tumble dry setting.


If your Sherpa still pills, remove them with a pill remover.


Stain Removal


Spot-clean the stains on your sherpa by applying a mixture of warm water, dishwashing detergent, and vinegar, rinsing after five minutes.


How to Pick a Sherpa Project
Sherpa is a cozy and wonderful fabric that would make a great addition to your handmade wardrobe. The two most important things to keep in mind when selecting a pattern is that sherpa is a knit fabric and that it is also very bulky.
Fit and Silhouette: You'll want to look for semi-fitted patterns with a simple design. If you decide to use sherpa as a lining, consider going up 1-2 sizes to account for the extra bulk.
Shaping: Less is definitely more when it comes to working with the bulky pile of sherpa—try to aim for simple, straight lines as much as possible. Darts and contoured seams will be particularly difficult to sew. Avoid patterns with gathers, pleats, or tucks as well.
Closures: To prevent button plackets and zippered edges from becoming wonky and wavy, use strips of woven fusible interfacing on the edges, especially if you're using separating zippers. This will keep the edges from becoming wavy, as sherpa will stretch over time. Another alternative is to make the button placket out of a separate woven fabric which will help stabilize the sherpa and keep the fuzz more manageable.
Remember to lower the heat on your iron before using fusibles, or you'll end up with scorched and melted fleece!
The Best Seamwork Patterns for Sherpa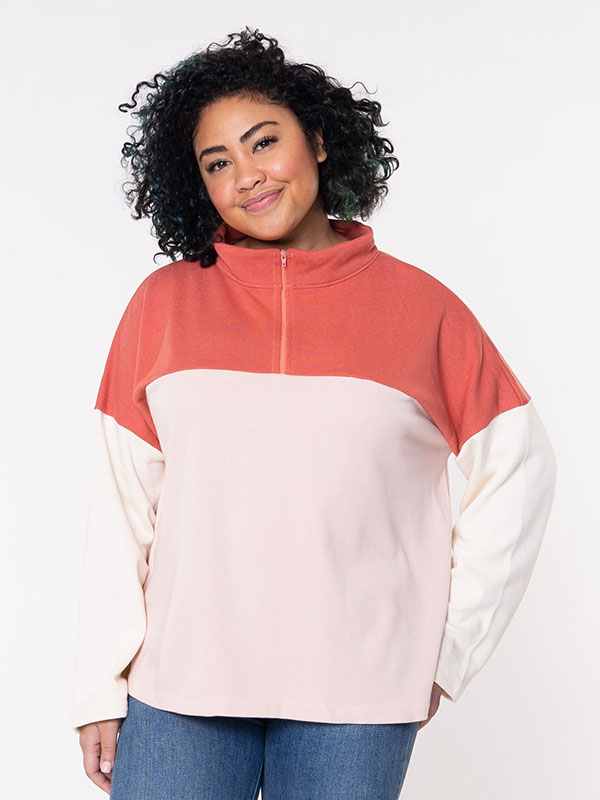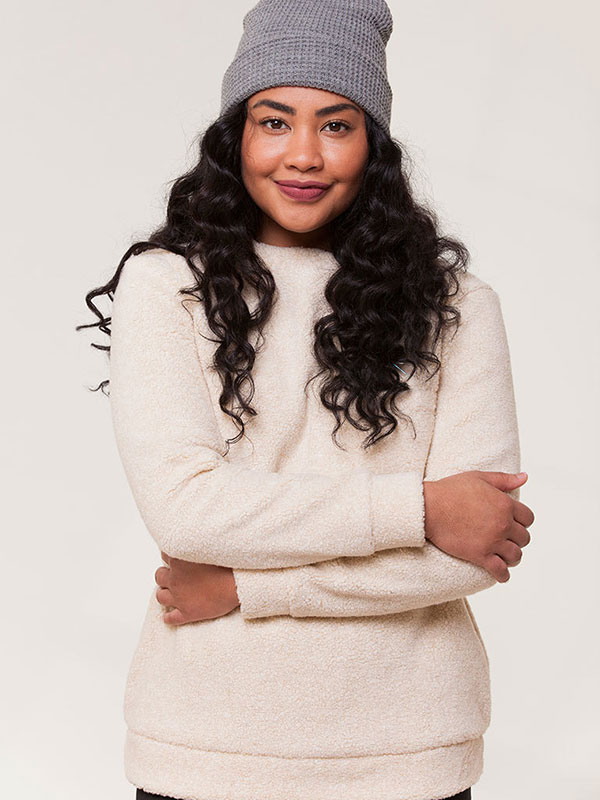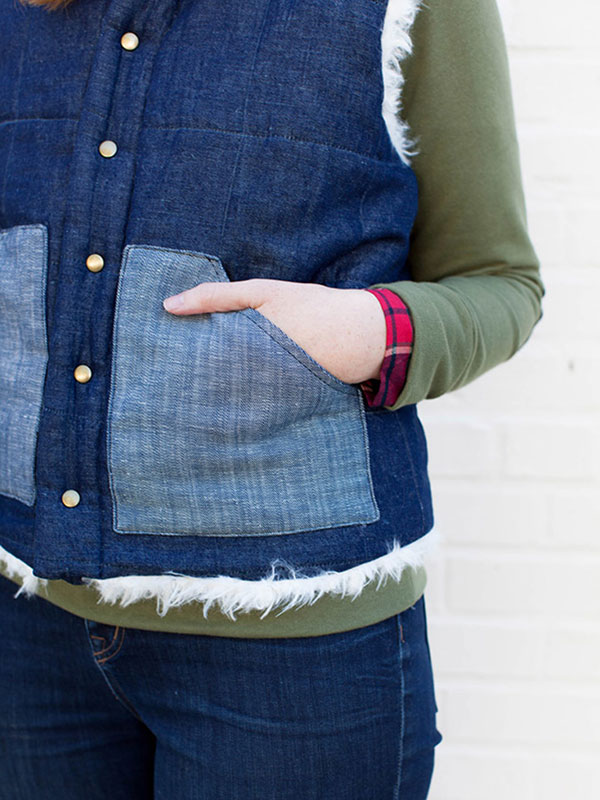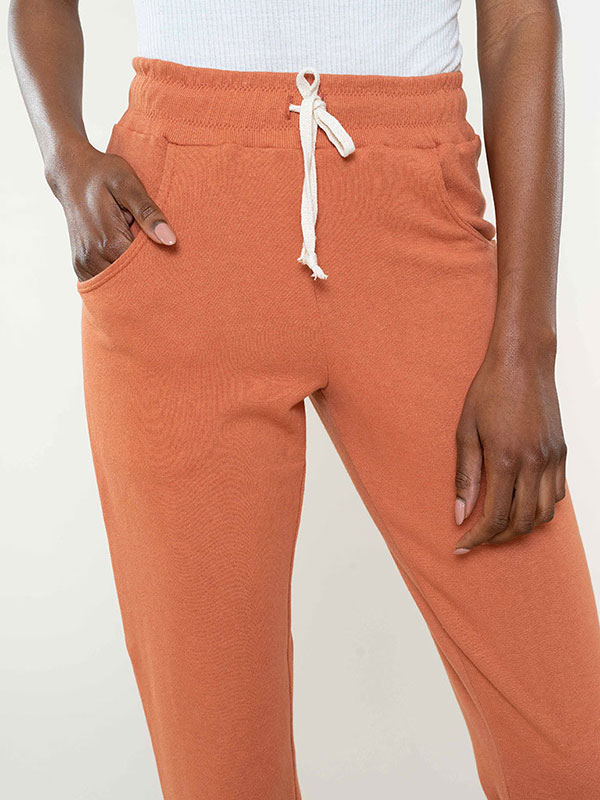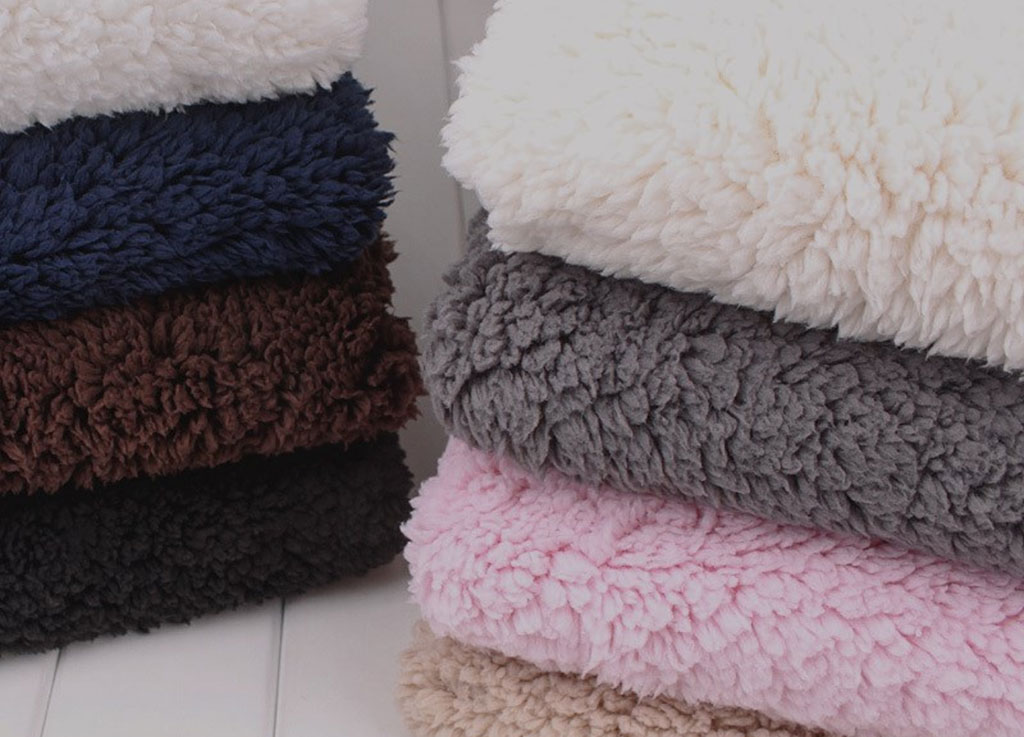 Join the Conversation
Sign in or become a Seamwork member to comment on this article.