Philadelphia is a city rich in textile history, and it continues to be rich in creativity today. It started with fabric row, a historic stretch of fabric, notions, and sewing supply stores on South 4th Street in Queen's Village, and now you'll find modern sewing studios open alongside historic fabric shops.
Here's a guide to the creative present—and past—of Philadelphia, Pennsylvania.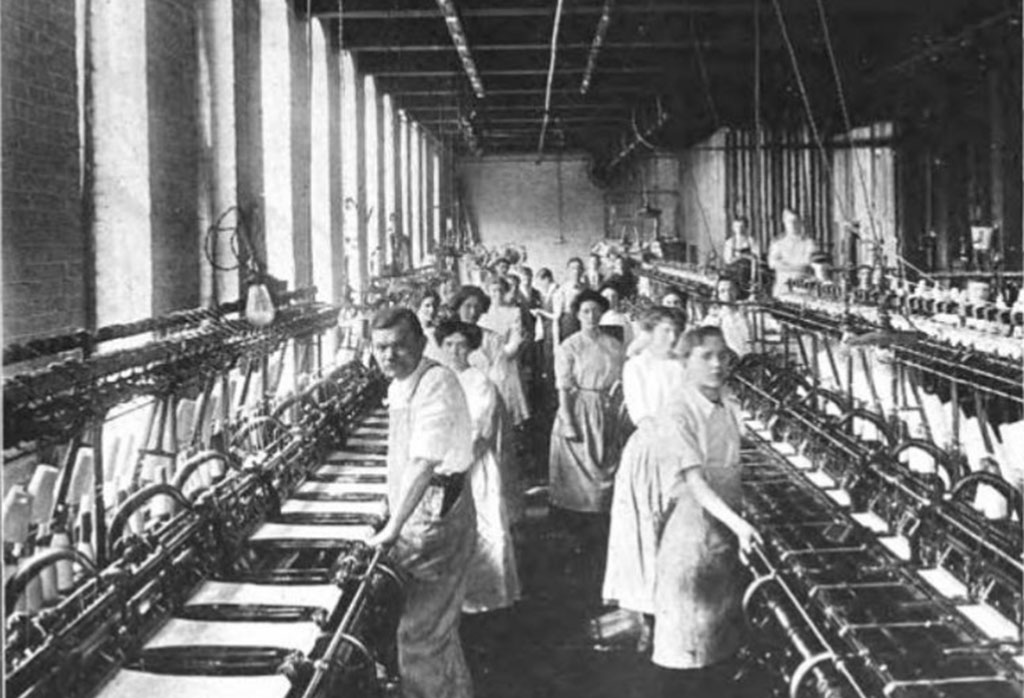 A Modern Fabric Row
Fabric Row began in the early 1900s with pushcart vendors selling needles and thread, small fabric pieces left over from factory work, and dry goods. Hundreds of pushcarts and stores have come and gone on South 4th Street, but remnants of Fabric Row remain open even today—including these four fabric shops still in operation.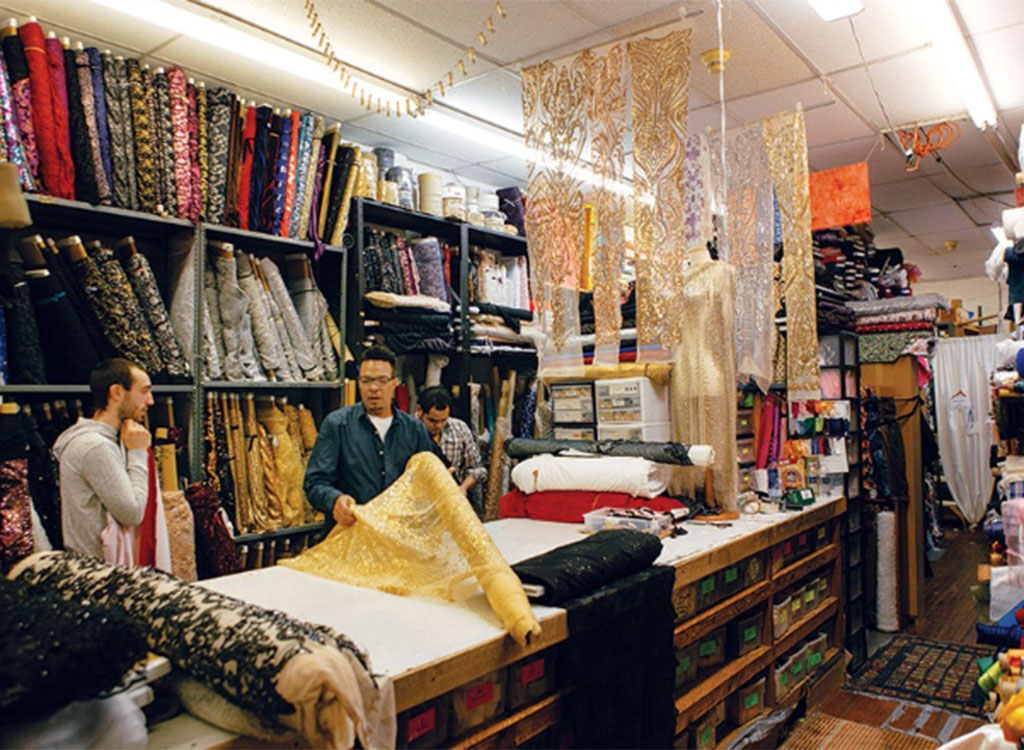 Fleishman Supplies has been family owned since 1923 and is the oldest continuously running shop on Fabric Row. In addition to their great customer service, Fleishman's Fabric & Suppliessells sewing supplies you might not find elsewhere in the city like interfacing, embellishments, and a large notions section. Fleishman's also carries a large selection of suiting and other apparel fabrics.
Just across 4th Street is Jack B. Fabrics, a versatile store with three generations of family serving customers together. Jack B. offers a little bit of everything—Ankara fabrics, wool, spandex, and velvet, but I think that they really shine in their selection of bridal fabric and lace. They boast an impressive range of bridal products and have knowledgeable staff to help folks choose the right fabric for their occasion.
Maxie's Daughter is a fourth-generation family-owned shop, and along with B. Wilk Fabrics, rounds out the fabric options for upholstery, curtains, and drapery. Both stores take custom orders for draperies and curtains.



While many of the stores on Fabric Row have closed throughout the years, a resurgence in the city's sewing community helped the remaining shops. With workshops taught at several local sewing studios, more students are shopping at local fabric stores and keeping the legacy of Fabric Row alive.



Hungry while you're walking around Fabric Row? There are some great options for food no matter what your dietary preference. If you're trying to keep to neighborhood tradition, 4th Street Deli has been on 4th and Bainbridge since 1923 and offers traditional Jewish deli fare (think corned beef, pastrami, and matzo ball soup) as well as a bakery stocked with cakes and cookies.
If it's a classic Philly cheesesteak you're after, you can skip Pat's and Geno's and head to Jim's South Street. Just a few blocks west on South Street, Tattooed Mom is perfect for casual food and cocktails, and has a range of vegan options on their menu.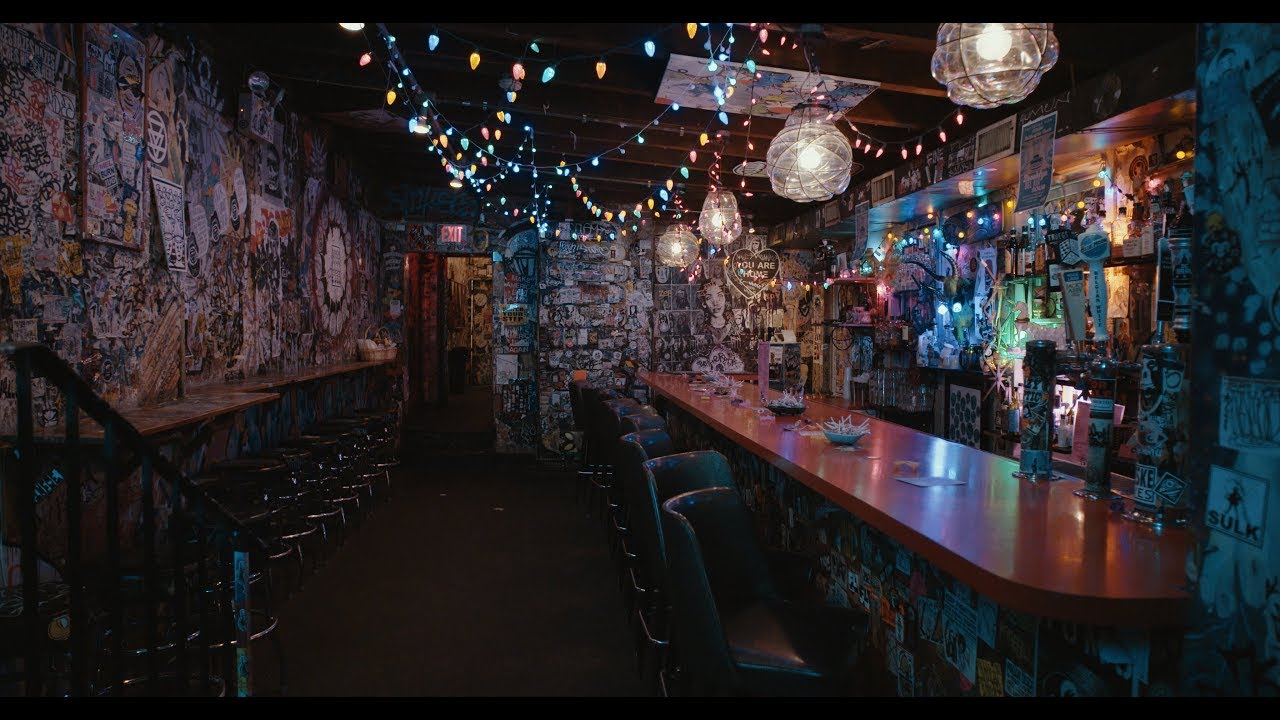 Beyond Fabric Row
Aside from Fabric Row, there are stores scattered across the city, and many tailor shops also sell a small range of fabric to customers. One noteworthy store off the 4th Street stretch is Gaffney Fabrics, a family-run fabric store in Germantown. Gaffney carries a little bit of everything, from quilting cottons to apparel fabric, knits and notions.
Jomar is a discount home goods store with four locations in the city. While much of the store's footprint is devoted to clothing, shoes, and accessories, two of the four Jomar stores also boast fabric and textile sections that offer steeply discounted deadstock fabrics. You can find everything from apparel to upholstery, linings, and interfacing by the yard or bolt; you can often find deadstock fabric from NYC fabric store Mood on the shelves.
Keep Touring: More Places to Visit
If it's history you're after, Philadelphia has it in abundance: you can see the Liberty Bell, Declaration of Independence, and Betsy Ross House all within a short walk of each other. Philadelphia's City Hall is an iconic part of Center City; built between 1871 and 1901, it is one of the tallest freestanding masonry structures in the world—meaning that it is constructed entirely from bricks of limestone and granite and does not rely on any steel or iron framework.
In true Philadelphia fashion, residents decried the building once it was completed and signed petitions to tear it down. Luckily, it proved to be too costly, and in time, it became the centerpiece of the city's downtown.
More than just the City of Brotherly Love, Philadelphia is also the "City of Murals." Thanks largely to Mural Arts, a nonprofit that brings artists and communities together to collaborate on public art installations, Philadelphia is covered with Murals and street art. Amongst other Mural Arts tours, there is a self-guided Mural Mile in Center City, and A Love Letter to You, a series of murals painted by Steve ESPO Powers and best viewed from the Market-Frankford train line.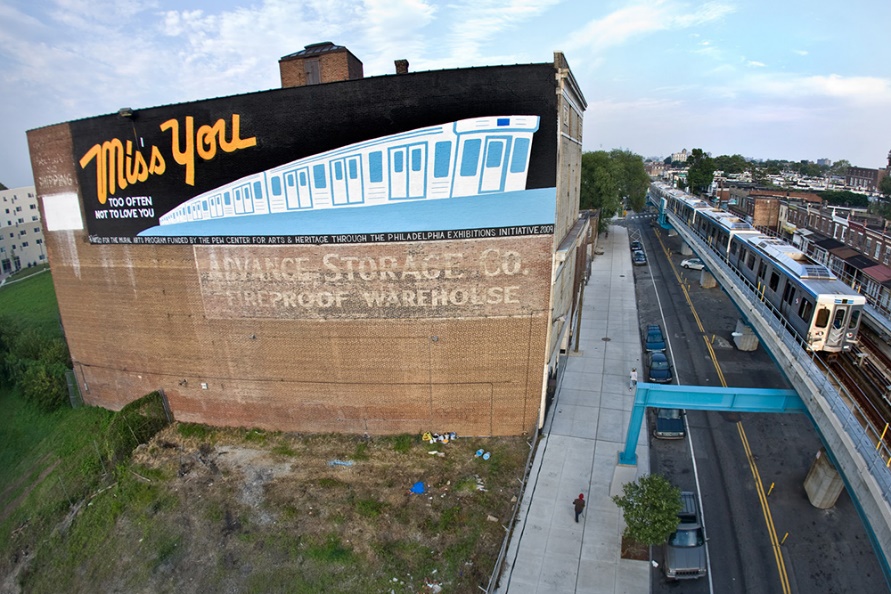 The Fabric Museum and Workshop is a unique space for fiber artists and enthusiasts. The museum is small enough that it can be seen in one trip and is close to Chinatown to grab food after a visit—try Dim Sum Garden, Sang Kee Peking Duck House, or Spice C.
The Fabric Museum is a contemporary art museum that showcases works from fiber artists. Entry is free, but the suggested $5 donation helps to fund the museum's apprenticeships and on-site studio programs for youth and college students.
Other noteworthy trips for art enthusiasts include the Philadelphia Museum of Art, The Rodin Museum and the Barnes Foundation, all impressive in their own regard and within walking distance of one another.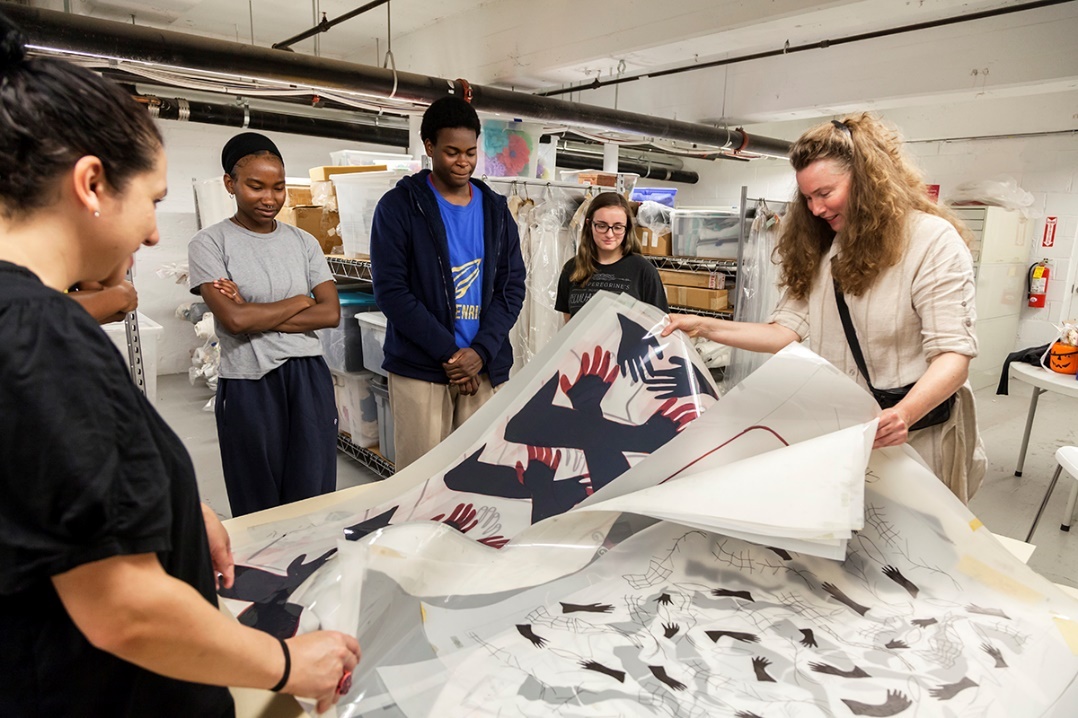 Don't Forget the Yarn
Philadelphia is home to several yarn stores, and each come with their own personality and products.
Yarnphoria always has a quirky knit seasonal display and a large selection of Malabrigo and other hand-dyed yarns. Loop is like a sophisticated older sister with a range of products, including every weight of Brooklyn Tweed yarn. In Germantown, Wild Hand definitely has the customer in mind—in addition to an amazing selection, this store has a "kids corner" and a knitting library where you can leave supplies (needles, yarn, books) for others to take for free.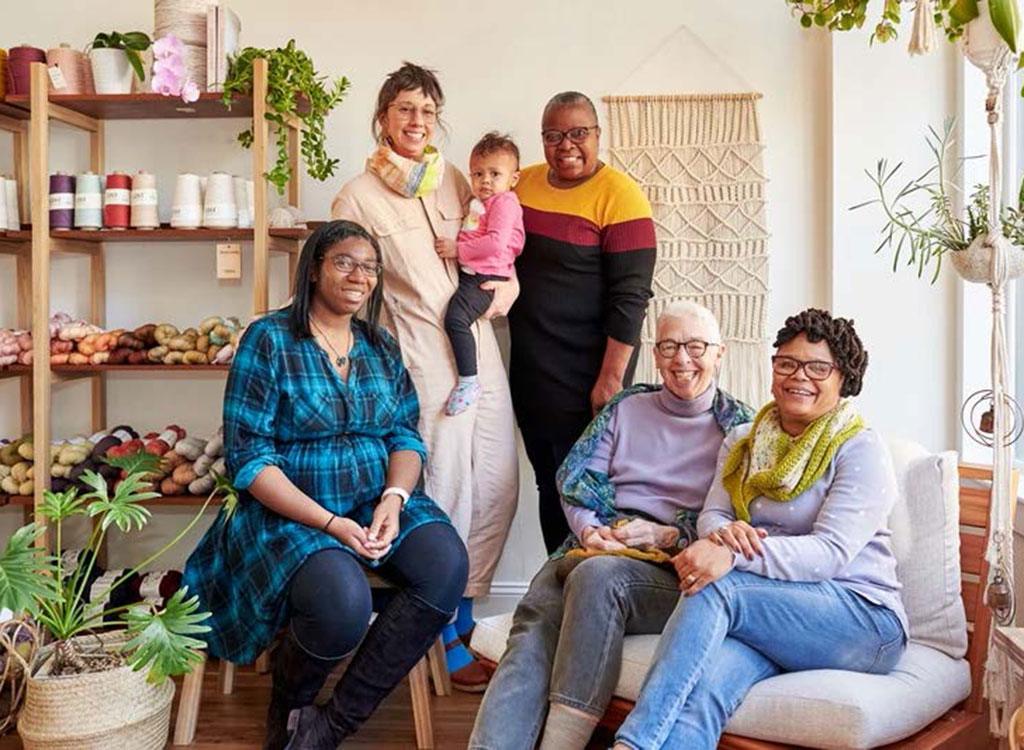 Places to Learn
Whether you are just coming for a day or live in the city, there are fiber arts classes to meet your needs. Butcher's Sew Shop has two locations and offers a variety of classes from Sewing 101 and machine basics through pattern drafting and jeans sewing.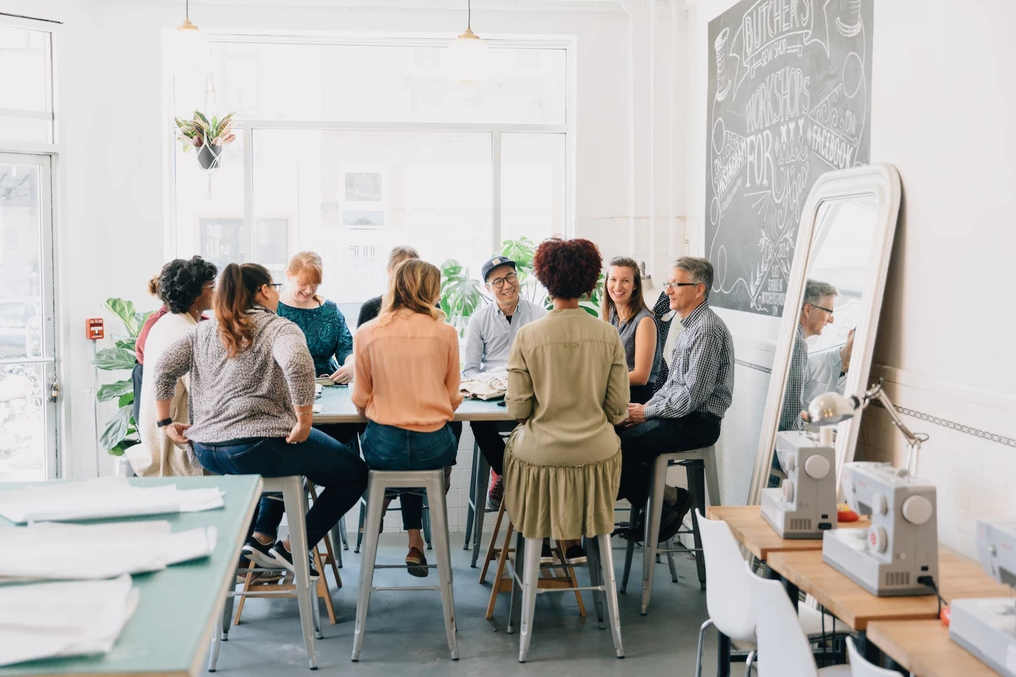 Fleisher Art Memorial is a community art school open to children, adults, and seniors. Though Fleisher does not specialize in textiles, they offer interesting fiber classes like screen printing on fabric, embroidery, felting, and dyeing. Fleisher has tuition-free classes and offers art classes in ceramics, jewelry, painting, and other artistic mediums.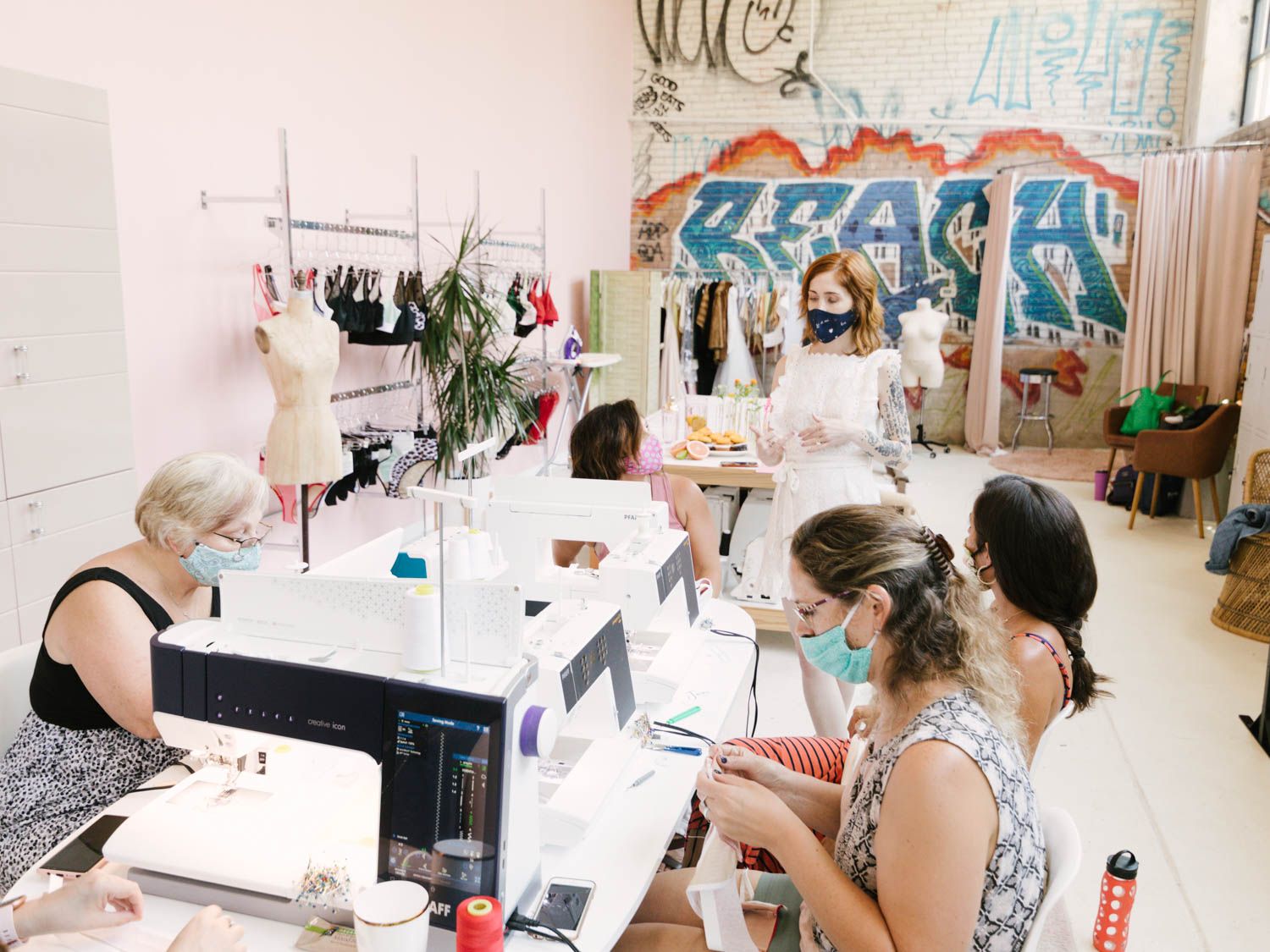 Madalynne Intimates is the go-to resource for all things lingerie. With kits, classes, and parties (bachelorette anyone?), Madalynne offers it all; her website has some free patterns along with everything you need to get started in making lingerie!
Made Institute takes garment making to the next level. Geared for people just learning or looking to build on existing skills, Made offers certificates and classes in sewing, pattern drafting, fashion illustration, and more.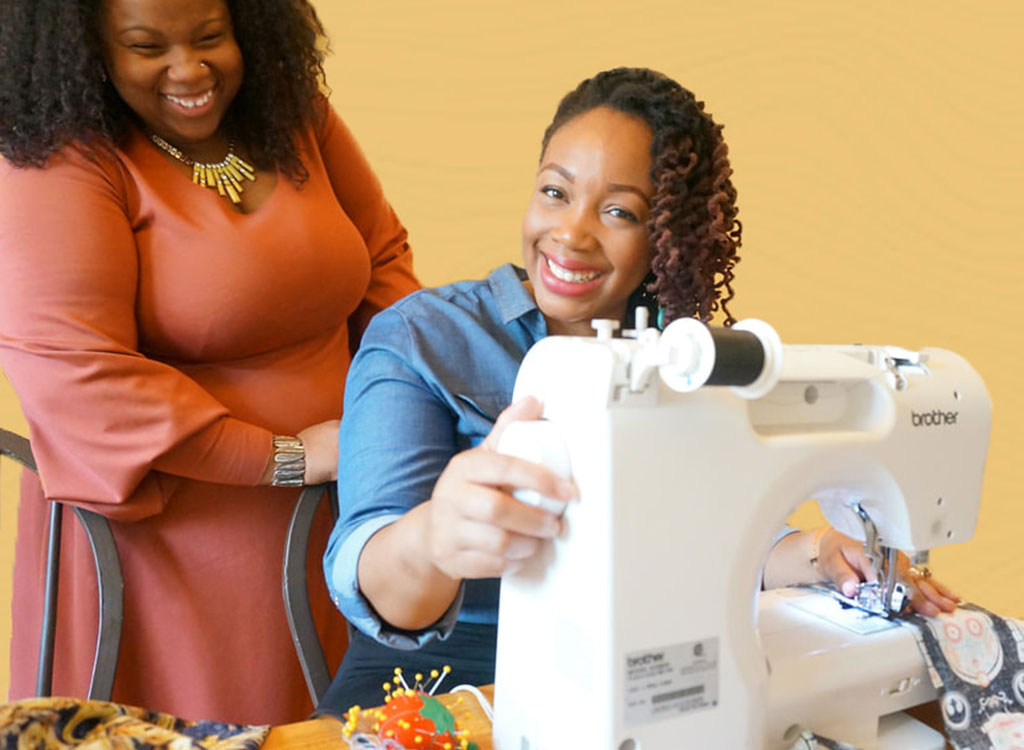 Sewcial Café has both classes and open studios for sewists to drop in and use machines, sergers, dress forms, and other equipment they might not have at home while building a community of like-minded craftspeople.
The Origins of Philadelphia's Textile Industry
With such a creative present, it's no wonder that Philadelphia had a creative past.
As the city grew in the 1600s, residents ran their own home knitwear, weaving, and hosiery businesses. Every section of the city saw growth in textiles in its own way: in Germantown, residents grew flax in their yards, processing and spinning it into linen to sell; the first silk manufacturing plant in the United States was established in Old City; and in the early 1900s, Kensington was home to more textile mills than any other city in the world. By 1909, one out of every three people employed in the city worked in textiles.
Many of the people employed in textile mills in Philadelphia in the early 1900s were overworked and underage, leading to public protests and demonstrations. Mother Jones, an advocate for worker's rights and activist against child labor, started the March of the Mills on July 7, 1903, and led striking workers on a three-week march from Philadelphia to New York City to draw attention to the harm done when children were forced to work. The march helped build on a growing movement and established the National Child Labor Committee in 1904, toughening Pennsylvania's child labor laws.
Much has changed in the city since then. With garment labor moving overseas, very few, if any, of these businesses remain open. Most of the warehouses that once produced wool, stockings, carpets, and other fiber goods have since been converted into lofts, or are abandoned, awaiting demolition or renovation. Some of these pushcart vendors were able to move into storefronts and establish permanent businesses, many of which were open until the early part of the 21st century.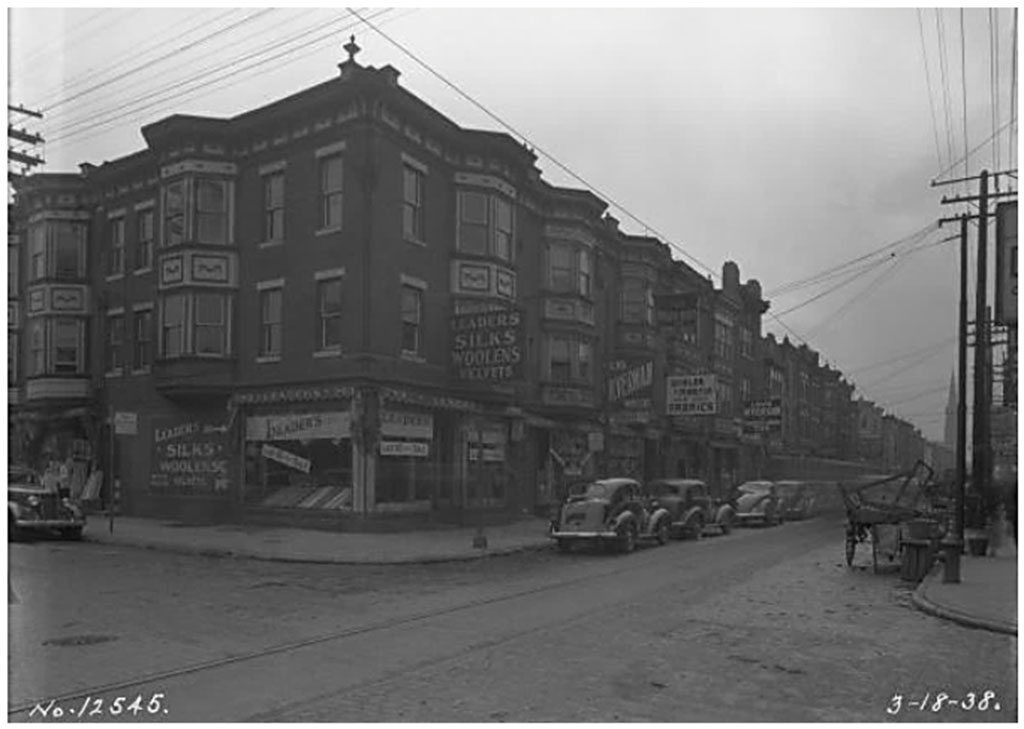 The stores on Fabric Row faced numerous and unique challenges throughout the years. While the Great Depression forced many businesses to shutter, fabric stores survived because people couldn't afford to buy new clothes and instead turned to sewing their own.
Meanwhile, World War II forced the stores to weather changes of a whole new type: fabric was in short supply, as many textiles were diverted to the war effort. Additionally, Fabric Row is a historically Jewish area, and many vendors had to keep their business afloat while worried about the safety of family members still in Europe. The years following the war saw waves of residents leaving the city to pursue their version of suburban utopia.
While many of the stores on Fabric Row have closed throughout the years, a resurgence in the city's sewing community helped the remaining shops. With workshops taught at several local sewing studios, more students are shopping at local fabric stores and keeping the legacy of Fabric Row alive.
The next time you visit a city for some fabric shopping, take time to research a little history about the city's connection to textiles. You never know what stores might still be open after all these years.
Have fun exploring Philadelphia from afar or on your next visit! To check out more Seamwork City Guides from around the world, browse the archives here.
Join the Conversation
Sign in or become a Seamwork member to comment on this article.