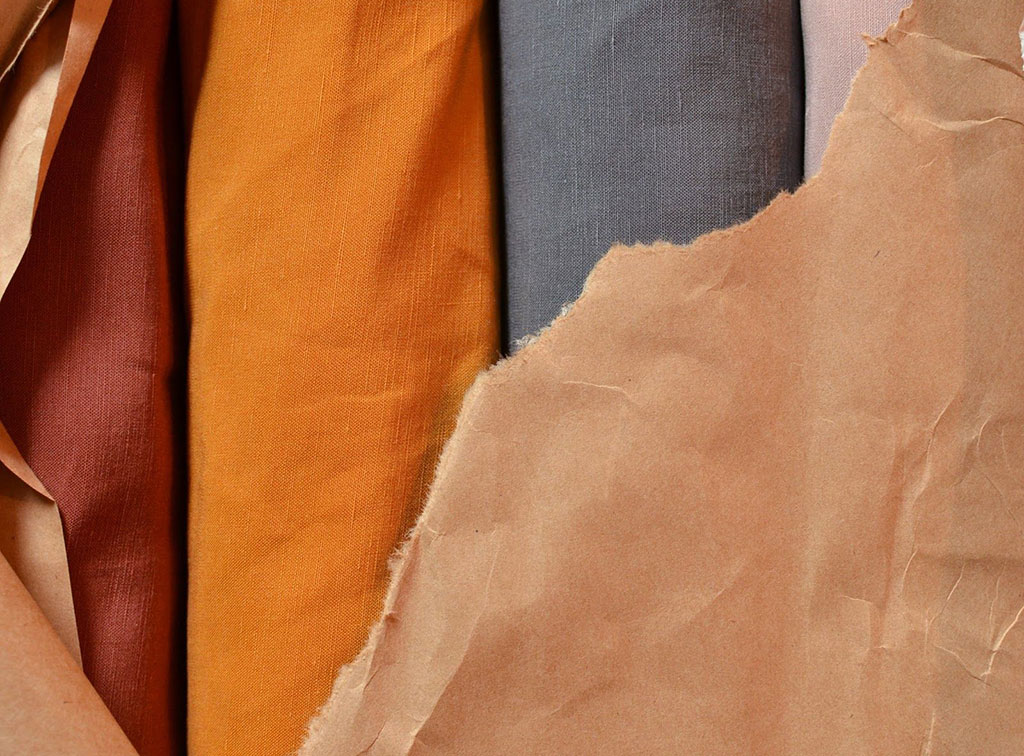 A sewist walks into a bar (stop me if you've heard this one) in a drapey, fluid, dream of a dress. A hush falls over the crowd. The lights dim. The bartender stops polishing glasses for a brief moment. "It's Tencel," the sewist shrugs, and a contented murmur ripples throughout the crowd. All is well.
Tencel™, otherwise known by its generic name lyocell, the luminous, elusive mermaid of the fabric world, is, indeed, the stuff of legend. But what is it? And is it really sustainable? Yes. But, there's always a 'but.' And how, on this green earth, does one sew with it, and care for it to keep it looking like, well, like that? These answers and more, straight ahead.
---
What is Tencel? Is it the same as lyocell?
Yes. Well, sort of. First off, both Tencel™ and lyocell are rayon substrates—that is, semi-synthetic textiles made up of cellulosic regenerated fibres. And both use non-toxic NMMO instead of the highly toxic carbon disulfide used in viscose.
Where they differ is in copyright—the Lenzing corporation has owned the Tencel brand since the 2000s. Lenzing has a good track record for sustainability, and most of their wood pulp is sourced from FSC-recognized forests. Their factories also tend to be well managed, with checks and balances put in place to ensure worker safety and proper handling of chemicals.
However, this doesn't mean that your favourite non-branded lyocell isn't sustainable as well! It may just require a quick email to your supplier to confirm the deets. Much like other household brands—like Kleenex or Band-Aid—the Lenzing branded Tencel™ has started to stand in for all lyocell. However, branded or not, both are produced with non-toxic solvents, and both will wash and wear the same way.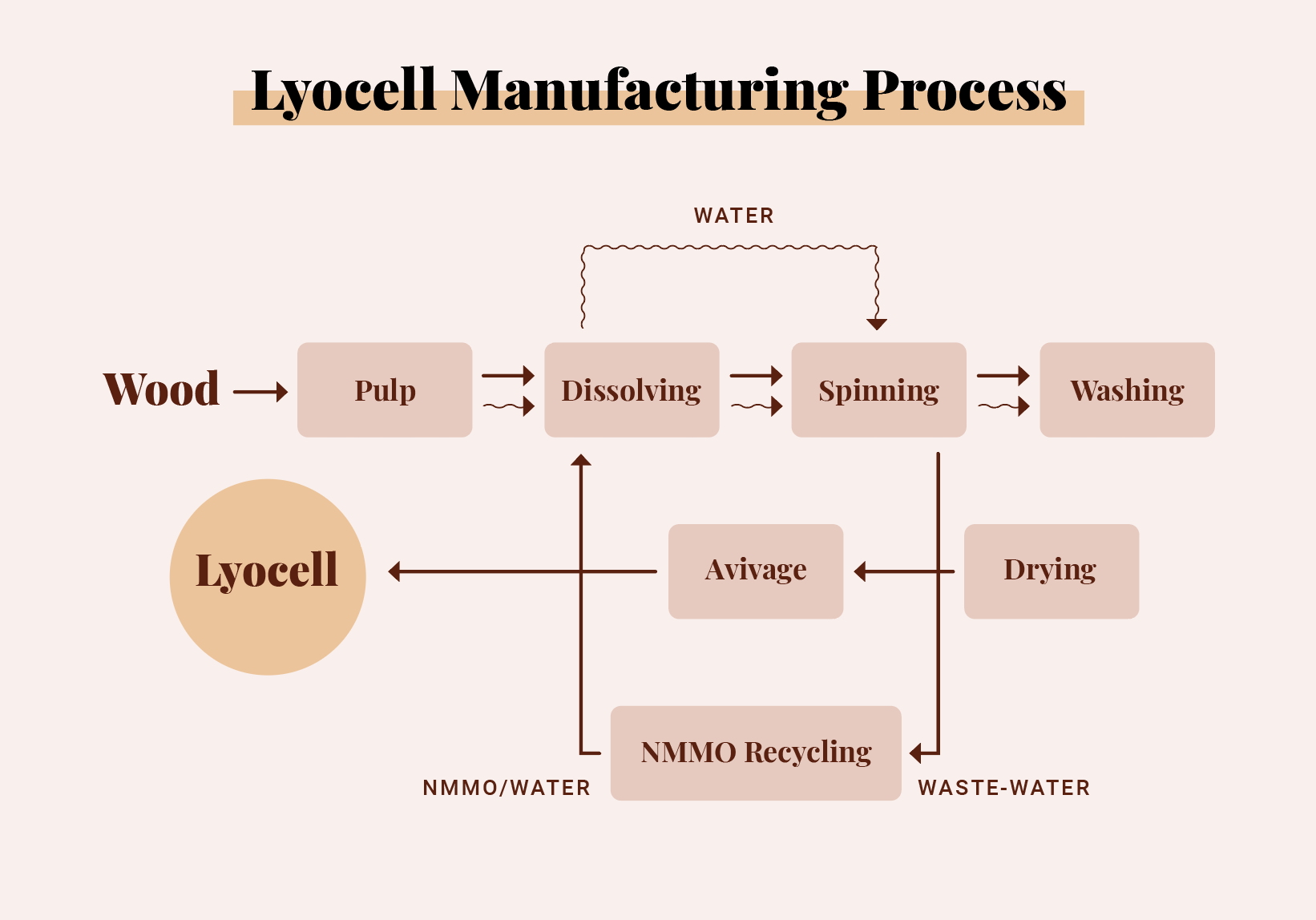 ---
So how is lyocell different from viscose rayon and bamboo rayon?
Unlike lyocell's lesser sisters viscose and bamboo, lyocell doesn't require the use of toxic carbon disulfide in its processing. Viscose is spun with carbon disulfide to form its fibres—unfortunately, carbon disulfide is incredibly volatile and is easily released into the environment, causing damage to the health of textile workers and the surrounding environment. This study of viscose rayon workers over 15 years showed that 48% of the workers showed some form of polyneuropathy—a condition that causes weakness, numbness and burning pain, while this recent study measured the carbon disulfide content of the air near viscose factories at nearly 5-10 times normal levels.
So while lyocell is also a rayon substrate, and is created by spinning cellulose with chemicals, that's where the similarities end. Instead of relying on carbon disulfide to spin pulp into fibres, Lyocell uses NMMO instead—a non-toxic solvent that is over 99% recyclable, essentially closing the loop on production and minimizing impact on the surrounding environment.
The only potential tarnish on lyocell's otherwise gleaming sustainable reputation is the sourcing of the cellulose required to make it. Many—and these days, I'm finding, most—suppliers go above and beyond to ensure that the pulp is sourced sustainably. However, there is still a chance that endangered or at-risk wood is being used. And, while lyocell requires much less dye than cotton, it's still dyed with conventional chemicals—an article for another day!
---
Cool! But I love viscose's drape—can lyocell hold up???
You bet. Lyocell's unique spinning process actually gives it a smoother face, better colour fastness, a more luxurious drape, and a stronger weave when wet, maintaining around 85% of its strength. Viscose, while delightfully drapey, is also prone to twisting and tearing when wet and maintains only around 50% of its strength.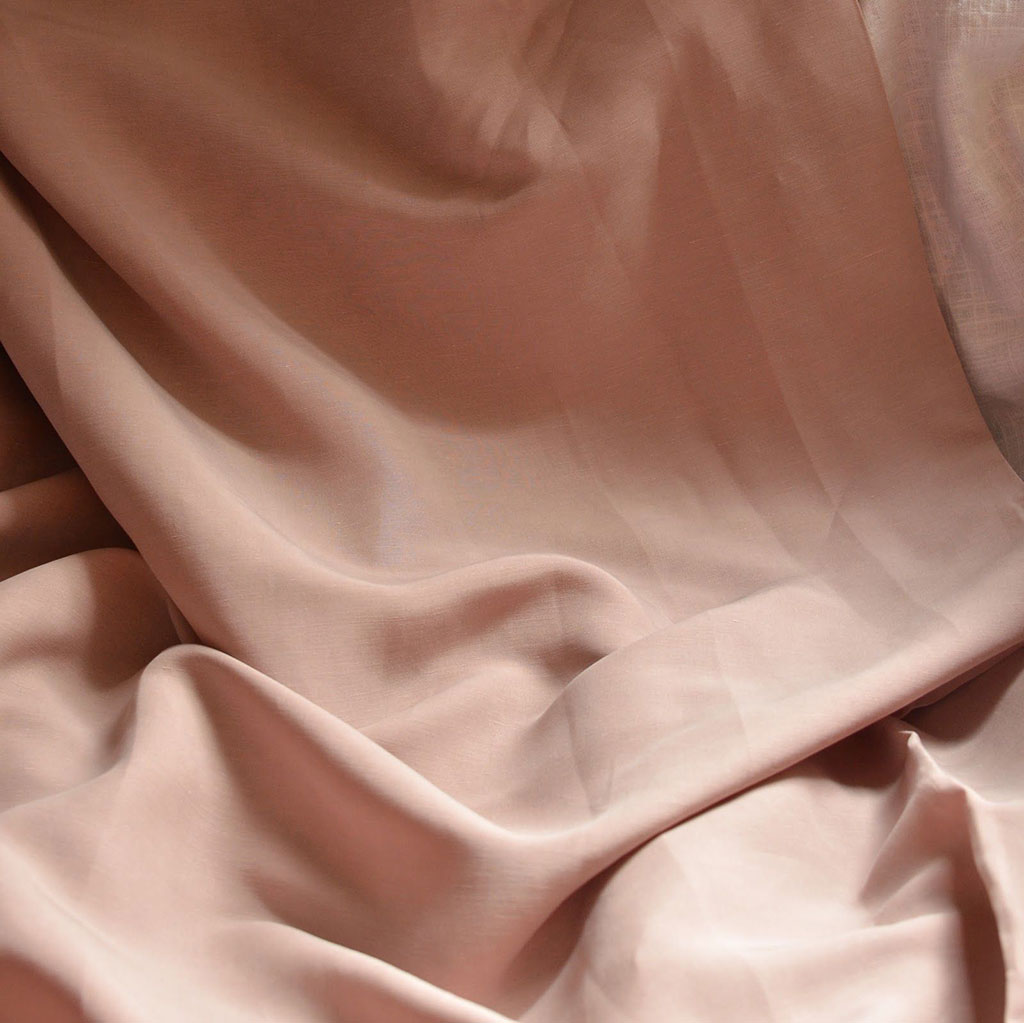 Lyocell gives a luxurious drape to this linen/lyocell blend from Matchpoint.
---
Okay, you've convinced me. Now what should I sew?
No matter its weight, lyocell's primary characteristic is its swooshy, whooshy drape. As a general rule (though, rules are made to be broken!), lightweight lyocell tends to be better for linings, casual dresses and tops, while mediumweight lyocell is perfect for skirts, culotte-style trousers, dresses and jumpsuits.
Lyocell twill is probably the most common substrate—a drapey, fluid fabric with a subtle twill weave. Here are a few Seamwork suggestions for this dreamy textile:
Lightweight lyocell: A breezy Bertie, chic and flowy Clarke, or the lining to a Francis coat.
Mediumweight lyocell: A dressed-up Joss, silky Sky, floor-sweeping Marett or dainty Dezi.
Lyocell jersey: A slinky Gene, plunging Angela or slinky Tacara. Lyocell is also often blended with other fibres to lend a bit of drape—a linen/lyocell blend gives movement to linen's crispness, while a lyocell blended with organic cotton in a sweatshirt fleece brings drape to cotton's cozy structure and washability.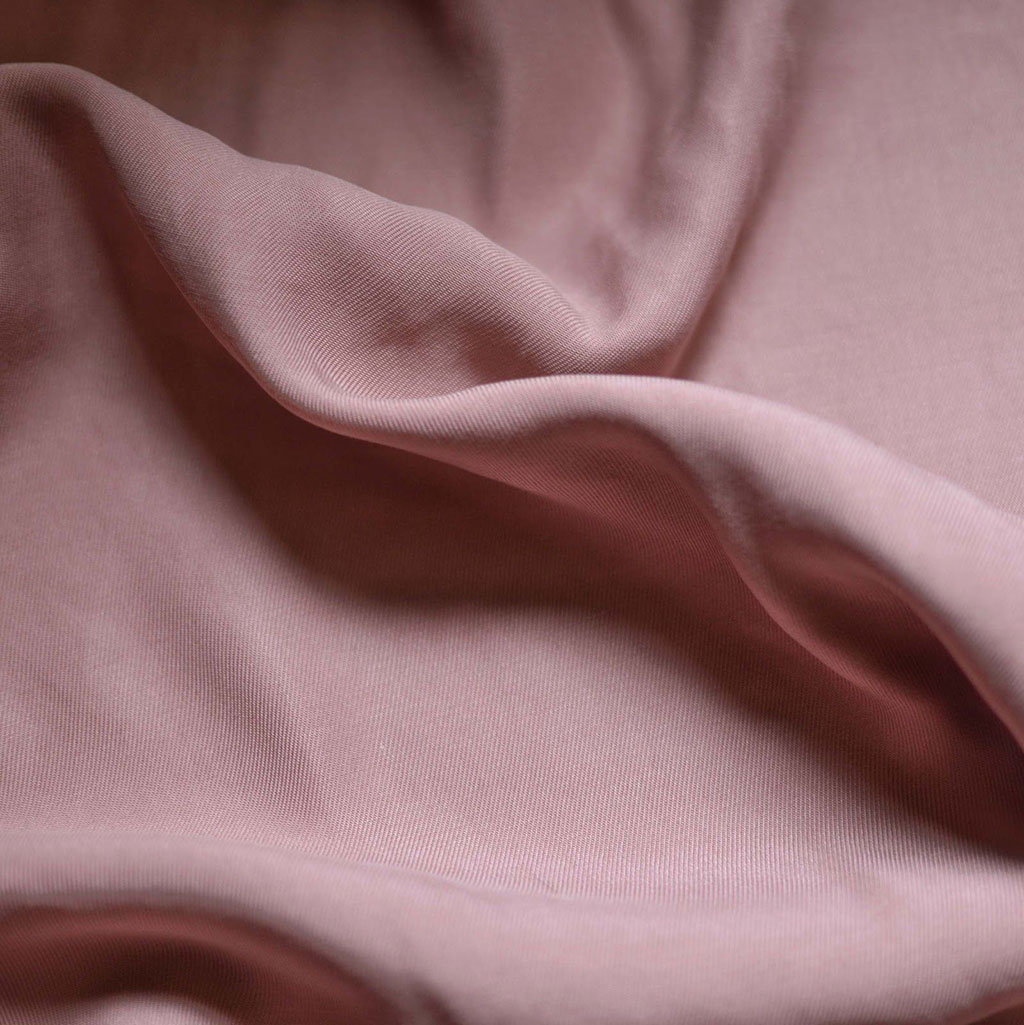 Lyocell twill, the most popular lyocell fabric, features a subtle twill weave.
---
Got any more tips for sewing with it?
Personally, I've found that ultra-matte thread can stand out or clash against the natural sheen of lyocell. I've had good luck with swapping polyester thread for silk-finish cotton thread, as it seems to blend in better.
As with silk and other drapey fabrics, lyocell can be slippery to sew. Cut flat with a rotary cutter, use plenty of pins, and take it slow.
---
Cool, cool, cool. But how do I care for it?
As much as we love lyocell (hello, this love letter could've been about 1000 words longer!), it can be a slippery character when it comes to garment care. Much like its distant cousin silk, lyocell needs to be treated as a delicate—while it's stronger than viscose when wet, it's not as strong as a natural fibre like linen or cotton.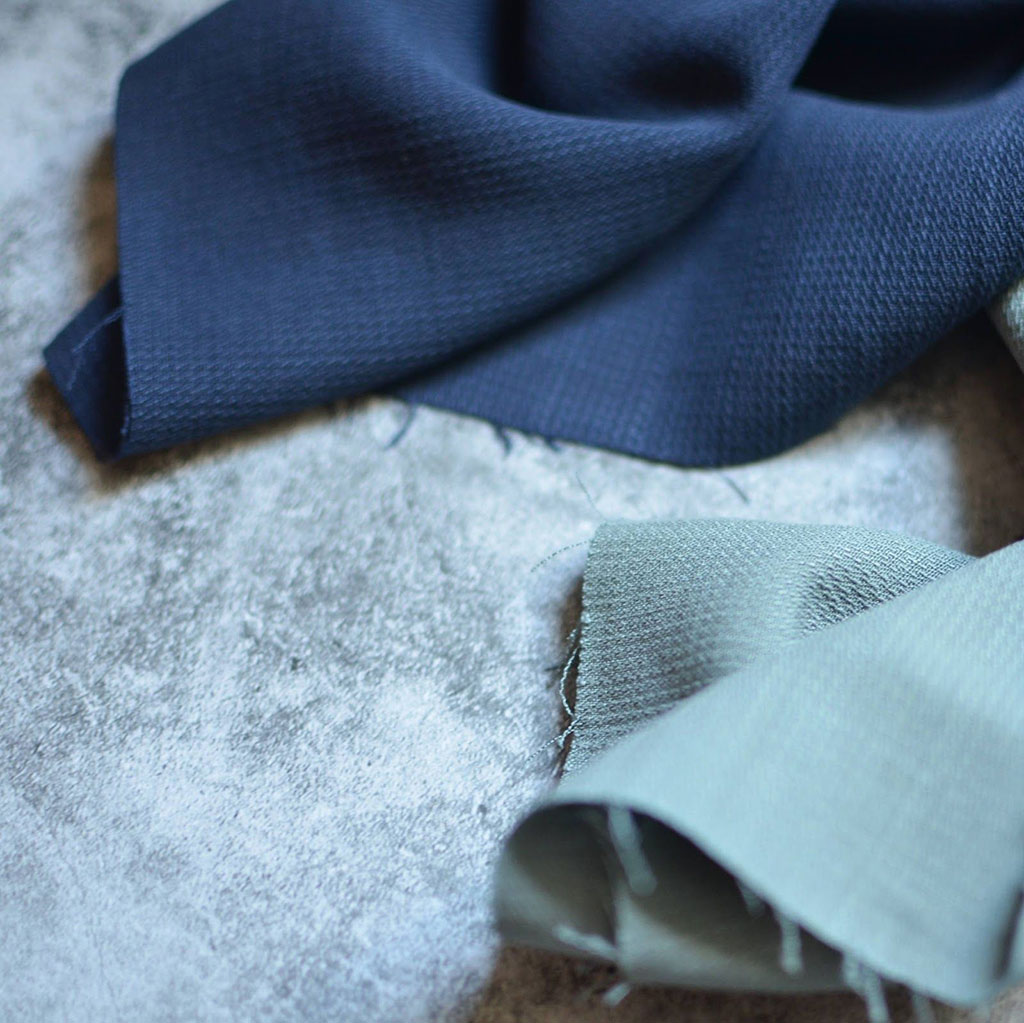 While most fabric suppliers and RTW brands will suggest handwashing lyocell I'm … going to suggest you don't. (Don't sue me! I like to live dangerously!) In my humble experience, my hand-sewn lyocell garments have done just fine with multiple rounds on a delicate cycle or in a garment bag and hung to dry.


Iron with lots of steam, on low to medium temperature. Lyocell can show the same shiny burn marks as polyester if the iron gets too hot.


You will experience some colour fading over time, as with all other natural or semi-synthetic fabrics. To protect against this, wash on cool and only hang to dry.


Okay, the elephant in the room. Yes, lyocell wrinkles. Some lyocell wrinkles a LOT. Like, more than linen. The lighter the weight, the more it'll show creases. A good steam before you head out the door should do it, but take note before you sew an entire travel capsule wardrobe with the stuff.


Occasionally finicky. Always drapey. Audibly whooshy. Lyocell is here to stay—and we wouldn't have it any other way. One of the only truly closed-loop fabrics, it instantly elevates whatever pattern it's paired with.
Join the Conversation
Sign in or become a Seamwork member to comment on this article.