It seems no matter what stage of life we are in, space is always at a premium. Sewists are scrappy though (pun intended), and we find ways to fit our passion into the space we have. Recently, we asked you to show us your small sewing spaces and boy did you deliver! We were blown away by the amazing tips you wrote in with and by the sewing spaces you created. 
So if you've been putting off staking your claim to a corner of the house or reorganizing the space you already have, wait no longer. We are here with all the inspiration you need to carve out your own little corner of the world and sow happiness. 
So without further ado, here are your tips for organization and sewing in a small space.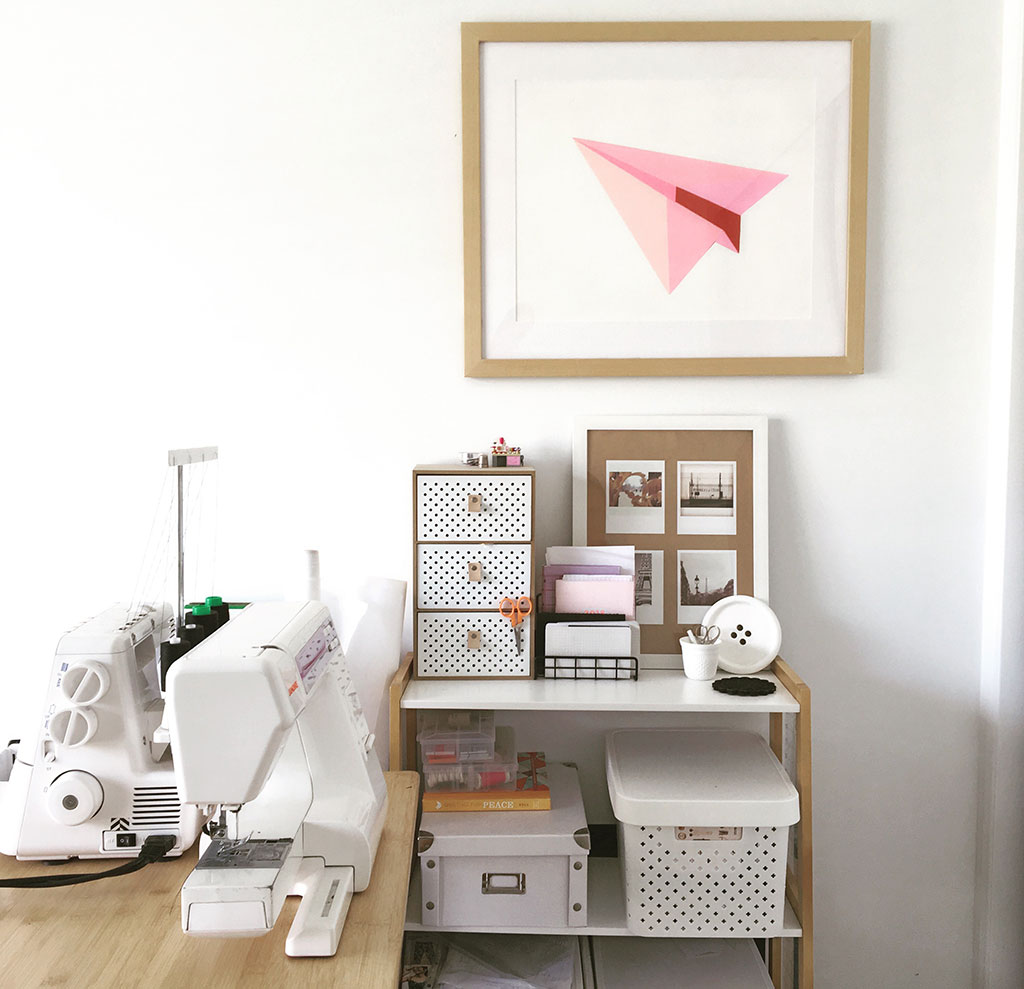 Rebecca, @sew_everyday
Let's start with the completely logical, yet hardest to follow tips:


only buy fabric for one project at a time


purge your stash


don't have any UFOs (UnFinished Objects)


Where you cut and sew:


small corners


closets


the extra bedroom


under the stairs


basements and laundry rooms


cut on the floor, the bed, the office conference table after the workday


sew at the kitchen or dining table


campers, buses, RV's, and even a barge!


When you really have no space- cut and sew at a friend's house, or, when the weather is nice, outside!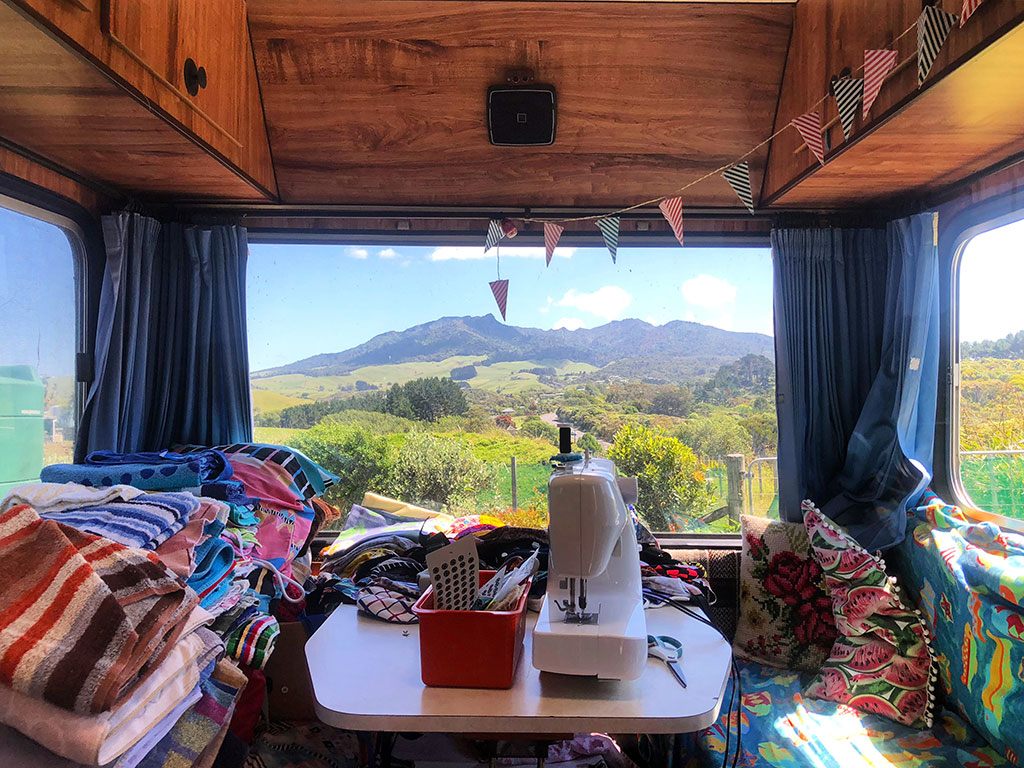 Sarah in New Zealand sews in Cecil, the solar-powered camper (@sewlove.nz).
General Tips:


Keep things minimal and clean up as you go


Be organized- find a system that you like and is pleasing to look at to keep you motivated to keep it clean


Keep often used tools accessible- but only the essential ones so that your space isn't cluttered


Use a magnetic pin tray 


Hang a magnetic strip on the wall for scissors, metal bobbins, presser feet, seam rippers and screwdrivers


Invest in good, flexible lighting


Hang a dry erase board for notes and your sewing queue


Batch cut patterns and fabric


Wallpaper or paint the space behind your table, so it feels like yours


Keep a bin under your table for fabric and thread scraps


Keep your machines covered when they are not in use


"If you don't have a large cutting mat, make due by attaching a measuring tape to the edge of your sewing desk so you can easily measure things on the fly" - Samantha, Ontario, Canada @samangove.
"Personalise the space and make it your own so you love it just as much as if you had a whole room to yourself. That way, you'll want to spend more time there."
-Nicola, Gold Coast, Australia @juniperberrydesigns
Storage Tips:


Make a list of your tools and supplies and really think about how to store them for ease of use and efficiency


Keep current projects in zippy bags, boxes, or clear drawers


Use clear containers for stash fabric, organized by type, so you can see what you have


Use under-bed storage bins


Keep patterns in baskets, or try a binder with clear sleeves


Use your walls! Hang shelves and a pegboard for your thread, scissors, rulers, etc. Hang a bulldog clip for pattern pieces while in use. Hang cutting mats and your most-used patterns on a wall hook.


"Be a Tetris Master: finding creative ways to fill empty gaps will make the most of your small space. Going vertical [is] a good solution to a lot of unused space." -Mary, New Jersey, USA; @paint.and.stitch
"My favorite small storage hack: Use big open wall brackets for storing big pattern rolls."
-Evelyn, sewing in Daisy the RV, Everywhere, USA; @slowintention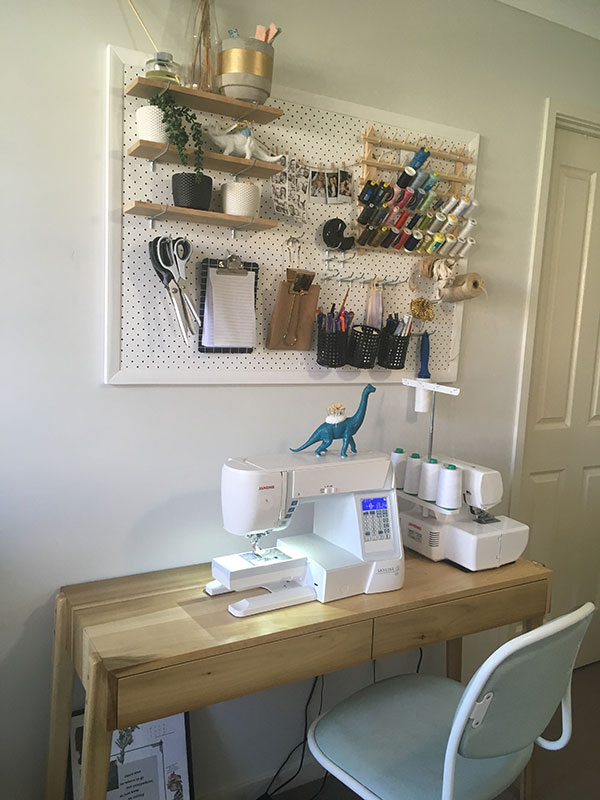 Nicola, @juniperberrydesigns
Furniture tips:


Try double-duty furniture- keep things in wardrobes and dressers. Check out Ikea for pieces that fit together and maximize space


Make use of storage ottomans


Get a table with adjustable legs to save your back from pain


Upgrade to an expandable dining table 


Buy a cart with wheels, so your sewing supplies are mobile!


"Keep everything in order, boxes, baskets...Hang your sewing cutting board!"
-Laura, Catalonia, Spain, @lauradeblau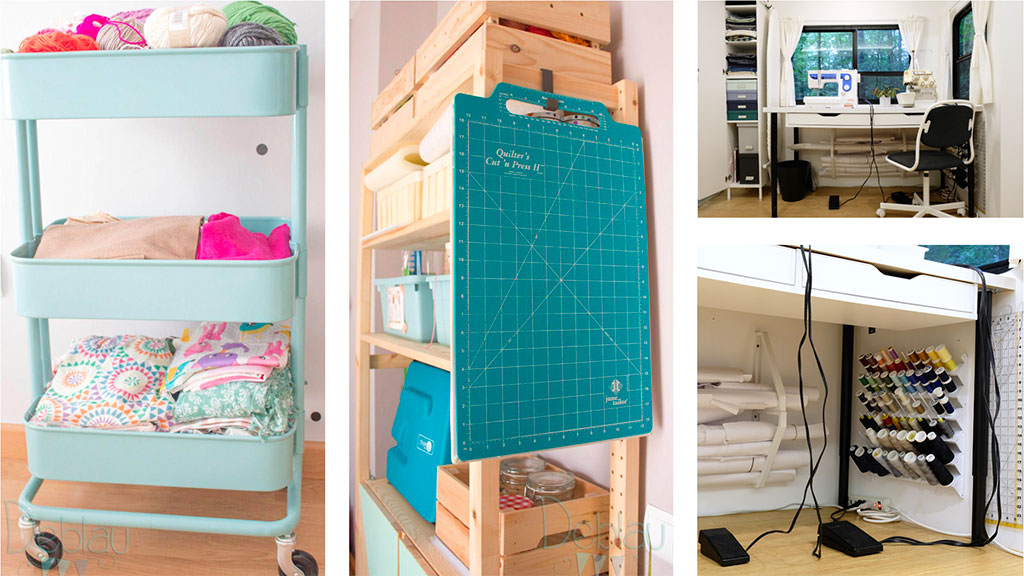 Left: Laura, @lauradeblau | Right: Evelyn, @slowintention
"Think about furniture placement. Because my table isn't against the wall, I can use my sewing machine from one side and my serger from the other." -Rebecca, Australia; @sew_everyday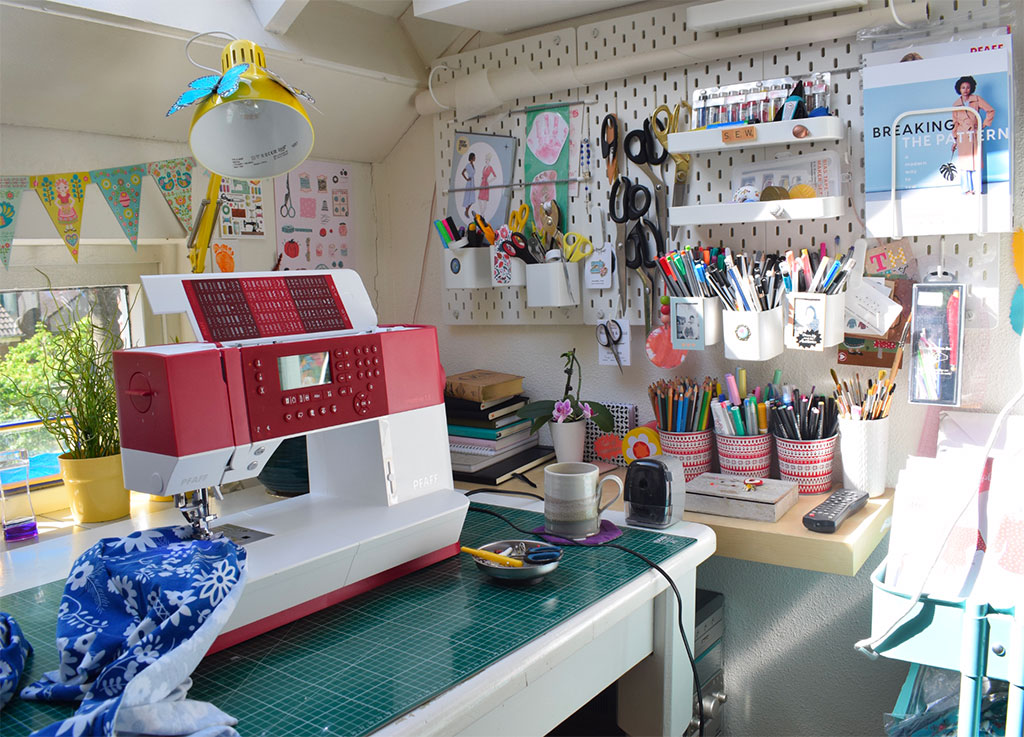 Wilma, @vladivos
"There's no use in trying to get a small space to be everything at once. Think about storage first. What needs to be within reach? Leave space for future needs. It's good to know what you want from your space and what the limits of the available space are." -Wilma, Netherlands; @Vladivos
Sewing with children or pets underfoot:
Having children or pets in the house brings a whole new set of challenges. Little hands can't resist touching all the pretty things and exploring tiny drawers and boxes. Multiple cords, electrical outlets, heavy irons, and sharps tools are all hazards that have to be hidden or locked away. Here are a few options to keep your babies, fur, and human, and your supplies safe:


Store scissors and other sharp tools high in a cabinet or on a pegboard


Install magnetic childproof locks on your drawers or cabinet doors


Hang an ironing station rack high on the wall and wrap the cord up when putting the iron away


Unplug your machines when not in use - or - plug them all into a power strip and flip the switch to OFF when finished each day


To keep cords out of the way: wrap them around the legs of your desk so they can't be pulled or get tangled around anyone, use Command Hooks attached to the back of your table to hold them out of the way, push them to the back of the floor under your desk and slide a piece of presentation board in front to hide them away


Hang cups for your pencils and marking supplies high on your pegboard or wall


Swap out your pins for clips instead, or sweep your magnetic pin holder over the floor after each sewing session


Place drawers or tables in front of electrical outlets, get outlet plugs for the ones, not in use


Store broken needles in an old medicine container with a childproof lid, label it and keep it high and unreachable


Keep a handheld vacuum nearby to suck up small bits of thread off floors


If your sewing space is in a room with a door get a door handle cover or put an alarm or even a bell that will alert you when the door is opened





"The single best thing I did was put a piece of foam core in front of my small white set of drawers so that my toddler forgot it even existed. I just put it on with Command Strips, so it's easy to take on and off for me! Literally, overnight she went from pulling out every spool of thread to never touching it again!" -Sarah, Cambridge, Massachusetts, USA; @sarahlynnhill




My Small Space Makeover

I was so inspired by all of the amazing tips and beautiful pictures of your sewing spaces, that I decided it was long past time for my own small sewing space makeover. I have one wall in an office, which used to be the dining room, that I share with my husband. We have three littles running around so the space not only has to be functional and tidy, but it has to be able to house all of the sharp tools and fun objects high and away from curious hands. I needed better lighting, more accessible storage, a full-length mirror, and an ironing station. 

Here is the before...

And after...

These are the updates I made:




better storage system for patterns and fabric-floor cabinet with drawer $80


hanging Wall cabinet $50, with rod for hanging baskets $10


thread holder $30, spray paint $5


ironing station $14


better light system- floor lamp ($60 craigslist) and gooseneck lamp $20


rolling stool $37


wall paint in a calm, inspiring color $32


full-length mirror $32


dry erase board $10



Everything else was already there or re-purposed from another room. Altogether it was a grand total of $348.

It is like a breath of fresh air to not just sew in, but simply to BE in my new space. Everything has taken on a lighter, fresher, more inspiring feeling. It also still feels like me. 

One thing that struck me while researching for this article and reading all of our members incredible comments was that despite how passionate everyone is about sewing, so many of us don't prioritize the space we need for our creativity to flourish, myself included⁠—and it's my job! So I will end with this: your craft, your time, your creativity, your passion⁠—they are beautiful, and they are worth it. Whether your space is a whole room or just a desk, it is the habitat in which your sewing takes shape and thrives. Take it and make it yours.



Join the Conversation
Sign in or become a Seamwork member to comment on this article.