Photo by Wesley Dryden
The task of the Royal Shakespeare Company's costume department is daunting: to create a full suite of costumes for multiple plays simultaneously, ones that require anything from weaponry to full Renaissance-era detailing to the ability to withstand rain and mud and blood, while maintaining high enough standards that costumes can be used hundreds of times. How do they do it? And what techniques have they developed that sewists can borrow?
Design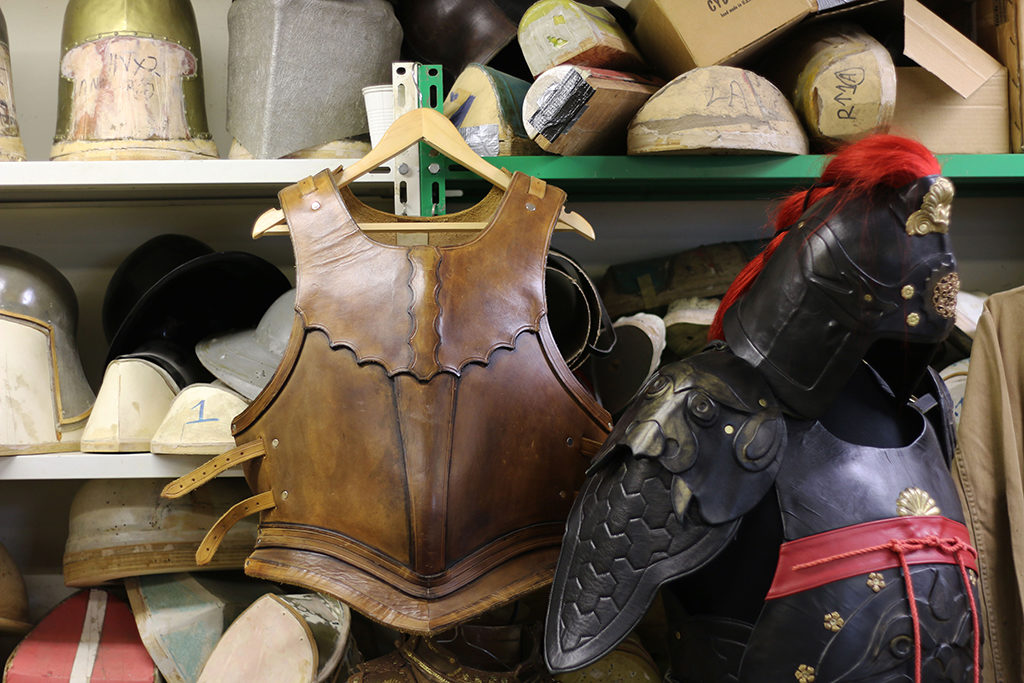 The Royal Shakespeare Company's on-site armory sets it apart from the rest of the field.
The Royal Shakespeare Company is one of a number of UK theater companies with dedicated costume departments (others include the National Theater, Royal Opera House, Welsh National Opera, and Scottish Opera). It is based in the town where William Shakespeare was born, raised, and died, and is perhaps best-known for putting on the works of Shakespeare (they also perform the work of Shakespeare's contemporaries and today's writers).
The process of designing a new production starts with the appointment of a director, who will decide the overall vision for a play, including whether period or modern dress will be used, and the overall style of the production. Alongside the director, the Royal Shakespeare Company appoints a freelance designer and costume supervisor for each production, who between them will design all costumes for the show and select the fabrics to be used.
The role of the costume department is to bring to life the vision of the designer and costume supervisor. The department consists of twenty-eight staff in six departments: menswear, womenswear, hats and jewelry, painting and dyeing, costume props, as well as footwear and armory. The Royal Shakespeare Company is the only UK theater company with an on-site armory; it produces breastplates, gauntlets, belts, and weaponry.
The way in which the designer and costume supervisor convey this vision to the costume department can vary significantly. Some designers provide detailed drawings of each character and costume, while others simply provide a mood board conveying the sense of what they want to achieve.
The costume department is also responsible for sense checking the feasibility of the designer's vision, in terms of budget and the practicality of both the design and the fabric choice. For example, it is important for the department to know if a show will feature rain or blood, as they will need to take this into account in terms of fabric used and the number of versions of a garment they produce.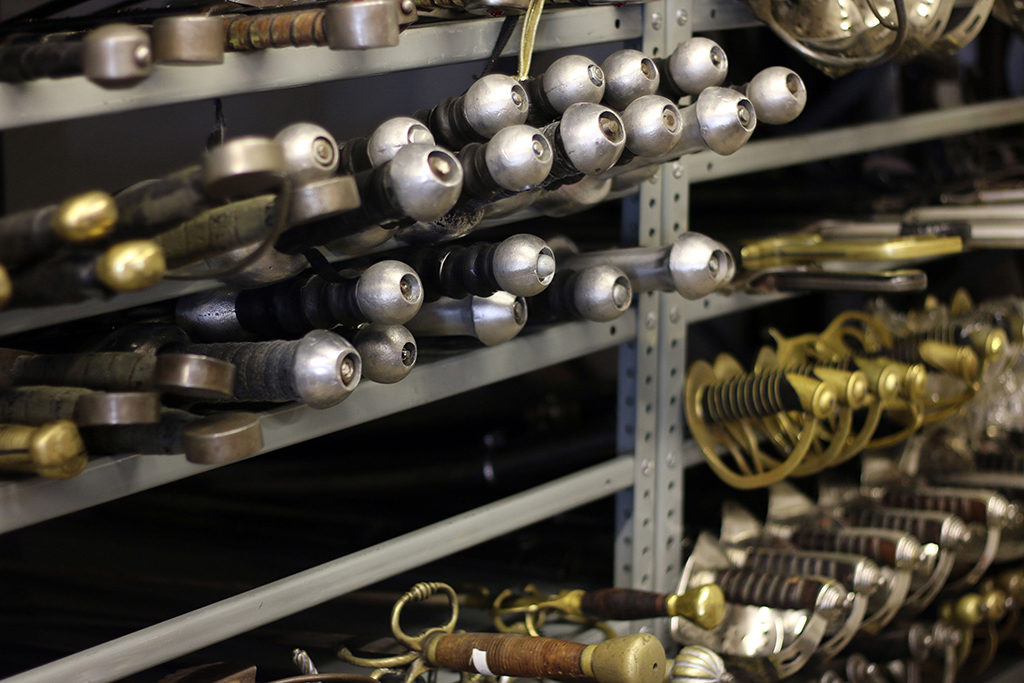 With four productions typically in rehearsal at one time, the costume department needs to decide where to focus their resources. Inevitably, they typically focus greater resources on period productions, with modern dress productions utilizing more ready-to-wear items. The department also uses their extensive collection of garments and accessories from previous productions; armor and weaponry in particular are regularly reused.
The department rarely makes every item of clothing and accessory from scratch for a new production, but it always makes some items. Even when utilizing ready-to-wear, the department will typically customize garments to better suit the actor or production.
Before any costume or pair of shoes is used on stage, they may be broken down by the department. Breaking down is a process of distressing a costume to give it a worn and authentic look. Jacket sleeves are tied up with string, sprayed with water, and left overnight to create authentic creases. Pockets are made to sag realistically by filling them with paper or stones. Costumes can be rubbed with sandpaper or soap to make the garment look worn or greasy, and shoes are often covered with specially made "mud."
Production
Costumes that are made from scratch are made by the department's five pattern cutters, who are based in the men and women's workrooms. The pattern cutters use a mixture of flat pattern cutting and draping, depending on their personal preference. Costumes are made-to-measure, with 50 measurements taken from each actor in the company at the start of each season.
In addition to the principal cast, the department needs to ensure that understudies have a costume available in the event a principal actor is unavailable, and because the Royal Shakespeare Company performs one public understudy dress rehearsal for most productions. In some cases the understudy will fit into the costumes prepared for the principal actor. Where this is not the case, the department will attempt to use a costume from the existing collection or use ready-to-wear for modern dress productions.
Creating garments for the stage introduces some key idiosyncrasies into the production process. Should an actor's size fluctuate during a production, a one-inch seam allowance is used, and a greater number of seams are included in garments. For example, trouser waistbands always include a seam at the center back, and piping or embellishment is attached separately to each section of a garment. Other design differences will be determined by the particular requirements of a play or character. For actors who need to make quick costume changes, zippers are avoided due to the risk of getting stuck (industrial-strength magnets used instead). The department typically avoids synthetic fabrics, as they don't breathe under the hot stage lighting, but are open to exploring a wide range of fabrics to achieve the required effect.
The costume department usually creates two of each garment, excluding some outerwear such as coats, because on matinee days actors will perform a play twice, and there isn't sufficient time to wash and dry garments between performances. For productions that involve a large amount of fake blood or rain, the department may produce three copies of garments.
Managing Last-Minute Changes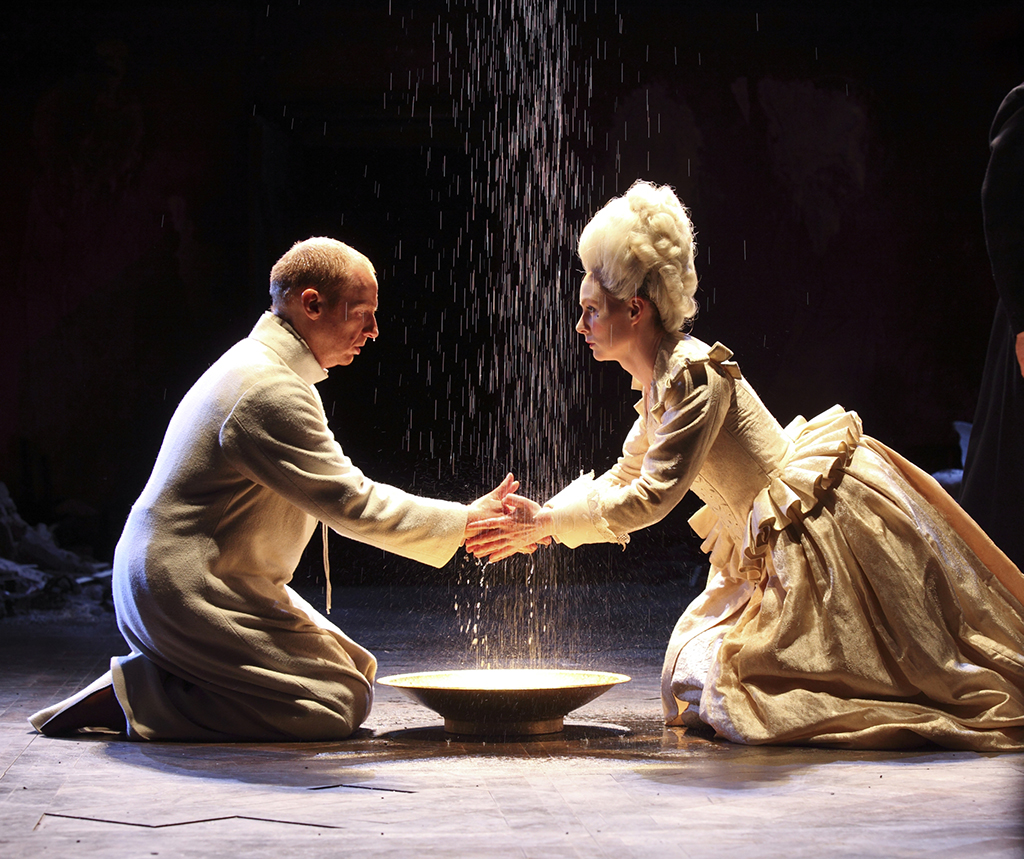 Unexpected changes can create extra work for the costume department. The 2011 production of Macbeth necessitated a mid-season costume switch from silk to polyester to accommodate all the fake blood. Directed by Michael Boyd, with Jonathon Slinger as Macbeth and Aislin McGuckin as Lady Macbeth, costumes featured here are the original costumes. Photo by Ellie Kurttz.
A key point in the process for the costume department is when a production reaches technical rehearsal. This will be the first time that the play is rehearsed in full costume under actual stage conditions, including stage lighting, which can have a big impact on the appearance of a costume. This can be a particularly busy period for the department, as the director tests changes to the production and costumes.
Inevitably, while a play is in rehearsal the director may make changes that impact the costume department. Once, a decision to introduce more physical action meant that wings, which had been created to be static, had to be redesigned so they could cope with an actor rolling while wearing them. The late introduction of a significant amount of fake blood in a production of Macbeth led the department to remake Macbeth's costume, previously created in white and ivory silk and brocade, in polyester partway through the production run, when the original began looking heavily discolored.
In other words, the department's role continues throughout the life of a production, with costumes continually cleaned and repaired. The team uses washing machines, dry cleaning, and an ozone cabinet as required, depending on the fabrics used and the delicacy of the costumes. Many period costumes are not easily washed, so inner costumes or shields are also created, which can be easily removed and washed.
Organization
A bible is prepared for each production, consisting of a series of folders. Each folder contains the original design for a specific costume, a list of every item included in the costume, swatches and descriptions of each fabric used, and a record of each change made to ready-to-wear items. This bible is used by the running wardrobe team to support the show and ensure all aspects of a costume are ready for the actor. To aid this, every single item of a costume from hats to socks is labeled with the name of the production, character, and actor. Sometimes costumes have to be completely remade during a production run due to damage or changes in an actor's measurements. Swatches in the bible are used to match fabrics if original fabrics are no longer available.
The life of the costumes doesn't end with the end of a production run. Certain costumes will be selected for inclusion in the Royal Shakespeare Company archives. Under the current policy, every costume produced for certain characters, including Ganymede and Hamlet, is archived, as are costumes produced for famous actors or costumes displaying particularly impressive workmanship. Costumes not destined for the archive go into the main collection, where they are available for use in future productions or for hire including by members of the public, and which currently contains more than 30,000 costumes.
Many sewists will, at one point or another, explore a new craft. Stitching up historical costumes, cosplay, or creating costumes for theater productions are all opportunities to stretch your skills and refine techniques. Perhaps this glimpse into the operations of one of the world's preeminent costume departments will inspire you to bring your sewing know-how to the stage. At the very least, the next time you watch a play or a musical, you'll have a deeper appreciation of all the work and planning that went into the costumes.
Tips You Can Use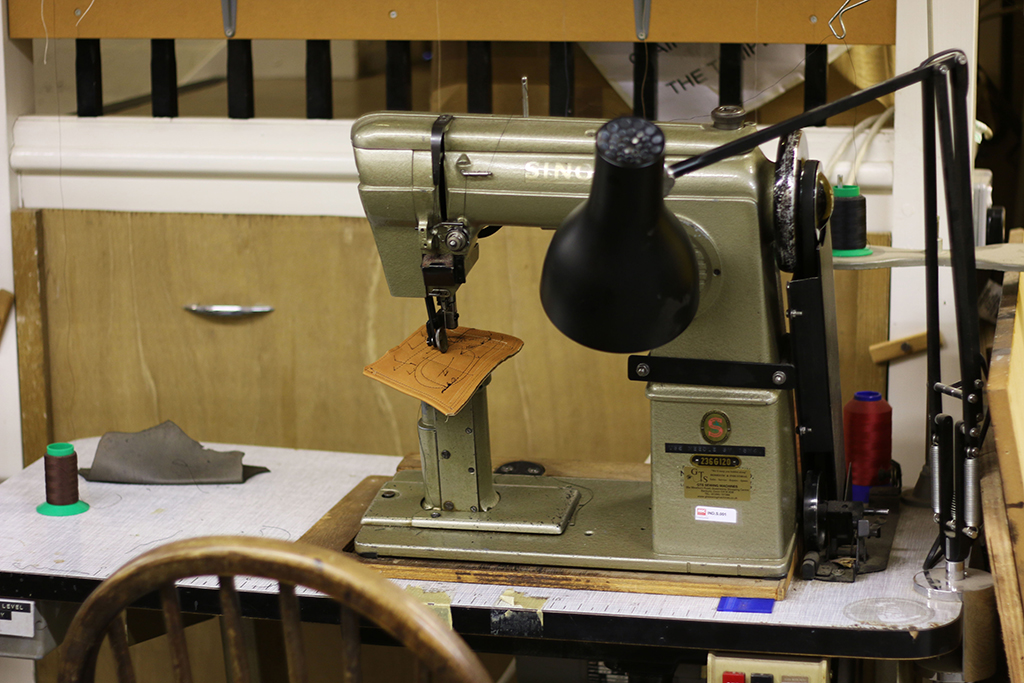 Looking to borrow some ideas from the Royal Shakespeare Company? Try one or more of the following:



Inner costumes or shields: Back in the day, facings were sometimes treated as shields that could be replaced or removed and cleaned without disturbing the entire garment. You might also consider wearing base layers that protect your handmades, like layering a lightweight t-shirt under a wool dress in winter. Especially handy for garments that require dry cleaning, hand washing, or spot cleaning.




Widen those seam allowances: A 1" or 2" seam allowance will give you a lot more leeway for alterations, both during the fitting process and after the garment is completed.




Easy alterations: Consider looking for patterns with a large number of seams (like princess-seamed bodices or multi-gored skirts) or changing a pattern to have more seams. More seams mean more opportunities to fine-tune fit. Also, think about how construction order might change how easily you can alter clothing after the fact. For instance, try switching things up so the side seams are stitched last.




Measurements: While 50 measurements might seem like a lot to track, how about adding just 1 or 2 more into your standard list of measurements? You'll stand a better chance of making flat pattern adjustments straight out the gate, cutting down on overall fitting later on. This worksheet is one place to start.




Embellishments: Think through how embellishments might change your ability to alter a garment down the road, and make alterations as easy as possible by minimizing the amount of unpicking you'll need to do. If styling a garment with trendy or eye-catching embellishments, this is a good technique to borrow.




Aging costumes: Useful whether you're planning a Halloween costume or dressing an entire cast of actors. This article offers some great suggestions.



Join the Conversation
Sign in or become a Seamwork member to comment on this article.