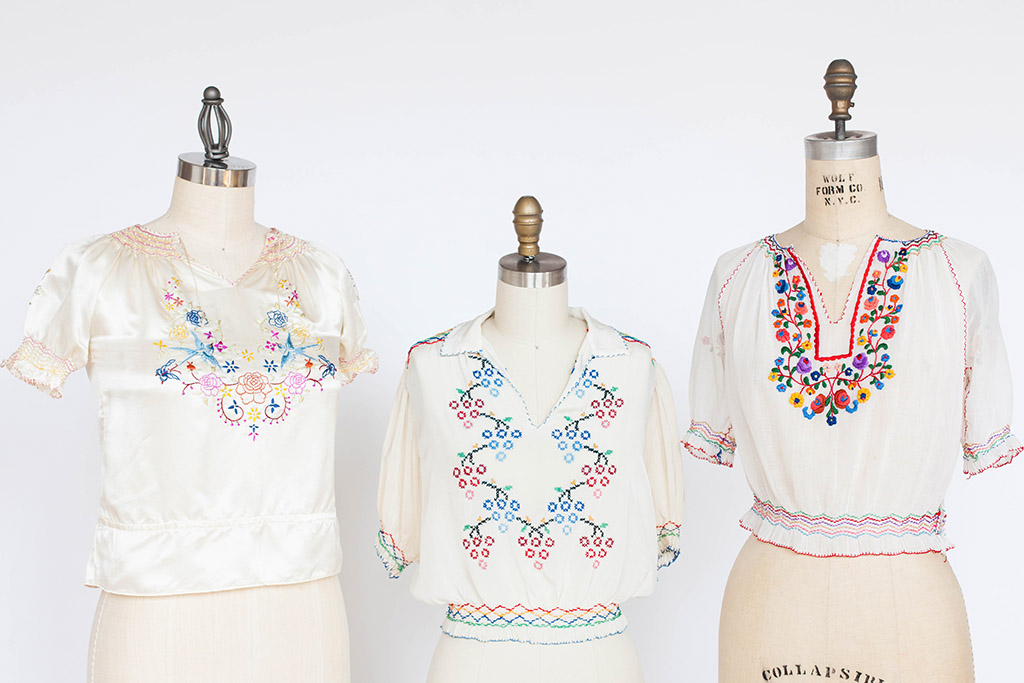 The peasant blouse is an iconic clothing item that has made many appearances throughout history. In response to the Ballet Russes in the 1920s, Eastern European styles became extremely popular. Times changed during the 1930s, a greater distinction was made between daywear (or sportswear) and evening wear. Women needed clothes that suited the more active lifestyle brought on by financial hardship. Peasant blouses are prime examples of a commitment to creating beautiful clothing despite little resources. These blouses often used no more than a yard of fabric, but hours upon hours were poured into the needlework.
Peasant blouses were a practical and on trend item that women could stitch up at home. Though typically simple in construction, these garments were heavily embellished with embroidery and hand smocking. Inspiration for these blouses was drawn from traditional Romanian and Hungarian garments. The motifs ranged from geometric patterns to scrolling florals, making an otherwise simple blouse truly a one-of-a-kind piece of art.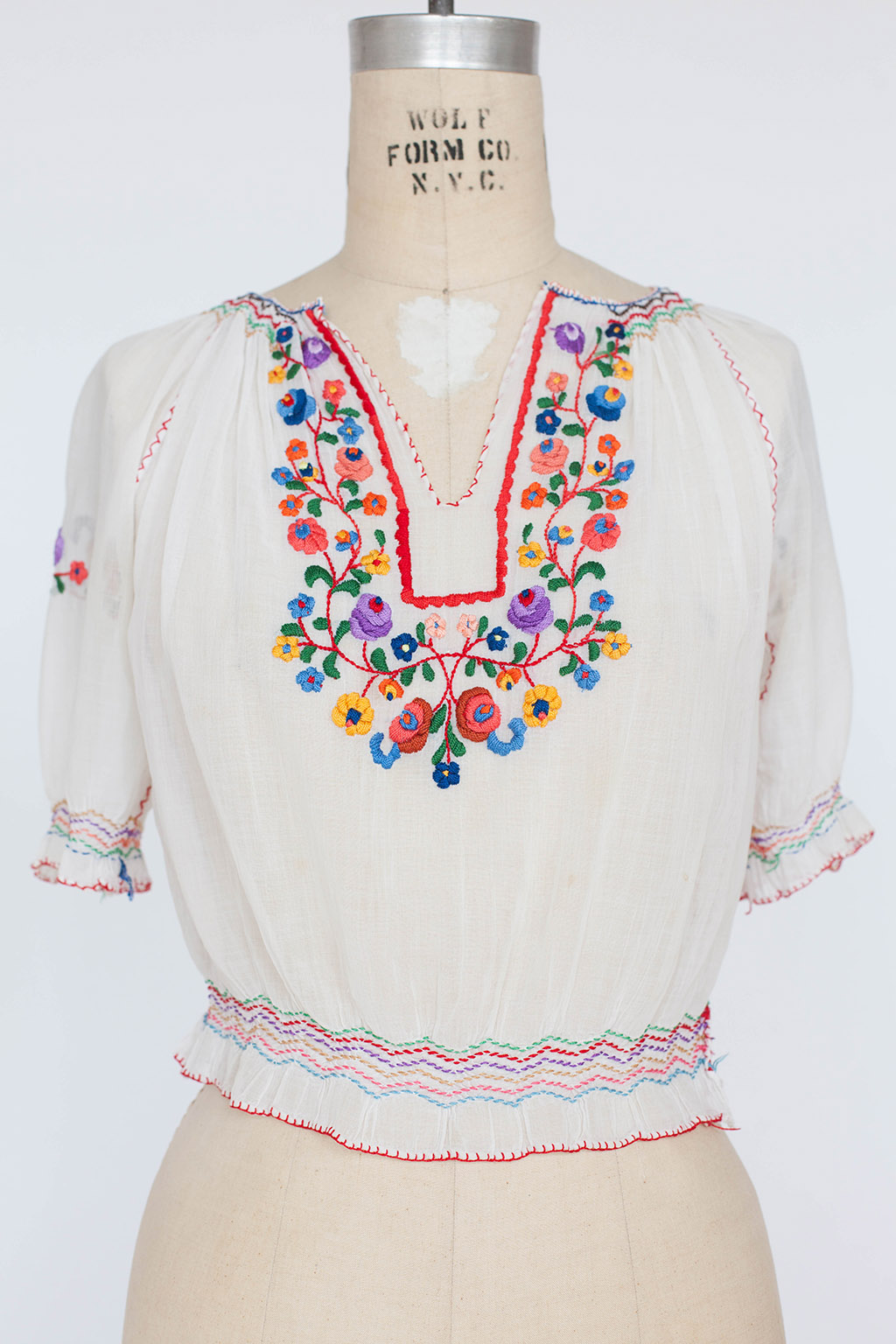 This particular peasant blouse is made of a very fine gauze-like cotton. It features a raglan sleeve and has a blouson fit with ample ease. The embroidery and hand smocking make this garment artful and unique.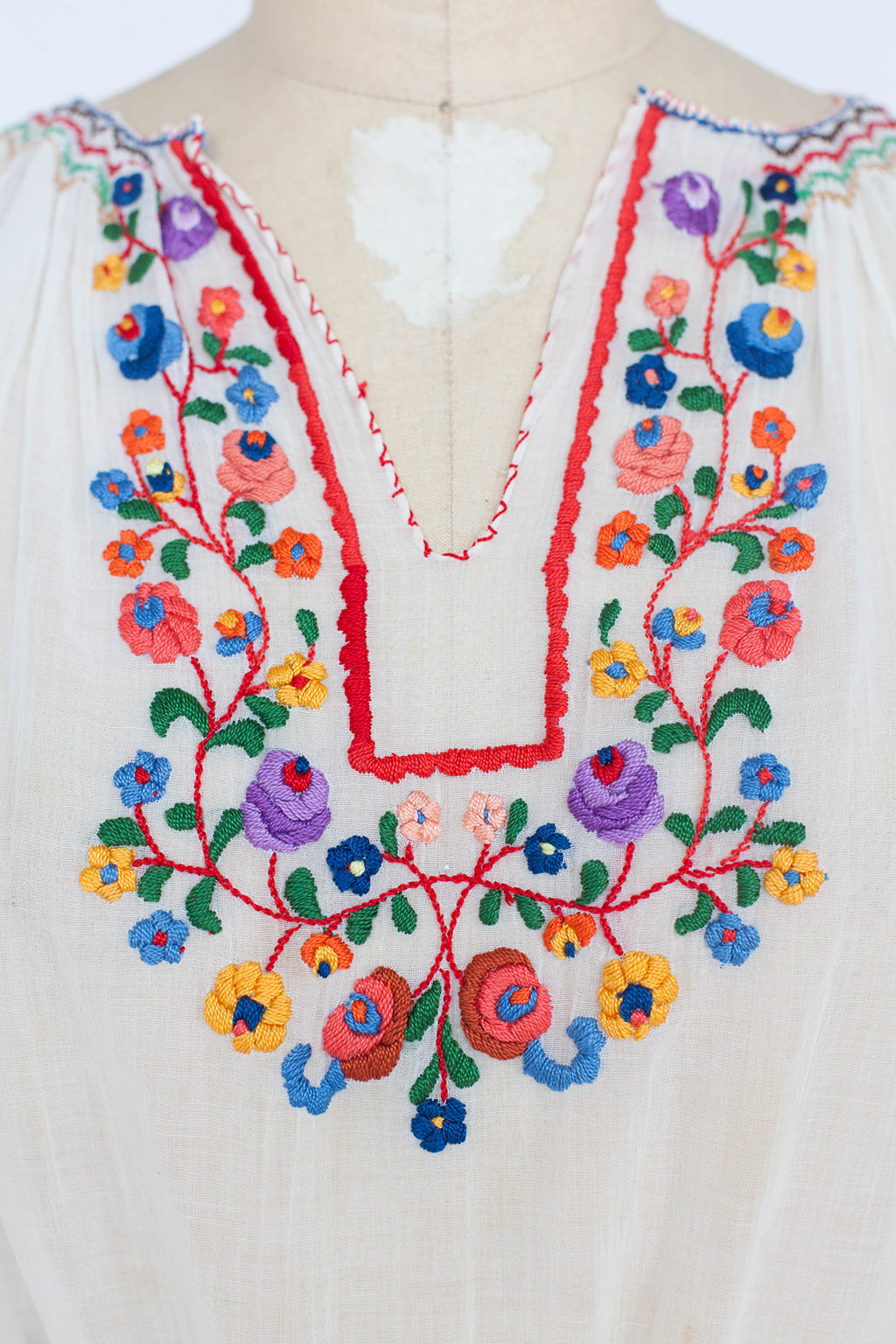 This most striking feature of this blouse is the embroidery work surrounding the front neckline. A 2-ply embroidery floss was used to create an incredibly dense satin stitch for the flowers. A stem stitch is used to create the vines that connect the embroidered flowers. This intricate detail provides rich color and contrast again the white backdrop. A red scalloped border highlights and outlines the embroidered flowers.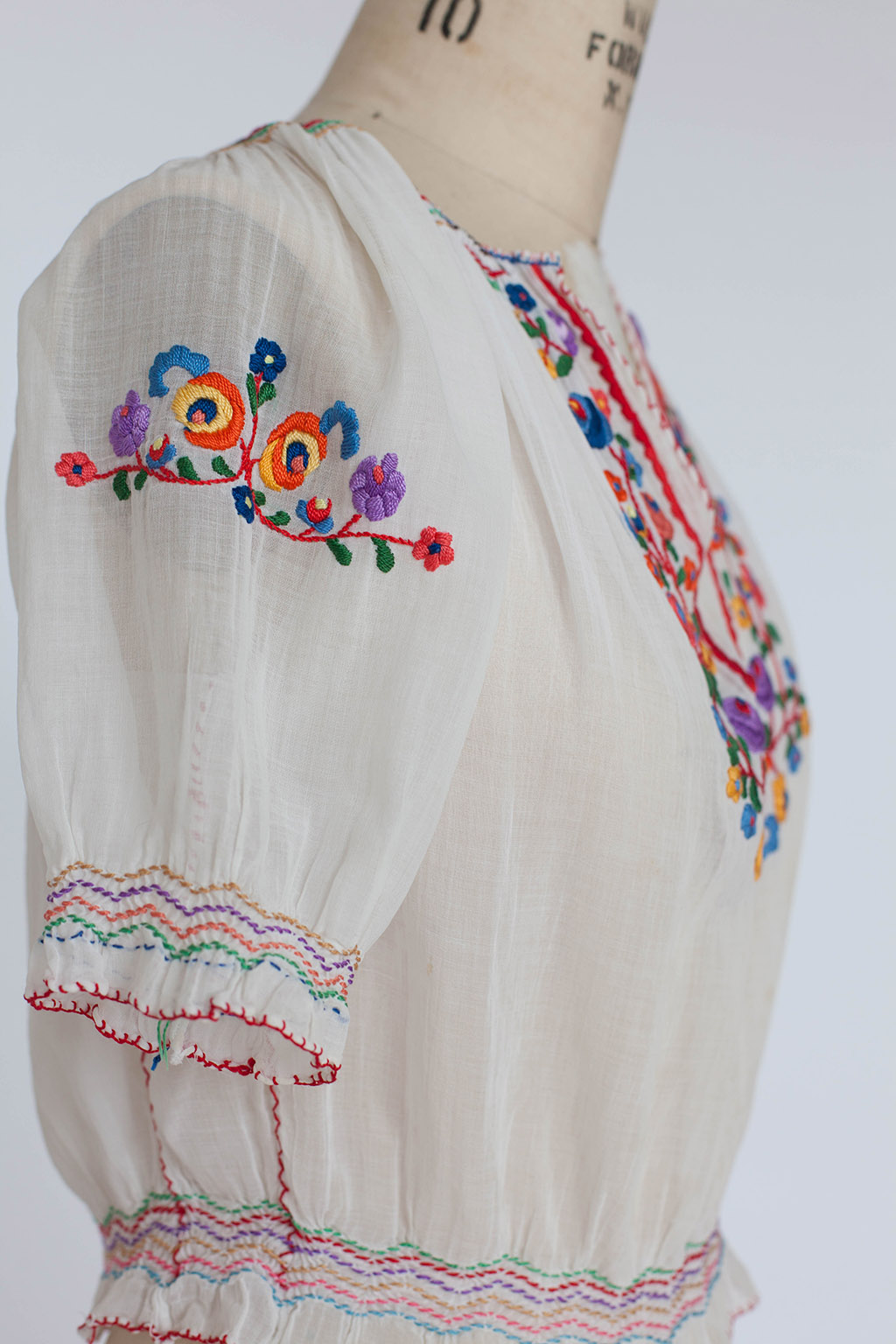 A small swatch of the same floral motif is echoed on the sleeves of the garment. A gusset in the under arm allows for movement. The gusset extends into a separate side panel. It is likely that the panel was added to use the width of the fabric in a more economical fashion.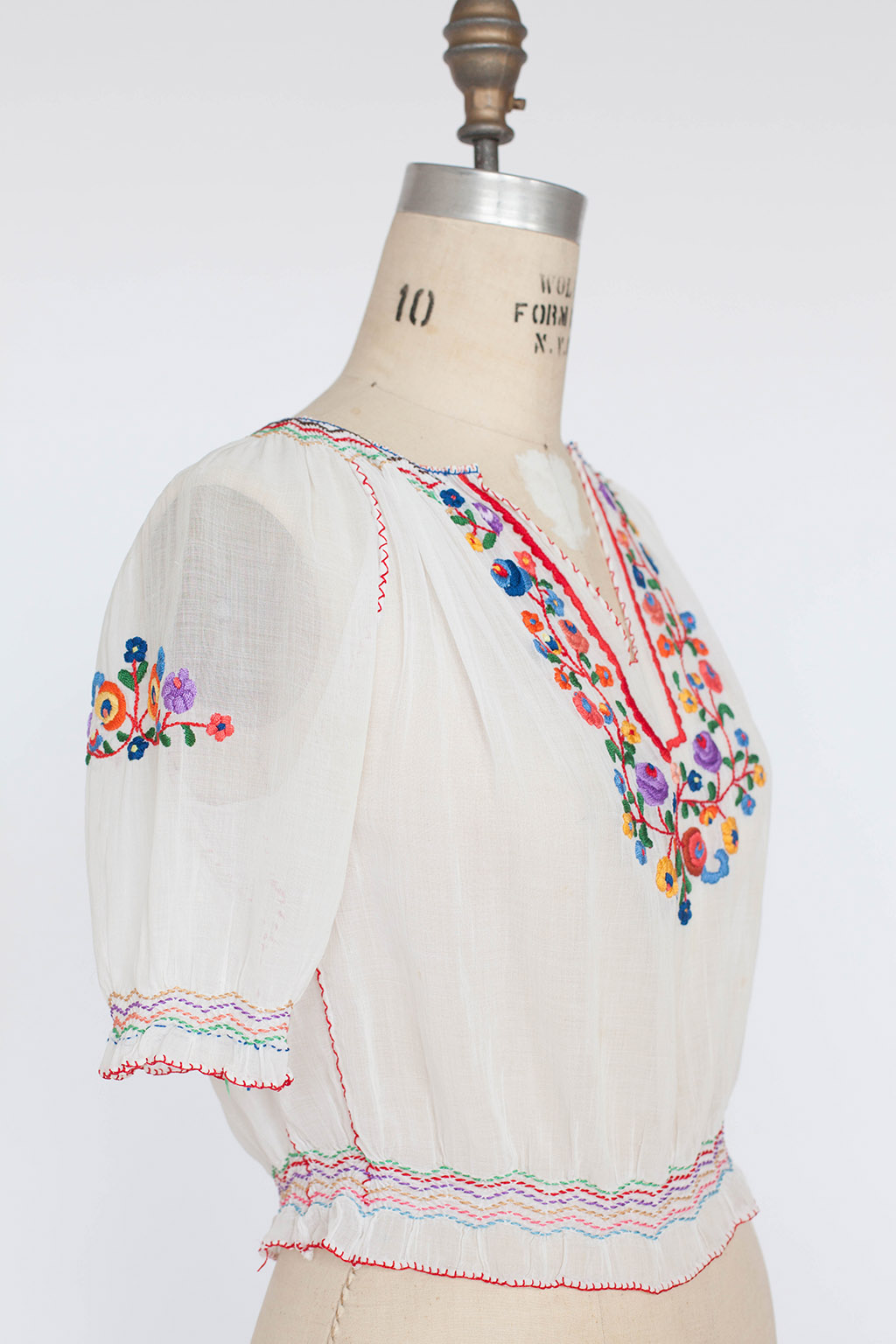 The main construction of this garment was done with the help of a sewing machine. The seam allowances are turned and stitched to create a clean finish, measuring a scant 1/4 inch. They are then topstitched with an embroidered zigzag stitch that is decorative, but also protects and supports the delicate fabric at the seams.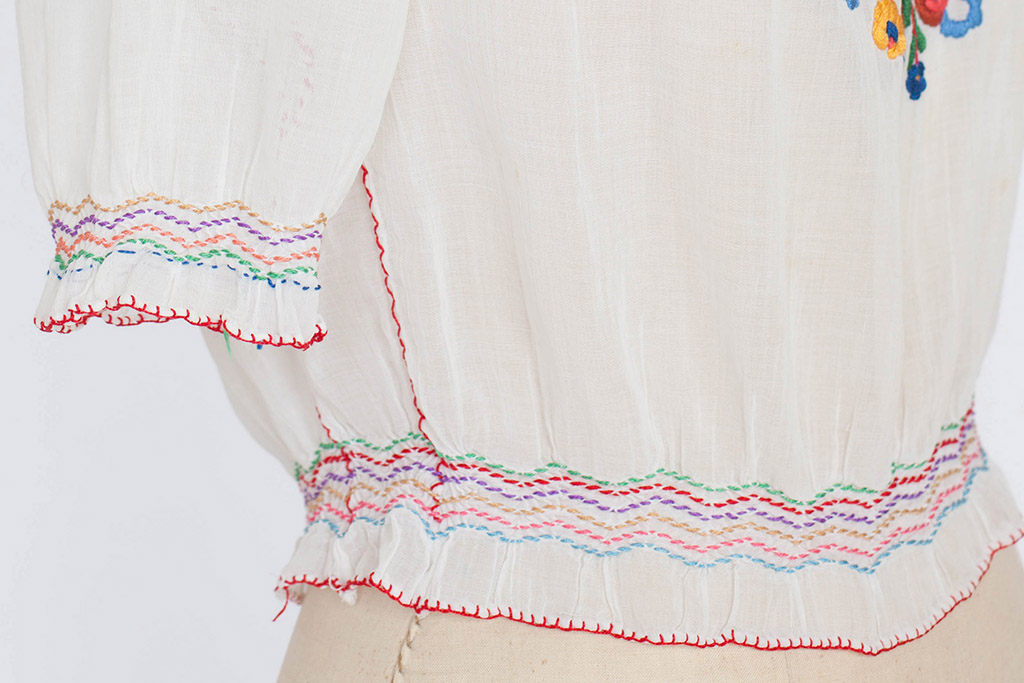 The hand smocking featured at the hem and sleeve of the blouse gives the garment its shape. At the hem, six rows of hand smocking form a shallow chevron, cinching the garment in and adding additional interest. Four rows of smocking gather the hem of the raglan sleeve lending soft volume. The neckline is also gathered with the help of hand smocking.
The edges of the blouse are finished with a very small rolled hem, which is cleverly secured with a blanket stitch. At the neckline, a double blanket stitch of blue and red is used to secure the small rolled hem that finishes the edge.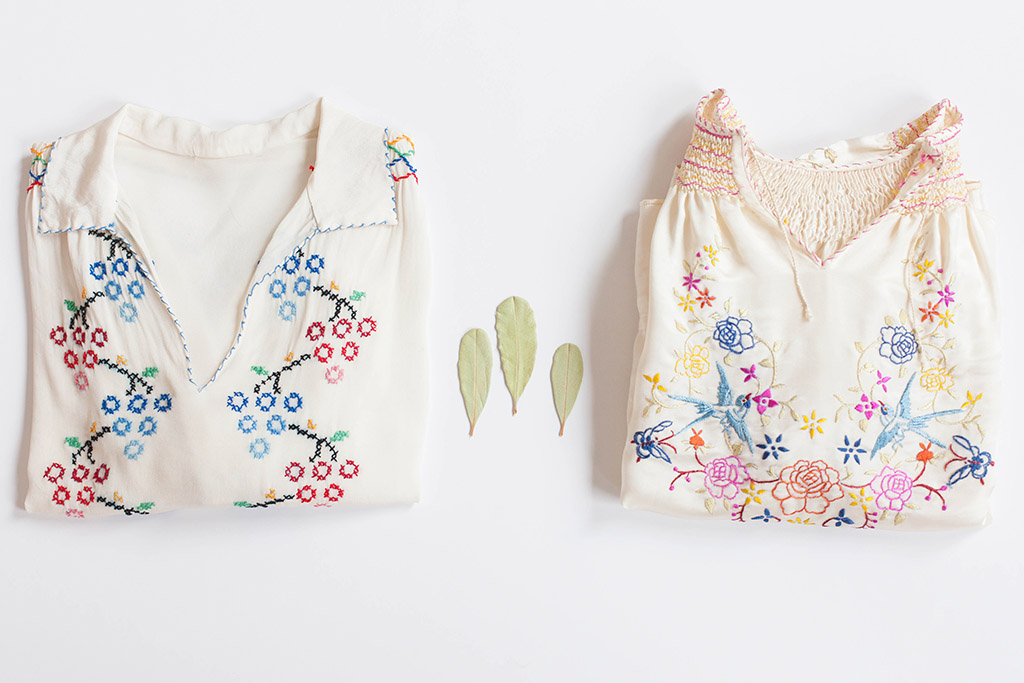 Join the Conversation
Sign in or become a Seamwork member to comment on this article.