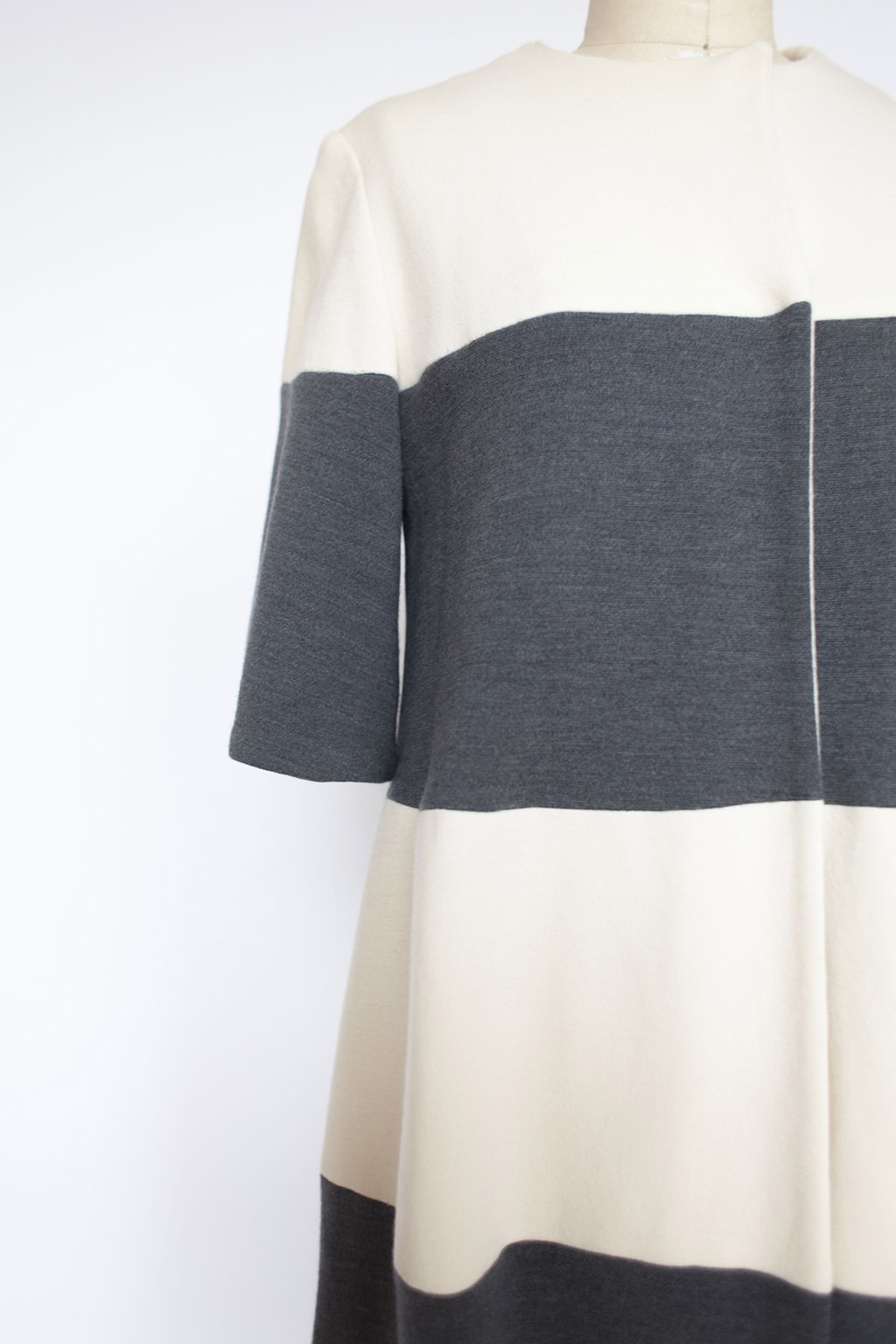 Modern knitwear is a no fuss staple. Relaxed t-shirts and hoodies may be king in today's casual wardrobe, but knit garments have evolved considerably over the past century. In 1916, Coco Chanel launched a line of jersey dresses, sailor cardigans, and sweaters, marking the birth of modern knitwear. Since then, this fabric choice has seen many incarnations and trends.
In this month's Behind the Seams, we take a detailed look at a knitwear set from the early 1960's by designer Lilli Ann. This period of knitwear fashion offers plentiful construction and design details to inspired the modern seamstress. The most striking features of this set are design elements that are more commonly associated with woven garments.
Lilli Ann was founded in 1933 by Adolf Schuman, and they were known for their high quality women's suits. After WWII the company moved to Paris, and began sourcing fabric from small local mills that were in danger of closing down. Adolf is thus credited in saving many of these companies from closing. In the 1960's, Lilli Ann released a very popular line of knitwear that drew inspiration from London's current fashion trends.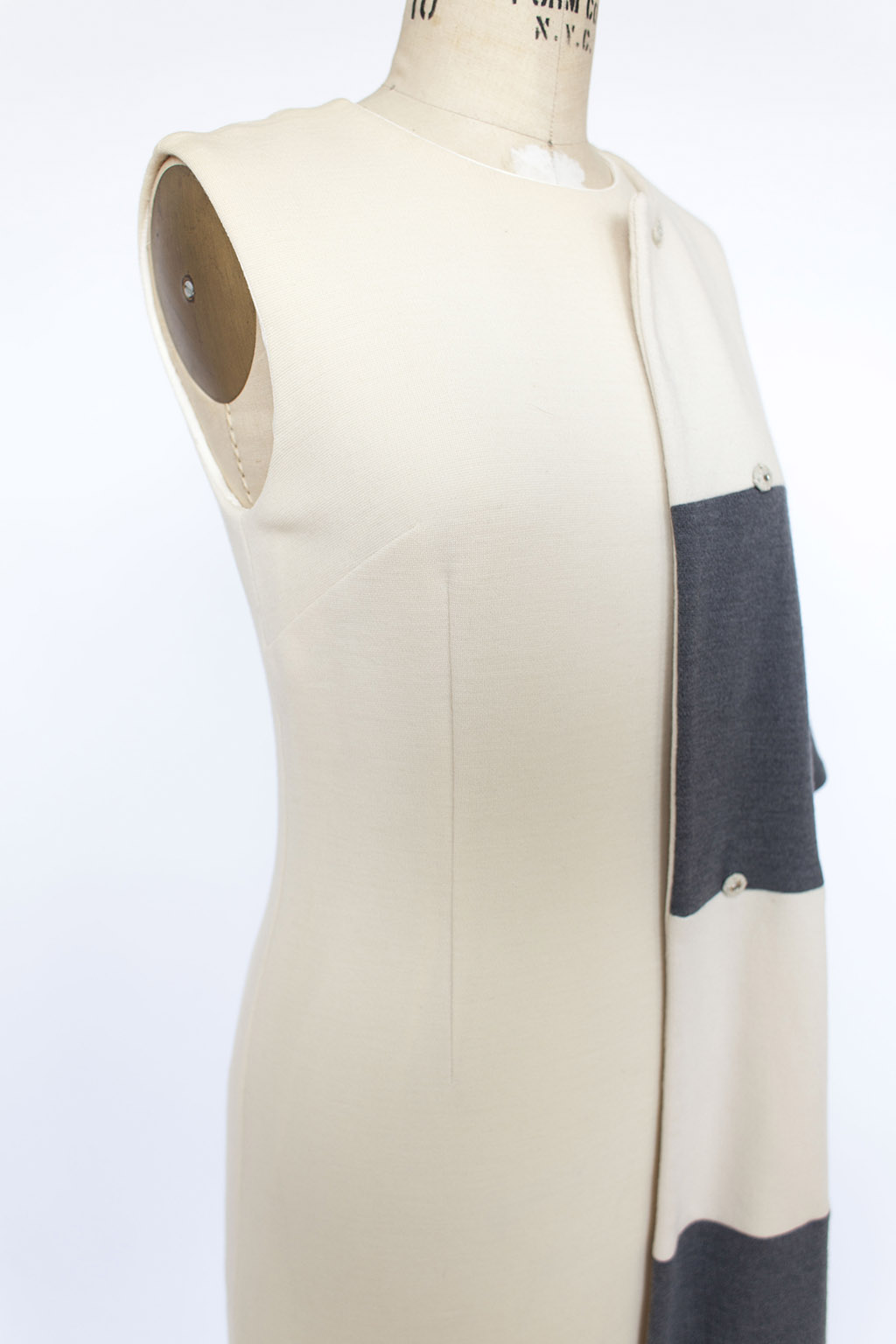 This dress and coat set is made of heavy wool and polyester knit. The dress is heavily shaped by darts. The front features bust darts and contoured (fisheye) darts, while the back has contoured and shoulder darts. This gives the dress a very form hugging and structured shape.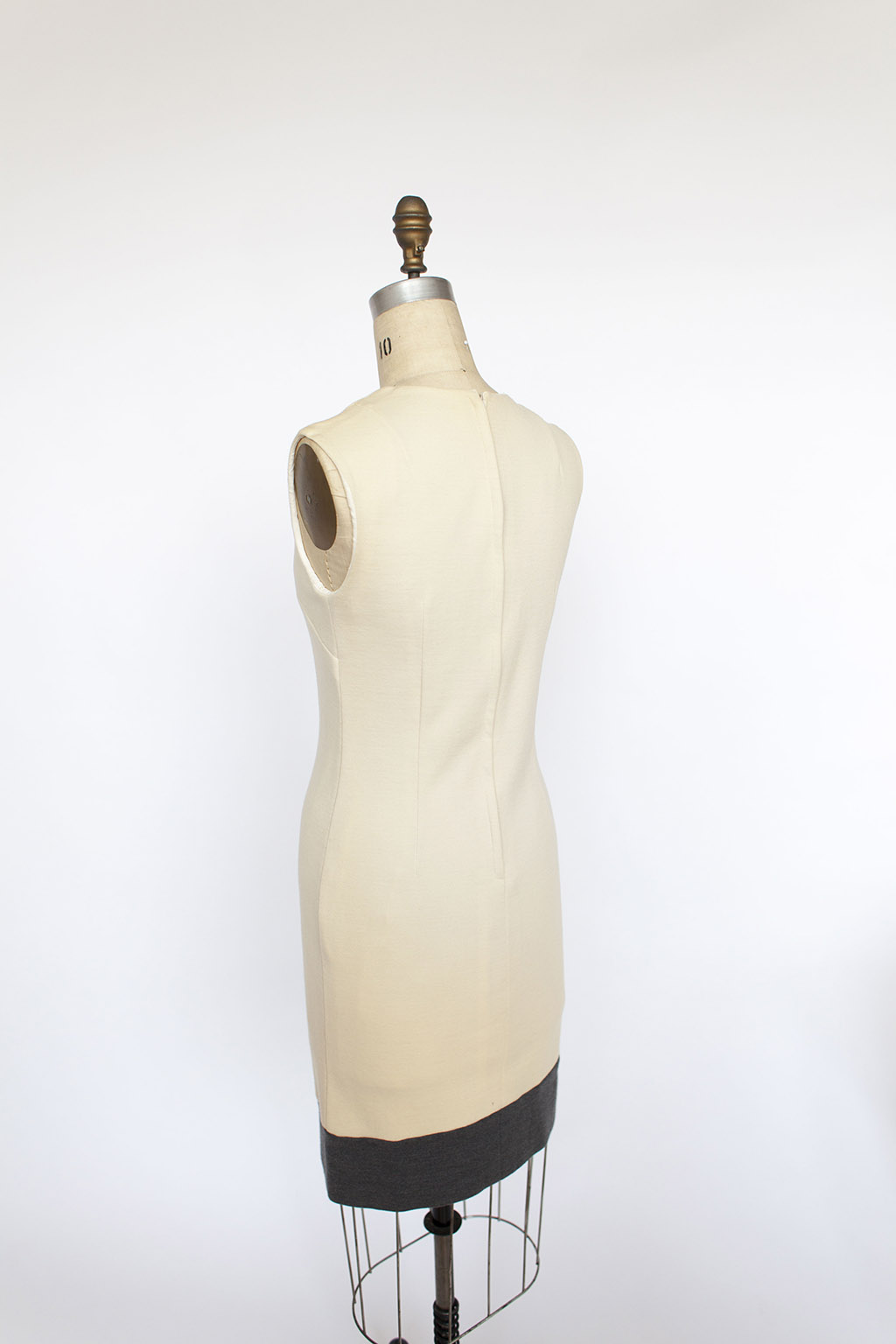 The dress features a center back lapped zipper, and is finished with a hook and eye closure at the neckline.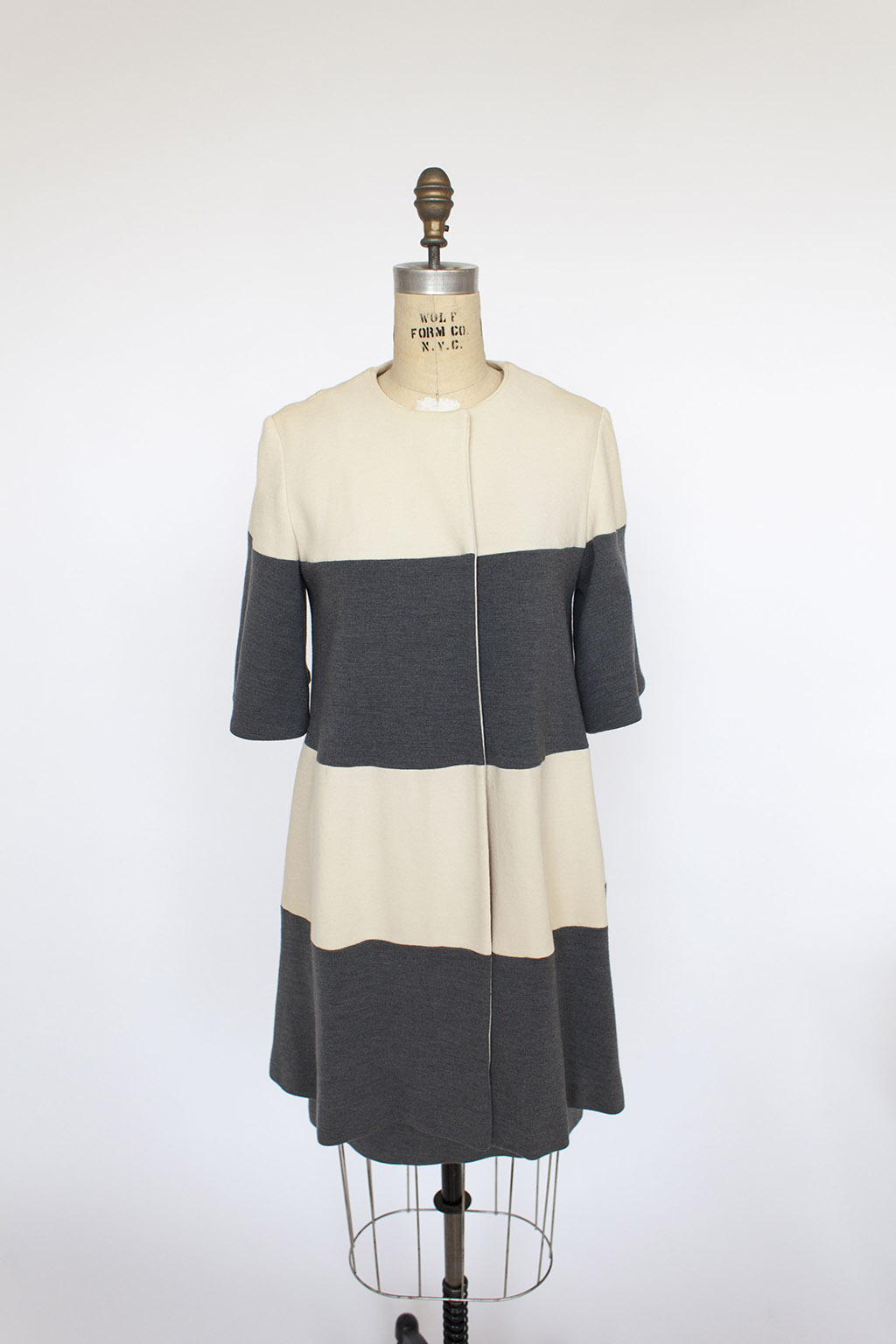 The coat is beautifully pieced, creating broad horizontal stripes from two different fabrics, a look you could recreate at home. This motif accentuates it's a-line shape. Notice that the designer has carefully matched the pieced stripes across both sleeves.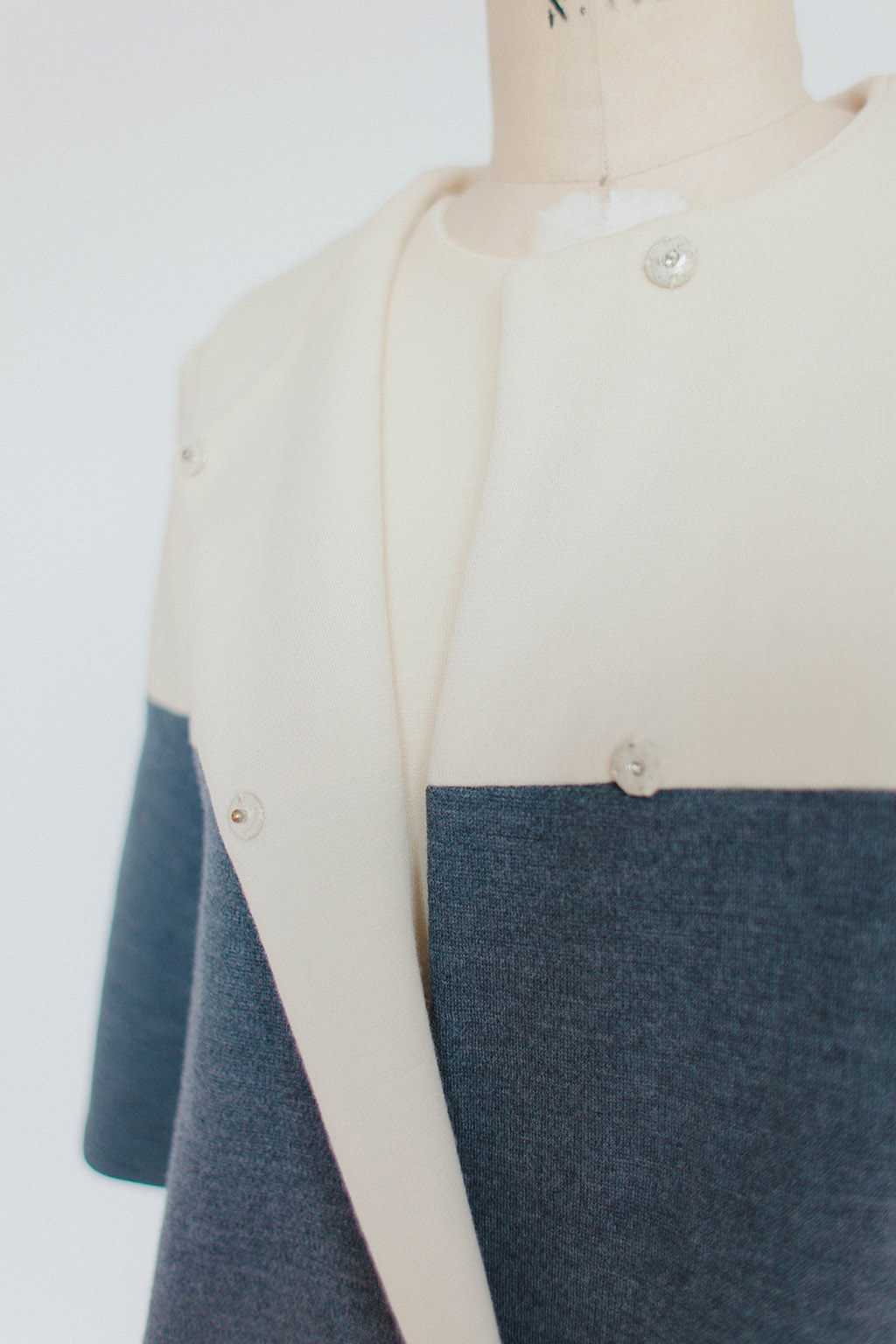 Snaps were used to create the garments closure. The snaps are covered in a sheer muslin material. This detail has stood the test of time, showing surprisingly little wear.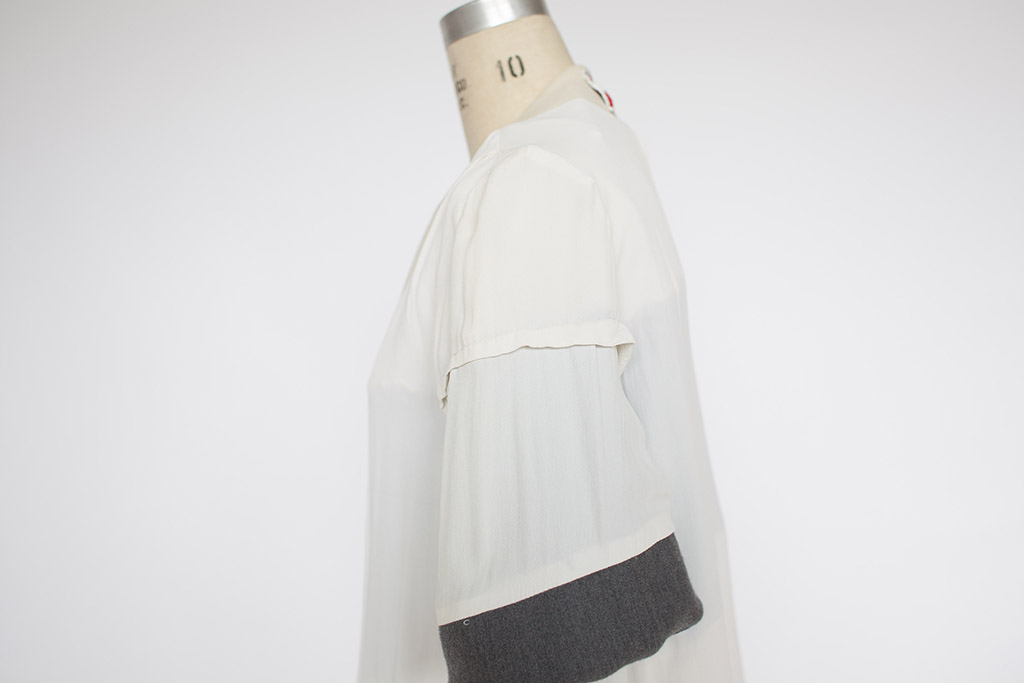 The interiors of both the dress and the coat are finished with a silk crepe lining. The sleeve lining of the coat has a small horizontal pleat. This is to accommodate for any future alterations by the owner.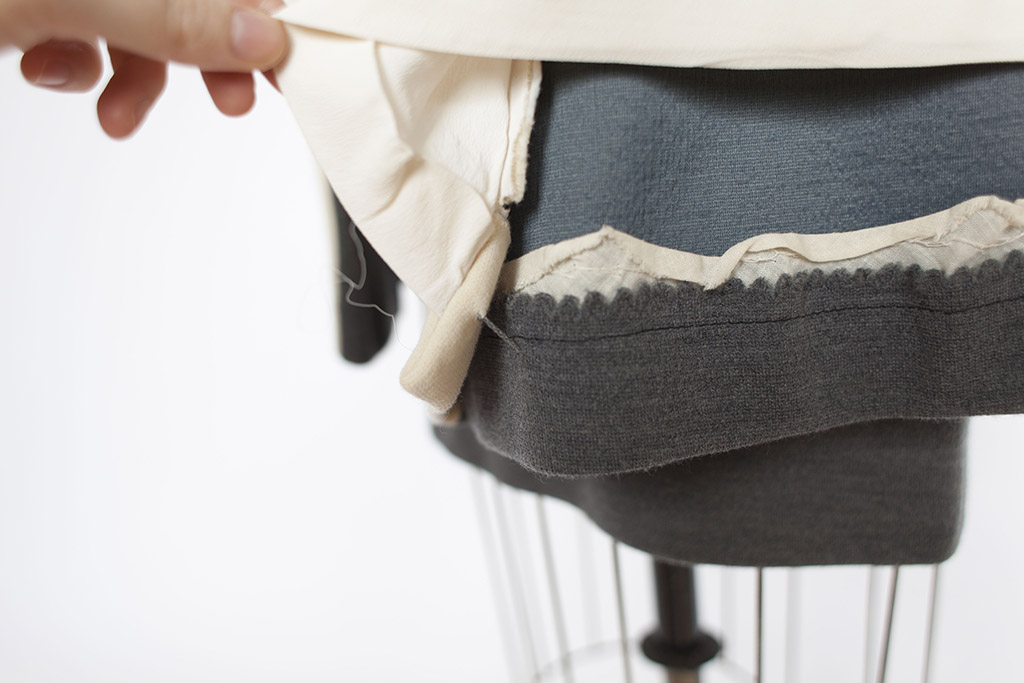 The coat is finished with a single fold hand picked hem with a pinked edge. A strip of muslin cut on the bias is attached with a single needle stitch to the pinked edge to offer flexible stability. The lining hem is secured to the coat with french tacks, allowing for movement while preventing the lining from riding up.
Join the Conversation
Sign in or become a Seamwork member to comment on this article.