To walk into a Victoria's Secret is to travel through the bizarre world of brassieres. I am bombarded by a head-spinning assortment of demi-cups, push-ups, wired, unwired, lace, cotton, bralettes and uni-boobs. The almost endless array of options—and the subsequent marketing thereof—have catapulted the bra out of the secret lingerie drawer to major fashion status, complete with catwalk shows. And while the three-million-dollar diamond and emerald fantasy bra from Victoria's Secret seems a far cry from the wool breastband worn by women in Ancient Rome, the primary purpose of the garment itself remains the same.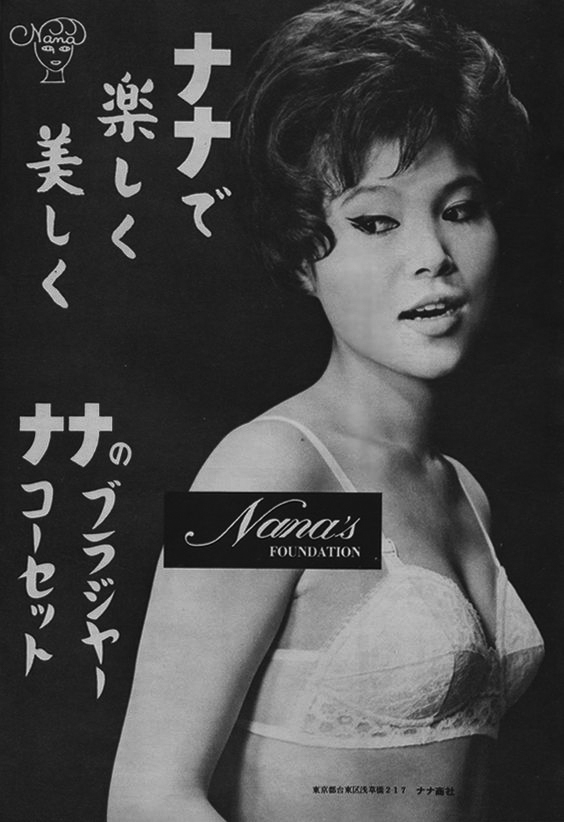 Vintage bra ad for Nanas Foundation, 1961.
Faced with a dizzying array of options, many women—myself included—resort to wearing the same ten-year-old bra, now discolored and stretched out. And in some cases—myself included—often forgo wearing a bra at all. When it comes time to finally buy a new one, I pluck up the prettiest style that is in my size, not bothering to get properly fitted. However, a bra shouldn't be chosen so flippantly. This is a garment that will be in intimate contact with you. A well-chosen bra can make you look and feel better. A poorly fitted bra—which up to 85% of women wear—can cause major neck and back pain, along with a host of other issues.
While the origin of the bra dates back to ancient times, it wasn't truly adopted as a mainstay of women's foundation wear until the twentieth century. Looking at the development of the bra over the last 100 years is to see a snapshot of society: those tiny garments hold the story of fashion, politics, and women's liberation and sexuality.
Lift & Separate
Despite the urban legend that a man named Otto Titzling (pronounced: tit sling) invented the twentieth-century bra, it was, in fact, a 19-year-old society maven by the name of Mary Phelps Jacob who first patented a non-corset-like bra design.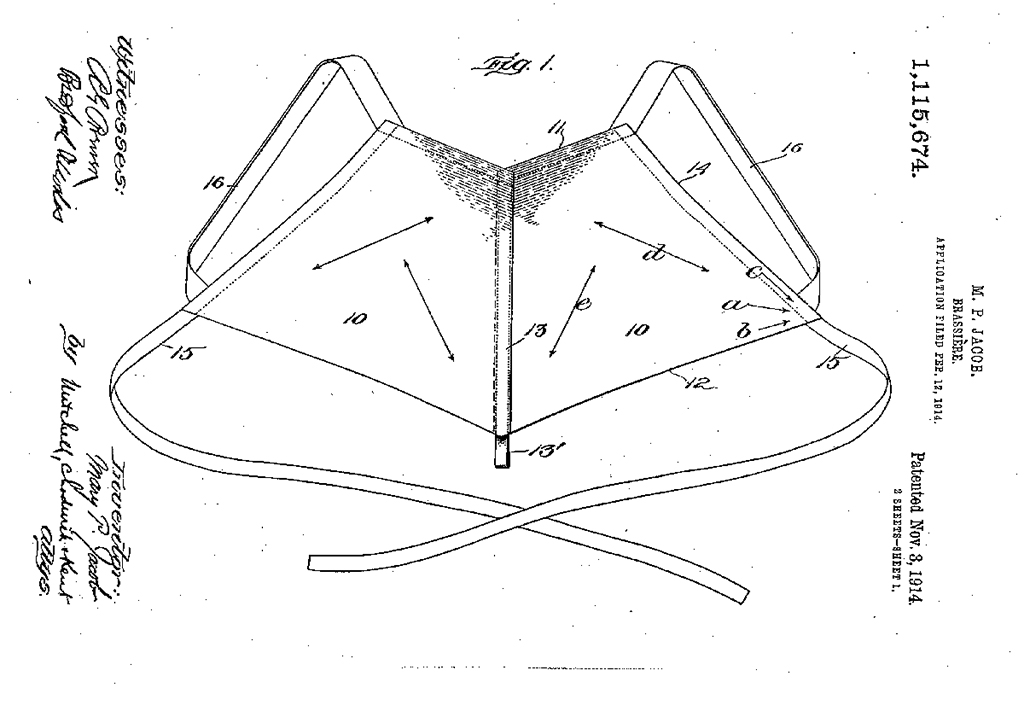 Mary Phelps Jacob's patent for the backless brassiere.
As the story goes, in 1910 Jacob had purchased a sheer evening gown with a plunging neckline which could not conceal the whalebone stays of her corset. Frustrated, Jacob had her maid bring two handkerchiefs, ribbon, and some sewing materials. From this she fashioned a bra that used shoulder straps and a wrap-around band, which she wore as an alternative to her corset. At the dance that evening, Jacob's movements were noticeably non-constricted, and her friends clamored for bras of their own. In 1914 Jacob patented her backless brassiere, which she later sold to the Warner company—still one of the largest lingerie manufacturers today.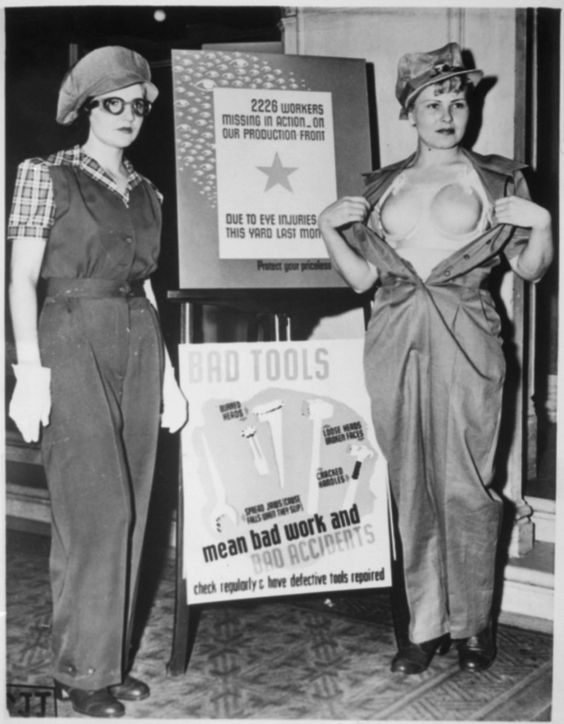 Wartime factory workers demonstrating their protective gear.
Jacob's bra offered little in the way of support and instead flattened the breasts to the torso. This style fortuitously mirrored the silhouettes being designed by the likes of Coco Chanel and Paul Poiret, which eschewed the corset and promoted a lengthened torso and flat chest. By the time the shapeless shift dresses preferred by flappers in the 1920s came around, flat chests were all the rage and young modern women were binding their breasts to get the coveted garçonne silhouette.
Fashion silhouettes were not the only incentive for women to adopt the bra—there was the matter of the Great War with which to contend. By 1917 the war to end all wars had been raging for three years, and the United States was in the midst of a metal shortage. In desperation the US War Industries Board asked American women to stop buying corsets, a simple request that was said to free up 28,000 tons of steel. By the end of the war, the bra had become the preferred undergarment for women.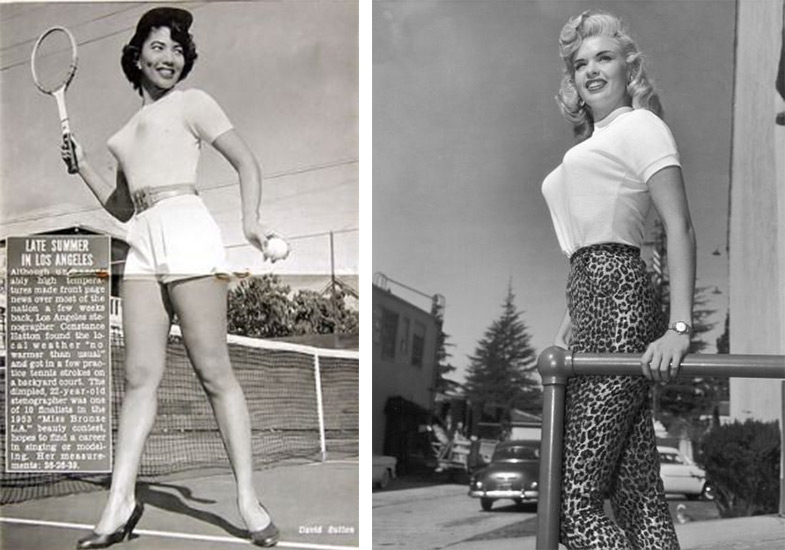 Model Constance Eaton and actress Jayne Mansfield sporting bullet bras.
Ida Rosenthal was not impressed by the breast-binding styles of the flapper era. As a Russian immigrant who owned a dress shop in Manhattan, she saw first-hand that the chest-flattening silhouette was neither flattering nor functional for most women. Ida, who had a fairly sizable bosom of her own, wondered, "Why fight nature?" In response to her customers' distress, she and her husband designed a bandeau-style bra with built-in cups that supported and separated the breasts. Her clientele clamored to purchase the bras and Rosenthal surrendered to their demands, dropping her dress designs and focusing her company, Maidenform, on designing bras and swimwear.
World War I may have kickstarted the trend for bras, but World War II sealed the deal. By this time, bra manufacturers had initiated the now familiar letter-based sizing chart. Along with adjustable bands and hook-and-eye closures, women of all sizes were now getting the support they needed. This was especially important for the working women of the war effort who had moved out of the house and into the factories and farms. The new adjustable nylon bras allowed women to move comfortably in their physically demanding jobs.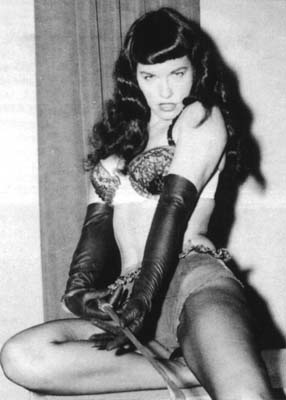 Pinup girl, Bettie Page, was a
frequent customer of Frederick's of
Hollywood. Photo by Irving Klaw via
Wikimedia Commons.
5 Fun Facts in Bra History


In the 1950s, Frederick's of Hollywood introduced the Blow-Up Bra—a much easier option than surgery.


In 1977 the Jogbra, the first sports bra for women, is released. The first prototype was made of two jock straps sewn together.


In the mid-1970s the Nipple Bra is released for those who need the support of a bra but want the natural look of a built-in hard nip.


In 1997 the Original Water Bra is released, a bra that is filled with water and oil instead of padding.


In 1996 Victoria's Secret released its first fantasy bra, the Million Dollar Miracle Bra, modeled by Claudia Schiffer. Prices have gone up since. Gisele Bundchen's 2000 Fantasy bra and panty set cost $15 million.


Meanwhile, soldiers fighting in far-off shores tacked up posters of well-endowed pinup girls, like Jane Russell and Rita Hayworth, who accentuated their natural endowments with conical-shaped torpedo, or bullet, bras. One Hollywood store in particular became a go-to for their signature version of this style, called the missile bra. In fact the owner of this store, Frederick Mellinger, would pioneer the idea that lingerie wasn't just functional, but could be sexy too.
Sex Sells
The buxom angels stalking down the Victoria's Secret runway owe a debt of thanks to Frederick Mellinger, not only for popularizing sexy lingerie, but for also inventing some of the most long-lasting and gravity-defying brassiere styles. Mellinger had started working in the lingerie business during the Depression, until he was fired for suggesting the company sell black lingerie, instead of the boring, standard white or pastel. After a stint in WWII he was inspired to open a store selling European-style lingerie, and opened Frederick's of Hollywood in 1946.
His almost scandalously sexy styles attracted starlets, movie stars, and everyone else. It turned out that not only did men prefer more exotic lingerie, but so did many women. In 1948 Frederick's introduced their Rising Star Bra, the world's first push-up bra, featuring heavy foam padding and underwires. Intended to give the wearer the deepest of cleavage, the Rising Star turned many a housewife into a pinup girl. Frederick's went on to introduce other classics such as the Blow-up Bra, the Front-hook Bra, and, of course, the Peek-a-boo Bra, which had holes cut out in the middle of each cup.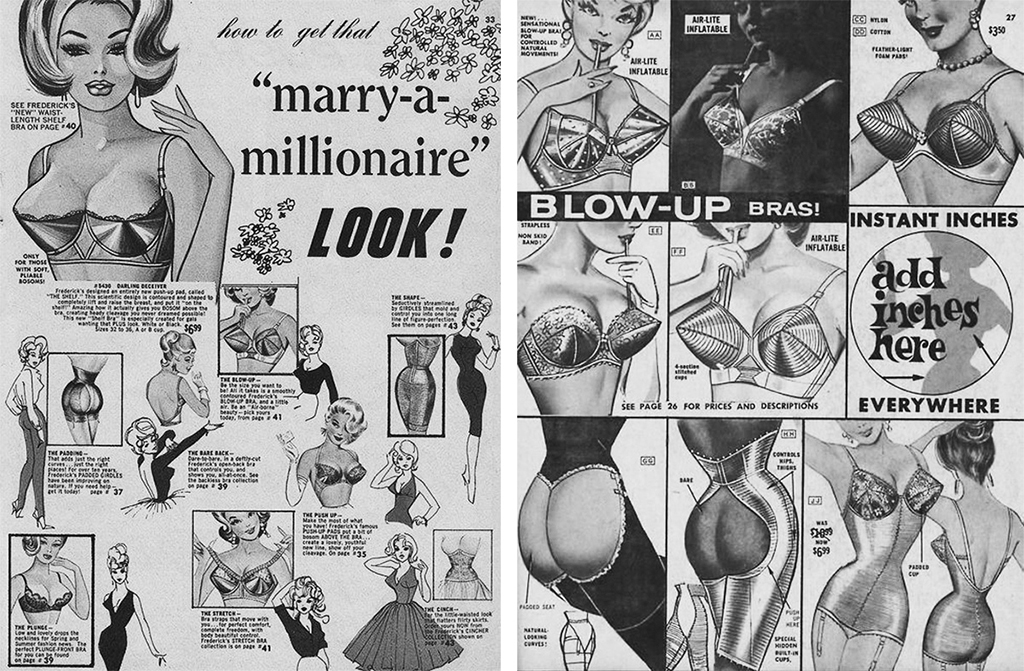 Illustrated vintage bra ads from Frederick's of Hollywood.
Today, standing in the midst of Victoria's Secret, surrounded by larger-than-life images of models whose cups runneth over, you see customers of all kinds. Moms with strollers, a gaggle of teenage girls, husbands shopping with their wives—generations of consumers who have not only grown up with incredibly sexualized media, but have almost become immune to it. This is quite a change from when Frederick's of Hollywood first began selling their lingerie. Then, they couldn't show actual photos of women in bras in their advertisements and had to make do with fashion illustrations.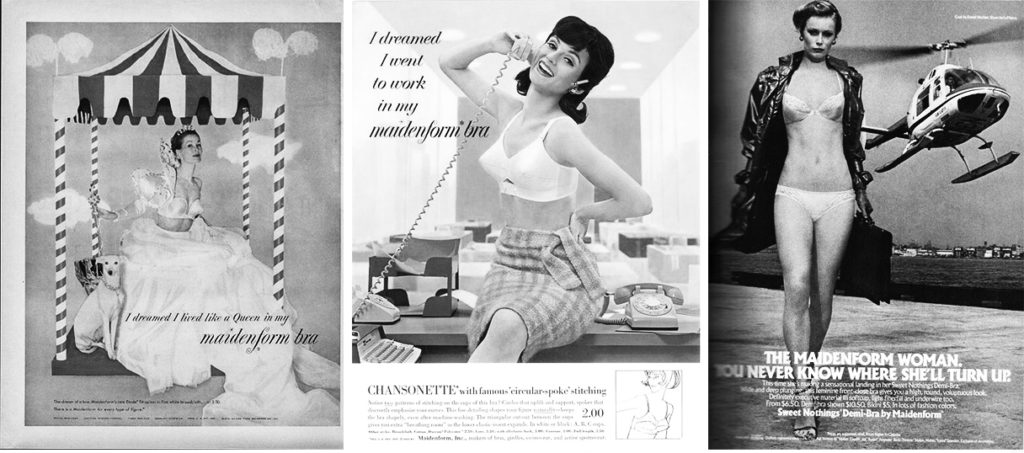 Three decades of Maidenform advertisements.
At the time, lingerie was a deeply private garment, an idea which mirrored society's moral take on sexuality in general. Bra ads showed women in anonymous situations, with blank backgrounds, or in dressing rooms. As the decade progressed, advertisers graduated to showing photographs of women in lingerie, but heavily edited the images so they wouldn't look too real. Then, in the early 1950s, Maidenform came out with their "I Dreamed…" campaign, which took lingerie out of the bedroom and into social situations. Women dreamed of being everything from Grecian goddesses, tiger hunters, private eyes, designers, and working women, all in their Maidenform bras.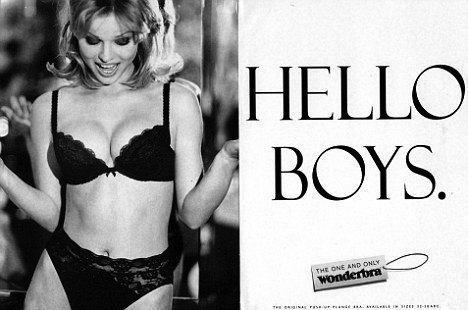 Eva Herzigova's Wonderbra ad.
With the sexual revolution of the 1960s, advertising rules became less restricted, and in 1969 television aired the first commercial showing a real woman's torso naked except for a bra. As decades went on, overt sexuality became more mainstream, a trend that was reflected in advertisements and culminated in the traffic-stopping 1994 British Wonderbra ad featuring Eva Herzigova. In the ad, a delighted Herzigova gazes down at her ample cleavage next to ad copy that reads, "Hello Boys." The ad, which today seems completely ordinary or even tame for a lingerie ad, literally stopped traffic around the billboards where it was displayed.
Herzigova's Wonderbra ad was controversial not only for the traffic accidents, but also for the claim that the ad was blatant sexism, with Herzigova doing nothing but getting her ladies out for the lads. However, supporters of the ad, including Herzigova herself, felt that the ad was empowering and depicted a woman taking charge of her own sexuality. This push-me-pull-you debate of sexual empowerment is one that has been orbiting around the bra for decades.
Bras That Oppress and Uplift
The most referenced act of the women's liberation movement of the 1960s is one that never actually happened. The 1968 Miss America protest that climaxed with a group of protesters burning their bras has been turned into the prototypical example of militant feminists, with bra-burners becoming a derogatory term. However, the burning never happened. In reality, the protesters threw a collection of symbolic feminine products, including bras, makeup, and high-heeled shoes into a Freedom Trash Can, as a statement of how beauty ideals oppressed women.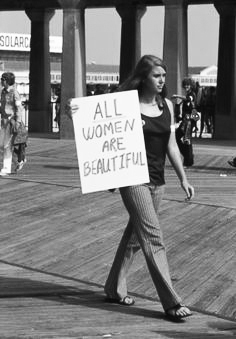 Protester at the 1969
Miss America contest.
This act came at the end of a decade when beauty ideas had shifted, and so had women's "place" in the world. Gone were the sweater girls of the 1950s with their constricting girdles and bullet bras. The women of the 1960s were wearing more natural shapes like Rudi Gernreich's No-Bra, a soft garment that supported the breasts without changing their shape, or some chose not to wear any bra at all. Styles like the No-Bra, a precursor to today's bralette, were comfortable alternatives to the engineered, underwire bra, and a more natural silhouette trended throughout the 1970s.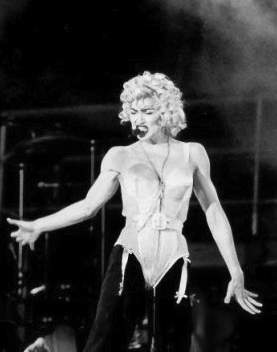 Madonna wearing her Gaultier
lingerie costume, by Hans Schaft
via Wikimedia Commons.
And then came Madonna. Two decades after the women's liberation movement began, this 25-year-old woman exploded on the scene, intent on ruling the world. She basked in her sexuality, unapologetically turning underwear into outerwear as she layered lace bras, mesh shirts, teddies, and corsets. Madonna's Blonde Ambition tour featured iconic costumes designed by Jean Paul Gaultier. Vintage-inspired satin corsets, garters, and extreme bullet bras mixed with men's suits, and played on the contrast between the feminine and masculine. As she extolled her crowd not to "look for second best" Madonna embodied the role of powerful woman and artist.
Bombshells Make Way for Bralettes
Is it any wonder that as Madonna's lingerie look went mainstream, a start-up company called Victoria's Secret became the first national chain of lingerie stores, selling fashionable bras in endless colors and styles? Victoria's Secret still rules the lingerie industry today, having cemented their brand on the influence of bombshell supermodels like Heidi Klum and Gisele Bundchen.
However, if we have learned one thing over the last century of fashion, it is that it always changes. Padded and push-up bras once ruled the industry, but a new trend is emerging. Bralettes are starting to gain more and more of the bra market share. These cupless, unlined bras harken back to the No-Bra and give the wearer a more natural look (a style that generally works better for small-breasted women—the friends I have with larger breasts prefer more support).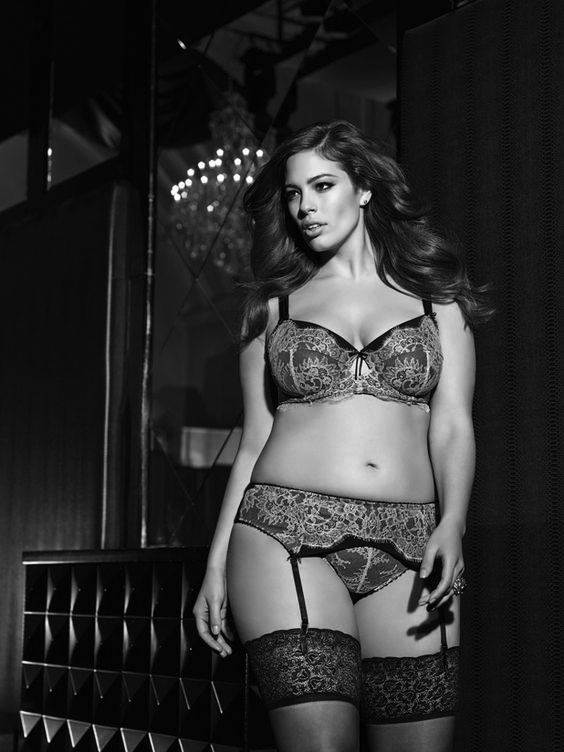 Addition Elle's lingerie ad featuring model, Ashley Graham.
Whether you prefer to go bombshell or bralette, there is no garment so emblematic or full of mixed emotions as the bra. A girl in the midst of puberty looks forward to her first bra with a sense of longing (we must, we must, we must increase our bust!) or as a source of shame (why are my boobs so much bigger than everyone else's?). Nonetheless, that first bra is a rite of passage on the way to adulthood, and once you cross that threshold, there is no going back.
Join the Conversation
Sign in or become a Seamwork member to comment on this article.