My first job out of graduate school, I walked into an office filled with black slacks and black cardigans, where the only spot of color came from a T-shirt peeking out beneath said cardigans. I'd intensively sewed my own clothing for the last four years, and knew I wouldn't last very long in this kind of informal office uniform. So I set about cracking open the definition of business casual, seeking every possible opportunity to work handmade garments into my work wardrobe.
Still, I wasn't sure how far I could push. I already looked young, and I needed to prove I could lead meetings where three different medical directors were present (all male, all older). The organization had hundreds of employees. The last thing I wanted was for a snap judgment based solely on appearance to undermine my credibility.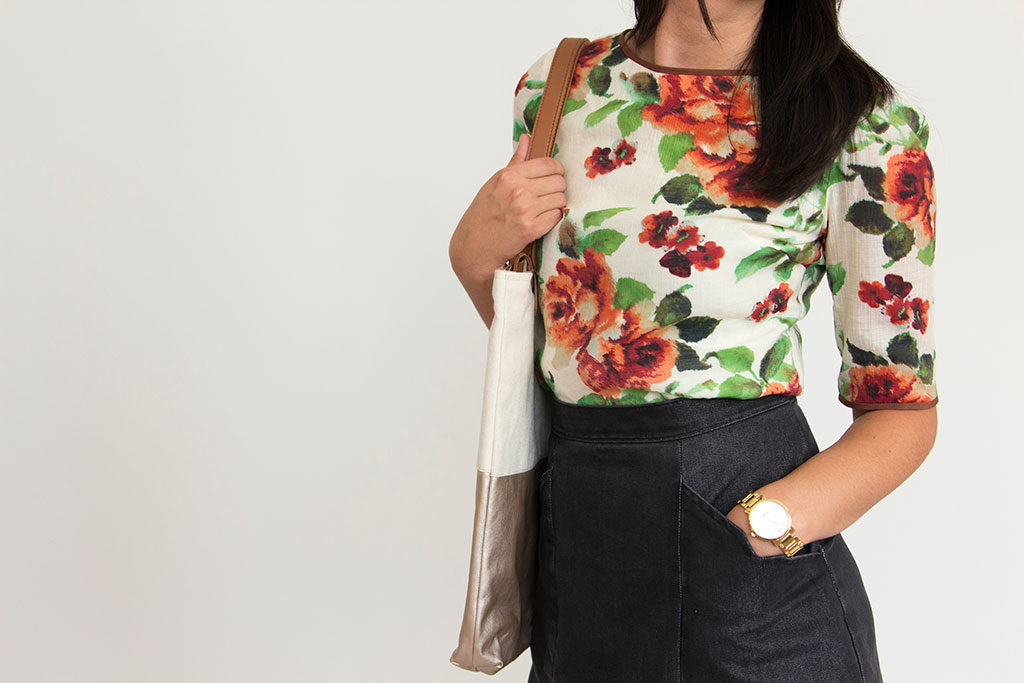 Breaking down the Rules
What makes traditional workwear stifling is that the typical look—blazer, blouse, slacks, classic shoes, understated jewelry—pairs conservative cuts with conservative colors with conservative prints. Now, sewing garments that simultaneously hit all three characteristics might be your jam, but personally I appreciate a quirky print in bold colors, sewn up in fun or unusual silhouettes.
As I experimented, I realized that so long as you adhere to at least one of the holy trinity of workwear—color, print, cut—you buy yourself the freedom to experiment with the other elements. The tips in this article can work in a business casual environment or on a Casual Friday, but the suggestions exist along a continuum: you can tweak the rules as little or as much as your work environment will permit.
Playing with Cut
Typically, I found it easiest to pair a conservative cut with a fun fabric or a fun cut with a conservative fabric (fun fabric could be a statement print or a non-traditional work color, anything outside the typical workplace neutrals). When the cut and the fabric veer too far from traditional workwear, it's harder to argue that you've stayed within the bounds of business casual. When you only toy with one parameter, you still look like you're playing by the rules, just in a tongue-in-cheek kind of way. In other words, channel the vibe of "a fun take on," and you should be within safe territory.
Love that red scooter fabric with pale blue dots? Make it up as a pencil skirt. A Kelly green fabric with giant glasses is casual as a flowy maxi dress but unexpectedly fun as a sheath dress. Fell in love with the short-sleeved sweater pattern where you use colorwork to knit a strand of paper dolls around the yoke? Layer it over a white button-up and black slacks.
I love statement prints; working with them is one of the main reasons I sew. Once I found ways to incorporate them into my daily workwear, I became a happier employee. Finally, it seemed, I could bring a little bit of myself into the office, and play by somebody else's rules but on (some of) my terms.
Playing with Color
Typical work colors—black, gray, navy, brown, camel, white—are less exciting than color, but they do lend gravitas to an outfit. So if you're inclined toward bright and wild colors, you have a couple options. One route is to stick to solids, which can be more conservative than prints. You can also layer a colorful print with neutrals to tone down the overall work. Or play up the color, but be sure to do so in traditional cuts.
Remember that Kelly green dress with glasses? I often paired it with black tights, black boots, and a gray cardigan. Is that how I'd wear it out in the wild? Nope. Did this conservative camouflage help my otherwise quirky dress fit into a business environment? For the most part, and I still got to smile every time I looked down.
The scooter pencil skirt was frequently topped with a navy button-up or a white sweater. Sometimes I left out the prints entirely, showing up in a tomato sweater, blue pencil skirt with teal flecks (a thrifted Brooks Brothers number), and teal tights. Bright? You bet. But by keeping one foot in traditional workwear silhouettes, I could go to town on color. You can also aim for a monochromatic color scheme or limit yourself to two colors.
A funny thing happened as I grew more daring in my wardrobe choices. Personal style became the cornerstone of several work friendships. When people complimented me on an outfit we began chatting about sewing and knitting, and one coworker even began knitting as well. Clothing, crafting, and style became part of my water cooler chatter. Other colleagues started showing up in more colorful and imaginative outfits. The slacks-and-blouse uniform that initially intimidated me existed in part, I realized, because none of us dared to bring our personalities into our work wardrobe. Once one of us broke the ice, others were more willing to follow suit.
Playing with Print
Prints come in a wide variety of types (small, medium, large; floral, abstract, geometric) and color possibilities (monochromatic vs. multicolored; neutral vs. color). Again, the goal is to choose a print that is more conservative, so that it still works for the office while satisfying your urge to sew with prints.
One option is to choose a classic work print: think pinstripes, houndstooth, and checks. You can also opt for a print in neutral colors (black and white are classic, but consider ivory and navy, gray and white … you get the idea), or a muted print. So long as the print itself isn't too eye-searing, you have more leeway in cut. How about making Aurora in an abstract white/navy knit for a comfortable, versatile shell? Or stitching up Akita in a subtle gray and white windowpane shirting?
Alternatively, as mentioned above, you could go all-in on the print but keep everything else—cut, accompanying garments—as unobtrusive as possible.
Over time, I grew more and more comfortable bringing pieces of myself into the workplace. I was never able to dress exactly as I would on the weekend, but I did bring a fair amount of handmade style into the 9-to-5. If handmade garments make you happy then you should wear them. It's completely doable to find ways to incorporate them into your workday wardrobe, you just need to tweak the rules—yours and theirs—slightly.
Join the Conversation
Sign in or become a Seamwork member to comment on this article.