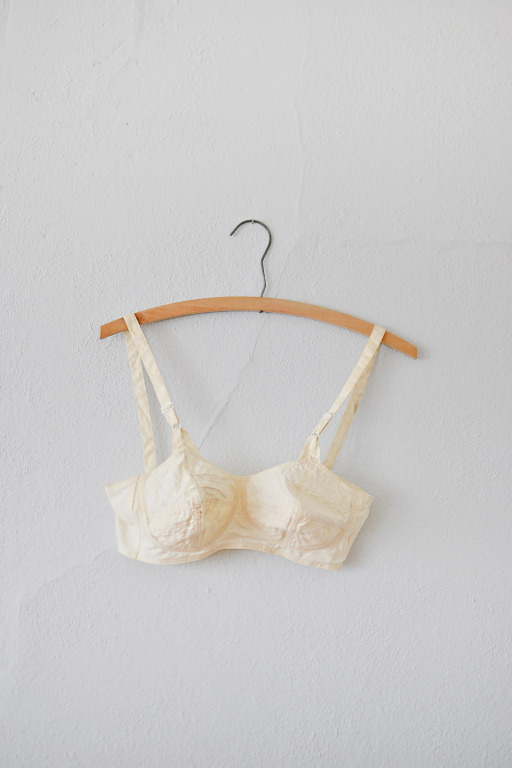 This 1950s bullet bra is constructed in rigid woven cotton,
giving it a firm shape you won't see in today's undergarments.
Courtesy of
Adored Vintage
.
Years ago, lingerie was made almost entirely from natural woven fabrics such as linen, silk, and cotton. Everything from nightgowns to corset covers to early brassieres used these simple fabrics, and the garments ranged from extraordinarily luxurious to plain and functional.
This began to change around World War II, when the DuPont company introduced nylon. American women became familiar with nylon as it came to replace silk in stockings during the war, when purchasing silk from Asia became impossible. Though there were soon shortages of nylon stockings as well, women had become accustomed to the many benefits of nylon: its stretch, comfort, durability, easy care, and stain resistance were all seen as great benefits.
After the war, nylon began to appear in all sorts of undergarments along with other new manmade fibers and elastics. It was used in everything from everyday slips to sexy peignoirs. Although some higher end lingerie was still made in delicate silk, a great many of the mass produced garments were nylon.
Today, things are different. While nylon is still used in lingerie and is a fine choice for many applications, both ready to wear and home sewn lingerie garments are made in a much wider range of fabrics, including both natural and synthetic fibers. You have an array of fabrics to choose from when making your own lingerie and loungewear, some of which you may not have considered before. Your choice in fabric will largely determine the final look and feel of any lingerie garment you make, so picking the fabric and fiber that's right for you is one of the most important creative decisions you can make.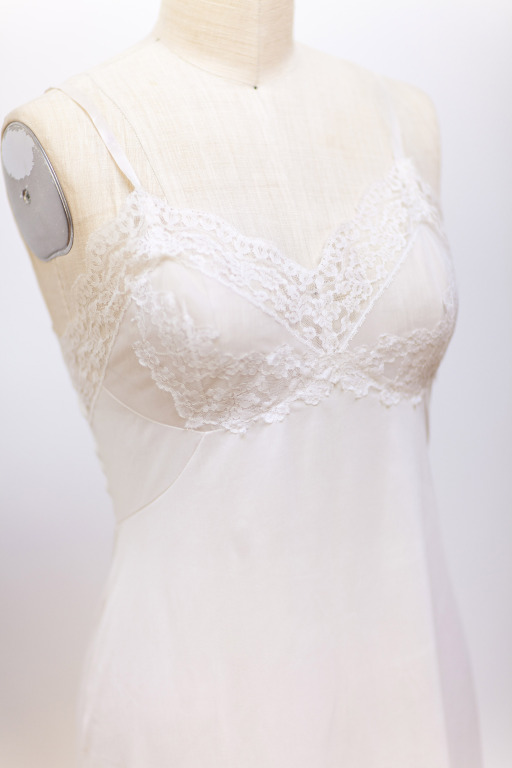 Nylon slips and other lingerie became
extremely popular after World War II.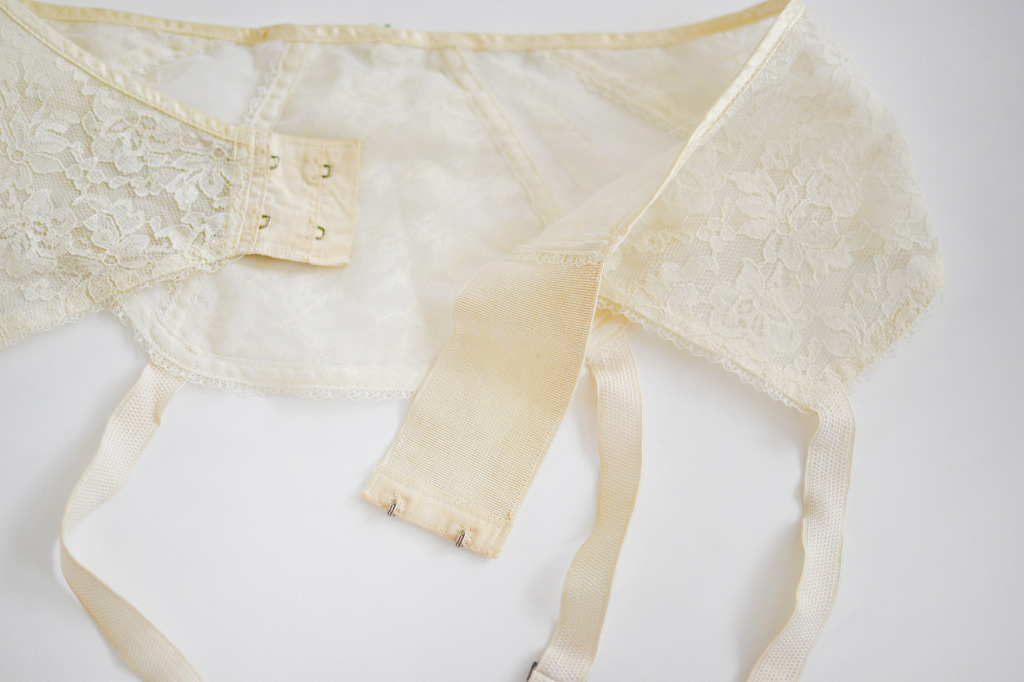 This lace garter belt from the 1950s is
constructed with a base of nylon organza.
Courtesy of
Adored Vintage
.
Shopping for Fabric
When you begin planning your fabric purchases, be aware of the qualities you must look out for, and go to the fabric shop armed with research.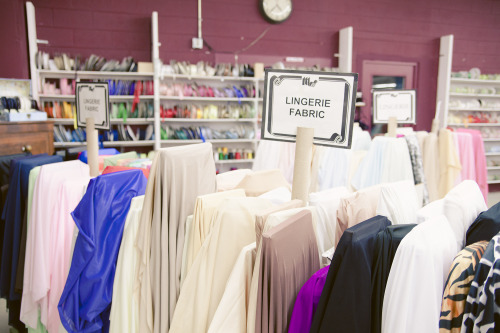 Factors to consider
Once you've chosen a style of lingerie garment, whether it's a full coverage bra, a lightweight sleep bralette, or a comfy nightgown, there are several important considerations that can help guide you.
Stretch: Look over your chosen pattern and determine if you require stretch, and if so, how much. If your pattern requires any stretch, it will usually give you a stretch guide or an indication of the percentage of stretch necessary. They will also tell you whether you need one-way stretch, which usually runs crosswise from selvage to selvage, or two-way stretch, which runs both lengthwise and crosswise. Confusingly, the term "two-way stretch" can also be used by some shops to refer to fabrics that only stretch crosswise. They will refer to fabrics that stretch in both directions as four-way stretch. Because of this, I find the term four-way stretch to be less ambiguous, but be aware of the labeling difference when shopping both in person and online.
Weight: The next major consideration is the weight of the fabric. Lingerie is usually meant to be close to the body, and often is worn beneath everyday clothing. If this is the case, consider the thickness and weight of the fabric, and whether it will add bulk to your body. For example, if you're sewing a pair of panties, the last thing you want is the appearance of bulky seams around your tummy or waistline, so it's best to stick with thinner fabrics that still meet your other requirements.
Look: This may be obvious, but the type of fabric you choose can completely change the look of a lingerie garment. A pair of simple panties looks quite different in coffee-colored stretch silk charmeuse with lace appliqué from the same pair made up in a floral ditsy print cotton jersey. Determine the final look and feel before you begin shopping and how it meshes with your own style and wardrobe needs.
Feel: A final major consideration is the feel of the fabric. Lingerie is often worn close to the skin, and irritating fabrics will prove themselves a much bigger nuisance when rubbing against you all day. Try testing the feel of any lingerie fabric against a sensitive area of the skin, such as your neck or cheek. Rub it lightly to check for abrasion and itchiness.
Research
Before heading off to the fabric store, take some time to do a little research. Your pattern may call for a basic lingerie fabric such as nylon tricot, but if this is not a fabric you want to wear, you should feel free to open up your options a bit. After all, the main benefit of sewing your own clothing is to make something that fits you in the most personal way.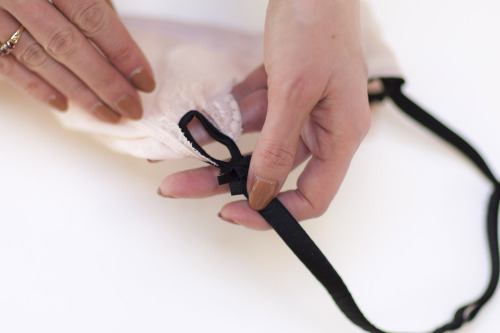 Carefully examine both the lingerie you own and what
you see in stores to become familiar with designers' choices.
Start by examining similar pieces of lingerie that you already own and love. Think about what makes them wearable or special to you. Do you wish you had more fine silk to wear every day under your dresses? Do you love the comfort of a cotton jersey nightie? Your choices may not be as limited as you thought, and exploring your own closet is often a good first place to look for alternate options.
Another way to open your mind to new possibilities is to do a little secret shopping. If you have a fine lingerie store in your area, take a visit to see how garments there are constructed. You might be surprised at the wide range of fabrics in use in modern lingerie. On a recent trip to a local boutique, I found bodysuits in organic cotton jersey and silk, bralettes in silk jersey, and robes of plush rayon velvet.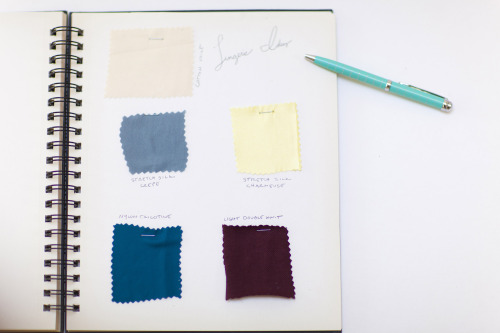 Keeping a swatch book will not only help you learn about
fabric, it can also become a source of inspiration for future projects.
If you don't have the experience yet to identify fabrics by look and feel, don't worry. Begin taking notes on what you observe when you look at garments you love, then take those notes to the fabric store. You can even snap photos if it helps you to remember the look and feel of a fabric. Once you're at the store, try putting names to some of the fabrics. Ask for swatches and begin compiling a swatch book to help you keep track of fabric types. The more you shop for lingerie fabric the easier the identification process will become.
Where to shop
You generally have three options when seeking out lingerie fabric.
Local shops: First, try your local fabric store. Even if your local store is small or part of a large chain that caters mainly to crafters or quilters, it can be instructive to take a look at what they offer and get a feel for what you want (and what you don't).
Online apparel fabric shops: There are many fabric stores online today that sell fabrics appropriate for lingerie, along with other apparel, craft, and home decor fabrics. Once you have an idea of the type of fabric you're looking for, searching through their inventory becomes much easier. In particular, I have found online shops a great resource for jersey knits of all kinds, lightweight woven fabrics, and luxurious stretch wovens such as silk/spandex blends. Because lingerie fabric is so intimate, I highly recommend ordering swatches before committing to a specific fabric. Many shops offer this service at low or no cost.
Online specialty fabric shops: Some online shops specialize in fabrics for the home lingerie sewist. They usually carry specific types of fabric that are hard to find elsewhere, such as stretch lace or heavy tricot. They are also a great resource for the types of elastic often used in lingerie making.
How to shop
Lingerie fabric shopping checklist


Stretch needed


Direction of stretch


Weight


Initial ideas


Once you've completed your research, make a short list of the requirements you need to fill. In this list, include the amount of stretch (if any), the direction of stretch and the weight. It might also be helpful to jot down a few initial ideas on fabric types with the appropriate look and feel, which you can search out and adjust depending on what you come across. Start with a few ideas and stay flexible.
Also bring a small ruler or measuring tape when you shop. When you've found a fabric you like, test the stretch percentage by stretching a small 5 inch swatch as far as it will go. See chart below to determine the stretch percentage. If you are shopping online, use fabric swatches to determine the stretch if this information is not available. In some cases, you may be able to contact the shop owner if you cannot find the information online.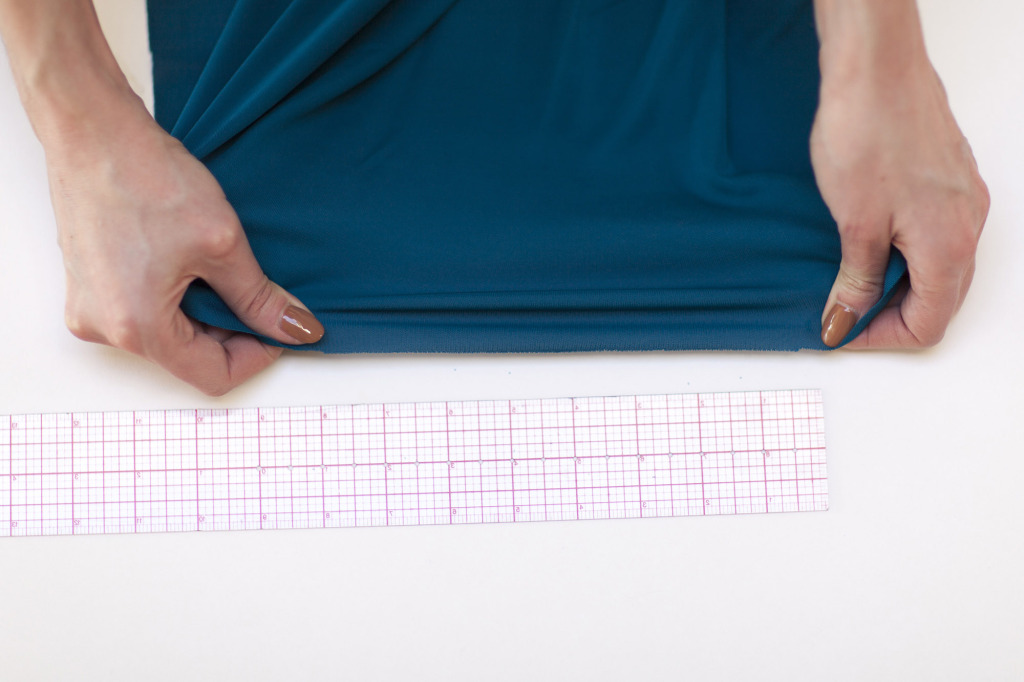 Be sure to play around in the store, testing out stretch and recovery in all directions.
Stretch percentages
A 5 inch swatch stretches to:

6 inches
20%


6.5 inches
30%


7 inches
40%


7.5 inches
50%


8 inches
60%


8.5 inches
70%


9 inches
80%


9.5 inches
90%


10 inches
100%

After stretching your swatch, notice whether the fabric returns to its original shape. Measure it again to see if it is 5 inches, or if the fabric has grown. Also look for any ripples, dimples, or other marks that appeared as a result of stretch. This can indicate a fabric with poor recovery, which means it may not be suitable for very tight or supportive garments as it will stretch out over time.
Finally, place the fabric near your skin to test the feel. Remember to try placing the fabric near a sensitive area, such as your neck. This will give you a better idea of what to expect with long term wear near the body. Everyone has a different tolerance when it comes to feel, so this is especially important if you have allergies or your skin is sensitive.
If you can't find a fabric that meets all of your needs at once, don't worry. You can combine fabrics in order to create exactly what you need. For example, let's say you love the look of a rayon jersey and want to use it as cups on a bralette, but find that it has far too much stretch. The high stretch would lend almost no support and would make the final garment uncomfortable to wear. You could line the cups with a firm tricot, giving them more rigidity and support while maintaining the look of the fabric you love.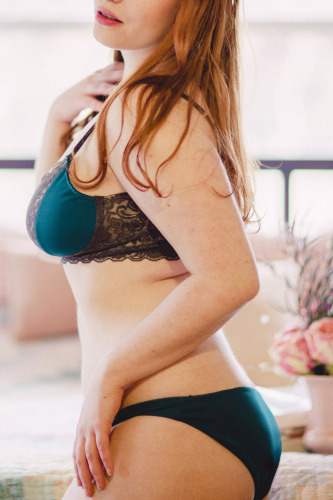 This
Florence bralette
was created with two
layers of fabric in the cups to create
additional support. The matching
Geneva panties
require only one
layer for more stretch.
Types of Fabric

There is a dizzying array of choices for making lingerie, far beyond what you might imagine. We'll first take a look at fibers you may want to use, then discuss fabrics in both knit and woven varieties.

Fibers
Fibers are the building blocks of your fabric. Some fibers are manmade, while those known as natural fibers are derived from plant and animal sources. We'll go over some common preferred options for lingerie.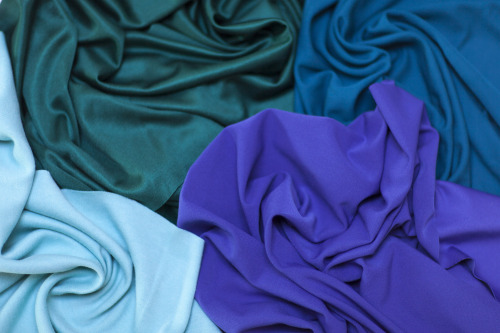 These knits are made in a variety of fibers, which
impart varying amounts of luster to the fabric.
Clockwise from bottom left: cotton, silk, nylon, rayon.
Spandex: Also known by the DuPont brand name Lycra, spandex is a fiber with both high stretch and high recovery. It is used in everything from high performance activewear to dance costumes to ready to wear pants, dresses, blazers, and more. It is most commonly blended in small amounts with other fibers to increase stretch and recovery, and can be found in both knit and woven fabrics.
Nylon: Nylon is an extremely strong, elastic fiber that has been popular in women's lingerie for decades. It is easy to care for and wash, resists stains, and lasts a long time. It is not very absorbent, and the look can be somewhat dowdy depending on how its used.
Cotton: Cotton is a strong fiber with a soft hand and high absorbency. It is often printed, and can be found in a large array of prints in both knit and woven categories. Cotton fabrics often have a simple, casual look to them that works well for everyday lingerie garments.
Linen: While linen is not quite as commonly used in lingerie, it can be a great choice in warm weather due to its breathability. Linen is available both in knit and woven forms. Be aware that most linen fabrics are very prone to wrinkling unless blended with another fabric such as polyester. Linen does have the advantage of getting softer with use and washing.
Silk: A luxurious fiber made from the cocoons of insects, usually mulberry silkworms. Silk is most known for its lustrous finish, rich colors due to high dye absorption, and incredibly soft feel. Despite its delicacy, silk is a very strong fiber.
Bamboo: Bamboo has gained popularity in recent years due to its soft hand, antibacterial properties, and high absorbency. Most bamboo fabrics display great stretch capabilities, but always check the recovery of the fabric after stretching, as some forms of bamboo tend to stretch out over time. While some consider bamboo a highly sustainable choice, this has been up for debate due to processing and transportation (see our article in this issue on sustainable fabric choices).
Rayon: A semi-synthetic fiber made from cellulose, rayon originally came into fashion as a replacement for silk. It's a highly versatile fiber that can appear similar to silk, wool, cotton, and other fibers. Rayon is smooth, cool, and highly absorbent. This makes it a great choice for summer garments. There are many types of rayon available with different properties, including lyocell (also known by the brand name Tencel), modal, and viscose.
Technical fabrics: There are many technical fabrics on the market today primarily designed for activewear. These same fabrics can work quite well in undergarment applications, since they are designed to be worn close to the skin, are highly breathable and often moisture wicking, and have great stretch and recovery. See Melissa Fehr's guide to activewear fabrics in Seamwork Issue 02 to learn more.
Knit fabrics
Lingerie can be made from either knit or woven fabrics depending on the type of garment, the amount of ease and support, and the preferences of the wearer. We'll first take a look at knit fabrics that are commonly used in producing lingerie.
Knit fabrics are created with a knitting machine, which produces interlocking loops of thread that allow the final fabric to stretch. Although you may think immediately of jersey fabrics, there are many other knits you might try when making lingerie, from the tissue thin to the strong and sturdy. Knits come in a range of weights, finishes, stretch capabilities, and drapes.
The weight of a knit is measured in denier. 15 denier knit fabric is very lightweight and sheer. 30 is a medium weight knit, and 45 is a highly stable knit that you might see in supportive bra cups.
The most important consideration in sewing knits is to make sure that any seams you sew stretch along with the fabric, to prevent thread breakage. Sometimes a serger is ideal for sewing knits, since the overlock stitches produced by the serger are quite elastic. You can also use a narrow (0.5mm to 1mm) zigzag stitch on your sewing machine to give seams more stretch. In some cases, such as sewing with a 45 denier tricot with very little stretch, a straight stitch will work just fine. Always test sew two small swatches together and stretch the seam to check for broken thread before you begin construction.
Let's take a look at some common knit fabrics used in lingerie sewing. You'll note that some of these fabrics use a specific type of fiber (described above), while others can be made from a variety of different fibers or from blends.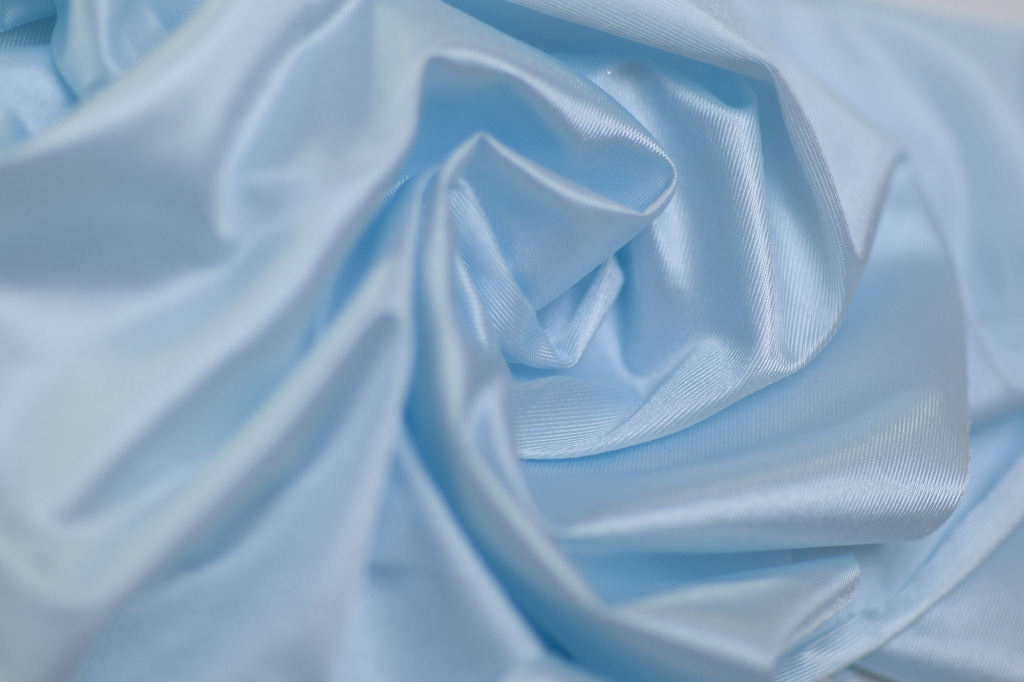 Tricot has a distinctive knit structure that's easy to recognize when inspected closely.
Nylon tricot: Tricot is a warp knit fabric, with a structure that will appear different from typical weft knits such as jersey. If you look closely at the surface of tricot, the structure looks a bit like zigzags. This fabric is very common in lingerie, and can be used as either the outer fabric or as a lining. It is durable and usually thin and inexpensive. Nylon tricot comes in a range of opacities and surface textures, from sheer chiffon-like fabric to satin-finished.
Single jersey: When you think knits, you might think of jersey. Jersey comes in a wide array of fiber types, including rayon, bamboo, cotton, polyester, and more. It works beautifully for comfortable loungewear or sleepwear, since it stretches with the body. It also drapes well, making it perfect for nightgowns, flowing robes, and gathered babydolls. Jersey fabrics with spandex included have superior stretch and recovery, which is essential for some types of lingerie such as panties. Although it can be a bit lightweight for supportive garments such as bras, jersey can be combined with other lining fabrics to create a sturdier, more supportive option.
Light double knit: Double knit fabrics are created with multiple sets of needles to produce two layers of fabric that are knitted together. They tend to be thicker and sturdier than single knits, and are less prone to rolling or fraying. While thick double knits such as ponte are not ideal for lingerie, lightweight cousins such as cotton interlock can work quite well and give more strength and stability than a single knit.
Simplex: A double faced knit fabric used primarily for bra cups. It has four-way stretch, but very little of it. The lack of stretch gives excellent firm support.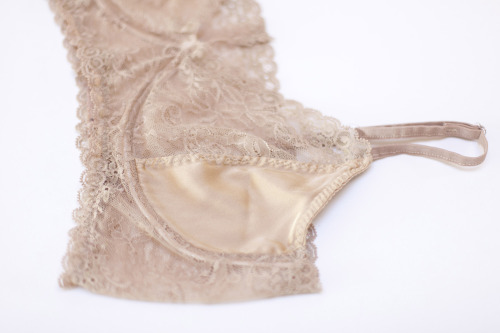 The
Florence bralette
uses wide stretch lace
trim to create the band and part of the cups.
Stretch Lace: Stretch lace is available both as fabric in typical widths of 45 to 60 inches or more, or it can be purchased as a trim. Wide trims are ideal for creating insets, bands, or bra cups. Stretch lace has a high spandex content and good recovery, but the amount of stretch varies. If you find a stretch lace that is too stretchy, it can be lined with other fabrics for more support.
Mesh: Lingerie mesh is commonly used in panties, creating breathable, light and sheer panels. It is a light and delicate fabric that does not add much bulk, and can be used to provide light linings in bralettes, nighties, or panties. It can also be used to back lace, to maintain a sheer look while giving more strength and stability.
Power Net: Also known as power mesh, you will commonly see this fabric used in foundation garments such as girdles. It is a firm, rigid fabric that provides strength and support. It is also commonly used for the bands of bras.
Nylon/spandex satin knit: Satin knits are lightweight and commonly used to make panties. You may also find them in the costume or special occasion section of your local fabric store.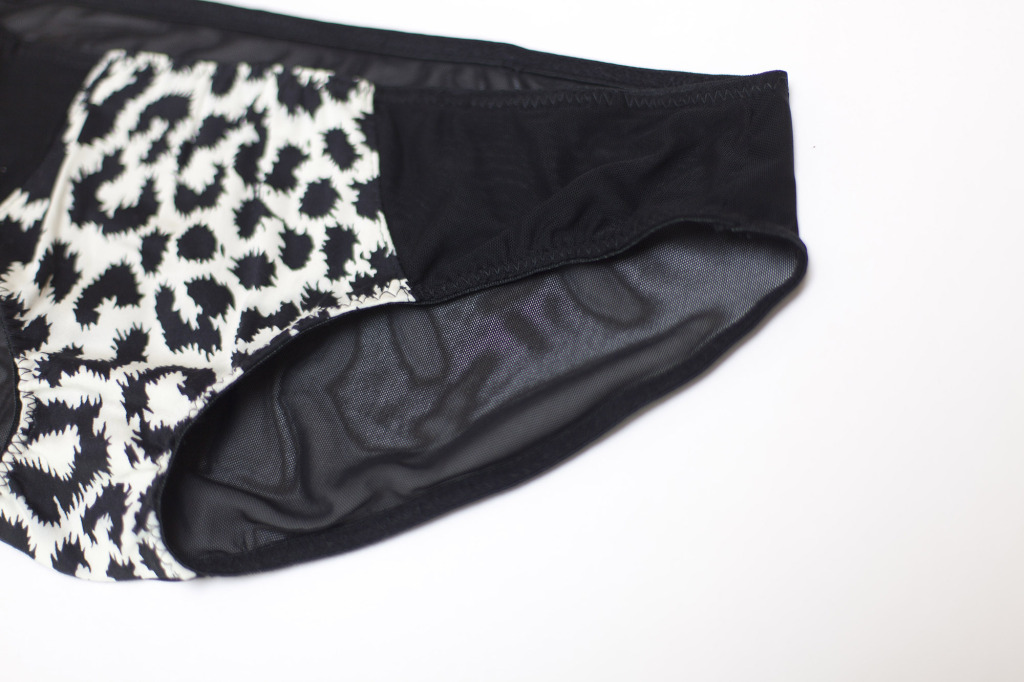 Mesh creates sexy sheer panels on the
Geneva panties
, but it can also be used as a lining or interfacing. Mesh also has the advantage of being breathable. The front panel was created in
stretch woven cotton/spandex, available from Mood
.
Stretch velvet: More of a novelty than most other lingerie fabrics listed, stretch velvet can be a fun addition to your lingerie wardrobe. The plush nap is soft and fun to wear, making great robes, leggings, or slinky slips. Be aware that stretch velvet does add bulk due to the pile, so opt to use it on garments that are not meant to be hidden beneath fitted clothing and that have minimal seams.
Woven fabrics
You don't always want or need stretch when sewing lingerie. Woven fabrics can give you both options. Woven fabrics are created on a loom, with yarns going both lengthwise and crosswise. Unless the yarns themselves have stretch, the fabric will not stretch in either of these directions. However, it will stretch along the bias at 45 degrees, so cutting pieces on the bias is an option for adding stretch (see our article on bias sewing in Seamwork issue 02).
If the yarns of woven fabric are created with spandex, the fabric will have stretch. Though stretch wovens don't typically have the same high stretch capabilities of the stretchiest knits, they can often be substituted for firmer knit fabrics. For example, try swapping a stretch silk/spandex blend for a firm interlock knit. Test the stretch before you sew to determine if the swap will work.
Almost any lightweight woven fabric can be used to create gorgeous lingerie and loungewear. Here are a few options and possible applications to get you thinking.
Chiffon and georgette: These sheer fabrics are incredibly light, flowing, and delicate. Chiffon is the lighter of the two, and has an ethereal quality. Layers of chiffon can be used to build up different colors and tones within a garment. Georgette is similar, but has more texture and opacity. These fabrics are commonly made from silk, but can also be found in polyester. They make lovely kimonos, or can form a sheer skirt on a nightie.
Organza: Organza is a magical silk fabric that is both light and sheer, yet stiff and strong. It tends to stand away from the body and creates volume. While this stiffness is not ideal for most comfortable lingerie, organza makes a perfect interfacing when you don't want to add a lot of bulk and don't want any stretch.
Charmeuse: Silk charmeuse is one of the most luxurious fabrics to wear near the skin. It has a satin weave that gives it a high shine and almost liquid appearance. It's been popular in lingerie since the early 20th century, and is still used consistently in high end lingerie. Many special occasion designer bras are created using a silk/spandex blend, also known as stretch silk charmeuse.
China silk: More commonly used as a lining fabric, china silk (otherwise known as habotai) can be a relatively inexpensive choice for undergarments such as slips. It's smooth next to the body and very thin, so it does not add bulk.
Crepe de Chine: Crepe has the flow of other silk fabrics such as charmeuse, but without the high shine. Crepe is dull and textured, so it does not show every lump and bump on the body the way a satin finish does. Silk crepe makes luxurious loungewear, pajamas, robes, slips, and nighties.
Satin: Satin refers to a specific weave that results in high surface shine. In addition to charmeuse, there are many other types of satin which have a heavier weight and stiffer body. Structured bras and support garments commonly used satin to give a smooth line under clothing while also providing rigid support.
Challis: This drapey, plain woven fabric was originally made from a blend of silk and wool, but is now most commonly found in fabric stores in the form of rayon challis. This soft fabric is highly breathable and makes great loungewear in hot weather.
Batiste: A fine fabric with a plain weave, batiste is usually made from cotton but can also be found in linen. Batiste is commonly used in heirloom sewing, so it makes the perfect background for slips with intricate lace, embroidery, and needlework designs. It is lightweight, but not entirely sheer.
Voile and lawn: These are plain woven fabrics commonly made from 100% cotton. Voile is the lighter of the two and is more transparent. Voile and lawn can be used to make lightweight summer lingerie, such as nighties, lightweight bralettes that don't require stretch, or boxer shorts. Printed lawns can make beautiful panel insertions when combined with stretch fabrics in bras and panties.
Handkerchief linen: Linen is wonderfully luxurious in summer due to its breathability and softness, which only increases with wear and washing. Linen sheets are highly valued, so why not bring this fiber even closer to your skin by making linen sleepwear? Handkerchief linen is a lightweight linen with good drape, which makes it a fine choice for lingerie. It also looks beautiful with lace, embroidery, and subtle details such as hemstitching.
Lace: Lace comes in a broad range of styles, weights, and textures. Some laces are fine and soft, while others can feel scratchy near the skin, so always be sure to test a lace fabric before purchasing. You may find stretch lace a better option for constructing large parts of a garment, whereas non-stretch lace trims can add intricate detail without covering the whole body.
When planning your next lingerie or loungewear project, don't feel limited by the pattern envelope. While suggestions from the patternmaker are a perfect starting point, nearly any type of fabric can be used to create lingerie. Once you've decided on your constraints such as stretch, weight, look, and feel, let the fabric store become a playground as you combine and mix the fabrics that feel just right for the lingerie you want to wear.
Join the Conversation
Sign in or become a Seamwork member to comment on this article.