George Orson Welles once said, "The enemy of art is the absence of limitations."
It sounds contradictory, but limitations can spark our creativity. The limitation could be budget, material, or time—have you ever sewed late into the night for an event the next day? Sometimes the limitation is a mistake we make that then becomes a design feature!
Whatever form they come in, these boundaries help us to get innovative.
Inspired by Project Runway, I teamed up with Seamwork to complete a sewing challenge. If you're familiar with the Project Runway series, you'll know that the designers are given a theme to guide their creations for each episode. These themes provide the designers with firm boundaries, so they have to get creative with their materials, time, and artistic visions to create the best runway show of the group.
I love that just one cue from these challenges results in such different outfits as the designers interpret it in their own style. So, I'll share how I approached this challenge from Seamwork and everything I learned along the way.
The theme that the Seamwork team assigned me was: Clashing Prints! I had to create a print-clashing outfit. I love prints, so how was I going to best express my style with this theme?
---
What's My Style?!
Like the designers participating in a Project Runway challenge, my style influenced how I approached this challenge. Sewing has played a key role in exploring my style over the years.
My sewing journey started with watching my mum sew formal taffeta dresses and cut out swimwear in the 80s. She was a wizard behind her machine, and I loved that she could materialize these things out of what seemed like thin air.
I also spent over six years living in Japan. Here I came across the indie fabric world. The artistry, the designers, their stories, and the incredibly unique fabrics grabbed me instantly. So I founded Indy Bindy Fabrics, my online store focused on helping these independent Japanese designers share their work with the world and sparking that inspiration in other sewists.
As I grew, sewing allowed me to experiment with my style. Because I knew how to sew, I was not tied to what I found in the shops. Over the years, I traveled, collected fabrics, self-drafted my clothes, and discovered indie patterns. All of these things influenced my style.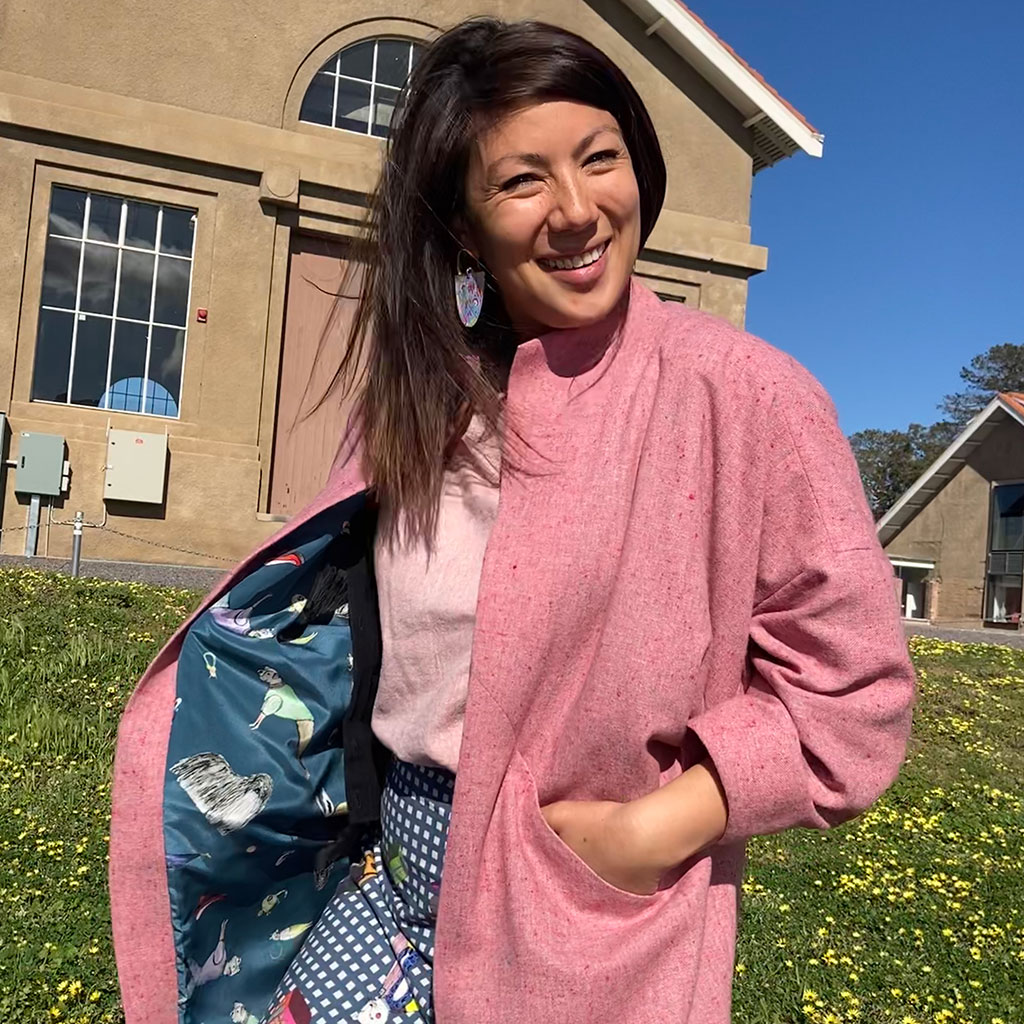 All this to say, I believe that style is something that is constantly evolving. Style is an expression of the layers of our lives, our experiences, and ultimately who we are at the time.
Right now, my signature style is all things color, comfort, and a touch of quirk! And clashing prints are right up my alley. So, on to the challenge.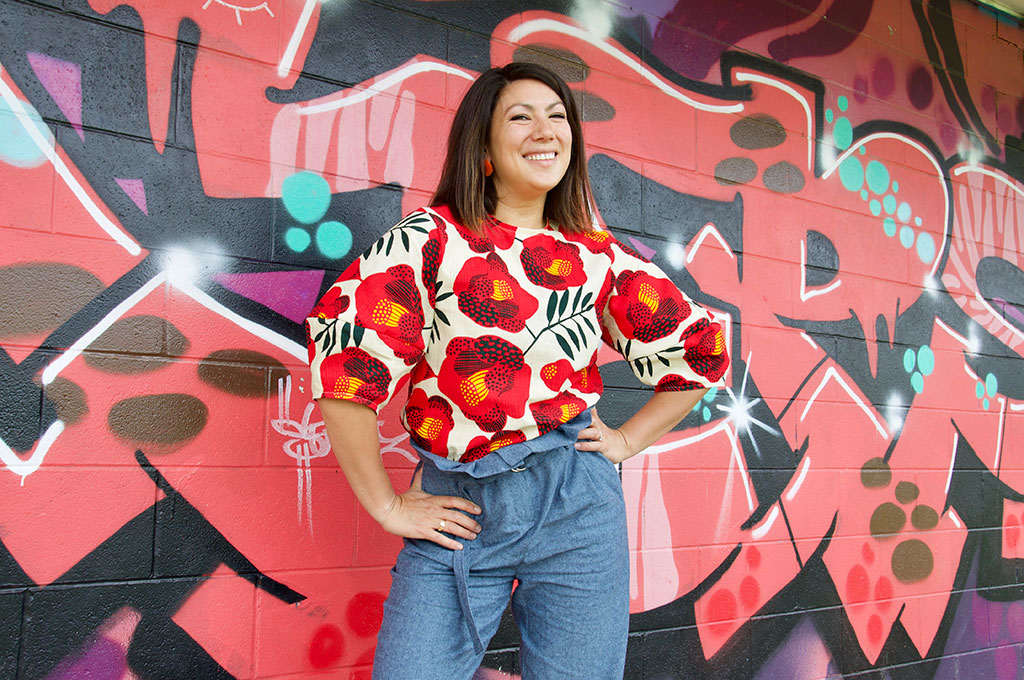 ---
My Project Runway Inspired Challenge
Pinspiration and Planning
My first stop was Pinterest. Amongst the lavish inspiration there, I decided on a combination of at least three different prints in a high-low, cropped sleeve jacket, a shirt to layer under, and tailored-yet-comfy pants.
Then it was time to dive into the Seamwork pattern library and find a match.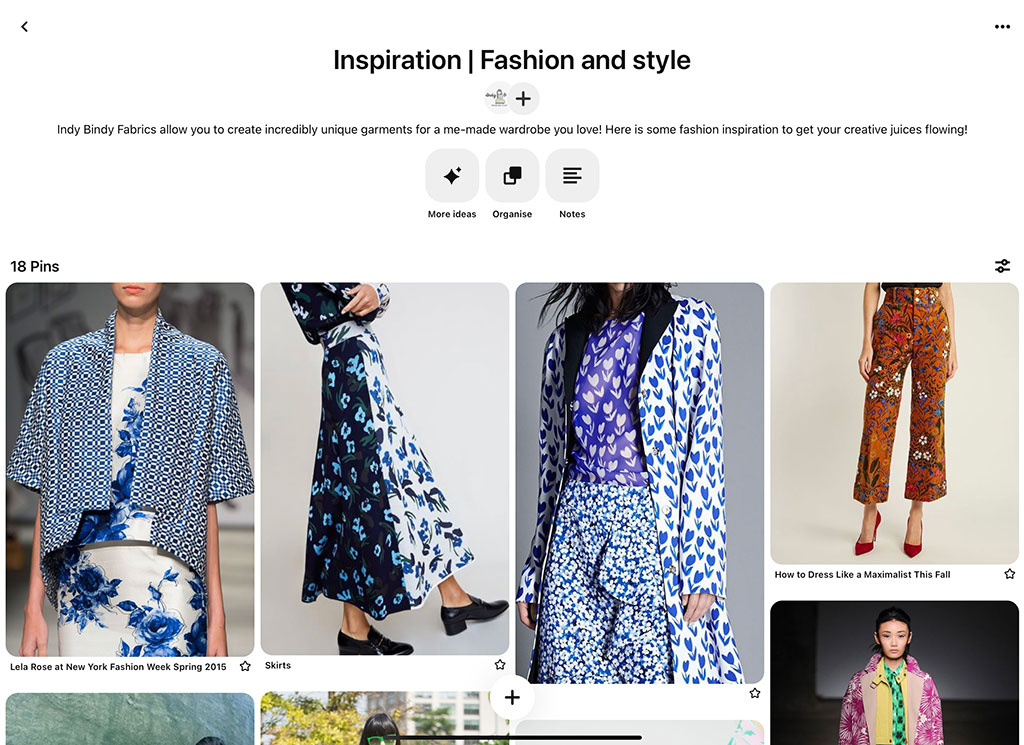 The Quince robe gave me the drop shoulder, loose fit I wanted. I knew I could shorten the sleeves, increase the collar width, and play with the hemline to get the look I was after.
I wanted a base to add volume to the sleeve for the top, and the Madhu's raglan won out.
The last piece of the puzzle was the pants. Callahan had the perfect combination of tailoring and a relaxed fit through the leg.
Choosing the fabric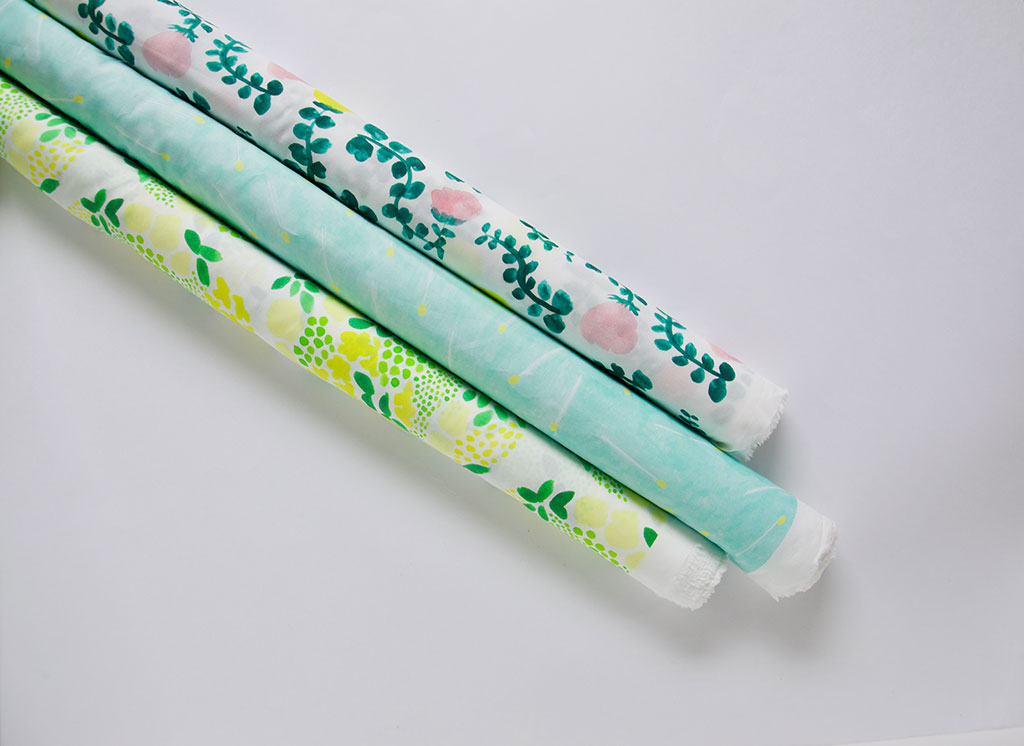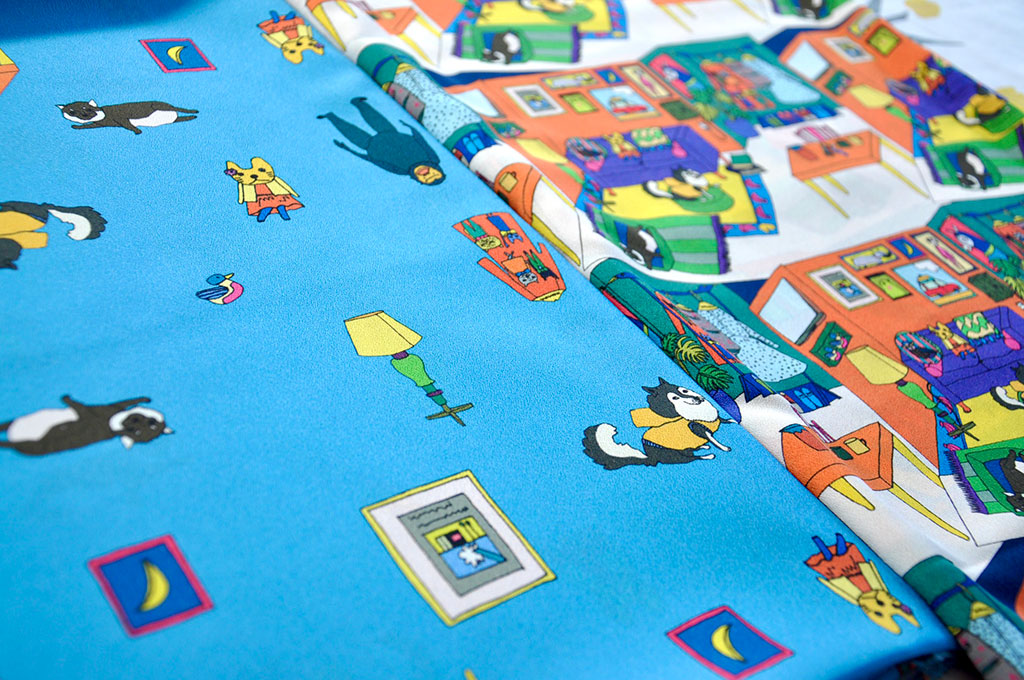 My favorite part of a project is diving into my stash to see which fabrics work together. I organize my fabrics in a particular order, from those I want to use soon to those that will stay in the collection a bit longer. So I pulled out my "would-like-to-use-soon-but-not-assigned-yet" pile.
When it comes to pattern mixing, there are three ways I approach it:


Mixing different colorways of the same print


Using a common color or tone to tie the prints together


Playing with scale, pairing large prints with small to create contrast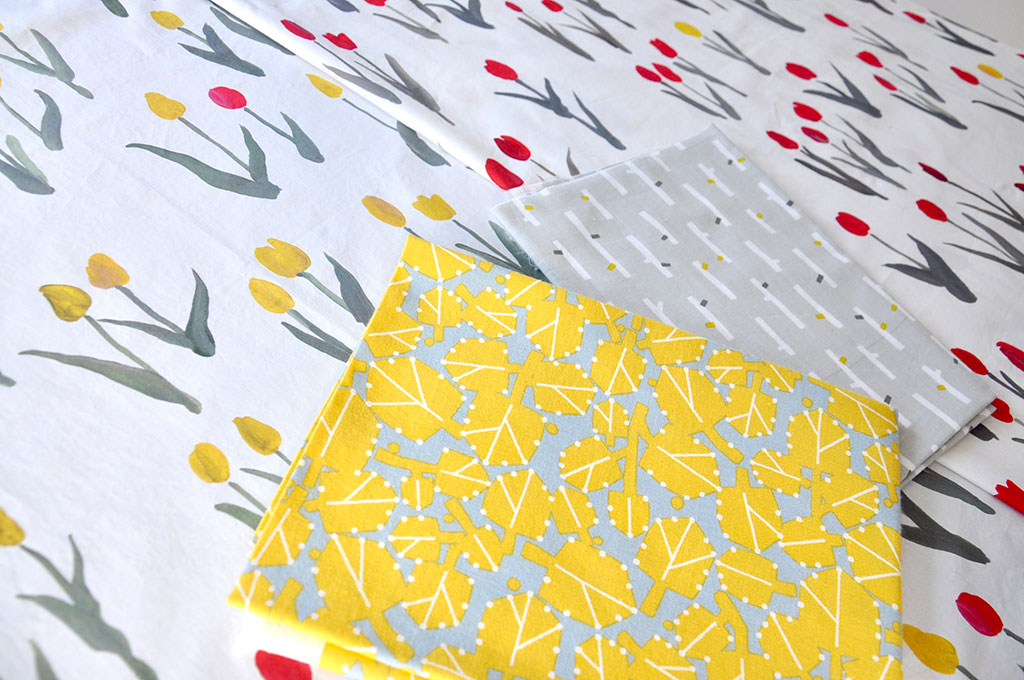 I chose three designs with yellow linking them together:


Asatsuyu is bold and handprinted on thicker cotton that is perfect for pants.


Koeda has a smaller scale and complementary pops of yellow.


The Tulip design is the boldest, introducing red to the mix. It also provides a spot for the eye to rest with the white space amongst all this fun!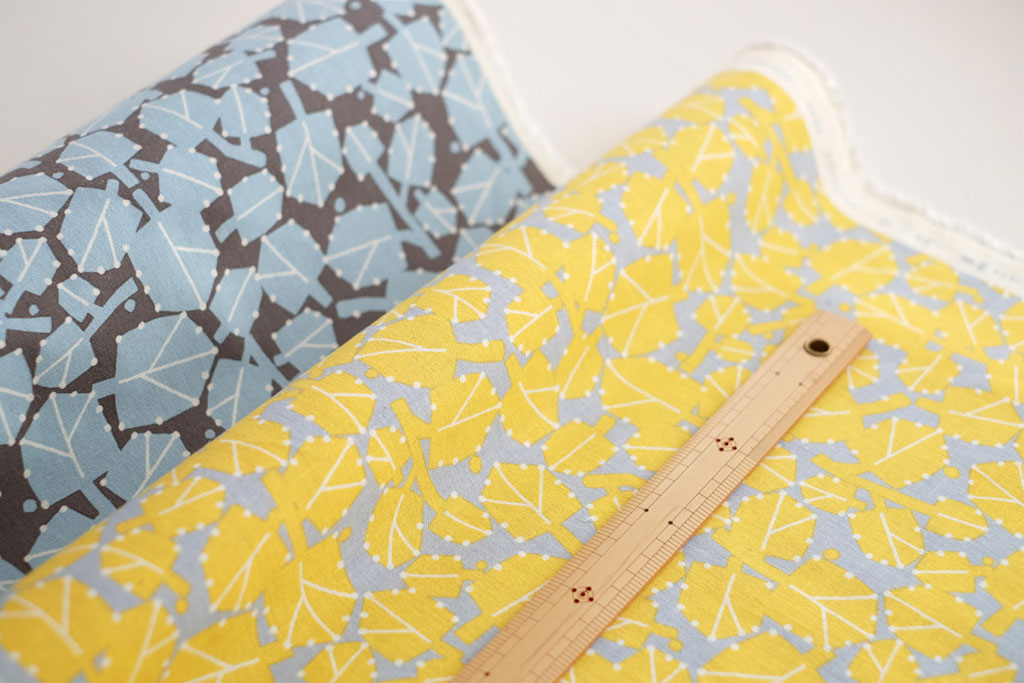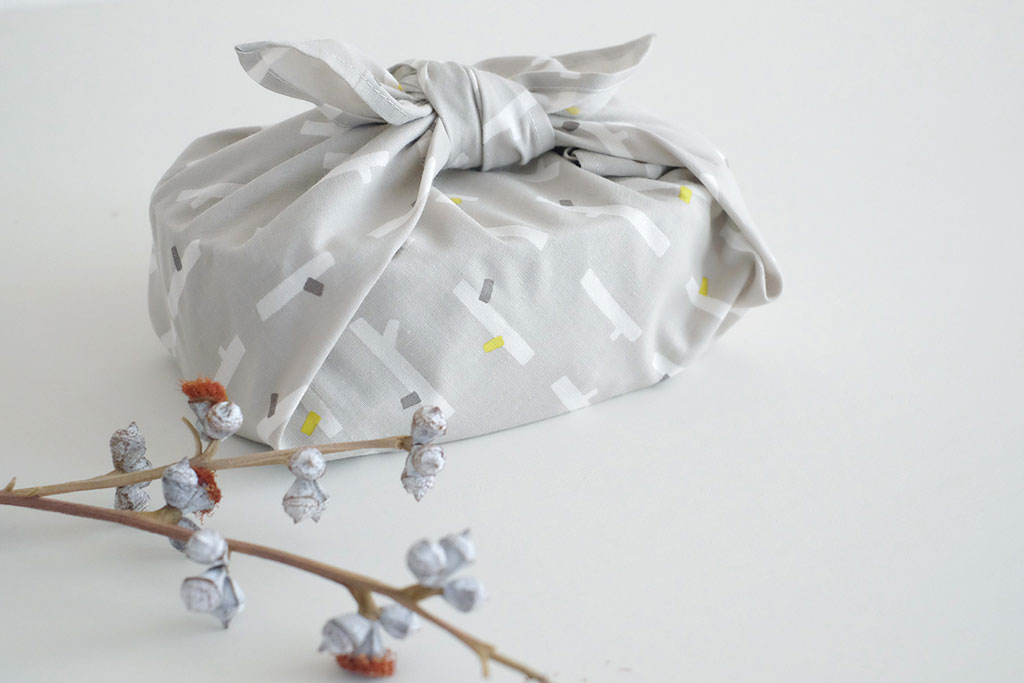 Coincidentally, nature is also a connecting theme with these three fabrics—their names translate to Morning Dew, Small Twig, and Tulip.
---
Hacking the Quince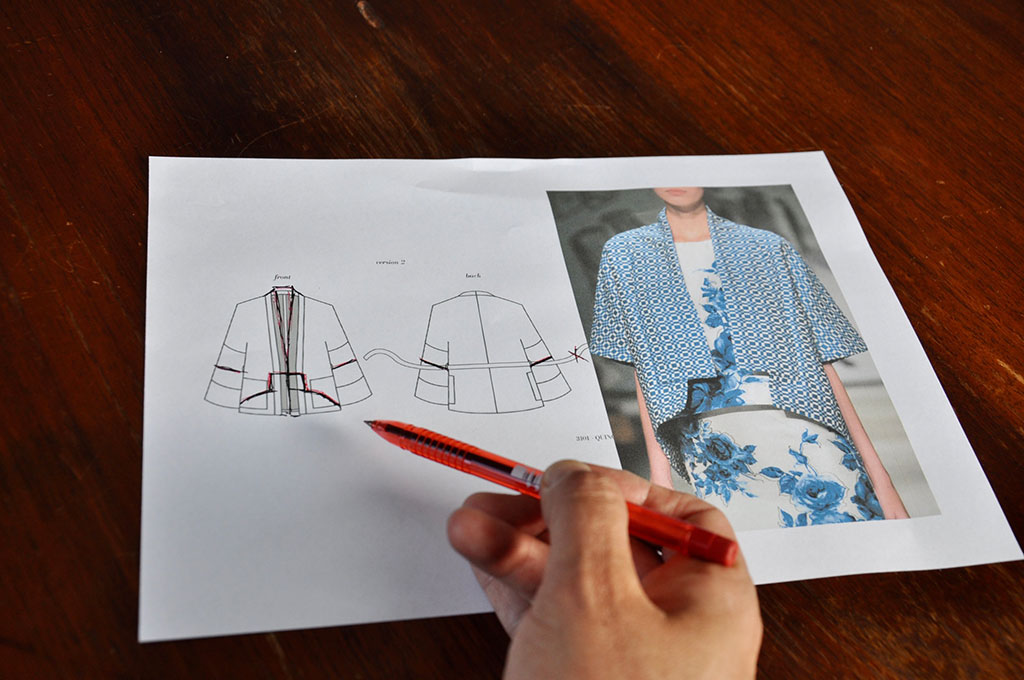 Sewing and pattern hacking are creative outlets for me, but I am not a trained pattern drafter. So my attitude is to have fun and work it out as I go.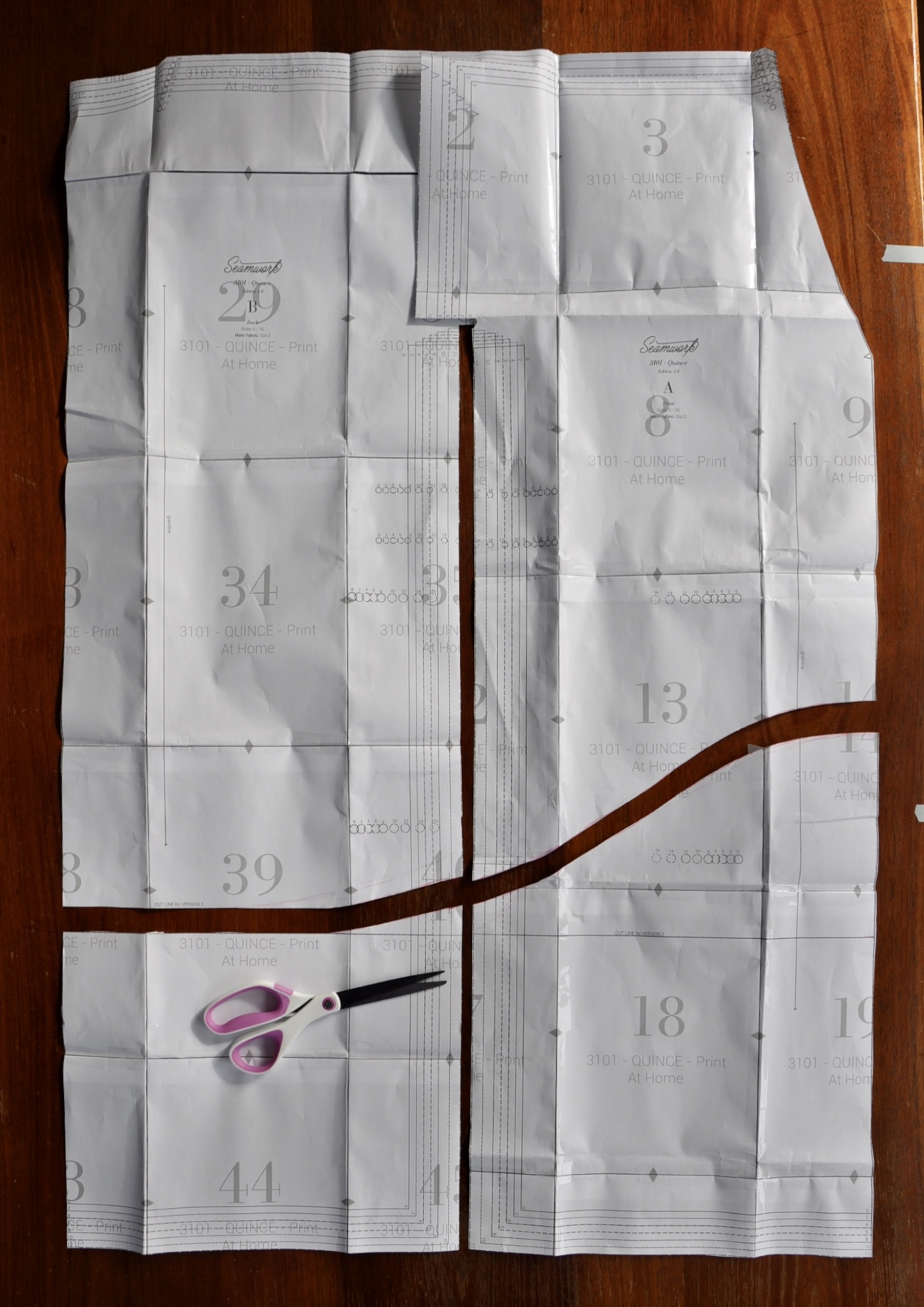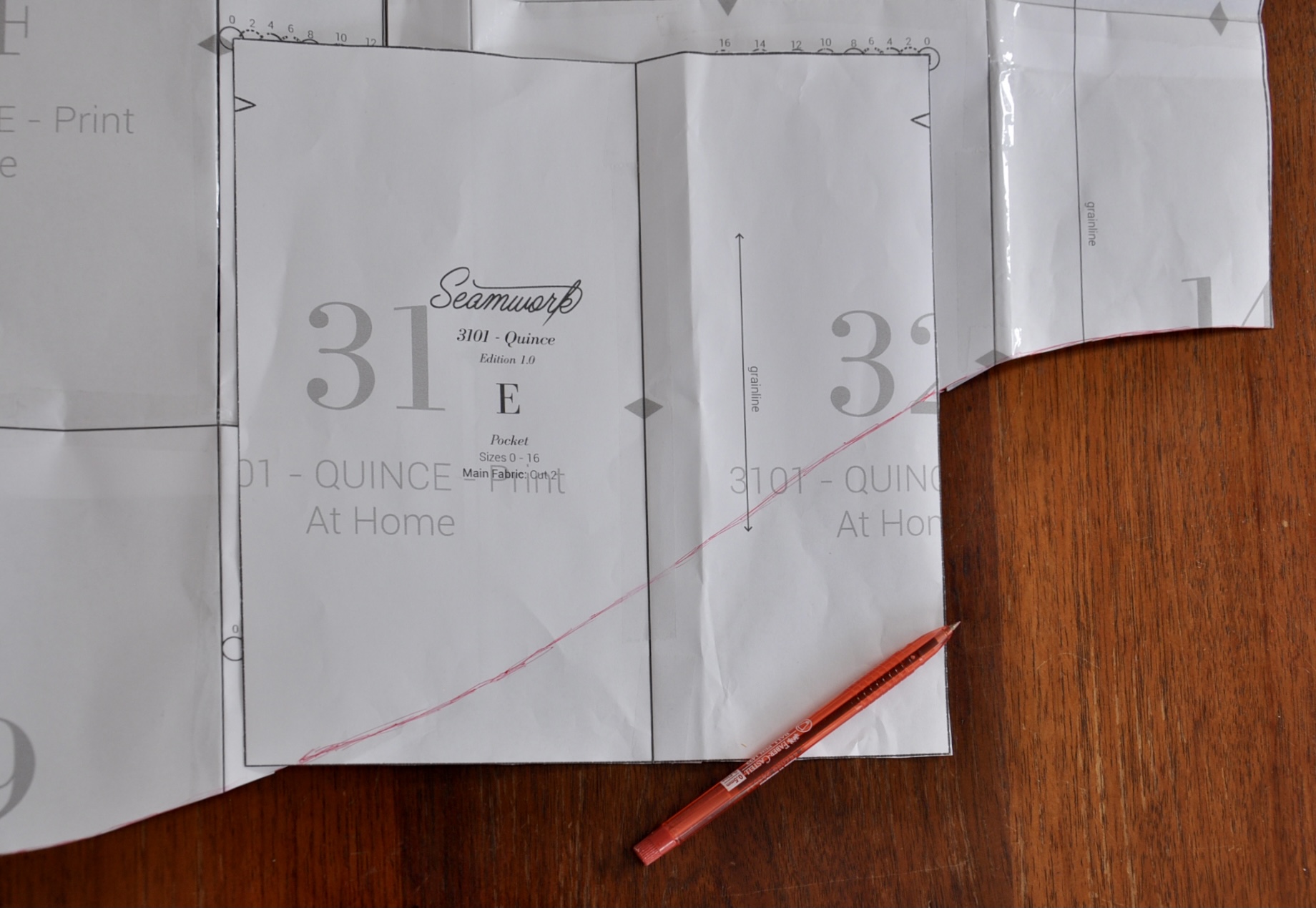 First, I sketched the high-low hem across the front and back pattern pieces and held it against my body to check it sat how I wanted. This change meant I also had to adjust the pockets to match the new hemline.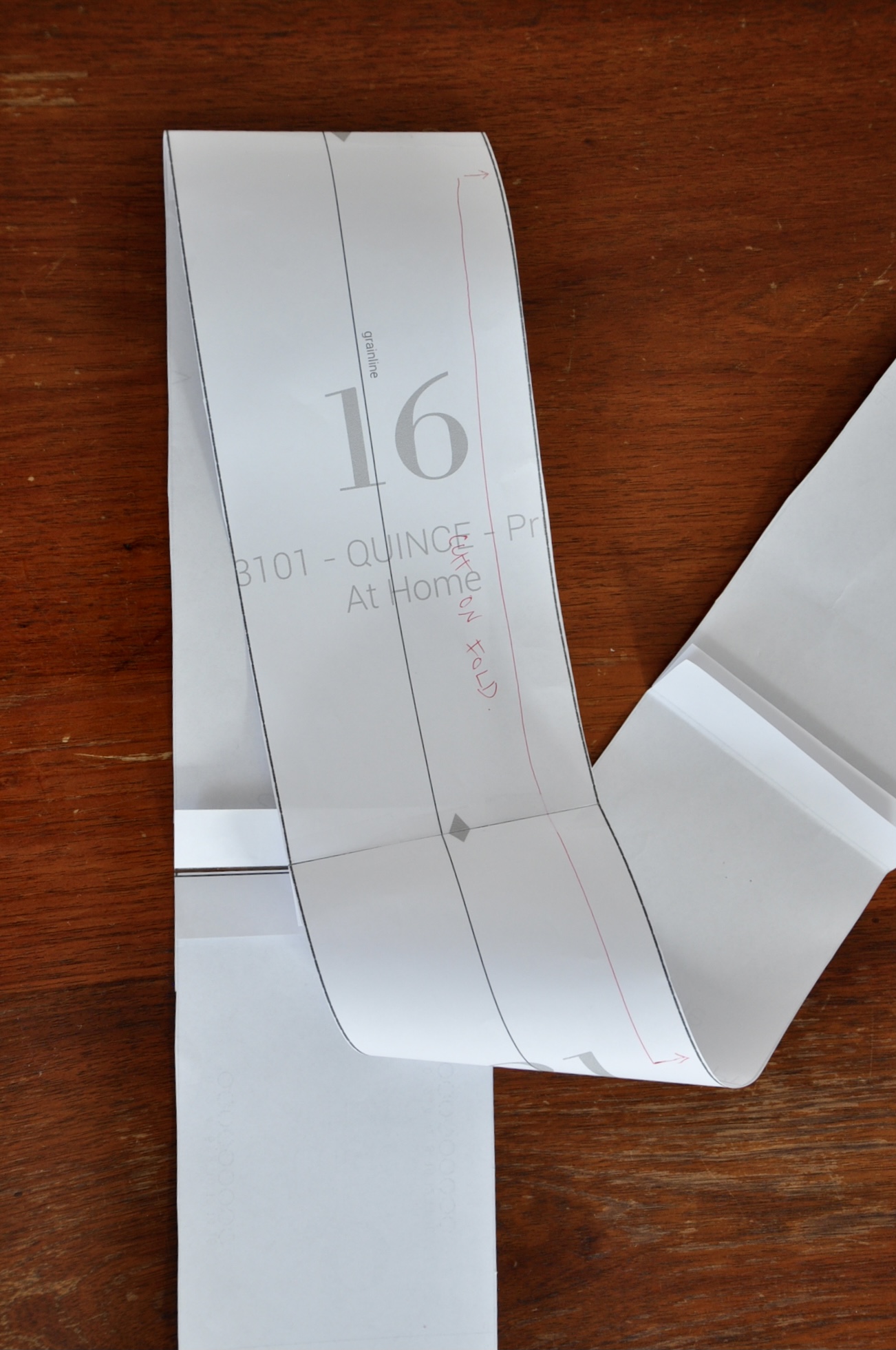 I cut the collar pattern piece on the fold to double its width and shortened it to get the stepped effect at the front of my jacket.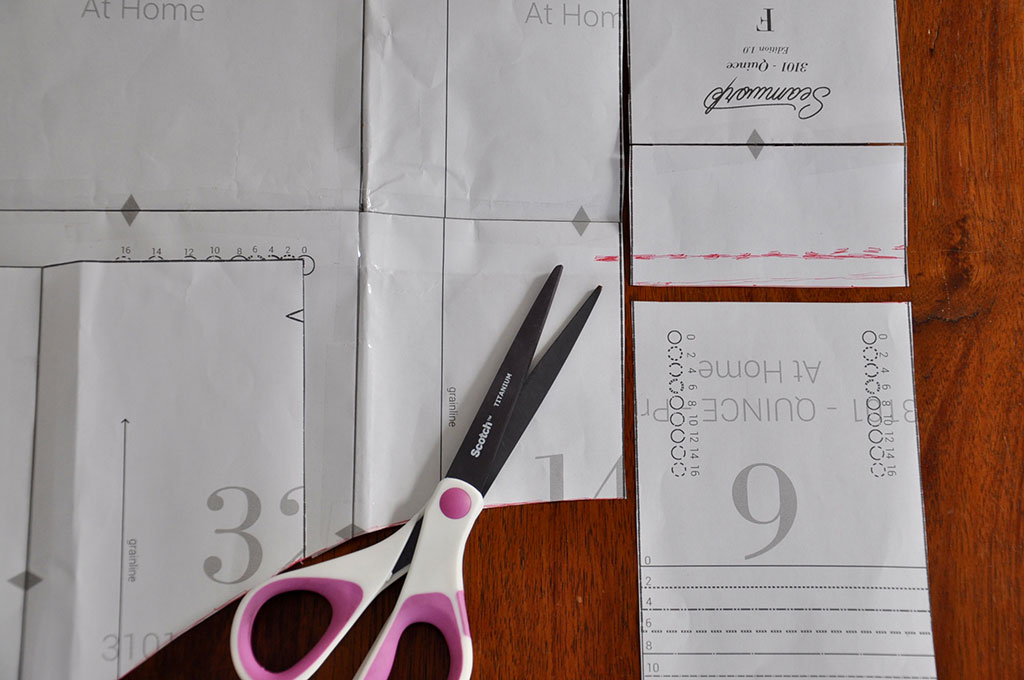 Finally, I left the cuff off the sleeves and played with the length, so it finished at the elbow.
---
Hacking the Madhu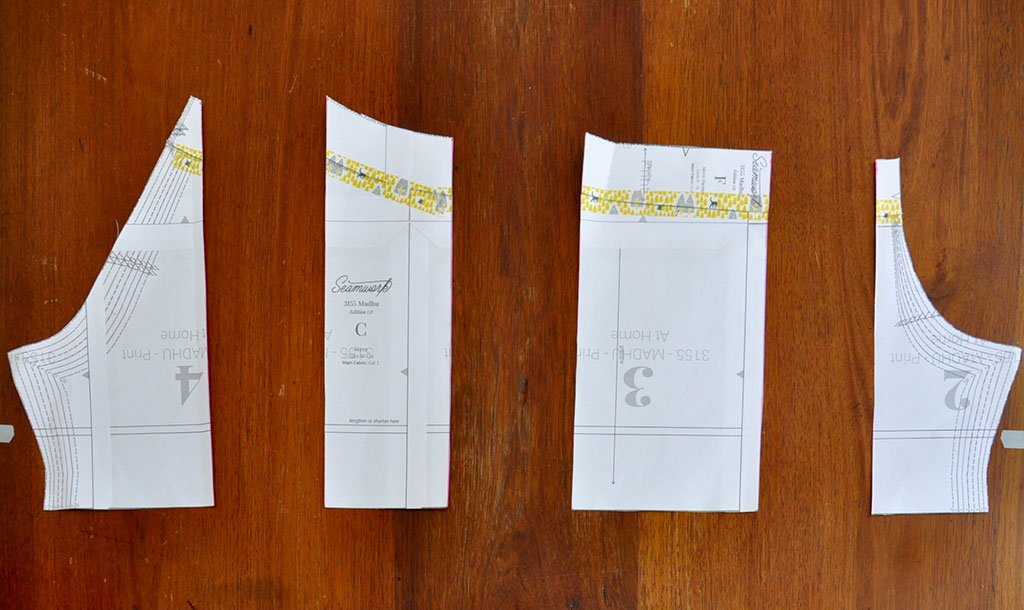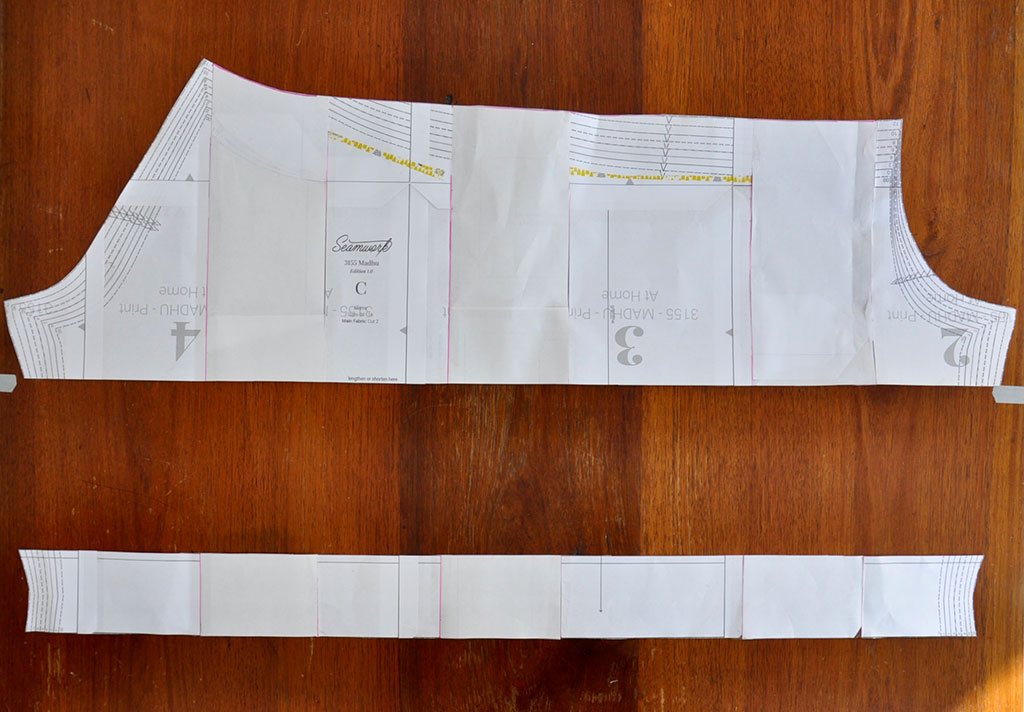 I wanted a statement sleeve, so I slashed and spread the sleeve and facing pieces, then added length. I only inserted elastic into the sleeve head—for maximum volume—and left the front and back of the neckline flat. If there's a choice between a voluminous sleeve or not—always go big.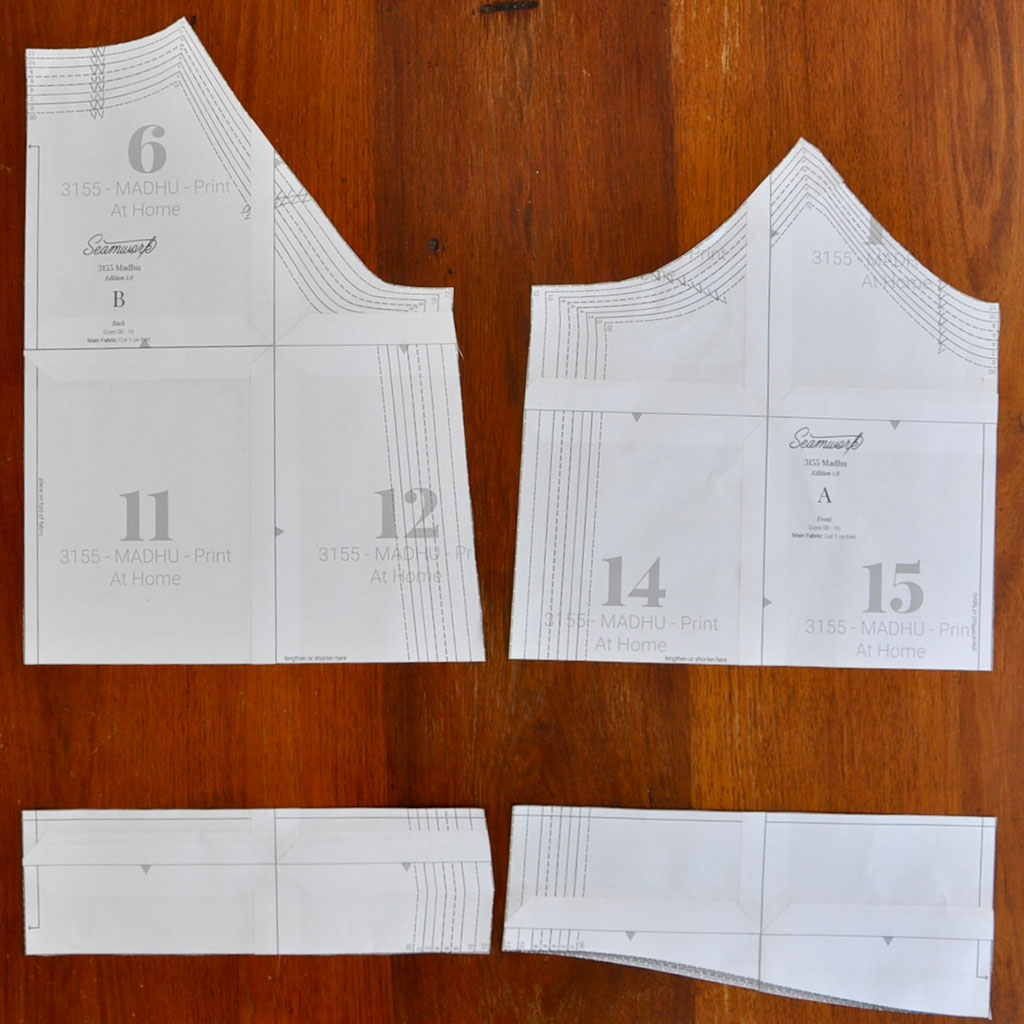 Finally, because I love a full or French tuck, I added some length to the bodice too.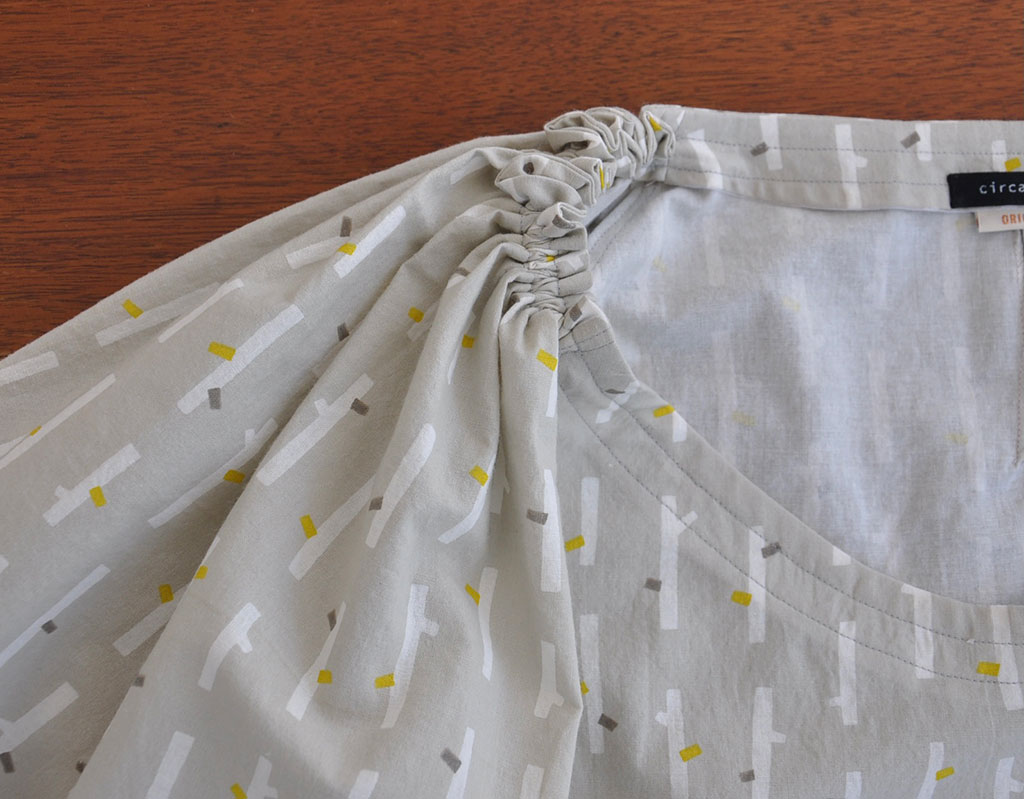 ---
Time to sew it up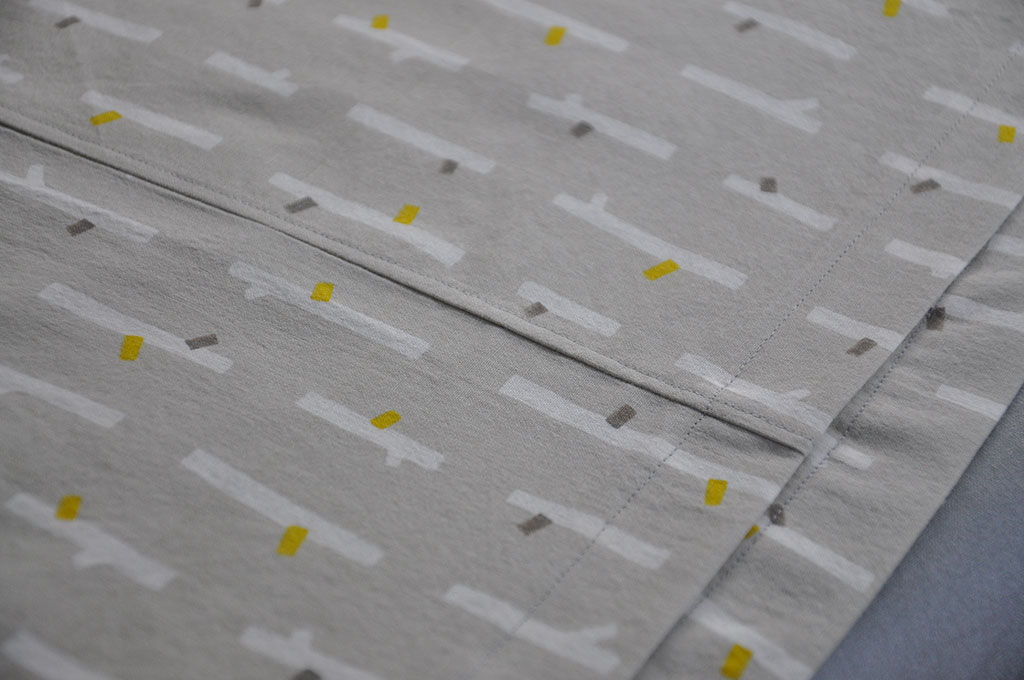 I got creative with the cutting due to the amount of fabric I had. I added seam allowances and cut the back bodice of the Madhu into two pieces so I could play pattern Tetris on my fabric.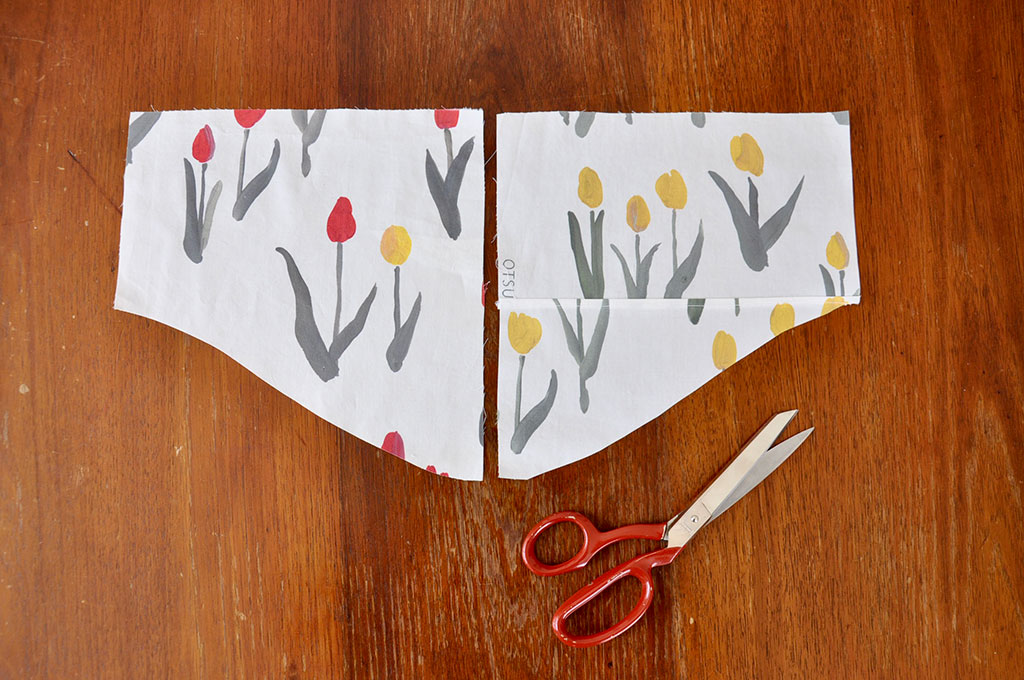 I also added a seam into one of my pockets as I cut them out upside down and didn't have enough fabric to recut full pockets.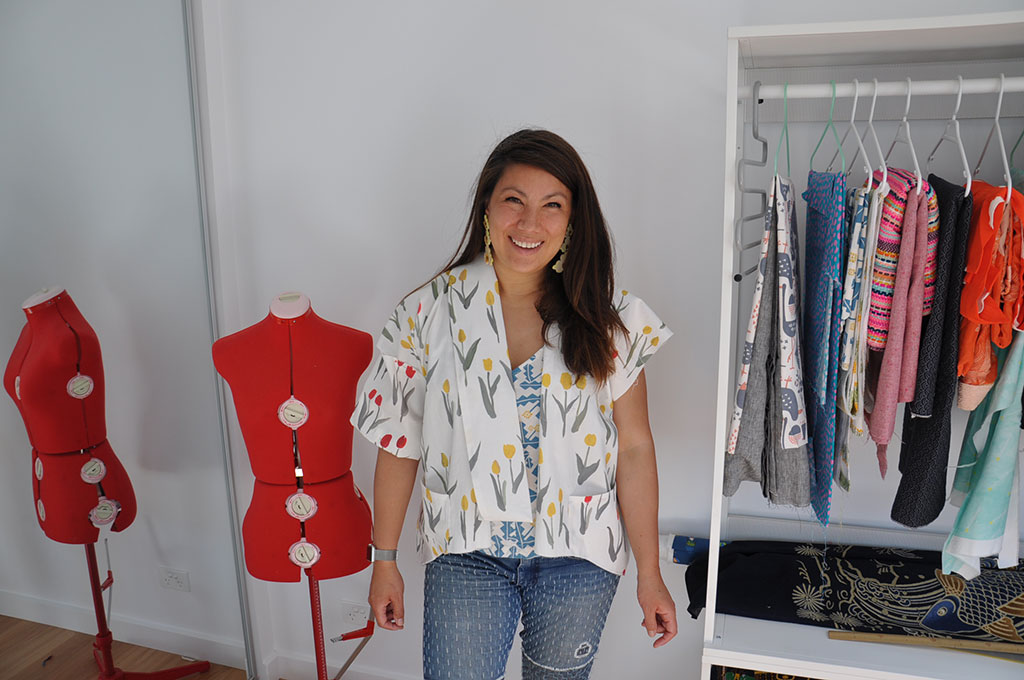 I stopped for fit checks of the pieces I hacked to adjust them as I went—like taking some width out of the collar at the back of the neck. I also love taking time to add special details like this handmade ceramic button I bought in Tokyo and a label to make it feel legit!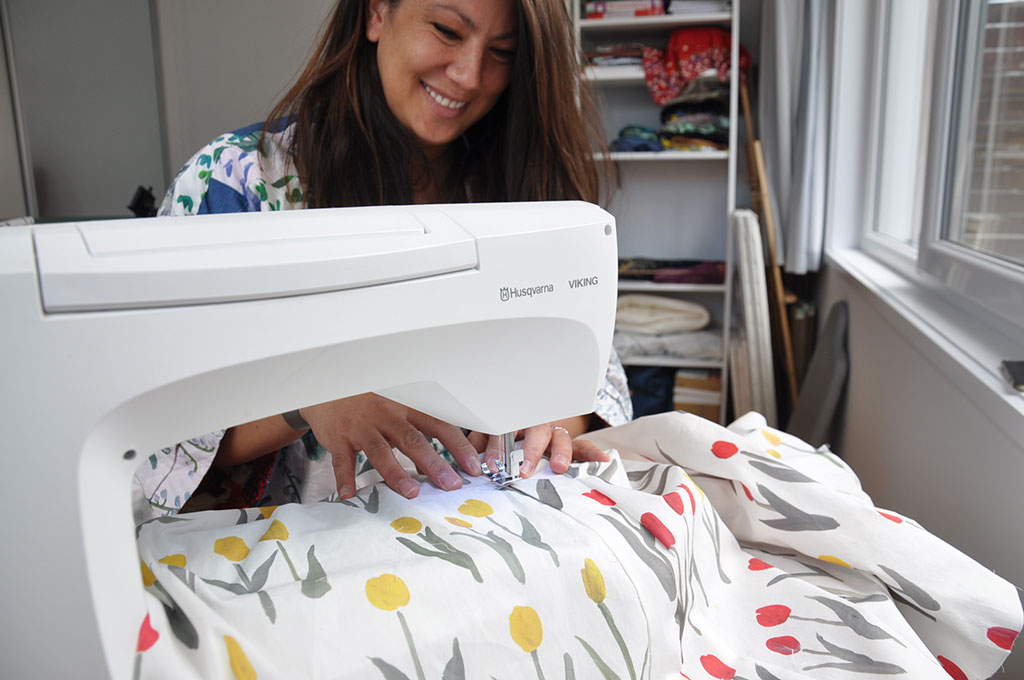 In true Project Runway style, the proportions were out when I tried on my finished garments to snap photos. There was too much fabric in the bodice of the Madhu and the waist of the Callahans. So I pinched out some fabric from both garments' side seams, re-stitched them, and cropped the pants—this made a world of difference!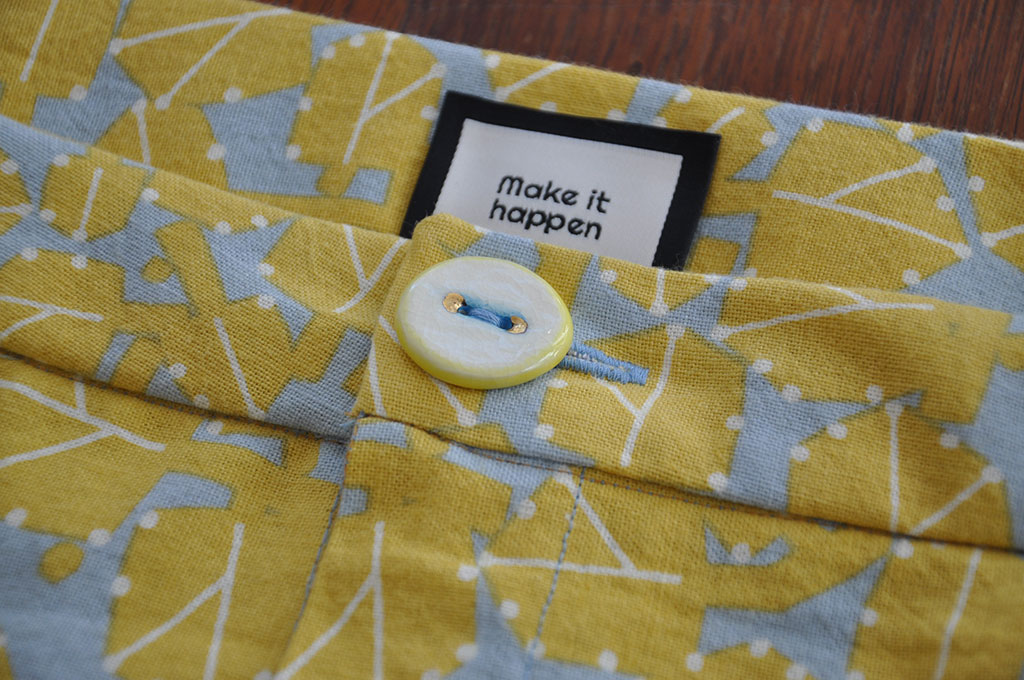 ---
Time for the fashion show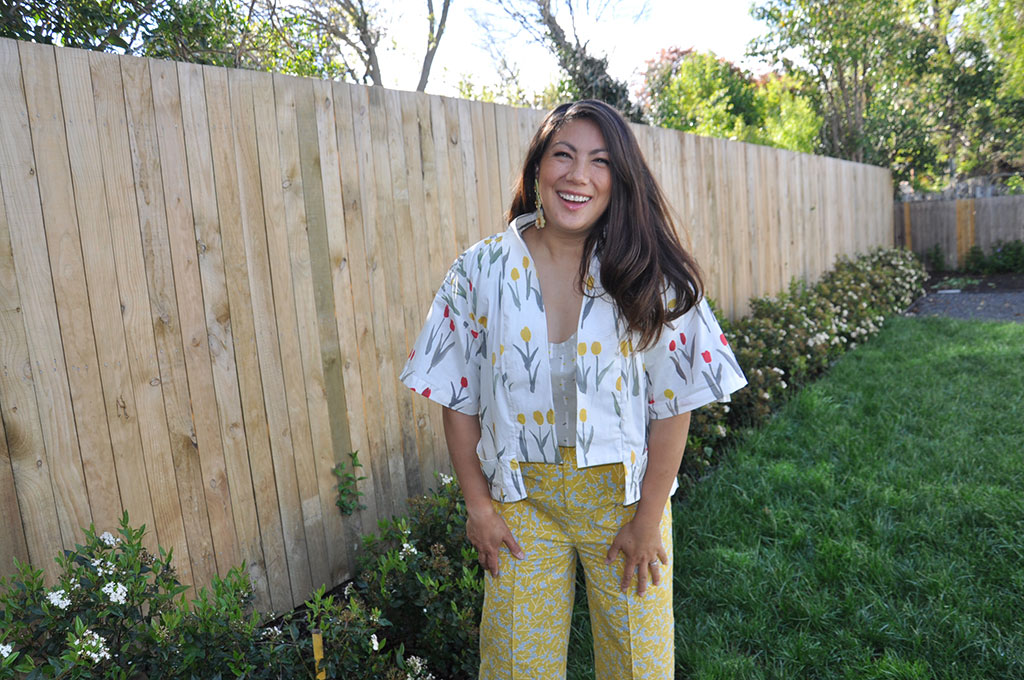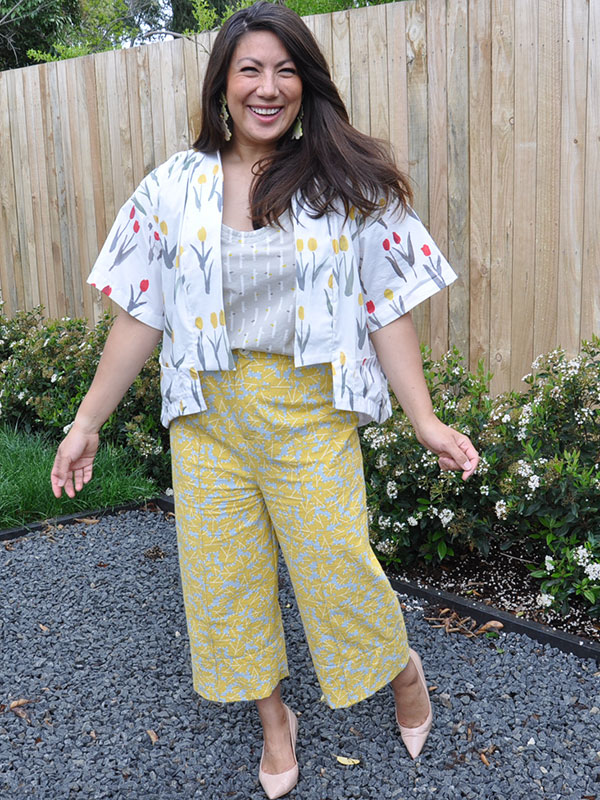 I love this outfit, and I will be wearing it on repeat. This challenge allowed me to explore the Seamwork patterns with a different lens and find a fresh new combination of prints.
Now it's your turn. Why not find an inspiration image and see if you can re-create it in your own style? Play with clashing prints, too—you may discover that you love it. If you are feeling stuck or overwhelmed with all of your sewing projects, give yourself a Project-Runway-inspired challenge. Set some boundaries and define some limitations. It just might help you get in front of your machine and start sewing!
Love the article? Pin it for later.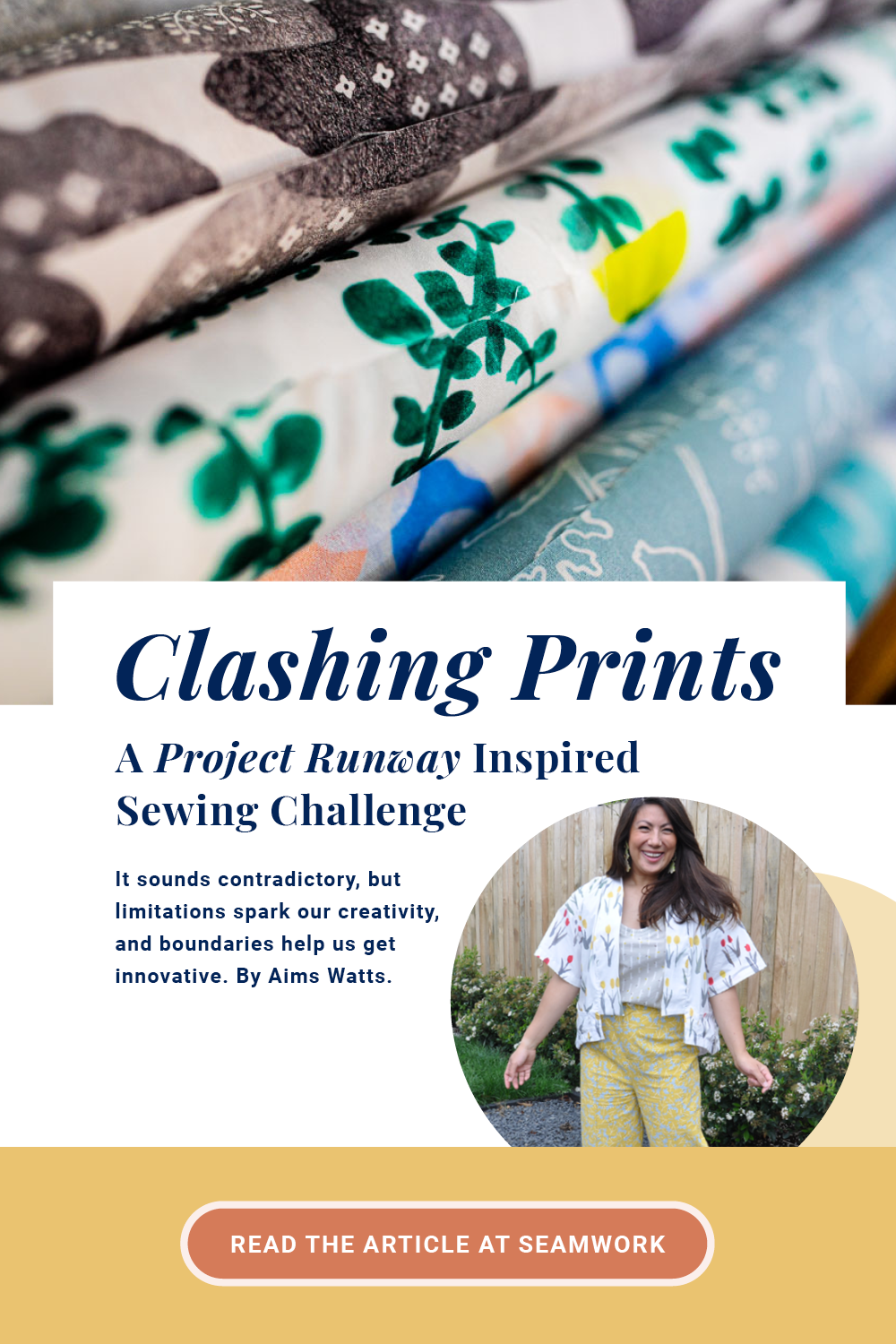 Join the Conversation
Sign in or become a Seamwork member to comment on this article.