It was 1939 in New York City, and Myrtle R. Douglas stepped into the first-ever World Science Fiction Convention wearing a sci-fi-inspired romper and cape. She'd sewed this futuristic outfit herself, using fabric from a former shiny, silky ballgown. She made her boyfriend, Forrest Ackerman, a coordinating sci-fi-inspired outfit with giant, metallic shoulder pads. Together, Myrtle and Forrest donned the word's first cosplay.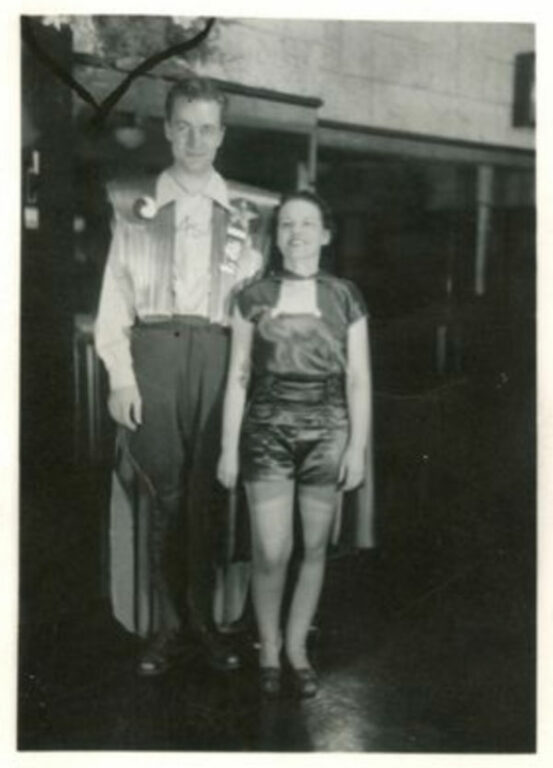 Myrtle—known affectionately throughout history as Morojo—and Forrest had recently started a science-fiction fanzine, a publication written for and by science-fiction fans. Shortly after the zine's launch, they attended that convention with 200 fellow sci-fi geeks. Now, 82 years later, modern comic conventions bring hundreds of thousands of fans together each year to celebrate their favorite fandoms, and cosplay is a 45-billion dollar hobby and creative industry.
---
What is cosplay?
Cosplay is short for "costume play." Cosplayers often spend months making costumes to transform into their favorite characters from comic books, anime, movies, or historical figures, mystical beasts, and creatures of their own invention. They will even embody the personality of these characters, whether that be an accent or a particular way of walking or moving.
Cosplayers take sewing to another level with their materials, sculpting realistic props like swords, headgear, boots, and even incorporating robotic elements into their costumes.
The spectacle of the craft is why cosplay is such a force. It's simultaneously personal and deeply social. Introverts, extroverts, and any combination of the two can find their space in cosplay. It's a visual and a social art—and it's pretty magical.
To best understand the appeal of cosplay, it's best to talk to cosplayers themselves. So let's meet some!
---
Why Do People Cosplay?
What is it about cosplay that is so entrancing—why do people want to spend a bunch of money and countless hours to transform themselves into someone else?
"So this is very individual. Every cosplayer is going to have a different take on this," says Gillian Conahan, author of The Hero's Closet: Sewing for Cosplay and Costuming, a book that bridges the gap between sewing everyday clothing and costumes. 
Here are some reasons why people come to cosplay and why they fall in love with the craft. 
Tinkering with New Skills
One of cosplay's biggest thrills is in the craft itself—the actual techniques you use to turn yourself into a superhero or a monster. 
Gillian explains how she came to cosplay after sewing her office wardrobe, "I spent several years making clothes and especially office clothes for myself. I learned how to make work pants—and made a lot of nice wool trousers, but at some point that kind of got old. There's only so much business casual I can make, right?"
Many cosplayers collect techniques, constantly wanting to expand their knowledge of tailoring, fitting, hand-sewing, corsetry, and embroidery. Gillian recalls her first cosplay, of Ezio, a character from the video game Assasin's Creed. "I dyed my own linen to the exact right gray color in my apartment bathtub. I hand embroidered the detailing on the coat. I carved my own linoleum stamp…I did honeycomb smocking on the shirt sleeves. It was all a whole grab bag of different techniques that I'd never tried before."
Melanie is a cosplayer who also wanted to reach far beyond her home sewing techniques, "I've gotten really into making resin and like, sculpting and crafting and working with foam." These novel techniques are why Melanie loves cosplay, "People are always learning new techniques for things, even in the realm of sewing…We're not just using fabric. I've definitely, you know, jammed up my sewing machine a few times trying to sew random materials that the sewing machine probably isn't made for."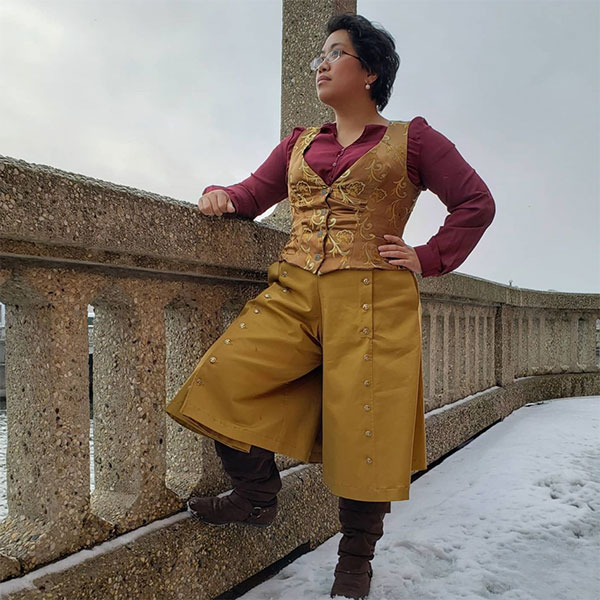 A Quest to Find Your Alter-ego
Aside from the actual building of costumes, another thrill that cosplay provides is the physical transformation from yourself into someone else. Emilee is an avid cosplayer on many levels, from elaborate historical gowns to closet cosplays—which is when you low-key cosplay with clothes from your existing wardrobe. So what does cosplay feel like for Emilee?
"I think it depends on the cosplay. Sometimes it's a really giddy feeling…I do a lot of nostalgia cosplays. I think those are the ones that really evoke a lot of emotion because I'm like, oh my gosh, I grew up with this character, and now I am this character."
Emilee describes wearing cosplay as having an alter-ego, a power that cosplayers find in their builds—or costumes. Anne Marie sews for a living and regularly participates in historical costuming and cosplay.
"I think my favorite is my last one that I did, which was Beauregard from Critical Role. It is the most niche thing that I think I've ever made…how do I describe this in an elevator pitch?" Anne Marie laughs.
If you're not getting Anne Marie's reference, Critical Role is a web series that started in 2015, in which a group of actors plays Dungeons & Dragons. This is the perfect example of niche cosplay. You might not recognize her cosplay unless you are deeply embedded in that particular fandom.
"It's just like the most beautiful storytelling that's kind of blossoming in front of you. And the character of Beauregarde became strangely important to me. And I didn't realize how much, how important she was to me until I started making the cosplay and embodying that character."
---
Playing with Friends
If you consider the thrill of building a costume along with the thrill of transforming yourself into someone else, doing these things alongside other like-minded, nerdy people is the ultimate thrill of cosplay. "There's definitely an exhibitionist aspect to what we do," says Mia May, a cosplayer who has a love for historical fashion.
Cosplay has, at its roots, the same communal aspect of sewing, quilting, and other fiber crafts. Our clothes—yep, including costumes—connect us.
"There is something so magical about the first time I went to a convention…and realized that there were hundreds of people who were just as dorky and nerdy as me." Anne Marie likens cosplay to a quilting circle, where you hang out, tell stories, and make things with your friends.
"It's everyone collectively coming together and saying we are going to play. And that is something that I think is lost on a lot of adults…everyone is agreeing that we're all going to be able to be kids again and accept some of the strange things that people want to do because it's fun and it is very freeing to be able to love the things that you love without any possibility of judgment or any type of confused looks. Everyone accepts the fact that everyone is a little bit strange."
---
So Who Can Cosplay?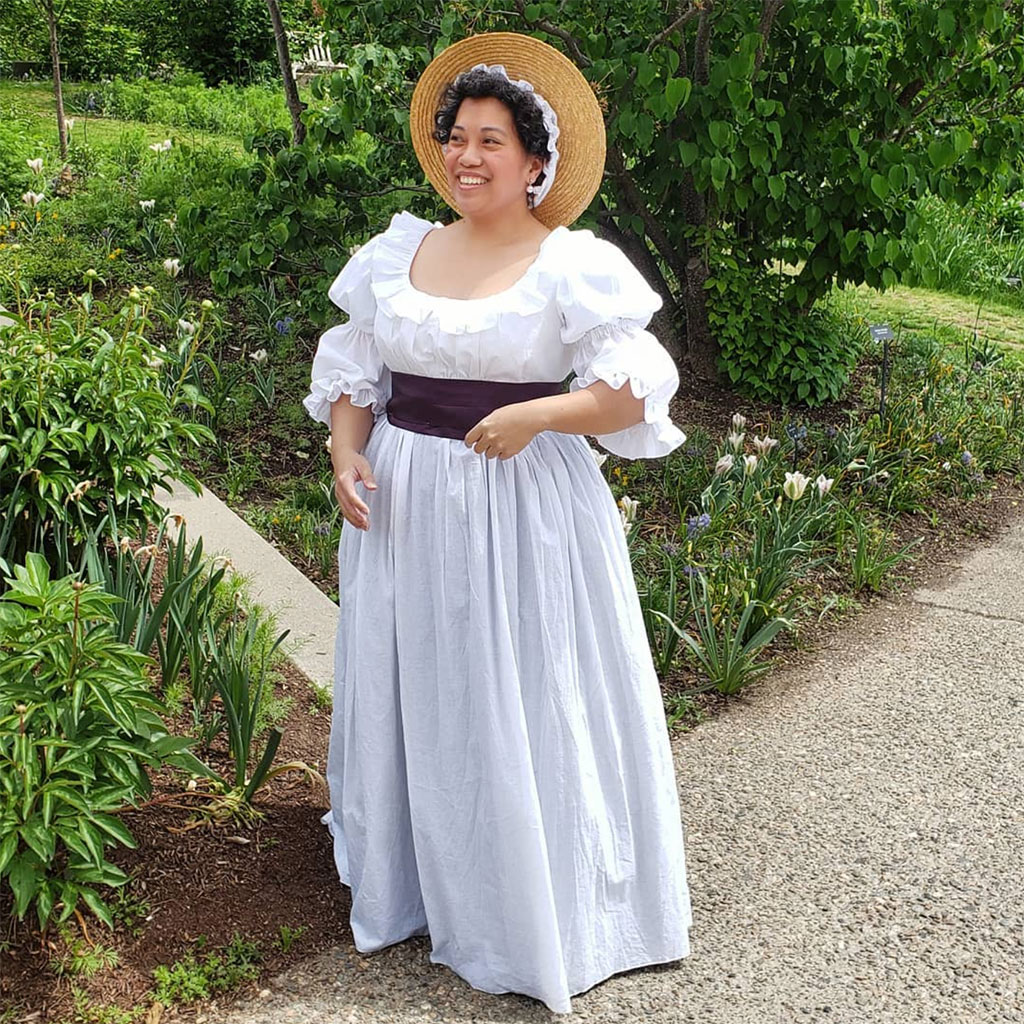 Does cosplay seem intimidating to you? It can be difficult to look at these elaborate costumes and feel like you can jump right in. The thing is, cosplayers want more nerdy friends. So if you follow your interests, you'll find your fellow cosplayers.
The Atlantic has a piece called Plaguecore and the rise of Tumblr's Dress-up Culture that questioned if the trend of plague doctor costumes over the Covid-19 pandemic hinted at a cosplay renaissance. Was the younger generation embracing cosplay with less hesitation?
They found that younger generations turned to social platforms to share crafts and historical facts and create inclusive communities that celebrate diversity. But cosplay isn't a utopia where anyone can become anything, and all societal ills are cured. As this article explains, "Even as the entertainment industry begins to make strides in increasing diversity and representation, the fact remains that most of the characters fans see on the screen or on the page tend to be thin, chiseled, healthy, and white—and many cosplayers are none of those things." 
While some major conventions, like San Diego and New York City Comic Con are making space for diverse panels—like "Cosplay and Disabilities: Incorporating Diversity and Accessibility into Costumes," "Muslim Fandom: Geeks, Nerds, Cosplayers, and Creators," and "Cosplay While Plus Ultra,"—much of this work is being done by individual cosplayers who want to empower anyone to cosplay.
Emilee recalls being excluded from the ballgowns of antebellum historical cosplay because she is not white. So she started her own quarterly historical sew alongs on Instagram. These sew alongs create a space where anyone feels welcome, regardless of race, size, gender, or socioeconomic status. If you are Black, you can wear any historical gown you can dream up, or you can cosplay as a Disney princess. If you are curvy, you can sew when you can't find a costume in the store, and if you need to use a thrifted bed sheet to make your costume because fabric is outside of your budget, you're welcome to join in.
"That's kind of what I'm fighting against by making this community. I don't care what people look like. I don't care what…materials they're using—use whatever you have accessible. People are making mockups out of, like, old cereal boxes. And it was the coolest thing I've ever seen," says Emilee.
These individual efforts to increase inclusivity in cosplay have a strong ripple effect. After all, cosplay is about celebrating your niche interests. Once you find a few like-minded geeks, your collective power grows and grows.
Melanie and Mia May are both on the SheProp team. "SheProp is a group to celebrate female, non-binary, transgender, two-spirit, and otherwise marginalized groups in order to provide a safe space. That's really what it boils down to. We want to be a safe space for people to share their questions or share their builds. And, you know, have a positive, uplifting community free from outside opinions."



Cosplay is about celebrating your niche interests. Once you find a few like-minded geeks, your collective power grows and grows.



Groups like SheProp have safe, welcoming forums where you can post questions, join Discord chats, watch their vlogs, and listen to podcasts. Just as you can find any specific fandom within cosplay, you can find makers—and groups of makers—who use their superpowers to fight for inclusivity. So if you're new to cosplay and want to support these efforts, you are more than welcome.
---
Getting Started With Your First Cosplay
If you know how to sew clothing, you already have a ton in common with most cosplayers—you care about self-expression, you might have a near-obsessive attention to detail, and you're part of a worldwide community of people who love to nerd out about their craft.
When it comes to our bodies, there are so many limitations and outside pressure. Both sewing and cosplay can liberate you from the expectations put on your body. Not only do you have control, but you also have the superpower of creativity!
The She Prop team recognizes that a big barrier comes down to skill level. People feel like their costumes aren't good enough, so they are worried they don't belong in cosplay. But remember, cosplayers love to make things, and they love to learn new skills. "You might have someone who's a master foam-smither, and they want to make a tunic for themselves, but they don't know anything about sewing…They can go on the forum, and they can ask people. And there's going to be people who have done that, people who haven't done that, people who can offer a different perspective. And so it ends up becoming a very collaborative environment to learn something you haven't learned before," says Mia May.
Advice From Cosplayers: Where to start



YouTube: You can find how-to videos to work with nearly any material, from foam to robotics. Melanie often sends members of the SheProp community to YouTube, "Whatever it is you're looking for, you can probably find it on YouTube."



The fabric store: If you've ever been to JoAnn Fabrics around Halloween, the fabric and patterns are all about cosplay. Ya Ya Han, a well-known cosplayer, has even started a cosplay fabric line.



Your craft cupboard: "We're all guilty of like having these school-craft closets of materials we buy," says Melanie. Find a cosplayer you admire and look at where they got their materials—you might be surprised at how much you can do with cardboard, glue, and paint.



Your closet: Closet cosplay took off during the pandemic, as fabric stores closed and cosplayers had to work with what they already owned. Anne Marie is even wearing parts of her Moana cosplay every day, "I'm slowly trying to get a little bit more confidence to be able to either make something that will work for both…cosplay and everyday life or just wear some of the historical things that I really enjoy out in real life. Because why not? Not like anyone is trying to stop me from wearing the clothes that I kind of enjoy wearing as opposed to like jeans and a T-shirt."



TikTok, Discord, Facebook Groups, and Instagram: Social media is full of inspiration, but it doesn't have to be a space for intimidation. Many makers post quick tutorials and how-tos, rather than just posting photos of their favorite builds. Follow the cosplayers who make you feel excited about your fandom.


---
Back to the Future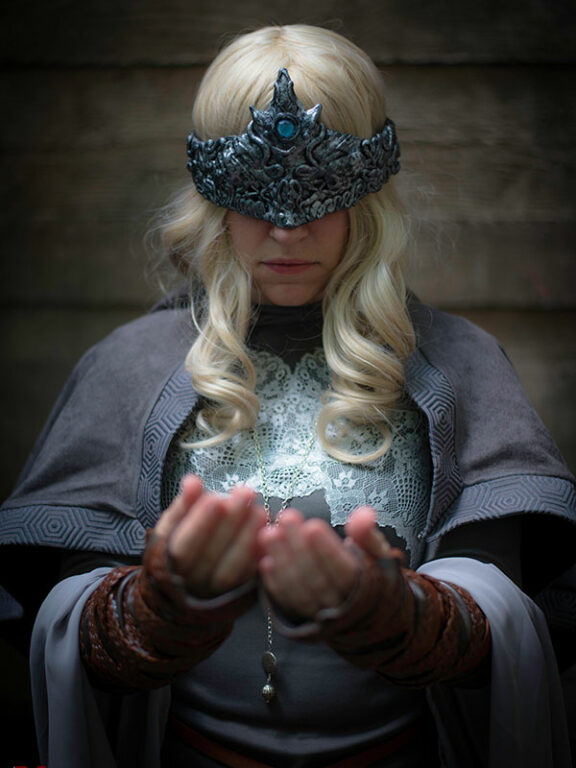 Talking to these cosplayers, I got a sense of what the future of cosplay might look like. People want to keep making. They want access to events and information. They want to keep sewing, building props, and experimenting with technical materials. Ultimately, they want to nerd out with their friends, but they want everyone to feel invited.
Can the overall cosplay experience boil down to playing? Just having fun making things, going on an adventure of your choice, and creating costumes along the way? Yeah, it totally can be that simple. This means that cosplay really is for everyone.
So do you think you might be ready to try cosplay as part of your sewing practice? If you're still feeling hesitant, any of the cosplayers above are ready to help you. If you're even thinking about it, Melanie has just one piece of advice: "Do it, even if it's even if it's just to start for Halloween or whatever—more nerds are welcome!"
Join the Conversation
Sign in or become a Seamwork member to comment on this article.