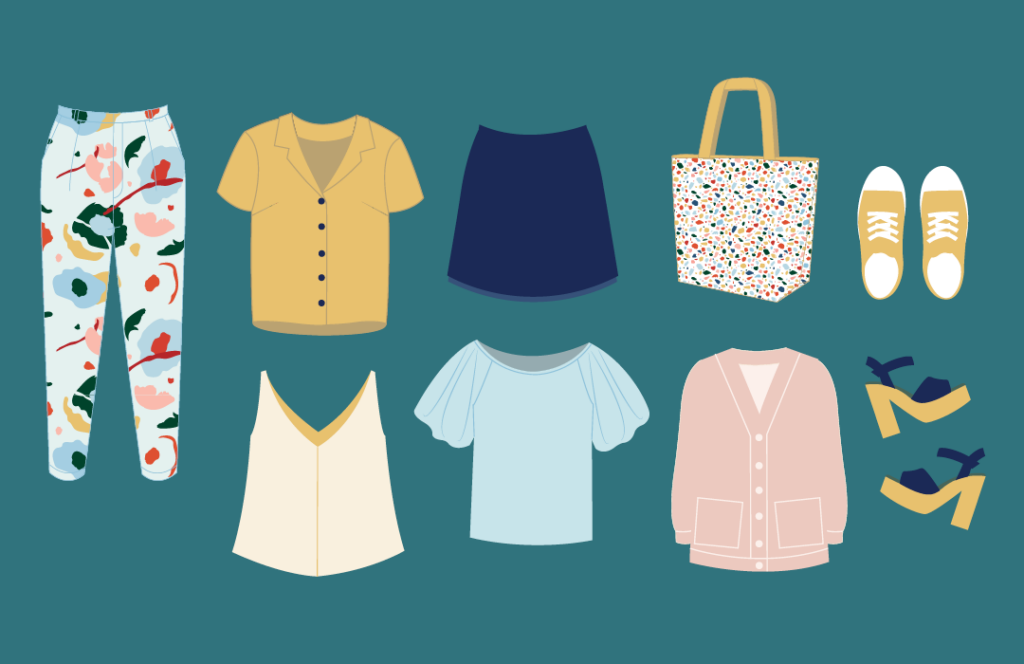 Trousers are a classic wardrobe staple. Why not spice things up and show off your vibrant personality by sewing them up in a bold print? I invite you to follow along with me as I dream up a stylish late summer capsule wardrobe featuring the Ani trousers.
These trousers are fitted with a tapered leg and feature front pleats, slash pockets, a zipper fly and single welt pockets on the back. All of theses beautiful details are well worth showing off, which makes the Ani trousers a great base for this late summer capsule. I'll be pairing them with complementary pieces full of texture and personality to create eye-catching outfits you'll love to wear again and again.

Outfit 01:
Ani, Loretta, Ollie, Heels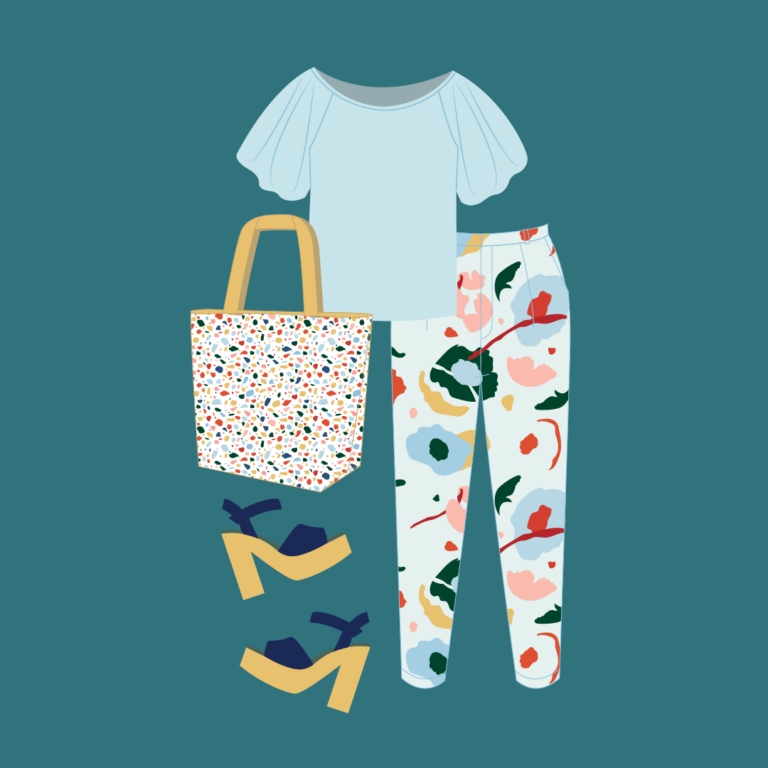 Try pairing the Ani trousers with the Loretta top for volume and depth. This easy-to-make top features dramatic flutter sleeves and a convertible off-the-shoulder or scoop neckline. Finish off the look with the Ollie tote and chunky heels.
Outfit 02:
Ani, Clarke, Sneakers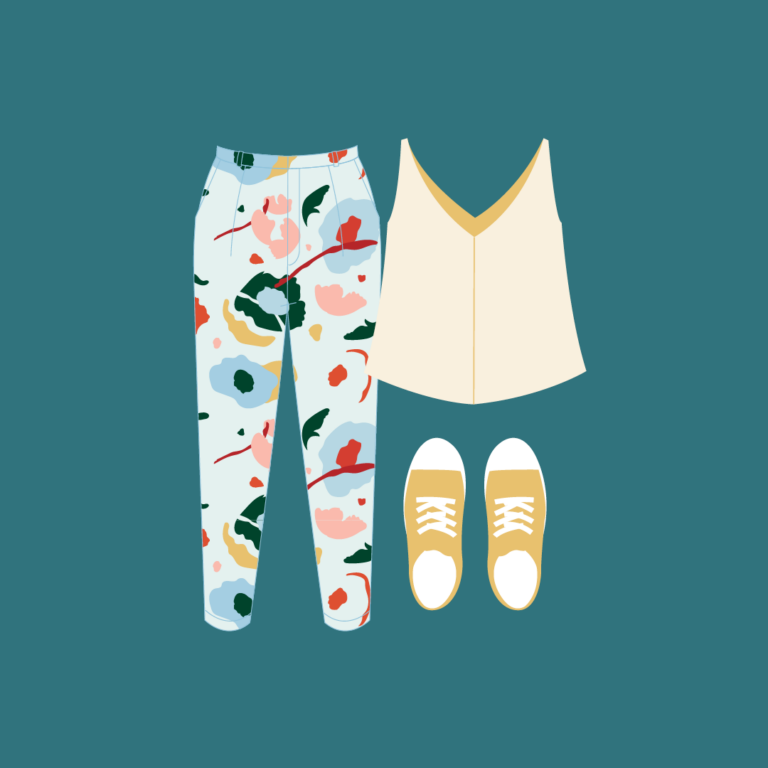 For a more streamlined look, you can tuck the Clarke top into the Ani pants. This top will help you make the most of your fabric stash as it can be sewn up in knits and woven fabrics or cut on the bias. Pop on your sneakers for an unexpected sporty twist, and you'll be ready to strut your stuff.

Outfit 03:
Ani, Natalie, Milo, Heels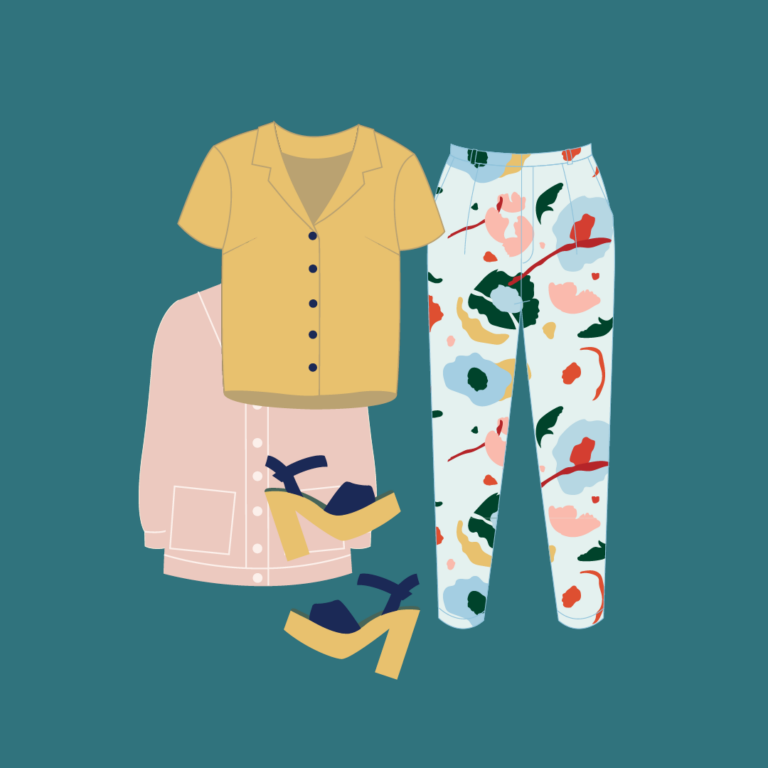 Want to look super polished? The Natalie top is another great accompaniment to the Ani trousers as it features chic, professional details such as a notch collar and button-up construction. Don't forget to bring your lightweight Milo cardigan in case you run into a chill.

Outfit 04:
Ani, Clarke, Sneakers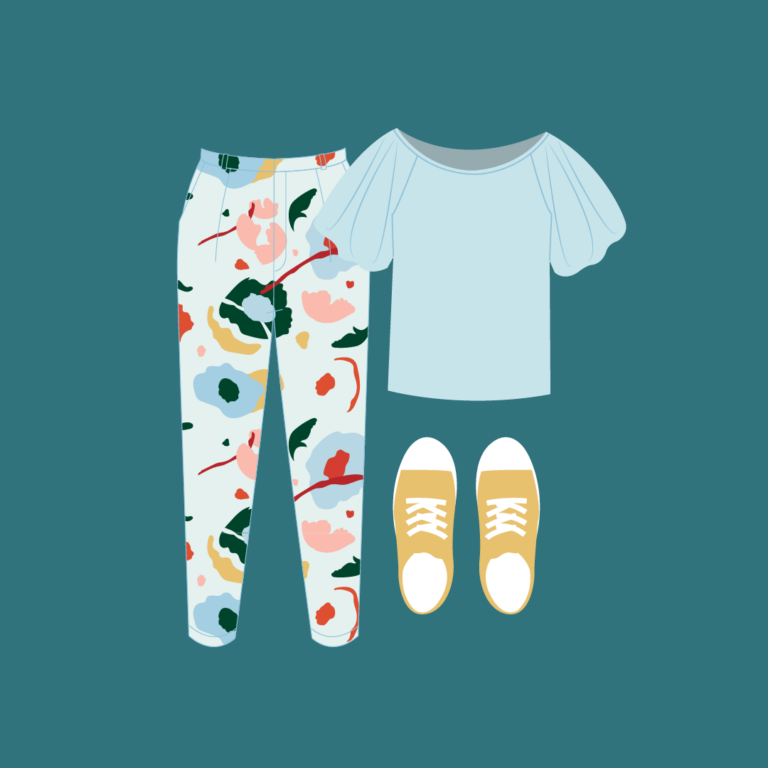 Want to show off your Ani trousers and Loretta top in a more casual fashion? Simply minimize your accessories and pair them with sneakers for a simple and effortless outfit.
Outfit 05:
Ani, Clarke, Heels, Ollie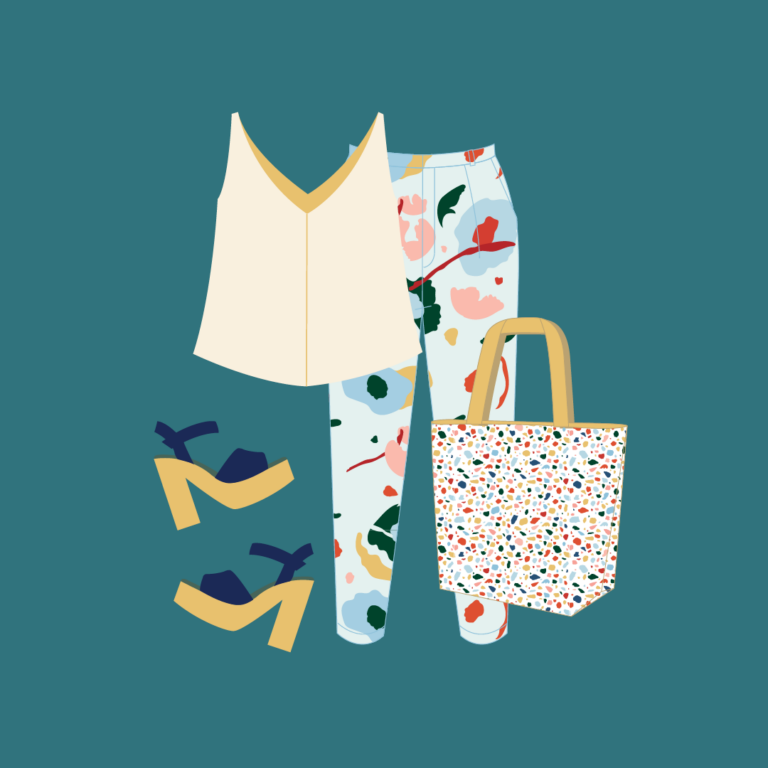 Try wearing the Clarke top untucked for a flowy silhouette that is sure to look lovely in the late Summer breezy. Finish off the look with the Ollie tote and heels.

Outfit 06:
Loretta, Everly, Heels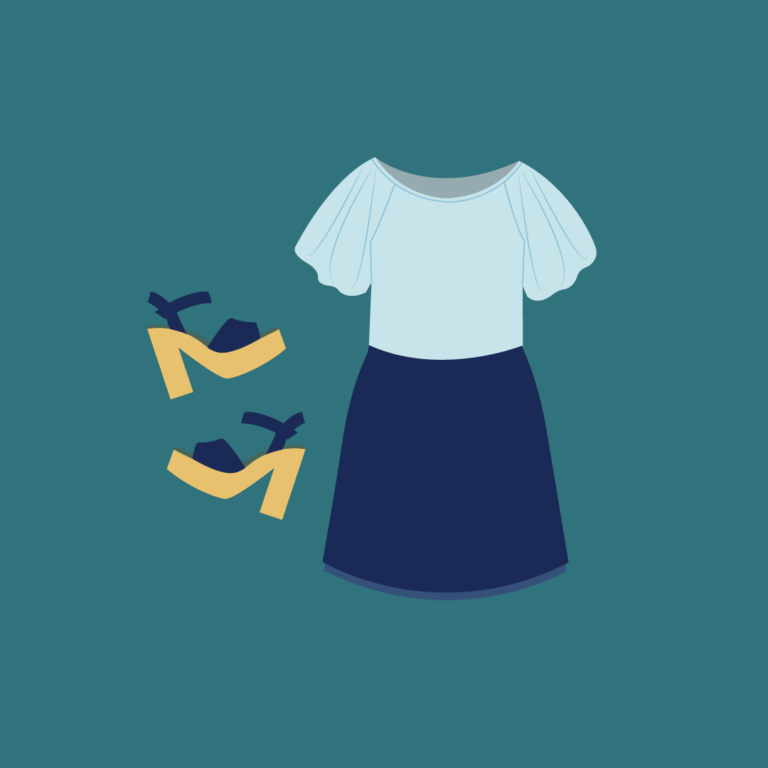 On days when Ani is the wash or you simply want to feel the summer sun on your legs, bring out your Everly skirt. This clever skirt is cut on the bias for a flattering, easy fit, and the double-layered design makes it fun to play with contrast fabrics or opacity. Pair it with the Loretta top and heels for a romantic vibe.

Outfit 07:
Natalie, Everly, Sneakers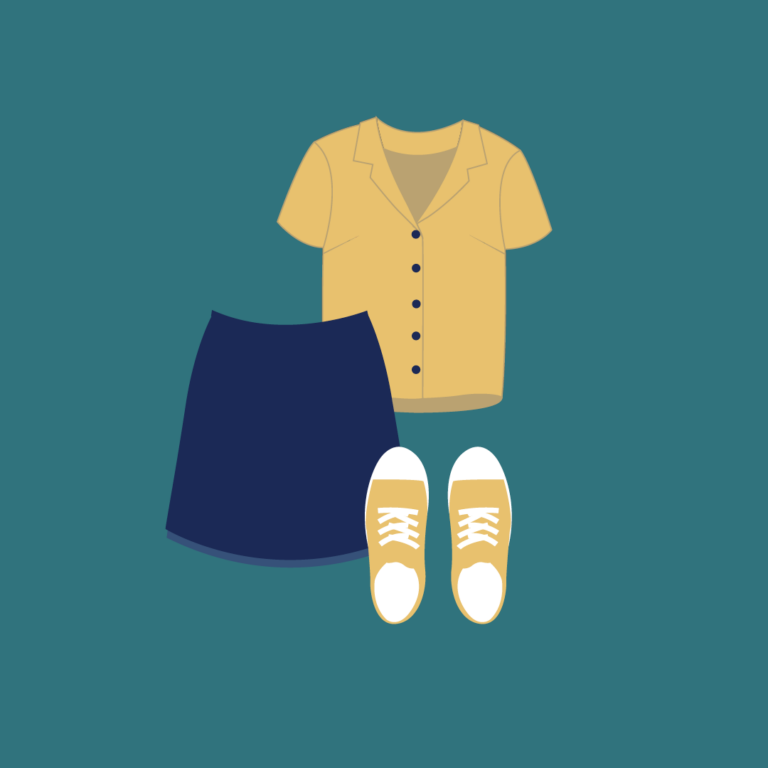 Create a super chic ensemble by tucking the Natalie top into the Everly skirt. Slip on your sneakers and you'll be all set to take on the day in style.
Outfit 08:
Clarke, Everly, Milo, Ollie, Heels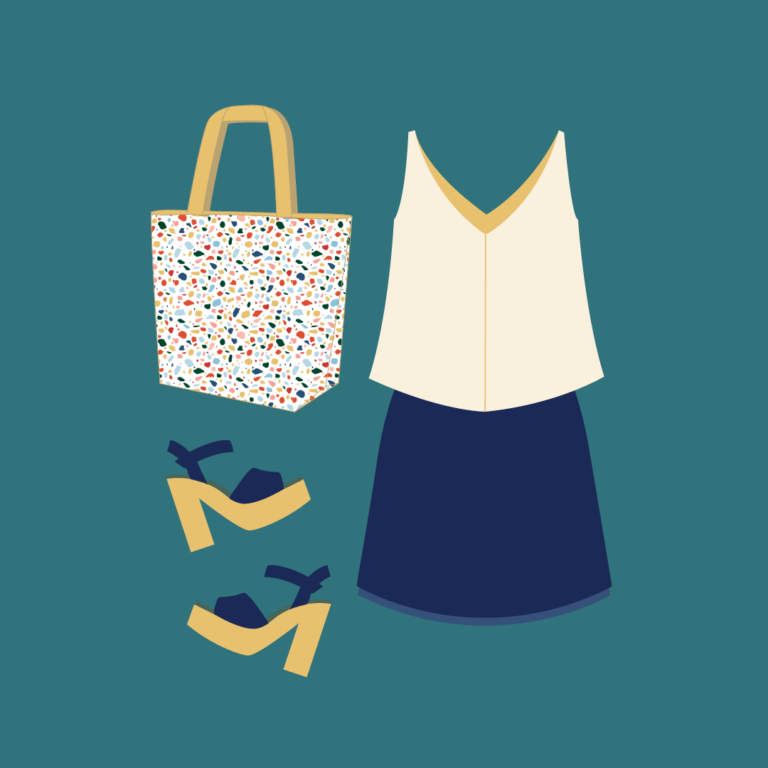 The Clarke top is so versatile. It goes well with just about anything, so why not slip it on with your Everly skirt? Oh, and did I mention it is bra-friendly? Win, win! Level up this look by finishing it off with the Milo cardigan, Ollie tote and heels.
Join the Conversation
Sign in or become a Seamwork member to comment on this article.