Without question, David Bowie's music was revolutionary and influential. However, his visual legacy, which has fascinated the public for over 40 years, is of equal importance. Bowie's costumes have had long-reaching influence in the fashion industry.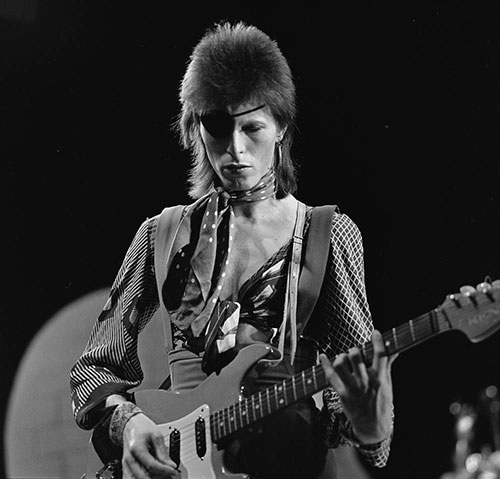 Bowie in his Halloween Jack persona, which he adopted
during the Diamond Dogs tour. Photo by AVRO,
via Wikimedia Commons.
In David Bowie's video for Life on Mars, the camera pans down from a bright white void, across a tuft of red hair, then rests on two green eyes, one with an alien-like enlarged black pupil, rimmed in shiny blue eye shadow popping off supernaturally pale skin. The shot pulls away to reveal David Bowie wearing an ice blue suit, his silver lame tie sprinkled with stars. As the camera jumps back and forth, Bowie's pale skin blends into the white background leaving only jolts of color from his hair, eyes, and suit. The effect is mesmerizing–electric and alien, even 40 years later. Though his radical style seemed to come straight from outer space, it was an amalgamation of inspiration and collaboration that made Bowie a cultural icon, not just in music but also in fashion.
The Early Years
Childhood Influences
Contrary to popular belief, Bowie did not fall to earth from a distant planet, but was born David Jones in Brixton, South London in 1947. At eight little David fell under the spell of Little Richard, who seemed just as much of an alien when he burst on the music scene in 1955, wearing full pancake makeup and a pompadour hairstyle. Little Richard's music was loud, aggressive, and sexy. In the otherwise staid '50s he was unpredictable and wild, and audiences loved him for it.
It's not hard to see the effect of Little Richard on Bowie's style. The makeup, showmanship, and androgynous gender fluidity for which Bowie is known have roots in the famously bisexual rocker. Where The Beatles and The Rolling Stones were inspired by Elvis Presley, Bowie learned at the feet of the first glam rock star. Little Richard frequently appeared onstage in colorful capes and suits, wearing garments dripping in multicolored sequins and precious stones. He was not shy about donning traditionally feminine colors like mint or pink, inspirations that are apparent throughout Bowie's career.
Bowie Goes to London
Bowie started his first band at the age of 15 and in just two years was immersed in London's music scene, complete with a record deal. However, his singles floundered and his career lagged until he found a mentor who introduced him to a new artistic outlet—the world of mime—which opened his eyes to the possibilities for creating visual interpretations of his music.
Performance artist Lindsay Kemp showed Bowie how to create characters and embody them fully, turning his everyday life into a performance. In this study of total character immersion, Bowie also learned the art of stagecraft. Heretofore, he had not experienced the power of makeup and costume, but when performing in full mime gear, he fully embraced performing as an alternate persona, knowledge he would employ a few years later.
In his early days, Bowie immersed himself in the mod scene. The mods were a new generation of British teenagers with an unparalleled devotion to dressing. Reacting to a fashion aesthetic dominated by conservative gray suits and minimalist accessories, the early mods embraced sleek tailor-made suits, seeking inspiration from French and Italian art films and Italian magazines. Eventually, Bowie's fitted mod suits gave way to the bright colors and prints of the psychedelic sixties. Though he followed fashion, he had yet to step out of mainstream style.
David Bowie appears with friend
and stylist Freddie Buretti on the
cover of
Curious
in 1971. Bowie is
wearing his Mr. Fish Man-dress.
Bowie's Gender-Bending Persona Emerges
As the 1960s progressed, Bowie and his soon-to-be wife Angie immersed themselves in London's gay scene. The Bowies adopted an open relationship and bisexual lifestyle. This private world was reflected in their public personas, and they started incorporating an androgynous look to complement their sexual identities. On the cover of The Man Who Sold the World, Bowie lounges on a chaise dressed in a satin printed man-dress designed by fashion designer Michael Fish and knee high boots, his long blond hair flowing over his shoulders. Bowie had begun bringing his heightened fashion awareness into his musical career.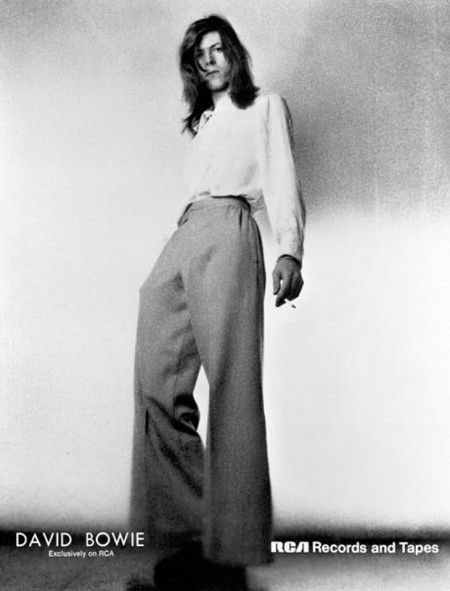 A promotional ad for
Hunky Dory
.
Bowie fully embraced this gender-bending persona, even at the risk of commercial success. His look and lifestyle were so sexually radical that his record company in America refused to release the album with that cover. The cover art for his next album, Hunky Dory, is no less exotic. He embodied the role of ingenue, his feminine features accentuated by dramatic lighting, long blond hair falling around his shoulders and over a checked fur coat. On the back of the album he channeled Katharine Hepburn, wearing a long-sleeved silk blouse paired with flowing 1930s-style trousers. Bowie was establishing a reputation for reinvention, taking on new personas with new albums before discarding them, allowing him to play wildly with costumes and fashion.
Collaborating to New Heights
On July 5, 1972, Ziggy Stardust and The Spiders from Mars played Starman on Britain's Top of the Pops. Bowie introduced Ziggy to the masses in fine style, with a bright red cropped mullet, red patent boots, and a tight, quilted two-piece suit shot through with gold, blue, and red. This performance was a color-filled shot in the dark. The older generation was shocked at this alien creature—is it a boy or is it a girl?—who cavorted on stage, intimately throwing his arm around guitarist Mick Ronson while imploring their children to boogie. Those children, however, were transfixed by the sight. More than a few thought, as dancer Michael Clark did, "Oh my God, maybe other people are a little bit like I feel, inside."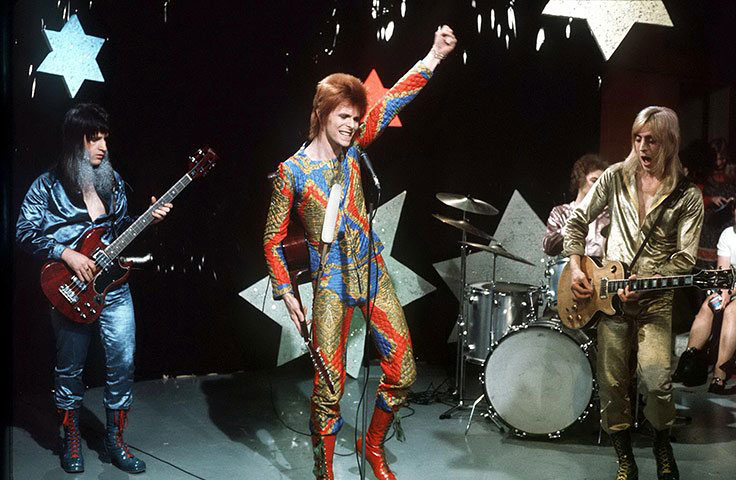 David Bowie singing
Starman
on
Top of The Pops
.
Ziggy's initial look was created through a collaboration between Bowie and Freddie Burretti, who worked as a tailor on King's Road. Gone were the effeminate dresses of Bowie's previous incarnations. Instead, Burretti and Bowie were inspired by Stanley Kubrick's A Clockwork Orange, which features teenage thugs, the droogs, wearing white jumpsuits and codpieces. For Bowie's Top of the Pops debut, Burretti used a large-scale paisley print that he fussy-cut and pieced to create a fitted two-piece suit that resembled a codpiece. The suit was paired with knee-high red patent wrestling boots, which added to the space-age uniform look. Bowie wears a similar suit on the cover of the Ziggy Stardust album, this one created in a green and white geometric Liberty of London print and paired with white patent wrestling boots.
Burretti collaborated with Bowie for day wear and stage costumes through 1974, creating sharp, tightly fitted suits. Though suits are classically cut with masculine angles, Burretti's suits were imbued with lean feminine lines. The ice-blue suit Burretti created for the Life on Mars video is one of the best examples of his tailoring prowess. He used darts from the shoulders to the single button closure to create a sharp triangle along Bowie's shoulders, which was further accentuated with the dramatic collar. On either side of the button closure welt pockets drew attention to Bowie's tiny waist. The trousers feature an extra-wide cuff, which, combined with a platform shoe, created the illusion of endless legs.
Later suits that Burretti designed featured short, double-breasted jackets that were paired with fuller trousers. Though those jackets had a slightly boxier fit than the Life on Mars suit, they continued to emphasize triangular pointed shoulders and a small waist. Together, Bowie and Burretti manufactured those early indelible images of Bowie as Ziggy Stardust. They continued collaborating until Burretti moved to Israel in 1975, after which he disappeared until his death in Paris in 1991.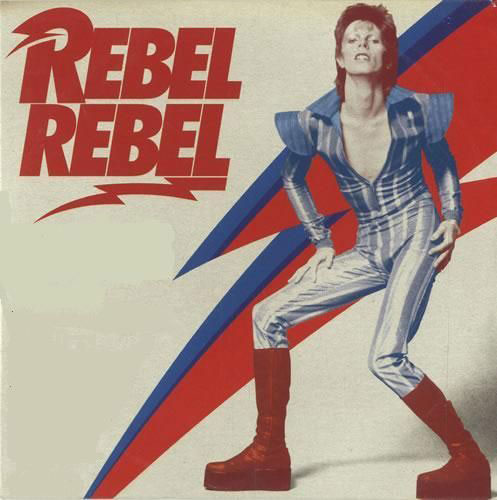 Bowie in full Ziggy regalia in the promotional image for the single
Rebel Rebel
.
When Bowie first approached hairdresser Suzi Fussey to create his red Ziggy hair, he brought a number of inspirational photographs, including a Harpers & Queen spread showcasing the work of a young Japanese designer, Kansai Yamamoto, who had debuted his first collection in London in 1971.
Yamamoto's designs were highly influenced by the Kabuki theater culture of Japan. Kabuki is a classical dance-drama known for elaborate makeup and stylized dramas. Indeed, Bowie first learned Kabuki technique and movement when studying the fundamentals of mime with Lindsay Kemp. After Bowie wore a red leather Yamamoto leotard in his show, the two embarked on a costume collaboration that would go on to become the defining look of David Bowie.
Many of the Yamamoto costumes were designed to integrate the Kabuki art of hikinuki, a movement where one costume is dramatically stripped off to reveal a new outfit underneath. In the most well-known Yamamoto costume, Bowie would appear onstage adorned in a billowing white satin cape covered in Japanese kanji, which was torn off to reveal a multicolored knit one-legged jumpsuit underneath. These Asian-inspired spaceman costumes were made all the more alien paired with the Kabuki-inspired makeup Bowie incorporated as the persona of Aladdin Sane.
A Career of Continual Fashion Shifts
Bowie retired Ziggy Stardust and Aladdin Sane after the 1973 tour but carried on with a number of other personas throughout the 1970s, all who had completely unique personalities and style. The suits he wore when channeling the Thin White Duke were impeccably cut, his shirts perfectly proportioned, his persona dapper but austere. For his Scary Monsters tour, he slipped into pierrot and Le Corbusier-inspired costumes; throughout the decades, Bowie never let his style stagnate.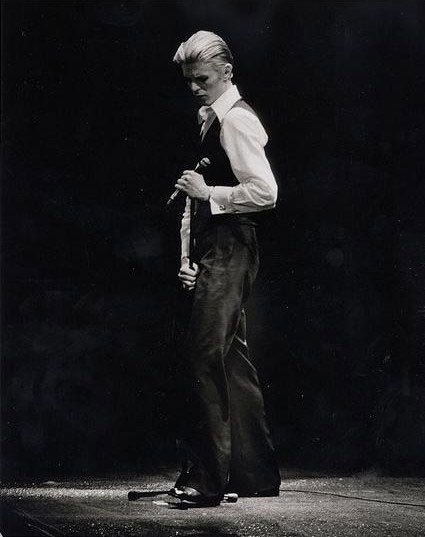 Bowie as the Thin White Duke. Photo by Jean-Luc Ourlin, via Wikimedia Commons.
Bowie's fashion was more muted in the 1980s. He had stopped writing for characters and his stage costumes, while still fashion forward, were designed more for function. Then in 1996 Bowie emerged with a more dramatic presence, appearing on the VH1 fashion awards with short red spiky hair, stylized goatee, and frock coat designed by Alexander McQueen. The elegant knee-length coat had a sweeping back skirt and was distressed and burned, reflecting the new, raw, hard rock sound Bowie was working with.
Bowie loved the Union Jack coat so much he wore it on the cover of his Earthling album, where he appeared towering over a technicolor pastoral scene. Though he is shown only from the back, the image of him in the graphic, distressed McQueen coat contrasting with the bucolic scenery presents him, once again, as an alien coming to conquer earth.
Bowie during his 2002 tour. Photo by Photobra|Adam Bielawski, via Wikimedia Commons.
Bowie had approached the relatively unknown McQueen just before he took over as head designer at Givenchy. Despite never meeting in person, the two created a rich wardrobe of decadent frock coats. In 2000 Bowie appeared at the Glastonbury festival wearing a knee high, richly embroidered McQueen jacket, worn with slim black pants and a long blue striped button-down shirt. He had let his hair grow long, and looked less like a man from outer space and more like one time traveling from the 1700s.
David Bowie the Icon
Without question, David Bowie's music was revolutionary and influential. However, his visual legacy, which has fascinated the public for over 40 years, is of equal importance. Bowie's costumes have had long-reaching influence in the fashion industry. Hedi Slimane, menswear designer at Yves Saint Laurent, stated in a 2015 interview that Bowie's Thin White Duke served as an aesthetic that informed his designs for both men and women.
"There is that idea of androgyny, which is associated to my silhouette and design since the late '90s, and I presume a reflection of how I was, and how I looked growing up, the lack of gender identification," said Slimane. "I could recognize it and feel a connection at the time with 'The Thin White Duke' character of Bowie. This is pretty much the origin of everything I did in design after that, a boy or girl with the same silhouette."
Furthermore, celebrations of Bowie's style crop up on a regular basis, as in the May 2003 issue of British Vogue, which featured an editorial of Kate Moss mimicking Bowie while wearing his actual costumes. She dances in an ice blue suit by Freddie Burretti, seduces in the one-legged knit jumpsuit of Kansai Yamamoto, and stares menacingly in a black and white suit from The Man Who Fell to Earth. Gucci, Dolce and Gabbana, Givenchy, and numerous others have sent odes to Bowie down their runways, even more so after the 2013 opening of the David Bowie IS exhibit, which features his original costumes.
David Bowie gave permission to people the world over to be different. To be weird. To shave their eyebrows, wear platform boots, and live the lifestyle they want. To completely reinvent themselves, time and again.
As Tilda Swinton said in the opening speech of David Bowie IS, "When I was 12—and a square sort of kid in a Round Pond sort of childhood, not far from here—I carried a copy of Aladdin Sane with me, a full two years before I had the wherewithal to play it. The image of that gingery, boney, pinky, whitey person on the cover with the liquid mercury collarbone was, for one particular moon-age daydreamer, the image of planetary kin, of a close imaginary cousin and companion of choice... you were, you are, one of us."
Join the Conversation
Sign in or become a Seamwork member to comment on this article.