Every designer begins from a different point of initial inspiration. Some start with the structure of the design, and others allow their materials to speak to them. Bridal designer Elizabeth Dye falls decidedly into the latter category.
Elizabeth began her business when she noticed how many women were drawn to vintage wedding gowns but couldn't get them to fit. After designing for twelve years, her wedding gowns are known for being timeless, classic, and as she puts it, "unapologetically pretty." But what sets her apart is the multi-dimensionality of each dress. She describes her approach as "mixed media," layering her materials together to find just the right level of detail, the right tone and texture, and a harmonious balance between detail and elegance.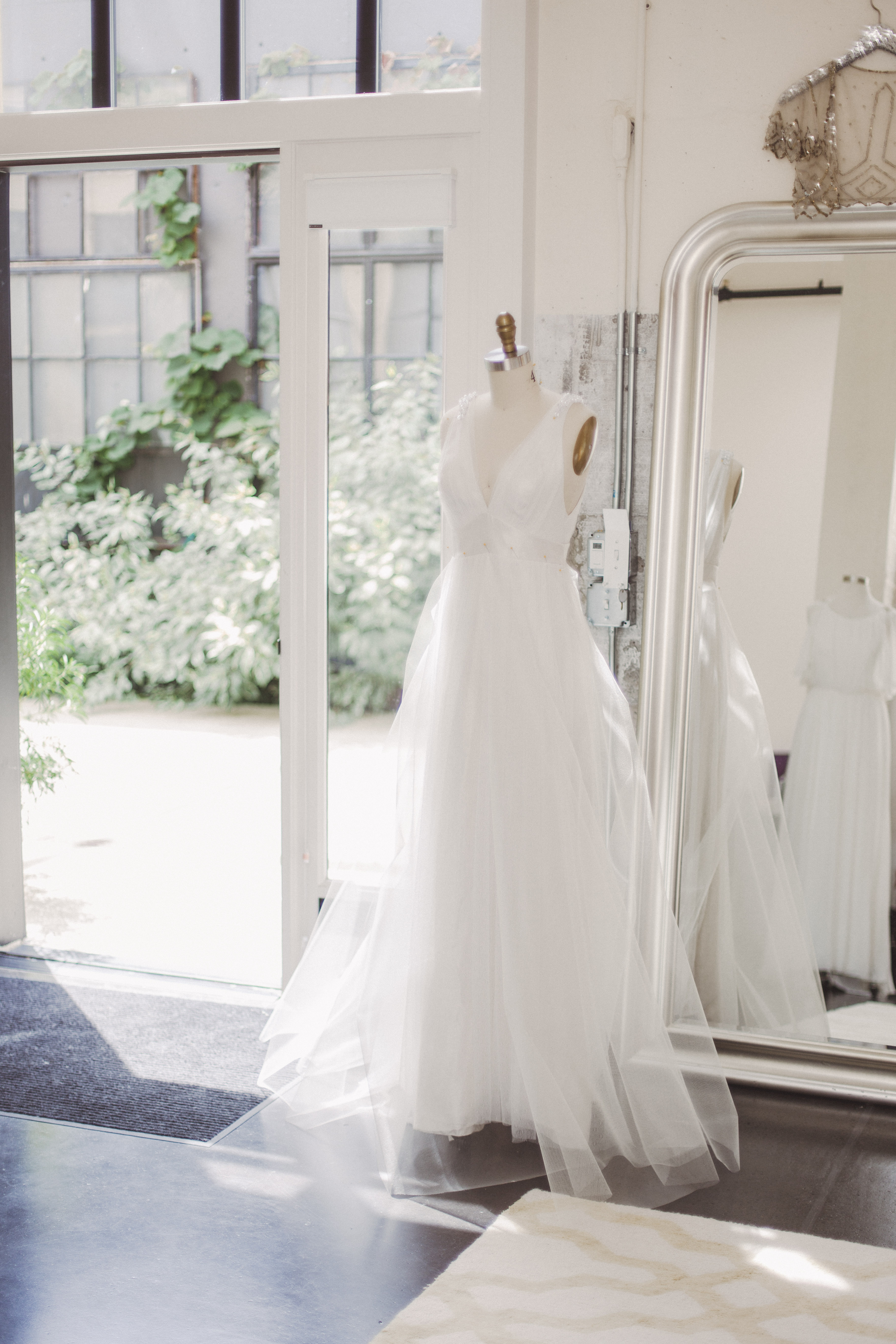 A gown in progress in Dye's studio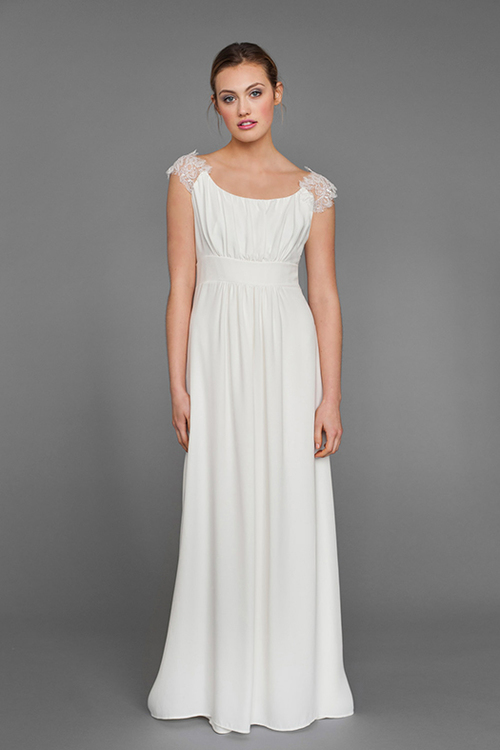 The Circe dress in silk georgette
with beaded sleeves, from the
Two if by Sea collection
.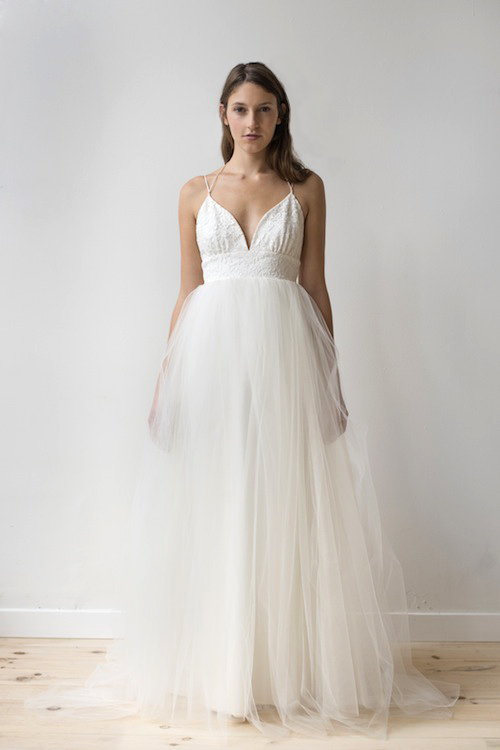 The Lewisia dress in lace with a
full tulle skirt, from the
Pacific Wonderland collection
.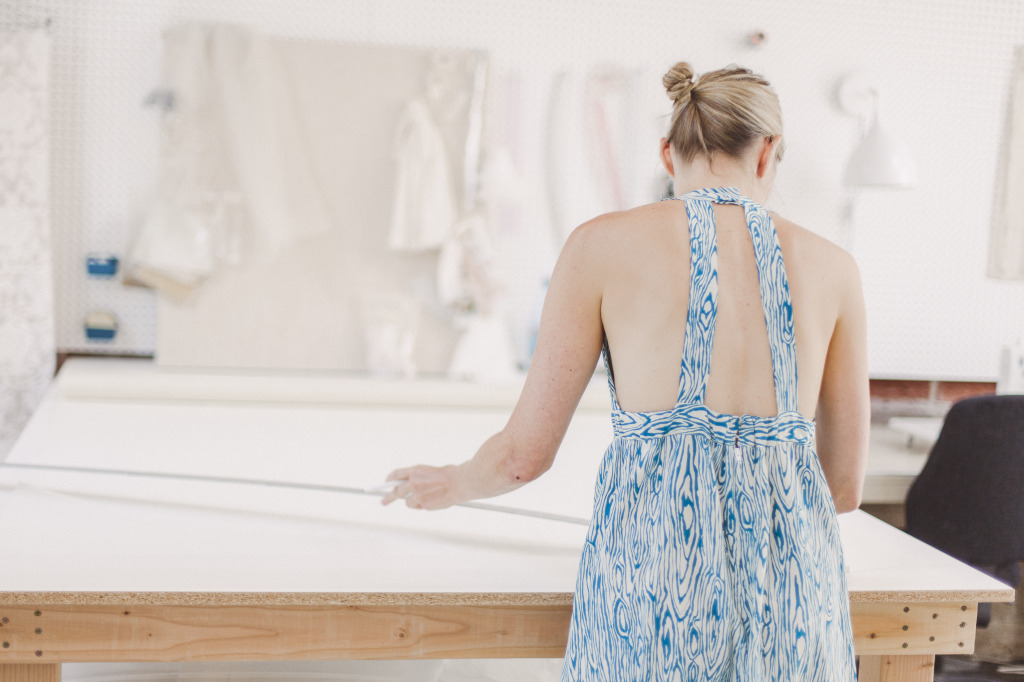 Elizabeth cuts tulle by hand to form the skirt on a gown.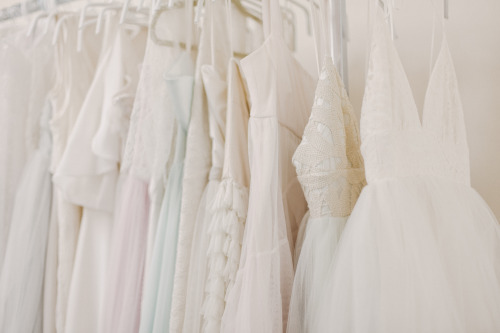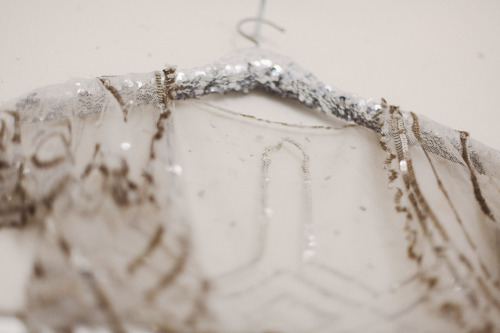 The draping process

While many designers rely on flat patterns to create their initial designs, Elizabeth prefers draping directly with fabric.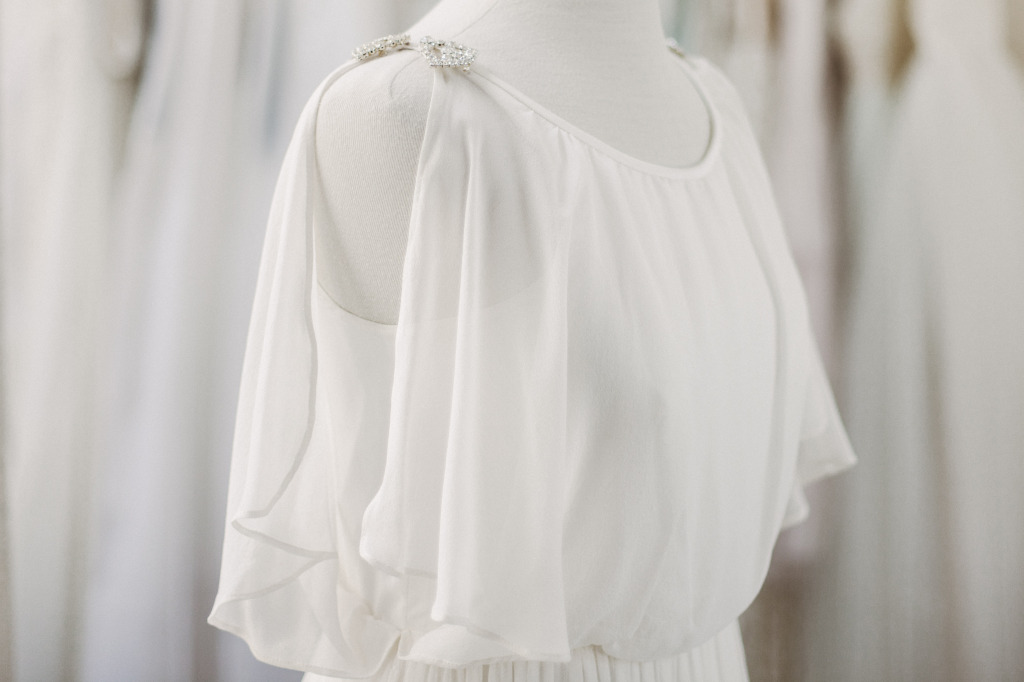 The Vega dress, from the Pacific Wonderland collection.
Elizabeth's designs are created through a process known as draping. Rather than manipulating a flat pattern to get a desired look, muslin fabric is directly hung, pinned, and cut on a dress form or model to create the pattern in real time. The designer is able to see the pattern come to life before her eyes and make changes on the fly, rather than visualizing from a more abstract schematic.
This process of sculpting fabric into three dimensional forms is perfect for someone with her discerning eye. In draping, she is able to try out ideas quickly and see the results almost immediately. "I am very visual and so many of my best ideas come from improvisation and experiment."


Draping is the method of design that most speaks to me — I am very visual and so many of my best ideas come from improvisation and experiment.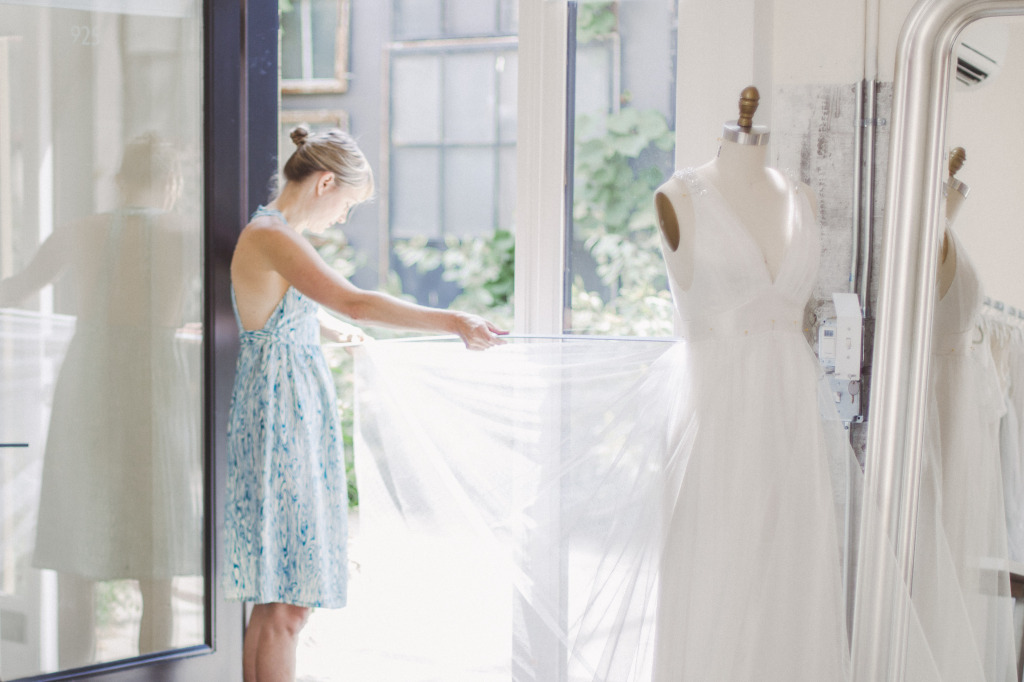 Elizabeth measures the length of a tulle hem with a yardstick.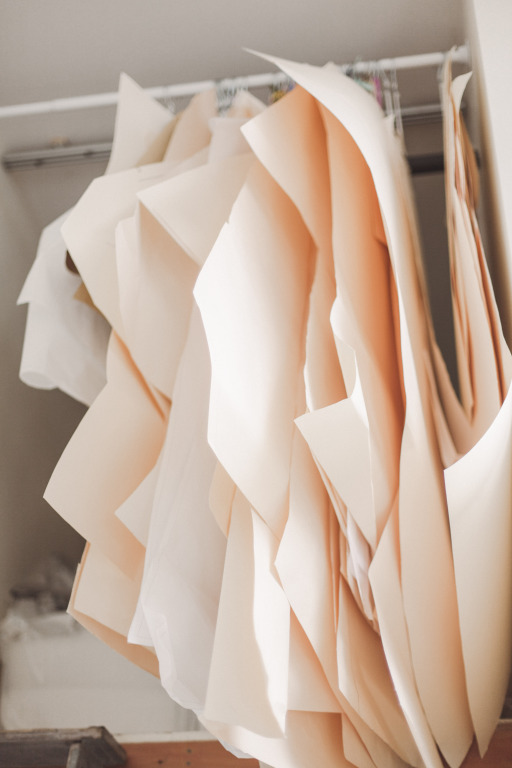 Draped designs are turned into
patterns to be graded and reused.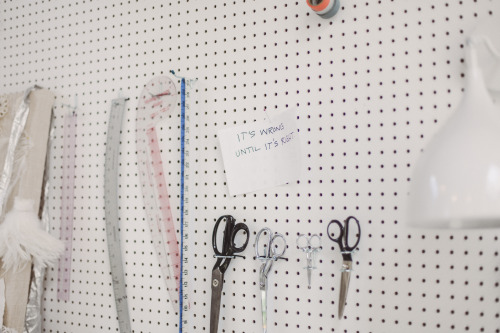 "It's wrong until it's right" -
A gentle reminder hangs with her tools.



I like that I can continually test and edit my design on the body's curves before committing it to paper. The pattern pieces themselves come out a bit soft and curved as a result. As a bridal designer, a less linear look to a pattern suits the feminine lines of a gown.

Elizabeth's tips for draping your own patterns



If you've never draped a pattern before, get a good draping book or take a class — the process can be baffling at first, but once you master the basics, the possibilities are infinite.


Use draping tape (sometimes called graphic tape) to "draw" the lines of the pattern on the form before you start pinning on the muslin — this will help you visualize where you're going and give you a road map to follow.


Mark your muslin pieces with disappearing ink while you're drafting on the form— you can revise them without creating confusing multiple lines that are hard to follow after you unpin your pieces. You can go over your ultimate choices with permanent ink and your practice lines will vanish.


Get to know the ins and outs of fabric grain — how you use the grain when draping a muslin pattern can radically change the way the garment will ultimately fit.


Drape your pattern in a fabric with a weight and ease similar to what you will ultimately use to make the garment. This includes jersey and chiffon!


Trust your curves. It's tempting to "correct" a pattern once you've taken it off the form, straightening out wavy or funky lines. A bit of cleanup is part of draping and drafting, but some of those curves are what give your custom pattern personality and uniqueness.



The benefits of being small
This hands-on approach to design is one benefit of having a small company. Because her gowns are not mass produced, she is able to take the time and care each design needs to truly let it sing.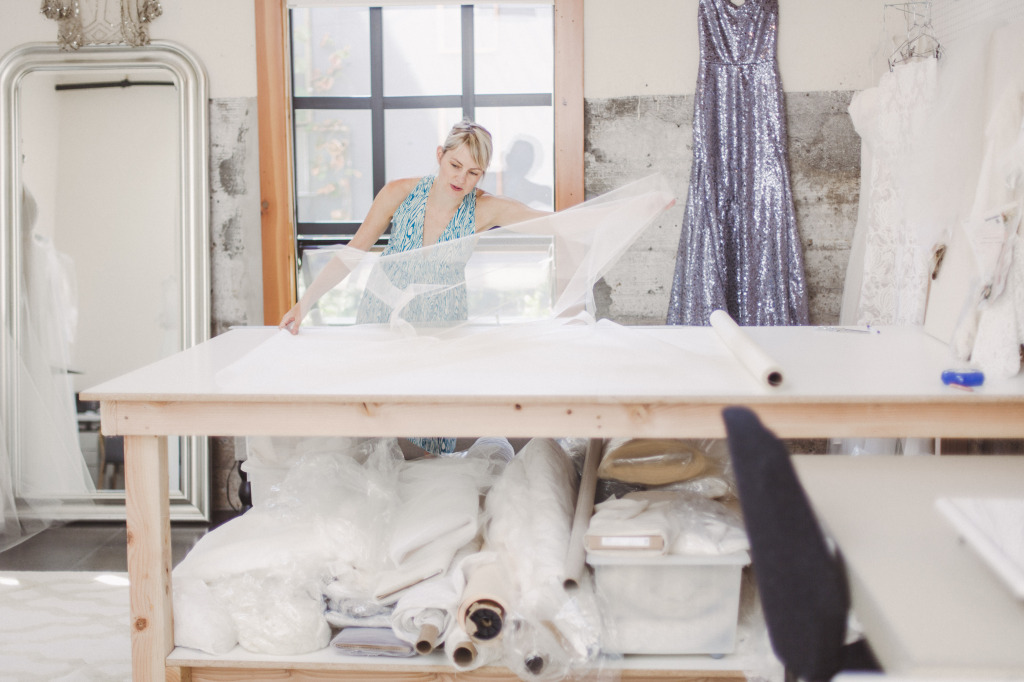 Small batches allow Elizabeth to spend time working on each gown individually.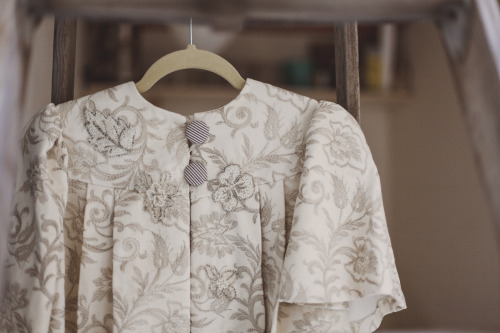 A short bolero with covered buttons
By making small editions of each dress, she is also able to use fabrics, laces, and trims that are in limited supply. Each dress is a celebration of materials she has fallen in love with and painstakingly assembled. "With a garment like a wedding dress, it's nice to know that after a certain point it can't be made again."
"I love organza and chiffon and tulle—transparency and layering play a big role in my design style and I love how different colors of these sheer materials can be used together to create a shifting, watercolor effect. Plus they have wonderful movement, and organza in particular has a lovely rustle."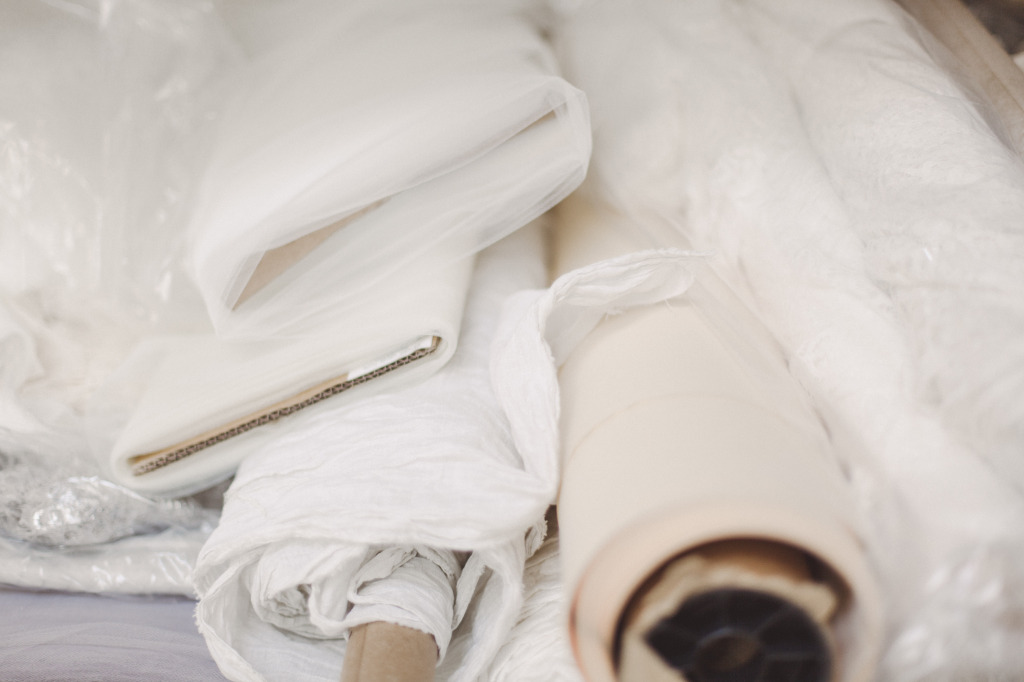 A selection of favorite fabrics under the cutting table.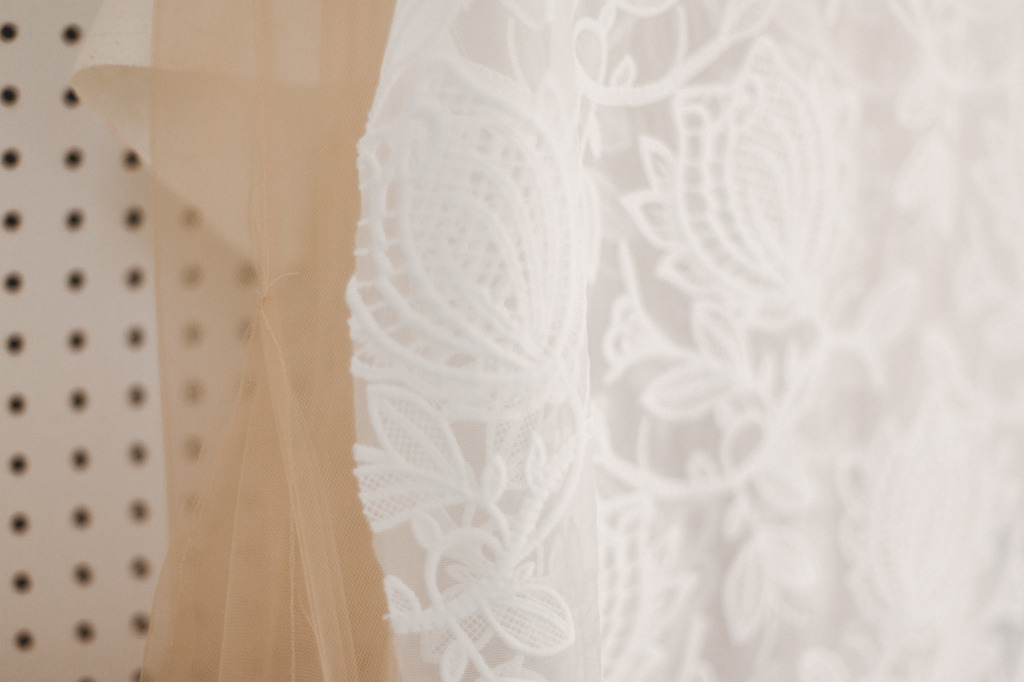 Swatches of lace and tulle pinned up for inspiration.




Elizabeth cautions against being too hasty with a garment. When a dress needs a little something more, she says to put it aside for a while. "I'm not a big fan of the cheap thrills, bling-it-up style of dress embellishment. Without sounding too cosmic, I try to be patient and let every dress tell me what it needs."

I try to be patient and let every dress tell me what it needs.
Join the Conversation
Sign in or become a Seamwork member to comment on this article.