As you soak in the sunbeam, bite into watermelon, and dive into the summer waters, there's a good chance you're swimming in a swimsuit influenced by fashion icon Esther Williams. Esther was a famed synchronized swimmer who performed in such iconic film as Bathing Beauty and Million Dollar Mermaid. In all, Esther performed in over 30 films. She was voted among the most popular film stars in America and Europe throughout the 1940s and 1950s. Esther's grace, beauty and curious poise transcended the decades. She was a classic beauty that inspired the film genre called "Aqua Musicals."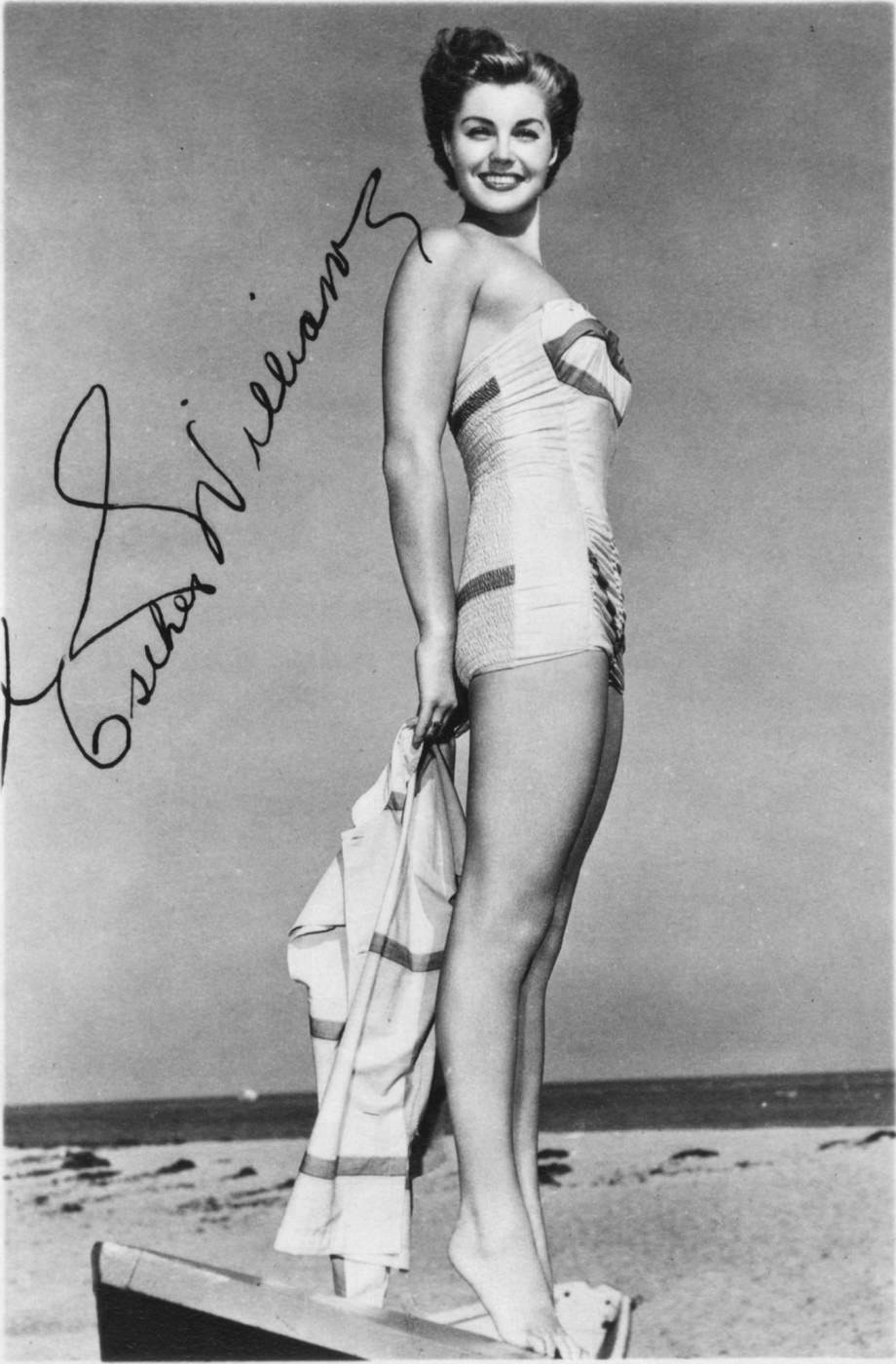 Photo courtesy of the New York Public Library.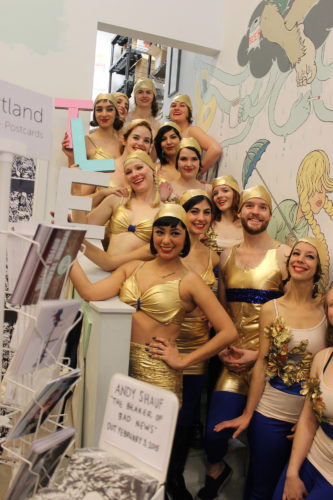 Photo courtesy of The Olivia Darlings.
Discovering Esther was like swimming on the back of a kaleidoscopic sparkle pony. I saw her first on YouTube during a show-and-tell film evening with friends that forever changed me. I entered an enchanting sequence-filled dream that I wish I could have shared with my grandma Hazel. I could have easily seen her in the line up of all those beautiful ladies.
My discovery of Esther inspired me to plot the revival of aquatic arts. I wanted these fantastical aqua shows to become a part of popular culture and my everyday life here in Portland, Oregon, so I began by first recruiting my friends. That's how the beginning of the Olivia Darlings land-based (and sometimes water) synchronized swimming team began.
I began to correspond with the International Academy of Aquatic Arts; I launched a Kickstarter to spark its revival; and I voraciously watched every YouTube video I could find. Esther died during our campaign, which only deepened my conviction to move forward. We produced a music video that featured synchronized swimming in nature.  It featured  dancing in the Redwoods, on the Oregon Coast, and in the Puget Sound. I befriended professional synchronized swimmers in the process, and Lord knows we could not have achieved Esther's grace and beauty in the water without them.
The Olivia Darling Swimwear Equation


Use gold whenever possible. Get shiny. Be flashy.


High-waisted skirts (preferably in a fabric with texture). Add some gathers at the waist and
hips.


Bra tops with gathers. Evoke the shell appearance.


Swim cap. It's not complete without a swim cap!


Esther had a glowing grace about her. She was captivating and driven, and a woman of class and grit. Esther remains an icon more than 70 years after her first aquatic role. She was a pioneering force that drastically changed women's swimwear. Her influences were both utilitarian and aesthetic, creating a look that is both practical and glamorous.
Early Career
Before her Hollywood debut, Esther was busy becoming an athlete.  At 16, she had set multiple United States and regional swimming records as part of her swim team in Los Angeles, California. She was on her way to compete in the 1940s Olympics when World War II (WWII) broke out in Europe, which resulted in canceling the games.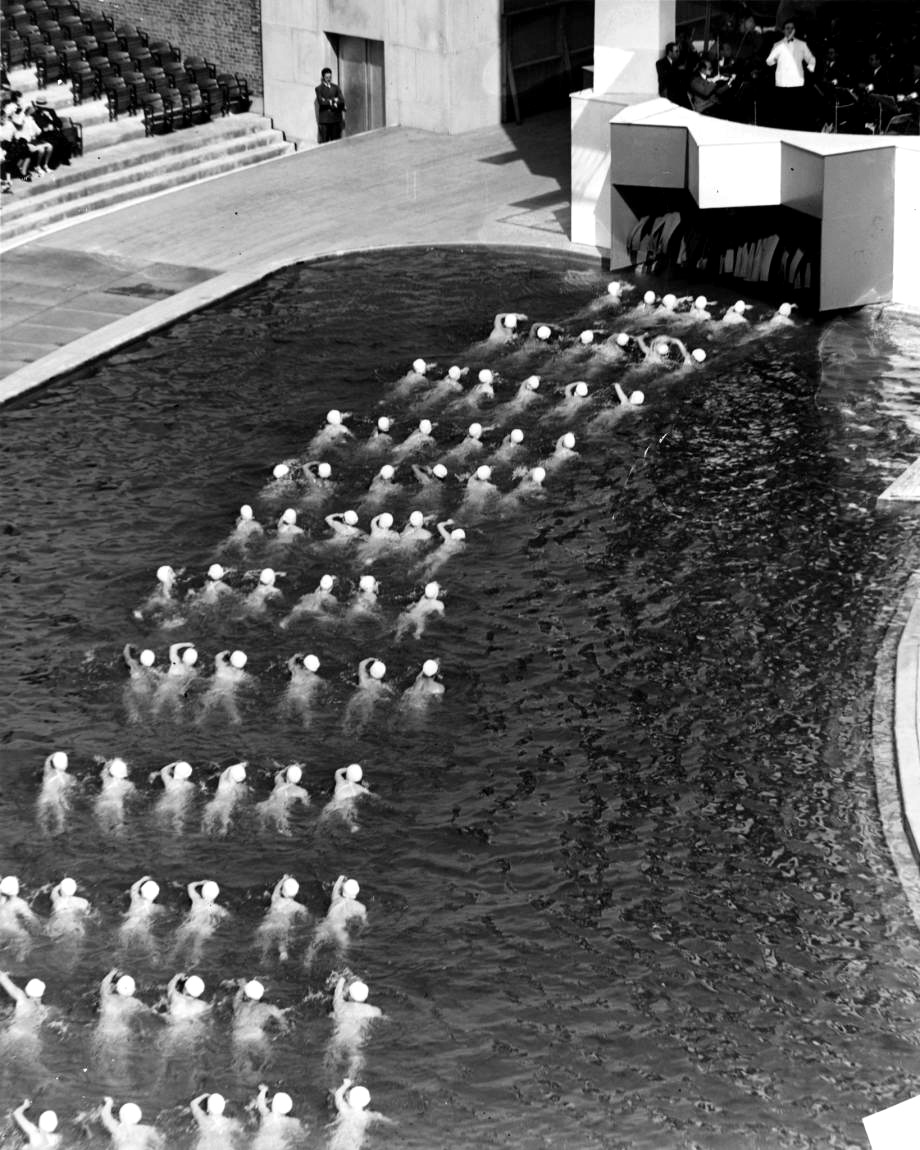 Photo courtesy of the New York Public Library
Esther went on to perform at the World's Fair in Billy Rose's Aquacade, an act that merged the appeal of Broadway musicals with water and stunt diving. The sport and art of aqua ballet took enormous stamina and was not a natural kind of swimming. It was at Billy Rose's Aquacade where she learned to "swim pretty."
Esther was one of hundreds of chorus girls in sequin swim costumes created in kaleidoscopic patterns with displays of fireworks in an Art Deco style swimming pool. When MGM Studios saw Esther's grace and ease in the water they quickly signed her for the big screen.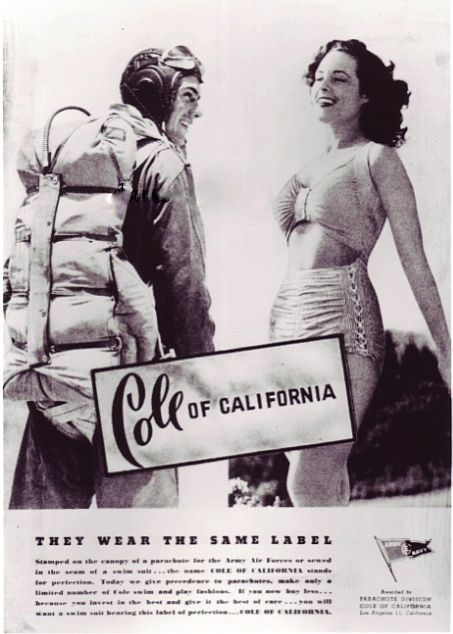 Fred Cole's ad featuring swimwear lined with parachute material.
During this time, swimwear was not made with practicality in mind. Swimsuits were sewn with features like control panels, pleats, ruching, ruffles, and boning. Jantzen swimwear claimed to use "figuring-making techniques" that give you "shape insurance."  Zip-yourself-in corset playsuits were in vogue during this time. These garments, though endlessly pretty, were often not conducive to swimming and frolicking.
Later, playsuits and "swim aprons" of cotton, knits, and rayon evolved into the more flattering and quick drying Lycra, nylon, and elastic. War rations during WWII brought more change to swimwear by inspiring the two-piece swimsuit, but it would be years before you'd find a swimsuit that showed the belly button.  
Esther's Apprenticeship in Swimwear
Esther was very vocal and hands-on regarding her costumes. Her choices on screen drastically affected swimwear trends. This went beyond the cuts and styles of the suits, ultimately affecting the functionality of women's swimwear.
In the film This Time for Keeps, costume designers created a swimsuit out of plaid flannel. This fabric choice, though pretty, aggressively absorbed water.  When Esther dove into the pool it dragged her to the bottom.  Esther described it later as, "being wrapped in an old army blanket."  
So as not to drown, she reached behind, unzipped, and watched her suit sink to the bottom of the pool. On this particular day, tourists were on set, and masses of people were behind roped-off areas to see "Hollywood's magic at work."  The crew hurried to cut a hole in the middle of a towel as an improvised cover up to get naked Esther out of the pool without flashing the crowd.  
This marked the beginning of what Esther called her, "apprenticeship in swimsuit design." She sat in on design meetings, voiced her opinions on the selection of fabric, and tested every swimsuit out in the water.

"I don't want you to be in two Dixie cups and a fish line." Esther would tell it to you straight.

Esther's biggest swimsuit deal was with the US Navy. She flew to the White House to meet with US Secretary of the Navy, Dan Kimball. She put on the paper-thin shapeless swimsuit she was supposed to wear in her upcoming film Skirts Ahoy!. He was shocked. "What the hell is that?" Secretary Kimball asked. Esther let him know, "This Mr. Secretary is what you have your female recruits swimming in...and you ought to see it when it's wet!"
If Esther was going to be starring in a film to boost the recruitment of women in the military, they weren't going to get the message across in this suit. Esther went to the bathroom and emerged wearing her signature Fred Cole "California" Swimsuit in navy for the occasion. She asked the secretary if he'd make this swimsuit the official swimsuit of the US Navy, and sure enough, he obliged.
"I don't want you to be in two Dixie cups and a fish line." Esther would tell it to your straight. Her grace wasn't without grit. She was her own stunt devil and ruptured her eardrums nine times.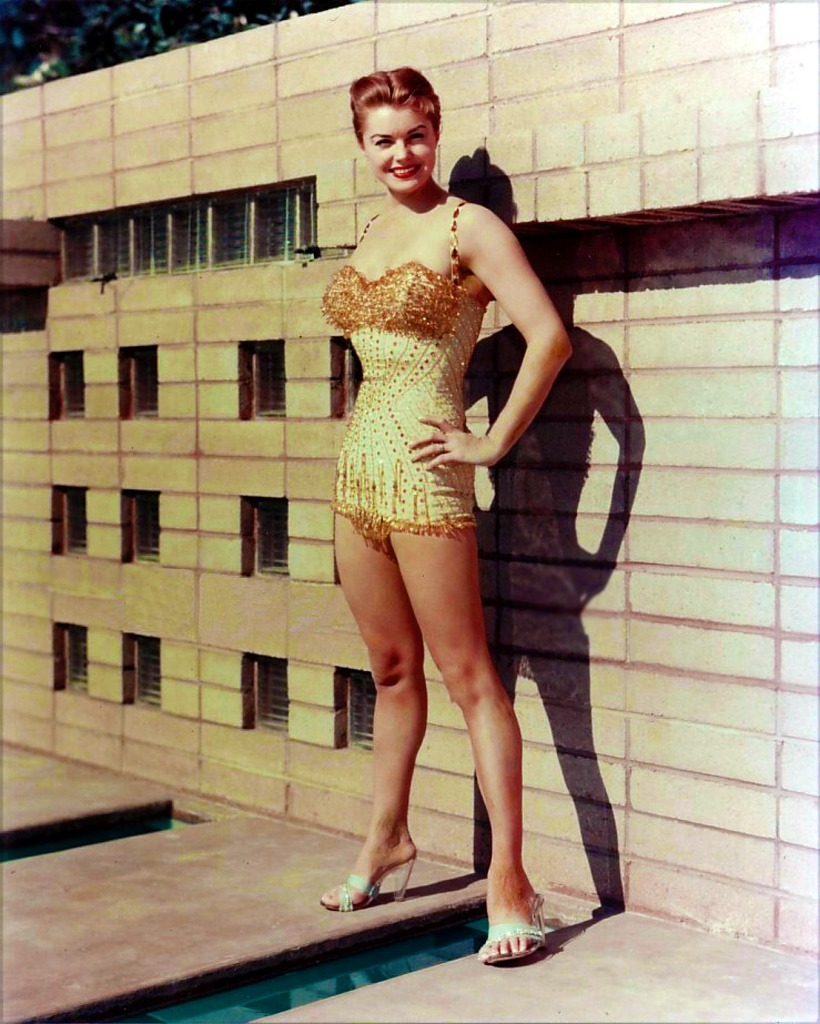 Esther stuns in a bedazzled swimsuit. Photo courtesy of 1950s Unlimited.
During the filming of her Million Dollar Mermaid, she dove 50 feet and broke her vertebrae in three places. The gold metal crown atop her head didn't bend on impact, and she would spend six months in a body cast recovering. She was irate after the incident and demanded to be taken back to the set. The director had been rushing the shot and was so eager to break for the lunch he didn't notice Esther hardly able to swim back to the edge of the pool. She gave him an earful for his carelessness.
Esther will always be our million dollar mermaid.  She inspired an entire generation of girls and boys to take to the water and learn synchronized swimming. In 1968, synchronized swimming became an Olympic sport and undoubtedly Esther played a huge role in its emerging popularity. I hope this summer you'll test your mermaid moves and remember our lady of timeless beauty, Esther Williams, forever stitched in our summer suits.
Join the Conversation
Sign in or become a Seamwork member to comment on this article.