There's one surefire way to get the most from your limited sewing time: find patterns that you love, and make them again and again. Though we all crave novelty from time to time, having a library of old favorites practially guarantees that you'll be making the clothes that you really want to wear. Your tried and true pattern library might include quick projects like knit t-shirts and tank tops, staples like pencil skirts, or even coats and jackets.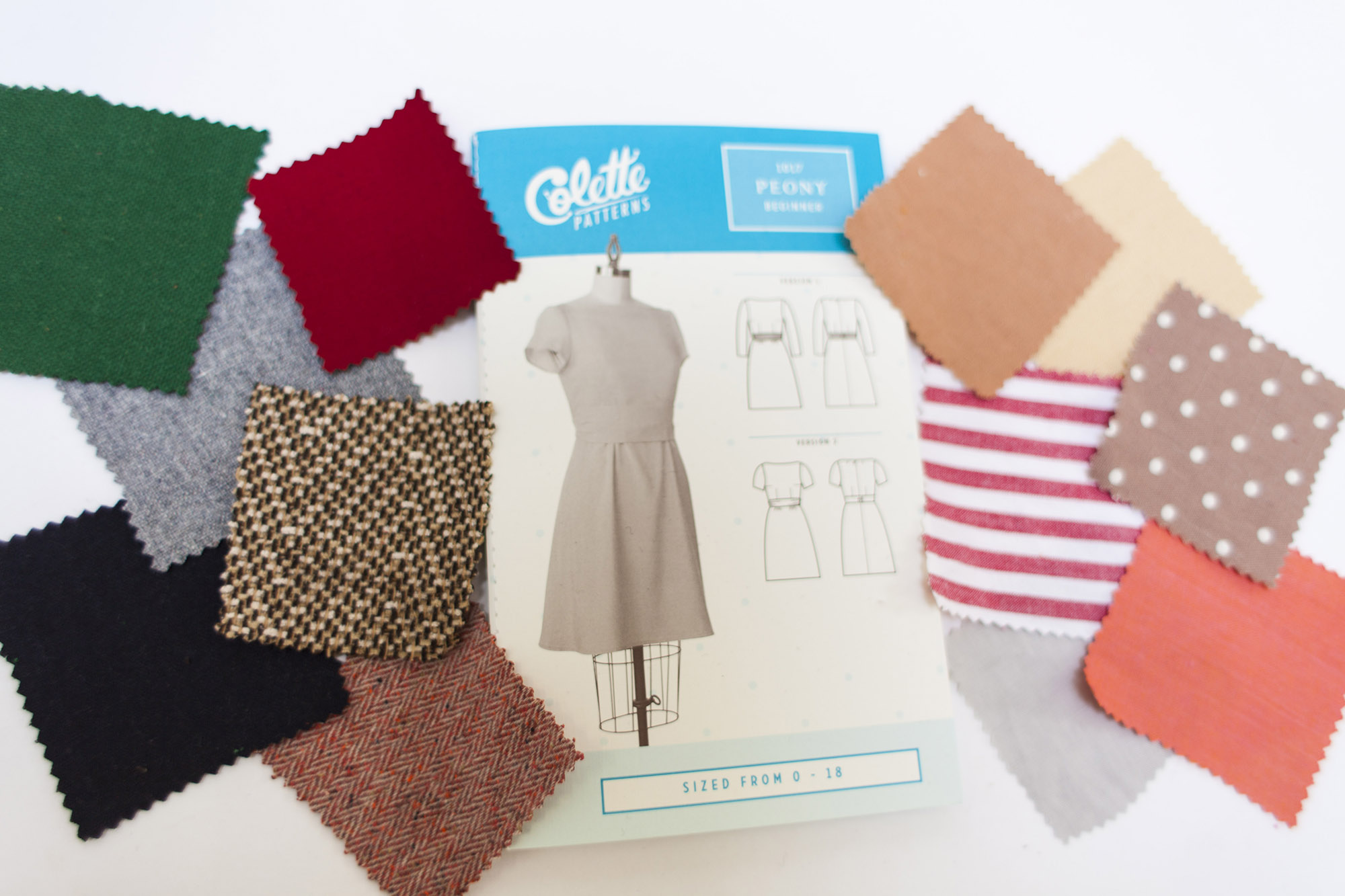 Learning seasonal fabric swaps lets you make the same styles you love season after season.
You might notice that ready-to-wear designers do this all the time. At least a few of the same styles appear season after season in their collections, but in completely different fabrications. The benefits are clear: the designer doesn't have to invest in creating and testing as many new patterns, she knows the designs have already been successful, and she maintains a consistent look. When you think about it, you can gain those same benefits.
But choosing the right fabric for these designs is where many sewists get stuck, especially when making them at a completely different time of year. A lovely sheath that worked well in linen last summer might have you stumped as the weather gets cooler. And a skirt that seemed perfectly cozy in winter is hard to imagine when it's broiling hot outside.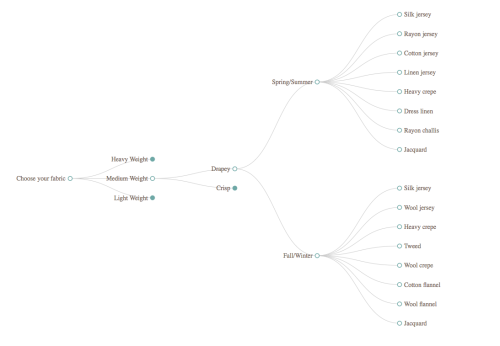 Try our interactive fabric selector at the bottom of this article!
The trick is to understand the properties of fabric and what makes them suitable for a particular style, as well as what makes them work for a given season. Once you have those concepts clear, it becomes much easier to open up the possibilities of fabric choice. If you know why that linen worked so well with that particular dress, you can research other fabrics that have those same qualities. Soon, you'll be on your way to finding fabrics that suit your designs in every season.
In this article, we'll look at four properties of fabric and how you can use them to map out new fabric choices for each season. The first two properties have to do with the seasonality of the fabric: the fiber it's made from, and its color/print. These two factors largely determine whether a fabric will work in the fall, winter, spring, summer, or all year round.
The second two properties are what determine if a fabric is suitable for a particular style of garment: it's weight and drape. These are the two characteristics that are the most helpful to you as you evaluate fabrics to go with a specific pattern. If you understand the weight and drape you need for a style, you can vary the fiber and color to choose seasonally appropriate fabrics that still match the lines of the garment.
Seasonal Properties: Fiber and Color

The fiber a fabric is made from and the color it's dyed or printed largely determines it's suitability for any given season.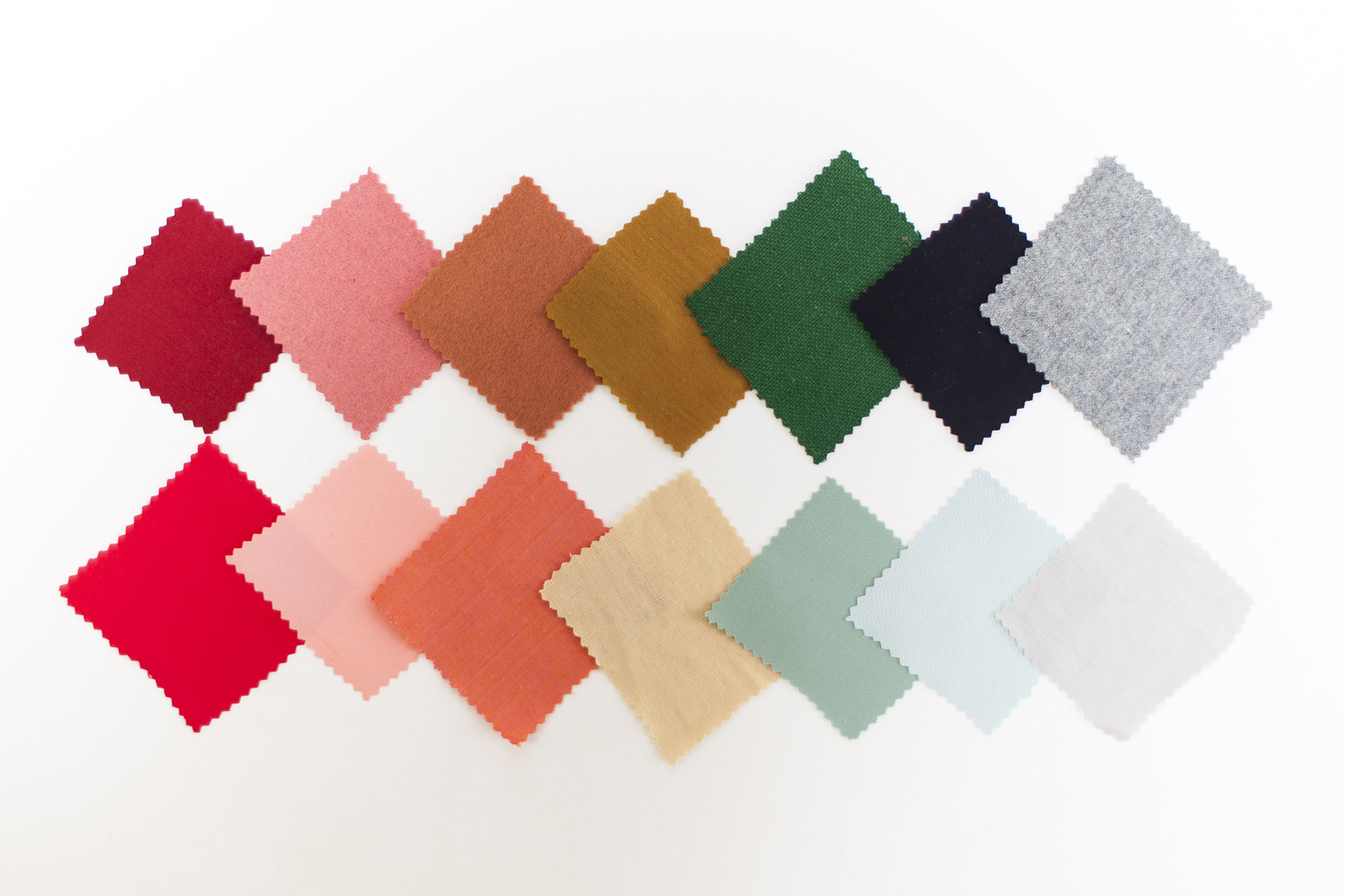 Color is the first and most obvious way you can adjust your sewing to fit the season.
Color
The single easiest and most obvious way to adapt a pattern for a different season is to change the color of the fabric that you use. Making the same dress in a deep indigo blue or forest green in winter can give it a completely different feel from the same dress in white or rose pink in the summer.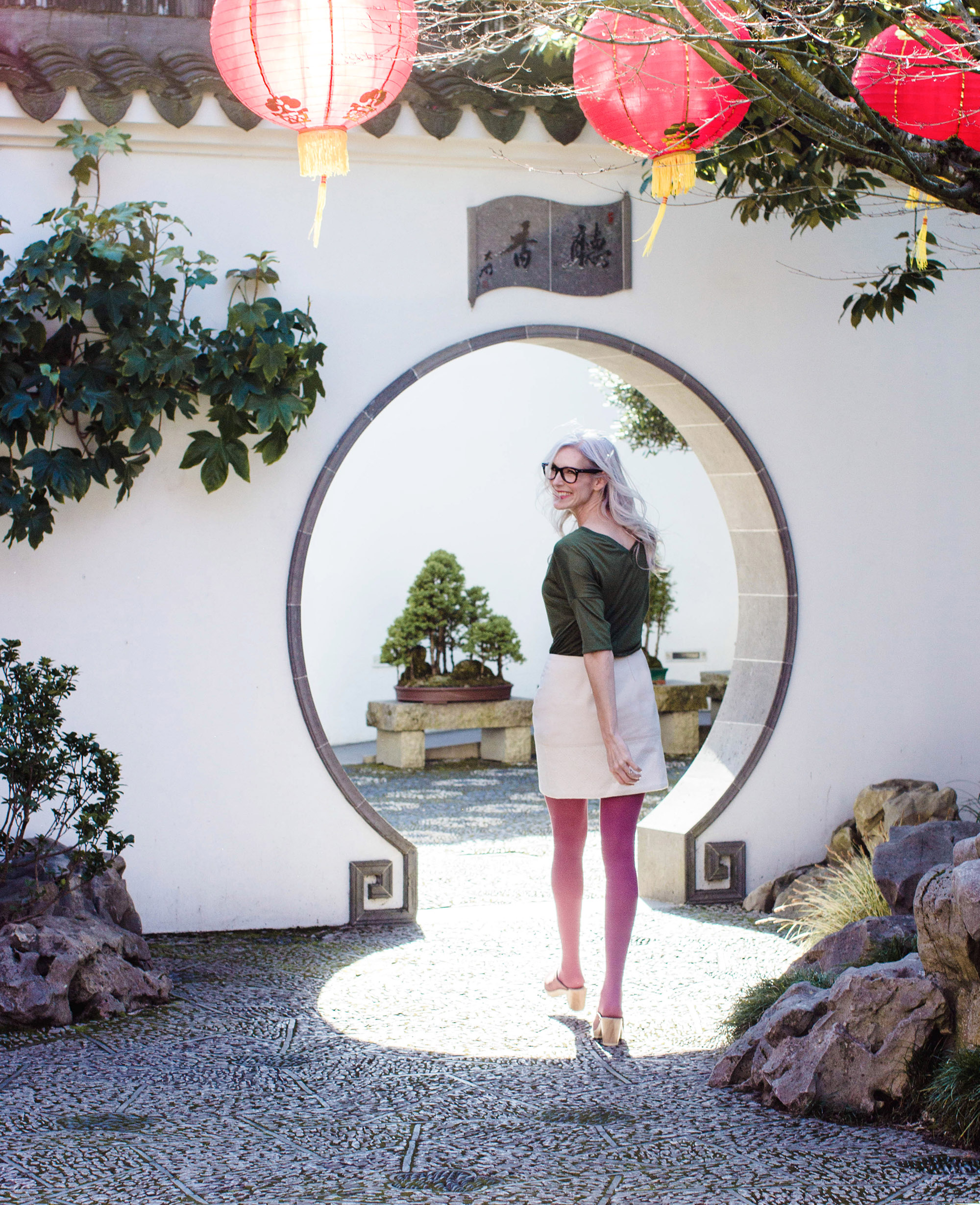 Color can help you relate to your environment through your
clothing.
Aberdeen
top and
Osaka
skirt shown.
Fabric shown:
Forest green rayon jersey from fabric.com
.
Of course, you don't need to feel obligated to wear frothy pastels in spring or jewel tones in fall if either palette doesn't quite suit your style. Clothing is a language, and its first job is to say something about you as the wearer. Clothing tells your story; if part of that story is your relationship to the current season, you can use color to express that. Even if you prefer a limited color palette, the tones of those colors can express something about the time of year and environment you're living in.
Prints can also say something about the season. Menswear-inspired patterns (such as pinstripes or houndstooth) and plaids telegraph fall and winter. Nautical stripes, gingham checks, or pretty florals definitely convey more of a springtime mood. Once again, you don't need to stick to these to be "in season," but they make it easy to change up the same pattern for a completely different look. These colors and prints can be interpreted and tweaked to suit you.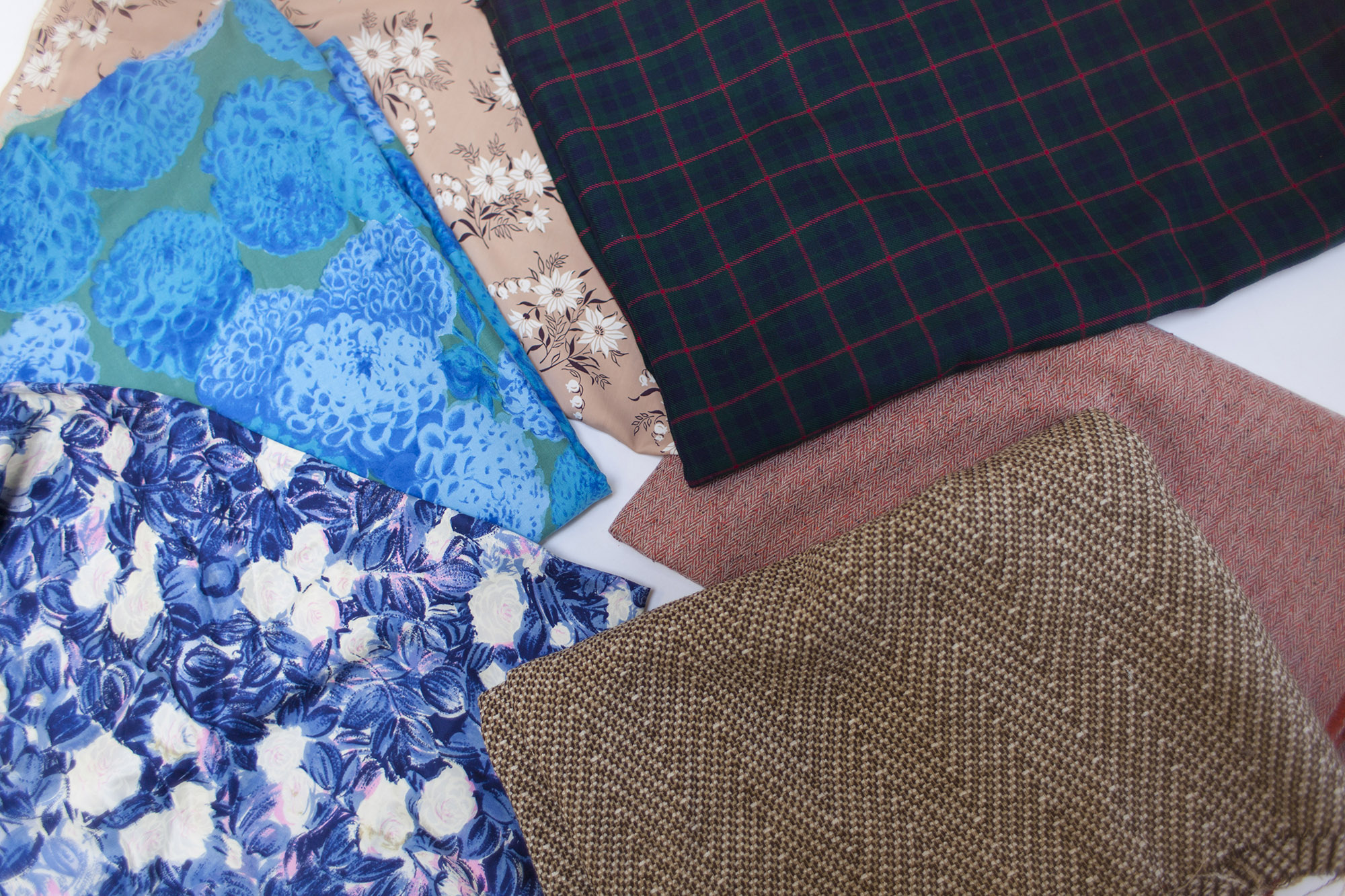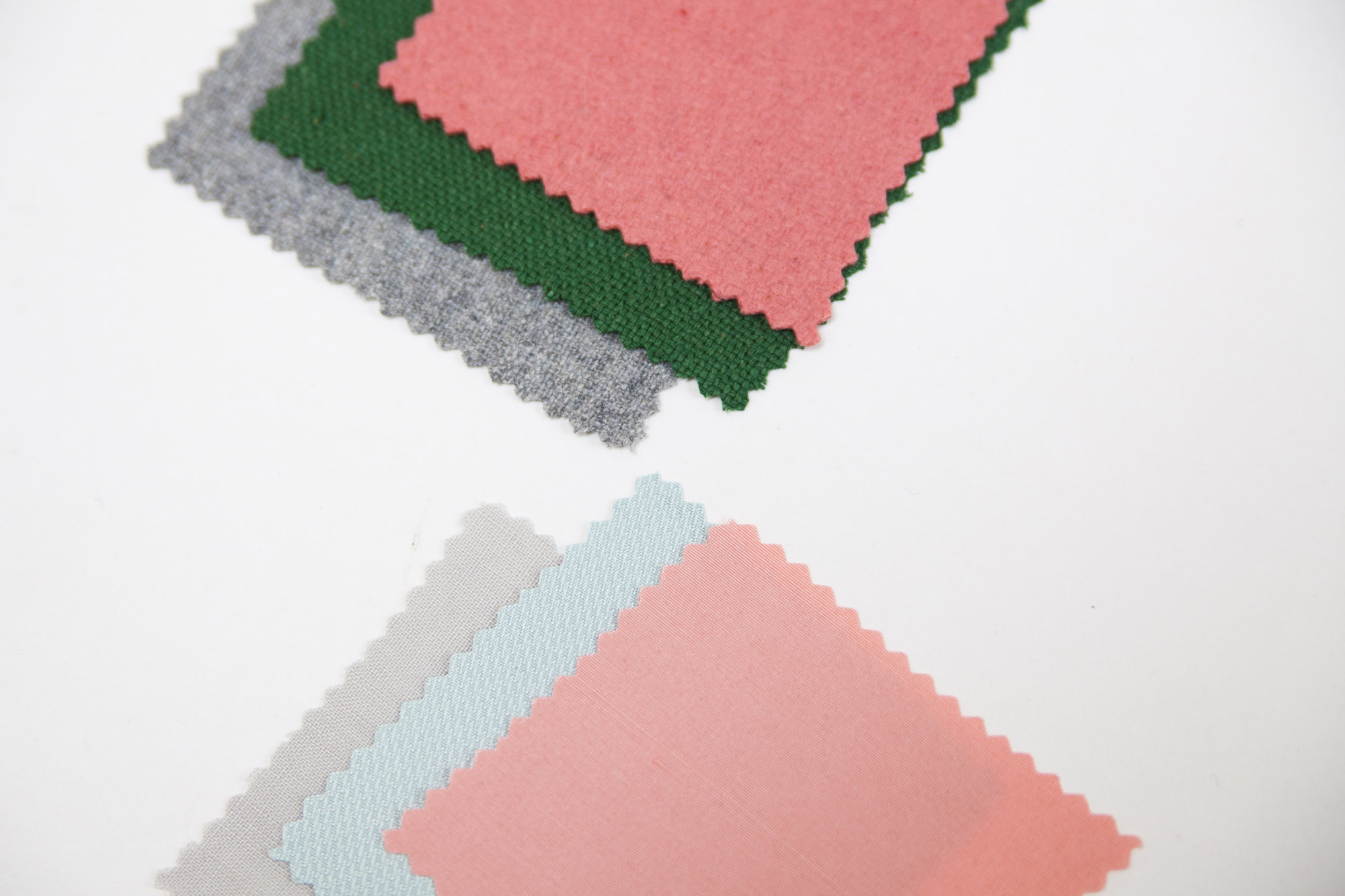 Wool and silk fabrics are perfect for cool months, and cotton, rayon, silk, or linen
all work well when it's warm.
Fiber
The next property that can be changed to make a garment more seasonal is the fiber it's made from. Every fabric is made up of yarns that come from one or more fiber sources, and choosing a fabric made with particular fibers can make it fit the time of year and give you more wardrobe variety. Some fibers are simply more comfortable to wear in either hot or cold weather, while others trandscend season. We'll take a look at a few common fiber types you may want to consider as you make fabric swaps.
Cotton: Cotton is a plant-derived fiber that works well for the warmer months, due to its high absorbency and breathability. This makes it especially useful in humid conditions. Cotton fabrics are also easy to wash and care for, soft, and not prone to irritating the skin.
Silk: A strong natural fiber that can be spun quite fine, silk is known for its luxurious look and feel. Silk does not conduct heat, which makes it a good choice for keeping you warm in the winter. It's also quite absorbent, making it suitable for warmer months as well. And becuase silk is such a strong fiber and can be spun so fine, silk fabric can be made in a wide variety of textures and weights. It is a wonderful all-year fiber.
Rayon: Originally manufactured as a silk substitute, rayon is a semi-synthetic fiber that maintains many of the characteristics of natural fibers. Rayon is well known for keeping the skin cool, and you'll notice that men's hawaiian shirts are often made of rayon. Rayon fabrics can be used in place of silk fabrics, especailly in hot weather.
Linen: Another plant-derived fiber, linen is a strong fiber that is highly breathable and absorbent. It's exceptionally low heat conductivity makes it even cooler than other natural fibers such as silk or cotton. For hot and humid weather, nothing can beat the coolness of linen.
Wool: This animal fiber is well known for keeping you warm in winter, since it is highly insulating while still maintaining its breathability. It is also moisture wicking and highly absorbent. It is a little more difficult to care for than other fibers, since it is not a very strong fiber and is prone to shrinkage and pilling.
These are just a few common fiber types that you can vary for the season. Sometimes, it really is as simple as swapping out a fiber to find a similar fabric that will work for a different season. For example, you could make the same dress in a pale blue rayon crepe in the summer or in a navy blue wool crepe in the winter. In other cases, it's not so simple. For example, how do you know what a good winter substitute might be for cotton voile? What if you wanted to make a summer version of your favorite flannel dress?
In cases like these, it's helpful to understand why a particular fabric works with the design you've chosen, so you can find something with those same properties in a more seasonally appropriate fiber, or just a different texture so you can vary the style.
Textural properties: Weight and Drape
To make sure your fabric will work with the pattern you've chosen, look at the properties of weight and drape.
There are two main fabric properties that determine whether a fabric is appropriate for a style of garment: weight and drape. Both of these properties have to do with how a fabric feels more than how it looks, which is what makes buying fabric online a little tricky at times. It's hard to tell if a fabric will work with your pattern if you can't feel its weight or see how it drapes.
But once you understand these two properties, devising your own fabric swaps to suit the season becomes much easier. Simply knowing that you're looking for a fabric with a particular sort of weight and drape, and then finding seasonal fabrics that fit that profile, makes choosing the right fabric much easier.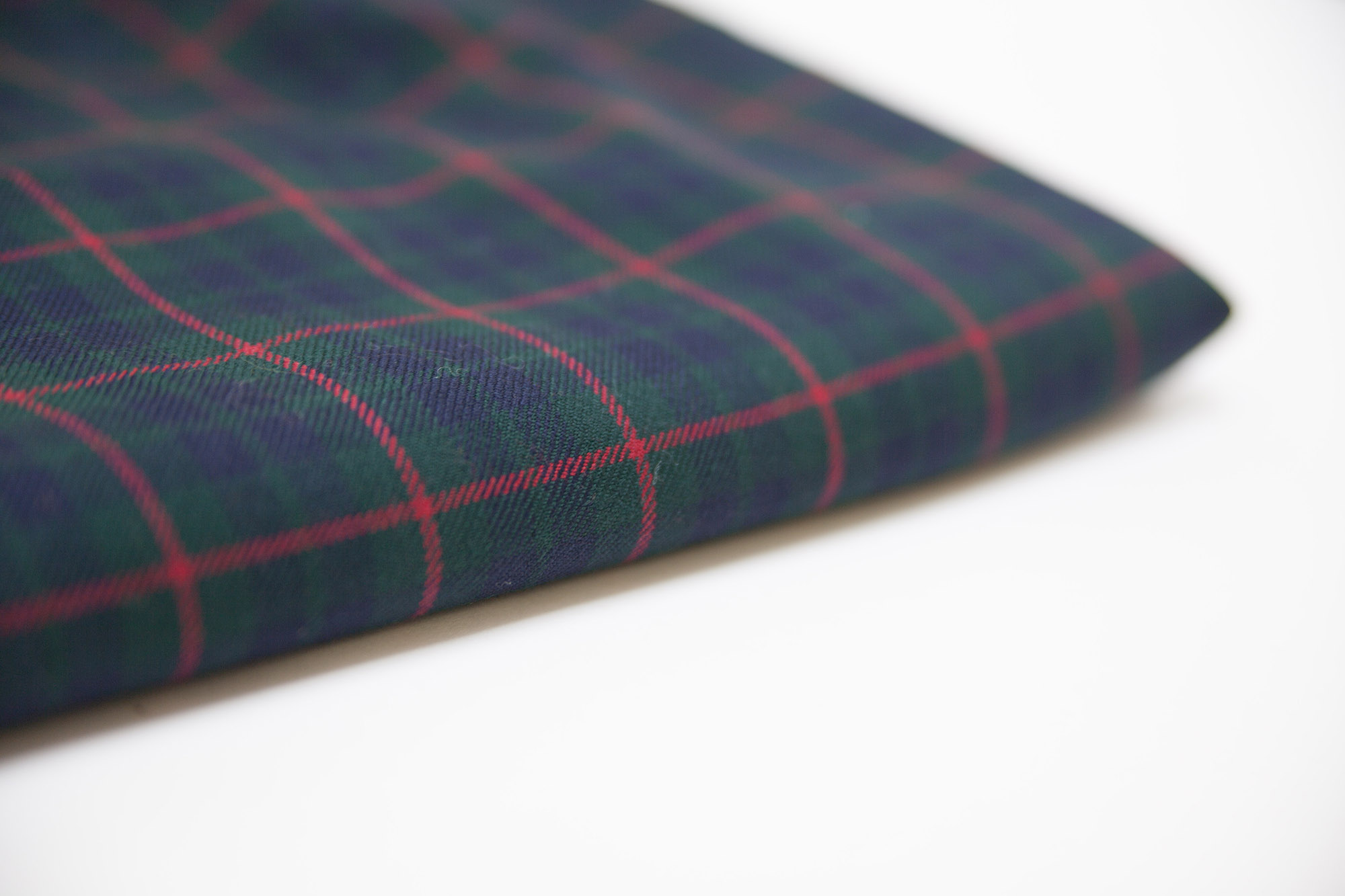 You can see thickness clearly when your fabric is on the bolt or folded.
Weight
The weight refers to the actual thickness of a fabric. Some fabrics are extremely thin, and the lightest of these are often so thin that they're sheer. Other fabrics are thick and bulky, like the fabrics you'd use to make a heavy coat. You can feel the difference when you handle the fabric. Imagine picking up a 20 yard bolt of chiffon, and then imagine lifting a 20 yard bolt of thick upholstery wool. The chiffon isn't likely to throw out your back.
The weight of a fabric is often determined by the thickness of the yarns used to create the fabric, with light and sheer fabrics made up of very fine yarns woven together. This isn't always the case, though. Sometimes, the particular way a fabric is woven or knitted can make the fabric thicker. For example, the pile of velvet makes it quite heavy, and double knits like Ponte di Roma are thick due to the special way they're knit.
The important thing is to recognize what sort of a weight you need for your style of garment. If your pattern needs a light fabric, a heavy one will add unecessary bulk and thick, bulging seams. If the pattern requires a heavy fabric, a light one might look strange, appear wrinkled, or show more of your body than you intended.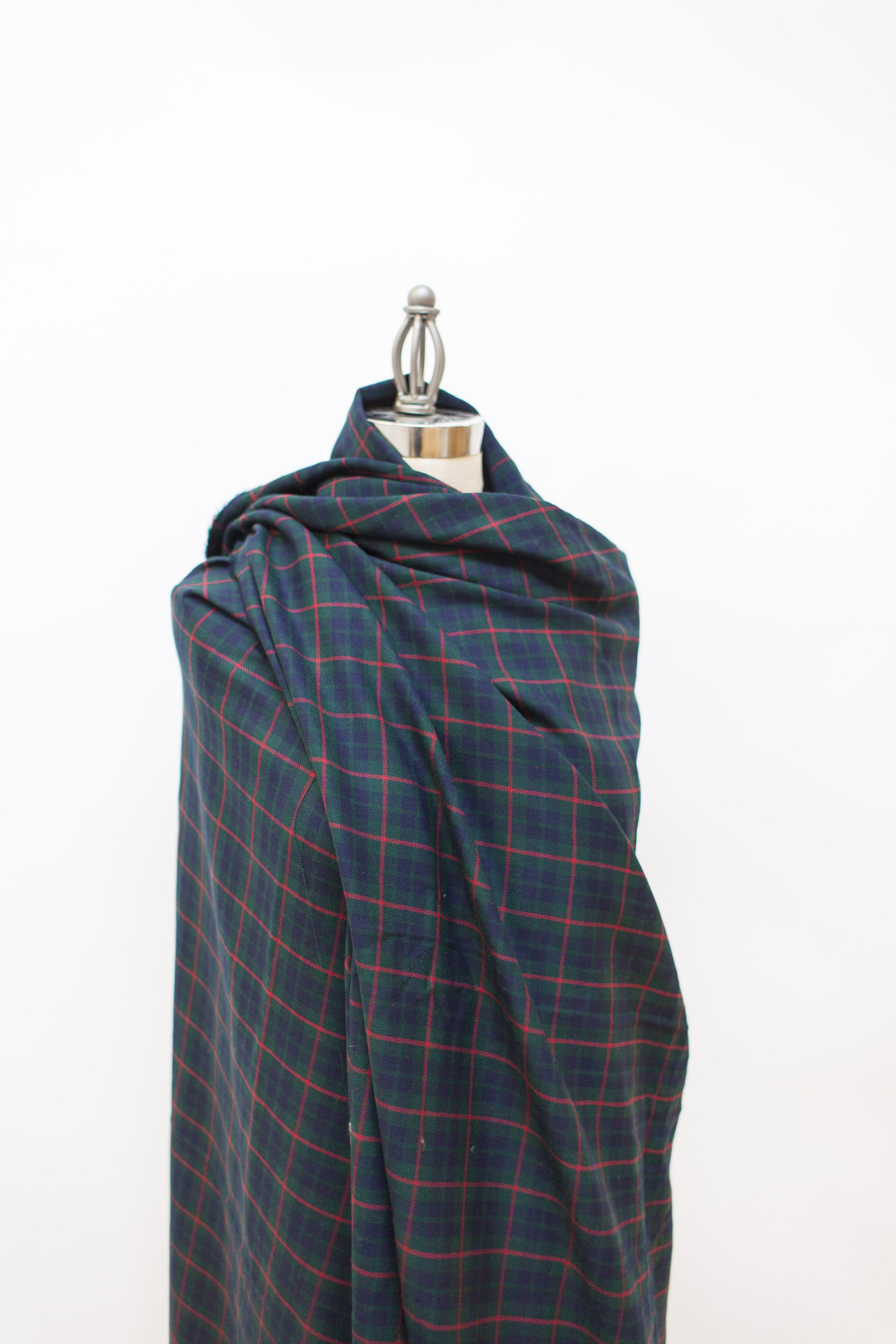 Draping fabric around a form,
bolts, or any other object
allows you to see how crisp or
drapey it is.
Drape
Drape is the way the fabric responds to gravity. Some fabrics collapse toward the floor, while others seem to stand up on their own. Fabrics that collapse are said to have a lot of drape, and fabrics that stand out are said to be crisp and have a lot of body.
Drape is sometimes confused with weight, because the two properties often interact. Lightweight fabrics are assumed to be drapey and flowing, and heavier fabrics are assumed to be more crisp. This is often the case, but not always. The two properties should be considered independently of each other. There are light fabrics that are very stiff, and there are heavy fabrics that are relatively soft and drapey.
Like weight, drape has to do with the texture of a fabric. This means that the best way to assess the drape is to actually feel the fabric. To test the drape of a fabric, you can wrap it around your body and see how it behaves. If all you have is a swatch, hold it up on the bias by grabbing a corner and see if it falls straight down. Choosing a fabric with the appropriate amount of drape will help you maintain the intended look and design lines of your pattern style.
How to plan a fabric swap


Determine the weight of the original fabric: light, medium, or heavy


Determine the amount of drape of the original fabric: from very soft and drapey to very crisp.


Choose a fiber for the season you are sewing for (perhaps cotton for summer or wool for winter).


Find a fabric type in your chosen fiber, drape, and weight.


Find the right color and print for the season and the look you want.


Once you have a handle on the textural properties of weight and drape, you can experiment with swapping the seasonal properties of color and fiber. Start with your pattern and determine the type of weight and drape that it requires. Do you need crispness to achieve a sharp, tailored look? Does the garment need to flow around the body? Should the fabric be heavy or light? If you're using a pattern the suggestions on the envelope will help give you clues about the sort of drape and weight needed.
Once you've figured these out, think beyond the envelope and list fabrics with similar qualities that are right for the season you're sewing for. If you need ideas, see our chart below to help you decide what kinds of fabric might work for your needs.
Fabric swap ideas

Try our interactive fabric selector to find new fabric ideas to fit the season.

Now that we've covered the concept behind seasonal fabric swaps, let's start to apply these ideas to real fabric types.
Follow the interactive diagram below to find fabrics ideas that might work with your pattern, no matter what the style or season. Of course, some fabrics come in various weights and drapes, so this is a rough approximation. It should give you some good ideas about what to seek out the next time you're in project planning mode.
Start by clicking the fabric weight you need, then explore the options from there:
You may want to start your own swatch book, with fabrics organized both by drape and by weight. This can help you brainstorm new ideas. It can be especially helpful when you're shopping online, and need to use specific search terms to find the perfect fabric for your project.
Join the Conversation
Sign in or become a Seamwork member to comment on this article.