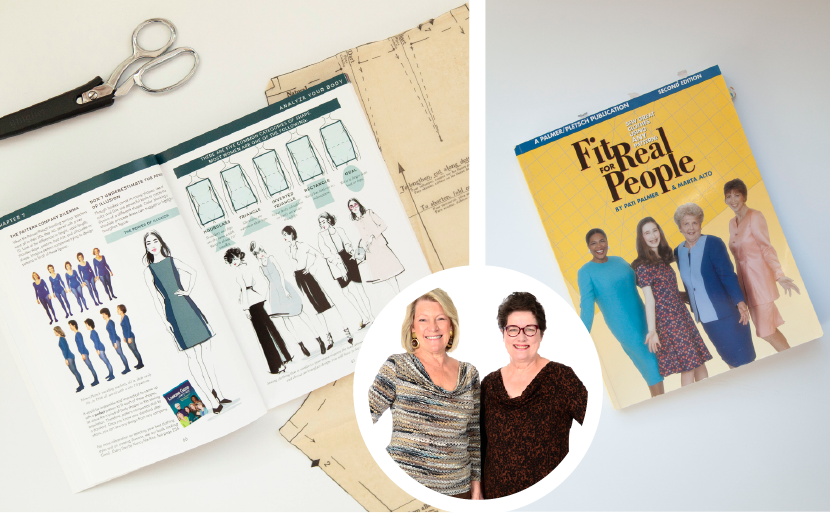 There's a sewing book we might all recognize—its cover features a group of "real" people dressed in 90s-appropriate fashion, with the bold title, Fit for Real People. This iconic book by Pati Palmer and Marta Alto is part of a series designed to teach you how to fit clothing to your body. While its cover and content have recently been refreshed, the methods inside remain tried and true.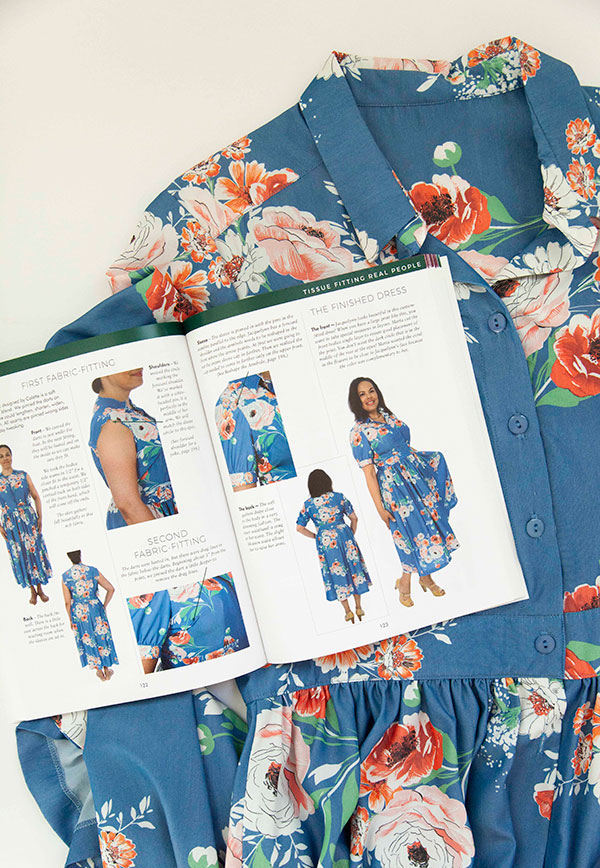 Pati Palmer has been teaching sewing for over 37 years. She has a school—The Palmer/Pletsch International School of Sewing—dozens of books, DVDs, and how-to videos, and she has also designed more than 220 patterns for McCall's.
When Pati was learning, sewing was still taught in school, but fitting was not emphasized. There weren't Craftsy classes, YouTube tutorials, or indie pattern companies. Size ranges were more exclusionary than today—not only in ready-to-wear but also for sewing patterns—and fitting resources were limited. The "Real People" series aimed to address some of those gaps.
In 1998, Pati teamed up with Marta Alto—they've been teaching together for decades—to produce the beloved "Real People" fitting series. But it's been over 20 years since the book was first released, and so much has changed already! Size ranges are increasing—admittedly with more inclusivity still needed—and the resources that sewists can access are wide-spread and varied. So where does this leave the "Real People" series now?
We spoke with this duo about their teaching history and their recent revamp with their new book, The Palmer/Pletsch Complete Guide to Fitting.
The Quest for a Good Fit
Pati started sewing when she was 10, as part of her 4-H program, "I was fearless and generally self-taught."
It wasn't until she started The Palmer/Pletsch International School of Sewing that she realized she'd need to pay more attention to fitting different body types. "If someone wanted to sign up for my Brush-up Sewing course and they were a double D cup size, I'd say, 'the class is full.'" This comment would alarm sewists today, as wholly disregarding body diversity. But 20 years ago, size inclusivity was unfortunately not on the forefront of the minds of designers, it was absent in fashion magazines, and it wasn't embodied in the designs of the major pattern companies.
Pati continues, "That is probably when I decided I'd better learn to fit a full bust. I read my college text, The Vogue Sewing Book, and the Journal of Home Economics. All were good sources that gave me ideas to build on. My college text showed ladies trying on tissue, but mainly for proportions. That was an eye-opener. So let's go try on tissue and see if we can figure out an alteration. I think in 3-D—I was good in geometry. I can visualize quite well, and that was invaluable."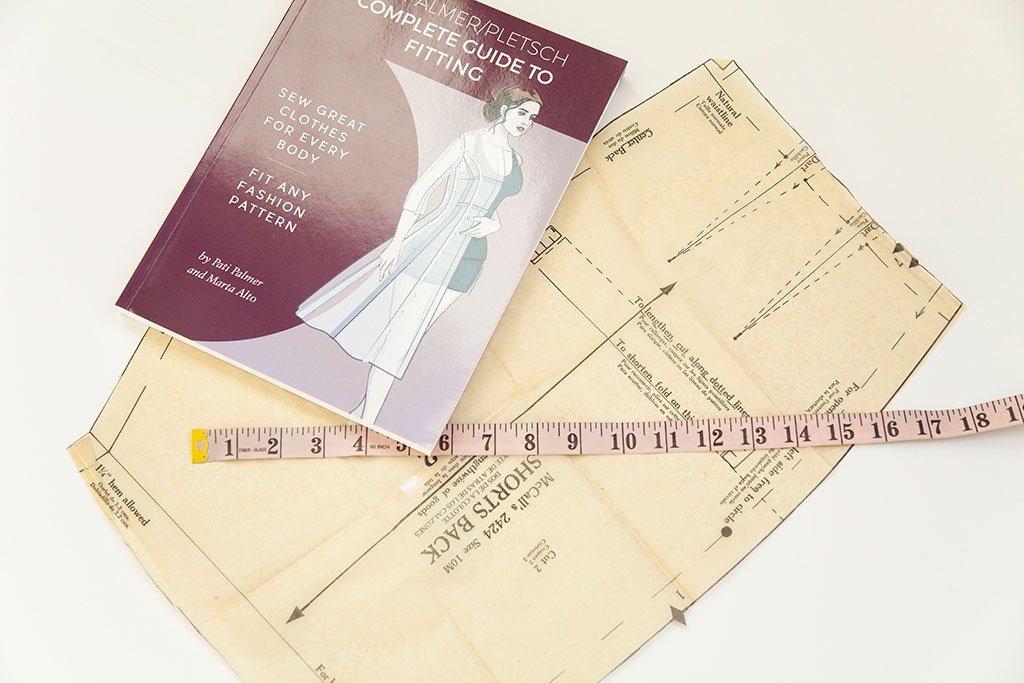 The result of her research was a method that taught you to fit pattern tissue to your body, make adjustments, and achieve a good fit before you sit down at your machine to sew. This is the heart of the fitting concept that the Palmer/Pletsch tissue-fitting method has taught us: Good fit doesn't come out of the package, and you should spend a large part of your time on the project making adjustments before you even start to sew.
20+ Years of Teaching Fit
You and Marta just revisited your iconic book, Fit For Real People, and released The Palmer/Pletsch Complete Guide to Fitting. What prompted this update?
P: 20 more years of teaching fit! Our students are our teachers, and they present all kinds of questions and challenges for us to answer. Without teaching and having amazing students, there wouldn't have been a new improved book!

M: We are always learning as we teach with the book— it was definitely 20 years old and needed a major update, and we are very pleased with the new book. 
Our students are our teachers, and they present all kinds of questions and challenges for us to answer. Without teaching and having amazing students, there wouldn't have been a new improved book!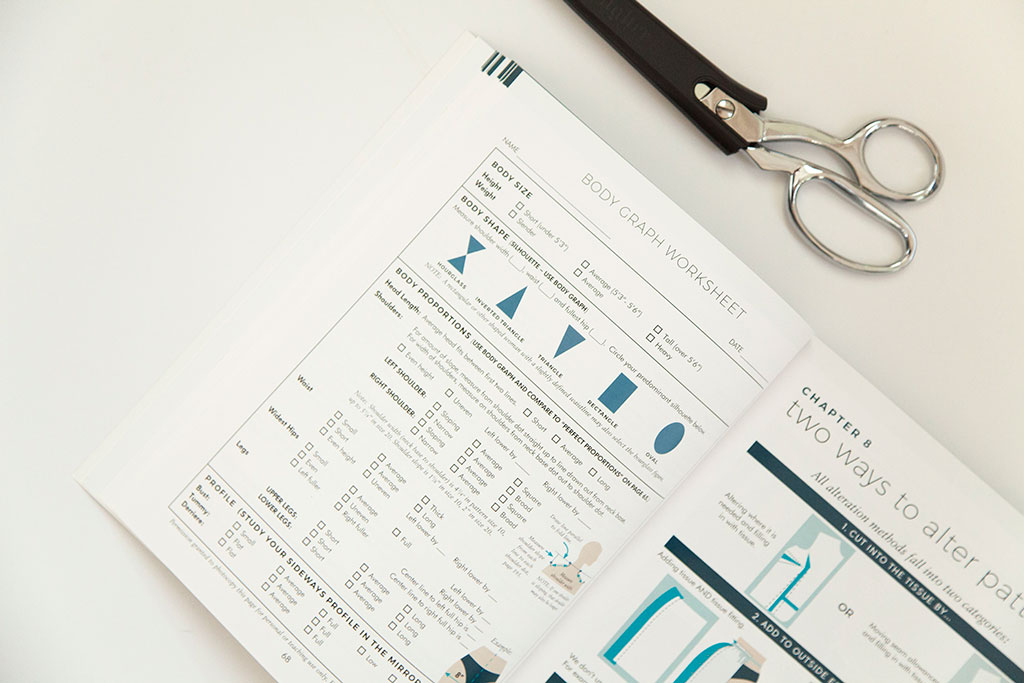 What are your favorite things about the new book?
P: I loved writing about how tissue-fitting evolved over the 40+ years of Marta and I teaching together. That was personal and so much fun. I hope the readers enjoy the story. I also love how the new art style and book design, done by Melissa [Pati's daughter], is so fresh and modern and extremely detailed. Marta contributed so much of her experience on the best steps and order for each alteration. We added a "wrinkle dictionary," a suggestion from a student who had made an Excel file bringing in all the wrinkles pictured in the first book. She wanted it, so we expanded on her work.
We added tissue-fitting on an indie pattern and gave advice on how to select the right size. With Colette being in Portland, the company was a natural and wow, what fun to visit the headquarters. Marta and I were truly impressed! Lastly, I can't forget the new very complete order of fitting that we stress for success!

M: It is more organized as we decided a work order was important. The art is better detailed—it is great that our artist sews!
For those who might not have heard of your tissue-fitting method, what makes it special? What is it about tissue fitting that gets the perfect fit?
P: After preparing the pattern for tissue-fitting, you try it on unaltered. You follow an order, such as start at the back, and decide on your alteration needs. Then, after you have determined you have a broad or high round back, you remove the pattern and do those alterations. You put it back on and go to the front and measure for a full bust if you have that. When you are done, you have a pattern that fits you in tissue without having had to make a muslin. Our favorite saying is "What you see is what you get!" Trust your eyes.
Step two is to cut out and pin-fit the fabric. After all, you have two sides, and you fitted only one in tissue. Now do your fabric tweaking! If in doubt about ease, we recommend cutting 1" "in-case" side seam allowances for fitted garments just in case you need them.
M: Tissue fitting allows you to see the pattern before you sew. One of the most important things is being able to cut into the tissue and alter it to fit. Having permission to do that is very empowering. It is very important to do this alteration process in sequence, so the book is written in sequence for a reason—alteration steps are numbered. We feel that you do 30% of the project before you sew a stitch! A beginner wants to buy a pattern, cut out, and sew.....but it probably will not fit!
We feel that you do 30% of the project before you sew a stitch! A beginner wants to buy a pattern, cut out, and sew...but it probably will not fit!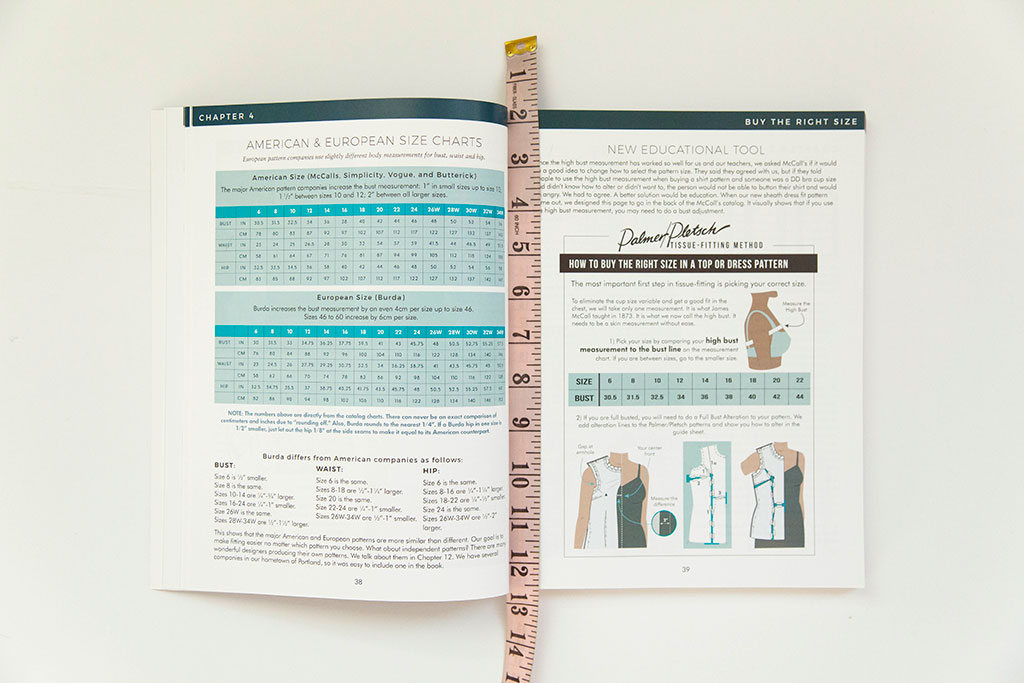 Do you think people approach fitting differently today than they did when you first started teaching? What's different about it?
P: Either they didn't fit and hoped, or they made a muslin, or they took a lot of measurements on their bodies and the pattern and tried to make flat measurements turn into 3-D.
M: Since there is no longer in sewing in school, we have other tools. The younger sewer understands books, DVDs, YouTube, and blogs. (I do not understand blogs or YouTube or other computer-based ways to teach—as the computer and I are not friends!) But I know the younger sewers thrive on them. Plus fabric stores do have classes.
A Tissue-fitting Tip for Digital Patterns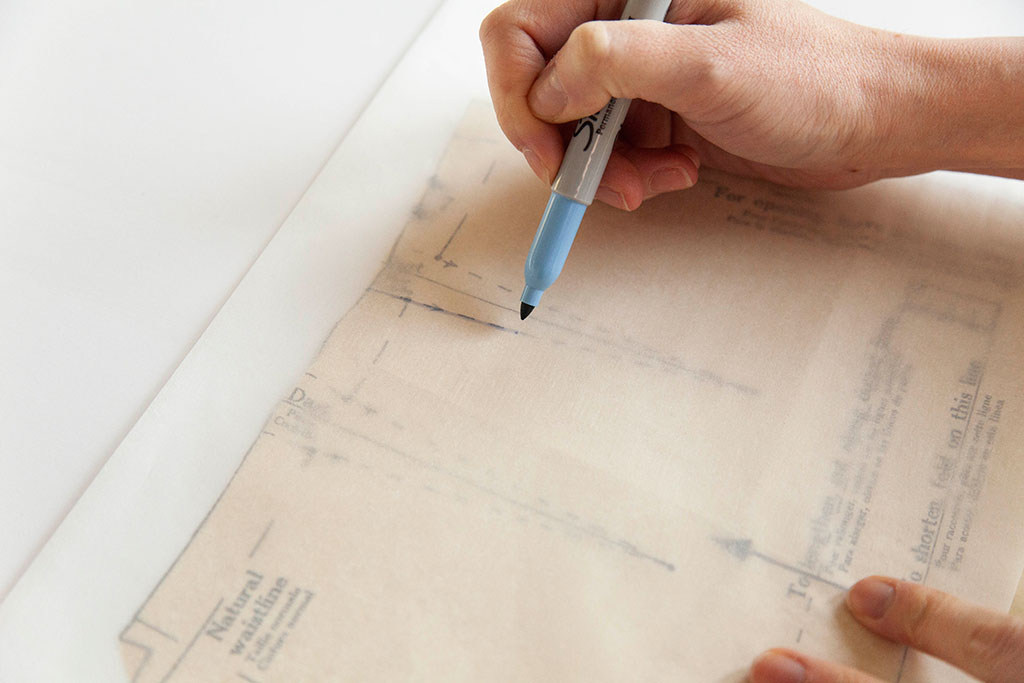 Pati and Marta are aware that their methods need to change as the ways that people learn to sew also change. With the rise in digital patterns and online classes, it's hard to rely on pattern tissue for all fitting techniques.
If you are working with digital patterns, but you want to try tissue-fitting, all you need to do is trace! Trace your pattern onto tissue paper or Swedish Tracing paper—which you can actually sew—and get fitting before you sew.
Taking the time to trace and make fitting adjustments before you sew will save you fabric for muslins along the way. Plus, it will boost your confidence when you finish a project that fits well.
What is your favorite way to teach people? Via video, your book, or in-person training? Why?
P: Hands-on fit classes and workshops are by far our preferred method of teaching. It does help if students have watched our videos or online classes on Craftsy.com or CreativeLive.com (we filmed a 3-day workshop) or read the book—they get introduced to the process and learn faster. We absolutely love classes large enough that Helen Bartley, Marta, and I can all teach together because we can bounce ideas and solutions off of each other. And believe me, if there is a puzzle pattern like a twisty top that needs an FBA, I want Marta there! She did a lot of puzzle style in her Full Busted DVD. Fascinating. She can do this because she spent 20-30 years teaching weekly hands-on fit classes. That is how you can do it!

M: I totally agree with Pati. I too love to teach hands-on and have been teaching for 50 years, starting with teaching drama students at San Francisco State in the late 60s.
We're lucky to have the Palmer/Pletsch International School of Sewing here in Portland, but what's the best way for someone to introduce themselves to your methods?
P: Of course, they can read the book or watch our fit DVDs, soon to be streamable from the PP website. Or, if they are able to travel, they can go to one of our locations in Seattle, Michigan, Connecticut, Pennsylvania or Portland and take a hands-on class. (The schedules are at www.palmerpletsch.com)).
We just had six last weekend in our new 2-day weekend fit class, and we held it at Josephine's Dry Goods. The ladies either didn't know much about our system or had watched a Craftsy.com class. They were so happy and empowered by Sunday afternoon.

M: With the book, you have the tool. With the DVD, especially Full Busted, you have the visual. Just try—it is just tissue. It is a learning process and does involve trial and error—play with it!
A Family in Fashion
Pati's daughter, Melissa Watson, designs for McCall's. How did Melissa come to be in a similar field?
P: She always wanted to be an RTW designer and not be a sewing teacher like her mom, but osmosis is amazing, especially when coupled with opportunity. She was a business major in college, went immediately to NYC afterward and could not get a design job because she had not gotten a design degree—the entry level prerequisite. She'd been doing a line of patterns for McCall's since she was 20 and she sewed. Not good enough. She decided to take an intense 1-year associates degree in design at Parsons. She tissue-fitted other students in her McCall's patterns. With that year, she was able to get hired by the likes of Ralph Lauren, Coldwater Creek, and a startup, Faherty. There she learned about manufacturing and sales. Meanwhile, she did three fit classes for Craftsy.com and continued designing for McCall's. And now she has launched her own company, which combines fit and customized tailored clothing. You can read what she says about it here.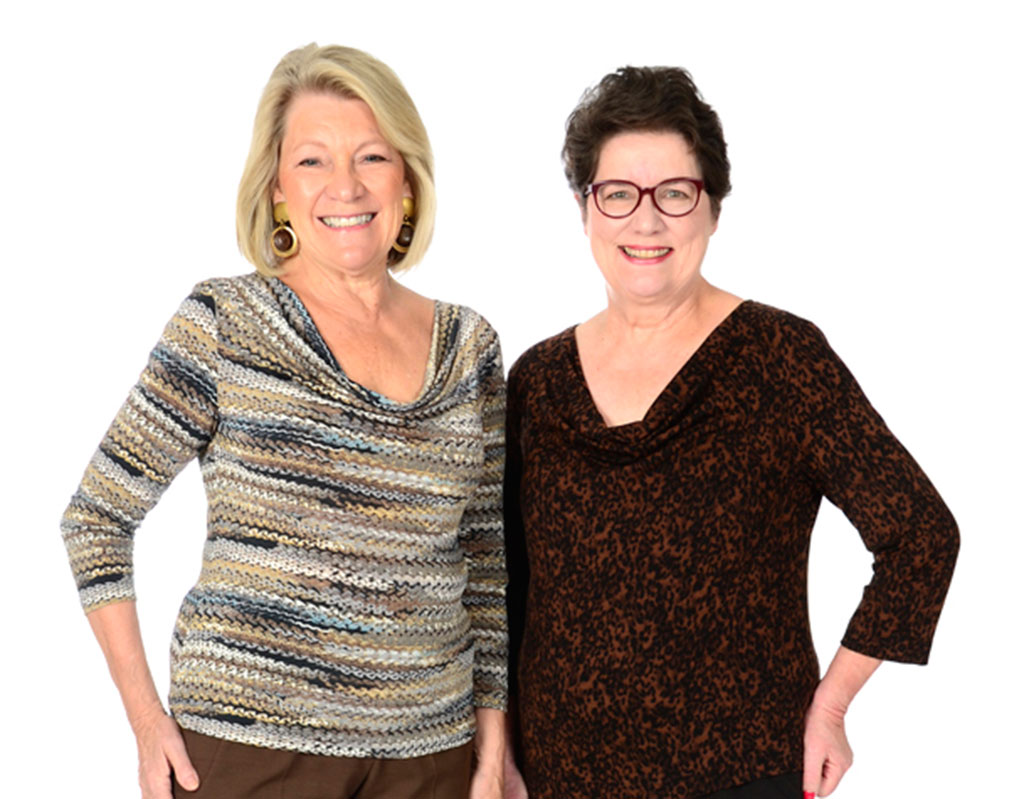 What advice would you have for someone who is just starting to focus on fit with their sewing?
P: Start with the correct size pattern using your high bust measurement. Then follow the tissue-fitting instructions in the book. Sometimes we get emails with photos when someone can't figure out something. Photos speak to us. We usually instantly know what to tell them to do.

M: I truly believe fit and learning to sew are a team—learning that it is good to alter a pattern before sewing. Learning about fit is wonderful.
In this issue, we're releasing a pattern for a pair of breezy palazzo-inspired pants. What's your number-one tip for someone who is sewing their very first pair of pants?
P: Tape the crotch to prevent it from tearing, pin the seams on the outside, and try on the tissue. What you see is what you get. If they are too long in the crotch, shorten until crotch the tissue touches your body. It will grow a little in fabric. The order and alterations are featured in our book Pants for Real People. The book written with Marta includes clear instructions for waist finishes and many styles of pockets that can be added to any pant. I got interested in fitting pants in the 1970s because I had thighus gigantus and RTW pants never fit me in those days!

M: Palazzo Pants! Wow, full pants are back. They are very forgiving because they are so loose. However I would suggest learning how to fit a fitted pant, then the same type of alterations would apply, such as long or short crotch depth, flat bottom or thick waist. They apply to all pant styles. We also suggest learning to fit a very fitted bodice to learn your standard alterations.
Fitting Resources from the Experts
Join the Conversation
Sign in or become a Seamwork member to comment on this article.