If you were asked to make a list of philanthropists, who would come to mind? Most likely, Warren Buffett or Bill and Melinda Gates would top your list. Maybe you would think of Angelina Jolie's work as a Goodwill Ambassador. And don't forget about Bono—he works tirelessly for humanitarian causes. But what about Anna Wintour or Diane Von Furstenburg? Would they have made your list?
I admit, when thinking about humanitarian works, the fashion industry does not automatically spring to mind. Like any other industrial complex, it seems more interested in pushing a consumer agenda than a political one. On closer inspection however, it is readily apparent that the full force of altruism is thriving in the industry. Both luxury designers and mass market retailers are adding a level of social consciousness into their business plan, using their platforms to lead the change to conscious fashion.
What exactly is conscious fashion? It is companies and consumers working together to make sure that the fashion they love is doing good. For some companies, this means donating some of their immense profits to philanthropic organizations that are working on various issues from women's rights to curing AIDS. Other companies are tackling the pollution issues that producing fashion has on the environment. Others are concentrating on transparency in their supply chain and protecting their workers from human rights violations. Many are doing all of these things.
Today, a new generation of fashion designers and style purveyors are taking the idea of giving back one step further. Instead of adding philanthropy to their business, they are building their business models around it, creating a culture of style and social consciousness. These future-fashion leaders will be at the forefront of change in an industry better known for consumption.
To be a conscious fashion consumer is easy. All you have to do is a little research to find out which fashion companies' philosophies align with your own. Maybe you want to purchase only organic cottons or fair trade items. Or maybe you have a loved one who suffers from cancer and you want to spend your money with a company that supports cancer research. Just do a little digging and spend your money where it counts.
As I started my journey into conscious fashion consumption, I was amazed to learn how much the fashion industry has impacted the social acceptance and awareness of diseases such as AIDS and breast cancer.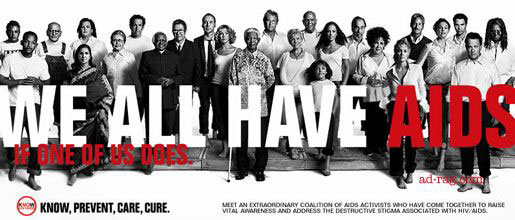 AIDS awareness ad from designer Kenneth Cole.
One charitable organization that is closely associated with the fashion industry is the American Foundation for AIDS Research, or amfAR. In a partnership that has existed for well over a quarter of a century, the fashion industry has raised millions in donations for AIDS Research. Anna Wintour, editor of American Vogue and arguably the single most influential person in fashion, is said to have raised over $20 million for AIDS research alone.
This relationship was born in the mid-1980s when the world was newly aware of a disease that had seemingly come out of nowhere. AIDS was a powerful illness that struck quickly and mercilessly. The ramifications of the disease were felt particularly in the fashion industry, as 7th Avenue was hit hard with losses of friends and coworkers. It was a time of fear and silence; many choosing not to acknowledge the disease and face the prejudice that came with having, or even knowing someone, with AIDS.
In 1986, Elizabeth Taylor and Calvin Klein hosted a benefit for the nascent organization amfAR, dubbed "To Care is To Cure." The leadership of Calvin Klein at the event encouraged many big-name designers and retailers in the fashion industry to take public action in the fight against AIDS. Since then, individuals in the industry have been hands-on working with amfAR. Kenneth Cole, for whom fashion and philanthropy live symbiotically, joined the board in 1987. In 2005, Cole was elected as Chairman of the Board, a position he still holds today, as he helps supports the organization their goal of finding a cure for HIV/AIDS by 2020.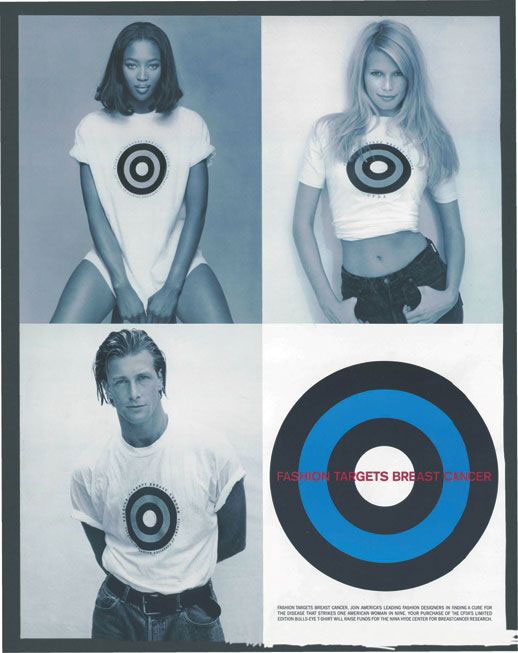 Ralph Lauren's Fashion Target Breast Cancer campaign
The fashion industry has also been an active participant in the fight against cancer. Stylemaker Ralph Lauren has been leading the way after being inspired by his friend Nina Hyde, who was diagnosed with breast cancer in the mid-1980s. Lauren approached the fashion industry to help shine a light on what was then a little known disease. His actions raised enough money to open the Nina Hyde Center for Breast Cancer Research at Georgetown University in 1989. Through his Pink Pony campaign, he has been instrumental in opening cancer centers in Harlem and London.
In 1994, Lauren developed Fashion Targets Breast Cancer, a line of T-shirts whose sales raised over $2 million for cancer research. Lauren then entrusted the FTBC name and logo to the Council of Fashion Designers of America, who have carried on Lauren's initiative with FTBC, designing specially branded merchandise whose proceeds go to cancer research.
Lauren's encouragement of the fashion industry's involvement in cancer awareness inspired the Revlon company to help found the Revlon/University of California, Los Angeles Women's Cancer Research Program, which was integral to the development of Herceptin, the first gene-based treatment for a specific subtype of breast cancer. Even the little pink ribbon, that most ubiquitous of symbols, was developed by the fashion industry. It was designed for Self magazine's second annual breast cancer awareness issue in 1992.
Sustainable fashion
One of my main concerns about fashion consumption is the devastating effect it has on the environment. Cotton may be one of my favorite fabrics to wear (and sew with), but it also is takes a huge amount of water and pesticides to grow a thriving crop. As we have started to understand the effects that growing cotton has on the environment, some style leaders are using their platforms to promote change.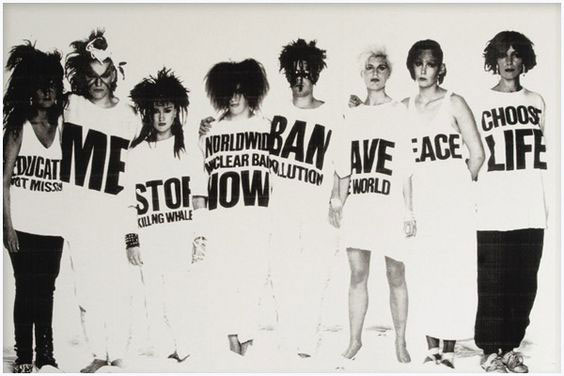 Katharine Hamnett's original slogan T-shirts
In the early 1980s, Katharine Hamnett made a name for herself with her line of politically charged slogan T-shirts. While 80s music aficionados will recognize them from the Wham! video for Wake Me Up Before You Go-Go (Note: George Michael's "Pro Life" shirt is actually a statement directed at issues of drug abuse and suicide, not abortion.), her fashion line was not just a one-hit wonder. Her shirts, with messages like "Stop Killing Whales" and "Worldwide Nuclear Ban Now" became extremely popular political fashion statements.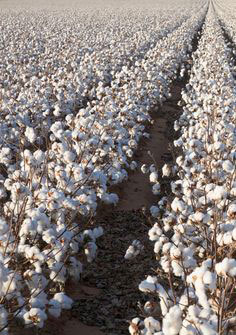 Cotton is one of the most environmentally
unfriendly crops in agriculture.
When Hamnett's research into clothing production in the late 1980s revealed the damage that the manufacturing process has on both the environment and the production workers, she completely shut down her successful business. Hamnett began researching sustainable manufacturing, only to re-launch her line in 2005 producing her garments under strict ethical standards. She has been espousing the benefits of ethical manufacturing ever since.
Unfortunately, convincing big business manufacturers and consumers of the importance of sustainable fashion has been an extremely slow process. Although customers have come to understand the importance of buying organic vegetables, they haven't adopted the mindset of buying organic cotton garments. Hamnett is constantly fighting for change in the industry, while still designing her iconic t-shirts and coveted ready-to-wear line. Recently she teamed up with Kanye West to re-release some of her chic early-80s designs. This time, they will be manufactured to her high sustainable standards.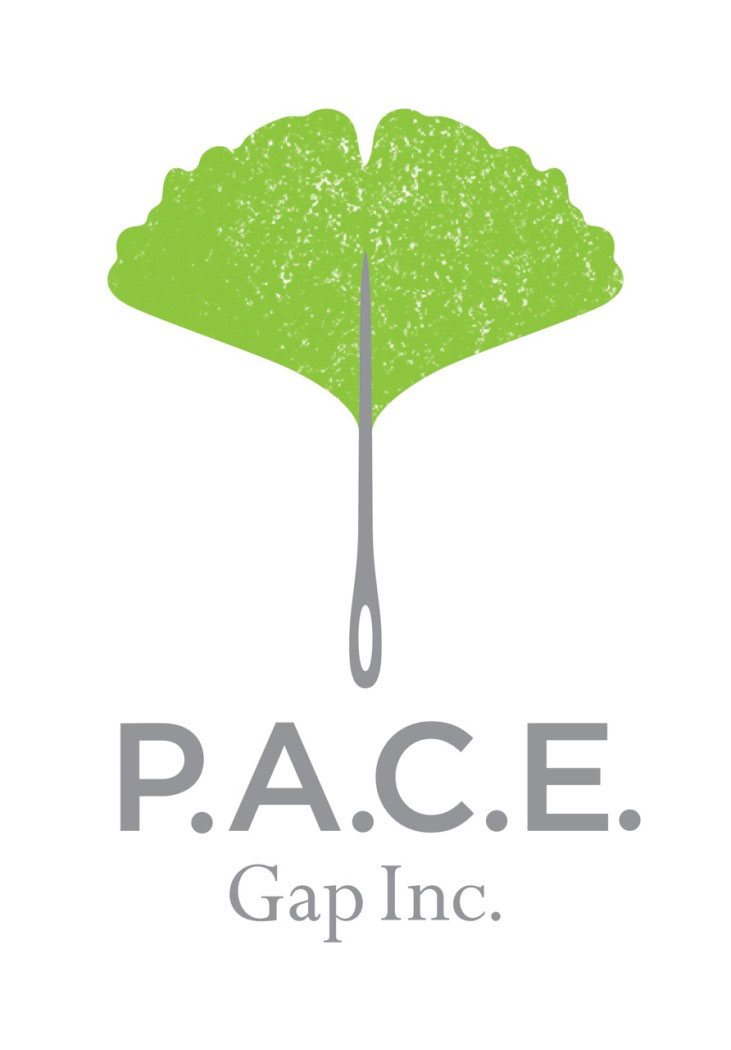 Along with their Women + Water program, GAP has also
instigated the P.A.C.E. program which educates women
working in the garment industry to gain work and life skills
to help them advance in their careers.
Though the fashion world has been slow to take on the responsibility of sustainable manufacturing, some fast fashion retailers are starting to lead the change. GAP Inc., the behemoth parent company of GAP, Old Navy, Banana Republic, Athleta, and Intermix has started addressing their environmental footprint and pledged to reduce its greenhouse gas emissions from its owned and operated facilities by 50% by 2020. They also promised an 80% waste diversion from landfills for their facilities in the United States.
In an effort to address the polluted water waste that is a side effect of manufacturing cotton products, they have established strict water pollution guidelines for their fabric mills and denim laundries. The company has a goal of having a zero discharge of hazardous chemicals in their water supply by 2020. Their Women + Water program was launched in an effort to provide their manufacturing workers, who are mostly women, with safe water for their families.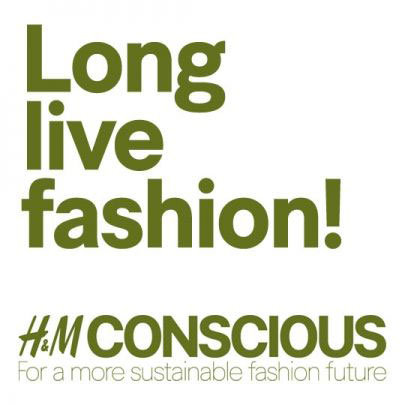 Along with their garment collecting initiative, H&M have launched a line of sustainable fashion called H&M Conscious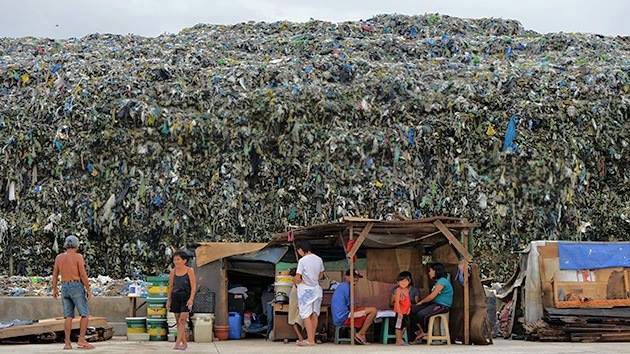 A single person will leave behind 100 tons of garbage through their life, which is approximately the size of this garbage island
Other retail giants are taking on environmental issues at the store level. Brands like American Eagle and H&M have instigated in-store textile recycling programs. Consumers can bring in bags of textiles, be it used clothing, curtains or even huge bags of fabric scraps (that would be me!), which will then be sorted for re-sale, to be reused or recycled. Re-sale items are gently used garments that can be donated for sale as secondhand clothes. If the garments can't be re-worn, they are sent to be repurposed into other products, such as cleaning cloths. If the textile is in truly poor condition, it will be turned into textile fibers that can be used in carpet padding or insulation.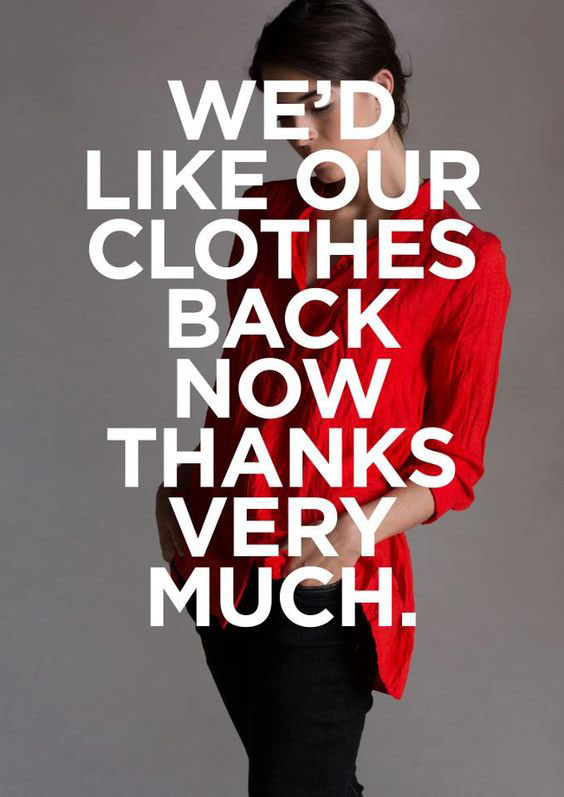 Advertisement for the Green Eileen
recycling program
Eileen Fisher has taken a different approach to global sustainability. They have started Green Eileen, a program that takes in gently used Eileen Fisher items. The garments are either donated to local shelters and charities, or resold in Green Eileen brick-and-mortar stores. The profits from these sales are donated to programs that support women and girls. Textiles that are unsuitable for wearing are upcycled in hands-on workshops where customers can make rugs and hats, and even learn how to unravel sweaters to salvage the yarn.
As a conscious fashion consumer, I want to support ethical products, but as a fashion conscious consumer, I also want them to look good. As Katharine Hamnett said, "You might think people would buy clothes out of pity, but they won't. People buy clothes because they want to be excited about themselves. So it can't be just goody-goody clothing; it has to be great clothing that just happens to be goody-goody, too. You've got to put the fashion first." Luckily, a new generation of designers is using great design to get their customers excited about doing good.
Over the last 10 years, the popularity of a simple, canvas slipper has exploded. TOMS shoes have become the de facto everyday shoe for women and teen girls everywhere. And why not? They are comfortable, stylish, and available in a rainbow of colors and prints. They are also at the forefront of a movement to change the business of fashion.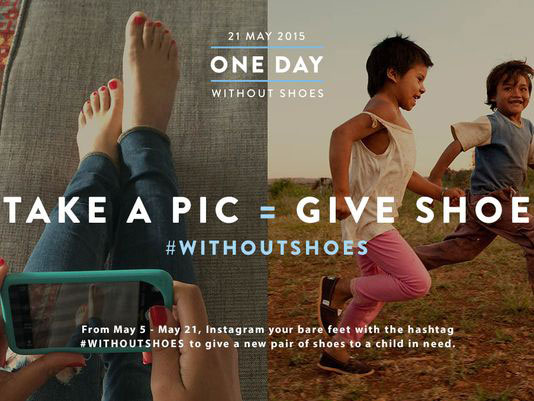 Ad for TOMS' annual Day Without Shoes promotions.
In 2015 they added a social media twist to the campaign:
each barefoot self with the hashtag #daywithoutshoes
would send a pair of TOMS to a child in need.
The brand TOMS was one of the first trailblazers in the one-for-one giving movement. Founder Blake Mycoskie was visiting Argentina in 2006, when he noticed that many of the local children couldn't afford shoes. Mycoskie was galvanized to create a new kind of business, one where every purchase helps a person in need. Inspired by aplargatas, a style of shoe worn by Argentine farmers, Mycoskie designed a line of footwear, which would benefit both consumers and children in need. Within six months the simple canvas shoe proved to be a success, and it has become one of the most coveted footwear brands around. Today, in their 10th year of business, over 50 million children have been provided shoes.
The proven success of the TOMS business concept has inspired other start up fashion companies to follow suit. In 2010, four college friends decided to tackle the high-costs of prescription eyewear. Rejecting the eyewear industry status quo, they founded Warby Parker, designing fashionable glasses at reasonable prices.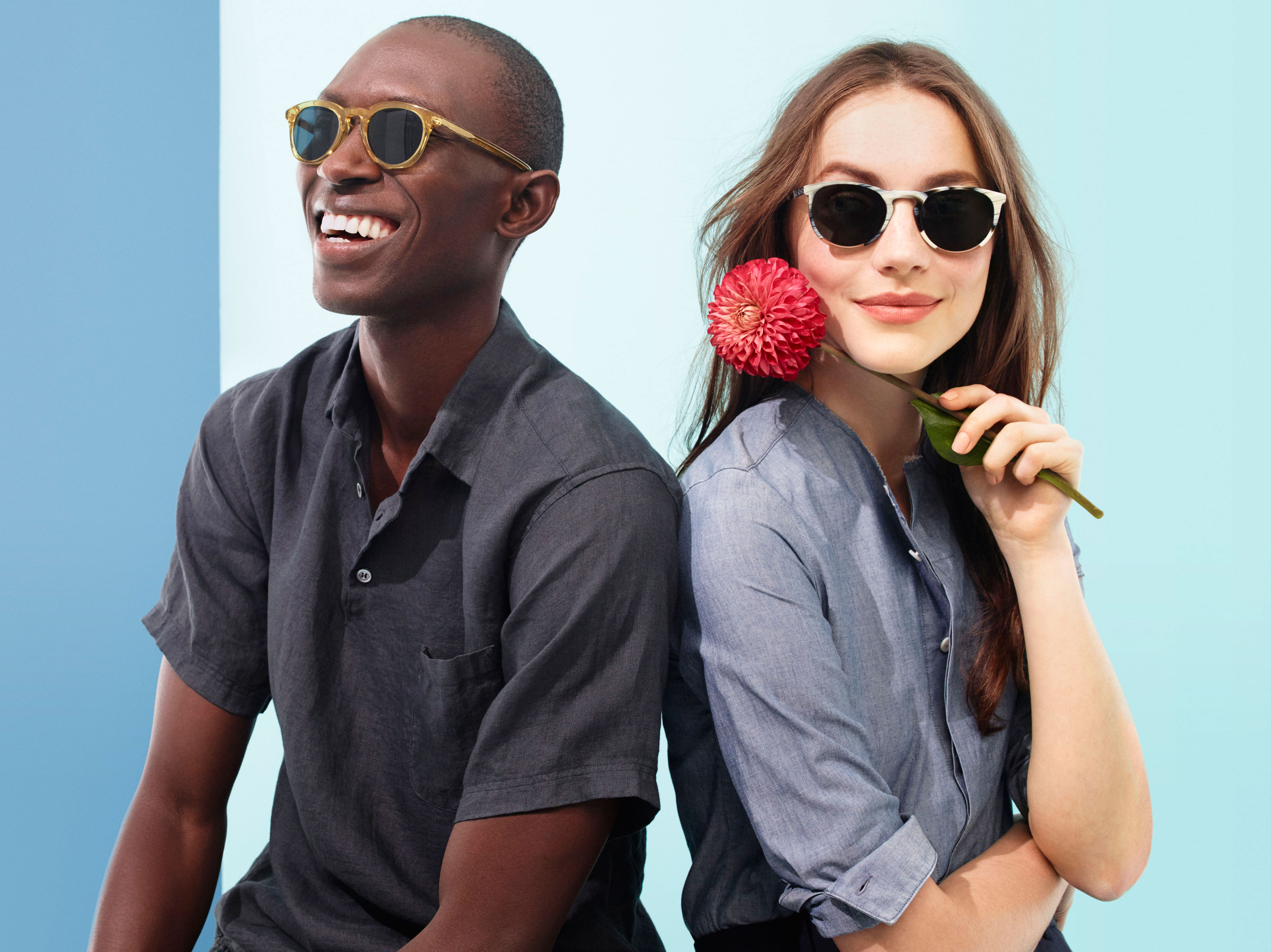 Warby Parker glasses.
Their retro-inspired designs hit a nerve with style-minded individuals, and soon enough, Warby Parker glasses have become a hipster status symbol. Their popular designs and unique online business model garnered them mentions in magazines like Vogue and GQ. But behind the tortoiseshell frames was a company culture that shared its success with those in need. They have partnered with the non-profit Vision Spring to ensure that for every pair of glasses they sell, a pair will be distributed to someone in need.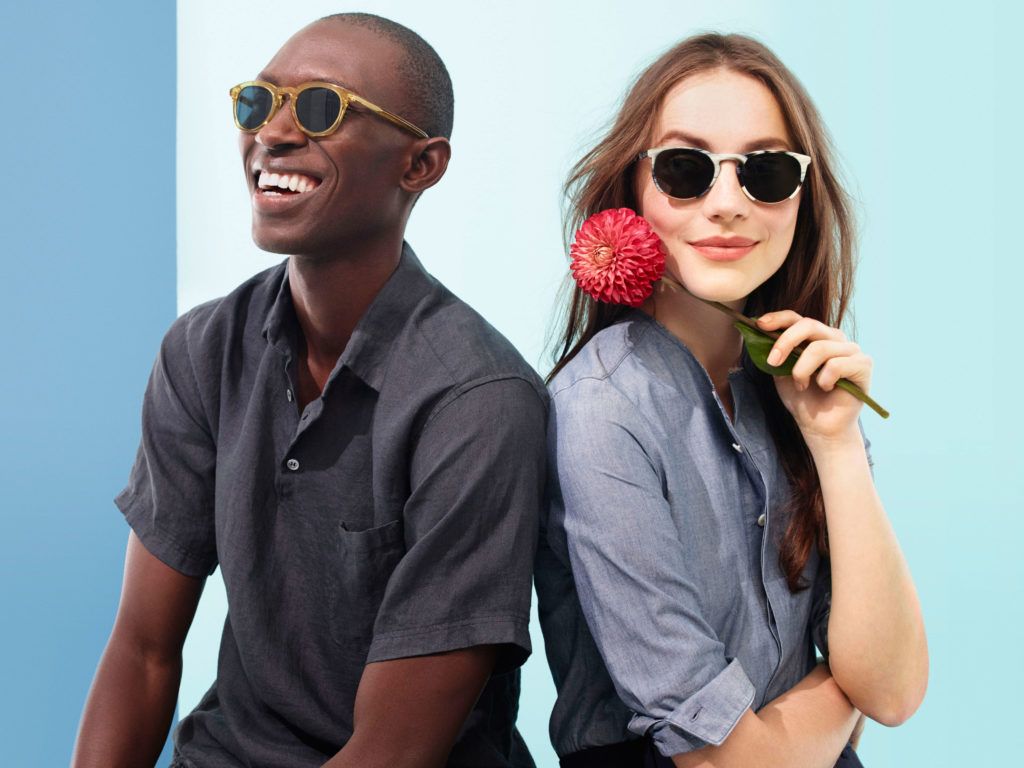 The easiest way to shopping consciously is to
not buy what you don't need.
Shop your closet first!
The fashion industry may carry a reputation of a commitment to consumption over social consciousness. But, on closer inspection, we see a community that has used its platforms and profits for change. The stories you have read in this article don't tell the whole picture. Rather, they are just bite-sized pieces of a much larger portion of social activism on behalf of the industry.
Shopping as a conscious fashion consumer, you can vote with your dollars to support those companies that are interested in more than just profits. Your money is power, and each purchase made doesn't just buy a product, but also a philosophy. Luckily, in this digital age it is easier than ever to search out responsible—and stylish—fashion.
Join the Conversation
Sign in or become a Seamwork member to comment on this article.