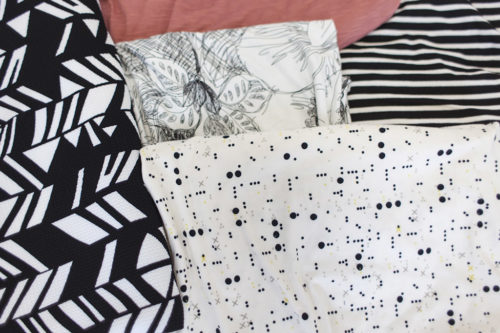 Whenever I walk into a store with a large inventory – whether it's books, music, or even fabric, I immediately turn into a deer in headlights, and I can't think of a single thing to look for! When I was younger, it was always an issue in music stores – I'd walk in, see the thousands of bands and cds on offer, all nicely laid out by genre and alphabetically listed, and suddenly my mind would go absolutely blank. Rather than try to change my reaction, however, I learned at university to instead cope with it by making a list of what I wanted before I got to the store so I'd have something to refer to once inside.
I don't find myself in music stores all that often these days, but I get the same reaction when faced with a fabric store with a huge selection, whether it's an online store or one in real life. I still refer to lists when my mind goes blank, too – they're just on my phone these days instead of scraps of paper! That way I can remind myself what I wanted to buy and focus on the task at hand. I'm still just as distracted by eye-catching fabrics as anyone, but having a list in front of me helps me to assess whether the fabric is suitable for my project and how much of it I need to buy.
I've been sewing for a number of years now, but it took until a few years ago before I really started sewing knit fabrics in greater quantities. Some of the most casual, comfortable and well, favorite garments in our wardrobes are made of knits and it makes sense to sew the kind of garments we wear most often. However, there are a huge variety of knit fabrics available, and it can be bewildering to decide which would be best for a particular project when faced with thousands of options in a shop.
The wrong fabric can ruin a pattern just as easily with knits as with wovens, and even though the fit can be more forgiving in a knit garment, there are still a variety of pitfalls. With a few carefully considered questions, you can help narrow down whether the fabric that caught your eye from across the store is really going to work for your project or not. And if not – maybe you'll realize that it's better suited for a different garment entirely!
5 questions to consider when shopping for knit fabrics
Use: How would I wear this fabric?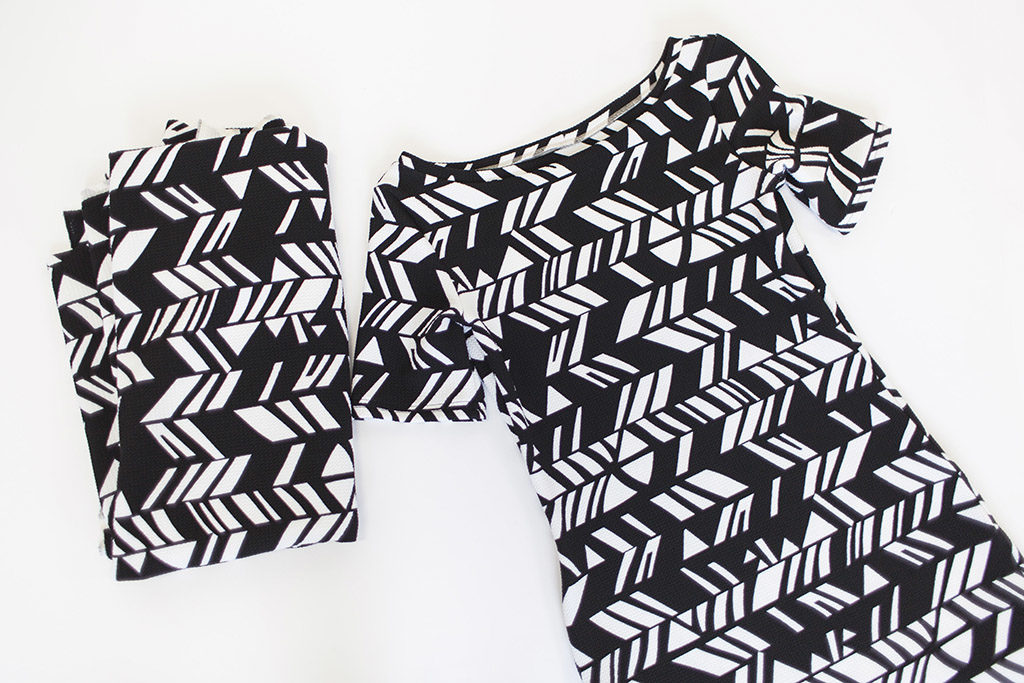 Try to imagine the fabric as a finished garment before you buy.
If you have already selected a pattern, then it's helpful to bring it along shopping with you to refer to in store, or if you've forgotten it, you can often look up the fabric requirements on the pattern company's website from your smart phone. Read the suggested fabrics on the pattern envelope – if there's a suggested drape or weight or the envelope contains a stretch ruler for you to hold your fabric against, then these can be incredibly helpful when shopping.
Think about the intended garment, too - is the style figure-hugging or more loosely fitted? What environments will it be worn – in hot weather, or cold weather, during exercise, or layered under jackets?
Color & Print: Will the appearance of this fabric suit me?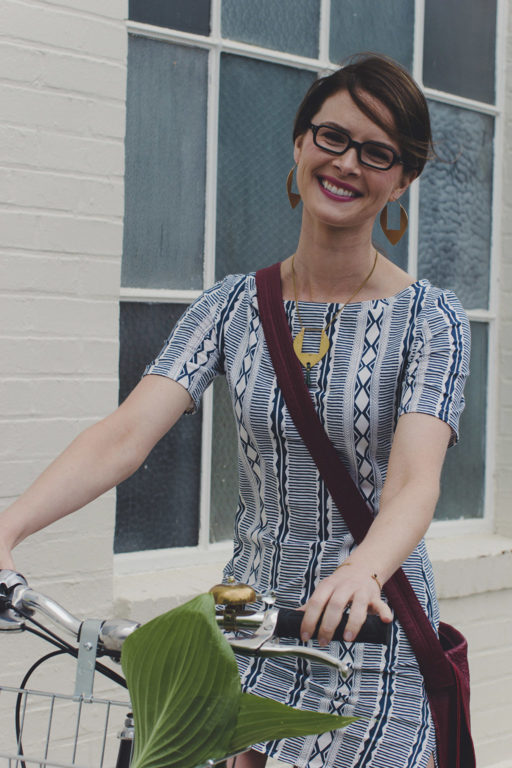 Think about how the color and print will work with your particular
coloring and existing wardrobe. Pattern shown is the
Mesa
dress.
This is likely to be the first thing that attracted you to this fabric – we all have a special talent for spotting that special bolt from across a crowded room! But before you put it in your basket, stop and think whether the color or print are really suited to your skin tone, hair color, and lifestyle. If you're in a physical store, hold the fabric up to your face & look in a mirror or get a friend's opinion (either in real life or over a video chat). Be honest and ask if the color works for you or not.
Next, consider whether this fabric would coordinate with other garments in your wardrobe, or would it be an "orphan"? And finally, ask if you can imagine yourself wearing it. For example, I am always drawn to loud prints, but I know I'll never wear a busily-printed dress or top as it just never "feels like me" – unless it's for activewear! So I've learned over the years not to buy crazy prints unless they're suitable for exercise, or they just won't get worn, no matter how much I love the print!
Drape & Weight : Is this well matched to my project or pattern?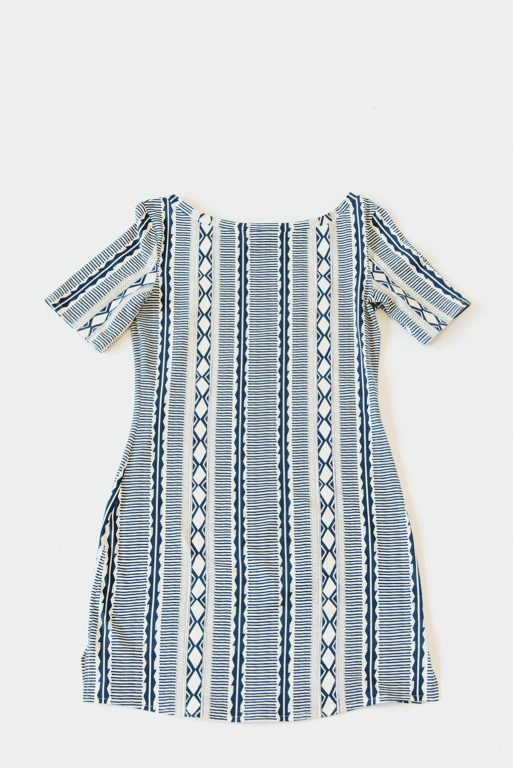 Notice how the slight stiffness of this Art Gallery jersey gives the
Mesa
dress added structure.
If your fabric is on a bolt, unwind a yard or two of it so you can see how it falls. Pick it up in your hands - does it feel lightweight and drapey? Does it fall in graceful folds as you hold it up? If so, then it'll do the same on the body, and would work wonders for designs with lots of gathers, pleats, and loose folds. But sew it into a figure hugging dress and everyone will see every little bulge of your underwear! On the other hand, if your fabric is heavier and fairly stable, like a ponte (see "Working with Double Knit" in Seamwork issue 2) or sweater knit (see "How to Sew with Sweater Knits" in Seamwork issue 1), then it may pair nicely with patterns for sheath dresses, sweatshirts, or cardigans that don't have a lot of pleats or gathers.
What about lining?
If your design will be close-fitting, you may wish to line your garment in order to help hide undergarment lumps and bumps, or even just to guarantee your garment glides nicely over your hosiery. Some designs also rely on a lining layer to anchor pleats and draped portions of the exterior design.
Try to choose a lining that's at least as stretchy as your exterior fabric, otherwise it might affect the overall fit of the garment! If your exterior knit requires 50% stretch but your lining only has 20%, then your garment may feel too tight even though your garment size was well chosen. If possible, also select a knit lining fabric that feels slippery so that it doesn't catch against your undergarments or the exterior garment when worn. Some knit lining fabrics include: nylon tricot, some polyester jerseys, silk jerseys, or even stretch mesh fabrics, like power mesh.

Stretch & Recovery: How much can this fabric stretch, and does it bounce back?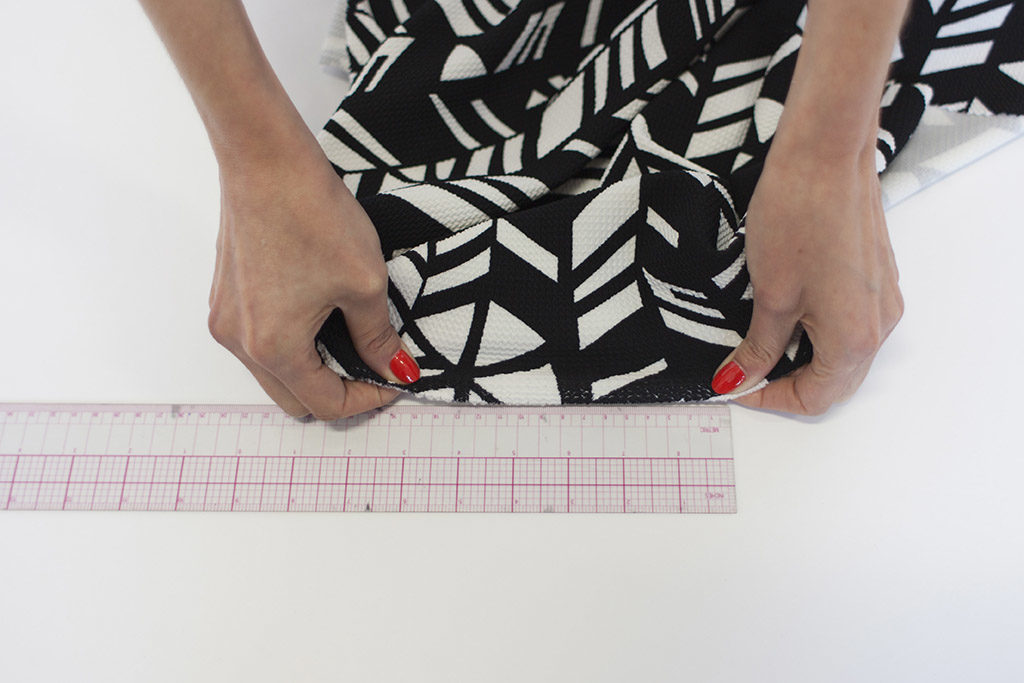 Use a ruler to check the amount of stretch your knit fabric has.
Curl



Look at the edges of your fabric – does it curl to one side? Stretch the fabric and see if the curl increases. If it rolls itself into a little tube at the edges, then it's likely to do the same to your cut pieces when you go to sew it! Curling can be maddening when you're trying to accurately sew a garment, so unless you're absolutely in love with it, walk away from curling fabrics.




You can work out the stretch percentage of a fabric easily by measuring out a length (either with pins or just your hands), measuring how far it stretches, and calculate the extra amount as a percentage of the first measurement. I find it easiest to start with 10cm, because if it stretches to 15cm, then it's 50% stretch, to 18cm, that's 80% stretch, etc. Be sure to check the stretch both width-wise and along the grain – some styles require two way (confusingly, sometimes referred to as four-way stretch), while others are fine with stretch in one direction only (usually width-wise, going around the body).
Recovery is also important, especially for tight-fitting styles, otherwise you'll find that your garment may grow throughout the day, or the knees of your leggings go baggy when you stand up! You can check the recovery of a fabric easily as an extension of your stretch testing – just measure the distance between your pins after you've stretched and let it go. Are they the same distance apart as when you started? Or has the fabric grown a bit by the act of stretching? Also compare the portion of the fabric which has been stretched against another section on the bolt – does it look distorted or stretched even after you've let go? Most fabrics which contain a bit of spandex will spring back into place after they've been stretched, but others may remain stretched out. Keep the latter to loose-fitting styles!
Fiber: What is this made of?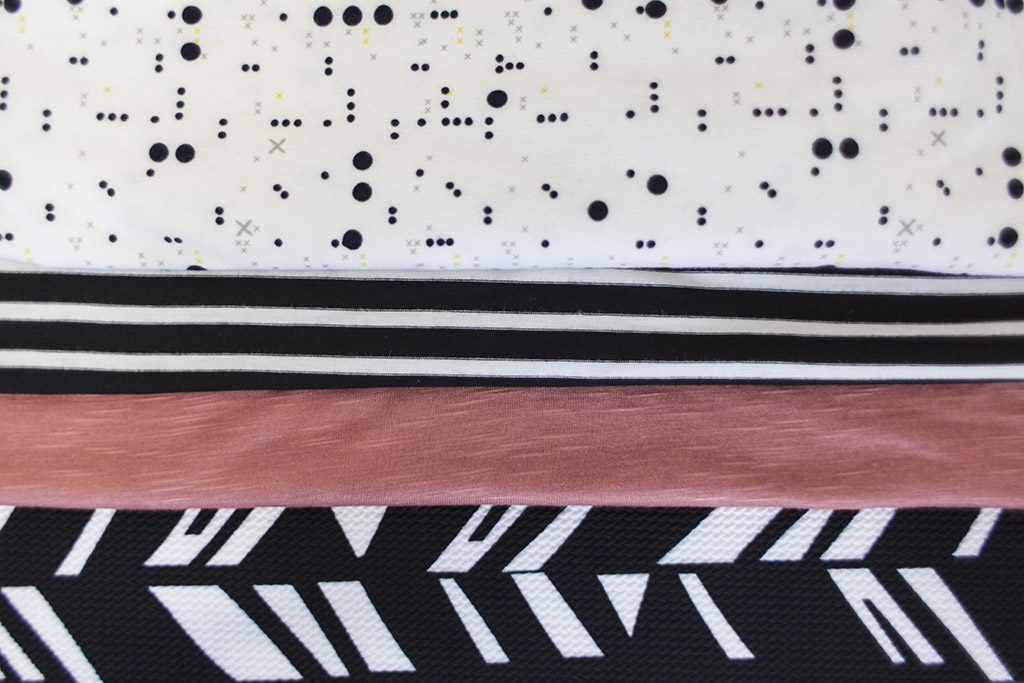 Jerseys in rayon, cotton, and synthetic. Each has a different feel and qualities.
If you're lucky, the fabric store will have labelled this for you, but oftentimes it's up to you to guess the fiber based on feel alone. If you can get a swatch to take away with you, a burn test can help determine if it's a natural fiber, synthetic fiber, or blend. If a burn test isn't possible, try handling it, or holding it against your inner arm (which can be more sensitive than your hands), and concentrating on how it feels. Does it feel soft, or scratchy, or warm? Think about how you'd like to wear it, and if you'd be happy to have it against your skin all day. Knits can come in pretty much any fiber possible – natural fibers like cotton, silk, wool, bamboo, rayon (viscose), or synthetic fibers like polyester, nylon, or spandex, or even a blend of two or more fiber types.
By asking yourself a few simple questions, you can help stack the odds of sewing a successful knit garment heavily in your favor. For the sake of a few minutes in a fabric store, you can save yourself the time, cost, and frustration of a well-sewn garment let down by poor fabric choices.
Basic recommended fabrics

This is only a brief list of knit fabric types commonly associated with stretch garments. The wonder of sewing is being able to use unexpected fabrics to make even the most basic patterns exciting, so once you're comfortable sewing with knits, the design possibilities are endless!


T-shirt: interlock or heavy jersey


Sweatshirt: Sweatshirt fleece (aka "sweatshirting"), fleece


Bodycon dress: Ponte di Roma, scuba knit


Grecian draped dress: silk jersey, rayon (viscose) jersey, bamboo jersey


Leggings: Ponte di Roma, spandex, or supplex (See the Manila leggings pattern in Seamwork issue 2)


Join the Conversation
Sign in or become a Seamwork member to comment on this article.