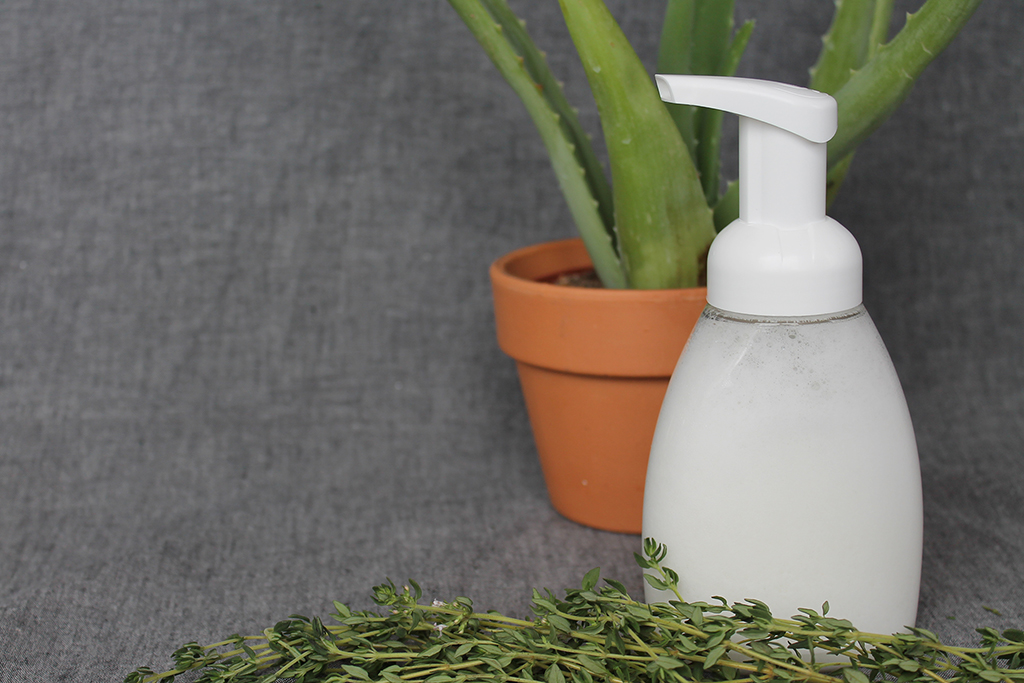 You'll Need:


1/3 cup aloe vera gel


1/3 cup unscented, liquid castile soap


1 tbsp. avocado oil or jojoba oil


3 drops of thyme, frankincense, tea tree essential oil (optional)
-Or 3 drops bergamot or vetiver essential oil (optional)
-Or 18–15 stems of fresh thyme (optional), another 1/3 cup avocado or jojoba oil, and 1 small, clean jar with a lid


8 oz. bottle with a foaming pump top


How to:


Combine avocado or jojoba oil and your chosen essential oil in a tablespoon.

If using fresh thyme instead, wash and dry the thyme thoroughly, making sure no moisture is left. Combine the thyme and avocado oil in the small jar. Seal the jar tightly, and place the jar in a warm, bright place, such as a sunny windowsill. Let the thyme infuse into the oil for 10 days. (The leftover oil makes an excellent body oil). Measure out 1 tbsp. of infused oil.



Add the oil to the 8 oz. bottle.


Add the aloe vera gel and liquid castile soap. Shake vigorously.


Shake the bottle before use. Spread the foam over damp skin, making sure you don't get any in your eyes. Shave using a sharp, clean razor. Dry your razor when you're done to help keep it sharp longer.


Join the Conversation
Sign in or become a Seamwork member to comment on this article.