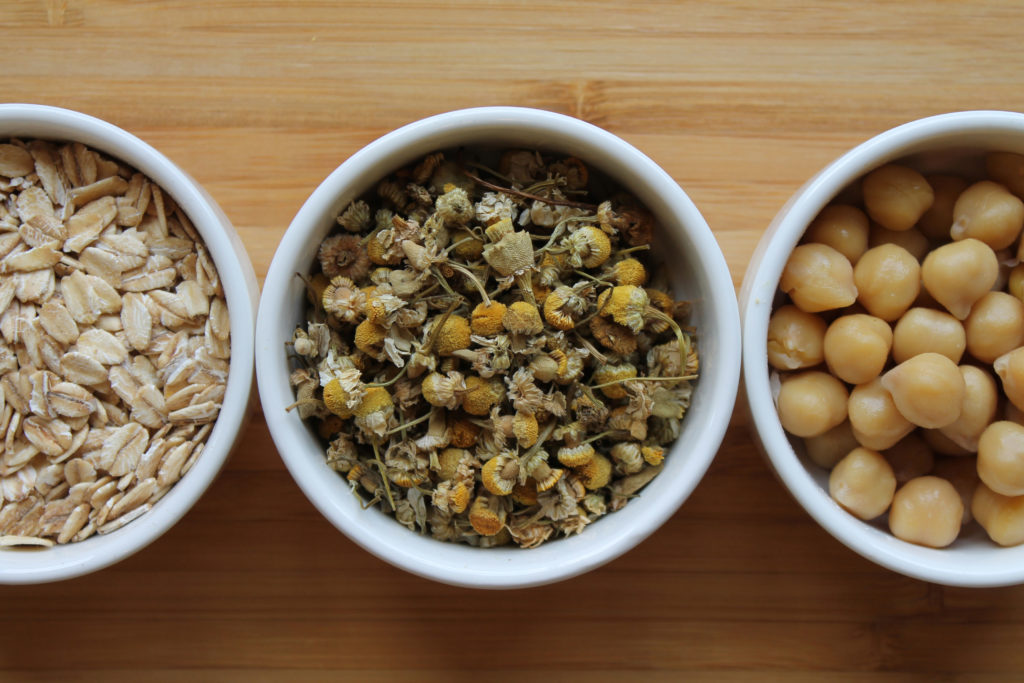 This powdered face wash has become a staple for me. It's inexpensive to make and very gentle, leaving skin clean but not dry. Its cleansing power comes from saponins, chemical compounds that are found in oats, chickpeas, and many other plants. Powdered milk offers moisturizing fats and lactic acid, which helps clear pores and soften skin. This recipe includes dried chamomile and calendula petals to soothe skin and discourage acne, but you can customize your own mix by adding powdered clays or other skin-safe herbs.
You'll need:


Cleanser base (makes about 1 cup)


1/2 c. chickpea flour (also called gram or besan)


1/4 c. oat flour


1/2 tsp. ground turmeric


2 tbsp. powdered milk (goats milk or buttermilk is best, but whole milk can also be used)


A clean glass bottle with a narrow neck and tight-fitting metal lid


A clean jar and lid for storing any extra powder


A medium-sized pot for sterilizing your bottle and jar


Tongs for removing the bottle


Optional herbs:





2 tbsp. ground chamomile


2 tbsp. ground calendula petals


If needed, a small blender or clean coffee grinder


How to Make:



Fill the pot 3/4 full with water. Add the bottle, jar, and both lids, making sure they're covered by the water. Boil for 10 minutes, to sterilize.




Using the tongs, remove the bottle and lid and allow to dry completely (any moisture will turn your cleanser to dough!).




In a clean dry bowl, combine the chickpea flour, oat flour, turmeric, and powdered milk. If oat flour is hard to find, you can make your own by grinding unflavored instant oats in a small blender or clean coffee grinder. Blend the oats until the powder is as fine as possible. The ideal texture for this cleanser is soft and fluffy, not gritty (don't worry if the powdered milk seems gritty—it will dissolve in water).




If desired, add your optional herbs. Again, grind them as fine as possible. Mixing the herbs together before you grind them will help the calendula petals break down.




Mix well, and then pour into your clean glass bottle. Store any excess in your clean jar.



How to Use:


Pull your hair back and pour 1/2 - 1 tsp. of powder into your palm.


Moisten the powder with a dribble of tap water, then gently smooth the liquid over your dry face in circular motions.


Keep your hands relaxed and the pressure light. Don't rub or scrub—most skin doesn't need daily scrubbing and looks better without it.


If the cleanser is too gritty, add a little more liquid. Rinse well with room-temperature water.


NOTE: If you use this cleanser on a daily basis, don't use more than 1 tablespoon of powder at a time. Your bathroom plumbing will thank you!
Join the Conversation
Sign in or become a Seamwork member to comment on this article.