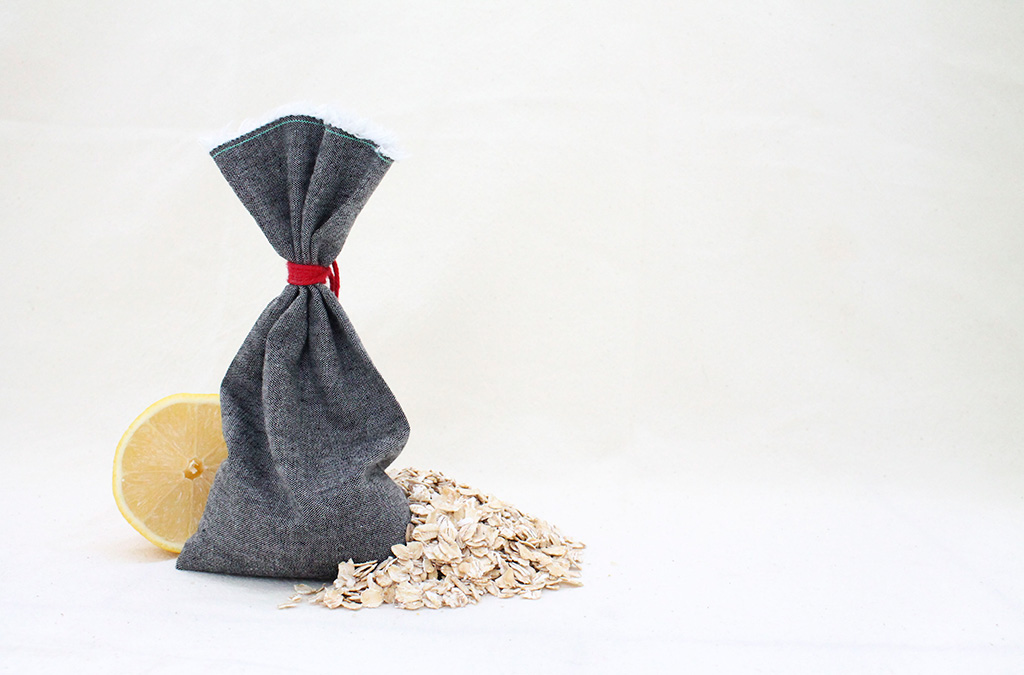 An oatmeal bath is a simple way to soothe itchy winter skin. Oats contain polysaccharides that protect skin from dryness, while their natural saponins gently cleanse. This recipe includes lemon zest and cinnamon, for a cozy fresh-baked scent.
You can use oat flour or regular oat flakes. Grinding the oats into flour helps them release their therapeutic qualities more efficiently, and it only takes a minute in a small blender.
Using a sachet prevents the oats from going down the drain, which could potentially clog it. Sewing reusable sachets are a great way to use up small scraps of linen and cotton. Use a lightweight fabric that isn't tightly woven; you want the oatmeal water to pass easily through the fabric, like tea in a teabag. Sachets are also a great place to test out French seams for the first time.
You'll Need:


1/2–3/4 cup ground oat flour


Zest of 1 lemon


1/4 tsp. ground cinnamon


1 cotton or linen sachet, about 6" x 8". Don't make your sachet too small—you want it to be roomy enough for the bathwater and oats to mix freely.


Twill tape or cotton yarn to hang the sachet from the facet (about 16")


Coffee grinder or small blender (if making your own oat flour)


Microplane


How to:


If necessary, make your own fresh oat flour by grinding oats to a fine powder in a clean coffee grinder or small blender. If you use a coffee grinder, clean it well with dish soap first, or your oats will smell like coffee.


Zest the lemon, using a microplane or small grater.


Combine the lemon zest and oat flour in a small bowl. Add cinnamon and stir. In the future, you can use up to 1/2 tsp. of cinnamon if you desire a stronger scent, but err on the side of caution -- too much cinnamon will irritate the skin, and its potency can vary depending on its age and source.


Pour the mixture into your sachet and tie securely shut.


To use, hang the sachet from the faucet while you draw a warm bath. Squeeze the sachet occasionally to release the oat water and fragrance. The water should be comfortably warm, but not hot. Hot water will only irritate itchy skin further. Soak for at least 20 minutes.


After soaking, pat yourself dry gently, or you can rinse your skin with a quick tepid shower.


Discard the oat mixture and rinse your sachet well.


Join the Conversation
Sign in or become a Seamwork member to comment on this article.