There are many reasons why you might want to buy less clothing. For example, you might want to reduce the environmental footprint of clothing production, break the fast fashion cycle, or curb some psychological reasons for shopping. But you also might just be tired of buying clothes that don't fit right. Or, you might want to buy fewer things to invest in pieces that will last.
Here are 7 simple tips to be more intentional about what clothing you add to your wardrobe, so you can feel good about everything you own. Some of these tips are practical, and others are introspective—a combination that will help you think more deeply about what you buy.
If you want to hear more about these tips in detail, listen to episode 103 of the Seamwork Radio podcast.
7 tips for buying less clothes
1. Question the reason why you shop.
Do you shop for trends every season? Is it boredom? Are you chasing Dopamine?
The first step to buying less clothes is to figure out why you are buying too many clothes. Examine the things that give you the urge to shop.
If it's sales and trends, you might question the brands you're shopping. Clothing brands, especially fast fashion companies, pressure you to consume and consume. They benefit from making you feel like you have to reinvent yourself.
If you're bored, look at what you're doing when you get the urge to shop. Are you browsing Pinterest, or are some ads piquing your interest?
Don't discount the psychology of fashion—the fashion industry profits when you question your identity. If you feel insecure, you're likely to pursue a stronger sense of self by buying more and trying on different personas via clothing. The more you disengage from that, the more you'll get to know your true, authentic self.
There are books out there that can help you understand the relationship between Dopamine, a tricky feel-good-chemical in your brain, and shopping for clothes. The Psychology of Fashion explores the many ways that fashion ties to your sense of self (and therefore to several psychological experiences) and The Molecule of More untangles how Dopamine causes you to want more, more, and more.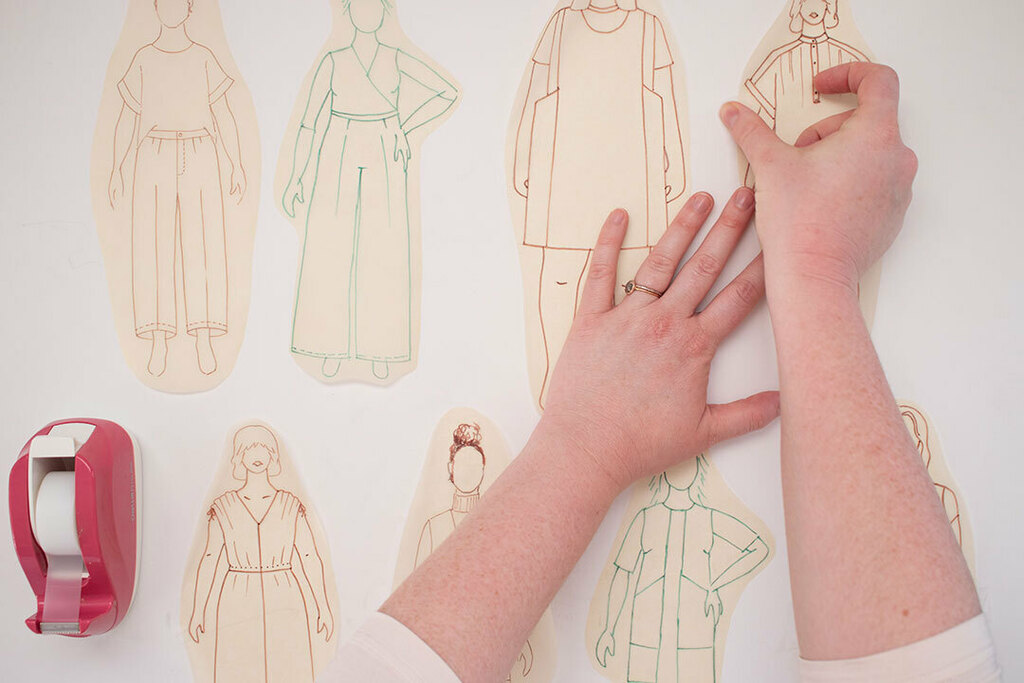 2. Find a wardrobe planning method that works for you.
You might not be a planner, but even a little planning can help you buy less clothing.
If you thrive with a wardrobe plan, everything you need is in our Design Your Wardrobe course. This course walks you through a process of designing a collection of projects for a season. Our step-by-step method helps you to think holistically about your wardrobe. With videos, worksheets, creative exercises, a planner, and a private community to support you, you'll create your own personalized queue of projects for the next 3–6 months.
Wardrobe planning can also quickly break a shopping cycle. If you want a fast and easy version of Design Your Wardrobe, download our free sewing planner. If you're a visual person, you can make a mood board to explore your style before you shop. And if you need a tool to use on its own, try the rule of three outfits. There's an article here and a podcast episode here.
3. Come up with criteria that your clothing needs to meet.
This is just one of the exercises from Design Your Wardrobe, but it works really well on its own. Come up with criteria that your clothing needs to meet, so you can eliminate things you don't need before you even buy them. For example, set criteria for your lifestyle. Do you work in an office or need sturdy clothes for the outdoors? Do you have to run to daycare twice daily, or do you need to dress up often? What criteria must your clothes meet to fit your lifestyle?
You can also consider the cost per wear (and we have a free downloadable budget worksheet here) to ensure a garment is worth buying or making. Is it worth it if you only wear it a few times?
Set 3-5 criteria that your clothes must meet, and the next time you shop, make sure you can check off the entire list.
4. Declutter.
When you declutter, you know what you have and what you really need. Decluttering also gives you clarity about what you are actually wearing.
Set a calendar date to declutter every season. Once you have your piles of yes, no, and maybe, examine each. Why do you consistently wear the clothes in the "yes" pile? What do the "no" clothes have in common? And how could you change the "maybe" clothes to make them better for you?
5. Create outfit formulas.
A big part of shopping is decision-making, whether it's impulsive or time-consuming. There's a simple formula to solve this issue—and it's to actually create a formula. Outfit formulas are simple combinations of different garments that pair well to create an entire look. So rather than always trying to put together an outfit from scratch, you can quickly pull garments that complete your favorite formulas.
Read this article (and watch the video) for some examples of outfit formulas using Seamwork patterns. You can create your own formulas or borrow some of these!
Another trick to making outfit formulas is to identify the silhouettes you love to wear the most. Read this article for a step-by-step way to find silhouettes you love to wear.
6. Make a wishlist.
Having a wishlist curbs impulse buying—and you can get an inspirational mood board at the same time. If you keep a list of things you want and need, just stick to your list anytime you feel like you need to shop.
If you use Pinterest to keep your list, you'll create a mood board simultaneously, but you can also use note-taking apps like Notion or planning and project management apps like Trello.
7. Ask yourself, what really makes me cherish this piece of clothing?
If you get introspective about your clothes, you will understand your personal style and cultivate a stronger sense of your identity. Instead of seeking clothes outwardly, you'll seek them inwardly, based on how they make you feel, the criteria they meet in your life, and why you love to wear them.
Clothing brands and fast fashion don't push overconsumption and expose your insecurities for your benefit. It's for theirs. Luckily, sewing can be a great antidote, because it allows you to explore and play and have fun with your clothing and identity without necessarily buying as much stuff.
Love the article? Pin it for later.
Join the Conversation
Sign in or become a Seamwork member to comment on this article.