I love that you're thinking about mixing up your style! What a fun adventure you're about to embark on.
I guarantee you're not alone in having a casual staple wardrobe for daily dressing. I've also spent most of my life in jeans, and I've been slowly adding new fancier items to my closet over the past 5 to 10 years. You heard that right. I move real slow! And so can you, which should help you manage any uncomfortable feelings about being overdressed.
Now, I'll answer the question, "Do you have any advice on how to create a nicer wardrobe without feeling overdressed?" with three ways to approach a wardrobe upgrade and three ways to avoid feeling overdressed.
3 Ways to Approach a Wardrobe Upgrade
Start with a single garment or outfit, not with your full wardrobe
If you're feeling hesitant about changing your style, I find it comforting to remember that there's no need to rush into a complete wardrobe overhaul. You need different kinds of clothes for different reasons, so think about a special new garment that you could add to your existing closet. Maybe a silk button-up would be a nice way to dress up our favorite jeans, or maybe try adding a dress into the mix?

Pick a place or situation to wear your new garment
Since you're worried about feeling overdressed, plan where you'll wear your new garment before you decide what to actually make. This will help ensure you don't sew something that you'll feel totally uncomfortable wearing. For example, if you decide to make a garment for a night out with friends, that'll guide you towards a certain style compared to if you decide to make a garment to wear into a business office or out for a day of running errands. You can wear fancier clothes to all of these places and realize that their relative level of fancy differs.


Use inspiration to help you choose your garment or outfit
Now it's time to turn to the Internet to help you decide what exactly to make. Personally, I have a difficult time visualizing outfits I want to make and wear. So I've developed a habit of using fashion images as references. I might search for "maxi dress" or "floral trousers," and from there, I'll find an existing garment I like to recreate. Designing from scratch stresses me out, so I don't do it!


3 Ways to Not Feel Overdressed
Now that you have a way to approach sewing fancier clothes, let's talk about how to overcome those feelings of being overdressed when you wear those fancier clothes.
Feeling overdressed is really about being different and standing out in the crowd

So far, I've worked hard to reference how we might feel overdressed, not that we ARE overdressed. The concept of being overdressed is about being dressed differently than others around you. While there can be consequences for doing things differently, it really doesn't matter if you wear a ball gown to go grocery shopping. For me, the real feelings about wearing a ball gown to the grocery store are about standing out and about being judged by others. "What will people think of my outfit?" "Will people call me weird?" "Will people think I look ugly?"

If you have thoughts like these, I invite you to think of me when these thoughts pop into your head. I want you to put on that fancy outfit and ask yourself, "what would Jenny think of my outfit?" And here's my answer to your question: if it makes you feel good, I think it's the most amazing outfit you've ever made and worn!
Wear your new garment out and remember that your feelings about you are more important than anyone else's feelings about you.
Change is hard to approach and easy to get used to
While dressing in a new way can feel stressful, people are good at adapting and getting used to new things. You might feel uncomfortable the first time you wear a dress out instead of a flannel shirt. I promise, by the third, fourth, or fifth time, you're not going to think anything of it. The first time you put on your new outfit, you've already jumped the first hurdle to shifting your style.
No one actually cares about what you're wearing
And last, a reminder that everyone is so preoccupied with our own fears, doubts, and insecurities that other people don't have much energy to spend thinking about what you are wearing. So while you might get a few stares wearing a tuxedo at the gym, people aren't going to linger on what you're doing for too long. They're too busy worrying about themselves.If you'd like more thoughts on a similar topic, check out my article How to Break Out of a Style Rut and Wear Something New.
Love the article? Pin it for later.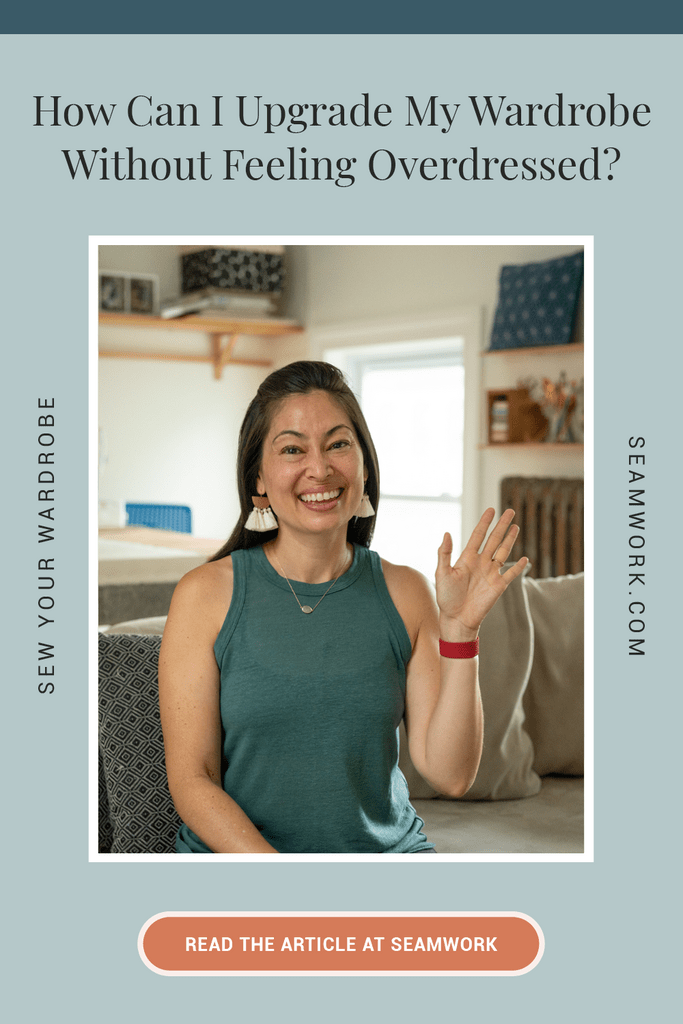 Join the Conversation
Sign in or become a Seamwork member to comment on this article.