Have you ever wondered how to add shirring to your sewing project?
In case you aren't familiar with shirring, it's rows of machine stitching that cinch your fabric to add texture and shaping to your clothes. You can shirr on waistlines, across the chest, and at any hems (especially sleeves).
No pattern alterations are required to create this breezy blouson effect.
Watch the video or keep reading to discover how to add shirring to your sewing projects. Here's what you'll learn:


What is shirring? Is it the same as smocking?


What patterns and fabric work for shirring?


How do you shirr?


Troubleshooting tips


What is shirring?
When you shirr on your machine, you're essentially just sewing rows of stitches that are 1/2" (12 mm) apart. The trick is that you're using elastic thread in your bobbin and all-purpose thread in your needle.
The elastic thread evenly gathers the fabric between the rows of stitches, creating texture and elasticity and cinching your garment in after you give it a quick burst of steam with your iron.
You can add shirring to any part of a garment. It's most commonly used to create shaping at the neckline, bust, or waist, like here on the Carter dress.
What patterns and fabrics work for shirring?
When picking out a pattern, look for ample ease—at least 10" of ease in the area you will be shirring.
The lighter the fabric, the more effective the shirring. It can reduce the garment's width by about half. Great fabrics to shirr include voile, double gauze, lawn, and rayon challis. Avoid heavier fabrics such as flannel, canvas, and wool suiting.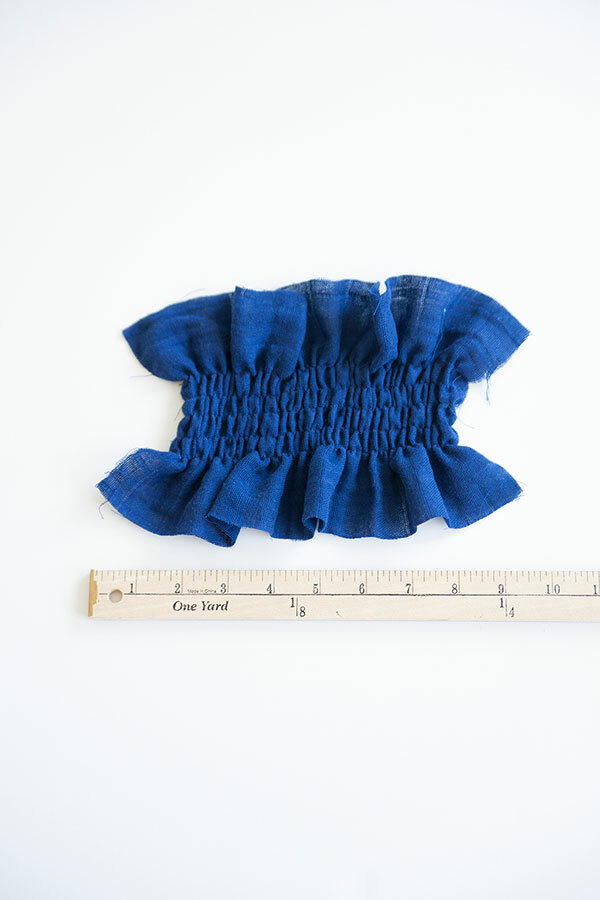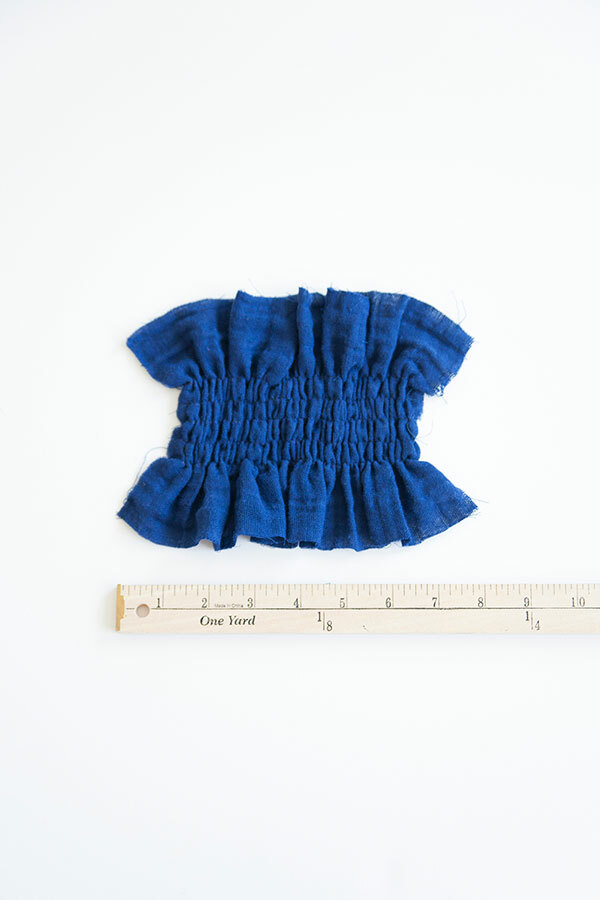 You can add shirring to an entire length of fabric before you sew, but it might be easier and more accurate to add it to your cut pieces, so you control exactly where the shirring gathers.
How to shirr
You'll Need:


Elastic thread (for your bobbin)


Regular thread (for your top thread)


A water-soluble marking tool


A clear ruler


(Optional) A walking foot to help keep your stitches consistent


Heads up—most of the work for shirring is in set-up and experimentation. Once you get your settings right, all you have to do is stitch. So focus on testing on a swatch before moving on to your finished project.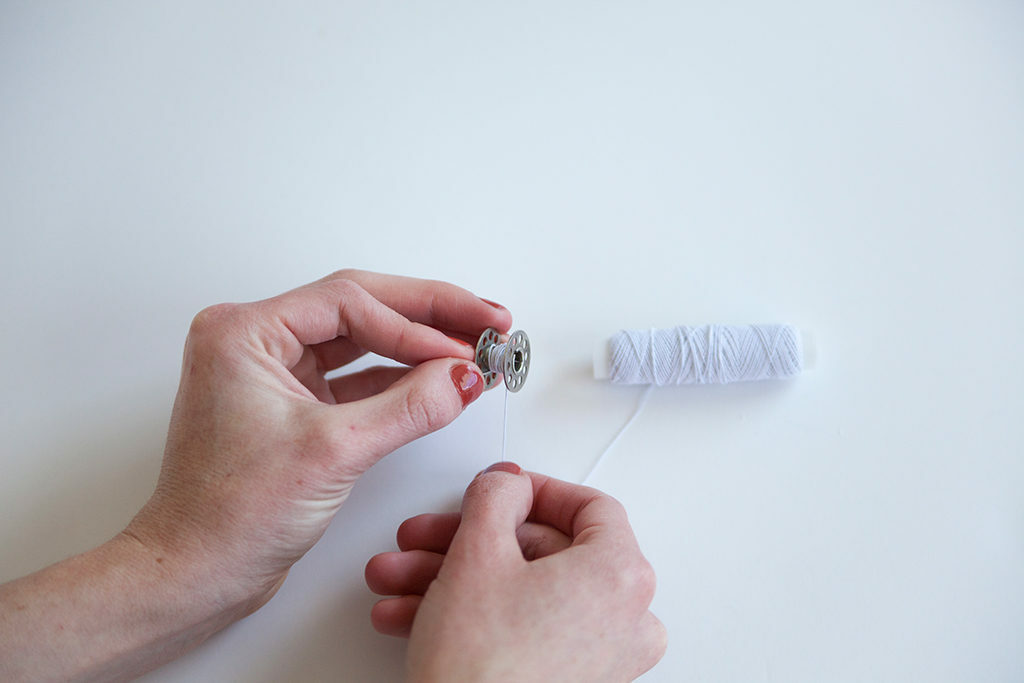 First, get your bobbin all ready. To do this, wind the bobbin by hand with the elastic thread. Should you stretch as you wind? Maybe just a little, but it really depends on your machine's tension. You might not know until you start sewing test stitches.
Tip: If you're doing a lot of shirring, wind more than one bobbin so you don't have to interrupt your sewing flow to refill another one by hand.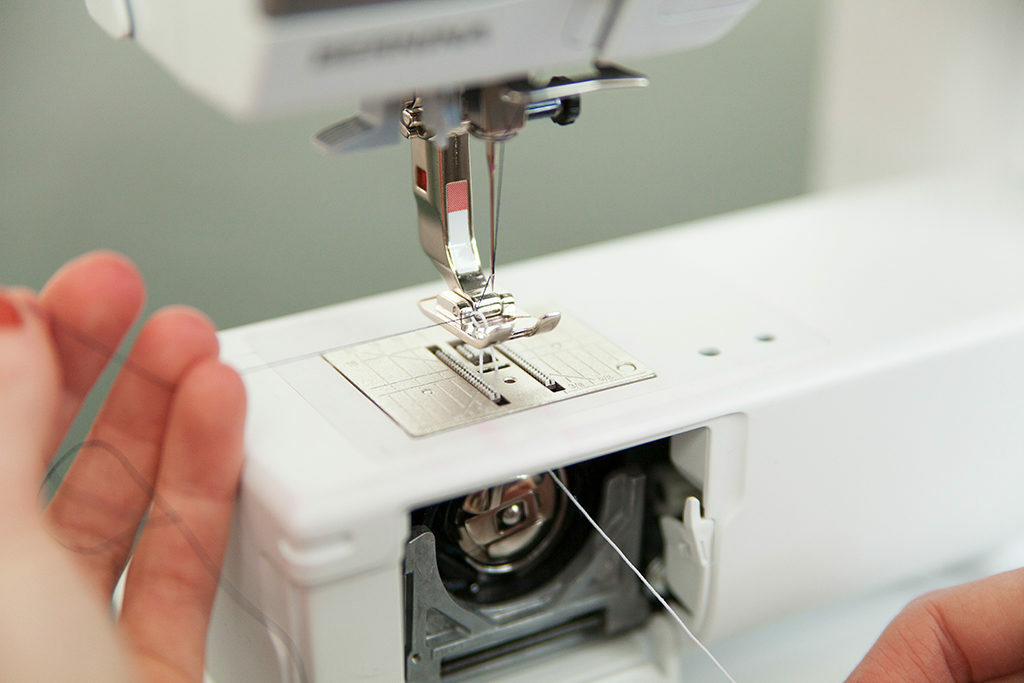 Once your bobbin is in your machine, thread the needle with all-purpose thread. Pull up the elastic thread and then pull both threads away from your machine to leave a long tail. Why the tail? Your machine will want to suck that elastic thread back in as it sews. Leaving a thread tail ensures you won't get nesting as you start stitching.
Next, select a long straight stitch on your machine, about 3-4 mm. Why the long stitches? The fabric gathers between each stitch as you shirr, so a longer stitch length creates more shirring.
Once your test swatch looks good, you're ready for the easy part—the actual shirring!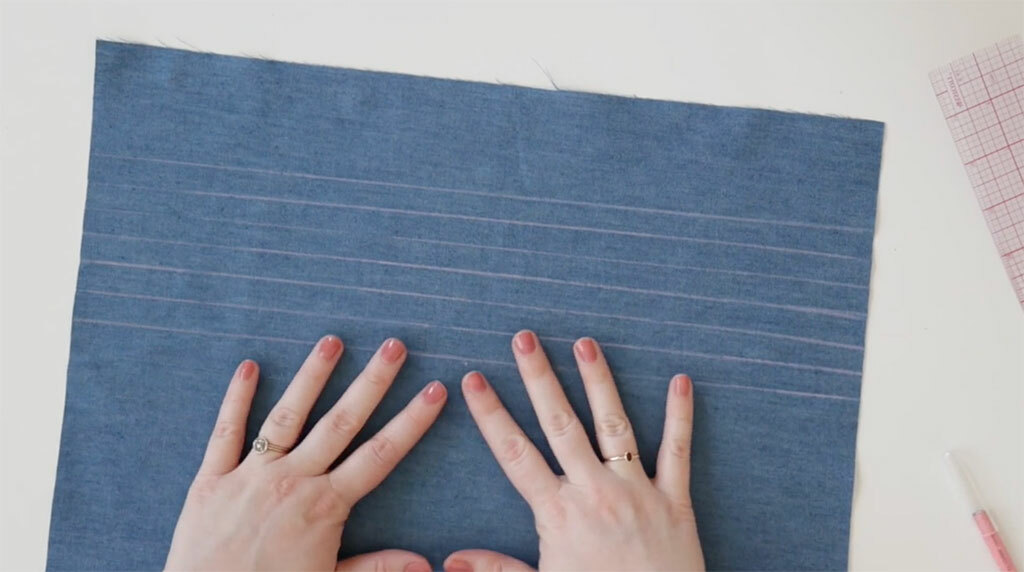 Use a water-soluble marking tool and a clear ruler to draw shirring lines 1/2" away from each other.
Tip: If you're sewing shirring on the front and back bodice pieces, draw the lines equal distances away from each other and the marking at the armhole. Then your shirring will line up at the side seams.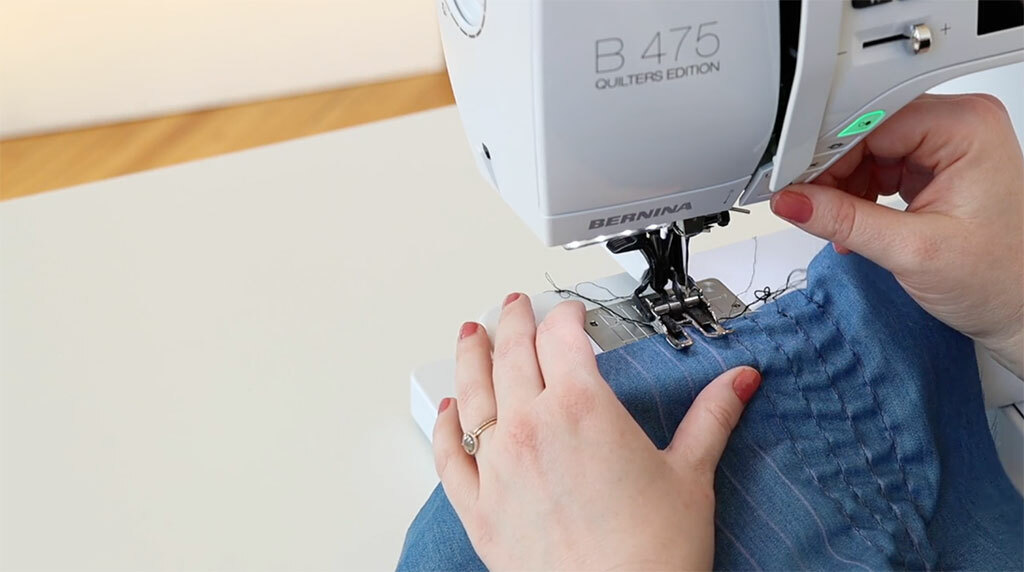 Sew each with a generous backstitch at the beginning and end. Why a generous backstitch? Your elastic thread might want to snap back into place, which will undo the stitches. Backstitching secures it.
After a few rows of stitching, you should start to see your shirring go into effect. But there's one more trick when you're all done!
Hover a hot steam iron slightly above your shirring and give it a few blasts of steam. The gathers will magically condense, creating tight rows of shirring and transforming the fabric's silhouette.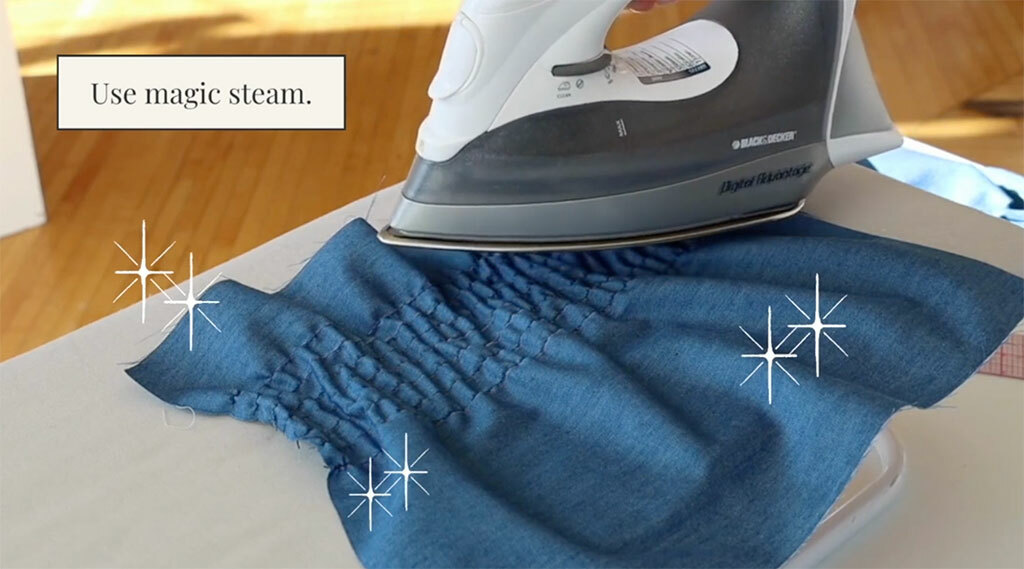 Watch the video to see a piece of fabric cinch up in real time. It's so satisfying.
Now you're ready to sew all your pattern pieces together to get the full effect.
Have any questions about shirring? Or have you made any cool projects with shirring? Post a picture in the comments!
Join the Conversation
Sign in or become a Seamwork member to comment on this article.