The moment you figure out how to dress for a season, that season is over, and you have to dress for totally new weather.
It's even worse in the spring because the weather seems to change in a single day. Sun one minute and wind and rain the next.
In this YouTube video, Sarai and Haley show you how to dress for spring when the weather can't make up its mind.
They'll share six different outfits for three different weather scenarios:


When it's hot and cold on the same day


When it's wet and dry on the same day


And when you face your outfit's worst springtime nemesis: wind.


What to wear when it's hot and cold
When it's going to be both hot and cold, and you're not exactly sure what the weather's going to do, dresses and tights are a smart outfit formula.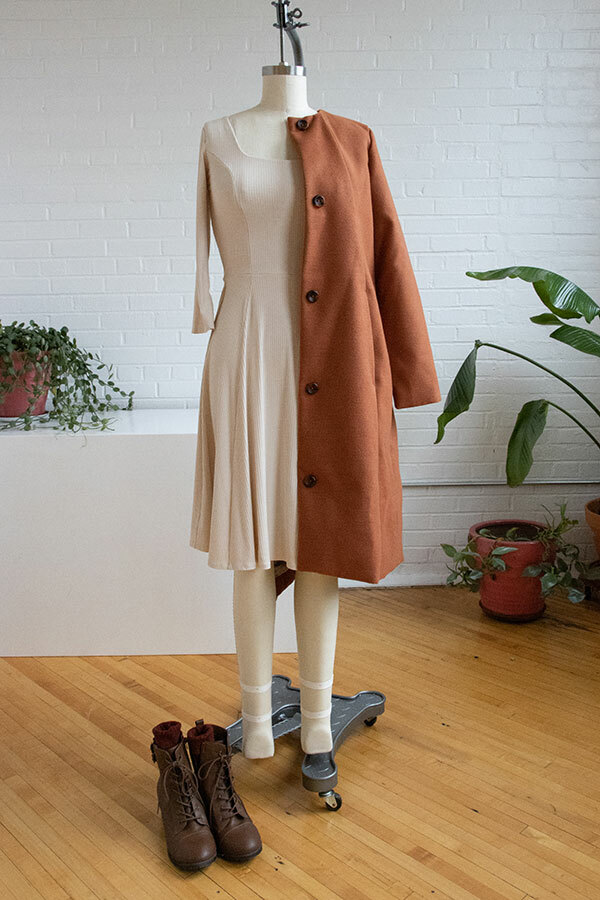 This is the Luxy dress, which has 3/4-length sleeves for a bit more coverage. If you pick a rib knit or French terry, you'll stay cozy, but the skirt will help keep you from getting too hot.
Layer the dress under a coat, like Denise, and you're good to go.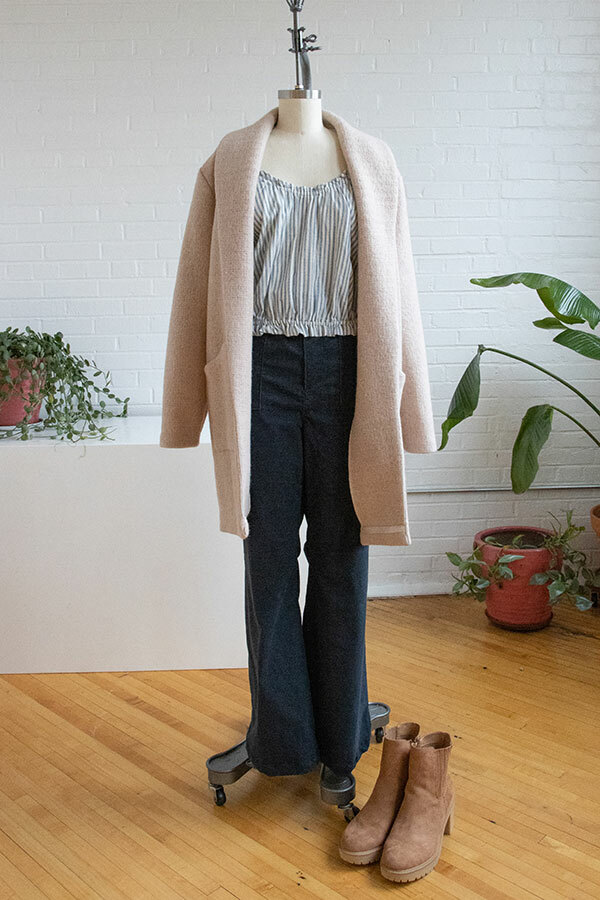 The base layer in this outfit is the Madhu top, which has a very springy look, especially if you sew it in a print or stripe. Layer it with the Chelsea jeans and a cozy coat or coatigan, like Jill.
What to wear when it's wet and dry
Here in the Pacific Northwest, the sun and rain clouds like to play cat-and-mouse games all in one afternoon. So here's how we dress for unpredictable drizzles.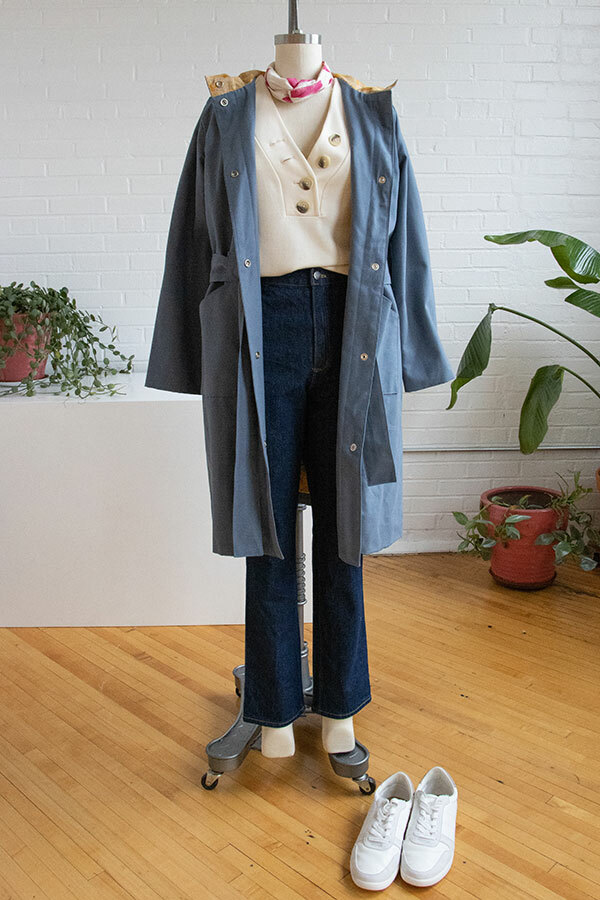 Start with a long-sleeved knit top with a little flare along the neckline. This could be a scoop neck, sweetheart neckline, or this fun button detail on the Vicky sweater. The neckline on this top is the center of your outfit.
Pair your top with your favorite pair of jeans, like Tessa.
And then add a lightweight jacket. Make sure your jacket has a hood. This is the Francis coat.
This is a very common Pacific Northwest outfit for spring weather: jeans, a top with a fun detail, and a rain jacket thrown over the top to keep dry. It's no fuss and easy to wear and repeat.
From there, all you have to do is accessorize. A scarf around your neck is helpful in the rain. This is actually the Drew headband, which you can also wear in your hair to help with frizz.
Styling tip: Tie your raincoat at the front so you can see the layers you're wearing underneath. There's no need to button it until it really starts to rain. You can even tie in the back if it's warm and rainy.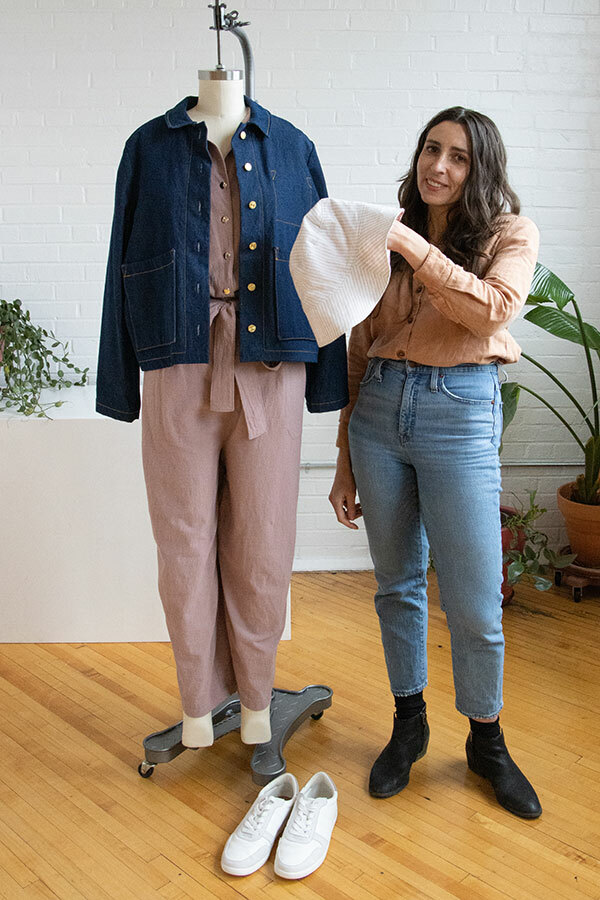 Here's an outfit you can wear on days when it's just lightly drizzling — and you can keep a rain jacket or a rain hat, like Rey in your car or at your desk.
Jumpsuits are easy, one-garment outfits. The Campbell jumpsuit has a classic silhouette that you can easily dress up, or play around with a workwear look by layering it under the Rhett
What to wear when it's windy outside
It's hard to look polished when it's windy outside, but here are a few tricks to keep you comfortably tousled.


Watch out for wardrobe malfunctions. Steer clear of breezy silhouettes.


Pick outer layers that have waist ties.


Denim tends to fare well in the wind.


A blazer is never a bad idea.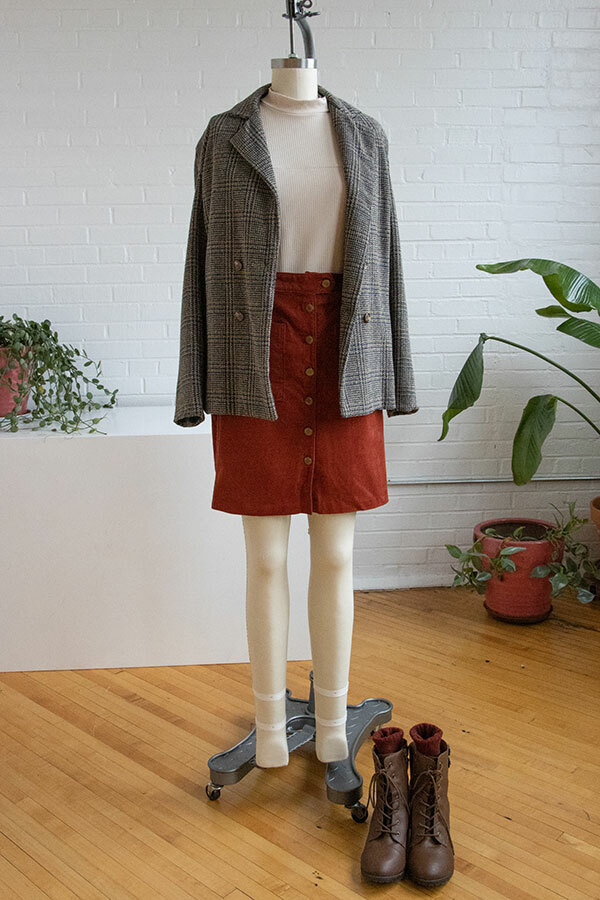 This is the Leonora in corduroy. You might not think of corduroy as a fabric to wear in spring, but it's a great way to repurpose some of your autumn clothes. If you want help sewing with corduroy, read this article.
A straight skirt like Leonora looks really chic with a form-fitting top. This is the Jenny top, which has some coverage, but you can sew it in lighter-weight knits.
Layer the Keaton blazer on top, and you have a smart look that will hold up in the wind. A straight skirt, fitted top, and a blazer is a great outfit formula for the spring.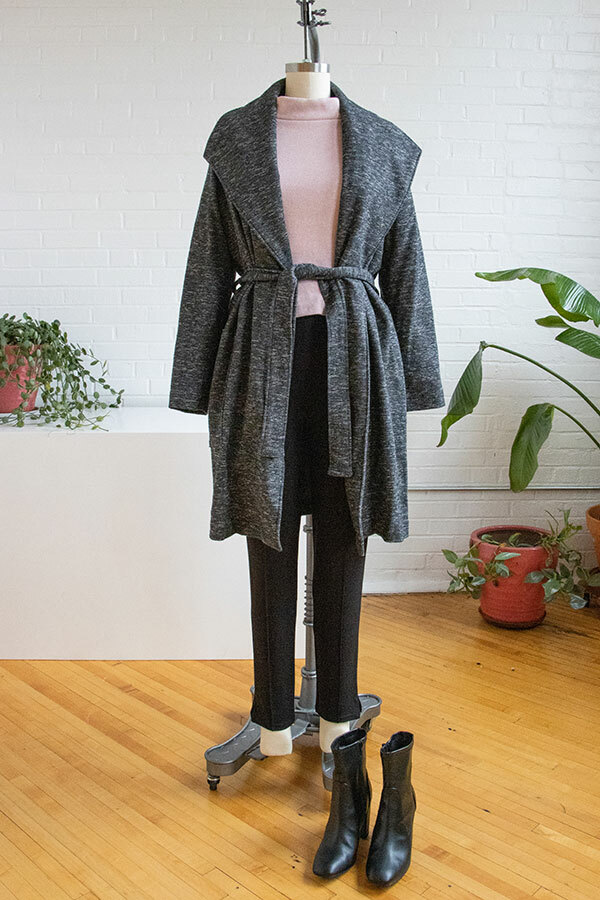 Another outfit formula that will help you feel less frazzled in the wind is a cozy sweater, fitted pants, and a coat or jacket with a waist belt.
This is the Oliver sweater, Dexter pants, and Baz coat. Nothing in this outfit will blow around too much, so you'll still look great at the end of the day.
Do you have any favorite outfit formulas to wear in the spring? Comment on the YouTube video and let us know!
Join the Conversation
Sign in or become a Seamwork member to comment on this article.