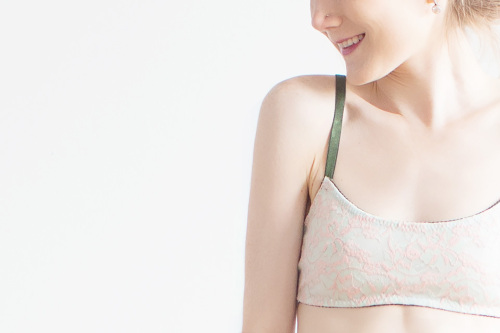 It seems so simple: elastic that isn't white, black, or cream. For most of home sewers, getting the perfect hue to match our sewing project is all too elusive. What about light pink, turquoise, charcoal, or chartreuse? Is sage too much to ask for? Sure, you might be able to source the random hot pink fold over variety, but in my experience, the quality is sub-par.
By nature, we sewers are people who take charge. Isn't that why we got into this hobby? Just like all other aspects of a project, getting that perfect tint requires you to take the bull by its horns — dye the elastic yourself! Yes, you might need a pair of gloves, but this science project doesn't require the brain of Einstein. All you need is the right knowledge, resources and steps, which are outlined below. I call it the sacred writ of dyeing elastic.
All about elastic
Before customizing your elastic, make sure you've picked out the right kind for your project.
What is elastic?
Elastic is made from a series of rubber or stretchable synthetic cores that are most often wrapped in polyester, cotton or nylon, which is either braided, woven or knit together. Elastic is offered in a variety of thicknesses, widths and amounts of stretch. It can be threaded through casings such as on a pajama pant or stitched directly to fabric such as on a swimsuit. Both create fullness in a particular area, allowing movement but keeping the garment in place. Elastic quality and behavior are determined by the elastic's construction and fiber content. Good quality elastic stretches more than twice its length and then returns to its original measurement.
Generally, elastic is between 1/8" and 2 1/2" wide. Narrow elastic is often used in necklines, sleeves, swimwear, or lingerie. Elastic that is over 3/4" in width is more commonly used in waistbands.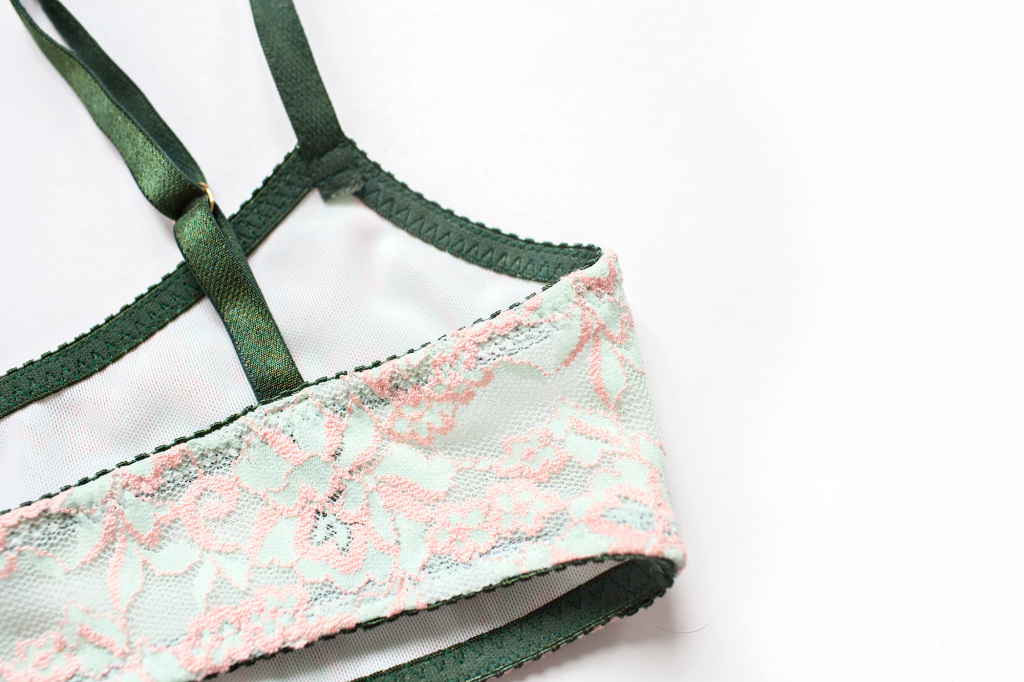 Use narrow dyed elastic on lingerie straps and trims to better coordinate with your fabric.
Common elastic sizes

Waistbands
3/4" to 2 1/2"


Necklines
1/8" to 1/4"


Sleeves
1/4" to 1/2"


Swimwear and Lingerie
1/8" to 3/4"

Types of elastic
Elastic is categorized by its fiber content and construction, and each plays a role in its behavior and end use.
Braided elastic: Used inside casings such as on pajama pants. It narrows when stretched and loses its stretch and shape when pierced or stitched through. Braided elastic has distinctive lengthwise, parallel ribs and is used primarily on sleeve hems, swimwear, and leg openings.
Knitted elastic: Soft, strong, and appropriate for most apparel items. Because it's lightweight, it's best used on lightweight fabrics. It doesn't narrow when stretched and it is not affected when pierced by a needle, making it suitable for direct application to fabric.
Woven elastic: Very strong and usually thicker than the other elastics. It's used on heavy weight fabrics such as home dec, car covers, bags, and accessories. It has both crosswise and lengthwise ribs. It does not narrow when stretched, nor does a needle piercing weaken it. Therefore, it can be used in casings or stitched directly to fabric.
Transparent polyurethane: Also called clear elastic. It is neither braided, knitted, nor woven. It is a synthetic product that stretches three to four times its length with complete recovery. It's most often directly applied to fabric; stabilizing shoulder seams is a popular use.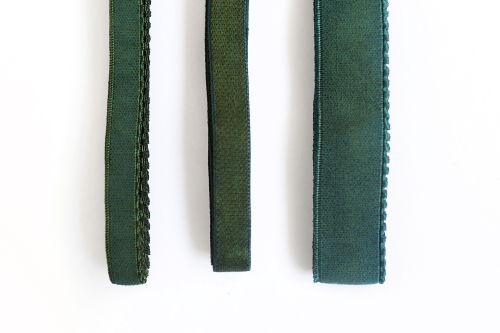 Elastic will take dye differently depending on its fiber content.
Elastic fibers
Nylon/rubber elastic: Has a soft luster and is used on swimwear and lingerie. It is machine washable, but should be dried in medium heat.
Cotton/rubber elastic: Shrinks, though not a lot, and should not be dry-cleaned. It is ideal for wash-and-wear fabrics and can be dried in medium to high temperatures. It is perfect for people who prefer wearing natural fibers.
Choosing elastic
Many types of elastic are meant for specific sewing tasks. As a general rule, select elastic that has the same care requirements as the finished garment. Also, refer to the packaging for information for its best use. Only use elastic that recovers to its original length after stretching. Braided elastic narrows when stretched, so only use it inside casings.
Tips forSewing Elastic



Use a ball-point needle; if elastic contains spandex, use a stretch needle.


Keep an eye on thread tension; you may need to adjust it when stitching elastic.


The elastic should be snug enough to prevent the fabric from drooping, but loose enough to be comfortable. To ensure comfort in garments, wrap the elastic around your body and pin it closed. Wear it for a half hour, and adjust the length as needed. Cut elastic the desired length plus 1" for finishing the ends.


Use a zigzag stitch when sewing elastic directly to fabric. This allows the stitches to stretch along with the elastic and prevents thread breakage.


Over time, elastic loses its original stretch and recovery. To reduce this problem, stretch the elastic a couple of times before cutting/sewing. Stretching prior to application allows the elastic to relax, and thus, you will have a more accurate fit to start with.


Store elastic out of direct light, especially sunlight; extended light and heat affects its lifespan. Many people store elastic by wrapping it around cardboard rolls, but be careful to not stretch the elastic as you wrap it around.



Dyeing Elastic

Elastic is different from natural fibers, but dyeing it can be just as easy.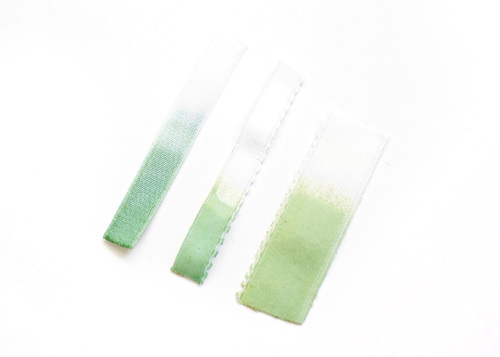 As I mentioned, elastic is made with rubber or stretchable synthetic cores and is a combination of rubber with polyester, cotton, or nylon. The most common type of elastic is nylon, and it is the one I used for this demonstration.
Nylon is a synthetic fiber, and it can be dyed with either acid dyes or disperse dyes. Chemist and dye artist Paula Burch writes in her nylon dyeing FAQ, "Both of these types of dye require the application of heat to fix the dye to the nylon, so be sure the item you are dyeing can withstand the heat called for in the recipe you choose." She points out, "This is a problem for nylon/Lycra blends, as the spandex fiber is heat-sensitive, made from polyurethane fiber. Use acid dyes on these blends, and carefully avoid stressing the fabric while it is hot, such as by twisting or stretching."
Acid Dyes

Acid dyes are often used on wool and animal fibers but,
according to Paula Burch
, can also be used to easily dye nylon. The chemist cautions that you should not expect the same results when mixing colors that you get on silk or wool.
Fiber Reactive Dyes
While Burch points out that fiber reactive dyes don't work well with nylon, adding acids such as vinegar along with heat allows this type of dye to function much like an acid dye.
All Purpose Dyes
"Most all purpose dyes, such as Rit dye and Dylon's Multipurpose dye, contains two kinds of dye, mixed together - 'direct' dye which does a fair job of dyeing cotton, and 'leveling acid' dye which will dye both wool and nylon," Burch writes. Because the direct dye portion does not work well with nylon, it makes sense to simply use an acid dye.
How to Dye using Acid Dye
You'll need:


Acid dye


Elastic


Stockpot


Spoon


Salt


White vinegar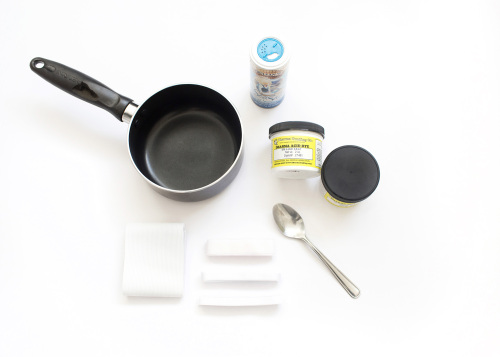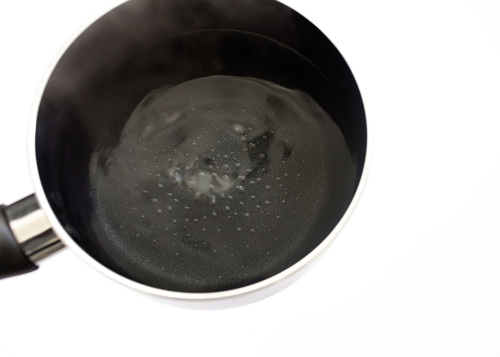 Step | 01


Fill stockpot with enough water to allow elastic to move freely. Bring water to a boil, then reduce heat so it is just simmering. Remember that extreme heat damages the quality of elastic. You can use a thermometer to accurately gauge the temperature, but I eyeball how the water is simmering. From my experience, barely a simmer doesn't ruin the elastic.

Note: Be sure to use a stockpot and utensils that are specifically for dyeing. Dyes contain harsh chemicals, and even if you wash afterwards, there could still be traces left.
Step | 02


Dissolve dye and a pinch of salt in water. The amount of dye needed depends on the amount of elastic you have and the opaqueness of color you want. Start off small, adding half a spoonful or so. Dip a sample of elastic in to test the color. Keep in mind that you're only dipping it in for a minute or so, so the color won't be exact (it will be a lot darker), but this is a good gauge to see if you are in the right color family. Continue to add dye until you reach the color you want. If you get a color that is too opaque, add more water to dilute.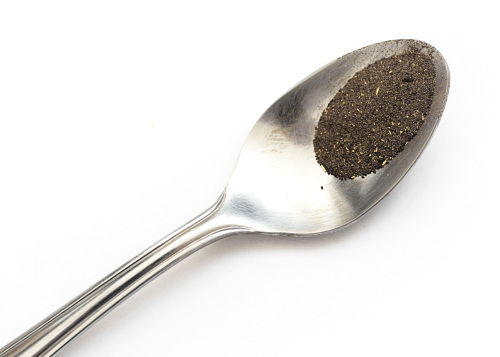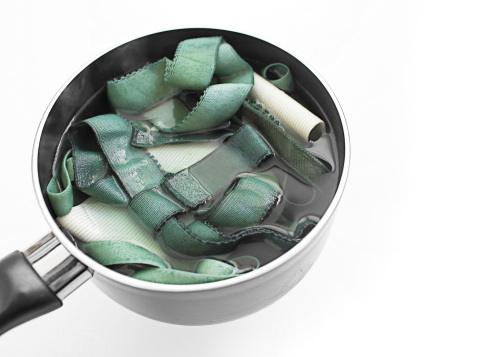 Step | 03


Wet elastic, then add to dye bath. By wetting, you will help the elastic pick up the dye when it is put into the pot. Stir occasionally for ten minutes. Add vinegar to the dye bath at a ratio of 3 Tablespoons per quart of water. Simmer for another ten minutes, continuing to stir.

Step | 04


Allow to gradually cool, usually about an hour or so. Sometimes, I leave it longer to help the dye set. As you can see, each elastic will dye a different shade, even if they're in the same dye bath. While the strap elastic became a dark green, the wide elastic became the lightest shade. This is just the nature of dyeing yourself, and personally, I think it's the fun part!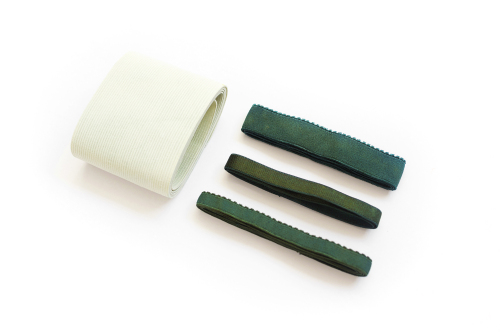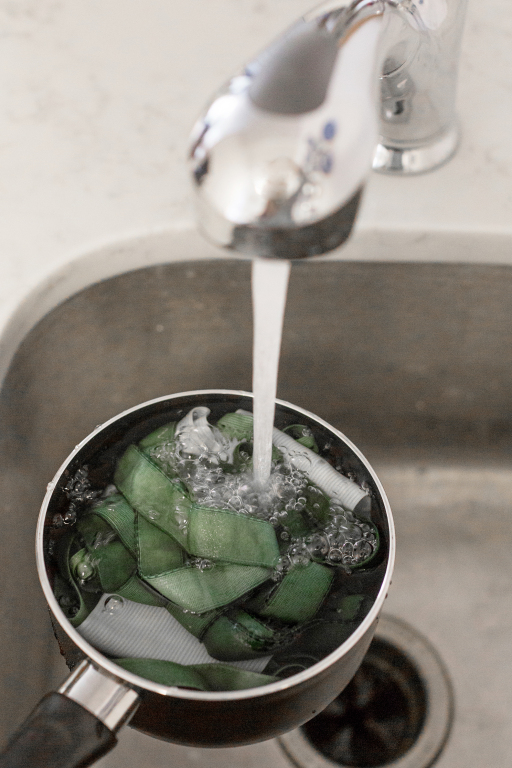 Step | 05


Rinse elastic until water runs clear, then hand wash or wash on delicate cycle in a machine to remove any remaining dye. Do not put elastic in the dryer — this will ruin it. Let it hang to dry.

Step | 06


Use elastic in intended project. You can use hand dyed elastic in bras, underwear, camisoles, or anywhere else that elastic will be a highly visible part of your garment.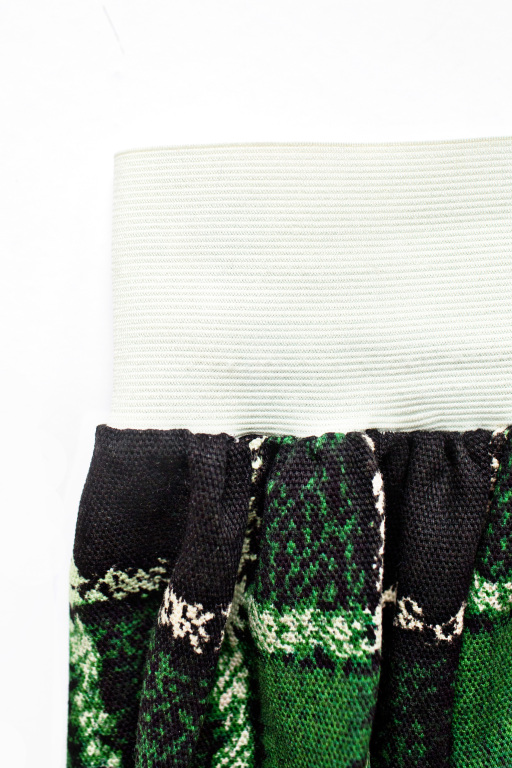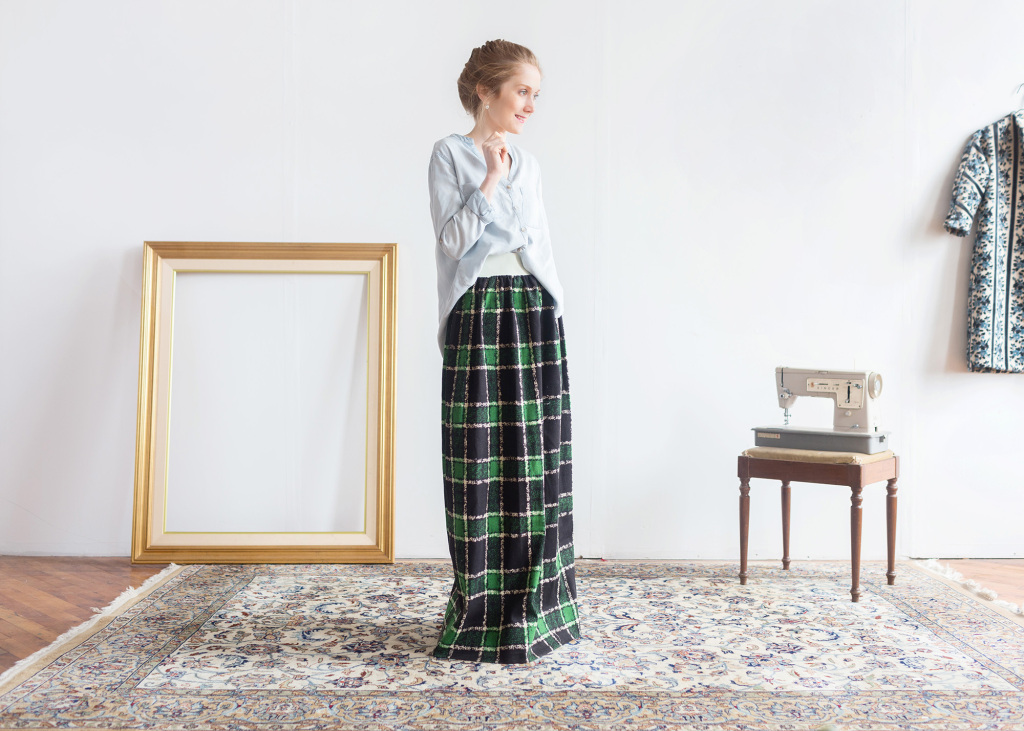 Wide elastic dyed a pale green compliments a simple gathered skirt in deeper plaid.
Ed. Note: An earlier version of this article was published with the vinegar missing from the dye recipe and without a link to Paula Burch's source website. The errors have been corrected.

Join the Conversation
Sign in or become a Seamwork member to comment on this article.