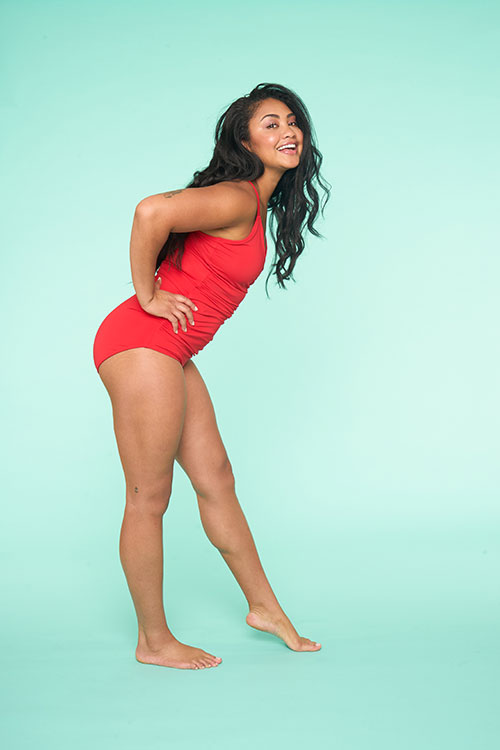 Does spandex make you nervous? If so, this article will help reassure you that spandex is here to support you, both in your body and your sewing.
Swimwear can sometimes seem like an unattainable project, and much of this has to do with the slippery, stretchy, vibrant-colored reality of swimwear fabrics. Since we added a new swimsuit pattern to the Seamwork catalog this month, we also wanted to help you get started with step one in your swimwear journey: fabric shopping. So put your all-natural fibers aside and get ready to shop for some Lycra.
What Makes Good Swimwear Fabric
Before you open your browser tab to spandexworld.com, take a moment to consider your pattern. Or, if you already found the fabric of your dreams, consider what you want in a swimsuit pattern.
Here are some things to keep in mind when planning your project.
Control
We're vulnerable in swimwear! We're not quite naked, but we are baring more to the world than usual, so it helps to feel secure in your swimsuit. Depending on your design, you might want a fabric that offers more—or less—control.
If you are sewing a sleek one-piece for doing laps, it helps to have a fabric that conforms to your body as closely as possible. It will keep you aerodynamic and free from the risk of bagginess or unwanted exposure while you swim. Look for a fabric with strong recovery—meaning that it snaps back to its original shape and offers some resistance—to give you the best control. If you are shopping online, check the fabric description for words like "recovery," "firm stretch," and "compression." And if you need to add more control to your swimsuit, consider lining it with power mesh—we'll talk more about that soon.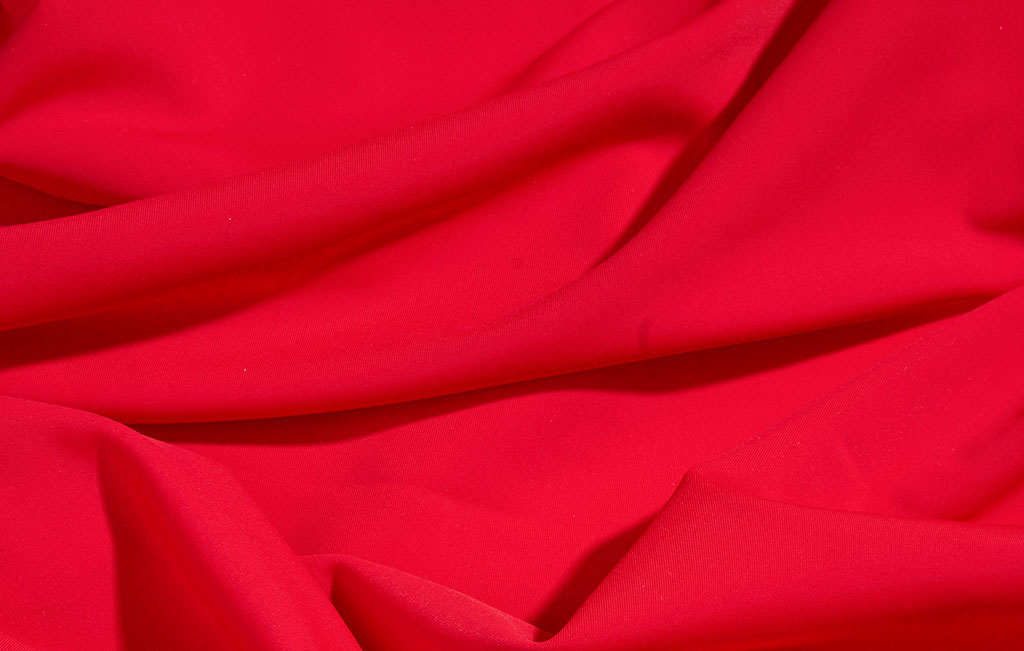 Colorful swimwear fabric from
La Mercerie
. You could use this solid color for your main fabric or your lining.
If you are sewing a ruched one-piece secured with a halter top, you might be planning to spend more time lounging and splashing rather than swimming races. In this case, you do not need as much control from your fabric. You can prioritize aesthetics, or even add some metallics, glitter, and sequins, too—all of which can affect how much control the fabric offers. These details in your fabric can change its fiber content and texture, giving it more stretch for comfort, and less recovery overall.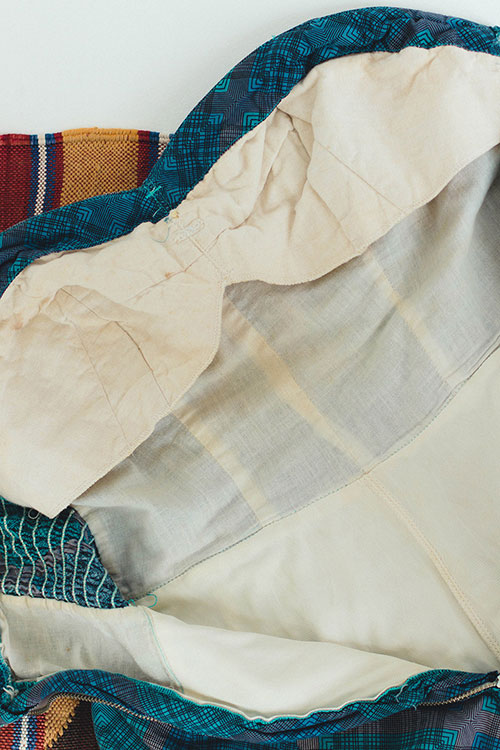 This
vintage bathing suit
is made from woven cotton poplin
and has a metal zipper. It looks great,
but it's not ideal for swimming!
Fiber Content
It's important to embrace synthetic fabric for your swimwear project. While we love the idea of a cotton bathing suit, it will retain so much water that you'll end up with a saggy bottom—two words that make most swimwear designers cringe. However, you can take a peek inside a vintage swimsuit made from woven poplin here if you want to see what it looks like.
If you are just getting started with synthetic fabrics, nylon and Lycra is a great blend for swimwear, so start there. By the way, Lycra is the brand name for a type of spandex.
Sandra Betzina takes it one step further and claims that the ideal fabric for swimwear is Lycra blended with Antron, Supplex, or Tactel, all brand names. And we trust Sandra's opinion on all-things fabric.
For Seamwork swimwear patterns, we recommend fabric mostly made from nylon, with at least 10-20% Lycra or spandex. You can also look for polyester blends with the same percentage of spandex.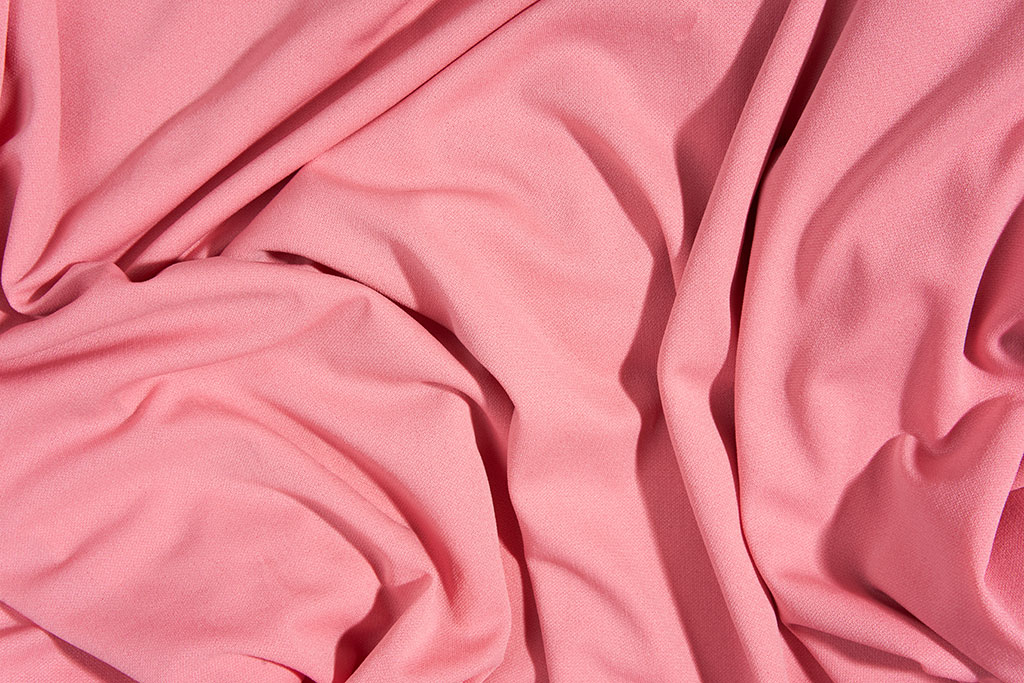 Tricot swimwear lining.
A note about tricot: You'll often see swimwear fabrics described as tricot. This refers to how the knit is constructed, rather than its fiber contents, so a tricot is simply a type of knit fabric. Feel free to use tricot made from either polyester or nylon, blended with spandex.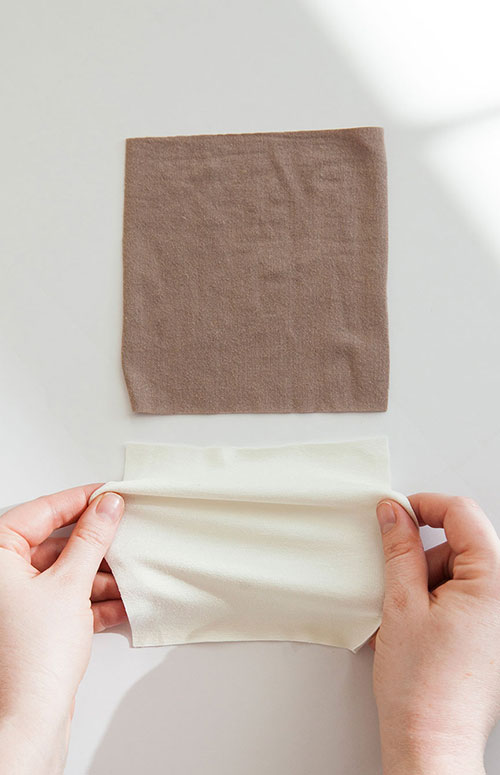 Stretch
Swimsuits have a lot of negative ease since they are designed to stretch to fit and move with your body. Take a close look at the finished garment measurement chart for your pattern. Then measure your body carefully and take a second look at the finished garment measurement chart for your pattern. Then, and only then, choose your size. It doesn't hurt to measure leg openings, ties, and length on the actual pattern pieces. You want to make sure your garment fits closely but isn't too tight or too loose. If you have a ready-to-wear swimsuit that you love, measure it for additional data.
Swimwear fabrics come in two-way stretch or four-way stretch. These terms are often used interchangeably, so heads up. Two-way stretch fabrics will stretch from selvage to selvage. Four-way stretch fabrics have stretch from selvage to selvage, in addition to stretch along the length of grain.
For one-piece swimsuits, you need that four-way stretch. However, if you are sewing a two-piece, you will likely be safe with two-way stretch. If you aren't sure, check your pattern's instructions to see if two-way or four-way stretch is specified. When in doubt, opt for four-way stretch.
These same rules apply to your lining, so make sure you match the direction of stretch for your lining and main fabrics.
Wait, I need swimwear lining, too?
You want to honor your fancy swimwear fabric with a good lining. After all, the lining sits next to your skin as you swim or sweat in the sun. Below are a few different linings to consider, but first, go for quality. If you choose a cheap lining fabric, it could wear out, run, or rip, which would feel very disappointing after all the work you put into sewing your own bathing suit.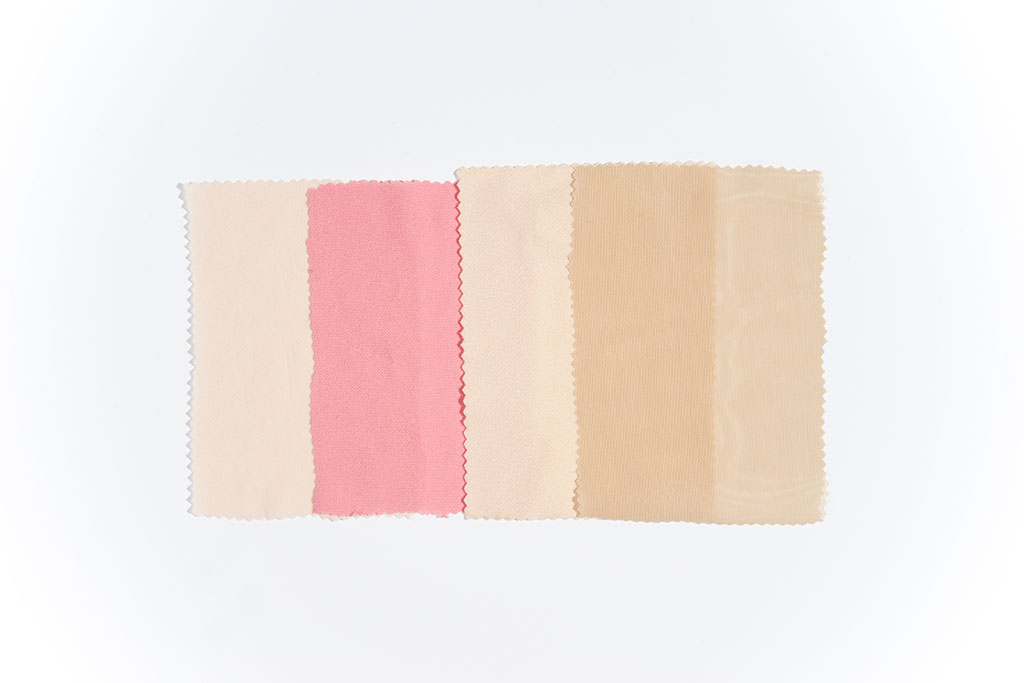 Swimwear lining fabrics. From left to right—tricot, pink tricot, nylon, and power mesh.
Once again, look for the same qualities in your lining fabric that you have in your main fabric, especially when it comes to stretch.
Power Mesh
Power mesh is a great option for adding more support to your swimwear, as it's often a nylon and spandex blend with four-way stretch and powerful recovery. You'll find power mesh in many activewear garments that require extra support and flexibility. This is a great choice to add control to one-piece swimsuits, or for two-piece swimsuits that rely on shaping. Note that power mesh might have less stretch than your swimwear fabric, so consider this when selecting a size.
Lightweight Swimwear Fabric
You can use your main fabric as the lining, especially if it is not too thick. Or you can keep an eye out for lightweight swimwear fabric, which can double as lining and is often available in solid colors. Many fabric shops will indicate if the fabric is suitable for lining.
That Stuff That's in RTW: 100% Nylon
You will notice on the tags of your RTW swimwear that the linings are often 100% nylon. This fabric will usually have mechanical stretch in both directions, so it does work for lining your bathing suit if you are using a fabric with 4-way stretch. It will also dry quickly, which is a bonus.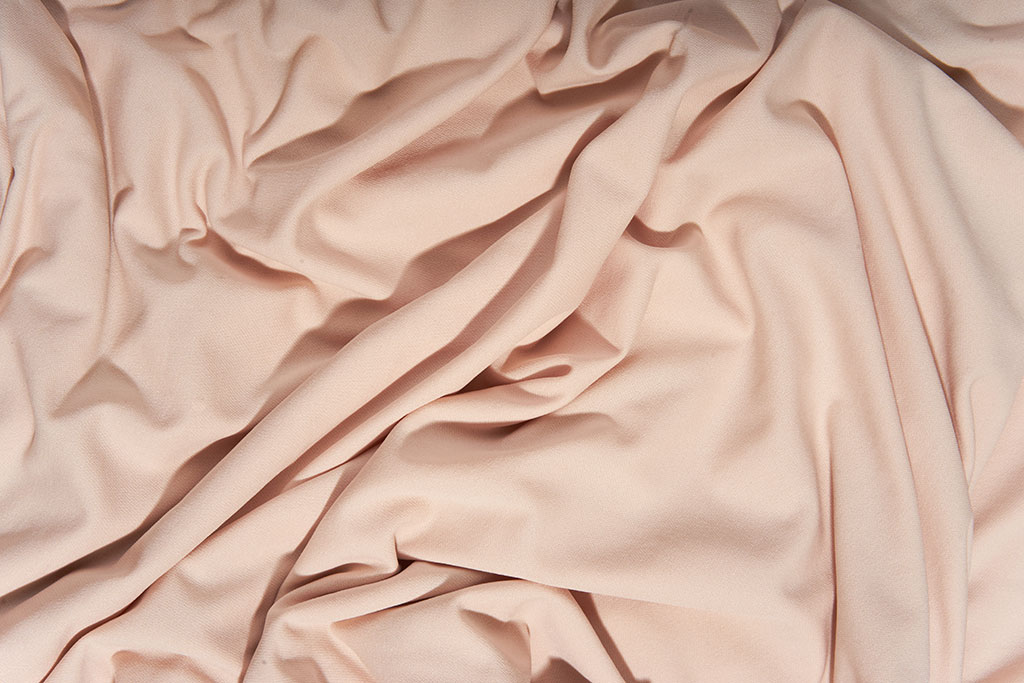 If you can't match your lining to your main fabric, light shades always work well for lining.
Don't Forget Your Notions
There are special considerations to take with your swimwear notions, too.


Wooly nylon is great for activewear, but some fabrics can't handle it, so test on a swatch and stretch it aggressively. If you use wooly nylon, wind your bobbin by hand.


Be sure you are buying swimwear elastic—cotton or rubber—or the exposure to water will ruin its stretch.


If you are adding more support to your suit, don't forget the foam cups. Look for cups that specify swimwear, so they hold up in the water.


Your cups will give even more support if you also include boning or wires, and we have a tutorial for that here.


The Fun Part: Color!
Directional prints and pattern layouts: Check your cutting layouts before buying yardage, in case you need an extra 1/2 yard for a directional print. Before cutting fabric, trace your patterns to tissue paper or tracing paper. Since the paper is semi-sheer, you can view your print as you lay out your pieces, to make sure those florals are appropriately placed on your bikini top.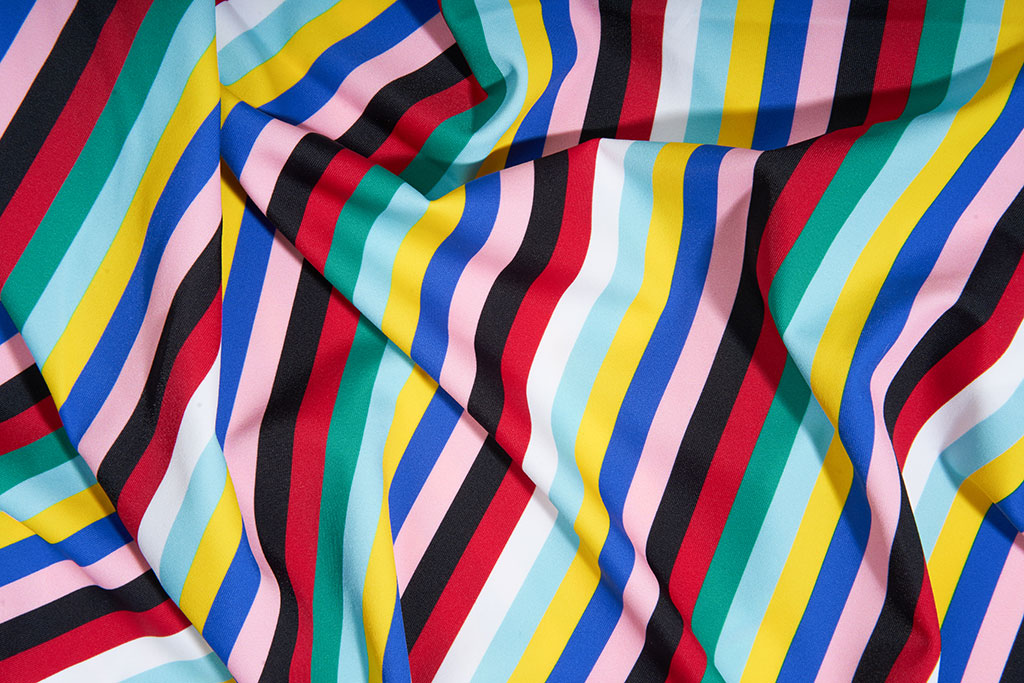 Colorful swimwear fabric from
La Mercerie
.
Is it opaque? You might think that all fabric suppliers would stock swimwear fabric that is entirely opaque. Not true! When in doubt, order a swatch, get it wet, and stretch it out as much as you can to make sure it's not transparent. If it is, go with a solid lining. Many fabric shops will note if the fabric is semi-sheer, so read carefully.
Does it bleed? Digital prints are increasingly common, and since your swimwear will be exposed to chlorine, the sun, and water, make sure that your fabric maintains its color. It's always a good idea to pre-wash your fabric by hand in cold water and hang dry before you go swimming.
Swimwear fabric is colorful and fun, and swimsuits are also the perfect garment to experiment with color-blocking. We have a tutorial that teaches you how to color-block in issue 27 of Seamwork.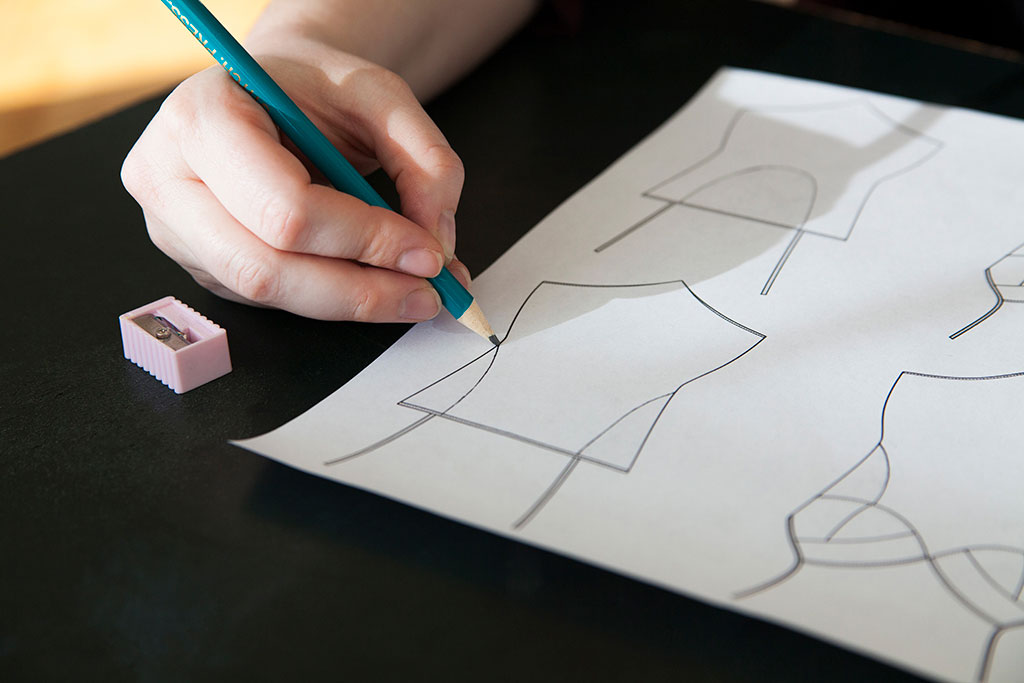 Use
this tutorial
to create color-blocking plans for your swimwear.
Now that you've read this article, you are ready to shop for fabric. Just keep some of these things in mind—control, stretch, and fabric content—as you shop. And when in doubt, order a swatch and stretch it as hard as you can!
Resources and More Reading
How to Sew Swimwear:


Take the Maggie swimsuit sewalong class to learn how to sew swimwear, step by step.


Read Strong Sewing by Alyson Clair to learn how to sew swimwear and activewear. She teaches you how to sew the strongest stitches for your project.


Read Swimwear Basics to learn how to sew elastic and create support with cups and underwires.


Read this tutorial to learn how to color-block your swimwear and activewear garments. These steps can be used for any knit garment so you can personalize your look.


Additional Resources:
Join the Conversation
Sign in or become a Seamwork member to comment on this article.