Hand sewing is a cozy wintertime ritual. Whether quick and straightforward or time-intensive and intricate, a hand sewing project will keep you connected to your creativity through the long, dark months of the season.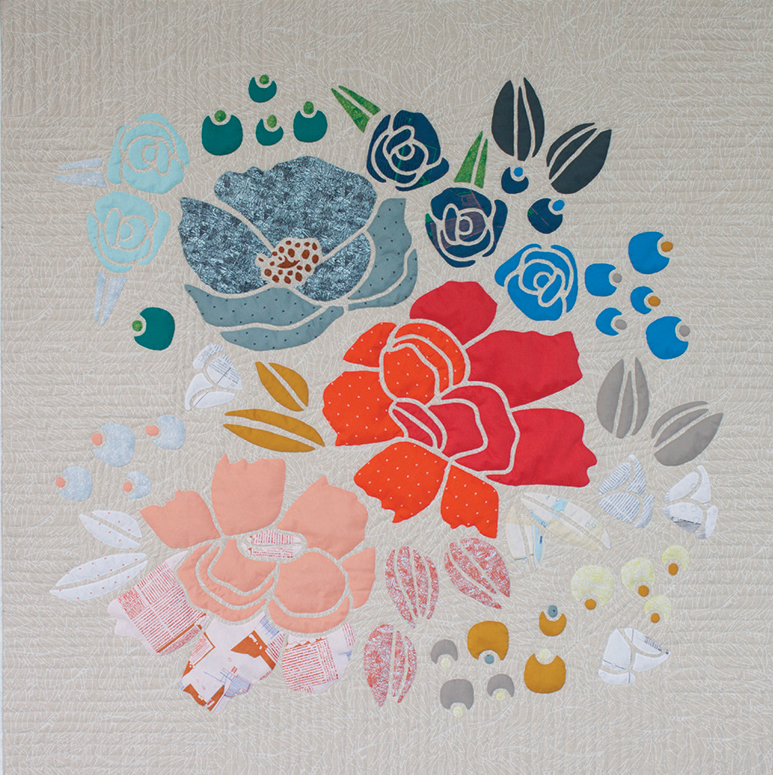 We've explored the science behind finding flow, which explains the rewards of completely immersing yourself in a creative project—and hand sewing is one of the best ways to connect to your craft. Carolyn Friedlander is devoted to slow sewing, and her patterns, fabric designs, and her book on quilting will ease you into a great appreciation for the practice.
Below, Carolyn shares some of her tips for starting to sew by hand. If the idea of sewing by hand seems daunting, pour a hot cup of tea, grab your favorite blanket, and read her expert advice.
Hand stitches to boost your confidence
Hand basting is a lot of fun! The way that I like to do hand appliqué involves basting, and I like to use a long, running stitch. This is always a fun part of the project for me, not only for the easy flow of it, but also because I get to use a vibrant thread (using a contrasting color is helpful, my favorite is Aurifil 1104—a seriously bright orange!).
Another favorite hand stitch is the blind hem. For years I did all of my blind hems on the machine, but after getting comfortable with handwork, I realized that I enjoy doing this last step by hand much more. There's something about finishing out a project by hand that allows you to reflect a bit. Plus, with time and practice, I find it to be a much easier way to do it.

There's something about finishing out a project by hand that allows you to reflect a bit.

Words of encouragement
This might be on the trite side, but it's absolutely true—it all gets better with practice! Handwork can feel very foreign if you've never tried it before. In addition to learning the stitches, there's the question of what to do with your hands, fingers, and posture. This can be overwhelming! With practice, it all comes together. As you start to figure this stuff out, it is empowering to know how these skills give you better control and more opportunity in your projects.
On a slightly related note to that—one thing for sure about handwork is that there are a ton of ways to do just about anything. This makes sense because it's so easy to customize the process to suit your own style, the project requirements, the fabric in play, etc. My advice for anyone trying out handwork is to try many different approaches. Find techniques and processes that work well and feel good to you. There's no reason to make it uncomfortable and not fun!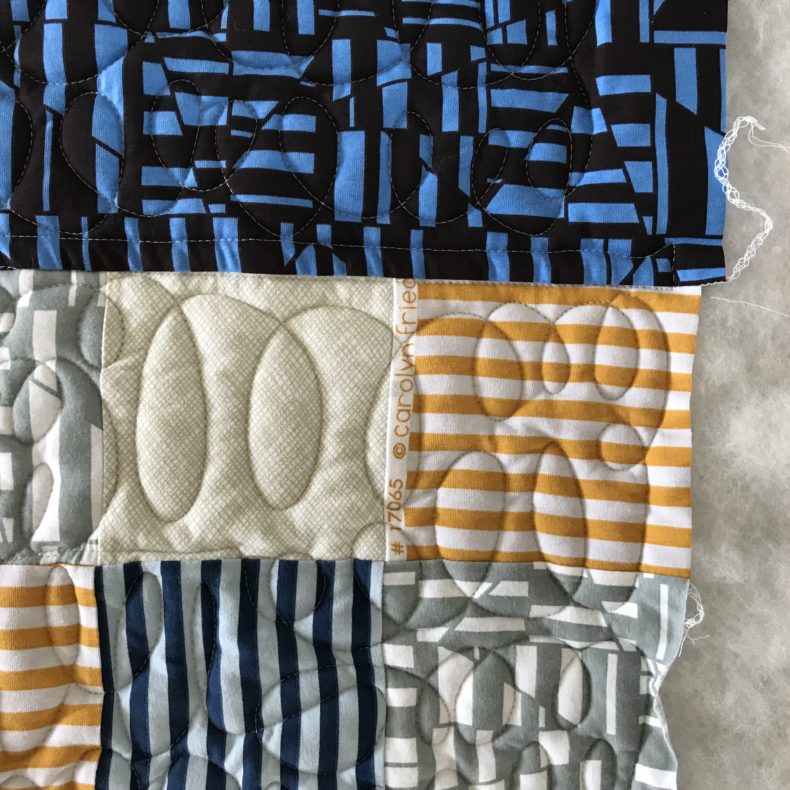 Find a first project
My Trudy block on Creative Bug is a great starter! The shapes are gentle, and you can see the steps in action.
My Collection Quilt was designed with interesting appliqué in mind. It's a 9-part block-of-the-month pattern, built around growing your skills. Learning appliqué is learning how to tackle shape. The first month features straight lines—no shape—because I wanted the first step to just be about exposure and getting a (literal) feel for the process. After that, the pattern breaks down simple to more complex shapes and how to handle them.
Tricks of the trade
One time I couldn't find my thimble anywhere, and I'd been looking for it for a while. Of course, it finally showed up the moment I bought another one.
This taught me the lesson/justification of having multiples. I have needles, thimbles, and pins near my favorite handwork chair as well as in my traveling handwork bag. While this is an obvious system, it's taken me a little to figure it out!
Invest in quality
Get new needles, and everything will be easier. For the longest time, I used whatever needles I found in my mom's sewing archives. It wasn't until one day when I randomly decided to pick up new needles while at the quilt shop that I learned how much of a difference a new needle can make.
Use good thread that matches. Your skills will improve instantly by properly matching your thread to what you're working on. A little bit of camouflage can make up for a lot!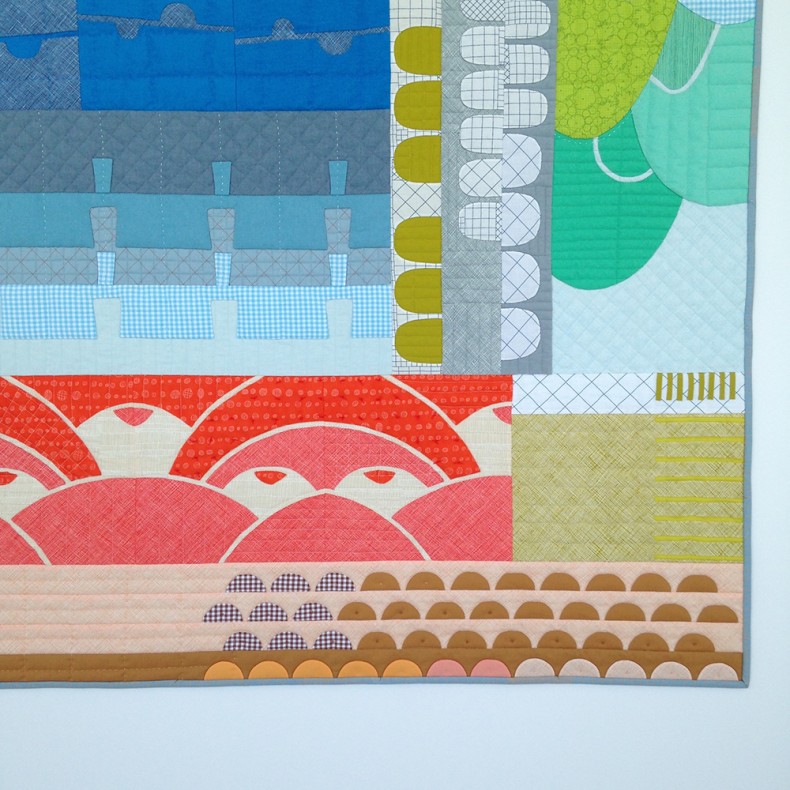 Sew with friends
Handwork is the perfect opportunity to put on some music and stitch along. I find it hard not to come up with ideas/relax/regroup if I do this.
Handwork is also very friend-friendly. Get a group together to do handwork with. I promise that the experience of hand sewing together invokes a different ambiance than one with lots of machines.
More hand sewing resources
Slow Sewing Studio: The Slow Sewing Studio is a celebration of the longtime art of hand sewing, featuring patterns designed to create joy while strengthening skills.
The Neglected R.: How to let rituals transform your year.
5 ways to handstitch a hem: From anchoring and tying off, to sewing a blind or slip stitch, here are five stitches for hems.
Needle 'N Thread: This video library from Needle 'N Thread is an essential resource for hand sewing techniques.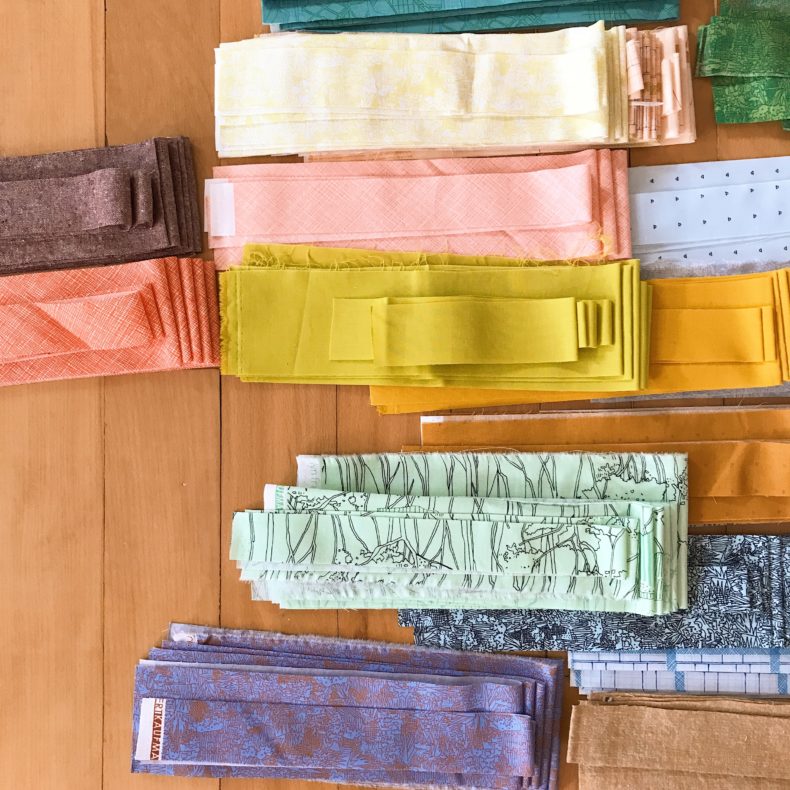 To read about Carolyn's design process, and some more thoughts on handwork, don't miss her interview in this month's issue.
These resources are provided to help you get started with the patterns, techniques, and ideas in this issue. Please note that some of these links (such as to books on Amazon) are affiliate links. When you purchase through them, a small commission goes toward supporting the magazine.
Join the Conversation
Sign in or become a Seamwork member to comment on this article.