Silhouette is a tailoring and design studio in Portland, OR. Its owner, Julia, and all members of the team have degrees in apparel design and are experts in garment fit and construction, attending to everything from hemming jeans to restyling well-loved vintage garments, to soothing nervous brides as they fit their dresses. Julia spends the less busy times of the year designing garments for the shop, which are sold alongside locally made jewelry and other goods.
Despite running a professional studio that's known for expert techniques, Julia still vividly remembers her home sewing experience. She has been sewing for over 40 hours a week for ten years. Her alterations and sewing projects did not always look as professional as they do now—she earned her sewing badge!
Just like in many sewing rooms across the world, Julia's studio has an unassuming box that lives on the top shelf in the back room, with a big label that reads, "uncompleted projects." It's stuffed full of designs that never made it to production. Some of them are just missing sleeve or hem finishes, and are nearly ready for finalization, but were interrupted by the annual, highly anticipated arrival of bridal season. Bridal season requires that Julia set aside her personal design to focus on the happiest day of her customers' lives. This results in a fun, but crazy, 6-month period that often leaves Julia spinning before it's time to move on to a new season of designs.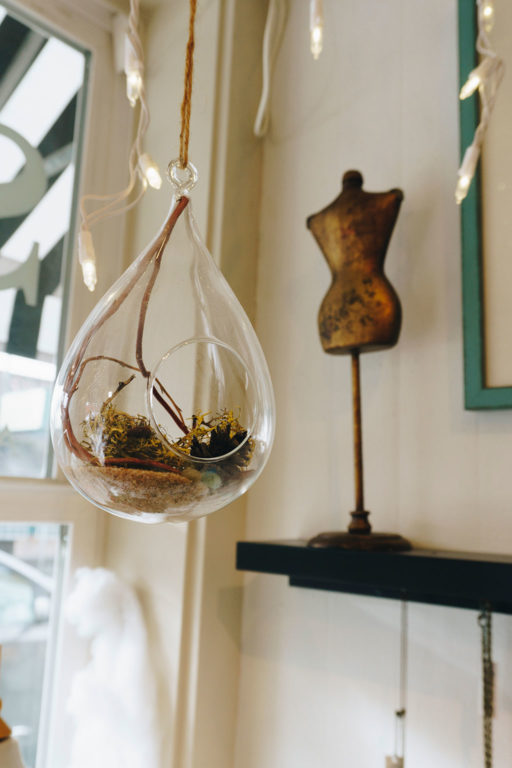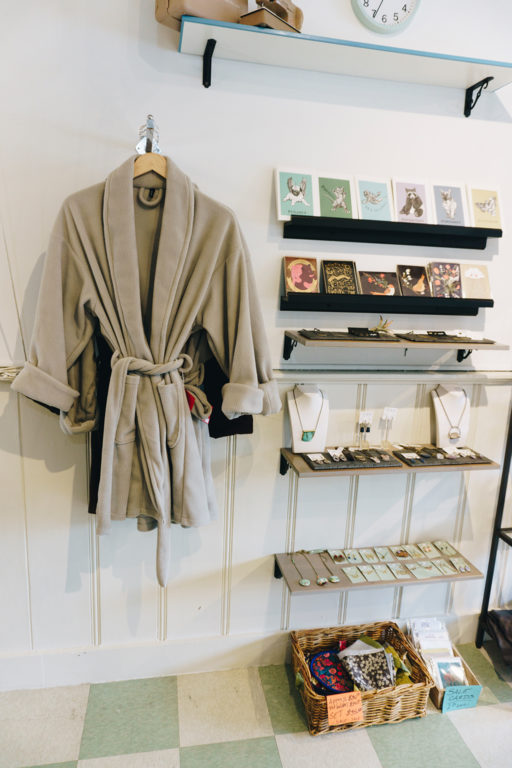 There's something to be learned from Julia's unique schedule. For much of the year, she is working on alterations and tailoring, keeping her technical skills sharp. For the rest of her time, she gets creative, putting her energy into designs, like the Silhouette Home collection that features thoughtful loungewear pieces. Her technical skills make her designs fit well, and her creative skills make them elegant. "It doesn't have to be sexy, but it does have to be soft," she laughed. This balance of perfecting technical skills and exercising creativity is a helpful model for approaching sewing projects.
Within the Silhouette Home collection is another lesson to bring to sewing. Julia was inspired for the collection after reading a vintage book about homemmaking. The book emphasized the importance of buying well-made clothing that fits a specific occasion, be it work, going out, doing chores, or lounging at home. This approach to purchasing clothing has dwindled in popularity, but it's something that Julia hopes will return. "When you dress for the occasion," she insists, "your clothes last longer."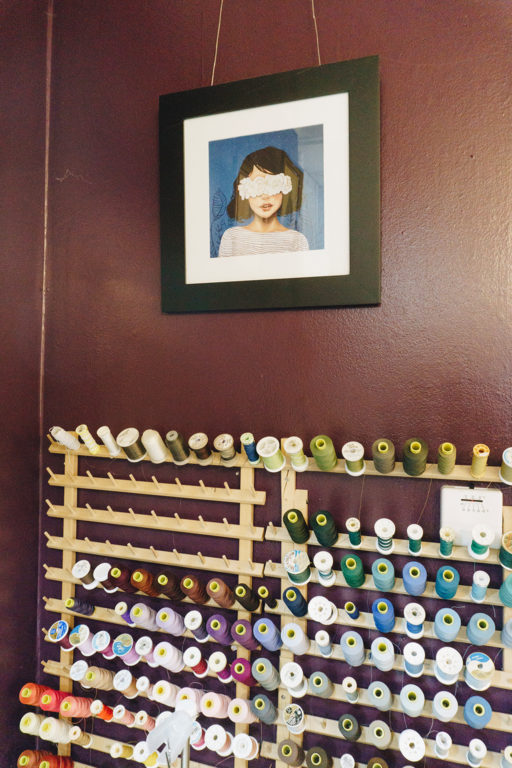 We chatted with Julia about her background in apparel as well as her plans for Silhouette.
You have a degree in apparel design. Now that you are running your own company, what do you think school best prepared you for? What's the most important thing you learned outside of school?
In school, I learned a lot about project management. I tended to always take the lead in group projects, and instead of dreading them like most people, I really tried to figure out how to lead a team. Everyone needs different methods to achieve success. I have really brought that with me in running a business: there is no one magical way to manage everyone. I have to learn how to bring success to each of my team members. The most important thing I have learned while running a business is to not take things so personally. Sometimes things don't work out. And sometimes clients are just straight mean. All I can do is my best and learn from each experience. If we make 99 clients happy and only one is angry, it's probably something going on with that one person and not really anything that we did wrong.
What garments do you like to make the most? Which do you find the most challenging?
The most fun and challenging project I get to do is vintage wedding dress restyling. A bride will come to me with her mother's dress or her grandmother's dress (sometimes both), and we will work together to bring the bride's vision to life. Normally we keep the dress mostly intact but will change or remove the sleeves and neckline, shorten the train, and do other things to modernize it. Letting out the ribs and waist of the bodice is also normally a must. I once made a dress 14" larger around! Sometimes I get to fully create a new dress out of the vintage dress materials. This past year I used a bride's mother's dress to create a skirt for her rehearsal dinner. And a few years ago I took apart the dress that my bride's mother and grandmother both wore to their weddings, using elements to create a fully custom-made gown.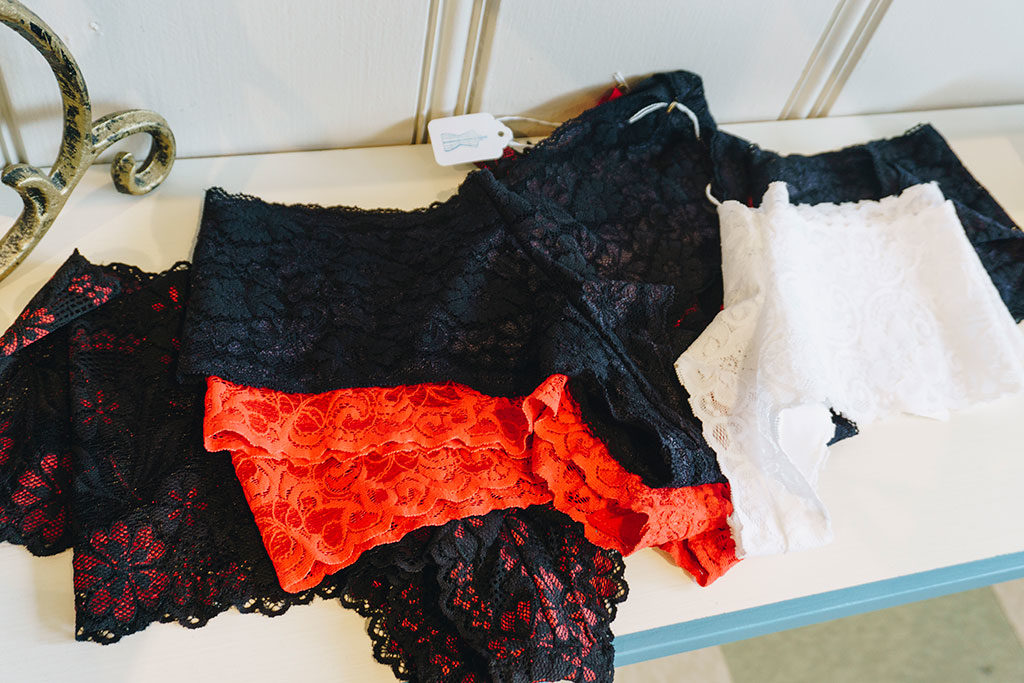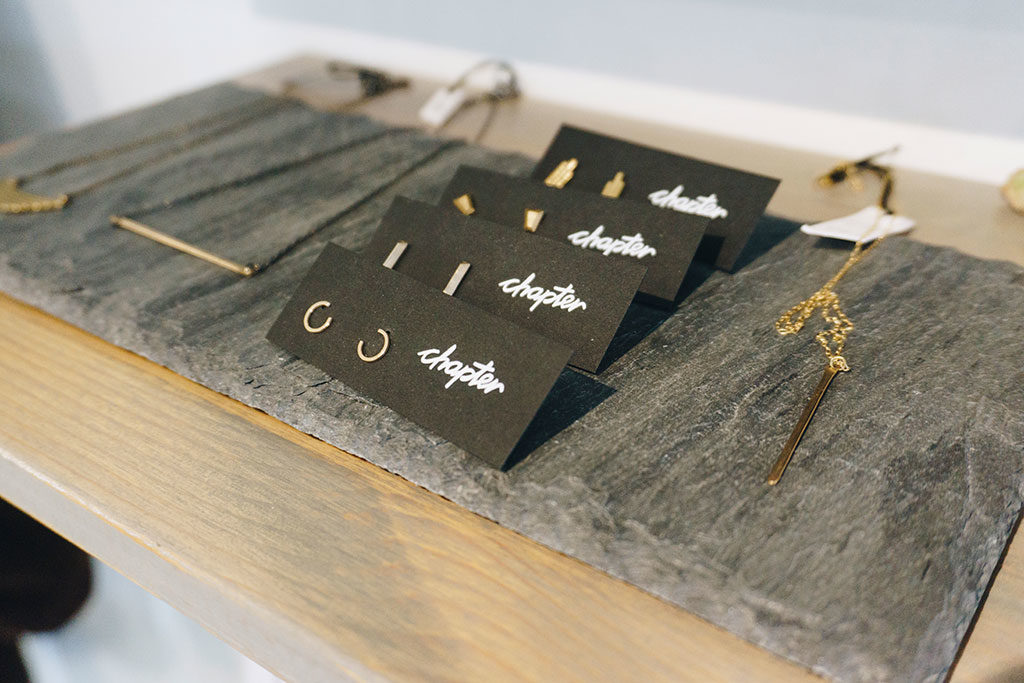 You've collaborated with Jana Boyl, another Portland designer, since the beginning of Silhouette. Do you collaborate with other makers here in Portland? What's the best thing about that local community?
For my wedding in 2016, I worked with local artist Katie Guinn and bridal tailor Sarah Mansfield to create my wedding dress. Sarah patterned and constructed the dress based off my design and Katie hand painted flowers on it. It turned out so beautiful that we have continued to work together and are about to release our first wedding dress collection under the label Florecita! I've also worked a lot with another tailor in town, Fine Karunamit of Fyn, to share clients when either of us is too busy and to do production sewing and pattern grading. The sewing community in Portland is really open and cooperative.
Silhouette is not just a boutique; tailoring is at the forefront. Why is this important to you? When it comes to tailoring, what is most challenging and what is the most fun?
The most beautiful dress or interesting jacket is worthless unless it also fits properly. Buying clothes off the rack means you are buying closest to your size, but most women will need alterations for their clothes to really fit. We also do lots of mending to keep well-loved garments going longer. One of our favorite things is mending rips in patterned fabrics. I once mended a rip in a dinosaur print blouse. I used 5 colors of thread and essentially recreated a couple dinosaurs along the button placket. The joy the owners of these garments get when they see their clothes are no longer ruined is the best. The most challenging aspect of the job is dealing with online shopping mishaps. We see so many pieces of clothes that fit terribly—production problems—that never would have been purchased if tried on first at a store. These are challenging as the owners generally don't love them to begin with and the fit can sometimes be quite absurd.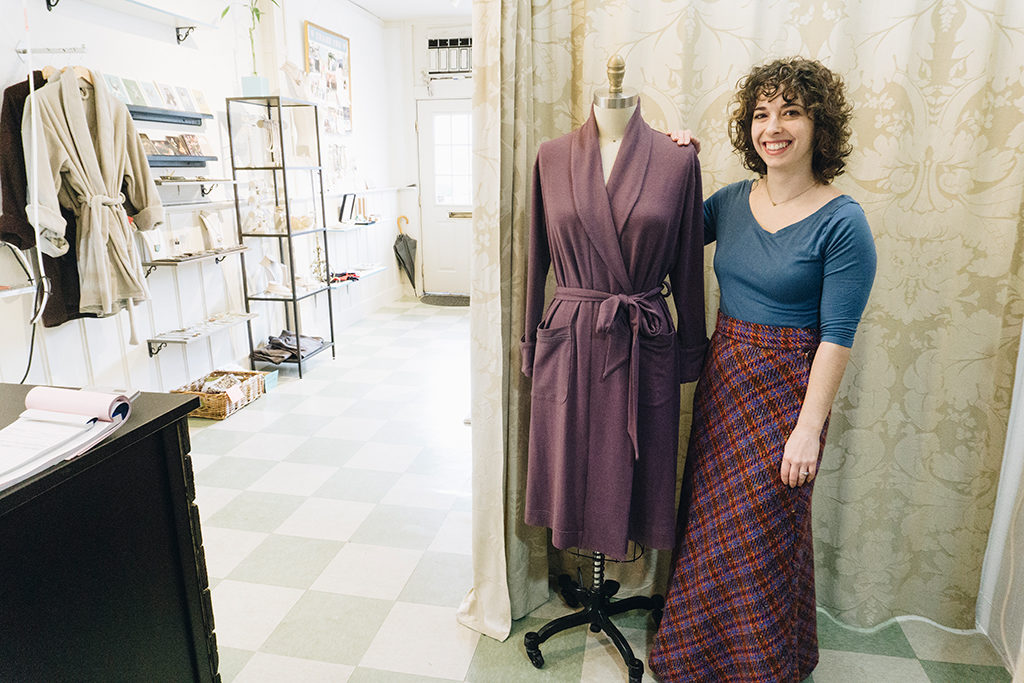 How would you like to see Silhouette grow in the future?
2018 is going to be a big leap for Silhouette. I will have four full-time tailors working on the team, including a second bridal specialist. I feel very proud to be able to offer livable and growing wages to my employees. I want to continue on this trajectory by maintaining an importance of training and continual learning with my staff and by educating consumers on the value in our craft and the importance of well-made clothes.
Be sure to read more about Silhouette's story on their website. For some of Julia's expert lingerie-sewing tips, don't miss the lingerie elastic tutorial in this month's issue!
Join the Conversation
Sign in or become a Seamwork member to comment on this article.