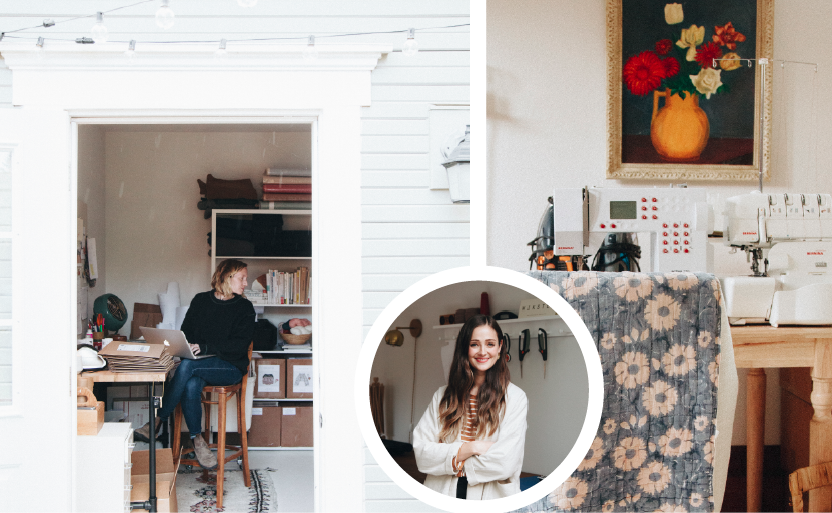 2018 was a great year for the Wiksten Haori, with hundreds of iterations popping up on social media and blogs across the globe. When a single pattern captures the creative minds of so many people all at once, it's always fun to learn more about the person who brought the design to life.
Jenny Gordy started Wiksten as a clothing line in 2004, and it's now turned into a well-loved brand that combines a genuine understanding of textiles, smart patternmaking, and practical, must-have designs. In their shop, you'll find womenswear patterns, knitting and sewing patterns for children, fabric bundles, and ready-to-wear pieces.
Since Wiksten HQ and Seamwork HQ are both here in Portland, we visited with Jenny in her studio to learn more about her working space, her background with sewing, and her considered approach to design.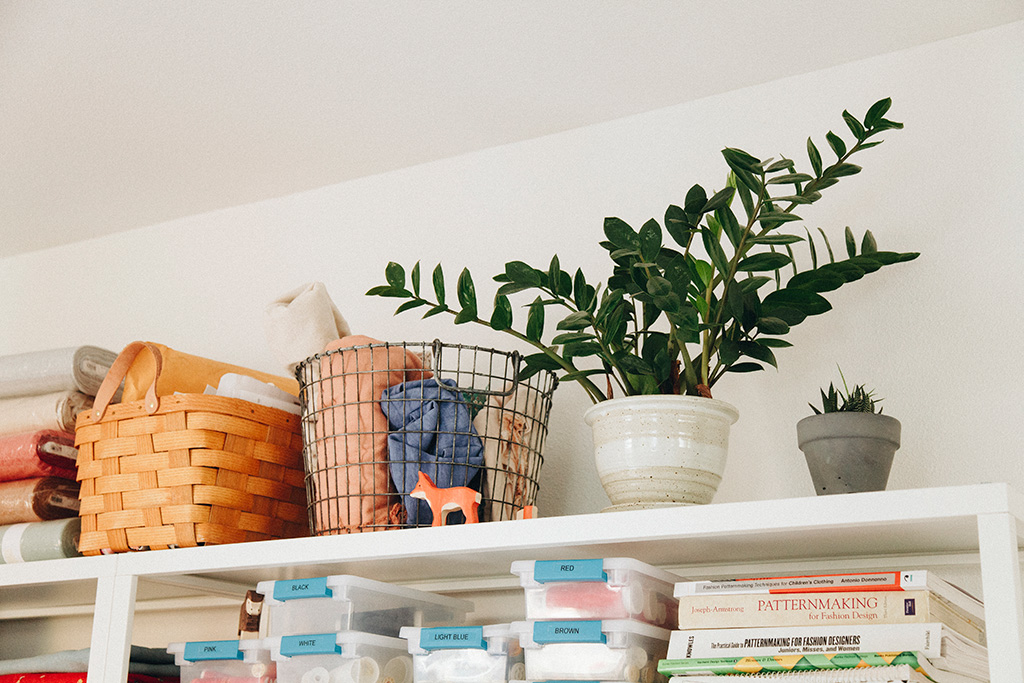 The Wiksten Studio
Jenny's studio is bright, clean, and compact, sitting outside her home at the top of her driveway. The inside of the studio matches her brand's aesthetic, from the small round table set up for daily work and conversations, to the wooden garage doors that can open if a breeze is needed, and the basket containing studio slippers next to the entrance, which, she reveals, "don't always get worn."
The Wiksten team has maximized this small studio space to accommodate everything for the company, with storage for shipping materials, bolts of fabric, boxes of patterns, a sewing machine, and a cutting table refashioned from an old cash wrap. The white epoxied floor makes the space feel bigger. Even the cutting table considers the small space, as the back is full of shelves and storage.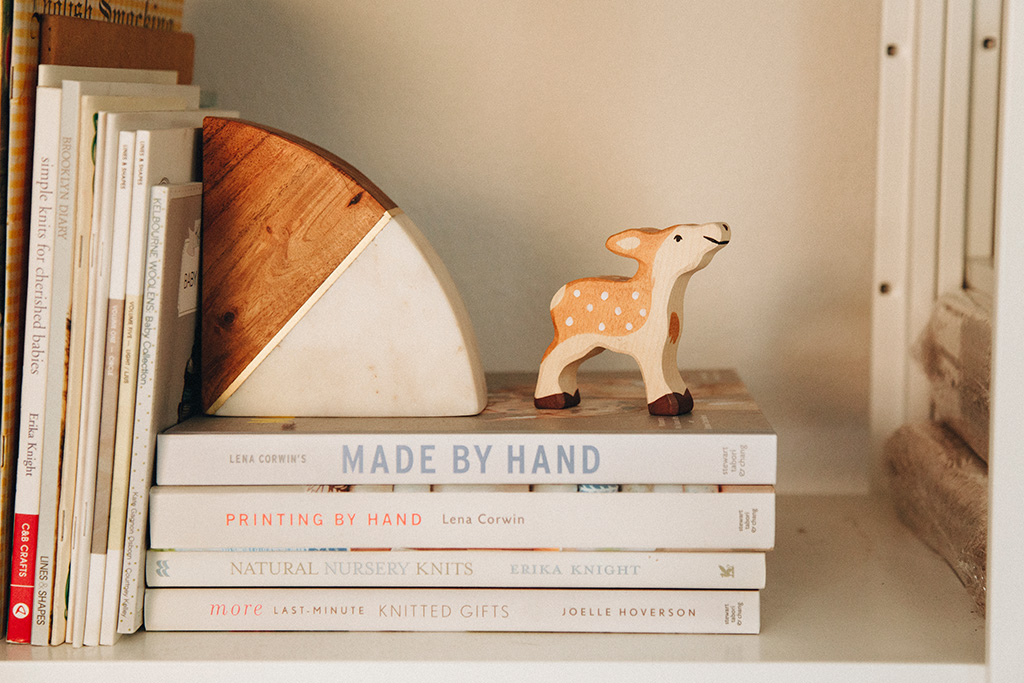 While all things Wiksten would ideally live in her studio, Jenny reveals that her business spills into the basement of her home. As for working within 10 feet of where she lives with her husband, daughter, and two cats, she admits, "I love it, but I would like a little more separation—I feel like we're outgrowing it already."
The "we" includes Jenny and Elizabeth—who has been working for Wiksten for the last year—and Emma, who will be joining the team shortly. Elizabeth first arrived to help free up Jenny's day-to-day tasks so that she could focus on designing, and Elizabeth is now an integral part of all processes. "I have a creative brain," Jenny explains, "It's very important to have another person in the company, and things have gotten a lot better since she's here," she says with a grateful nod to Elizabeth, who is currently boxing up pattern booklets to fill orders.
So how did Jenny turn Wiksten from a clothing brand into all of the creative projects you'll find in her studio today?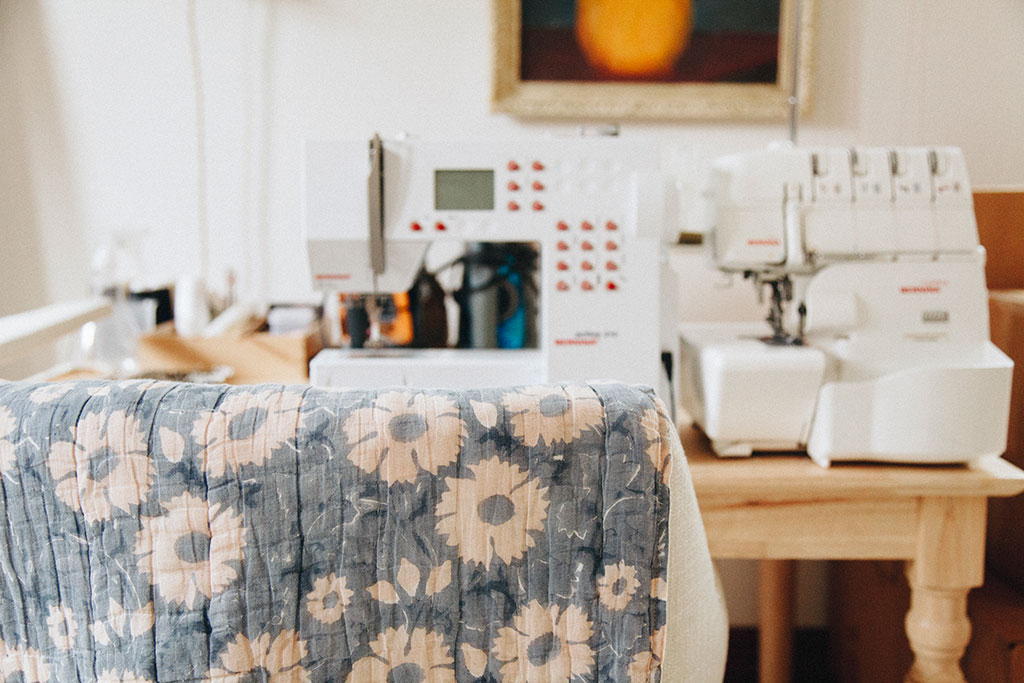 In the Beginning
Wiksten shares a namesake with Jenny's grandparents, and her grandmother is the biggest reason why she learned to sew. Growing up, her mom worked two jobs, so Jenny spent a lot of time with her grandmother, sewing doll clothes, quilting, and making pillowcases. From there, Jenny kept returning to sewing. "I would get obsessed with it every now and then," she remembers. "Sometimes I'd get frustrated and give up, but I'd always come back to it."
As a teenager living in Kansas, Jenny took a class from sewing icon Linda Lee. At that time, she wasn't thinking about patternmaking. "I wanted to be a fashion designer."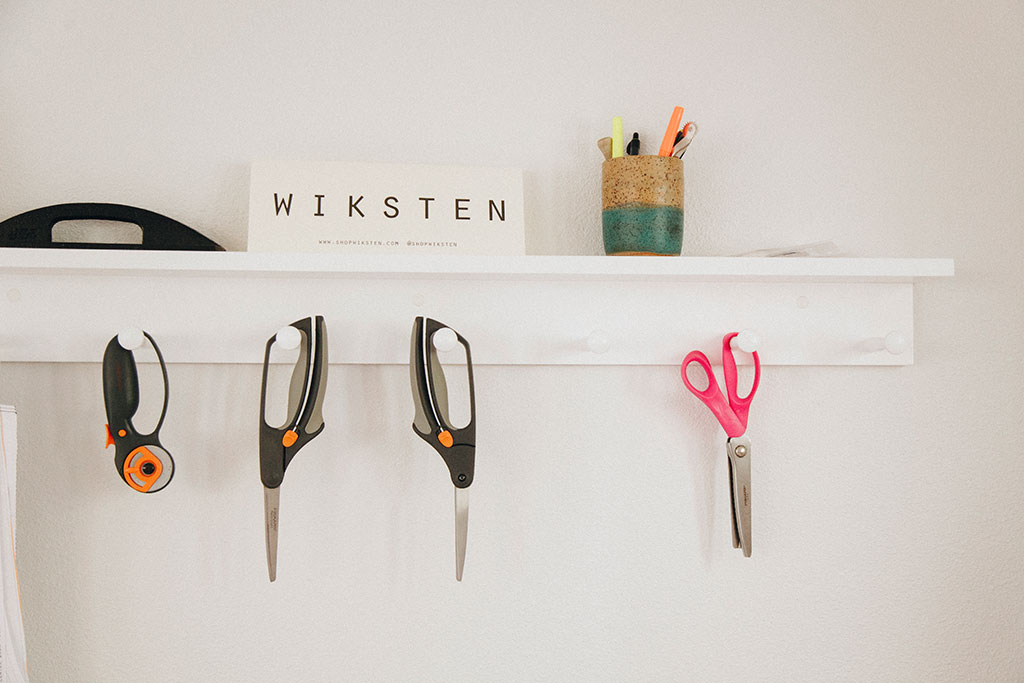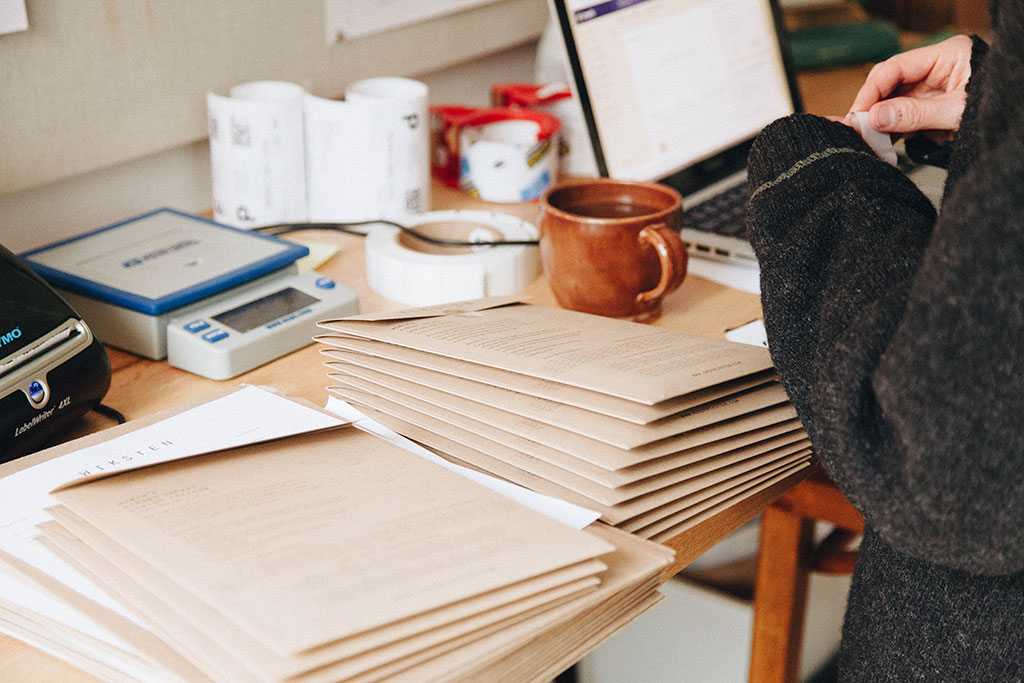 Jenny always had an eye on fashion design. In college, she studied theater and film, and procrastinated her schoolwork by sewing, because she didn't want to sit in front of a computer all day. After watching her roommate finish an art project for homework, a switch flipped. "Wait. This is your homework?" She asked her roommate. "How do I do that? I want to do that!" And so she moved to art and design.
With a bit of humor, she recognizes that patternmaking has brought her right back to the computer for much of the day, but this time, it's doing something she loves. She's a designer first and foremost. "I always wanted to be creative, but I wanted it to have some practicality." A professor in school warned her that it would be a mistake to study design because it wasn't practical. "He suggested sculpture instead."
Jenny stuck with fashion design.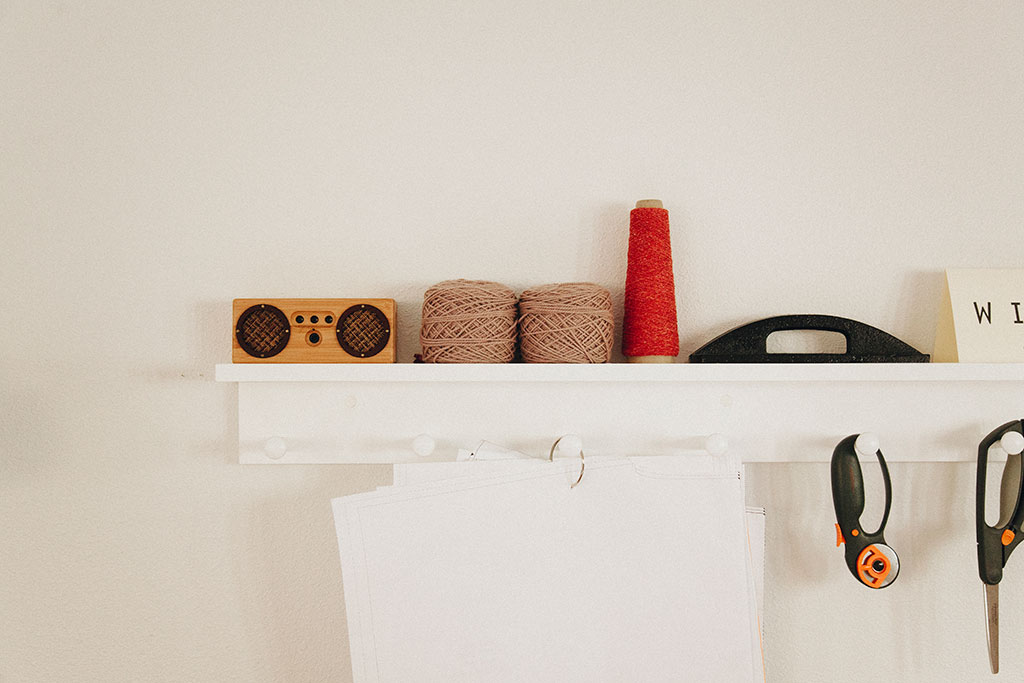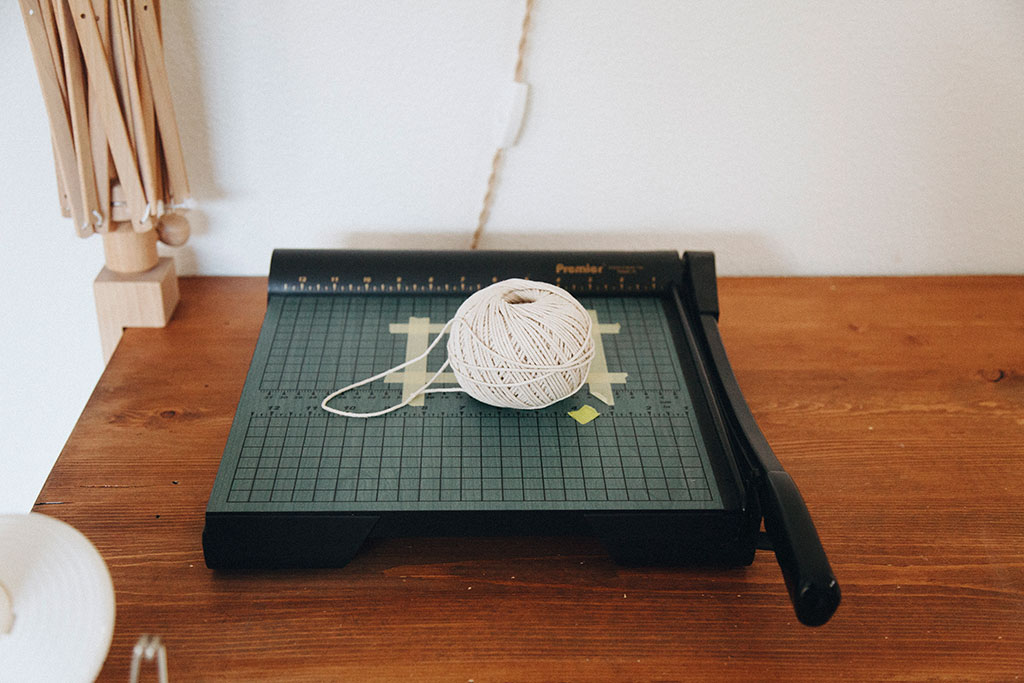 A Commitment to Design
Jenny's appreciation for textiles merges very neatly with her design intentions. She loves to work in 3-D, and when she couldn't contain her desire to pursue a career in fashion, she heeded some advice and enrolled at FIT in New York. "If you're going to do this, you have to go to New York. That was scary! I'm from Kansas," she laughed, but she met her perfect match at her new school, describing herself as a student who was "giddy and bouncing off the walls," with her studies.
It wasn't a straight journey from Kansas to a New York fashion school. Jenny took some detours along the way to save up money. "It was hard to find work, and I ended up scraping together a few different jobs—stocking books in a warehouse, receptionist at a car dealership, and a dental assistant. Once in New York, I worked as a technical designer, which was my first job in the fashion industry and an altogether terrible experience. After fashion school, when I still could not make ends meet in my career, I waitressed at a sushi restaurant, worked at Jo-Ann Fabrics—unloading the truck at 5am!—and worked at a vintage clothing store. It wasn't until a few years after I left school that I could start doing Wiksten full time."
Wiksten as a clothing brand was selling out while Jenny lived in New York. In fact, her clothing has always sold really well—not only online but also at trendy flea markets in Brooklyn and on consignment in Kansas. The trouble with a made-to-order collection that sells out is that you suddenly have to fulfill a bunch of orders all at once, which is exhausting. "A clothing line is like a fashion cycle that never stops."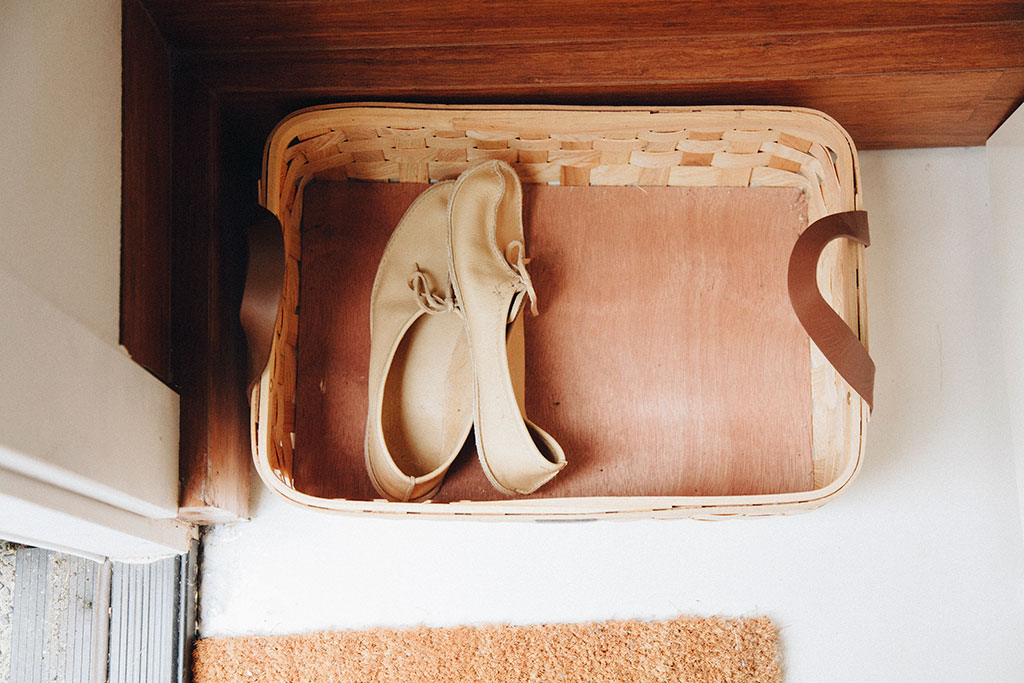 She hopped between Kansas, New York, and Iowa, her husband finishing medical school while she continued production of the Wiksten line. Eventually, solely sewing a ready-to-wear clothing line became unsustainable to do alone, and she needed something else to make it work.
It was after teaching sewing classes at Lena Corwin's Brooklyn studio that Jenny thought realistically about patternmaking—she'd been blogging and teaching sewing anyway. By popular demand, she ended up producing limited-edition patterns—which all sold out—with the utmost care, folding the pattern paper and stamping the packages by hand. She even packed orders for her patterns while she was in labor, returning to ship those packages a few days after giving birth. "I love my company and what I do that much."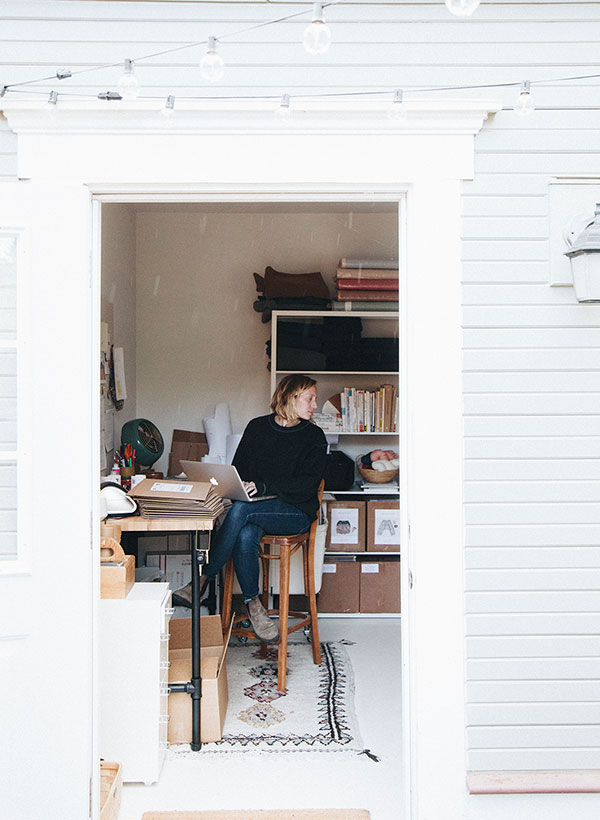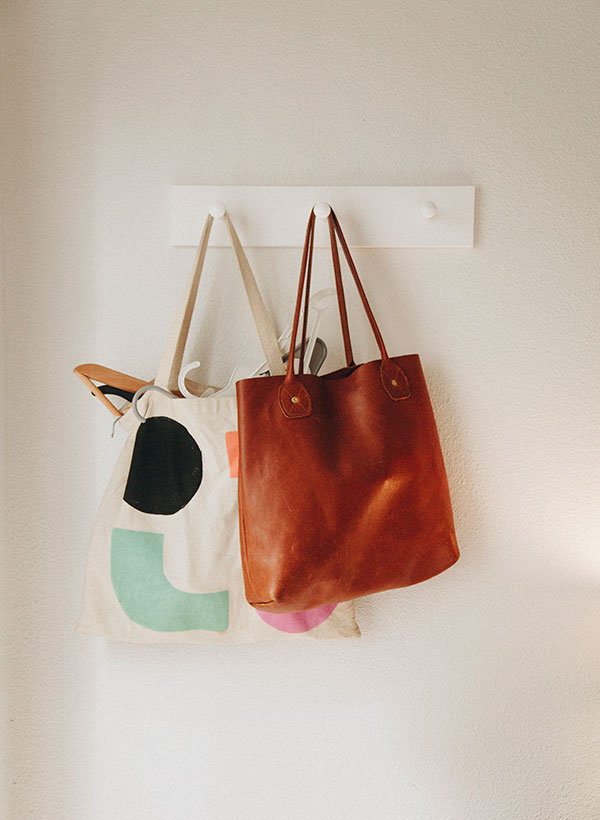 Finding Balance
It's the love for her company that led Jenny to put up some boundaries around her work. "Balancing is not always easy," she admits. She cites a friend who likened the work and life balance to a yoga pose—it's intended to be relaxing, but you soon realize that it involves all the muscles in your body working together to achieve balance. "It's not a peaceful thing, balance. You make mistakes, and you change course. But I'm where I want to be now. I think to myself all of the time, 'I have the best job.'"
Since Jenny is both a designer and a maker, she's firmly embedded in the sewing community, and she has the opportunity to work with other creative people, something she treasures. "I thrive being around creative people. Talking about ideas fuels me."
Another source of balance for Jenny is her fashion-forward daughter, Iris, who is now 5. "She's my muse and my inspiration…She loves fashion, picking fabrics, and coming with me to the fabric store." Since her studio is so close to home, Jenny and Iris often work side-by-side—or sometimes Iris even sits in Jenny's lap while she sews.
"It's not a peaceful thing, balance. You make mistakes, and you change course. But I'm where I want to be now. I think to myself all of the time, 'I have the best job.'"
Gratitude and a Must-Have Pattern
To get a sense of Jenny's approach to design, you just have to look at her patterns. "My designs are purposefully simple and utilitarian because that's what's elegant to me. I find beauty in comfort, usefulness, and clever construction."
She begins the design process in the same way that most of us start our sewing process—with fabric. Getting ideas from textiles themselves, you'll often find here shopping at Bolt here in Portland—"I could spend hours in there"—and making connections to local makers and other designers.
When Carrie Hoge, the creator of Making magazine, approached Jenny for a collaboration, the result was a jacket that quickly became a must-have pattern. The Wiksten Haori first appeared in issue no. 4 of Making magazine and immediately resonated with people around the world who sew.
"Carrie Hoge sent over a link to a mood board and asked me to submit a project to Making magazine. I was inspired by her fall colors and remembered that I had a few bolts of a nutmeg-colored stitched fabric I'd been saving that would be perfect. The fabric and shape came together in my mind at the same time—most of my designs seem to begin from a convergence of color and textile inspiration with the practicality of what's needed in my own wardrobe. For a few years, I'd been enjoying wearing an oversized sweater with kimono-style sleeves, and I wanted to make something similar but in a lighter weight woven fabric for transitional weather. I researched the shape a bit and found it was based on the traditional Japanese Haori."
And how does it feel to create a pattern that now sits in wardrobes across the world? "I am so blown away by it—I didn't envision that. The coolest thing I've seen is how empowering it is. It's a jacket that seems really hard, but it's not. People feel satisfied, and they realize, 'Oh, hey! I can sew!'"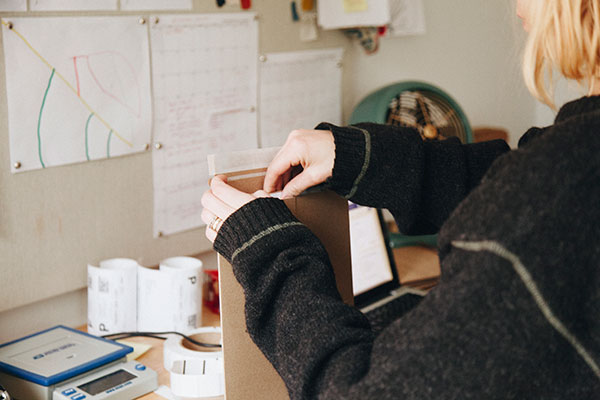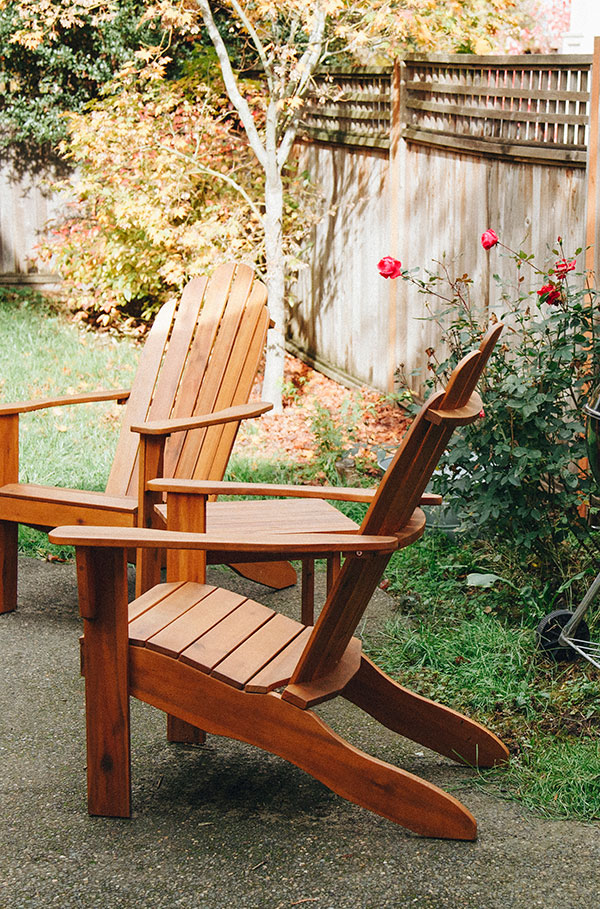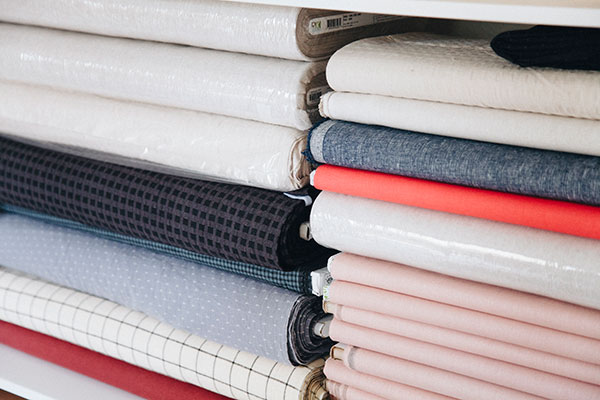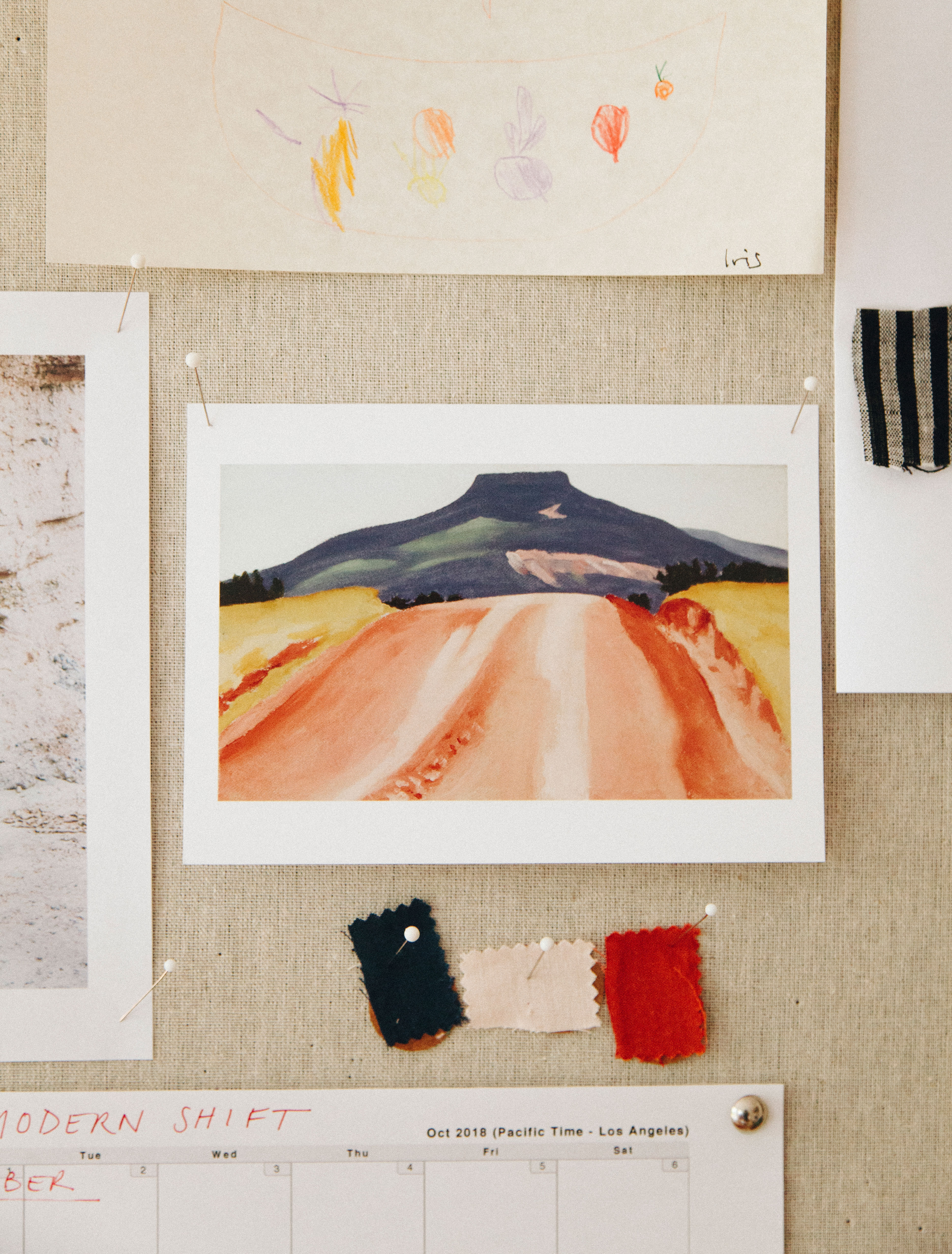 What's next?
Active on Instagram, Jenny is generous with sneak peeks and glimpses at her projects, her daughter's creative endeavors, and her work with other makers. In the near future, Jenny plans to start teaching some classes again, out of love for travel. We can all look forward to a new collection of womenswear patterns soon—which she hints are designed to go together to create some "perfect basics."
No matter what the project, you can always expect some great textiles, inspirational patternmaking, and maybe a couple of fun collaborations, too.