Welcome to part 5 of Seamwork Radio Summer Sewing Camp 2023.
It's the first part of Style Camp! Over the next 4 weeks, you're going to get an exclusive look at our new Style Workshop, which launches next week!
Haley and Sarai will share exercises from the workshop and talk about why this course is so powerful for helping you with one of the hardest parts of sewing your own clothes — knowing what to make!
Part 1: Introduction. In today's episode, Sarai and Haley will introduce you to the framework of the Style Workshop and chat about its creation.
Part 2: Investigate. In this episode, you'll investigate your identity in 4 key areas: history, values, culture, and body.
Part 3: Examine. Next, you'll examine the clothes you wear the most, and the ones you love to wear the most.
Part 4: Define. Finally, you'll define your core style words so you can walk away with a firm understanding of what you want to express with the clothes you wear.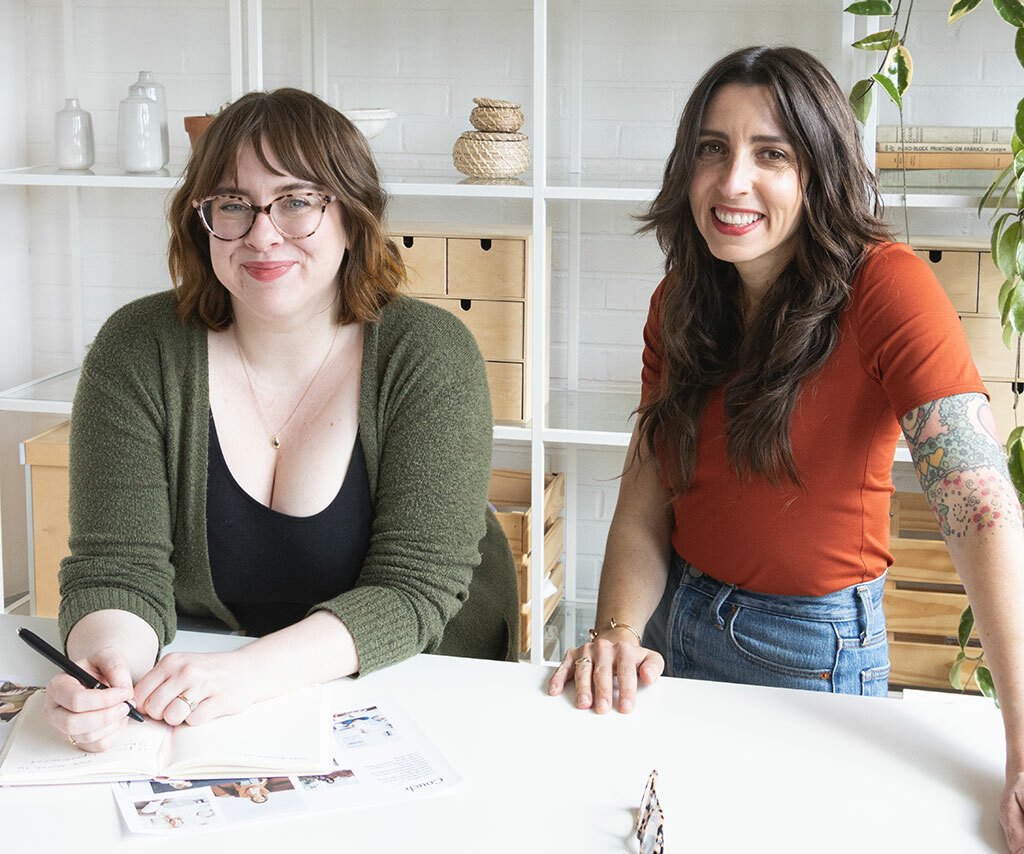 Have you gotten your Camp freebie yet? Click here to register and download the FREE Summer Camp Toolkit full of ideas, worksheets, and exercises for this entire series. It also has templates for sewing really cute felt camp badges.
Podcast Transcript
Sarai
I'm Sarai.
Haley
And I'm Haley.
Sarai
And this is Seamwork Radio.
Sarai
Welcome back to Seamwork Radio, where we share practical ideas for building a creative process so you can sew with intention and joy. And today, we'd like to welcome you to the second half of Seamwork Radio Summer Sewing Camp 2023.
So over the next four weeks, we're going to be embarking on a journey together to examine our personal style. And in today's episode, we'll introduce you to the Style Workshop and discuss what we'll be covering in the upcoming weeks. We'll also be doing a quick warm up exercise taken from the Style Workshop, so that should be a lot of fun. So if it sounds like fun to you, too, or you just want to learn some great ideas for honing your personal style, then stay tuned to the rest of this episode.
All right, so we're really excited to be celebrating the summer season with a really fun, hands on podcast experience. So in June, if you've listened to those episodes, we cleaned out and refreshed our sewing spaces, and if you didn't listen to them, if you missed those, then be sure to check them out. That's episodes 145 through 148. And in July, we're going to be exploring our personal style as we give you an exclusive preview of our new Style Workshop.
So Summer Camp is not just a series of podcast episodes, although it is that—you can also visit the link in our show notes to access a downloadable PDF of creative and tactical exercises to help you clean up your sewing space, explore your style, and get ready for Design Your Wardrobe, which is coming up pretty soon for fall and winter. So just to let you know what's in that PDF, you get the Sewing Spaces guide, personal Style Worksheets, a checklist with the activities from camp from these last few months, a cute little template for you to make a Sewing Camp felt badge, and a pledge, because we are corny like that.
Summer camp ends at the dawn of Design Your Wardrobe, fall, winter 2023, and we'll talk a little bit about that and how everything's going to be coming together as we move from summer into fall, which is kind of exciting to think about.
All right, so I'm going to get into our topic for today as we start this personal style journey together. And one of the many beautiful things about sewing your own clothing is the world of options that becomes available to you.
So rather than your clothing being dictated strictly by trends and designers, you get the opportunity to engage in the design process yourself and build the wardrobe of your dreams that directly reflects you and reflects your personal style. So that's just one of the really, really cool things about sewing. Discovering and honing that personal style, though it can be a bit challenging and a little bit intimidating, especially when you think about bringing in your own lifestyle and all of the kind of constraints you have around your life as well as your style.
And sometimes those things mesh really well, and sometimes they don't quite mesh. So you have to sort of have a process for bringing them together. So that's why we developed our new class, the Style Workshop, and that launches on July 12.
So I'll be telling you a little bit more about that as we get into the discussion today, which I'm really, really excited about it so as part of Seamwork sewing—there's a mouthful—Seamwork Summer Camp. During the month of July. We're going to be doing a condensed version of the workshop together, and you can get a few of the Style Workshop exercises by downloading that Seamwork Summer Camp toolkit.
But be sure to check out the complete Style Workshop, and again, that launches on July 12. All right, so getting into personal style, what does personal style mean to you, Haley?
Haley
Oh, man. I think that the way that I think of personal style is that it's kind of a visual language that conveys who you are without having to speak any words.
Something I hear all the time is people like, "Oh, I don't have style. You have such great style. I wish I had that." And I really don't believe that as, like, a statement. I think that style is something that all of us have, that we already possess, but it's just about honing it and learning how to communicate it to the world more effectively in a way that feels really authentic to you.
Sarai
I've always felt that way ever since, I guess since I was a teenager, I thought about it that way, that everybody has to make decisions when they get dressed in the morning, and you can put minimal effort into that decision if you want to, and there's nothing wrong with that. But that is also a choice, and that also reflects something about your personality and your values and your priorities.
And for me, I really enjoy the creative aspects of getting dressed and choosing clothing. Obviously, I'm interested in that. So that says something about me, too, the fact that I've always made some intentional choices around that. So I think that's a really interesting point. I totally agree with everything you said. I also think it's an opportunity to be creative in our daily lives.
Haley
Yes.
Sarai
Which I think a lot of people who are interested in fashion generally find that it's sort of an outlet for creativity for a lot of people. And that can be inflected with a lot of different things, especially in the world of ready to wear. It can be inflected with consumerism and a lot of other factors that go into it. But I think with sewing in particular, not that it's a more pure form or anything. I think it is a little bit, but it's more that you have more opportunity to make those choices free from the constraints of what other people are producing or more free I won't say totally free, but more free from those constraints.
So you have more creative freedom, which I think is really cool.
Haley
And I think that's what makes it hard when people transition from the habit of shopping ready to wear to making their own clothes, is like, suddenly there's not someone to default to to make the decisions for you. You have to make a lot more of them yourself. And so a pattern I've noticed is that when people get into sewing for themselves, even if they weren't particularly into style before, it really ignites a new interest and curiosity.
Sarai
Because if you're going to bother with the process of making clothing, then either you're interested already for that reason, or you're probably going to become interested, because that's part of the fun of it and the beauty of it.
Especially, I think, these days. I think in the past, maybe people might have sewed to save money or for other more practical reasons, but I think today that's less true. Since fast fashion is very cheap, it's no cheaper to sew, for sure, most of the time.
So I think that's why so much of the work we're going to be doing together really involves reflecting deeply on what we already possess and who we are and how we feel about the clothing we wear and what it says about us. So in the next few weeks, we're going to be reviewing the three tools that we use to pinpoint our style in the style workshop, and those tools are investigate, examine, and define. So we're going to be doing a few episodes. We're going to focus on one of those tools in each of the episodes in the Style Workshop. There are exercises that go with each of those tools, and we're going to cover some of those in these podcasts.
But if you're interested in the whole thing, you'll get a full taste of it if you do the Style Workshop, and we'll talk a little bit more about that.
Haley
So, speaking of which, Sarai, can you tell me a little bit more about this class?
Sarai
Sure, Haley. Let me tell you guys how the format goes, so you kind of get a sense of what to expect. So it's a 90-minute workshop, and it is designed as a live workshop, but we're going to be offering a recording on one of these live workshops.
So if you aren't able to make it to any of the live workshops, you can either watch the recording as a Seamwork member, it is free. If you are not a Seamwork member, you can purchase it. It's very affordable. It's only $10 to purchase. Really fun 90 minutes workshop, and it's very hands on.
The theme of it, obviously, is personal style. And what I would like for you as you go through it is to really have some tools that you can take with you when you're done, so to actually accomplish things in that 90 minutes that moves you forward on this idea of personal style.
To that end, there are exercises and worksheets that we're going to do together that will really help you to explore who you are and what you want to say through the clothing you make. So when you take the Style Workshop, you'll come away with three main things, and one is your core style word.
So that's a very short phrase or list of keywords that you can take with you to help you make decisions in the future.
Three tools that I already mentioned that you can take with you so that you can do them anytime. You can take these exercises and do them again and again if you want to, as your style evolves.
And a firm direction for a core style mood board, which is a tool that we use often as kind of a starting point in Design Your wardrobe.
We'll be doing a live version of the Style Workshop on August 4 to help prepare for Design Your Wardrobe. So we have Design Your Wardrobe launching soon after that. And this is kind of a really great lead in to that process because as you go into designing a seasonal wardrobe, you'll have an idea of what your core style is and how you might want to vary that for the season.
I love doing this before tackling the Design Your Wardrobe process. I find it really helpful to kind of revise what my course style is and then start thinking about how I want to express it through the clothing I'm going to make in the next few months.
So really fun process, and it's really fun to do together. So if you're interested in the live version, again, that's going to be on August 4, it's free for Seamwork members. And if you're not a Seamwork member or you can't make it to that one, you can also get a recording of another live version that we've done already with some members. So that's kind of how it all works.
Haley
I'm so excited to work through these exercises together. I've read the whole Style Workshop, and I just think that it's so awesome and I think everyone's going to love it so much.
Style Workshop has a kind of warm up exercise to get everybody loosened up and in the mood for working on their personal style. Can you tell me a little bit about this first exercise?
Sarai
Yeah, we use it as a starter exercise in the workshop. So this is kind of, like you said, just a way to get warmed up and get into the mood. And it's called the Precious Few. And it's very simple. It's designed to take like, two or three minutes, and that's it.
All you need to do is close your eyes and ask yourself, "What are three items currently in my wardrobe that make me feel my best?"
So what are three items that you have in your wardrobe right now? And when you wear them, you really feel like you're at your best? Very simple question, but it is a really powerful thing to ask yourself, and it's a really good reflection for starting out and kind of leads into some of the other exercises that follow on.
Haley
So I want to do this exercise together, and so I need to know, what are your precious few?
Sarai
For me, I think actually going into this, another thing I want to mention is that this can change for you.
Haley
Yeah.
Sarai
So that's why it's helpful to do these exercises every once in a while and see where you're landing, because this can evolve over time.
I think right now, I would say if I were to name the three things, one of them would be—it's kind of funny because it's not something I made, and it's not something I spent a lot of money on. It was like a random Etsy purchase, which is probably from the 90s. Little floral romper that buttons up the front, and it's rayon, and it's black with little pink flowers on it. And I wear it all the time in the summer. I just love it. It's super comfortable, and I think it's really cute, and it fits me very well. I probably wear it once a week in the summer. So that's one of them.
Another one would be my favorite pair of jeans and another one would be I have this kind of simple black cashmere turtleneck sweater that I wear all the time in the winter. And it's the kind of thing that looks great with almost anything else, and it's just a real staple for me. And I feel very comfortable in it and very luxurious and it's very soft and it looks sophisticated and it's very just classic and simple.
So those would be my three. What about you?
Haley
It's hard because it definitely varies seasonally for me. So I guess I'll focus on warm weather because that's where we're in right now. I have a Madhu top, which is pink rayon that I love. And it just like it's one of those things that, like, when I want to feel cute, I'm going to wear that, but it doesn't feel, like, overdone, like, really relaxed.
Then probably, I have an Eileen Fisher white linen button-up that I love. It's really oversized. It has super enormous pockets. It was one of the inspirations behind our Roan tunic pattern. I mean, really, anything in that style, I just adore. It just feels, like, really breezy. Feels like intentional because it's oversized, and it has these special elements to it.
And then my third is I have this dress from the 70s. It is like a cut work dress. It's rayon, and it has these butterflies on it. It's just very soft and feminine, but it's black. It's really understated. I don't feel like it whispers. It doesn't scream.
Sarai
Yeah. That's interesting. So I feel like we both had some vintage in there. Mine were I would definitely describe them as kind of most of them as basics, which I think is really interesting. How would you describe if you were going to narrow it down to a few words, what would you say about them?
Haley
I think that I would say there is, like, a softness to all of the pieces that I chose. I think detailed because they all have details that I find so compelling. And the third one would be relaxed because nothing is, like, overdone or stuffy. It's very easy to wear, kind of throw-on things.
Sarai
As you guys are listening, you heard some of these kind of descriptor words we threw out there. Some of them as we were describing the garments, and then some of them, as we talked about reflecting on them, what we thought. So as you do this exercise, there are two boxes on the worksheet that goes with it, and one is for descriptors. So you might write some of those words down, like comfortable or soft, some of those words that came up as you're thinking about these garments and how you would describe them.
And then there's another box to write down how you feel when you wear these garments. So any feeling words that come up for you around them. This exercise of writing down these descriptor words and these feeling words goes through all of the exercises that we do in the Style Workshop, and then at the end, we pull it all together to use these. So, Haley, how would you describe how you feel when you wear them?
Haley
I mean, I think I feel cute.
Sarai
That's good.
Haley
Cute. I also feel at ease. I love that feeling when I'm in clothes where I don't think about the clothes. The clothes just feel like an extension of myself. And I would describe that feeling as being at ease in my clothes. And so I like to feel, like, kind of, like, cute, but I want to feel at ease. I don't want to feel overdone. What about you? What are your feeling words?
Sarai
Well, I think it's interesting to name these feeling words, because some of them might be feelings in the emotional sense, right? And some of them might be how you feel about yourself when you wear them, which I think is a really interesting difference.
I would put in that category feeling just kind of smart and sophisticated, adult. I think for me, it's really important to feel competent I like to feel in control, maybe to too much of an extent. These kinds of classic pieces help me feel that way.
And also, like you said, at ease. I think comfortable, just feeling physically comfortable and able to move around and do what I need to do, I think is really important to me. So those are some of the feeling words I'd throw in there for these particular three garments, which kind of tells you a lot about what's important to you and how you want to feel.
I like that you said cute. I'm trying to think of, like because I think for the romper in particular, cute is not the word I would feel is aspirational for me. But there's something related to that that I can't quite put my finger on.
Like feeling a little bit—just pretty, I guess, maybe? I think it's very pretty.
Haley
Yeah.
Sarai
And I like that. Especially in the summer, I like to have something that's both comfortable and makes me feel pretty.
Haley
Yeah, totally.
Sarai
It's interesting to think about that too. And it's interesting to think about the subtle differences between some of these words.
Haley
That's what I was just thinking is. I think a lot of people might assume that cute and pretty are their synonyms, and I think that it's a Venn diagram. They share elements. And I think that cute has just always been like the part of that Venn diagram. I just feel like more at ease in embodying.
Sarai
Yeah. I think for me, cute feels a little bit antithetical to feeling sophisticated.
Haley
Yes.
Sarai
So that's probably where it is for me.
Haley
For sure. For me, I don't feel like myself when I'm too polished feeling, so I think that cute embodies that a little bit more.
Sarai
Yeah.
Haley
I just could talk about this all day. I love it. But I'm curious. I'd love to hear about your train of thinking and why we have people start with this question when they do the Style Workshop.
Sarai
Well, I think for a few reasons, I think it's a really good warm-up because it's very fast. So the Style Workshop is pretty fast paced. We go through a lot in 90 minutes. So this kind of gets you used to just thinking really quickly and coming up with these ideas sort of off the top of your head without ruminating too much on it, which I think is really helpful for doing these kinds of creative exercises, not second guessing yourself too much or worrying about getting it perfect. It's a really good intro to that way of going through the exercises generally.
The next tool that we address, which we'll talk about in the next episode, is investigate. So with that, we start looking at our wardrobes currently and what we wear currently. So this is a good lead up to that. Just kind of get you thinking about what you already wear and how that reflects who you are and your values. So I think it's a really good warm-up exercise for the next section of the Style Workshop.
But mostly I just think it's good to kind of get the wheels turning and to start thinking a little bit more about what you already have, what you already wear, the decisions you already make, and what that says about you.
Because I think that's a really great starting point for figuring out your own style and how it exists in your day-to-day as it is right now.
Haley
Yeah. I think that this, even if you, for whatever reason, do not feel like doing Style Workshop or anything like that, I think that this could be like a really useful tool to revisit. Even when you're just thinking about your next sewing project just to, like, make sure you're making things that you know that you're going to want to wear as often as possible. You could do this before you pack for vacation.
I just feel like it seems so grounding.
Sarai
Yeah, absolutely. Having these exercises after the fact could be really helpful to even just do one or two of them every once in a while to kind of get you thinking.
I know you and I both have core style mood boards that we use as we do the Design Your Wardrobe process. And I like to keep those. I think we both do this, update them about once a year or so, kind of go through them again or create a new one again. And I think these exercises are really good place to—even if you don't do them completely or if you just read through them and think about the answers. Although I do think it's really helpful to actually do the workshop and go through it, especially together as a group, to kind of just move through the whole thing in 90 minutes I think is really fun. But I think even if just having these tools in your toolkit for later is really excellent as well.
Haley
Yeah, such a great warm-up for the next few weeks. So if you are following along with us, make sure that you do this exercise on your own and that will get you nice and prepared for next week's tool, which is investigate.
Sarai
Yeah. And if you do the Style Workshop, if you sign up for the Style Workshop, either the recorded one or if you are able to attend one of our live ones again. We have a live one coming up, August 4. We'll put a link in the show notes if you want to learn more about that.
No matter what, if you do this exercise today, you'll be all prepared for the Style Workshop. This is the first one we do in the Style Workshop. It's just a warm-up to the bigger exercises, the chunkier exercises. So this is a really great place to start on your own to get ready to do the style workshop as well. And just a reminder, the Style Workshop launches on July 12.
So that will be a workshop that's pre-recorded. It was a live recording that you can purchase or if you're a Seamwork member, you can get it for free, so you can go to seamwork.com/go/style-workshop. Again, we'll put a link to that in the show notes if that's something that you would like to sign up for.
Or we have the live one available on August 4, and that's going to be free for Seamwork members.
And that's going to be sort of a lead-up to the Design Your Wardrobe program, which will start soon after.
Our members can also download the Style Workshop Toolkit in its entirety. Right now, that's available at seamwork.com/downloads, and that page has all of our downloads that are available for our members during the months of June and July.
You can visit the Sewing Camp website, download the PDF, and get a few of the worksheets as a teaser as well. And again, link to that in the show notes.
All right, we will see you next week. I'm Sarai.
Haley
And I'm Haley.
Sarai
And this is Seamwork Radio.
Join the Conversation
Sign in or become a Seamwork member to comment on this article.