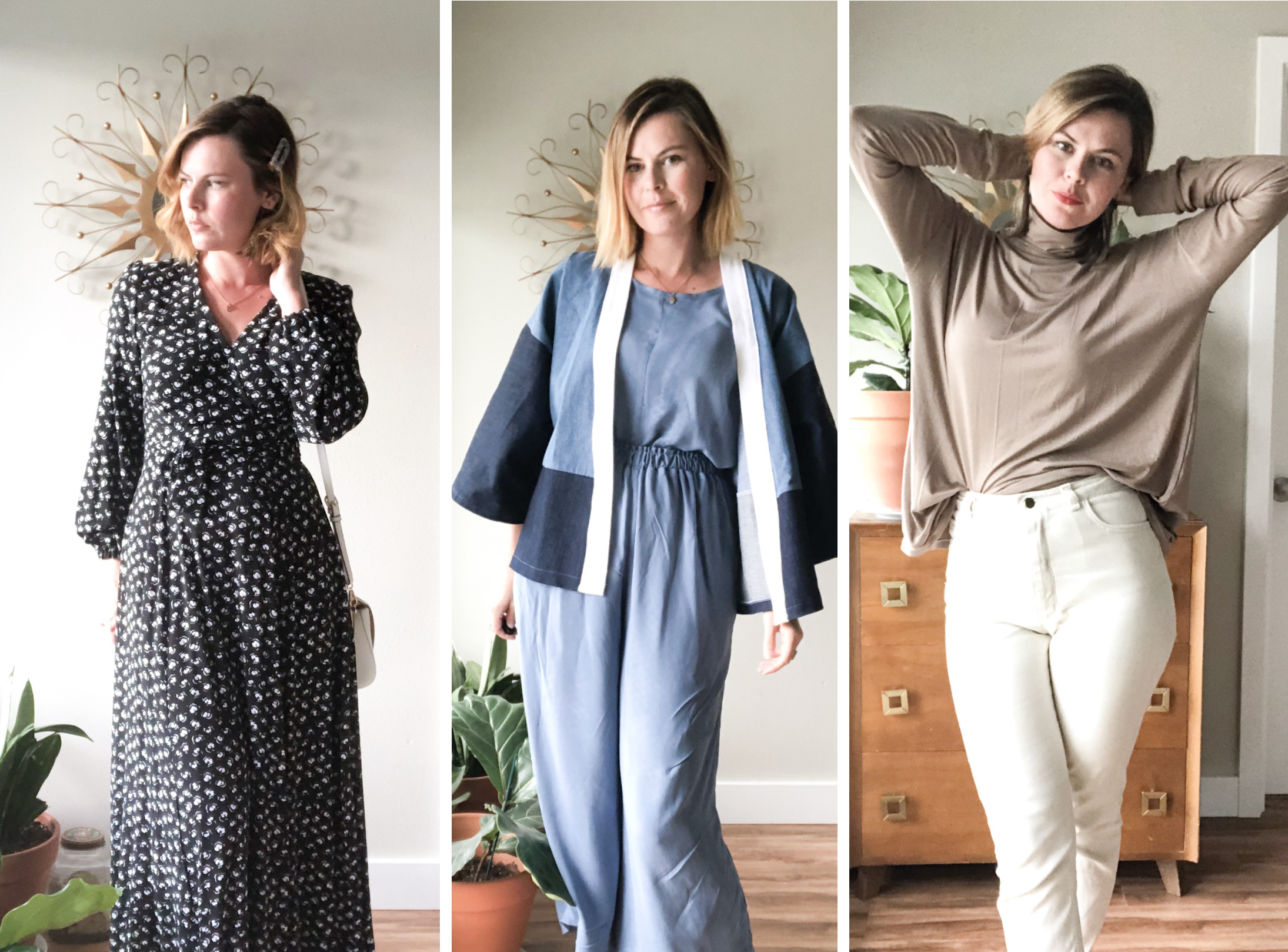 A few months ago, we featured an article on the anatomy of a small sewing space, sharing tips from Seamworkers for organization and functionality when you've got limited real estate. We loved hearing from you with all of your innovative suggestions and your positive feedback, and we love the idea of getting sewists pumped up and proud of whatever space they have.
What I really enjoy about giving these small spaces screen time is that they are too frequently overlooked for the picture-perfect dedicated sewing room. So often, the spaces that get featured in magazines and blogs are the ones that could be described with superlatives—the largest space, the newest collection of machines, the most enviable fabric stash—and the spaces that are functional and practical for every sewist tend to get ignored. But the reality is, most of us can't afford our dream sewing situation or an entire room blocked off only for sewing.
So today, I'm excited to share another real sewing space (and real sewist!) with you—this time, that of Joanne Yusef of Joanna Essentials. Joanne, based in Seattle, is a Montessori teacher and parent by day and fellow sewing fanatic by every other moment, aiming to create her own handmade and second-hand wardrobe and sharing the process via social media since 2016.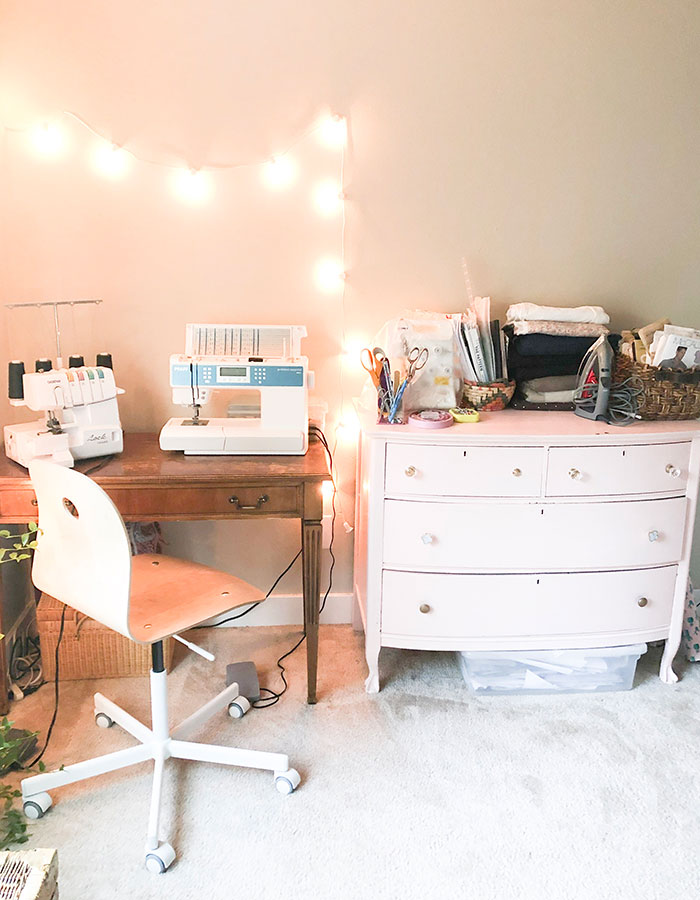 Joanne, can you tell me a little bit about your sewing journey? How did it all begin for you?
I started sewing during my teen years. I remember sewing scraps of thrifted corduroy and quilting cotton together to make my first patchwork open-back top in Home Economics class. As a high school graduation gift, my grandmother bought me a Singer machine, and even though I didn't use it much at the time, I managed to keep it and move around with it every place I ever lived.
A decade later in 2007, I was pregnant with my first child and started the "nesting" phase of my pregnancy, sewing home decor and hemming curtains—I was grateful for my little Singer machine! I was drawn to making pillowcase covers and even made them to sell at markets, using burlap coffee sacks to make rustic pillow covers, holiday stockings, and laptop cases.
During my third pregnancy, nesting kicked in again, and I began to experiment with sewing zipper pouches and essential oil bags for gifts, which I sold on Etsy and wholesale.
How did you get interested in making clothing?
I found that I was no longer passionate about sewing squares and rectangles and started looking for something more.
When my daughter reached toddlerhood, I decided to try sewing cute clothing for her. I really loved fun print fabric from Cotton and Steel and soon found basic dress patterns for children on Etsy. My first dress was the Gardenia Dress from Cali Faye Collection, and I instantly fell in love with sewing girls dresses, frilly rompers, and pinafores.
I obsessively made all of my daughter's dresses and soon had friends and family commission me for dressmaking. This led to more creative pursuits, and I began a journey of opening an Instagram account and website selling collection pieces online. I allowed myself to become creative, making tasseled garments with lace necklines on top of vintage and thrifted fabrics. I loved the hustle and thrill of making new collections, but I eventually hit a creative slump.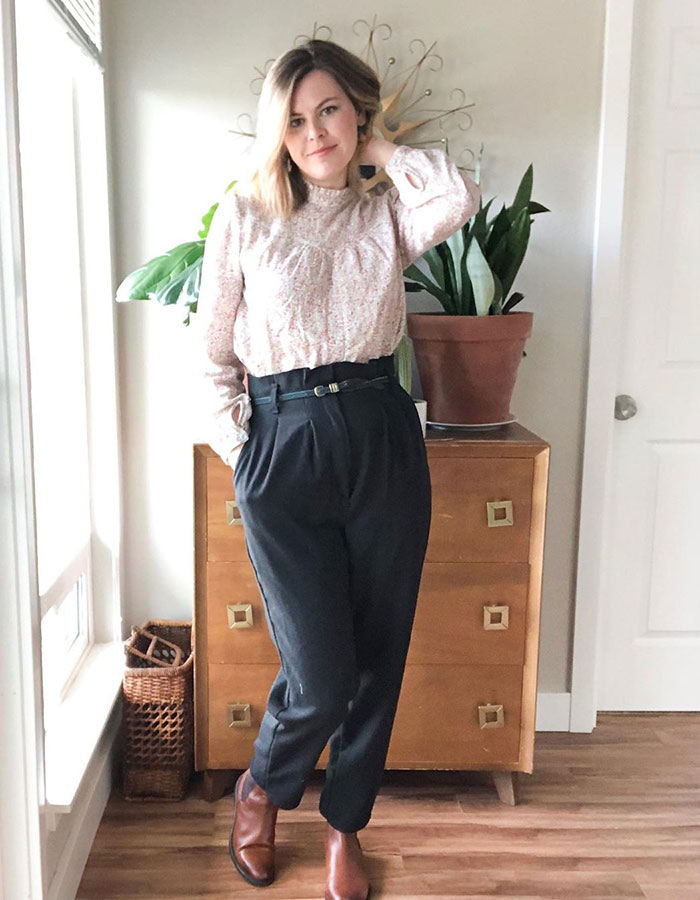 All of my creative endeavors were exploring ways to make an income and not for hobby. I finally burned out after years of trying, closed my small shop, and allowed myself more time to discover new adventures in sewing. Within a few short weeks, I was making my first dress! I've never looked back since that turn, and now sew exclusively for myself, with the occasional garment for my family.
Phew! That's quite a journey, but those of us who have been sewing for a long time can probably relate to the ups and downs of trying to force creative energy into a career. What motivates you to continue to make your own clothing?
Having something to wear that will fit my style and body and having the freedom to choose what materials will be on my skin is a HUGE motivator for me. I enjoy sewing and wearing more structured fabrics like denim, heavy linen, silk noil, and twill.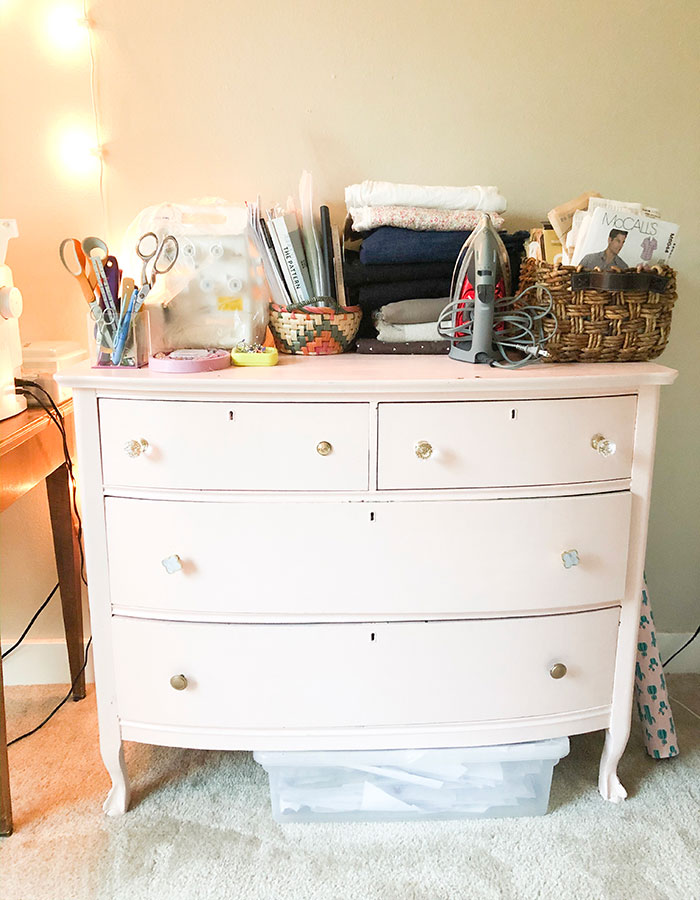 Can you tell me a little about your sewing space? Take me on a tour.
Currently, I have a dedicated sewing space in the corner of my bedroom. In my sewing space, I have my Pfaff Ambition Essential sewing machine and Brother 1034D serger. My Juki Mo-654de is now a backup machine because it recently went to the repair shop four times.
A vintage desk houses my machines, and the dresser next to it keeps all my supplies. It holds all the basic sewing supplies in the top two drawers, patterns in the middle drawer, and extra fabrics in the bottom. I have one clear bin below that holds children's patterns. My cutting mat lives behind the dresser, and the ironing board is stored in the closet. I cut on my dining room table and store a couple extra bins of seasonal fabrics in my closet.
Sounds like you're really able to keep your space contained! Do you have any tips for staying organized in a small space?
My tips for a small space is to keep your space tidy and clutter-free. I find that storing my PDF patterns in manila envelopes and spools of thread in plastic containers, and simply keeping my fabric stash low, helps with visual clutter and keeping my small space organized. I enjoy keeping my space free of visual clutter, with only a string of lights to add a lovely ambiance. I do wish to have a dedicated sewing room at some point, but I make the small space work.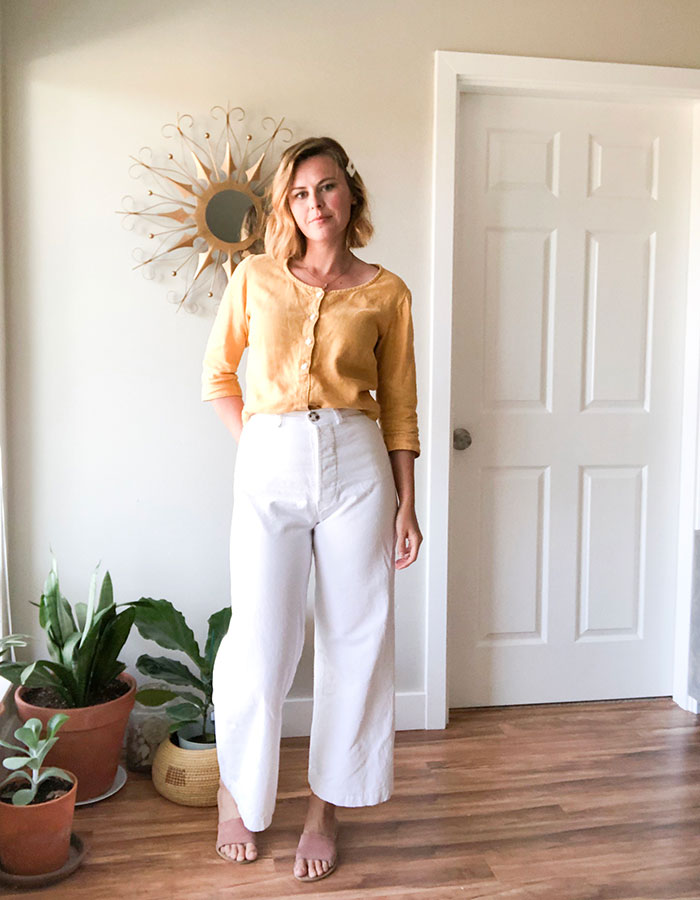 Okay, let's talk about your sense of style—How would you describe your sense of style? What aesthetic motivates you?
My style is forever evolving. Currently, I'd say I'm a cross between utilitarian and boho romance, if there is such a thing! I love wearing high-waist anything and feel most confident in jeans and a basic tee or cozy knit. During the colder months, I gravitate toward separates only, and when the warmer weather hits, it's all about flowy dresses and billowy sleeves.
I'd always been impressed by your ability to layer interesting pieces and style your handmade clothes. It didn't occur to me until you shared on Instagram about converting to Islam that the layering was not only aesthetic but also prioritized modesty.
It's easier for me to incorporate dressing modest as I used to wear full hijab (headscarf and dress) for almost five years as a convert to the Religion of Islam.
I no longer choose to wear the hijab, but I am still mindful about what I choose to wear and dress appropriately so. Islamic dress will always influence my style and the patterns I choose to make. Luckily, there are so many wonderful maxi length patterns or patterns that are easily hackable to add length and long sleeves!
I'm also a mom and a teacher, and I find that I'm more confident wearing modest clothing. I find dressing modest to be tasteful and appropriate, and there's a unique elegance about it.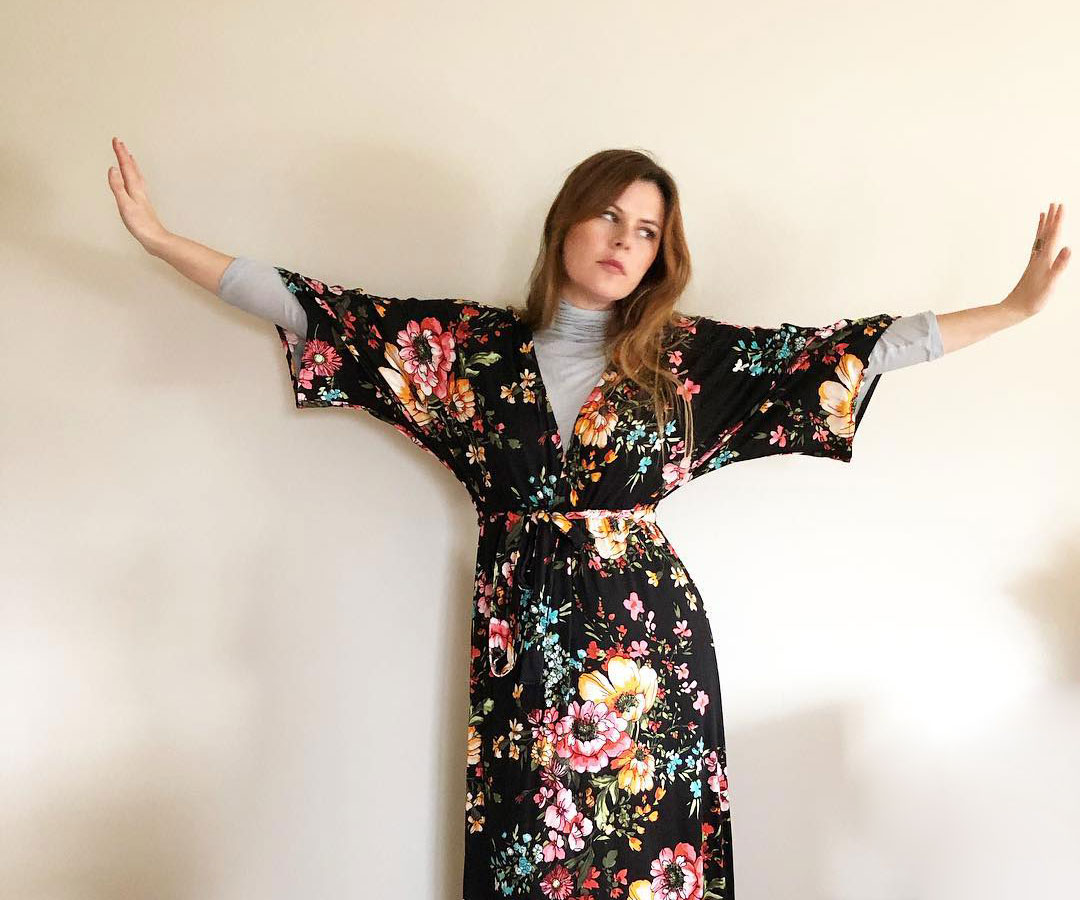 Speaking of motherhood and teaching, how do you balance being a working parent and finding time to sew your own wardrobe? You seem to be so prolific in the garments you make for yourself and your family.
I have yet to discover balance with working, mothering, and sewing! Sometimes it's just pure chaos to get any sewing done, with interruptions and multitasking. Before I started working outside the home, I enjoyed my quiet mornings while the children were in school, sewing, and working on new projects.
Wow, that sounds like an ideal setup. But it sounds like things have changed since going back to work. How are you adjusting to the life changes? Any words of advice?
I'm a true morning person and the most productive during that time. My mornings are now dedicated to work, which leaves little time for sewing, and it just takes longer to complete projects. For example, one weekend, I will assemble PDFs, and the next cut out two or three projects at a time. Then I'll gradually sew over the course of the week in the evening in small increments of time. It's not ideal, but it's the only way I manage to squeeze it in. I find it's better than waiting for the perfect moment to sew, because that is non-existent in my world! I try not to over commit with collaborations and pattern testing.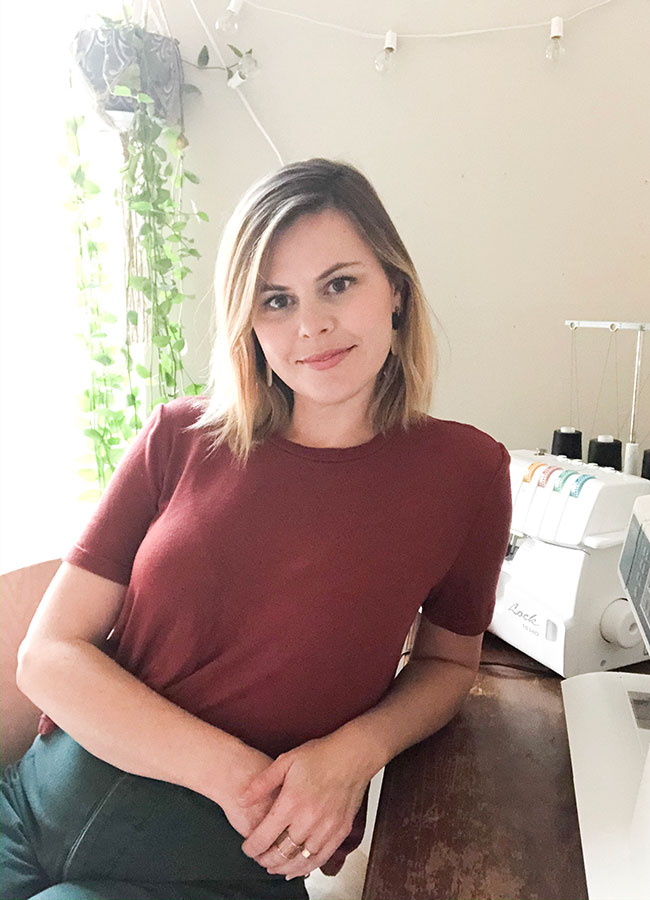 Having your sewing space in your bedroom must cause even more limitations. How does that affect your practice?
Sharing a space in my bedroom with my spouse has its challenges—I can only sew when the time is right and no one is sleeping! Cleaning up after every sewing project, keeping the pins picked up off the floor, and keeping my cats off my fabric and ironing board has some limitations in my space!
Thanks so much for sharing your space with us. It's always so inspiring to see another real space in action. Can you tell our readers where else they can find you?
Thanks for having me. I share my finished garments and processes both on Instagram @joanna_essentials and my blog.