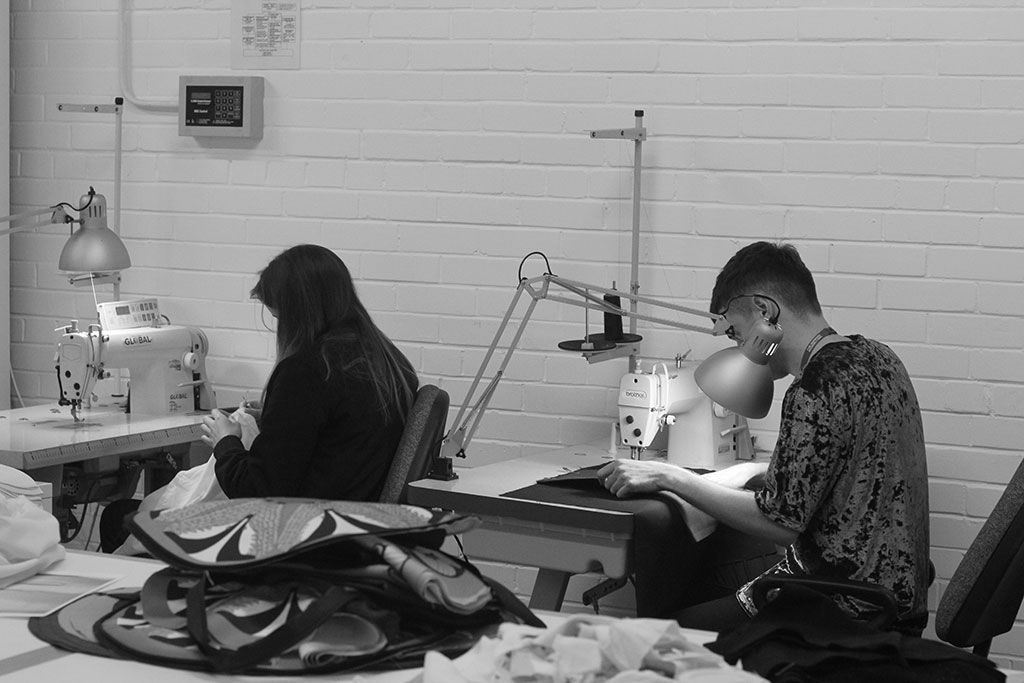 If you wanted to challenge the textile industry to use more ecological, ethical, and sustainable practices, where would you start? For business partners Nina Falk and Adam Robertson, the solution was to start Kalopsia Collective, a Scotland-based sustainable textile micro-manufacturing company. Many small businesses fail to gain enough traction to remain viable in the long-run. Kalopsia seeks to help local textile companies across that hurdle, all while focusing on ethical, sustainable production practices.
Founded in 2012, Kalopsia was born out of frustration with the textile industry. Falk and Robertson had watched as artists, designers, and businesses created amazing work yet failed to gain the traction they deserved; simultaneously, production remained riddled with waste, poor work conditions, low wages, outsourced labor, and harmful ecological practices.
Falk and Robertson realized that business support existed for start-up companies and large, established businesses, but what about companies who fell in the middle? A fabric designer who wanted to order 50 pillows or 1,000 tote bags, for example, had few or no options for receiving that type of support.
"We realized the true need for a cohesive pathway for developing projects, and that requires service providers at each stage," says Robertson.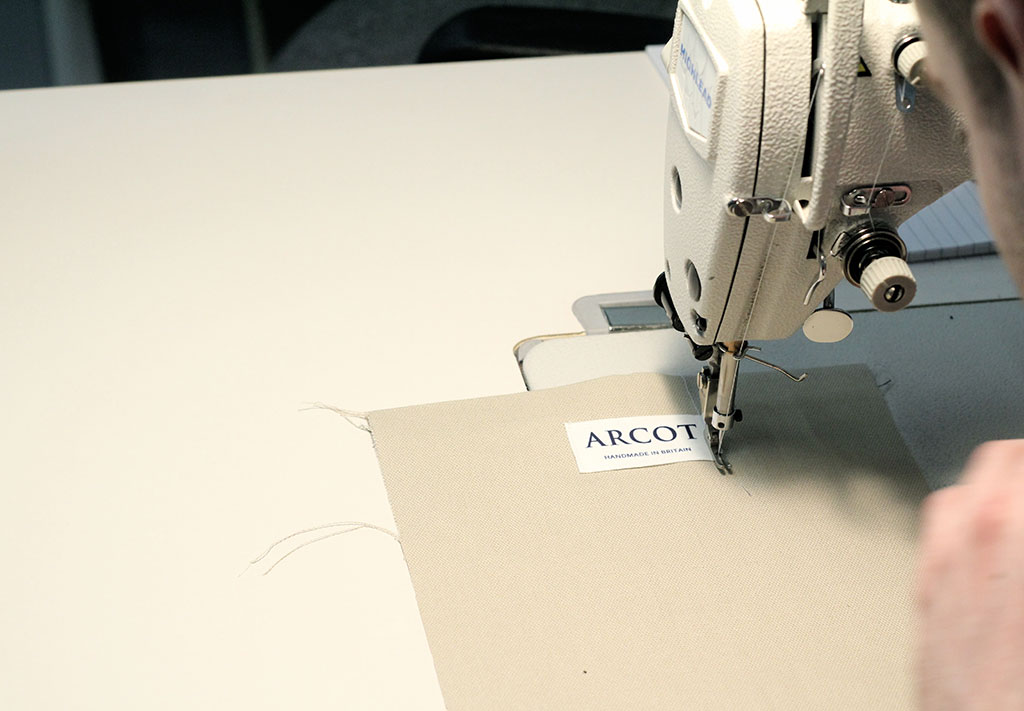 These realizations led to Kalopsia's focus: micro-manufacturing. Kalopsia provides customized design, prototype, and assembly, helping facilitate the concept-to-production pipeline. To do this, they focus on small production runs and specific services, like scarf hemming. By providing small-scale and start-up textile companies with a range of targeted services, Kalopsia enables businesses to grow their product lines and expand into new markets.
Edinburgh-based designer Mairi Wilks uses her photographs of Scotland to produce vibrant fabrics and wallpapers for her surface print label Mairi Helena. Her collection also includes interior design and fashion accessories made with her textiles. When she decided to expand into silk scarves and velvet cushions, she struggled to find a local manufacturer who offered these production services in the smaller quantities she needed. "Organizations like Kalopsia Collective are key to the survival of local Scottish textile independents like me," Wilks says.
Assemble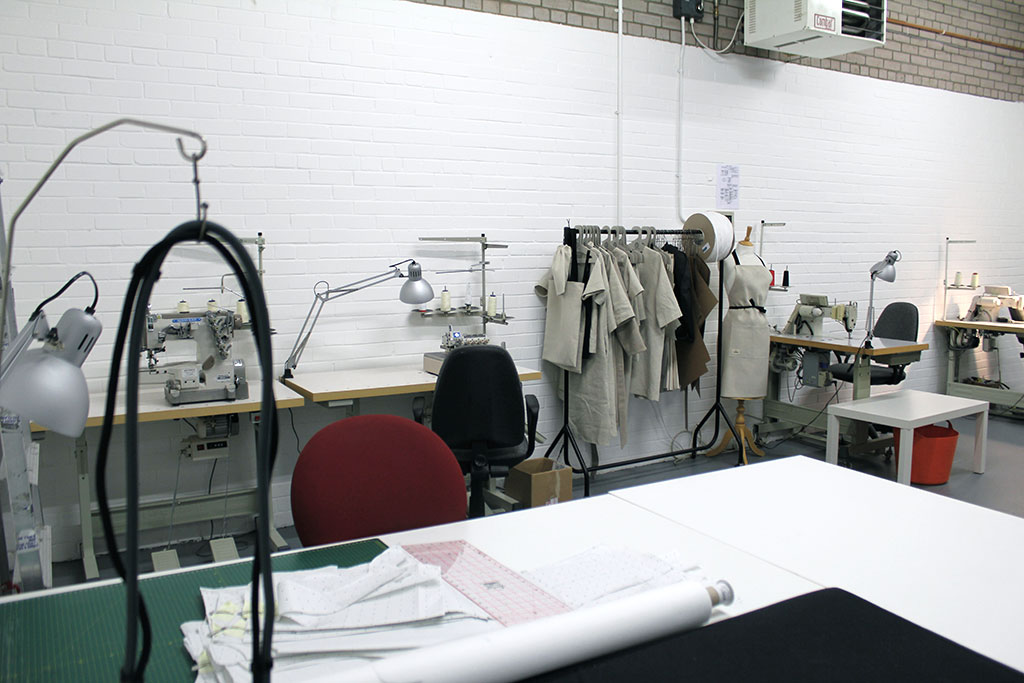 A popular service provided by Kalopsia is Assemble. This service allows textile producers to pair their fabrics with pre-designed accessory patterns like totes and neckties. Kalopsia oversees pattern cutting and sewing, all of which occurs in Leith, then delivers the finished accessories back to the designer.
Assemble allowed Skye Weavers, a business that produces tweed and other woolen accessories on a bicycle-pedal-powered loom, to expand from scarves and shawls into ties.
Although Skye Weavers produces a small range of home furnishings and garments in-house, "As we got increasingly busy weaving, it has become more and more difficult to find time for the sewing," says Andrea Holden, co-founder of Skye Weavers. Assemble was the perfect opportunity for Skye Weavers to shortcut through the design, prototype, and sewing process.
"Small businesses are usually quite stretched to deal with the multitude of tasks coming along with running a business," Holden says. "Working with Kalopsia has enabled us to broaden our range of products, so there is something for every taste in the shop."
Kalopsia is now expanding their Assemble collection to include apparel. Apparel options include classic base items, such as dresses, skirts, jackets, kimonos, and pants. These larger-ticket items represent potential new markets for the businesses they work with, and thus additional opportunities to continue growing Scotland's sustainable textile industry as a whole.
Waste Diversion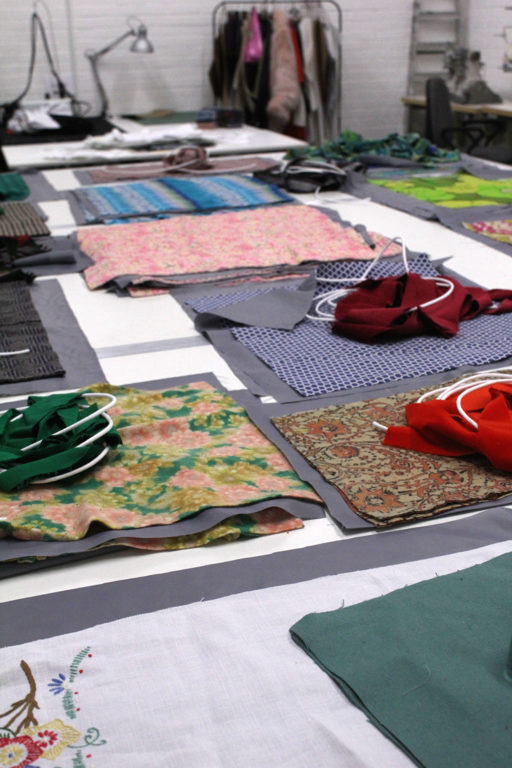 For Kalopsia, one way to address the social and environmental issues faced by the industry is to start with their manufacturing practices. Raising awareness about waste with textile designers and businesses is another.
Micro-manufacturing aims to integrate sustainable practices into production at every step. After partnering with the Glasgow School of Art and MAKLab maker space, Kalopsia found ways to use garment off-cuts to create accessories that require no further cutting or additional fabric, saving on both labor and fabric. Local, ethical, and ecological don't have to be barriers; they can be mutually reinforced advantages.
Both Wilks and Holden also emphasize Kalopsia's textile waste management, support of smaller independent textile businesses, and local manufacturing ethos as key reasons for working with the micro-manufacturer. "I really admire their ethos of a no-waste approach, helping me to utilize every part of my fabric," Wilks says.
Robertson points out that waste minimization is also good for businesses. "When you are running a small business and your margins are tight, any saving can make a huge difference," Robertson says. In most projects, Kalopsia sends all off-cuts back to the customer so they can see the leftovers and choose how they might want to reuse them. This transparency also encourages designers to think carefully about waste management solutions.
To Falk and Robertson, a major sign of success is when clients come back for repeat orders or new projects. Their growing client base demonstrates a real need for micro-manufacturing, and moreover that this kind of multiplicative scaling can change the industry. "We would like to think that we have been part of their journey and we are very excited to see their impact on the textiles and fashion market in the future," says Robertson.
Join the Conversation
Sign in or become a Seamwork member to comment on this article.