You may have sewn the prettiest party dress or the rockinest jeans, but in the winter how is anyone to see your awesome handmade wardrobe when you're always bundled up under something warm? Sew your own coat or jacket! If you haven't worked with cold weather fabrics before, it can be a bit intimidating to get started, so here's some information that will keep you warm.
Wools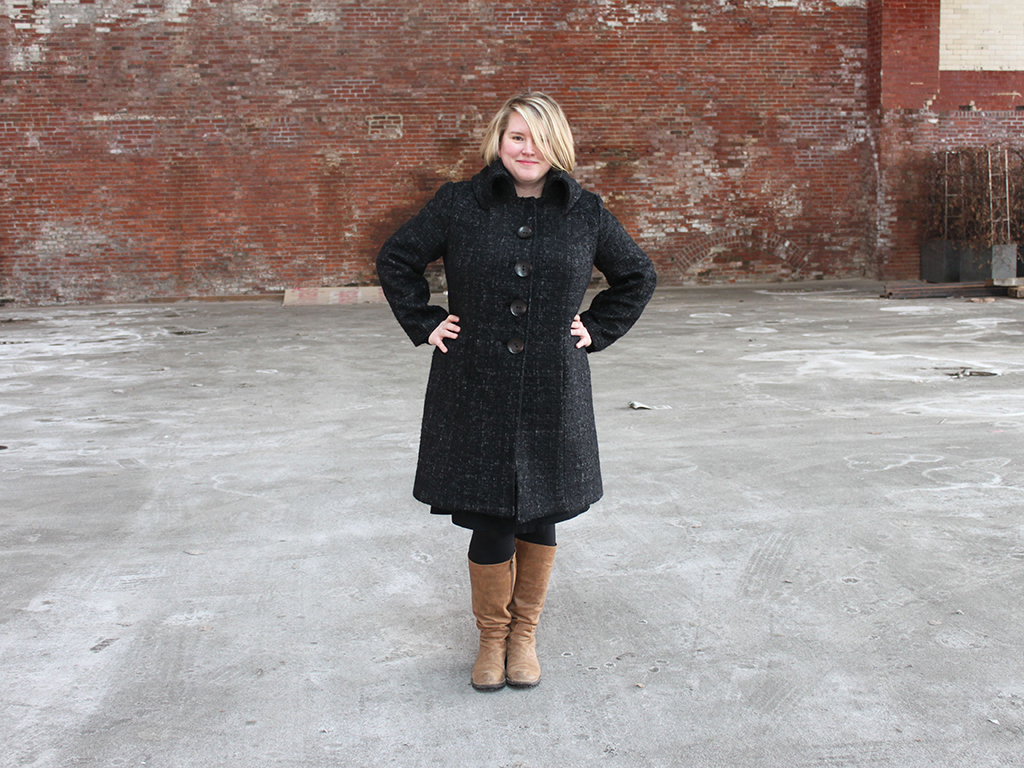 Jenny of Cashmerette in her interlined wool
winter coat
.
Weight
Anything over 10 oz. (per linear yard) and up to 24 oz. can fall into the outerwear range, although every manufacturer and retailer has their own cut-off for what they call a "coating weight" (and many retailers don't list weights on their websites, so make sure you order a swatch before committing to an entire coat worth of fabric!). Although there is a general correlation between the weight of a fabric and how warm it is, the weave of the fabric can also affect warmth.
Weave
Coating weight wools can come in an endless variety of weaves including plain weave, basket weave, and twill weave. The weave itself isn't necessarily indicative of the fabric's wearing properties, but it certainly affects the look of the finished garment.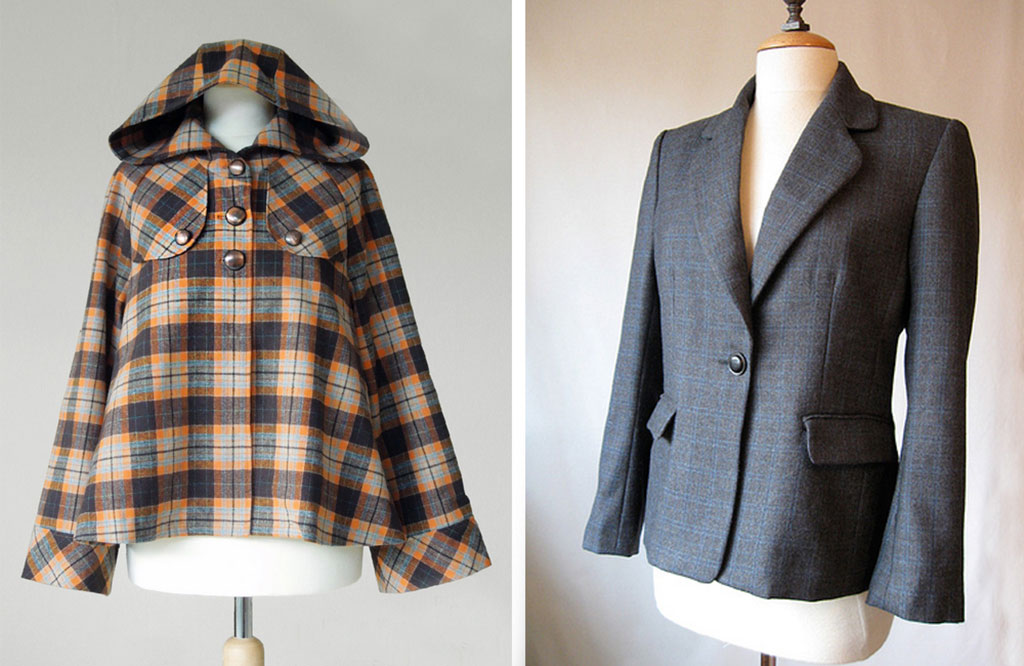 A bold
plaid jacket
by Yuki of Waffle Patterns and a
subtle plaid jacket
by Beth of Sunny Gal Studio.
Pattern
Coating weight wool can have a variety of different patterns made up of combinations of different colors and different weaves. For example, a tweed weave can look like a herringbone or a plain weave can show off a plaid. If you opt for a patterned wool, consider the scale of the pattern and how it will look on your coat. Remember that you will need extra fabric to match directional fabrics and patterns.




Fiber content
Your fabric doesn't need to be 100% wool to have the benefits of working with wool and the inclusion of some synthetic content can make the fabric more affordable. However, it's important to remember that the higher the synthetic content, the less like wool it will act, making tailoring more difficult.

Heather Lou of Closet Case Files in her
felted wool coat
.
Wool melton or felt
Melton is different than standard wool coating because it is tightly woven and then felled or heavily brushed. (Fulling is the matting of pre-knit or woven wool through heat, water, and agitation. It's what happens when you accidentally put your wool sweater through the wash. It's different than felting, which describes the creation of a fabric by matting raw wool fibers). Melton wools and felts are sturdier and more water resistant than other wools.
Less Traditional Fabrics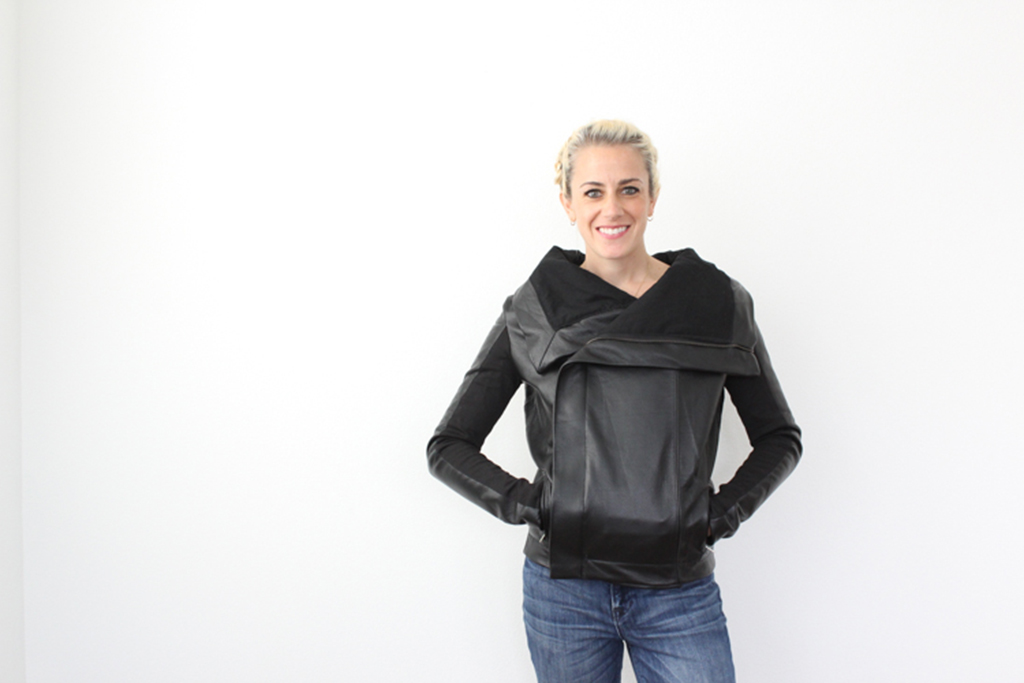 Miranda of One Little Minute in her
leather jacket
.
Leather
Leather is only suited to specific styles of jackets. You'll want to optimize for many seams (i.e., smaller pattern pieces) for the most efficient use of your leather or be okay with seams in the leather that are not. You can easily re-use leather from old jackets. Suede is not a good choice for winter because it spots in water.
Fleece
Not all fleeces are alike. The cute children's print fleeces that you find at the big box fabric stores won't actually keep you very warm and they won't wear well. However, specialty outerwear fleeces manufactured specifically for technical garment construction are a great choice as they are warm, lightweight, and often water-resistant.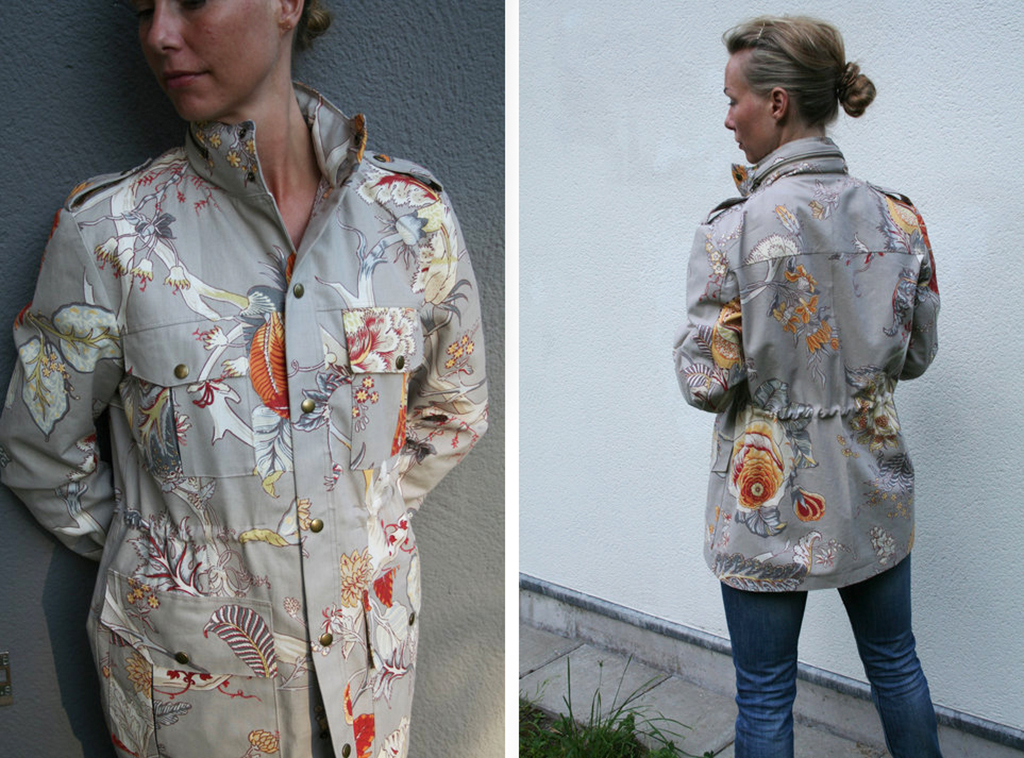 Ulrika in her
flowery military jacket
made from upholstery fabric.
Upholstery fabrics
If you are wanting to make a truly unique jacket or coat with unusual fabric, consider looking in the upholstery section. The variety in upholstery fabrics makes it hard to make general statements about working with upholstery fabrics, but you do want to consider weight and pattern, like you would when selecting a wool. Additionally, make sure that the upholstery fabric isn't too stiff or backed by a material that makes it too challenging to sew using your home sewing machine.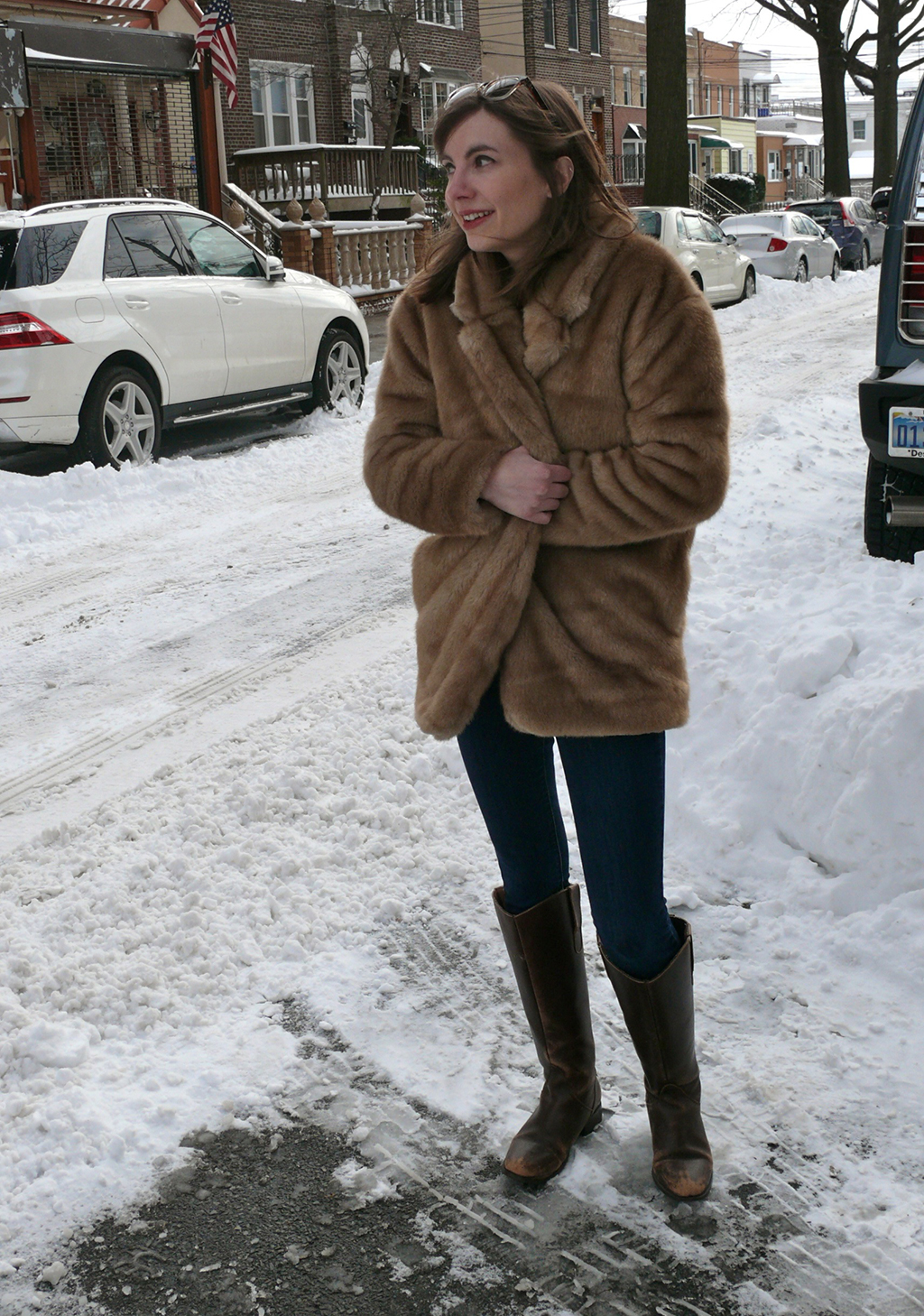 Sonja of Ginger Makes in her faux fur The Royal Tenenbaums-inspired Gerard Coat.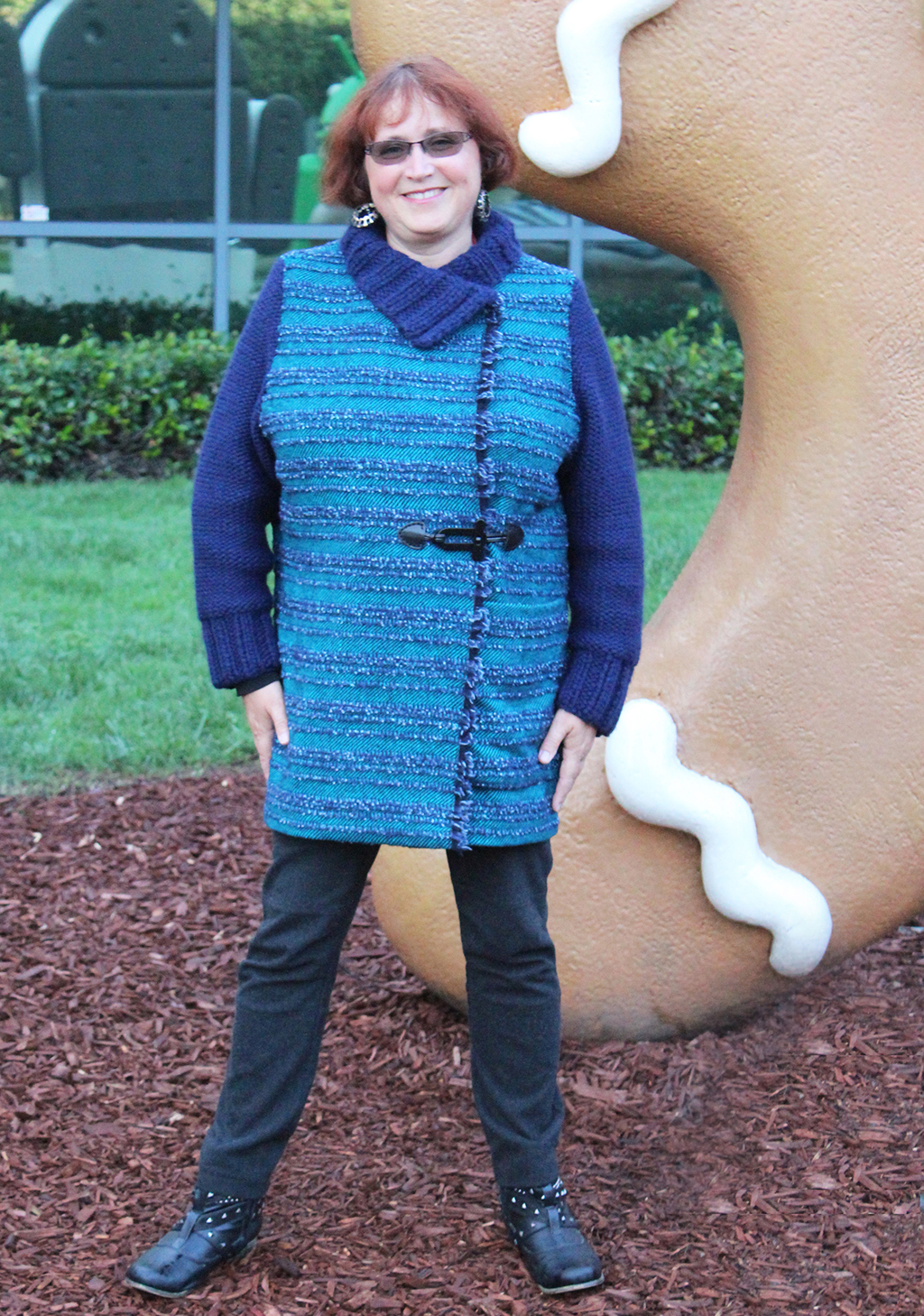 Shams of Communing with Fabric in her wool coat with knit sleeves.
Faux fur
Faux fur isn't the best choice for everyday wear, because it isn't water-resistant (and in fact can often get pretty bedraggled if it gets wet), is difficult to clean, and shows wear more than other sturdier fabrics. However, it sure is fun for a statement coat! Consider using it for cuffs and collars on coats or jackets that will be worn every day.
Double cloth
You can sometimes find a fabric that is the best of multiple fabric types by buying a double cloth that is a different fabric on each side. A great example of this is a double cloth melton and fleece that has the great outer characteristics of a wool melton with the coziness and warmth of a fleece.
Knits
Yep, you can make a winter coat or jacket out of a knit. You probably want to pick a knit that is quite stable (like a heavy ponte or other double knit) and choose a wool or a synthetic fiber meant for outerwear. Not all woven patterns can be easily substituted for a knit, so choose a pattern that isn't highly tailored. Consider going down a size (but not more as your coat still needs to fit over the clothes you are wearing underneath). Another fun idea is to swap out a big collar or even the sleeves of the jacket or coat for a knit.
Underlining and Treating Fabric
So you're in love with a fabric that isn't quite warm enough? Don't fret! There are several things that you can do. These techniques can work whether you are trying to stay warm in truly brutal winter weather (hello Montreal and Boston) or if you want to make a mid-weight fabric wearable in the winter (and you're lucky enough to live in more moderate climates like those of us out here on the West Coast).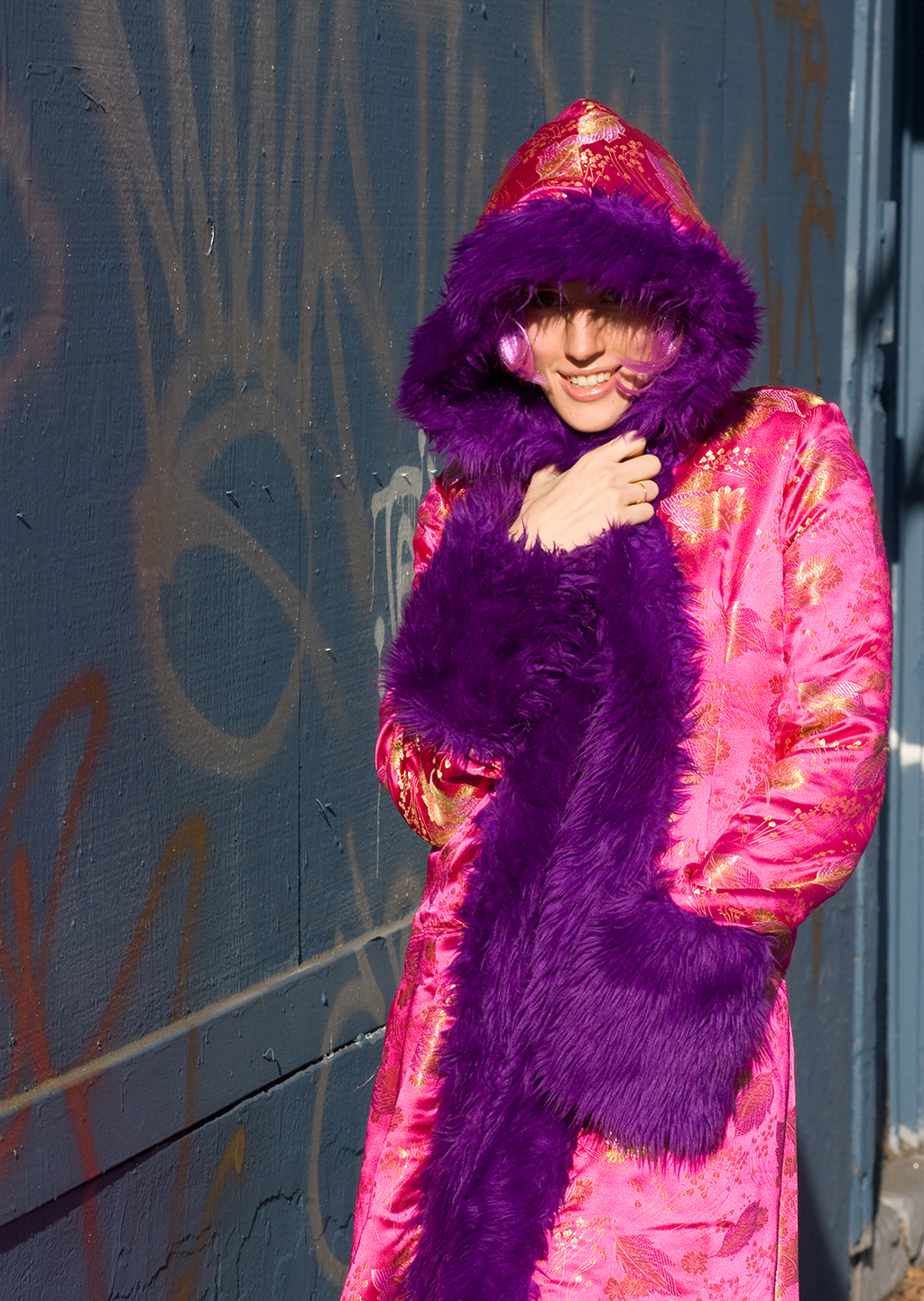 Erin of SeamstressErin Designs in her underlined brocade coat with faux fur cuffs and collar.
Underline or interline your garment: Underlining is when you cut your pattern pieces from two different fabrics and treat them as one with the wrong sides together. It effectively makes your fabric double sided. It is often used when constructing unlined coats or jackets so that the insides show a pretty fashion fabric instead of the wrong side of a fabric. Interlining is the term used when you add an underlining to a garment strictly for added warmth or bulk. Interlined garments are often lined. Use interlining like fleece or flannel to make your garment even better for cold weather wear and remember that there are different weights of fleece and flannel available.
Wax or chemically treat the fabric to make it waterproof: Being water-resistant is an important characteristic of any winter wear. Water resistance also has the added benefit of wind resistance, as most treatments that block water additionally minimize wind chill. Waxing cotton fibers is a great way to make them sturdier and more resistant to the elements. Otter Wax makes a great beeswax-based wax that doesn't include any petroleum-based ingredients. You can also treat leather with similar products to make it more resistant to inclement weather. There are a variety of chemical treatments (like Scotchgard) available that you can use to coat a variety of fibers to make them more water-resistant.
Join the Conversation
Sign in or become a Seamwork member to comment on this article.