Blazers aren't just for businesswear, so you can layer them with almost any outfit, especially if the blazer has soft tailoring.
What is soft tailoring? Keep reading to meet the new Keaton blazer and learn more about the sewing skills you'll pick up if you sew this pattern.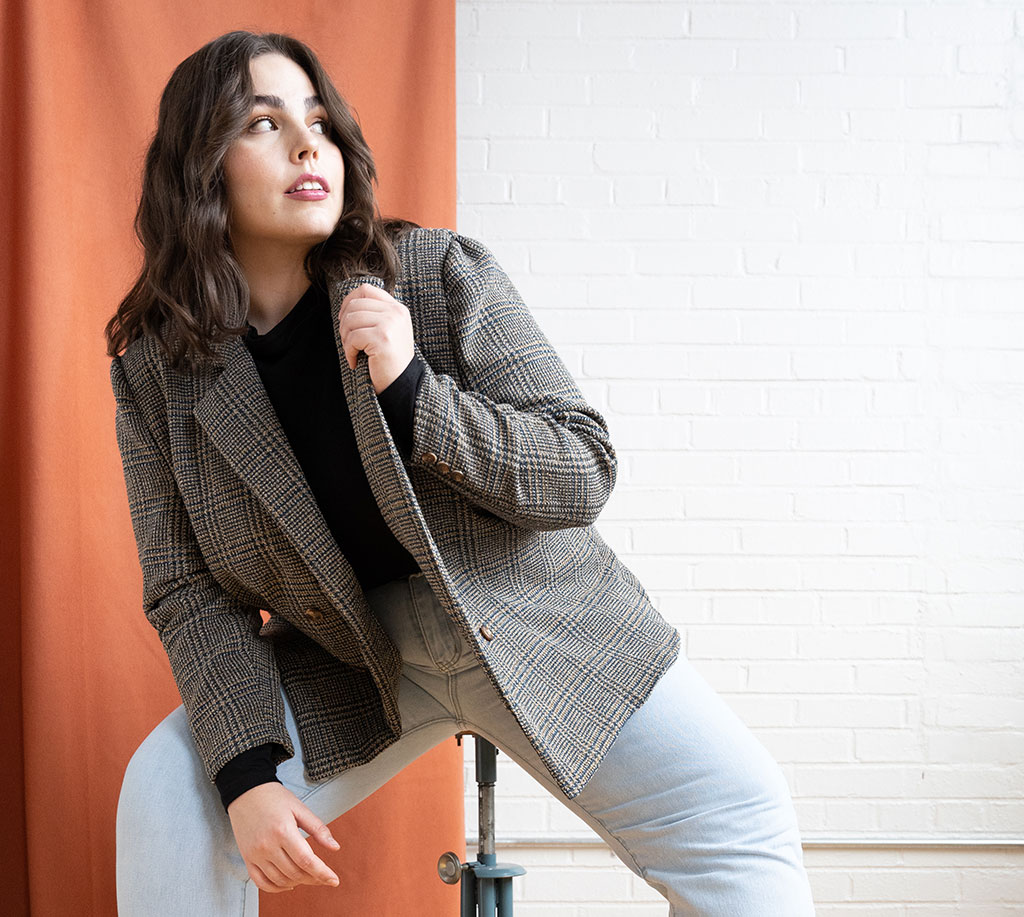 Meet the Keaton Blazer
Keaton is a double-breasted blazer with a slim, relaxed fit that hits right below the hipline. It has fun details to sew, like a notch collar, two-piece sleeves with staggered decorative buttons, and lightweight shoulder pads. This blazer also has some soft tailoring to add to your sewing skills. Knit interfacing provides structure to the chest and upper back, and woven interfacing reinforces the collar.
We love this blazer because it offers a beginner-friendly approach to a more advanced sewing project. Sometimes, it's inspiring to experience a challenging sewing project step by step. This blazer comes together easily, but you'll be so impressed with the finished garment!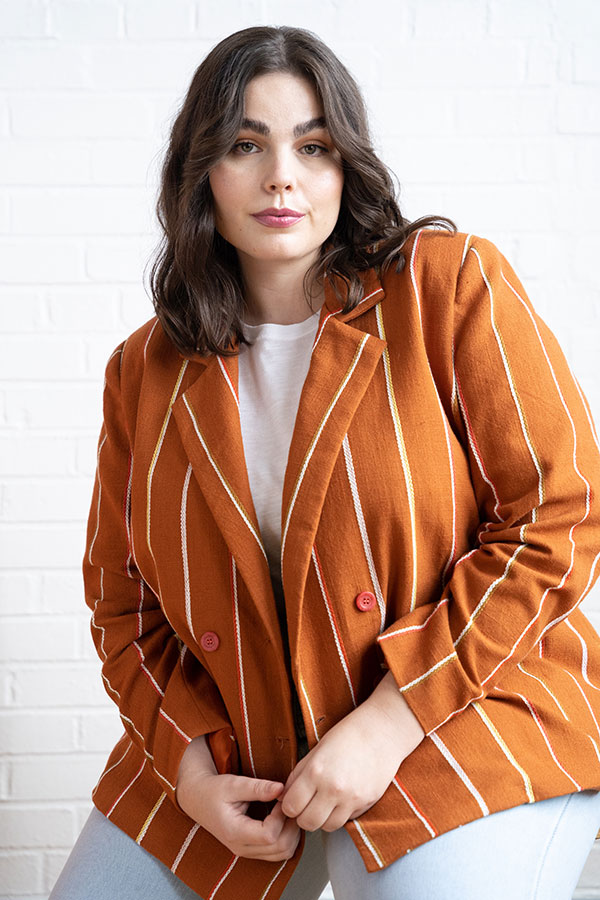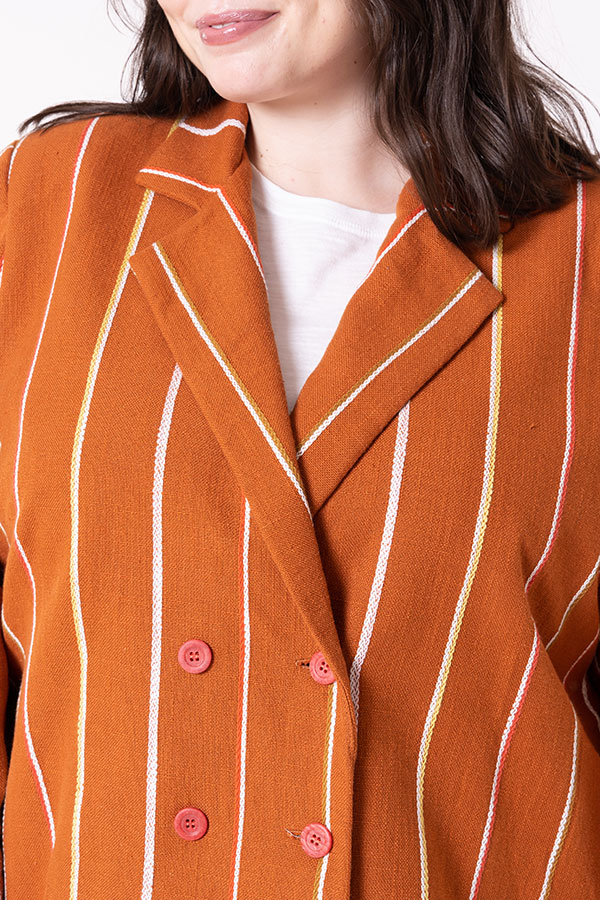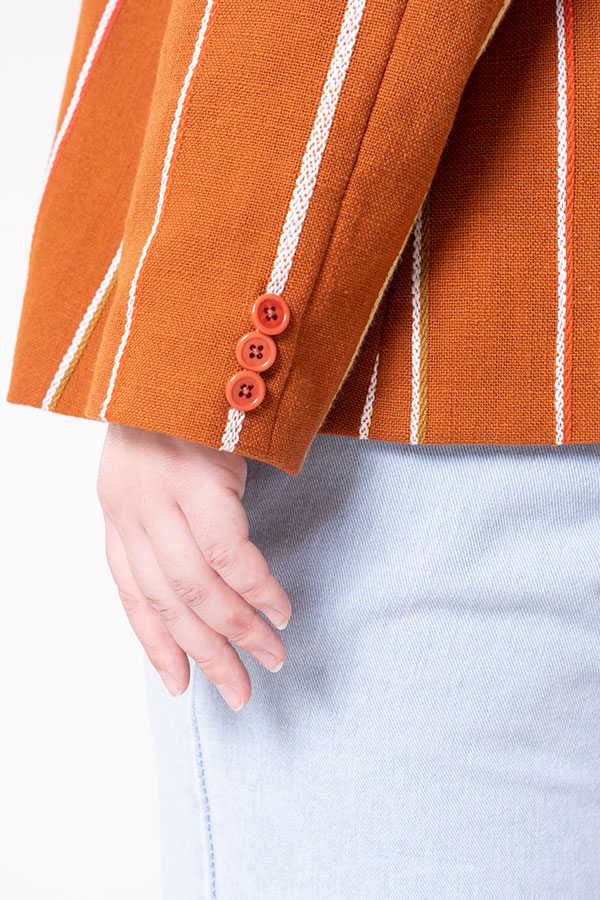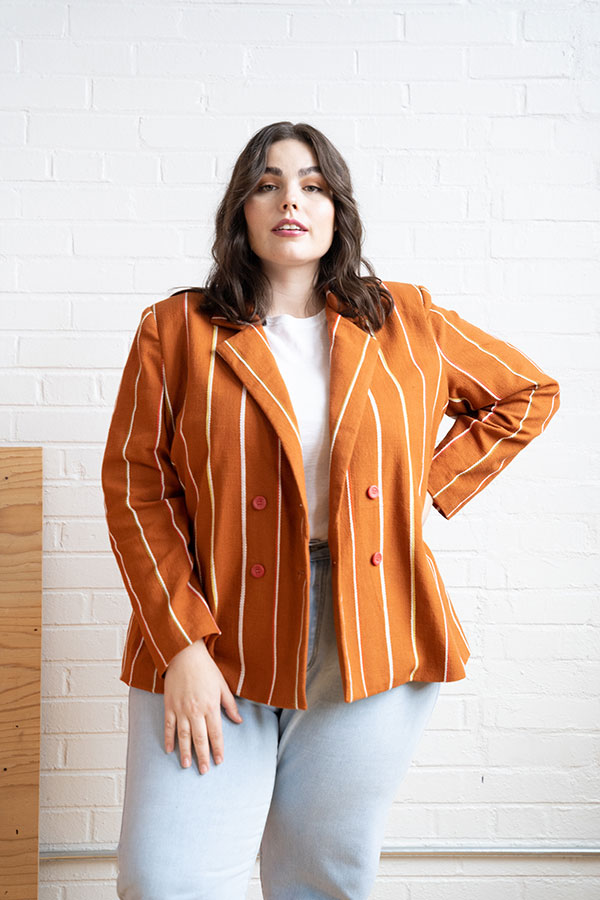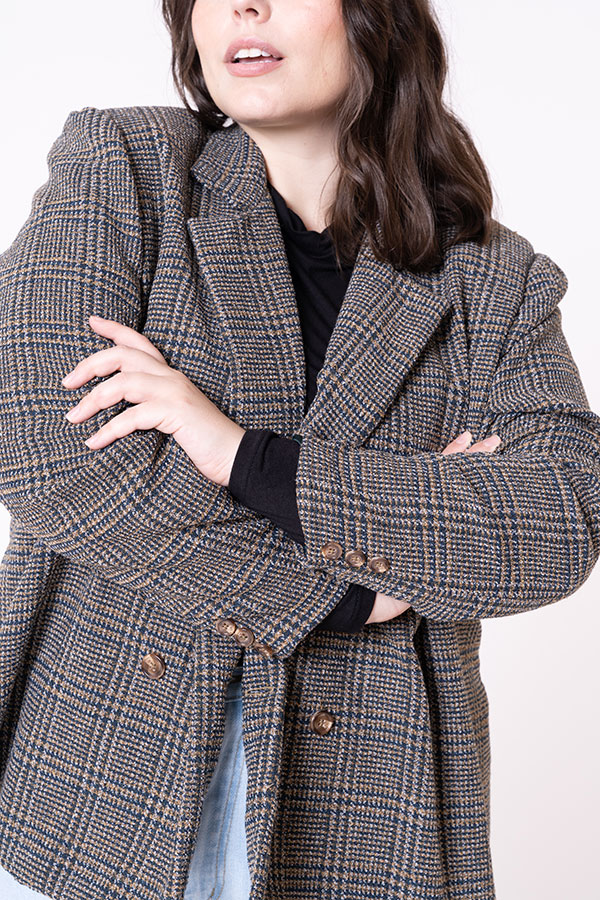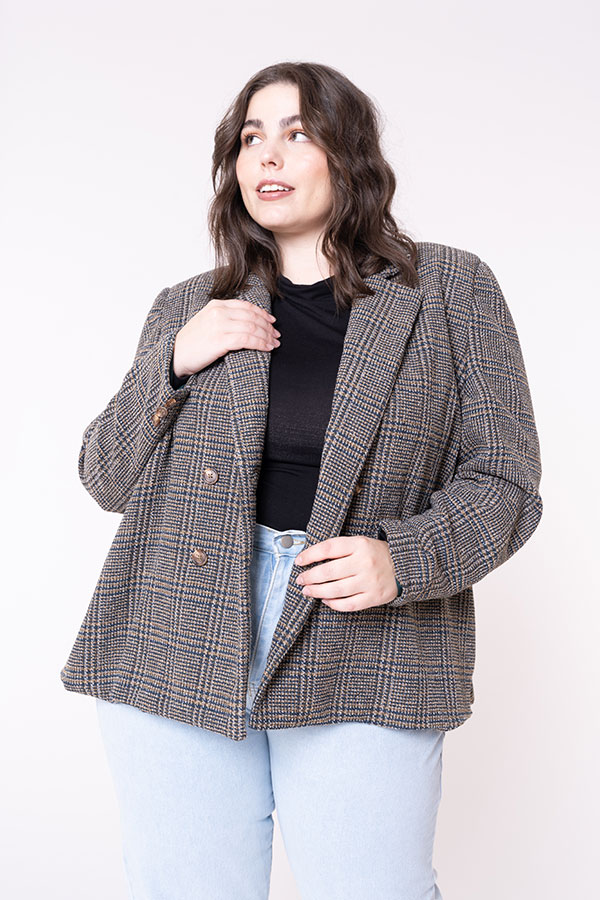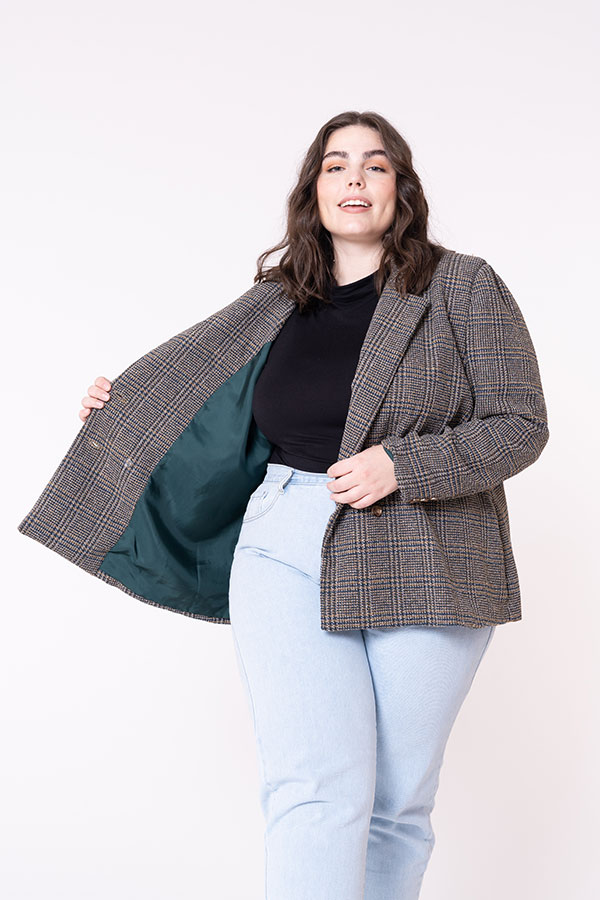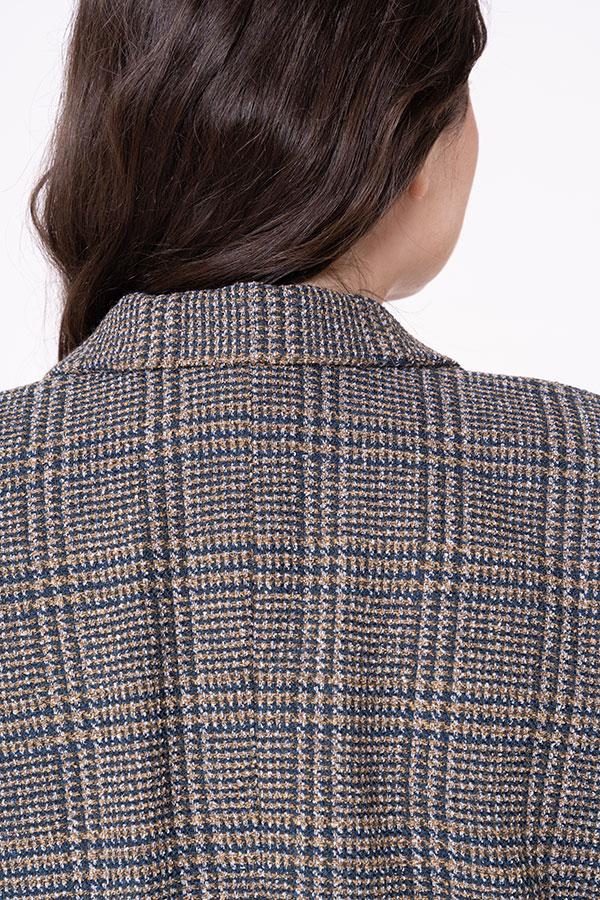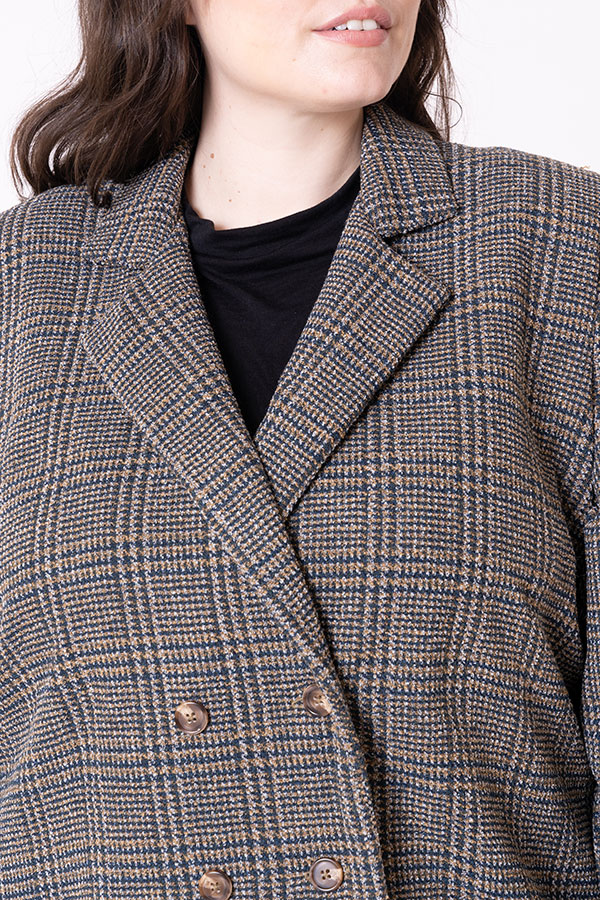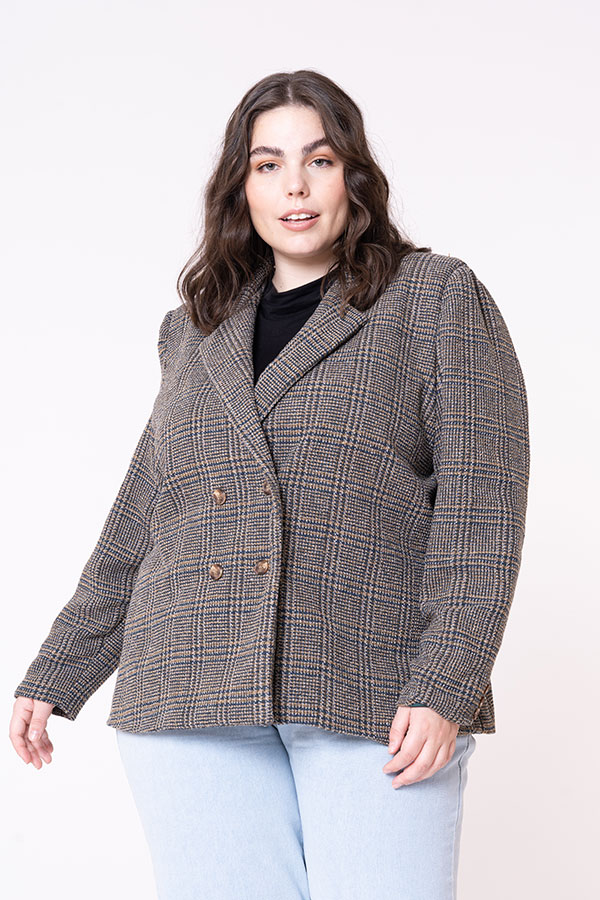 Fabric & Fit
Fabrics to shop: For the main fabric, look for medium-weight or heavyweight woven fabrics such as linen, denim, canvas, suitings, corduroy, and velveteen.
Using a silky lining will make it easy to get your blazer on and off. Look for lining fabrics such as crepe de chine, Rayon Bemberg, acetate lining, or polyester lining.
Fabrics to avoid: Since this blazer has shoulder pads, avoid lightweight fabrics for the shell. They might not give enough structure to maintain the silhouette.
Fit: This blazer has a relaxed fit. Pay most attention to the finished garment measurements at the bust, bicep, and shoulders. You can even measure a ready-to-wear blazer that fits well to compare the fit.
The shoulder pads are included to give the blazer some structure. In addition, your shoulders are anchor points for the entire garment, so having some shaping there helps create the whole silhouette.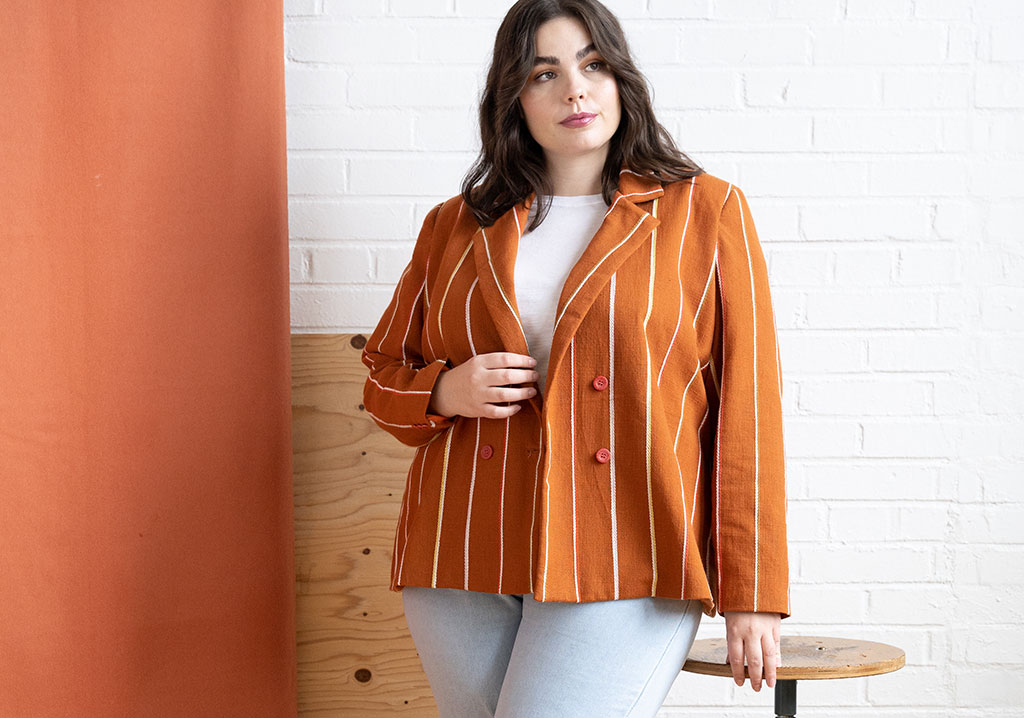 What is Soft Tailoring?
When describing suits or blazers, you'll often see the terms hard tailoring and soft tailoring. The difference between the two has to do with the garment's construction—and good news, it's all in the name.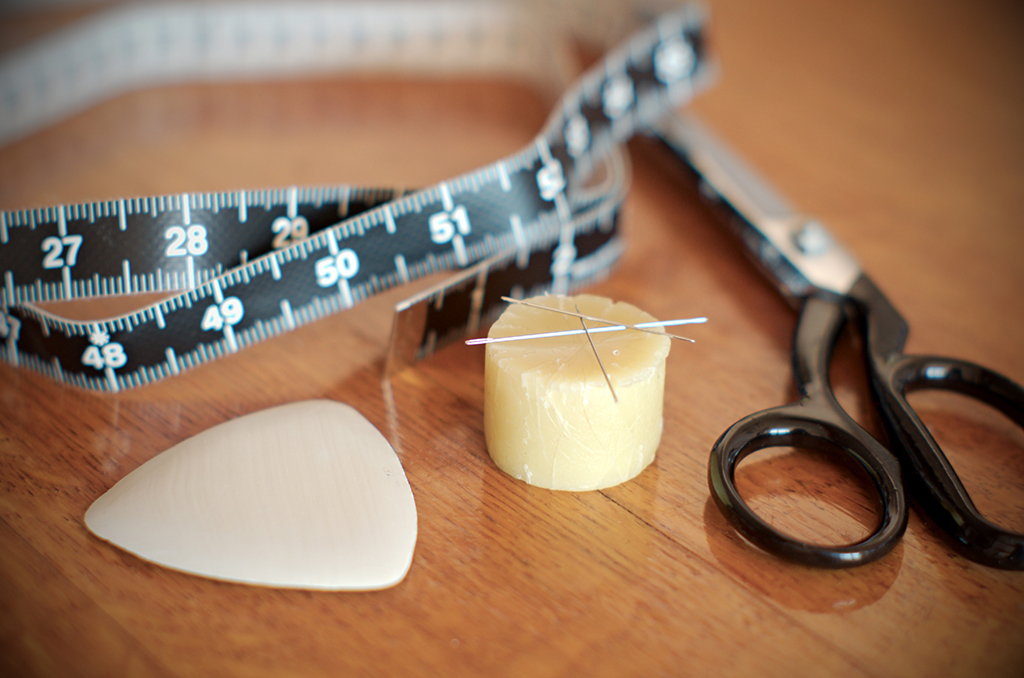 Traditionally, hard tailoring uses stiffer materials, more layers, and angular shoulder pads to give a garment a structured silhouette. In contrast, soft tailoring uses softer materials, fewer layers, and perhaps some subtle shoulder pads to create a more casual silhouette.
If you look at a very traditional, formal blazer—or maybe even a power suit from the 1980s—you are likely seeing hard tailoring. A lot is going on between the shell and the lining. Depending on the fashion trends of the time, these garments might include layers of tweed or flannel, horsehair interlining, patches, wadding or padding, and sewn-in interfacing.
Consider a more modern blazer, one you might wear with a pair of jeans, and you have an example of soft tailoring. Shoulder pads might give a subtle shape to the silhouette and then let a softer fabric hang around your body. There might be some fusible interfacing between the lining and the shell, but you won't find excessive padding, and there certainly won't be horsehair interlining.
The Keaton blazer uses a bit of soft tailoring to create the semi-fitted silhouette, like 1/2" shoulder pads for shaping, knit interfacing at the chest and upper back, and woven interfacing in the collar. So sew it up, and maybe you'll enjoy the process so much that you'll tackle a hard-tailored suit someday!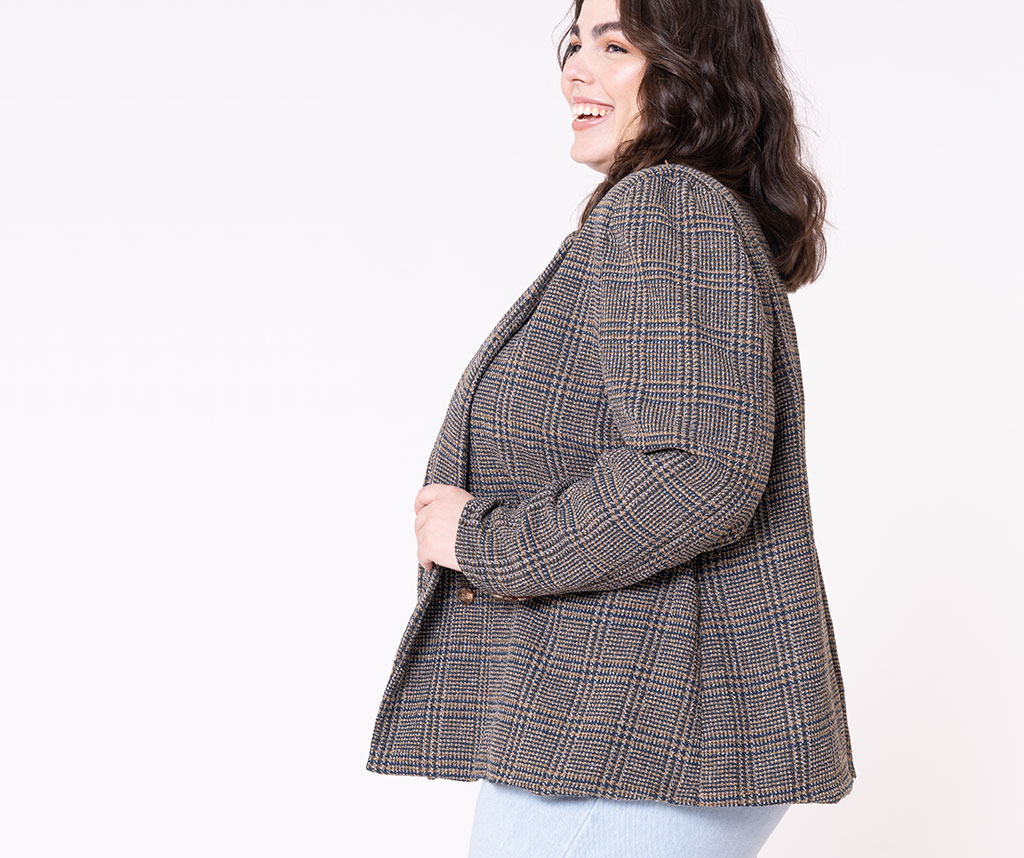 Sew the Keaton Blazer
Join the Conversation
Sign in or become a Seamwork member to comment on this article.