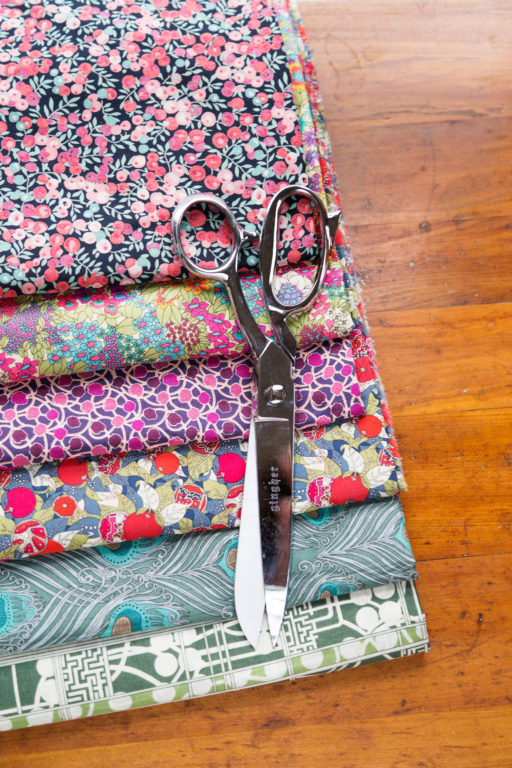 "I was determined not to follow existing fashions, but create new ones." – Arthur Liberty



It was the fall of 2001 and I was snaking through the back streets of London, on my way to an internship interview. The potential job was with Liberty of London, a store I knew nothing about. As I approached Great Marlborough Street, I was not at all prepared for the sight that met me, a looming Tudor building with dark wooden beams and sparkling windows, flowers spilling out onto the sidewalk, a coat of arms hanging over the main entrance, and even a golden ship masthead sailing at the very top of the gables. Inside was an emporium that belonged in Alice's Wonderland, with piles of Persian carpets, walls of books, tables of scarves, and floor after floor of beautiful items. Liberty was a department store, yes, but a department store that clearly had an aesthetic vision that advocated both luxurious and avant garde design.
The interview was a success. For the next three months I explored the store from corner to corner, but it was the haberdashery department that enchanted me most.
The Tana Lawn cotton prints were unlike anything I had seen in the US. Instead of clunky quilting weight cotton, the Tana Lawn felt almost like silk—soft and weightless. And the prints! There were so many from which to choose—tiny florals and swirling art nouveau designs in so many different colors. By the time I left Liberty, I was a textile junkie, collecting fabric faster than I could sew it. A few years after graduating, I even opened a fabric store, which, of course, sold Liberty Tana Lawn.
I learned quickly that Liberty of London isn't just a department store or even just a brand of fabric. It is a tastemaker that has a history of being on the leading edge of decorative arts and textile design. From its inception in 1875, one man's artistic vision brought the store to the epicenter of the design world. For the last 140 years, Liberty's signature fabric prints have influenced design movements, fashion designers, and even home sewists.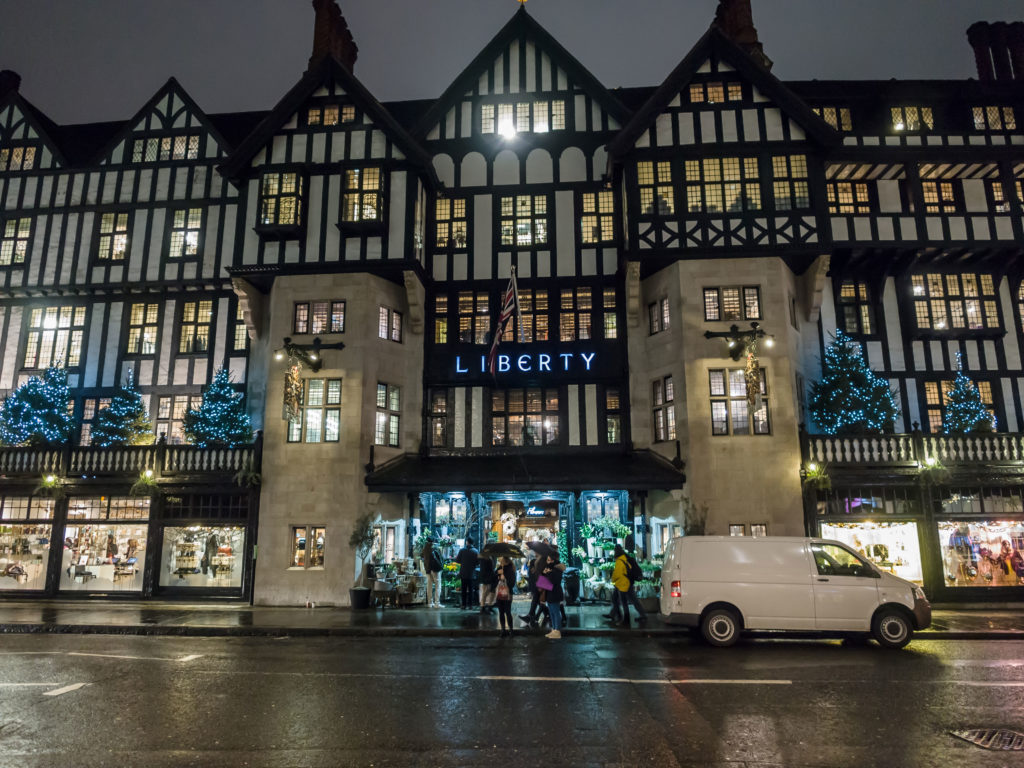 Photo by James Petts from London, England, via Wikimedia Commons.
Introduction to High Street
In 1862, Arthur Lasenby Liberty, originally from Chesham, England, took a position with Farmer & Roger's Great Shawl and Cloak Emporium on London's Regent Street. At the age of 18, Liberty had previously apprenticed at a lace warehouse and linen draper—without much success. His move to Farmer & Rogers, which was famous for its inventory of textiles and shawls imported from India, took him to the most fashionable street in London, a luxury trade avenue where half of the businesses had royal warrants.
Arthur Liberty's move to Farmer & Roger's coincided with the Great London Exposition, which included an exhibit of Japanese goods. At the time, Japan was a closed society with limited trading. The Exposition's exhibit brought designs to England that had rarely been seen before and created a mania for all things Japanese. Farmer & Roger's, seeing the public mania for Asian designs, opened the Oriental Warehouse next to their original store. Arthur was assigned the duty of junior salesman at the Oriental Warehouse but was soon promoted to manager.
During Arthur's 12 years as manager of the Oriental Warehouse, he made a name for himself as a tastemaker. His interest in the arts put him at the center of London's artistic circles, and artists such as William Morris would frequent the warehouse, dropping in to look at his hand-picked goods. Despite the success of the Oriental Warehouse, Farmer & Roger's refused to make Arthur a partner in the business. Funded with a small loan from his father-in-law, he decided to go out on his own.
A New Venture
On May 15, 1875 Arthur opened Liberty & Co.'s East India House at 218A Regent Street. This new store, which only took up half a shop space, was to focus on apparel and interior decoration and featured shop windows filled with extravagant textiles from the Far East. Despite initially selling nothing but colored silk, customers flocked to the store, including Arthur's acquaintances in the art world.
The initial success of Liberty & Co. allowed the company to quickly invest in new products. The fabric department expanded to include cashmere and other imported textiles. Home decorative items such as lacquerware, porcelain, Oriental carpets, and even bamboo furniture were added. Business grew rapidly, and as it did, more products meant the need for more square footage. Soon, Liberty was able to annex the other half of his shop space. Prosperity continued, and nine years later Liberty occupied five storefronts on Regent Street, two on King Street and three on Warwick Street.
A Series of Expansions
Home Furnishings



"Liberty is the chosen resort of the artistic shopper." – Oscar Wilde



The late 1800s were a period of great change in the design world. Design reformers for the Aesthetic Movement wanted to create innovative products that could give families an artistic but also healthier home. Accordingly, designers looked to simpler furniture lines, eschewing large, heavily-carved furnishings for pieces that were beautiful, functional, and easily moveable for cleaning. Liberty & Co. was at the forefront of this movement, engaging designers such as Edwin Godwin, Christopher Dresser, and Silver Studio, all leaders in decorative arts design.
A Major Shift in Focus
As demand for Oriental textiles began to outstrip supply and quality started to flag, Arthur Liberty started printing his own silks. He imported undyed fabric straight from the loom and worked with Thomas Wardle, who was a pioneer in textile manufacturing, to color and finish the textiles. Liberty worked closely with Wardle, who developed a process for dyeing techniques and developed the Liberty Art Colors–dark, subtle colors that couldn't be found elsewhere. The success of this first collection of in-house fabric was the catalyst for a major shift of focus for Liberty & Co. The company partnered with progressive British artists to design its own textiles and wallpapers, collaborations that kept Liberty positioned as a leader in decorative arts design.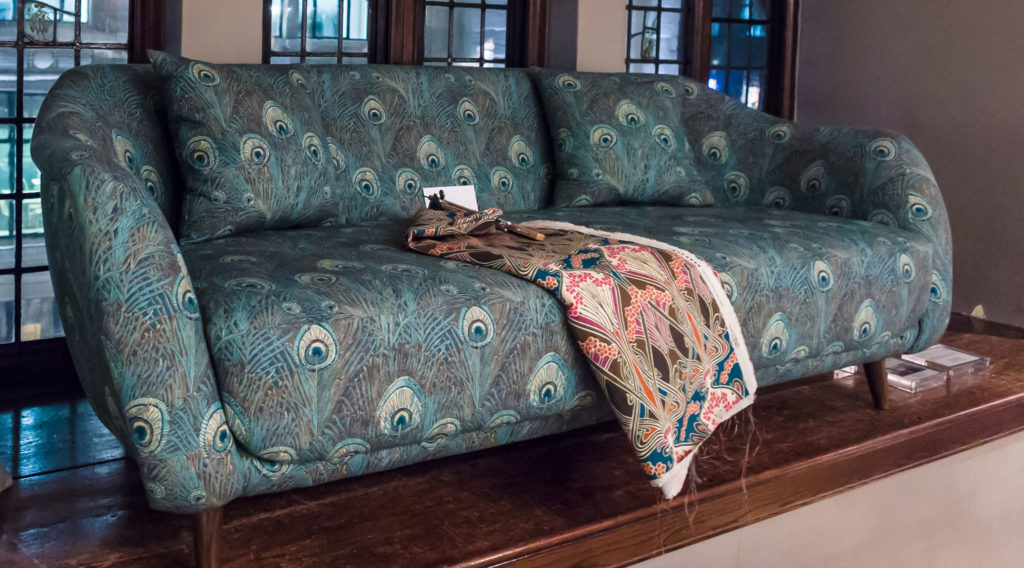 Sofa upholstered with the Peacock Feathers print. Ianthe fabric is strewn across the seat. By James Petts from London, England, via Wikimedia Commons.
The Peacock Feathers print, created by the Silver Studio in 1887, debuted at the Manchester Royal Jubilee Exhibition during the height of the Aesthetic Movement. This print, now known as Hera, is a registered Liberty trademark print still in production. Another trademark print, Ianthe, was designed by R. Beauclair during the Art Nouveau movement. Liberty was a pioneer of this style of decorative arts and became so associated with the movement that in Europe art nouveau designs became (and are still known as) Stile Liberty.
Liberty after Liberty
Arthur Liberty died in 1917, leaving the business without its visionary leader. He never saw the completion of the grand new Tudor style building along Great Marlborough Street. The new store, which was built with timber recycled from two Royal Navy warships, soon became so popular with the public that it became a destination in itself.
This popularity masked a trembling foundation. The years after Liberty's death and World War I left the business on shaky ground artistically: instead of pioneering design movements, they followed them. However, it was during this time that they would produce a new fabric that would become a staple for the next 90 years, Tana Lawn cotton.
Birth of a Signature Textile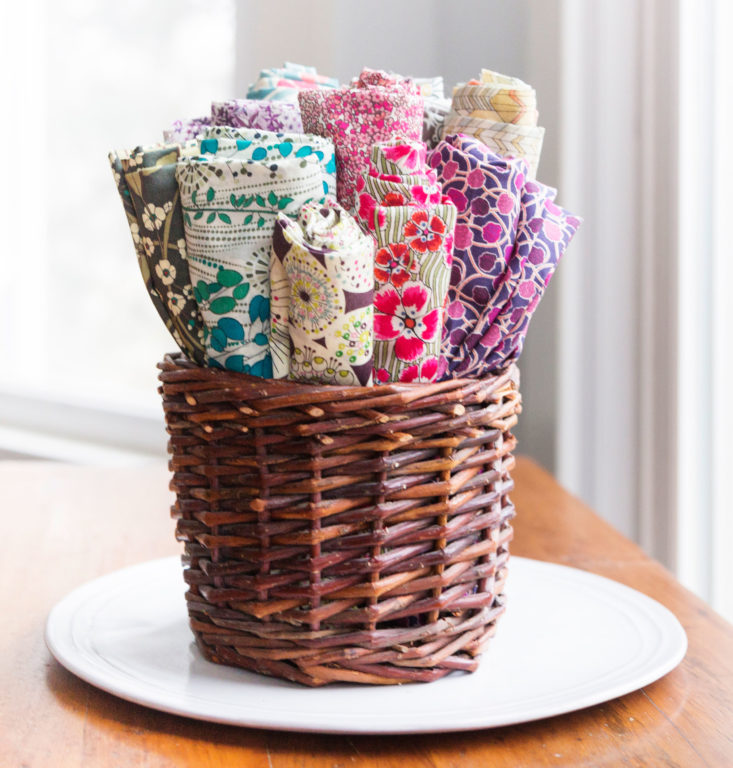 Basket full of Liberty Tana Lawn cottons.
The cotton was named after Lake Tana, which is located in Sudan, where the raw cotton fiber was grown. Liberty scouted ultrafine long-staple cotton fiber that could be spun much finer than normal cotton fibers. Originally, the fabric was block printed by hand at the Liberty-owned Merton Abbey print works, but the labor-intensive procedure was too cost prohibitive. Most of the cottons today are screen printed by machine at Standfast & Barracks in Lancaster, England. Every color is printed on a separate screen, the colors layered one after the other until the print is complete.
Mid-Century Modernizations



"It has to happen: every 30 years the young men come along and say 'all this fuddy duddy stuff has to go.'" – Arthur Liberty



In 1944 British designers set up the Council of Industrial Design "to promote by all practical means the improvement of design in the products of British industry." Much like the leaders in the Aesthetic Movement, they were looking to revolutionize the decorative arts. Liberty & Co., in a bid to reinvent themselves after years of creative stagnation following Arthur Liberty's death, joined them. The textile department led the way with contemporary prints by designers such as Lucienne Day and Robert Stewart.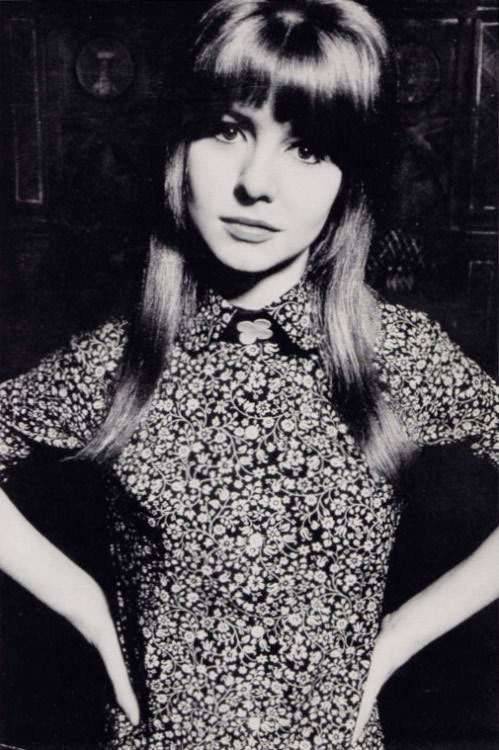 Jane Asher wearing a Foale & Tuffin Liberty Print
dress in Vogue, 1964.
In the early 1950s Colleen Farr, a recent graduate of the Royal College of Art, created the first in-house textile design team for Liberty. Farr's studio, The Design Room, was steps away from Carnaby Street and was well-situated for the burgeoning fashion movement that was starting to take shape there. As Farr's designs grew more popular, young London designers like Jean Muir, Foale & Tuffin, and Mary Quant started to use Liberty fabric in their designs. In the 1960s, Liberty's florals were a perfect fit for the Bohemian looks being presented by Cacharel and Yves St. Laurent. The adoption of Liberty fabric by these young designers once again positioned the store as a leader in design.
Liberty of London in the Twenty-First Century
Liberty still collaborates with both designers such as Acne and ready-to-wear companies like J. Crew, augmenting the newest fashion trends with their unique fabric prints and introducing their textile designs to new audiences. In 2010, Liberty was a guest designer for Target, bringing their floral prints to a variety of merchandise, everything from fashion and lingerie to stationary, bedding, home décor, and even gardening tools. Nike has been a longtime partner with Liberty; each year they release a highly anticipated line of shoes for men and women that features classic Liberty prints.
Liberty has long had an in-house design team that produces its own fashion and home items for the store, using its signature prints. You can find everything from a classic button-down shirt in Tana Lawn cotton to a Liberty print silk scarf.
Home items abound, from furniture to stationery. This year, they even released a highly coveted Liberty print sewing machine! Despite the availability of Liberty prints in finished goods, many people prefer to buy fabric to create their own projects, and Liberty's soft Tana Lawn cotton has become a sought-after fabric for the home sewist.
Liberty and the Home Sewist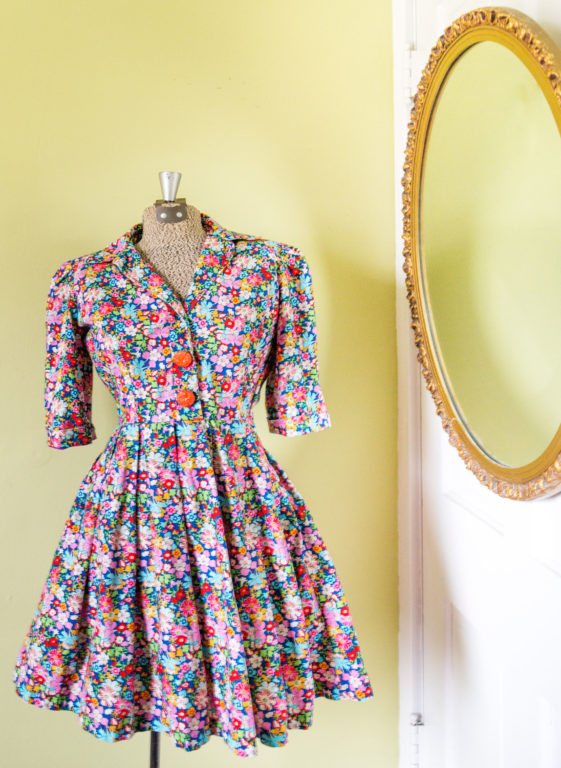 Vintage dress pattern made with
Liberty Lifestyle craft fabric.
With the advent of the online sewing community, interest in Liberty fabric yardage has exploded. Garment sewists love that Tana Lawn cottons have a silky hand and gentle drape, yet still provide the ease of sewing with cotton. New textile substrates such as jersey knits, corduroy, fleece, and silk have added even more options for the fashion sewist. The high price of Liberty fabric can make an entire garment out of reach for some sewists, but that hasn't stopped the creative community from finding ways to add a touch of Liberty to their projects. Even adding just a splash of Liberty print to a shirt collar and cuff is enough to imbue a garment with Liberty style.
Fashion sewists aren't the only ones working with Tana Lawn. The crafting and quilting community has adopted the fabric as well, and free online tutorials abound for everything from Liberty print bookmarks and lined envelopes to bags and quilts. Liberty itself has embraced this community and has created a new online magazine, Sew Liberty, which is filled with project tutorials and news about the latest Liberty prints and haberdashery items. The store has also added a sewing school to its list of services, offering beginner and advanced classes for sewists.



"Liberty is one of the last great emporiums of its kind left on earth…"
– Ed Burstell, Managing Director, Liberty of London



Although I have since closed my fabric store, I still keep up with the bi-annual Liberty fabric releases. I love to see what the designers have come up with for the Art Collection, which consists of new prints usually based around a theme—anything from Alice in Wonderland-inspired fabrics to collaborations with artists like Zandra Rhodes. Along with the Art Collection, Liberty maintains an on-going collection of their classic prints—favorites that originate as far back as the 1800s, re-colored and styled for contemporary audiences. I find myself splurging on one print a season, and have built up quite a collection, each print inspiring a new project idea.
I love that working with Liberty fabric makes me part of a century-old tradition of style. For me, shopping at Liberty is still just as magical as the first day I stepped through the door. And, I suspect, just as magical as it was when it first opened its doors in 1875. Arthur Liberty was a man of vision, a tastemaker whose company reinvented itself time and time again. While steeped in tradition, Liberty isn't stuck in an inherited style. Each season brings new ideas that push the boundaries of what design can be. For Liberty aficionados like myself, it is this combination of history and cutting edge design that makes Liberty of London a unique experience.
Join the Conversation
Sign in or become a Seamwork member to comment on this article.