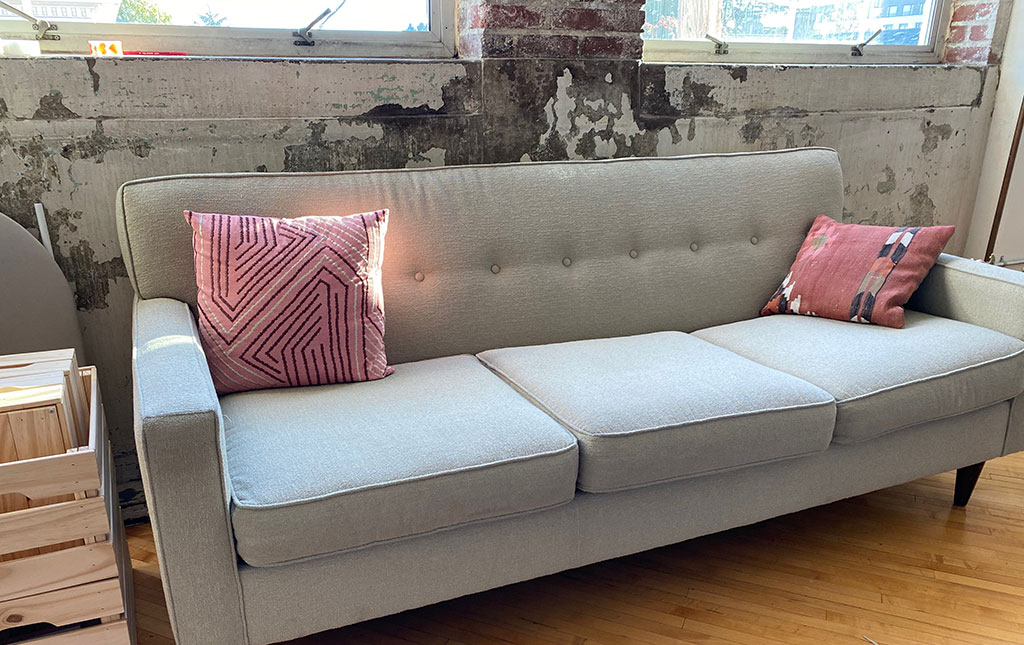 When spring rolls around, many of us begin to crave something new.
For me, the change in season inspires changes in my wardrobe, my surroundings, and my routines. Partly, this is practical. New weather brings new requirements as I move to wear lighter fabrics, open shoes, and fewer layers.
The other part is emotional. Sunnier skies and opening flower buds make me feel lighter and more optimistic, and I want to reflect those feelings in what I wear and surround myself with. Suddenly, after months of wearing black, light colors are very appealing.
All of this is a completely natural response to the changing seasons. But at the same time, I've noticed that these points of transition in the year can easily lead to overspending and accumulating more than I need. My excitement over moving into a new, inspiring season can push me to fantasize about redecorating my entire house or buying 10 new pairs of sandals.
This past month, as I worked on our plans for remodeling our studio here at Seamwork, I sometimes found myself lured by the prospect of buying more than we really needed. A fresh start is so inspiring, and the increasingly sunny days and bright natural light have made me feel like overhauling everything from the top down.
Taking a step back, I've found that a few simple techniques have helped me to curb these impulses while still enjoying the fresh start of a new season. These ideas could be just as easily applied to your wardrobe.
---
1. Take an inventory
After making plans for each space in our new studio, I noticed that I hadn't included many of the pieces of furniture that we already owned.
The problem was that many of these pieces, as functional and attractive as they might be, had faded to the background of my awareness. I hardly noticed them anymore.
So I walked through our entire studio and made a list of all the pieces we already had, from our desks to our utilitarian warehouse shelving. I wrote out how many we had, and which I thought we could repurpose and which should be sold or donated.
The same things work for your wardrobe. You may find that, although you were thinking about buying a new pair of flat black sandals, you already own a perfectly serviceable pair you bought last summer.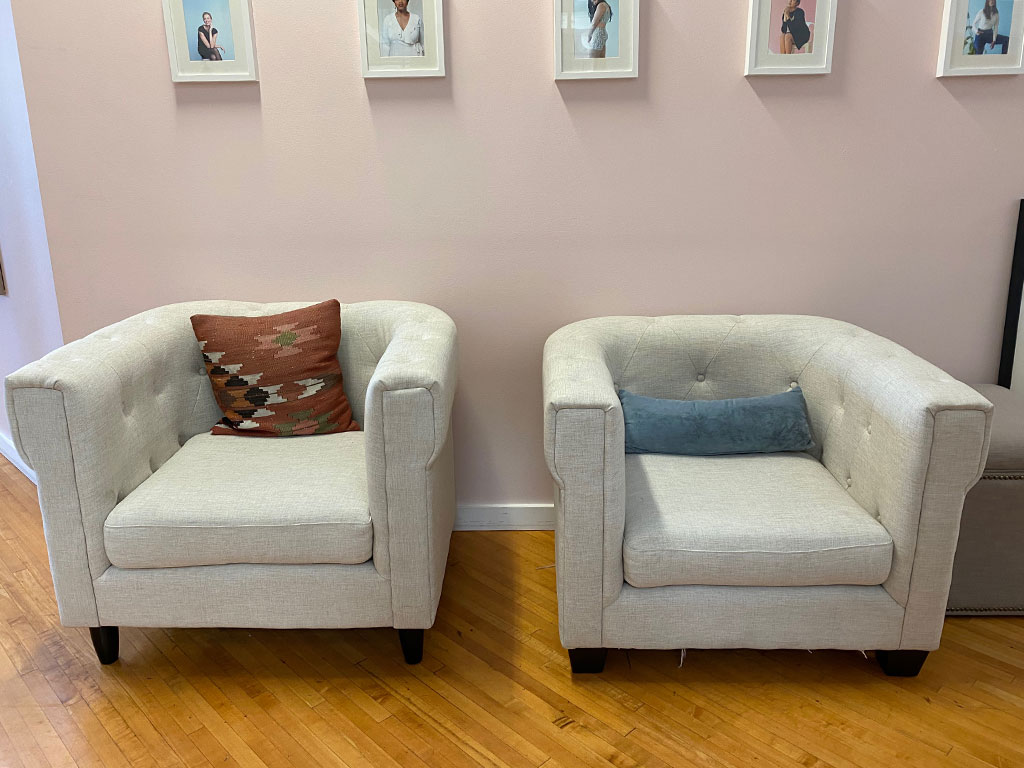 ---
2. Try a new context
The next thing that helped was to start putting things we already had into a new context. How could we give a fresh look to something that we'd come to take for granted in our space?
It's so easy to stop noticing all that is good about the things you already own, as you pursue the new and exciting.
So I began rearranging things, moving our sofa to a new area where it's even more functional, folding up rugs to be placed somewhere new, or even just taking photos of items and adding them to the inspiration boards I'm creating for the new space.
By trying out new combinations and arrangements, we can make the old new again. Novelty is fresh and exciting, but it doesn't have to cost money.
---
3. Fix what you have
We have a pair of comfortable linen club chairs that have been in the studio for many years.
I felt ambivalent about keeping them. They were lovely chairs, but I couldn't help but think about something new with a little more pizazz.
But after doing my inventory and moving things around, I realized that they just needed a bit of love. Some fabric had frayed a bit on the underside of one of the chairs, leaving threads hanging down that simply needed to be cut off. The thrift store pillows that had been hanging around on them for years were mismatched and dull. And a less-than-thoughtful repair job years ago had left the pair of chairs with mismatched legs at different heights.
Sometimes, those things you own and feel less than enthusiastic about just need a little TLC to feel new again.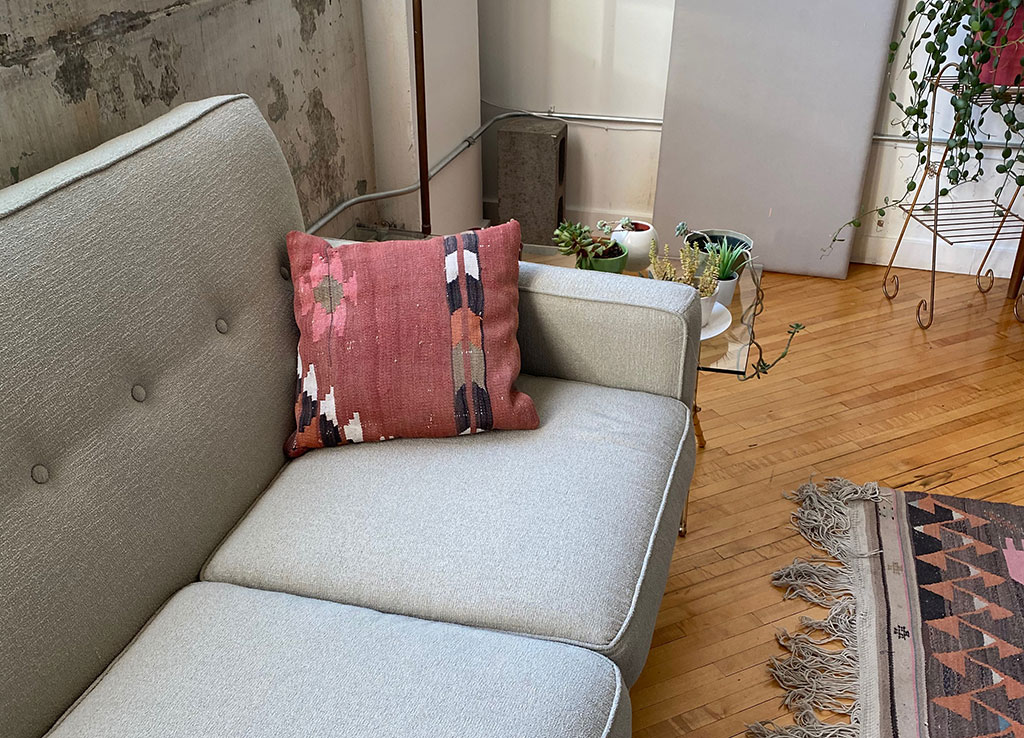 ---
4. Find inspiration based on what you have
I noticed that many of the inspiration photos I'd collected for our new lounge area featured light, neutral, classic linen sofas.
Though I loved the bright and airy look, I wondered if I could create an equally beautiful look with the mid-century grey-green sofa we already have. So I began to seek out inspiration on Pinterest that featured light green sofas instead of something entirely new.
By looking for inspiration based on what you already own, you can start to reimagine what you have. This is true for furniture in a room, and it's true for garments in an outfit. Can you find inspiration that features fresh new outfit ideas using items similar to what you already have?
---
Use your imagination this spring
Sometimes it takes a bit of effort and imagination to fall in love again with what you already own. It can be easier to throw away the things that no longer excite you and move on to something that does.
But getting creative with what you already have only helps you to appreciate the objects in your life even more. They no longer feel like temporary placeholders, but objects of meaning that you have developed real gratitude for.
Join the Conversation
Sign in or become a Seamwork member to comment on this article.