Marigold and Green Tea Toner Pebbles
When combined with hot water and a towel, these fizzing toner pebbles release clouds of skin-soothing steam. A basket of toner pebbles and a large towel would make a wonderful gift—especially if you customize the towel with applique or embroidery.
Each tiny "bath bomb" is packed with green tea, tea tree oil, and golden calendula marigold petals. These antioxidant-rich ingredients help calm irritated skin, heal blemishes, and prevent more breakouts. Steaming offers a few minutes of calm in a busy day, making this a treat for the mind as well.
To use, drop toner pebbles in a large bowl or sink full of hot—not boiling—water. Drape a large towel over your head and shoulders, sealing in as much steam as you can. Steam your face for 7–10 minutes. Breathe deeply and relax. Follow with a soothing moisturizer, mask, or serum that suits your skin's needs.
If you like the toner, you can save the liquid for 3–4 days in the refrigerator. Put it in a spray bottle for a mid-day skin refresh, or use it to rinse off masks.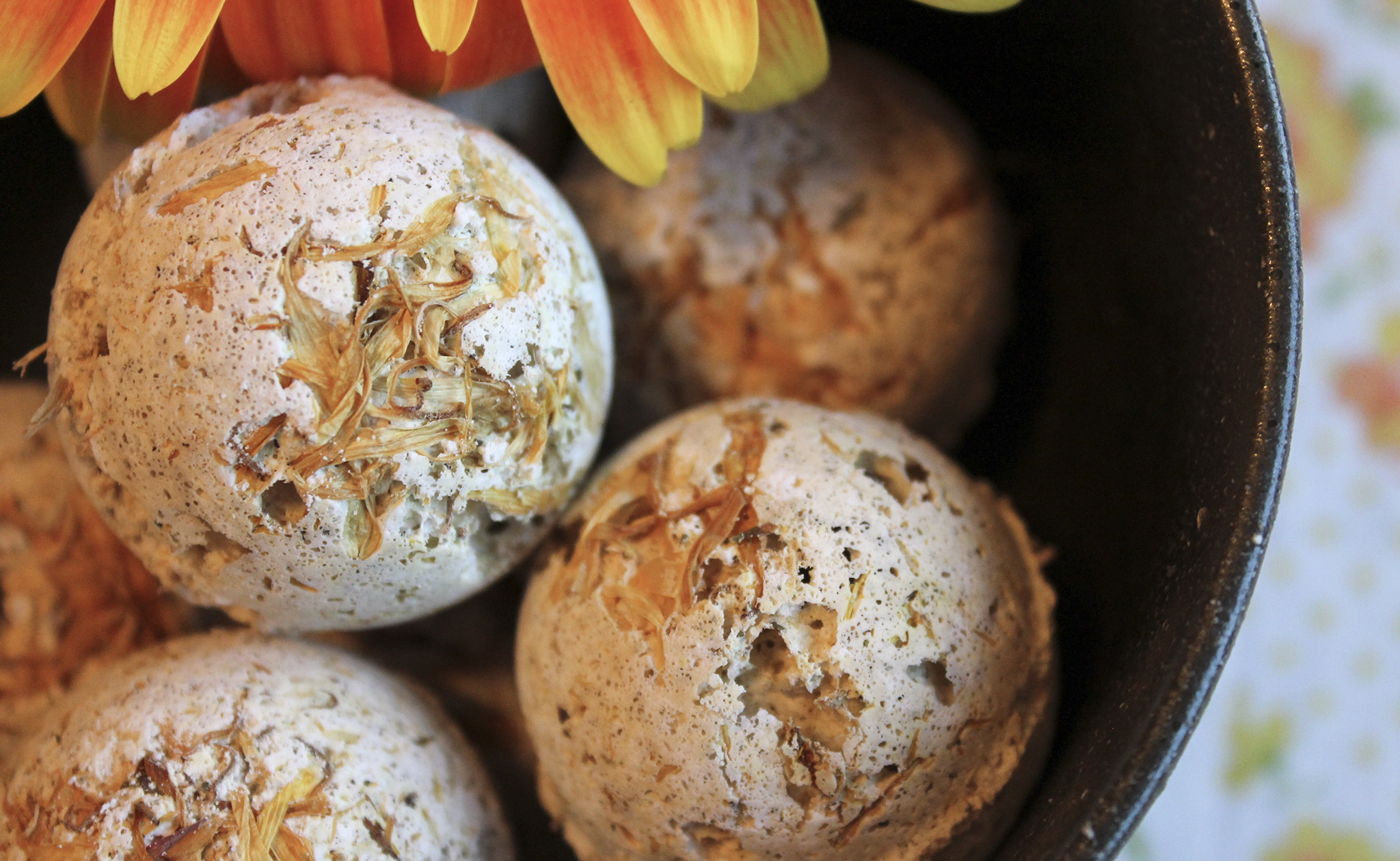 You'll Need:


A small handful of dried calendula petals 


1/2 tbsp. dried green tea leaves


1/4 cup baking soda


1/8 cup citric acid (check the canning section of the grocery store)


1/8 cup arrowroot powder


5 drops tea tree or frankincense essential oil


1 tbsp. water


A silicon mold for making ice cubes, large candies, or bite-sized treats. I used a cake pop mold to create these pebbles. Your finished product should be no larger than a golf ball.


Medium-sized non-metal bowl


Clean chopstick


Shallow basket or jar


Eyedropper


Yield: 6 pebbles. I've deliberately made this batch size quite small, because it can take a couple tries to get it right.


How to:


Grind the calendula petals and green tea leaves together, so the pebbles don't fall apart. Use a small blender or clean coffee grinder until they're chopped into smalls pieces.


Put the arrowroot powder in a medium-sized non-metal bowl. Add the essential oil and stir with a clean chopstick.


Add the citric acid and baking soda. Stir.



Add the ground calendula and green tea. Stir.




Start adding the water one drop at a time. Stir the mixture with your fingers between drops. You want to create a soft, crumbly dough that just sticks together.




Working quickly, press the dough into your molds, filling the mold only 1/3 full. The dough will expand as it dries.




Let your pebbles dry at room temperature for 24 hours.




Gently scrape away any spillover, then remove your pebble from the mold. The finished pebbles are very crumbly and fragile. Store in a shallow basket or jar.