As a sewist, when you get pregnant, you might be excited about the new sewing opportunities it entails—everything's an excuse to sew, right? Ready-to-wear maternity clothing is often either boring or overpriced, so all the more reason to sew your own. However, when we were each pregnant, we were surprised at how hard it was to find maternity patterns.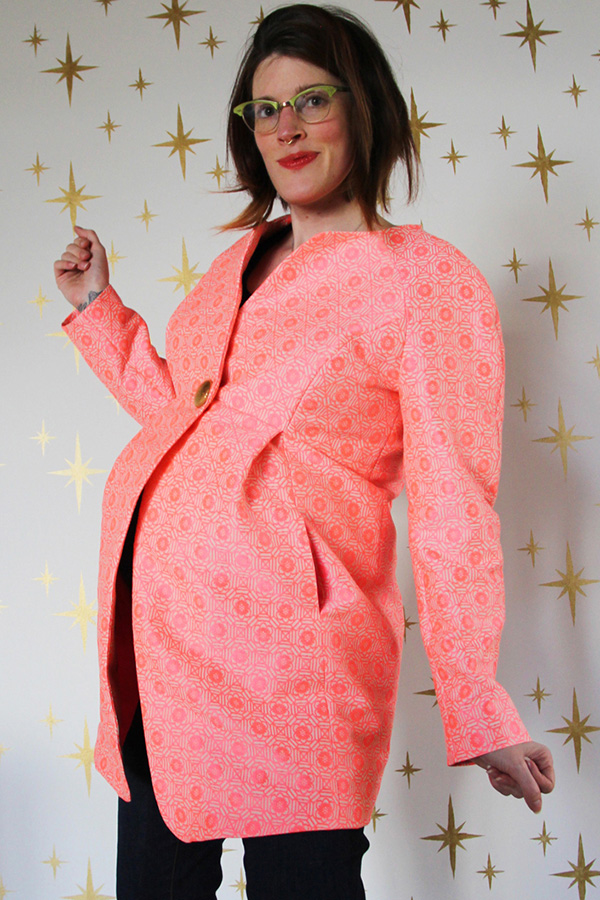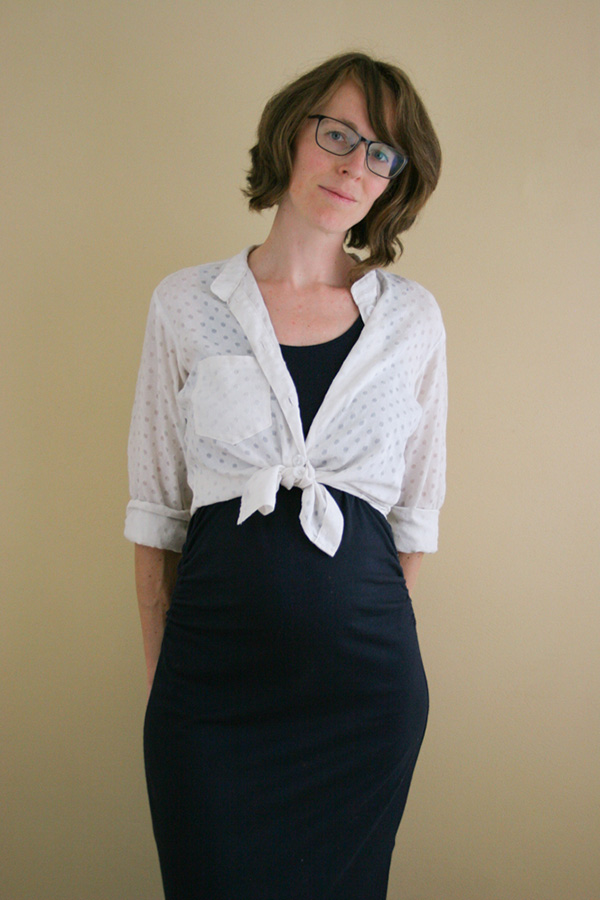 Who are we? Erin of Tuesday Stitches and Lisa of Paprika Patterns, and together, we run Maternity Sewing.
We're going to tell you the story of how we came up with the ideas behind Maternity Sewing—and we're going to share three maternity hacks for your patterns and RTW clothing.
Our Story
We had been friends online for years as we were both sewing bloggers turned pattern designers. We were both pregnant at about the same time—our daughters are each two years old now—and Lisa is currently pregnant with her second child.
We deepened our friendship by emailing commiseration about pregnancy and new parenthood. We both live rurally, Erin on an island outside of Seattle, Lisa in the Burgundy region of France. We appreciated having a friend—and in turn a collaborator—since we didn't have local friends in the same stage of life.
A discussion of "Why is maternity sewing so overlooked?" turned into "We can fix this!" so we set to work! Together we created Maternity Sewing, a marketplace that retails maternity, nursing, and postpartum-friendly sewing patterns.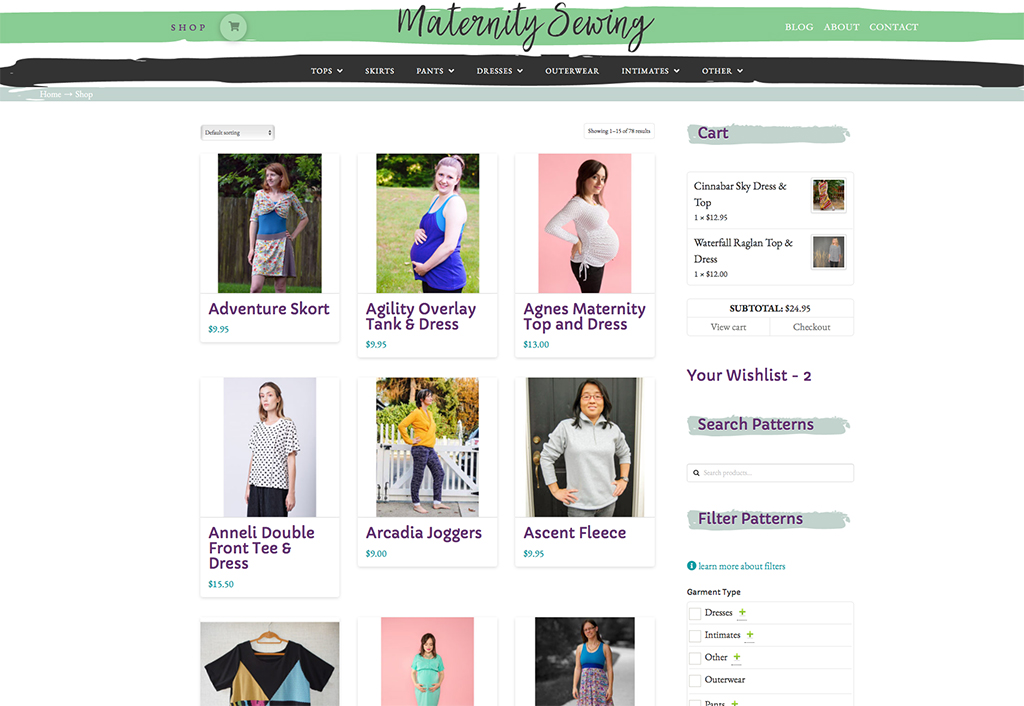 Our Work
We have scoured the internet for patterns that are either specifically designed for maternity and nursing or could easily work for those purposes without modifications.
Our pattern catalog is easy to browse, with extensive search options for trimester, nursing, cup size, and much more. Though we go by the name Maternity Sewing, you may enjoy browsing our curated selection for hot-weather wear, an apple-shaped body, to accommodate medical devices, or just personal style preference regardless of whether you have ever been pregnant.
We hope to create a community for pregnant, nursing, and postpartum sewists and become the go-to place to find both sewing friendship and support and suitable patterns for this stage of life. We have a bunch of plans for our site and community, including the Maternity Sewing Podcast (coming soon!) where you'll find frank—and friendly and funny—discussions of sewing, parenting, pregnancy, nursing, and body positivity.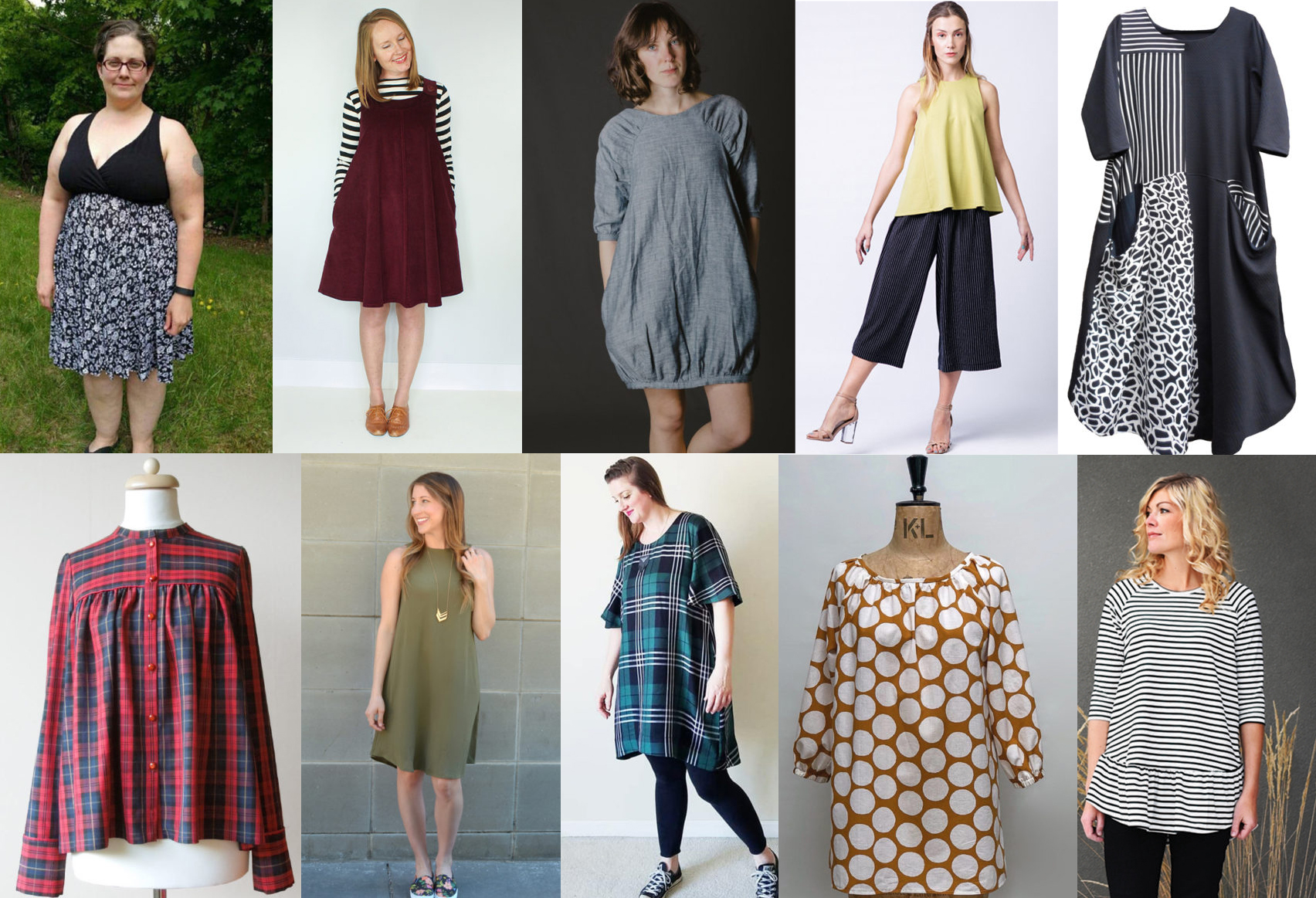 Here are some more features you can find on Maternity Sewing.


Patterns: We've curated a great selection of patterns that work for early maternity and postpartum. What does that mean? When you give birth, you don't immediately snap back to your pre-baby body, despite what most magazines would have you believe. We've collected patterns that will help you be comfortable and confident in your body through all of its shape changes.





Our Designs: We are also publishing Maternity Sewing Exclusive patterns and we have a bunch of great patterns in the pipeline!




Our blog: We have tutorials, pattern hacks, maternity and nursing style inspiration, postpartum body positivity, designer interviews, and more.




A cause: We also want to contribute to the greater community of pregnant and nursing mothers worldwide. We both had access to excellent healthcare during this stage in life, but we know many aren't so lucky. We've pledged to donate 5% of our profits to Every Mother Counts, a charity that is dedicated to making pregnancy and childbirth safe for every mother, everywhere. They invest in community-led programs that improve access to essential maternal care.




Three Easy Maternity Hacks
If you want to sew maternity garments from scratch, check out our awesome selection of patterns, but here are three easy maternity sewing hacks that will help you maternity-ify your favorite patterns and ready-to-wear clothing!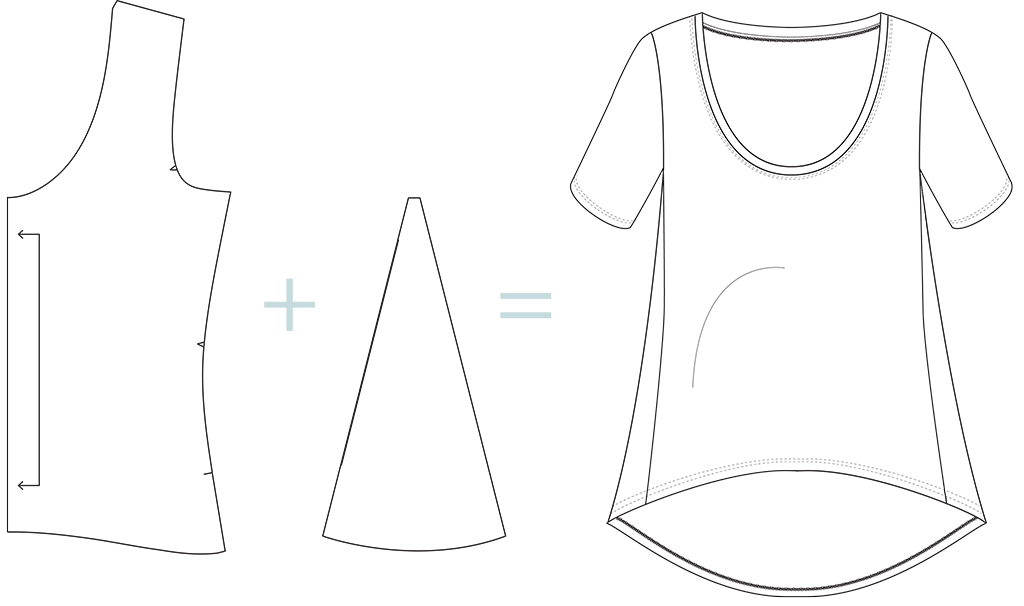 Add a Godet
When you like the way a shirt fits through the chest and shoulders, but it's snugger on your belly than you'd want, you can easily add a godet into the side seam.
What's a godet? A godet is simply a triangle of fabric that adds volume to a garment. Rescue a shirt from the back of your closet, grab that adorable shirt you found at the thrift store, or pick your favorite sewing pattern and make it work well for your newly pregnant belly.
1. Measure the length of the side seam from the hem to just under the armscye.
2. Draw a triangle with sides that are that length. The triangle should come to a point that is 1/2″ wide or so. The width of your triangle at the bottom determines the silhouette of the finished shirt. For a swing top, for example, make the base of the triangle about 13". Remember to add seam allowance.
3. While sewing, insert the triangle into the side seam of your shirt. Use a zigzag stitch for knits.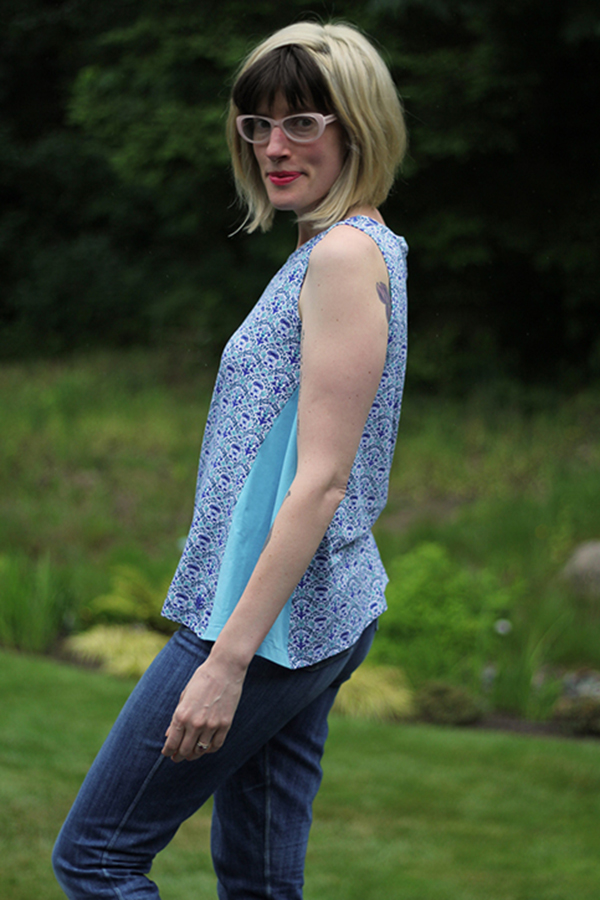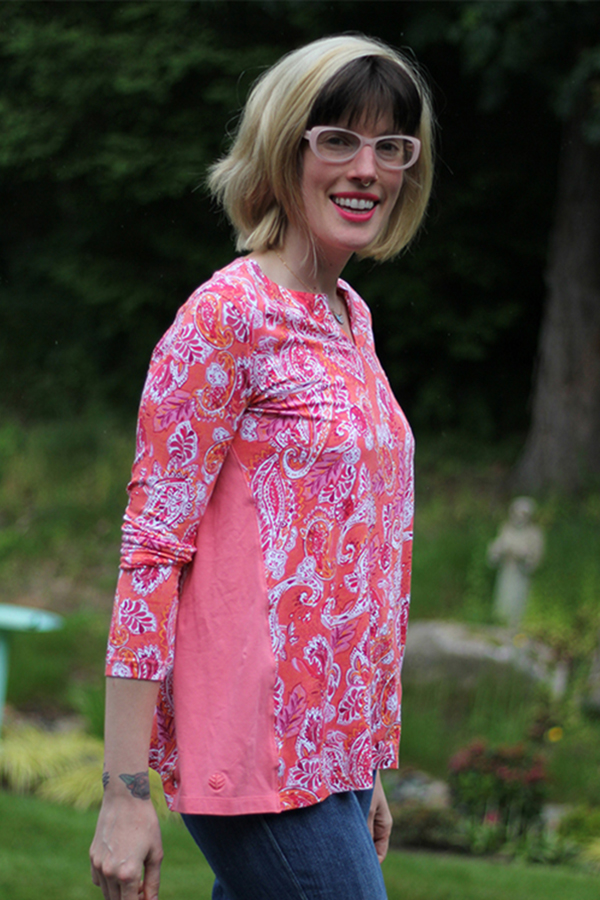 That's it! You have room for your belly. You can find the full tutorial for ready-to-wear clothing at Maternity Sewing.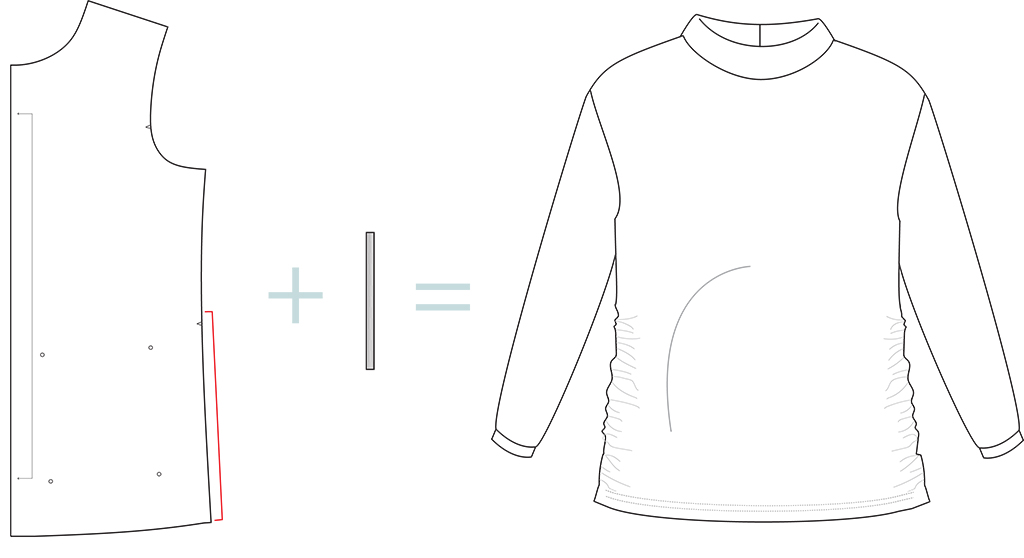 Make a Gathered Maternity Top
An extra-long camisole or knit tunic can easily be turned into a maternity top with the help of some elastic—it reduces the length of the tunic by gathering the side seams. This hack works best if you use a tunic pattern, but you can easily use your favorite regular T-shirt pattern for this hack. Simply lengthen the pattern accordingly.
1. On your pattern piece, mark the side seam where you want the gathers to begin. Decide where you'd like the finished hem to hit on your body and cut a piece of elastic that length.
2. Make a mark 2" from the bottom of your pattern piece. This point marks where you will finish stretching the elastic while you sew.
3. While sewing, stretch the elastic starting at the top mark and finishing at the bottom mark. The elastic will gather the side seam, raising the hem to the point you marked in step 1.
Tip: You can also gather a dress. Simply insert a piece of elastic at the side seams along your belly. Mark where you'd like your gathering to begin and end, and cut a piece of elastic 1/2 that length. While you sew, stretch the elastic between the two marks.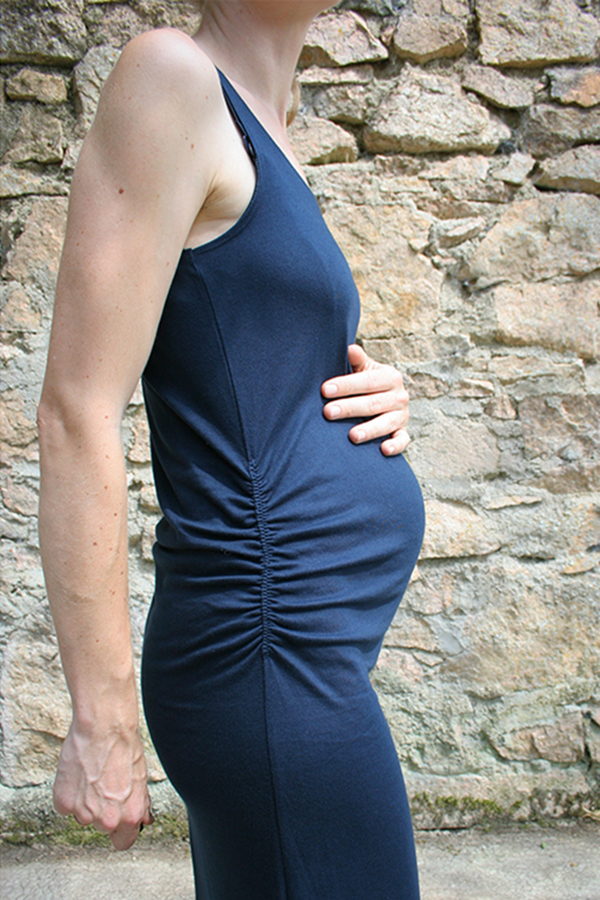 That's it! A hack that allows you to transform both handmade and ready-to-wear tops. You can find the full tutorial for RTW clothing at Maternity Sewing.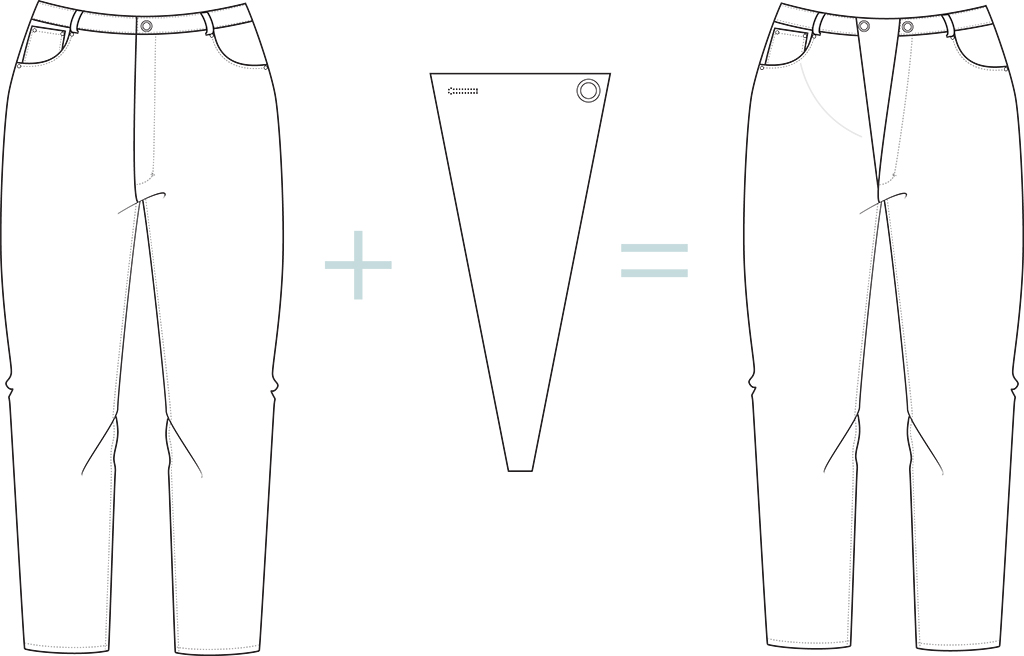 Sew a Waistband Extender
When pregnant, one of the first things that probably will not fit you anymore is your jeans. If you sewed your jeans, you don't want all that hard work to go to waste, and you might not want to permanently change your favorite jeans, because you won't be pregnant forever (though, by the end, it may feel like it). What about sewing an extender that gives you extra room but leaves your jeans intact?
1. Try on your pants and measure the gap of your fly.
2. Draft a triangle with those measurements and add seam allowance.
3. Cut from two pieces of stretch denim, and sew them together into a triangle.
4. Add a button and buttonhole so you can attach your denim triangle and insert it into the fly gap.
That's it! You've just prolonged your jeans-wearing period with another few weeks to months. You can find the full tutorial for RTW clothing at Maternity Sewing.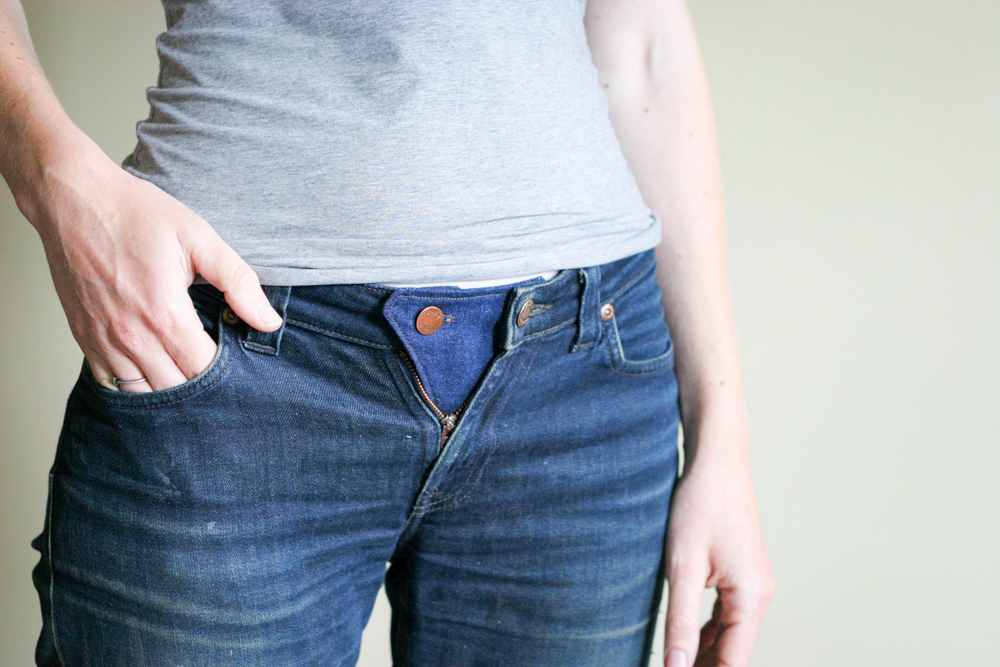 Bonus Maternity Styling Tips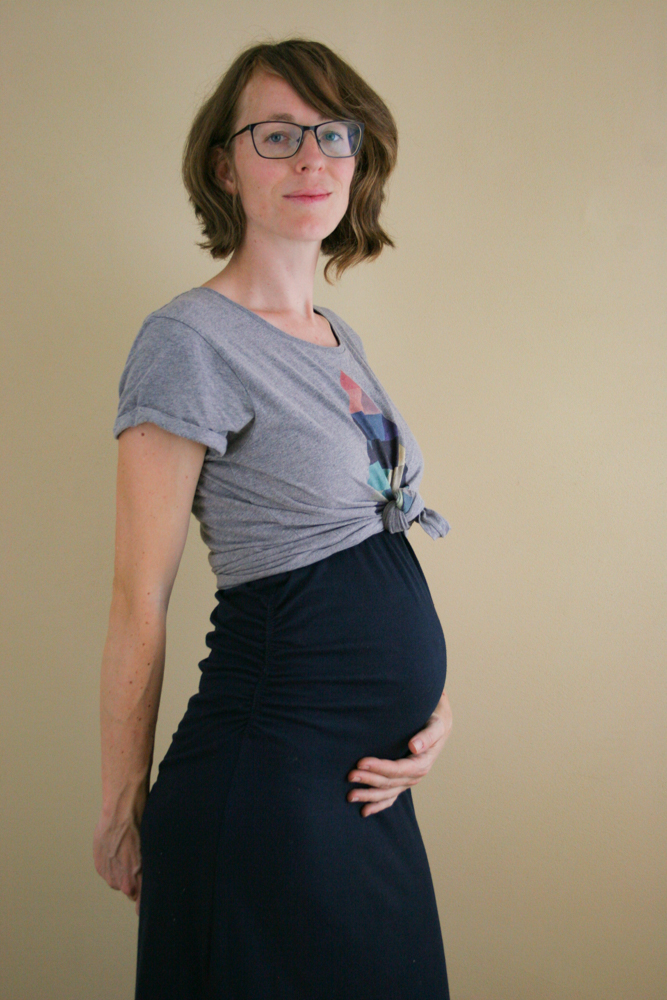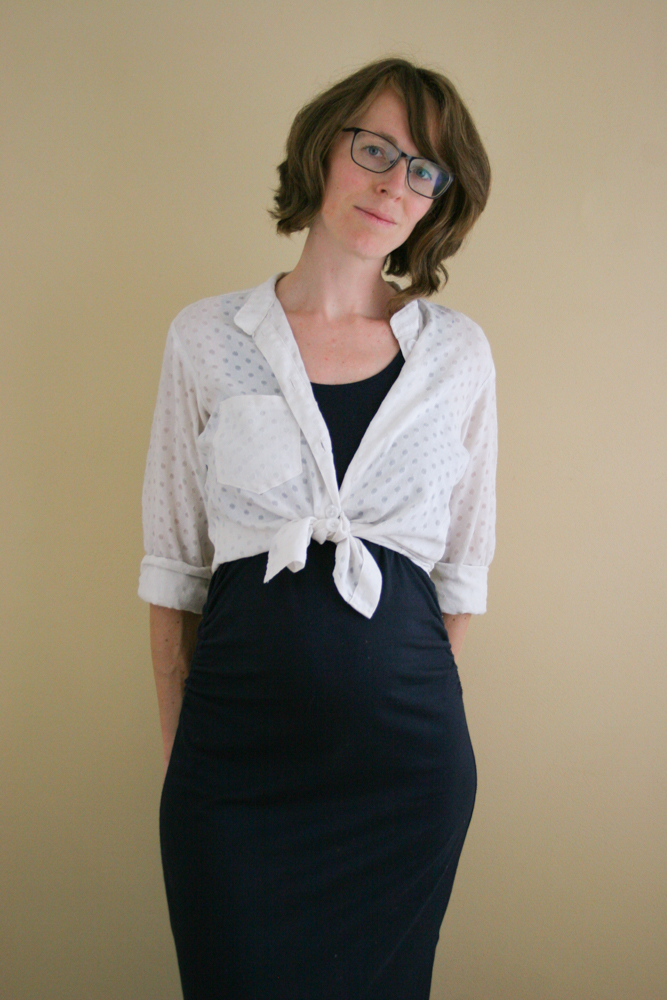 Knot Your T-shirt:
If you're not too keen on cutting into your favorite shirts, but still want to wear them while pregnant, see if you can knot them up. This works especially well if a shirt is not fitted at the waist. It might still fit you in width, but your belly makes it ride up and look too short in the front.
Put on the T-shirt and grab both sides. Pull the sides toward the front to tie them in a knot. Make sure to undo the knot before you throw it in the laundry bin, so the fabric has a chance to recover in the wash.
Wear Your Button-ups Unbuttoned
This sounds a bit silly, but it was a revelation. Sewing a button-up shirt is quite an accomplishment, and what a shame if you have to stop wearing it! But you won't have to if you wear it unbuttoned, sort of like a cardigan. It can give you a new style to try out, and you can pair it with some simple maternity tops underneath.
Join the Conversation
Sign in or become a Seamwork member to comment on this article.