Mimi G and Brittany J Jones are legendary in the online sewing community. Both have multiple platforms where they share their years of sewing experience and expertise—like Sew It Academy, and Brittany J Jones Blog. They've nurtured the growth, skill, and confidence of countless home sewers. On October 23rd, 2020, they joined forces to launch Melanated Fabrics, curating a wide array of fun and fashionable fabrics for the modern sewer.
As a long-time fan of Mimi G and Brittany Jones, I was so excited to ask them a few questions about their exciting new venture.
How did the concept for Melanated Fabrics begin?
Brittany: Believe it or not, the concept began over a text message, lol. I'd actually bought two bolts of fabrics, and texted Mimi that I was going to start selling fabric. Little did I know, she had a similar idea, and I think two messages into the text, we were like…..Let's do this together!!!
Mimi: I am a big thinker, and so when I realized that we were both thinking of individually doing something similar, it just made sense to join forces. I basically said forget those two bolts, Britt, and let's go bigger!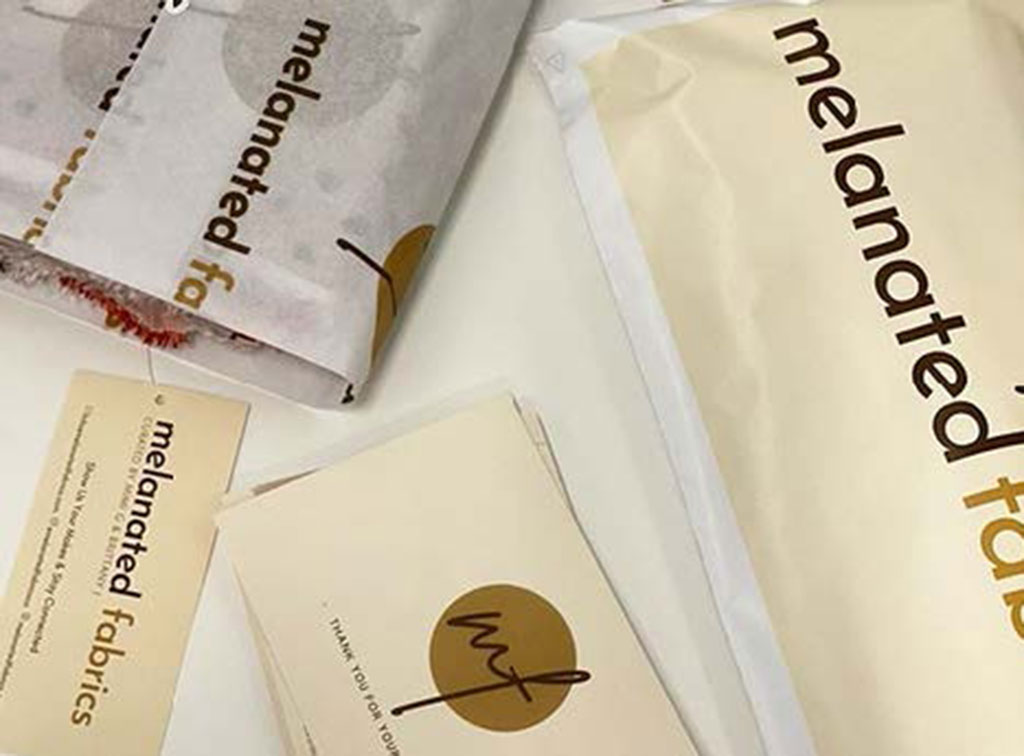 You both have had a lot of success as designers, educators, and influencers in the sewing community; why did you want to open an online fabric supply business?
Brittany: For me, it was about creating and building something I'm passionate about and love that I could one day pass down to my children.
Mimi: Initially, the thought was about adding something to accompany my existing businesses, but the reality of it was that there is a missing piece to this already thriving community, and I knew Brittany and I could fill that space. For me, adding a fabric supply company to my long list of businesses was a natural step; if I am selling patterns, why not sell the fabric too and give the consumer a place to go that caters to fashion sewing? The two things I love most are patterns and fabric! And over the years, I have become known for picking great fabrics to match my DIY looks—and that has to do with knowing what works for me and what I think would work for others like me.
The name, Melanated Fabrics, is great and makes a strong, representative statement. Why is this important to you? How does it shape what the business is about?
Brittany: I'm so happy to hear you think it makes a strong, representative statement because that's exactly what we wanted. It's a name that represents us, and we are two women of color. Representation matters, and we want to not only represent a women-of-color-owned business but also the amazing sewing community—and beautiful fabrics.
Mimi: What Brittany said, lol. We are women of color, business owners, and leaders in the community. We work hard to give our audiences content, education, and great products, but we are also aware that there is power in representation and being seen.
We are women of color, business owners, and leaders in the community. We work hard to give our audiences content, education, and great products, but we are also aware that there is power in representation and being seen.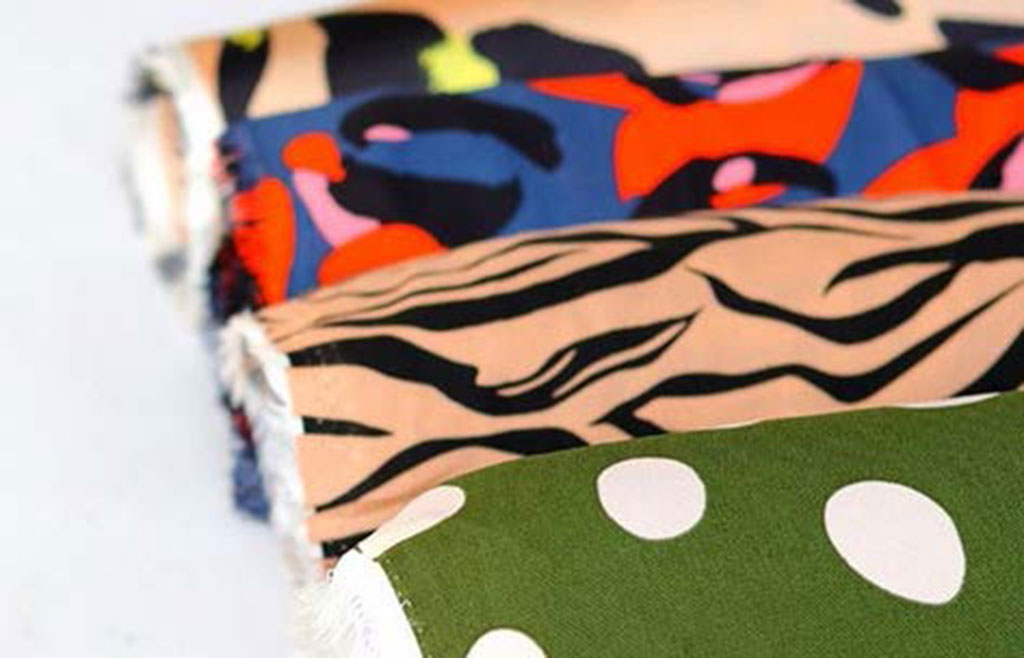 Tell us a bit about Dope Men Sew?
Mimi: That is a question for my hubby. This was an initiative he started when he first began sewing because he was so surprised at the limited amount of resources for men who sew. He wanted to shed light on the fact that men sew for many of the same reasons women sew, and that gender has nothing to do with it. In the pattern business, we are limited in the amount of fashionable, on-trend patterns that are available. For the most part, all sewing related products are geared towards the female consumer. Dope Men Sew is his way of providing a space for makers who love menswear and also to provide as many products and services as possible, even if we have to develop them ourselves. This is why we wanted to make sure that Melanated Fabrics also featured a curated selection of menswear fabrics. We plan to add a lot more to the Dope Men Sew brand, and he is very excited about that.
I noticed that you have already developed a Creative Business Grant. Can you tell me a bit about it? What are the goals of the grant? Who is an ideal candidate? And, why was it important for you to offer the grant at the start of your business and nurture other creative and sewing entrepreneurs?
Mimi: We are still working on all the details of our programs, and we will be sharing a lot more info in the coming weeks, but the grant, in a nutshell, is our way of giving back. The grant will allow other makers in the community to develop the ideas they have and maybe have been unable to move forward due to funding. This is a small way that we feel we can help get someone started. The ideal candidate for us is someone who is creative, has a clear goal in mind, steps to achieve that goal, and that plans to also pay it forward in some way. This community has been incredibly supportive and loyal over the years. They show up when we need them and are always such a bright light in our lives, so why not pay it forward in all the ways we possibly can. We started this business for the community we love, so offering the grant at the beginning of our journey allows the community to grow with us.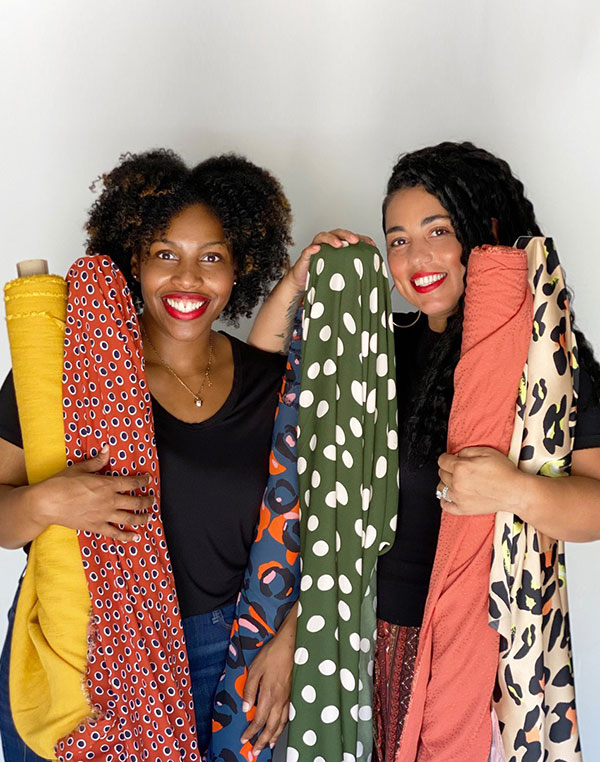 As women of color, do think you offer a unique perspective when curating your fabric collection? If yes, how so? And why is it an important one?
Brittany: Yes, I think as a woman of color and a sewer, I offer a unique perspective when I'm selecting fun, bold prints and know a garment it would be amazing for, or specific types of fabrics and being about to share tips for working with it. What I'm learning now is that a lot of sewers, especially beginners, need to see certain prints and colors sewn and styled to fall in love with it—and that's what we do best!
Mimi: We have built a career sharing our DIY looks, fabric choices, and tips. We know very well what we like to see as consumers ourselves, and so I think we are able to give a unique perspective. There are certain colors and prints that we are drawn to and that we know work well for our audience. It's like having a sixth sense that we get to use now on a greater level.
Since opening, you've already had an enormous response. Did you expect that? What has it been like trying to meet such immediate demand?
Brittany: I did not, LOL! I knew it would be a good response, but nothing like what we've experienced, and we're so grateful for the support of the community. It's been a lot trying to meet the demand, and we've had all hands on deck! We're learning so much and just excited for all that's to come.
Mimi: To say that we were blown away is an understatement. We expected a great response just based on our relationship to the community and from messages and the excitement we saw leading up to opening day, but having our entire stock sold out in less than 48 hours was not expected at all, lol. We had everyone working!
How would you like to see Melanated Fabrics grow?
Brittany: I'd love to see Melanated Fabrics continue to grow by adding more exciting products, i.e., notions, tools, to our online store and wonderful staff to help keep up with the demand of our amazing supporters.
Mimi: I have a huge vision for Melanated Fabrics. I think that this venture is greater than we even realize, and we plan to make sure we do all that we can to make it as successful as possible.
How can the Seamwork community best support Melanated Fabrics?
Brittany: Hi Seamwork Community!!! I'd appreciate your support by following Melanated Fabrics on Instagram here, sharing with your friends, and visiting us at Melanatedfabrics.com!
Mimi: Ditto.
Join the Conversation
Sign in or become a Seamwork member to comment on this article.