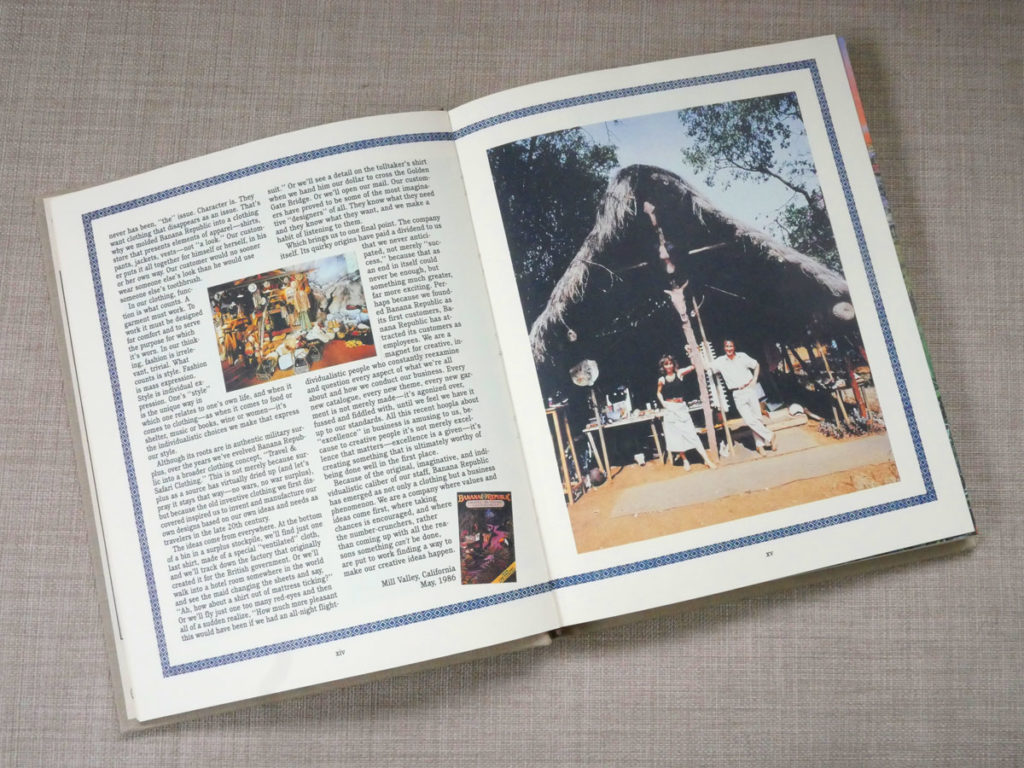 Against the dark shade of a thatched hut, a man and a woman stand unblinking in the bright sun. Casually leaning against a crooked, weather-beaten post, the man strikes a jaunty pose, crisp and casual in his white button-down shirt, leather belt, and khaki pants. The woman smiles, her hand resting on the hip of her below-the-knee cargo skirt, set off with a wide leather belt, black tank top, and statement necklace. The photo is pure Instagram fodder, a lifestyle shot of two fashionable people off adventuring in exotic locales. #ExploreTheWorld, indeed.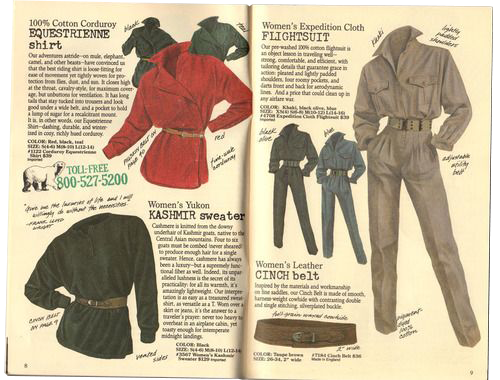 A page from the Banana Republic catalog
promoting the Women's Expedition Cloth Flight Suit.
Few would guess that the adventurous couple in the photo were the founders of what has become the archetypal mall store, Banana Republic. Once upon a time, the Banana Republic Travel & Safari Clothing Company store turned shopping into an adventure. In those days, broken-down jeeps burst forth from the front windows, and stacks of folded pants stood at the foot of elephants and giraffes. You shopped for beautifully made travel-inspired clothes—like Women's Expedition Cloth Flight Suits, French Army Bush Hats, or Yukon Sweatshirts—under a blue-painted sky. Those customers who weren't lucky enough to live near a store could shop at home via catalogs which were more like beautifully illustrated works of literature.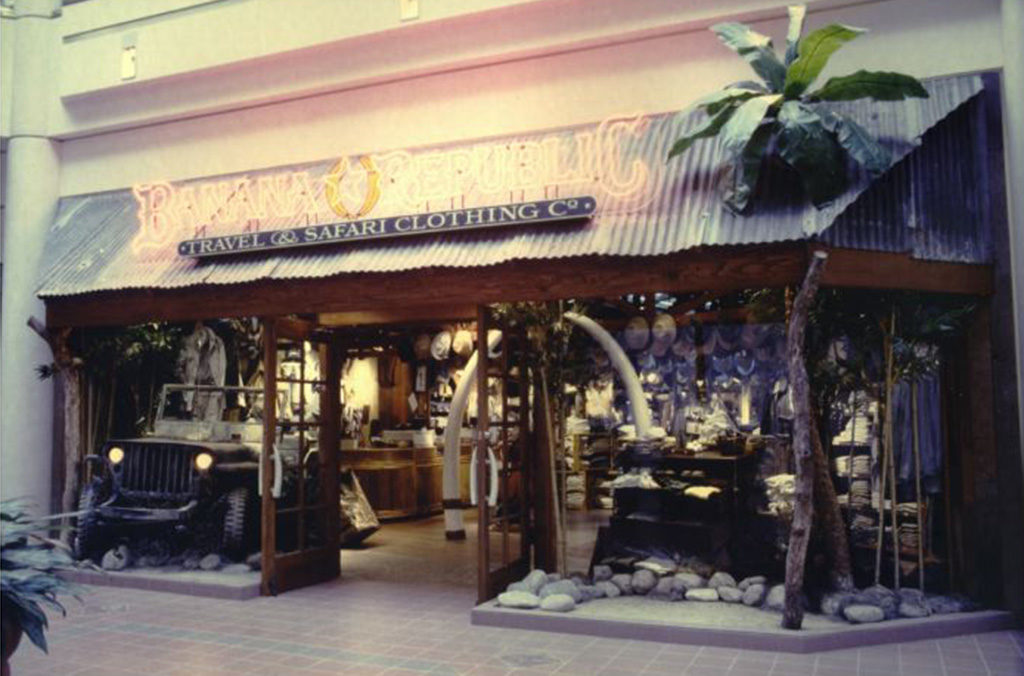 A runaway jeep drives through a Banana Republic storefront in a mall. Photo by Mel and Patricia Ziegler.
The original Banana Republic, masterminded by founders Mel and Patricia Ziegler, was a first of its kind—a concept store so beautifully designed that it created a cultural zeitgeist for adventure. Shopping at Banana Republic was an experience—at least until parent company Gap Inc. wrestled away creative control. Today, sleek furnishings in shades of taupe, cream, and black display stacks of sweaters and T-shirts. Headless mannequins perch on tables and chairs, wearing sensible shift dresses and tailored jackets. No story, no experience.
Surplus to Success
In 1978 Mel Ziegler and his future wife Patricia met while working at the San Francisco Chronicle—he as a writer, she as a sketch artist. Unhappy working in a corporate atmosphere and craving the freedom and autonomy of freelance work, they quit—only to find out that freelance gigs were few and far between. Young, in love, and optimistic, Mel and Patricia began to dream of starting a business together—they just weren't sure what it should be. In the midst of this quandary, Mel traveled to Australia, where he came upon a military surplus store.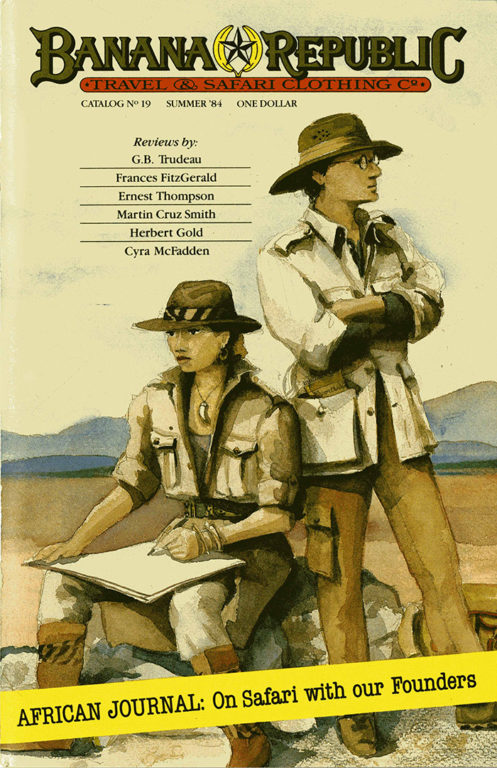 The cover of 1984 Banana Republic catalog.
"One item especially caught my fancy, a British Burma jacket," Mel recalls in his book, Wild Company. "Made of thick but soft khaki cotton twill, it looked like a safari jacket. It had the tailored feeling of a fine garment. I had to have it, if only to wear it when I landed in San Francisco the following day. I wanted to see Patricia's reaction."
Known for her fashion sense, Patricia was an expert at finding gems at thrift stores. While thrifting, she looked for qualities like character, adventure, and heritage. Seeing Mel's bush jacket, Patricia knew he had found a treasure. Changing the buttons and adding leather details gave the jacket even more personality. Mel found he couldn't walk down the street without strangers stopping him to ask about his jacket. Mel and Patricia took the hint. They would go into the fashion business, reselling stylish military surplus, under the name Banana Republic.
In the 1960s, military style made it to the fashion scene when swinging Londoners scoured antique markets for the highly decorative jackets worn in World War II. In 1967, Yves St. Laurent took the trend to the jungle when he introduced his first safari jacket. The fad for adventure-wear, however, was short-lived. Ten years later, Mel and Patricia found an untapped reservoir of stylish military surplus made in high-quality, natural fabrics.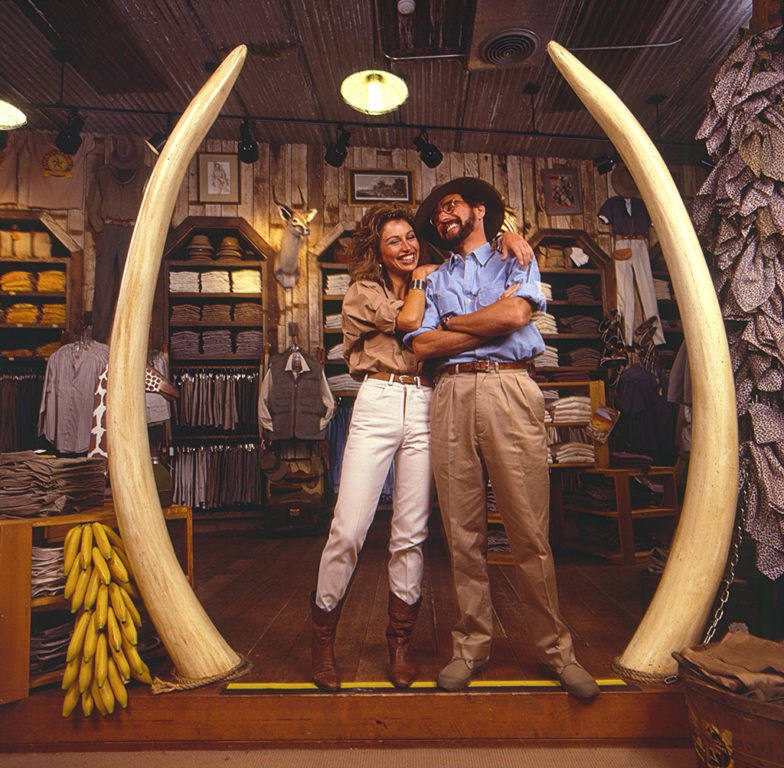 Mel and Patricia Ziegler pose in a Banana Republic store. Photo by Mel and Patricia Ziegler.
Banana Republic's first foray into retail began, inauspiciously enough, at a flea market, with 500 Spanish paratrooper shirts. Mel and Patricia found the stylish garments at a military surplus broker. The stylish cut and unique details had caught their eye, and they bought the lot at a bargain. Only after delivery did they notice that the sleeves on all 500 shirts were at least two inches too short.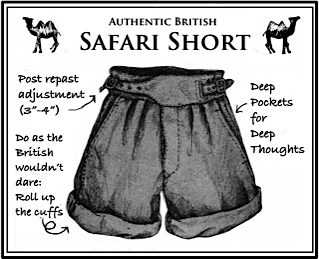 An illustration for the Safari Short,
drawn for the Banana Republic catalog,
complete with whimsical captions.
Photo by Mel and Patricia Ziegler.
What could have spelled disaster became a clever marketing ploy. Mel and Patricia, modeling what they called the Short-Armed Paratrooper Shirt, regaled potential buyers with an imaginative backstory, composed by Mel, about Spanish General Franco's refusal to allow long-armed paratroopers in his army, hence the short sleeves. Customers, delighted by the story, simply rolled up the sleeves and bought into Banana Republic's military-chic look.
Business moved fast for the Zieglers. The first Banana Republic store opened, complete with palm trees and a zebra-striped façade. Exotic military garments were excavated from dark warehouses around the globe. Seamstresses stitched furiously, transforming beautiful surplus fabrics used for sleeping bags and mattress covers into stylish blazers and shirts. A catalog, filled with more whimsical stories like the Short-Armed Paratrooper Shirt was sent to potential customers. And after a rocky start, one store became two, and soon enough, Banana Republic was so successful that it caught the eye of the retail giant, Gap Inc.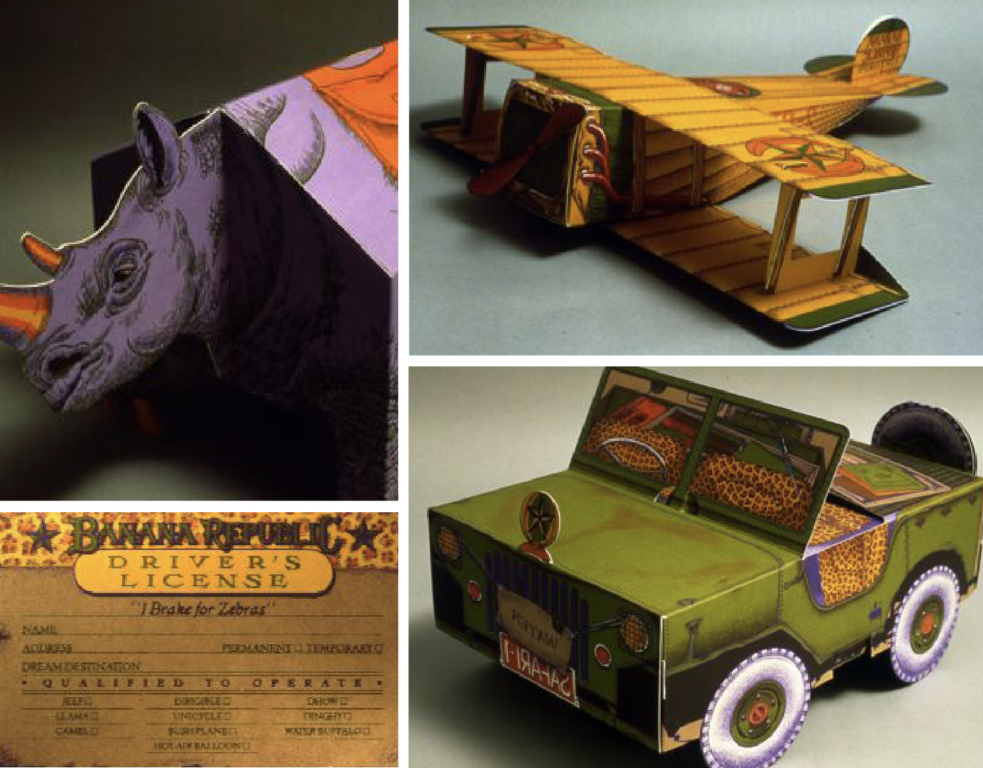 The safari theme didn't just stop at the stores. Even the gift certificates and boxes represented the adventurous outlook of Banana Republic. Photo by Mel and Patricia Ziegler.
The partnership with Gap couldn't have come at a better time. Catalog orders from around the world were pouring in, and military surplus was drying up. The agreement with Gap, whereupon the Zieglers would keep complete creative control of the company, allowed them to start designing and manufacturing their own clothing while expanding Banana Republic stores nationwide.
An Authentic Adventure
Artisanal. Handcrafted. Bespoke. These words conjure up images of craftsmen, toiling at their trade, using their own two hands to forge their livelihood. For start-up businesses of today, it lends an old-world authenticity to a modern enterprise. Artisan chocolates made from beans sailed on an old-timey ship from Ecuador. Cocktail shrubs concocted from organic herbs. Ethically sourced fabric transformed into handmade garments. The more whimsical the story and the more hands-on the product, the more it captures the consumer's imagination.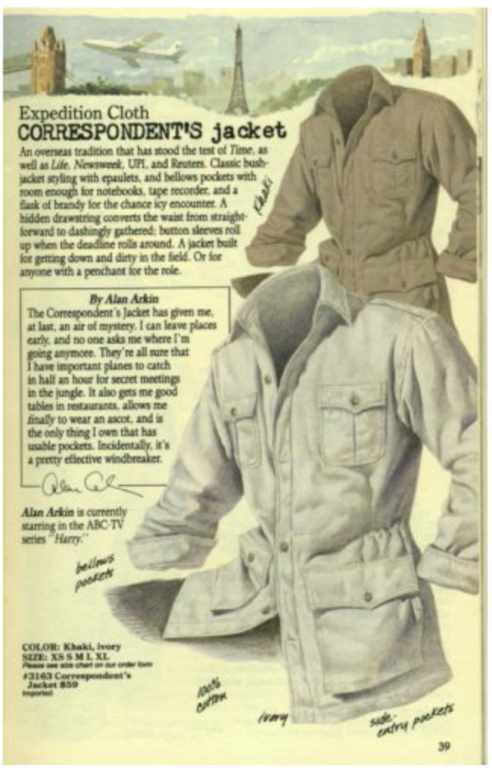 A page from the Banana Republic catalog
promoting their Correspondent's Jacket.
Photo by Mel and Patricia Ziegler.
Mel and Patricia Ziegler's crazy idea to turn military surplus into fashion is just the kind of origin story that, again, would make them the darlings of millennial shoppers today. And even as Banana Republic stores sprouted up in malls across America, the Zieglers commitment to authenticity found them manufacturing merchandise at small, forgotten factories where a committed group of craftsmen was still using traditional techniques.
"Authenticity and uniqueness. We were determined to be the real thing, but playfully. Always playfully," Mel asserts. "We were to catalogs what the New Yorker was to magazines. We always saw ourselves as creating a 'voice' and a 'vision' to drive the designs we were inspired to create and confirm the worldview we held."
At the same time that Banana Republic stores were expanding around the country, Hollywood was taking its own trip to the jungle, releasing blockbuster hits like Raiders of the Lost Ark, Out of Africa and Romancing the Stone. Indiana Jones, with his signature fedora hat and slouchy khaki pants, was a perfect spokesman for the safari look—what man wouldn't want to look like Harrison Ford? Similarly, Meryl Streep, dressed in perfectly disheveled linen jackets and belted khaki shirts, popularized a romantic, feminine version of the trend. Adventure-chic was in, and Banana Republic was the place to get it.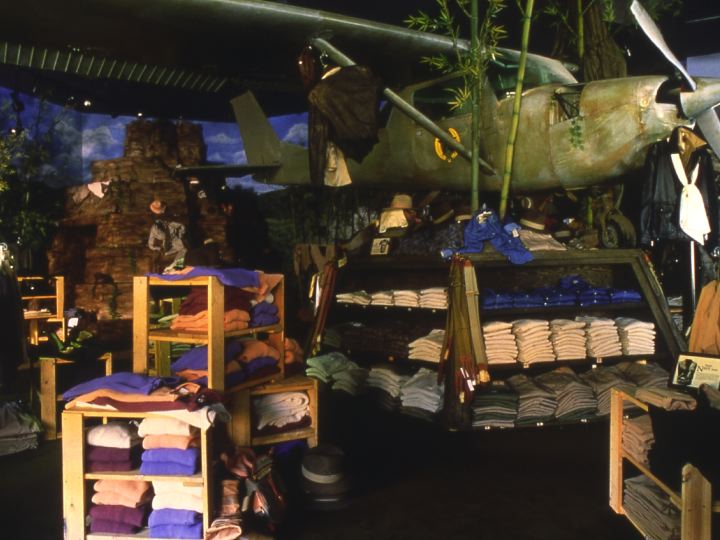 An old army plane crashed into a display in a Banana Republic store.
Photo by Mel and Patricia Ziegler.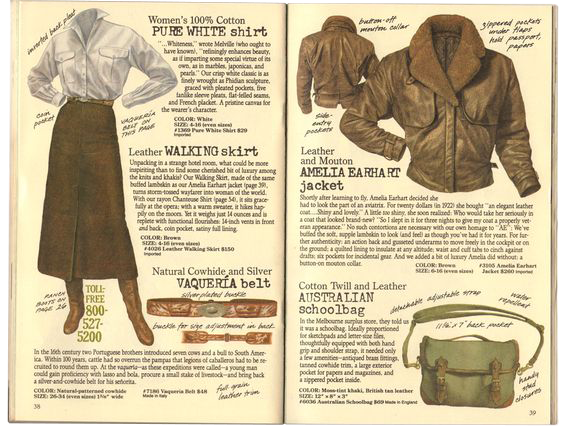 Banana Republic catalog pages advertising a women's
walking ensemble and Amelia-Earhart-inspired jacket.
The End of an Era
By the late 1980s, the Ziegler's were transitioning away from pure safari style, to functional garments inspired by their core values of heritage and adventure. Despite the continuing profitability of the stores, a poor economy was making the powers-that-be at Gap, Inc. nervous about protecting their investment. Regardless of their agreement, upper management began blocking the Ziegler's creative direction, pressuring them to become more mainstream. In 1988, the Ziegler's stepped down from Banana Republic, unwilling to sacrifice their creative vision.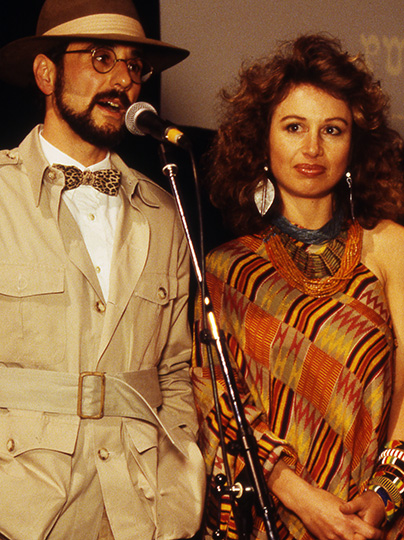 Mel and Patricia Ziegler at a press conference, decked out in adventure-wear. Photo by Mel and Patricia Ziegler.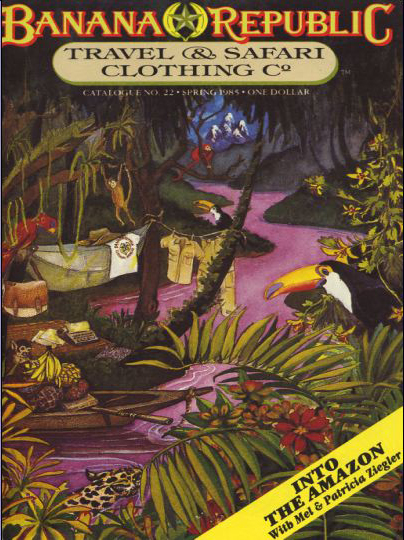 1985 cover of the Banana Republic catalog. Photo by Mel and Patricia Ziegler.
"Banana Republic was a creation of a writer and an artist," Mel explains. "We considered the business theater as much as retail. Everything we did, everything we said, everything we made and sold was an offspring of our narrative as curious travelers and cultural adventurers poking around the world, looking in unexplored places for design inspirations, stories, and unusual finds."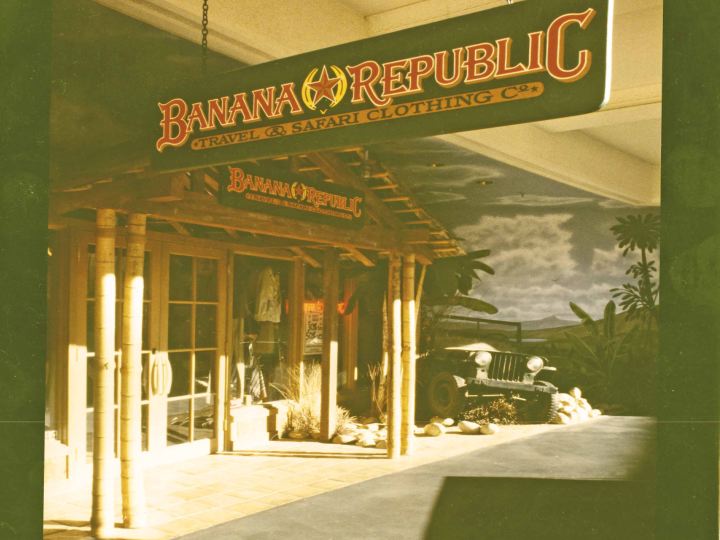 A bamboo porch serves as an entrance to a Banana Republic store.
Photo by Mel and Patricia Ziegler.
In September of 2017, Gap, Inc. announced that it would be closing 200 of its Gap and Banana Republic stores. The company, along with other corporate retailers, is struggling to adapt to a changing retail culture that has eschewed the joy of shopping in stores for the ease of shopping online. Ironically, in today's ever-changing retail landscape, forecasters predict that a return to an immersive shopping experience might be the only thing to save brick and mortar retail. Though it is highly unlikely that Banana Republic would ever return to its safari roots, if they could somehow find that magical combination of story, authenticity, and Instagram-worthy interiors that made the original store successful, perhaps customers would get out from behind their computers and phones and enjoy shopping again as theater, as an experience, as an adventure.
Join the Conversation
Sign in or become a Seamwork member to comment on this article.