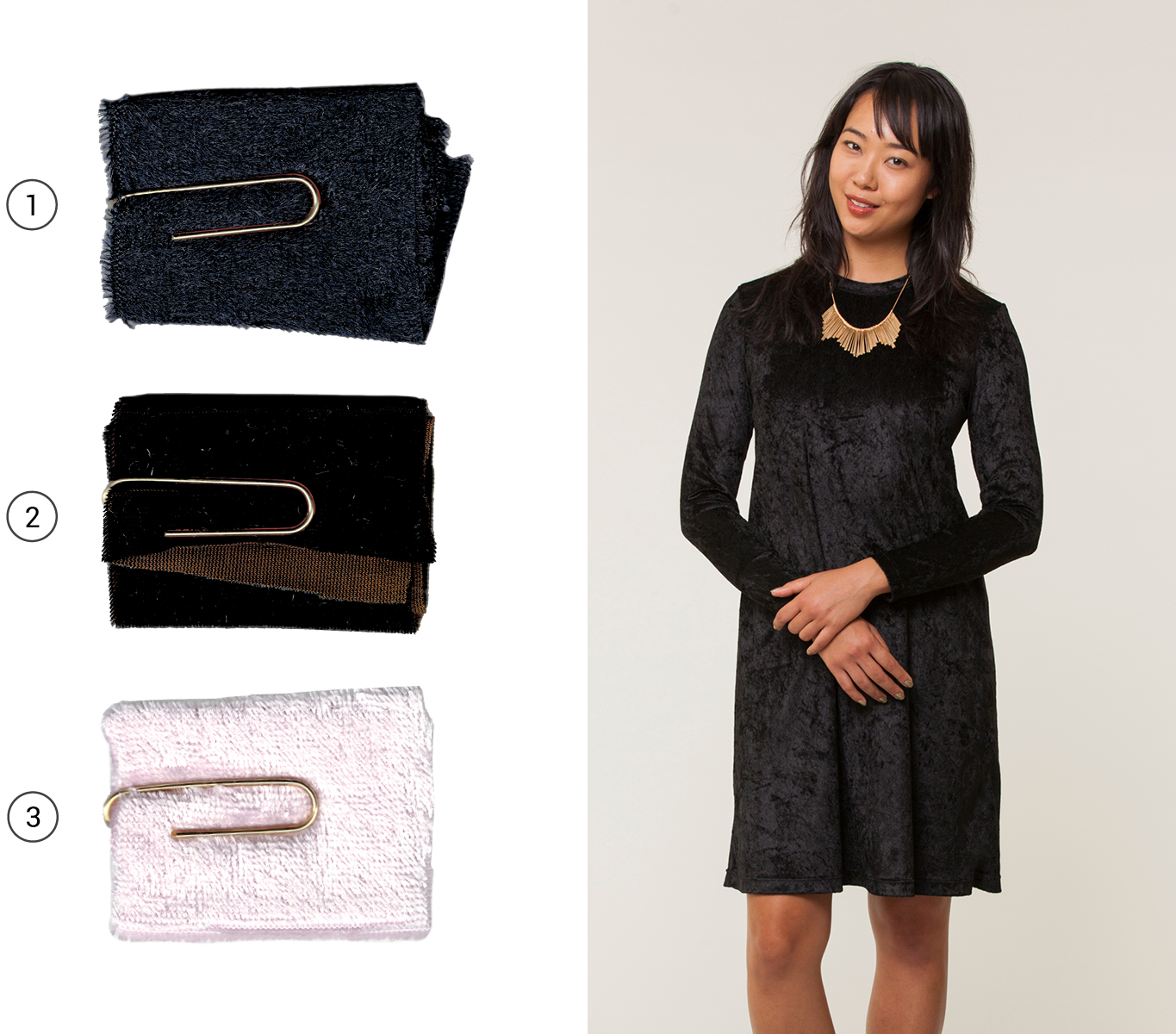 The Piedra dress sewn in stretch velour.
Stretch Velvet
As striking as it is comfortable, stretch velvet is a solid choice for a shift dress like Piedra. The movement of the dress will highlight the texture of the velvet, and the dress will stretch with you as you move through the day—and into the night. If you need tips for sewing with velvet, check out this article.
1 | Stretch Velvet in Navy
This stretch velvet is soft with a fluid drape, $9.98/yard from fabric.com.
2 | Stretch Velvet in Black
If you're wary of making too much of a statement with stretch velvet, black is a classic choice, especially if the back of the fabric has a contrasting color to add dimension, $11.55/yard from Fabric Depot.
3 | Stretch Panne Velvet in Pink
If you want a dress that will move with your body, this velvet is very lightweight and stretchy, $4.98/yard from fabric.com.
International sources for stretch velvet: AUS, AUS, CA, CH, NLD, UK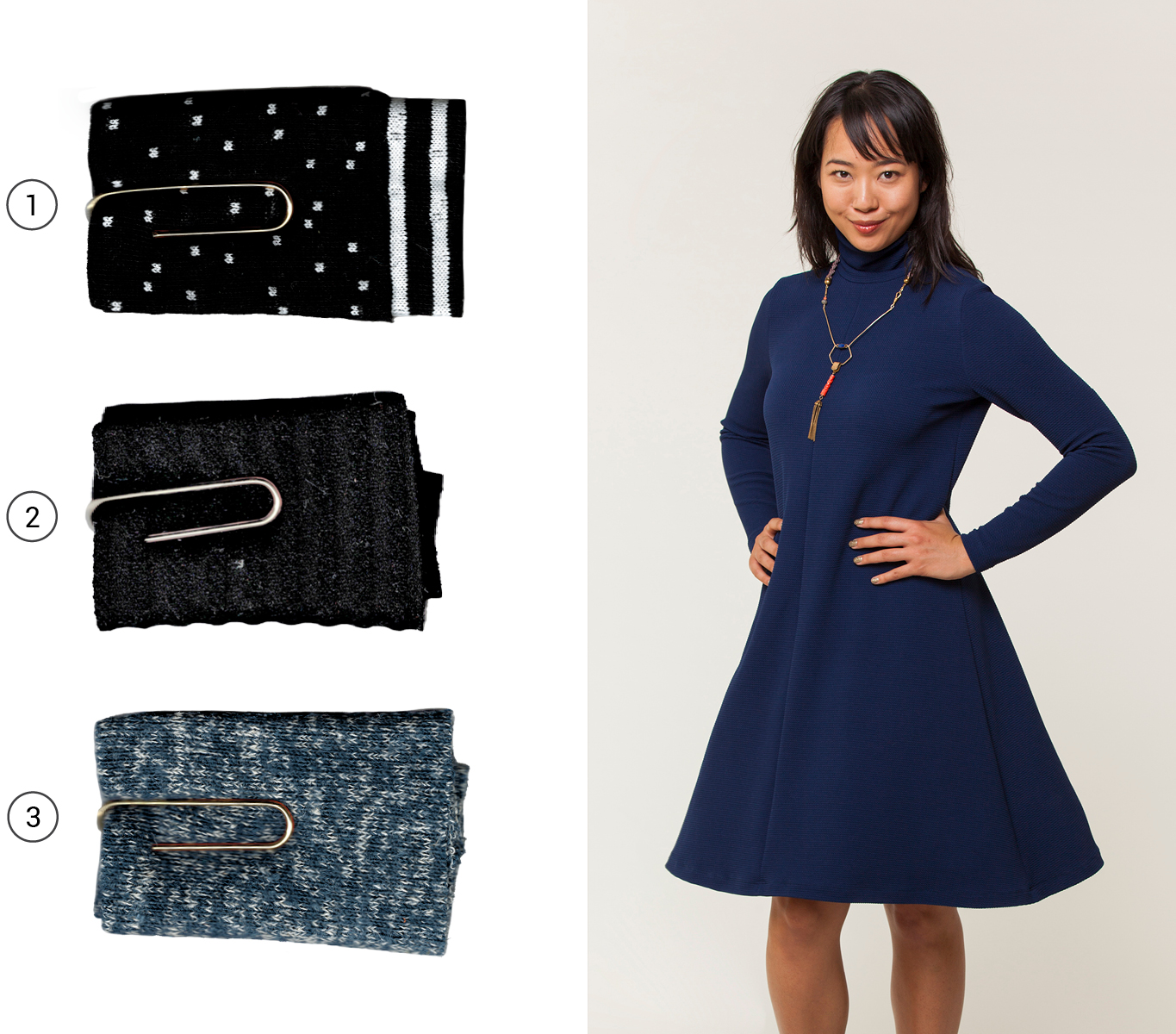 The Piedra dress sewn in a pique knit.
Textured Knits
While we love a good solid jersey, you can take your knit projects to a whole new level with some texture. From pique to quilted and French terry to jacquard, these textural knit fabrics are stable, stretchy, and will hold the Piedra dress's shape. If you're shopping online, keep an eye out for descriptions of the scale of any print or texture, so you know what you are ordering, and watch the stretch percentage to make sure it fits your project.
1 | Reversible Rayon Knit in Polka Dot/Stripe
This soft, squishy knit has a subtle texture with polka dots on one side and stripes on the opposite, so choose your own adventure! $14.50/yard from Stonemountain & Daughter Fabric.
2 | Ribbed Tencel
The large ribs on this sweater knit create the perfect texture for the Piedra dress, $18.99/yard from Harts Fabric.
3 | Yarn Dyed Hemp/Organic Cotton Jersey
This hemp blend is textured and cozy, perfect for a snuggly autumn dress, $18.95/yard from Fancy Tiger Crafts.
International sources for textured knits: CH, UK, FR, FR
The Piedra dress sewn in wool jersey.
Medium-Weight Knits
The Piedra dress works well with medium-weight knits such as cotton or wool jersey. Wool jersey boasts an ideal drape for knitwear and is appropriate for all seasons, and a double knit will provide a nice balance of structure and stretch.
1 | Splendid Oath Jersey
This 95% cotton, 5% spandex knit is off-white with little dark gray tally marks, $18.99/yard from Harts Fabric.
2 | Modal Jersey in Grape
This 65% modal, 35% poly jersey is soft, bouncy, and stable, which is perfect for a dress, $16.99/yard from Harts Fabric.
3 | Merino Jersey
Merino jersey comes in a wide range of weights, and The Fabric Store has all of them, NZD $38.00/meter.