When you think of lining fabric, you might think of silky polyester that comes in a selective rainbow of colors. While these slippery linings make it very easy to put on your coat, they have a certain aesthetic, and they might not be the most comfortable fabric to wear against your skin all day. If you love these slinky linings, by all means, keep sewing them—but if you are looking for a lining that's comfortable to wear, easy to sew, and comes in a variety of colors and prints, cotton is a smart choice.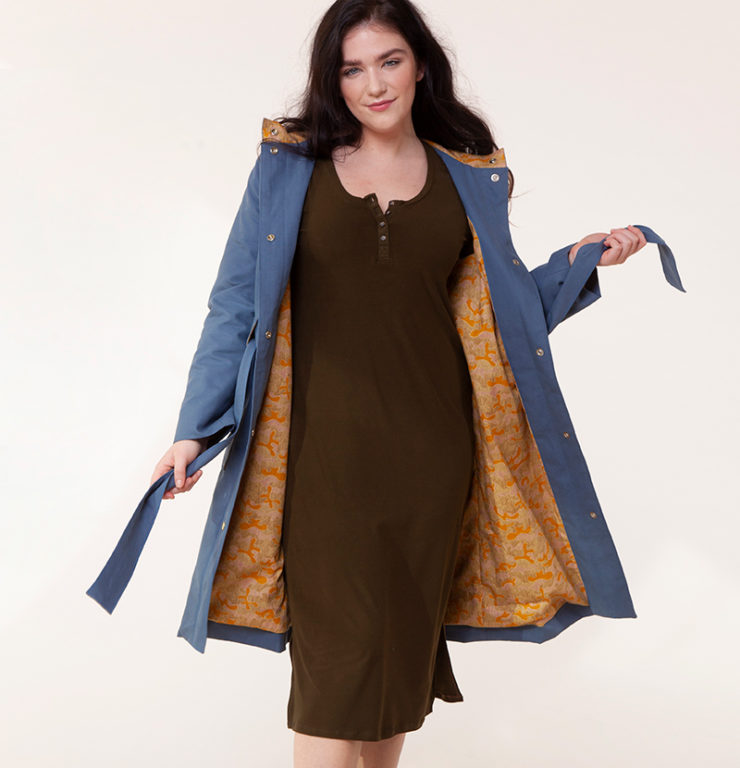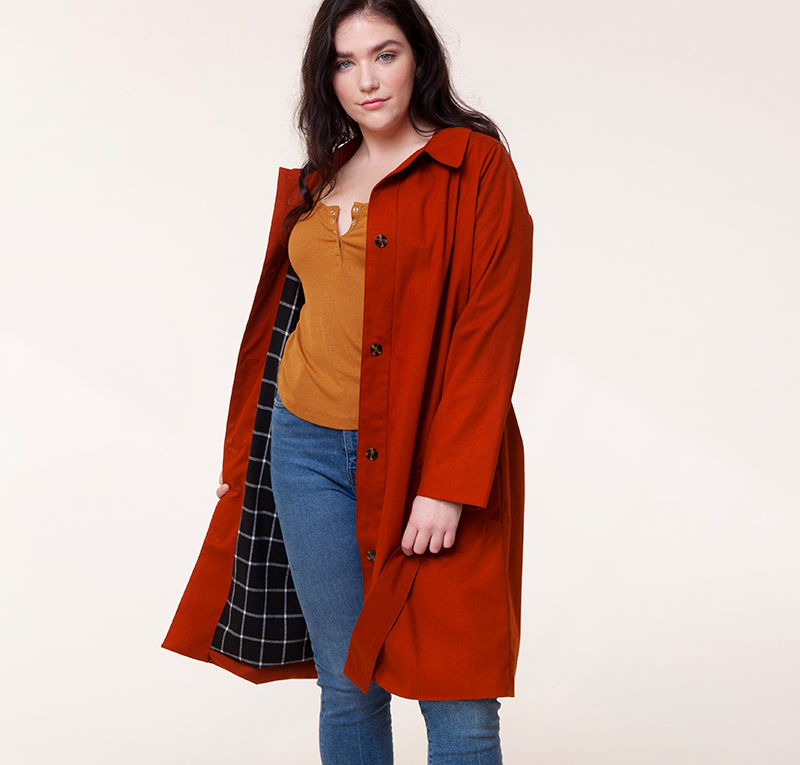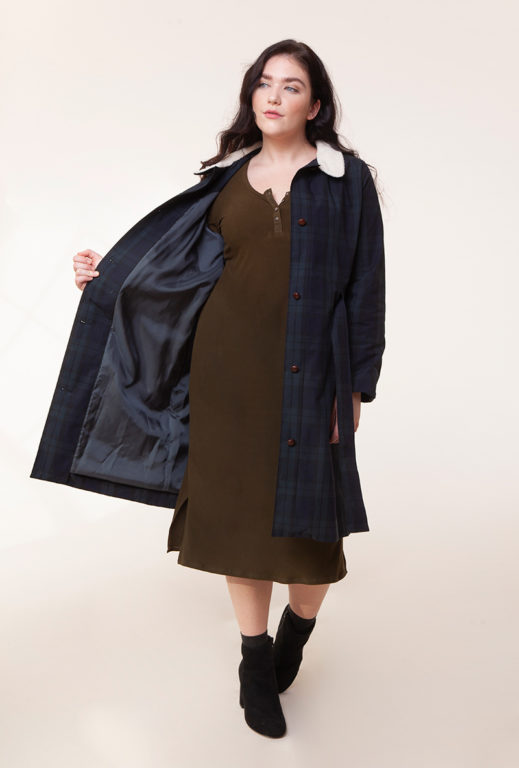 Why cotton? For a few reasons: It's familiar, beginner-friendly, and very accessible. It's also a shape-shifter, so you can find it in blends, in many different weights, and with many textures.
Before we talk about a few approachable cotton linings that work well for any coat—especially this month's Francis coat—let's talk about some of the qualities to look for in a lining.
Fiber Content: To fully understand your lining fabric, you need to know what it contains. Synthetics will resist wrinkles and increase ease of wear, but natural fibers can help regulate temperature, add durability, and are often machine washable.
Comfort: Your lining will be rubbing against your skin, so even if you pick the world's most comfortable fabric for your shell, your lining needs to be comfortable, too. A few comfort-factors to consider are breathability, movement, texture, and any moisture-wicking properties.
Your Main Fabric: When you choose a lining fabric, pick a good match for the main fabric you are using for your garment. Consider your main fabric's fiber content and comfort as well, along with its weight and the garment's purpose. For example, if you sew a stretch coat, pick a stretch lining. And if you are sewing a waterproof coat, look for a waterproof synthetic to make sure your coat doesn't leak.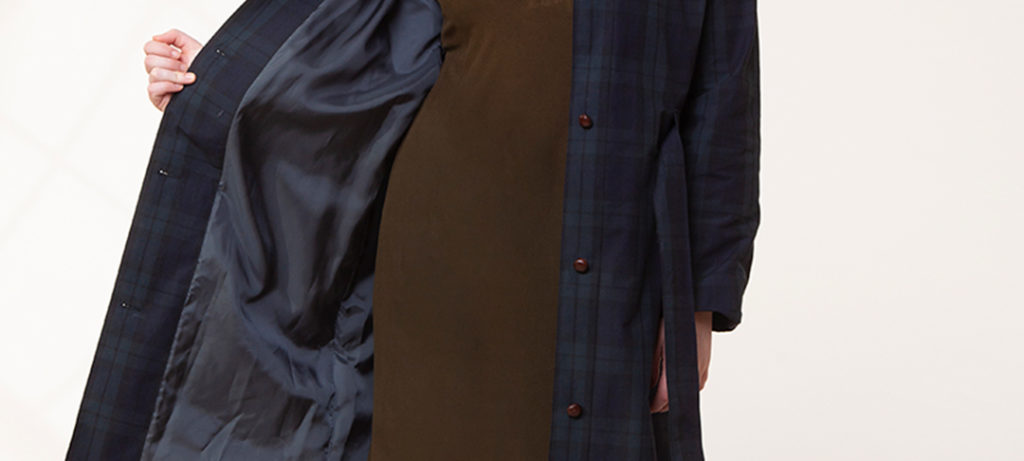 Three Cotton Linings
Bemberg Rayon
Bemberg is the brand name for cupro, a product of cotton exclusively manufactured in Japan since 1931. It has a fascinating history, including an ever-evolving logo and some clever advertisements that ran in the 1950s. But what is this fabric?
You know the fuzzy material that surrounds a cotton seed, underneath the cotton ball? That's called cotton linter. It could be considered waste after the cotton is harvested, but Bemberg regenerates this cotton linter as cellulose fiber that creates a silky fabric. In short, Bemberg is the trade name, and cupro is the rayon—the actual regenerated cellulose.
Bemberg is synonymous with breezy, summertime garments, which is why it's also ideal for linings, as it's breathable, lightweight, durable, and silky enough to resist static cling—a smart alternative to acetate linings. Since it's produced from cotton, Bemberg is biodegradable. There's even a video of its decomposition compared to polyester.
Tip: Since Bemberg is slippery, cut it single layer using a rotary cutter rather than pins and sheers.
Lawn and Voile
There's a debate about using quilting cotton for linings, mostly because some people hesitate to use quilting cotton for garment sewing at all. Overall, there's nothing wrong with using quilting cotton to line a more structured project. It's lightweight, and it usually packs a fun print. We used quilting cotton to line the Francis coat with no issue. But if you are firmly in the no-quilting-cotton-for-garments camp, here are two other lightweight kinds of cotton that work well for linings: lawn and voile.
It's always a good idea to have a couple of yards of cotton lawn in your stash. It makes great underlinings, pocket linings, and full linings. It has a high thread count, so it's lightweight with an excellent drape. Compared to Bemberg, it has more structure and a crisper hand.
Voile has more drape than lawn, which is why this lightweight cotton works well for breathable, easy-to-sew linings.
Like quilting cotton, both lawn and voile come in a wide variety of prints, so you'll have plenty of options for a fun lining. They tend to be a little pricier than quilting cotton, so plan accordingly.
Tip: Use spray starch to stabilize lawn or voile before sewing, and remember to staystitch any curves before sewing, especially when using lawn or voile as a lining fabric.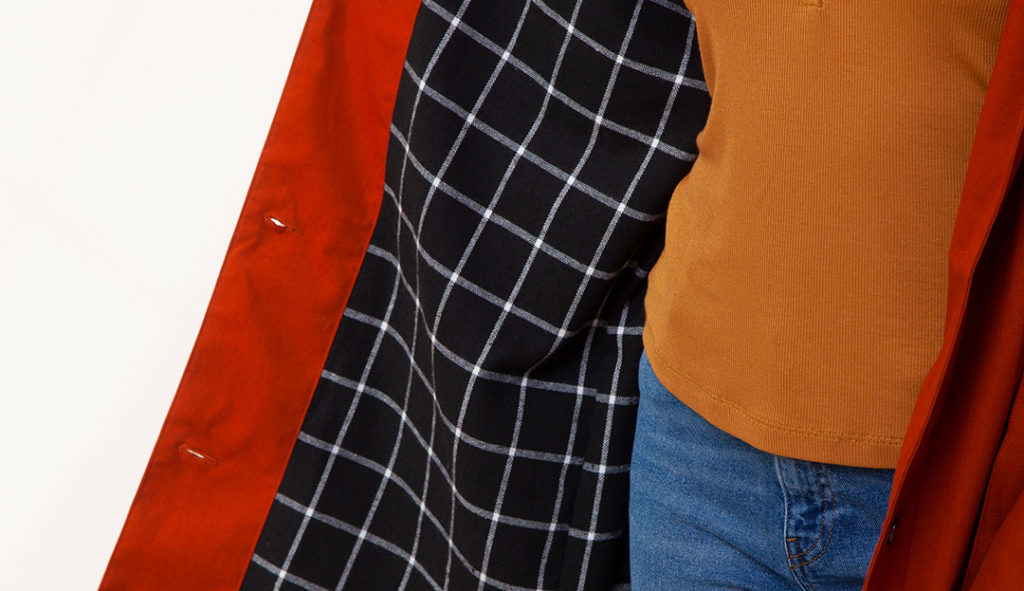 Cotton Flannel
The biggest reason to pick flannel for a lining is warmth and comfort—that's why it's such a popular choice for pajama pants, right?
Cotton flannel is a classic choice not only for its plaids and charming prints but also for its structure. It's soft to the touch, strong, wears well with time, and easily washes. It adds dimension as a lining, which means you can use it as a cozy layer under a lightweight fabric or under heavyweight fabrics for winter garments. A thick canvas coat might not feel nice scratching against your skin in the winter, but it sure will if you add a layer of flannel underneath.
Tip: Flannel can shrink significantly, so be sure to pre-wash your fabric. Remember, once it's done shrinking, it washes very easily.
More Cotton Options
Sateen: Cotton sateen resists wrinkles, and has a subtle sheen. It also comes in a range of colors and can be screen-printed (see Spoonflower's options here).
Poplin: More wrinkle-resistant than quilting cotton, poplin comes in bright colors and prints, which makes for a fun lining fabric.
Cotton and Polyester Blends: Polyester is an excellent ingredient for linings, as it's wrinkle-resistant and silky.
Stretch Cottons: Don't forget, if you are sewing a stretch project, your lining also has to stretch.
Double Gauze: This cushy double-layered cotton is pricey, but since it's the number-one swaddling choice of babies across the world, that means it also makes a cozy lining.
Sources: Asahi Kasei
Join the Conversation
Sign in or become a Seamwork member to comment on this article.