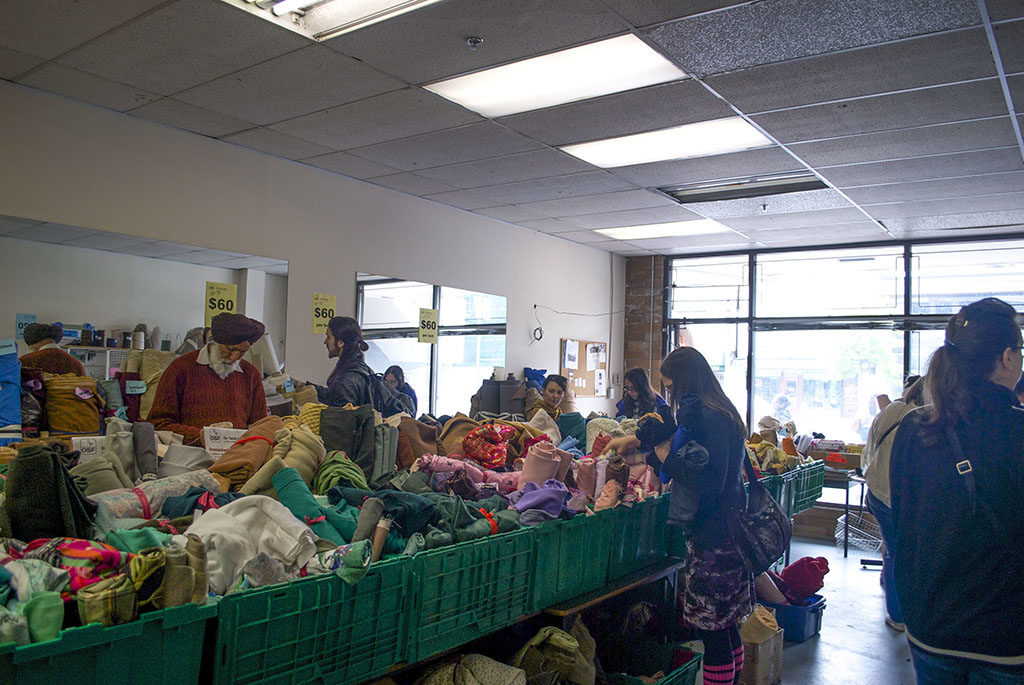 In an unassuming storefront on a busy stretch of Vancouver, Canada's East Hastings Street sits an unusual storefront. It is not a decorated space—the walls are beige, and the overhead lighting is fluorescent but not one of the eager customers waiting for the doors to open seems to care. At least twice a month, the sidewalk is full with those eager to be the first inside of one of Our Social Fabric's (OSF) legendary fabric sales.
"I've never had so much fun. People are so excited about the sales, and they are so happy to see our stuff," said Leah Price, a passionate textile artist and up-cycler, who has been a board member of OSF for over two years. Her relationship with OSF began when a friend forwarded her an open call for volunteers, "I was so excited, oh my God. I volunteered within a minute!"
One never knows what they find at an OSF sale. Much like a flea market or an auction, OSF's sales offer the thrill and intrigue of bargain hunting, and such bargains are a sewist's dream. The walls of the space are lined with large industrial bolts of fabrics, including high-performance athletic fabrics, rayons, silks, polyesters, and fleeces. Twelve six-feet-long tables in the center of the space are overloaded with green totes stuffed with bundles of mixed fabric of every composition. The bundles, piled together by hue, are each held together with scrap pink fold-over elastic, the length of each carefully denoted by a volunteer with a Sharpie. Amid the yardage, there are boxes of uncut patterns, vintage buttons, and other various notions. The walls are hung with sample projects of children's dresses, tote bags, and whimsical fabric flowers, each crafted by OSF's eager volunteers. Everywhere you look, there are intriguing bundles of supplies, waiting to be transformed into something.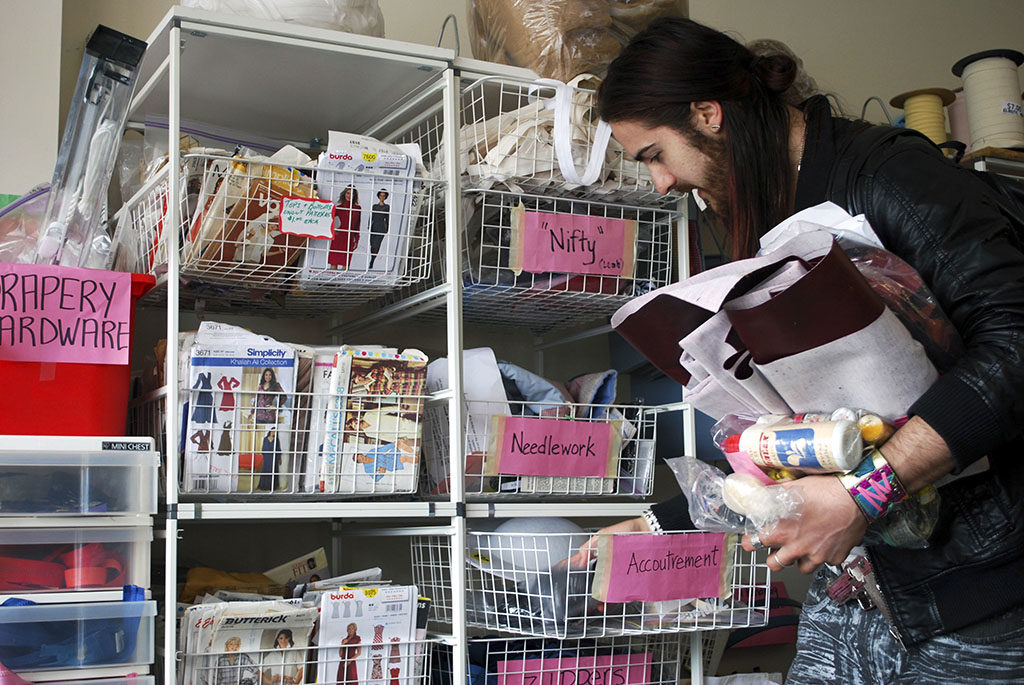 OSF offers more than just yardage, they also offer patterns and notions.
"I'm not a designer, but I like to do refashioning. Today, I bought some fabric that I'm going to make a pencil skirt," said Anne Money, a frequent customer. "There's something about digging through piles of fabric. It's definitely a rush."
"The prices are incredible," said Sola Fiedler, a 79-year-old visual artist who left a sale with a large bolt tucked under each arm. "I weave gigantic tapestries, so I need a lot of material. This is only the second time that I've visited and I can't believe what a treasure it is."
How it Works
OSF was founded by Leandre Melançon, a set decorator in Vancouver's movie industry in April 2009. Melançon was shocked by the amount of fabric he saw used and thrown away by the industry, and he made it his mission to do something about it. When he stumbled upon an article about fashion designer Kim Cathers and her work in upcycling and using recycled textiles, he tracked her down at a weekend clothing market. The two began to stockpile fabrics in a storage locker and hold occasional sales in the facility's parking lot, providing burgeoning designers bolts of fabric at rock-bottom prices. Eventually, the storage company got wind of the fact that a "business" was being run out of the locker, and OSF took up a free residence in the mezzanine space of Frogbox, a socially responsible moving box company. While free rent is an unusual situation in Vancouver's skyrocketing commercial real estate market, OSF needed a larger space where they could receive and sort fabrics. The organization became an official non-profit in 2010 and moved into its eastside storefront in September 2013.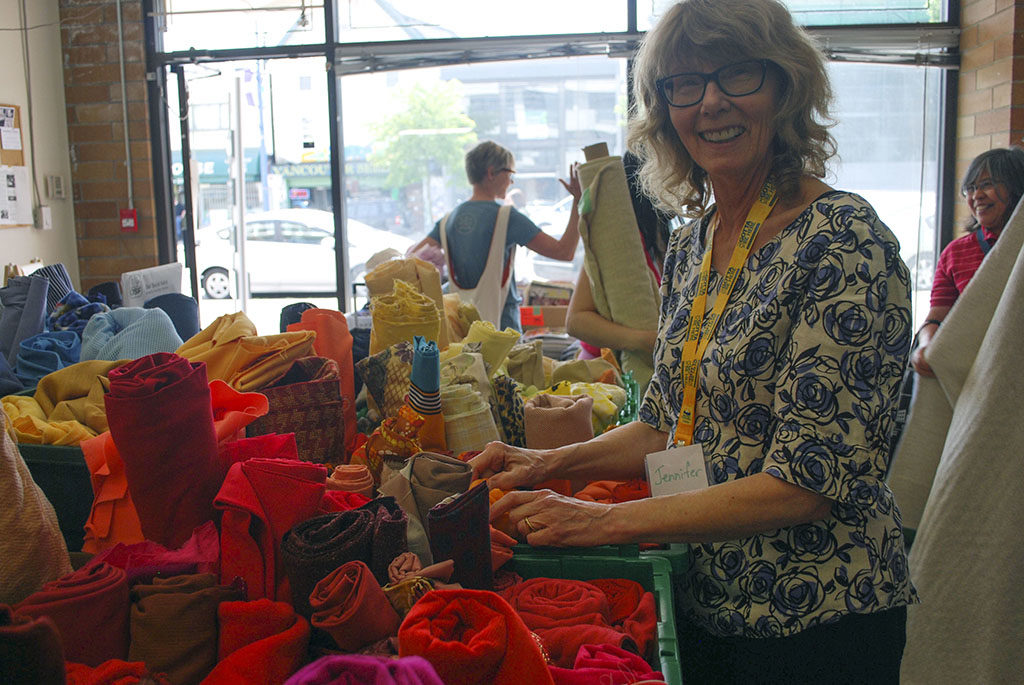 Volunteers like Jennifer help to sort and organize fabric.
The organization accepts donations of unwanted fabric from manufacturers, designers, the film industry, and individuals. These donations are then returned into the creative community through sales that offer fabric at an extreme discount. Hobby sewers, crafters, and fashion designers then have access to this idle fabric for 10–20% of traditional retail costs.
"People have donated incredibly nice stuff. They'd rather give it to us, than a thrift store, because they know that we are connected to a community who loves fabric and it will go to someone who appreciates it, " said Kat Siddle, an OSF volunteer and avid sewer.
OSF donations come not only from Vancouver's bustling film industry, but also professional organizers who are clearing space, clothing manufacturers, crafters who are busing their own stashes, and families who are cleaning out the estate of a loved one. OSF does not discriminate in what they take, and accepts donations both big and small. The organization will even take the care to put "unsellable items" into the hands of other artisans who can use them.
"We have 'free bins' at our sales for pieces that are too small to sell. People take a surprising amount from it – we throw very little away," said Kat.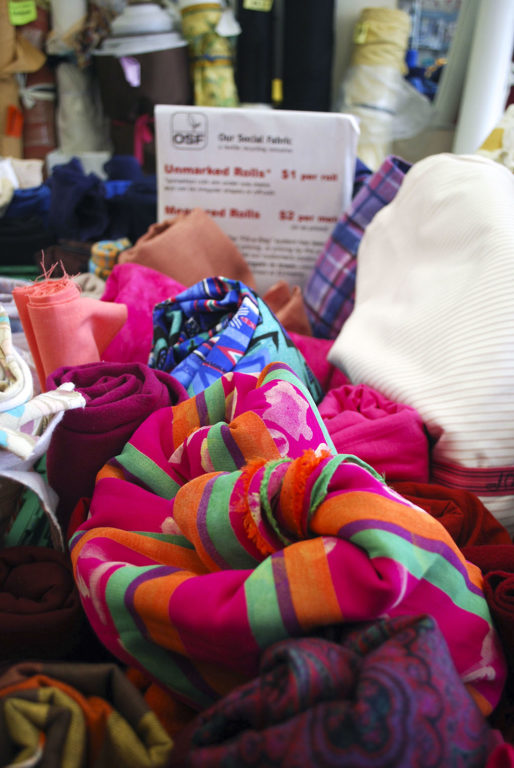 Precut bundles fill crates that line the tables of OSF.
When OSF receives a donation, the volunteers sort them into bundles—items are measured, reviewed, and marked for yardage and quality. While volunteers can't be paid, OSF ensures that they are compensated in bundles of fabric for their time.
"We have sorting bees whenever we have a critical mass. Sometimes we also have a sale while we sort bundles, " explains Leah. "We price by how big each bolt of fabric is and how much yardage is on it, usually $2 a meter."
"The big manufacturing rolls are hard to roll and unroll, so we sell them for $25. People love the quilting cottons, so we make stacks of squares according to color."
"Sometimes a local designer will drop off ends of something very covet-able, like an organic bamboo knit", said Kat. When asked about popular donations, she comments that "Once, a local fetish wear designer dropped off a bunch of PVC. People loved it."
All proceeds from fabric sales go toward paying for rent and the underlying costs of running a non-profit, such as website hosting, the electric bill, and cleaning supplies. However, the sales are definitely about more than making money; they are about building community.
The Community
OSF's customers are eclectic. While the sales are popular with design students, crafters, and home sewers, the customer base also includes cosplay costume designers, people looking to create art pieces for Burning Man, teachers looking for classroom materials, a dog bed designer, and even a beauty salon that purchases scraps to use for waxing strips. OSF has also supplied fabric to renters who've recently moved into new spaces that need curtains, visual artists who create large-scale installations, small business owners who want to make low-cost window displays, and community groups who are engaging new citizens through hand-making projects.
"It's a great way to meet people who are into thrifting or sewing. People who are willing to dig through bins of second-hand fabric are usually pretty interesting people. They're willing to question the idea that everything needs to be sterile or new, or they're really creative, and they've found OSF is the best deal for finding supplies. Either way, they're the kind of people that I like to spend time with" said Kat. "I sold a regular customer a few meters of a beautiful print. The next week she came in wearing leggings made from the print. It made my day to see how quickly she turned that 'waste' fabric into something really cool and fashionable."
OSF's current board of directors is just as diverse as its loyal customer base. Board members include a former lawyer, a textile designer for the luxury clothing brand Kit and Ace, a design supervisor for outdoor company Mountain Equipment Coop, a textile artist who only uses scrap material, a librarian, and a woman who runs a recycling company.
"Everyone is there for a reason," said Leah, "but not always the same reason. Some of the volunteers don't even sew. One member is into non-profits, but doesn't know about fabrics. One is a retired lawyer who had a very stressful practice working with social and domestic abuse issues – so this is a fun place for her to be. It is not stressful."
Tips for Start your Own Up-cycling Initiative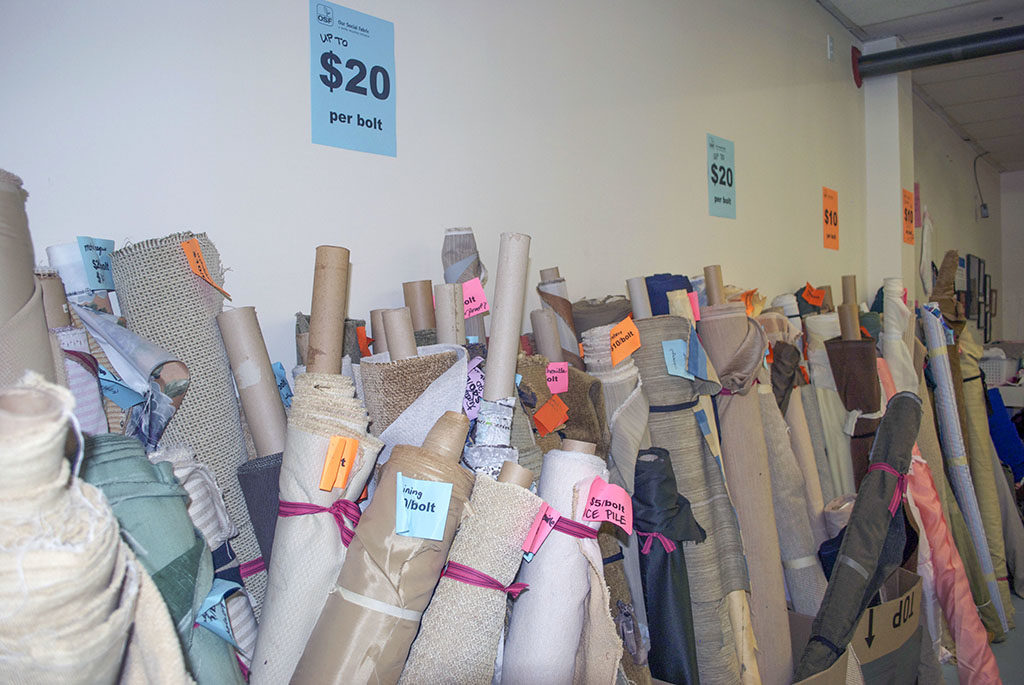 When asked what one needs to start a similar organization, Leah answers, "Definitely a space. You also need someone to coordinate volunteers, legal matters and the bank account, and of course, the website and communications."
Beyond the time given by volunteers, the storefront has been made workable by donations from the community. OSF owns twelve tables that were cast-offs from a local college, three dozen plastic bins from Frogbox to hold bundles, a rack for notions that came from Craigslist's free section, and a cutting table made by a friend's husband.



Find a space that will allow you to store and hold fabric. Be sure to find enough space that will allow volunteers to sort and examine donations before sales.
Build a list of interested volunteers—consider posting notices in your local sewing stores, community centers, yarn stores, libraries, and textile guilds.




Find sources of waste fabric: contact home sewers through Craigslist, and post notices to alert fashion designers, film industries, the hotel industries, and textile manufacturers. Industry associations and business improvement societies can go a long way in spreading the word.




Decide what you will and will not accept. Some fabrics, such as highly synthetic bed-sheets are popular donations, but you will only be able to sell a limited amount. Other items, such as natural fiber, will have special storage considerations.




Consider using forms of payment beyond cash. OSF uses Square and a smart phone to make digital transactions.




Host sales with some frequency, so your customers know what to expect. OSF hosts sales on Sunday morning twice a month, and the occasional Thursday evening sale.




Build a website, a newsletter list, and social media accounts to help spread the word about your collective.



While OSF has been making a successful go in their East Side storefront for over a year, it is a struggle to run a storefront in a city notorious for high property values and commercial evictions. In what is a common scenario in Vancouver, the commercial storefront that OSF rents was recently sold, and the organization is facing yet another move. The OSF board of directors is scouting for a location that is big enough to hold its inventory. The current focus of the organization is to find a new 1,500 square-foot space and continue to build a sustainable business model, but beyond this, each of the board members have bigger dreams for the organization. They want to use their fabric scraps in workshops focused on community engagement, sharing economies, and education.
Join the Conversation
Sign in or become a Seamwork member to comment on this article.