Painting on leather or faux leather is an easy way to completely transform the look of a simple bag. All you need are inexpensive leather paints and a paintbrush to get started creating something unusually lovely. You don't even need any particular artistic skill to create beautiful geometric or abstract patterns, though you can also use these techniques to create more complex and intricate pieces. In this article, we'll cover three simple methods you can use.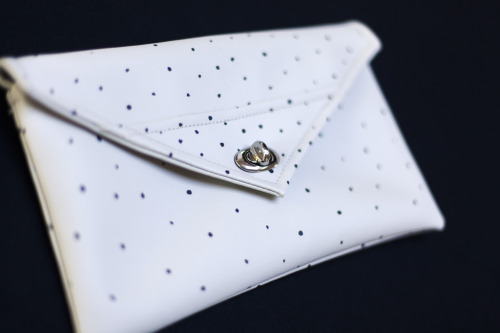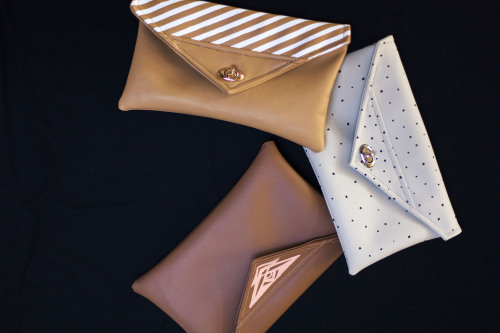 Either purchase pieces of real leather, or go with faux leather or vinyl. Vinyl can often be found in many textures and colors in the home decor section of a fabric store. When shopping, pay careful attention to the way the fabric feels. Vinyl fabrics vary considerably in weight and hand. Some are stiff and heavy, while others are so soft and buttery that they may need additional interfacing to help give them structure.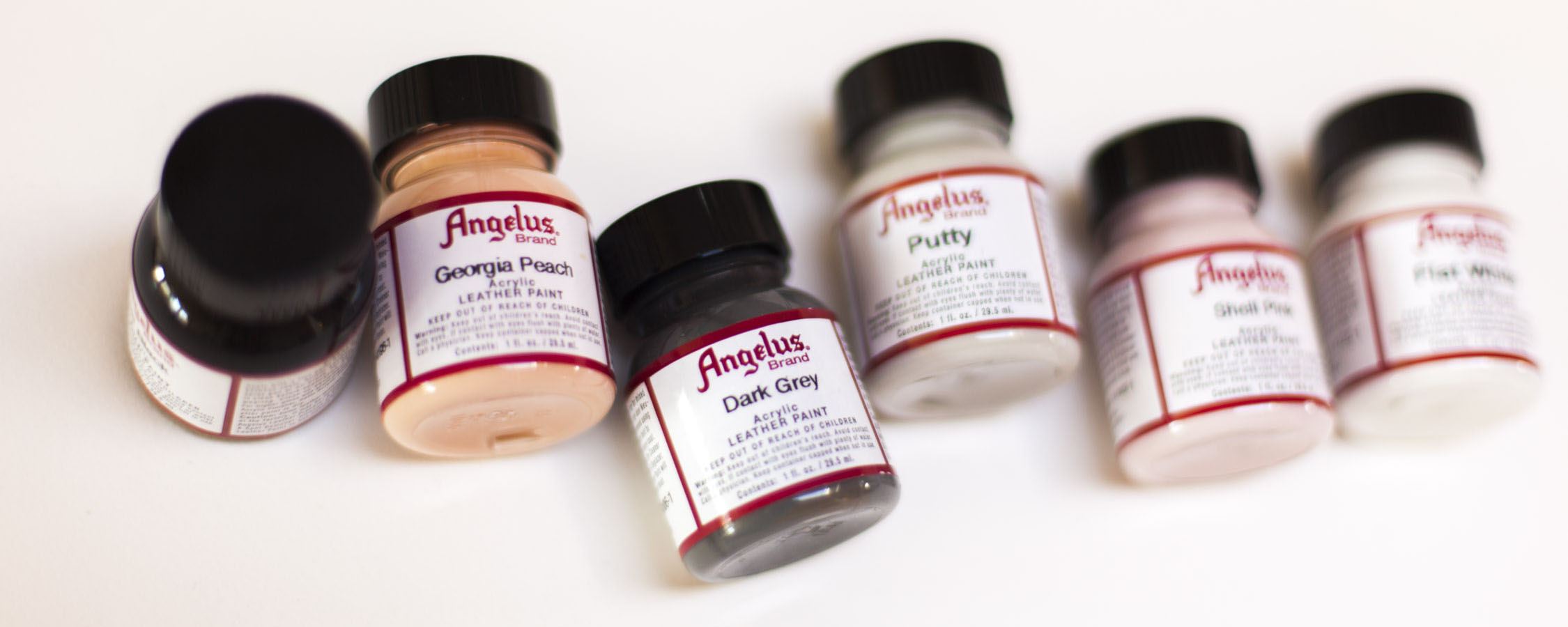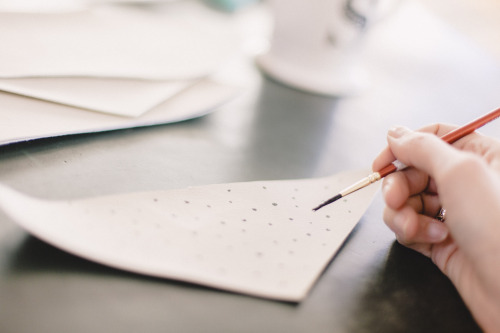 Leather paint should be applied in thin coats.
Leather paints are acrylic-based paints created specifically for work on leather and faux leather. Though you can also use standard acrylic paints from a craft store, leather paints are not much more expensive and are made to adhere to these types of materials without chipping, peeling, or cracking over time. In our tests, we found they even held up to the moisture and heat of a steam iron. See the resources section below for information on where to purchase.
You will also need a small selection of paintbrushes to complete these techniques. Choose brushes that will allow you to create fine details, along with a brush for covering larger areas if you plan to create blocks of color.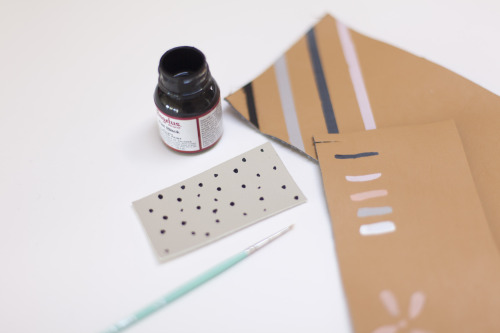 Swatching will help you determine a palette and finalize your design.
Before beginning the painting process, test your paint on scraps of your chosen material. This is a good time to experiment with both color and design. Try painting a few swatches to test the opacity of your paint. Some colors may require two or even three coats in order to achieve an even look. Overall, it's better to create multiple thin layers of paint rather than a single thick layer.
If you find that the paint is not adhering to the material, it's possible that the leather or vinyl has been treated with a silicone coating. Use a leather deglazer to help remove this coating before trying another sample swatch.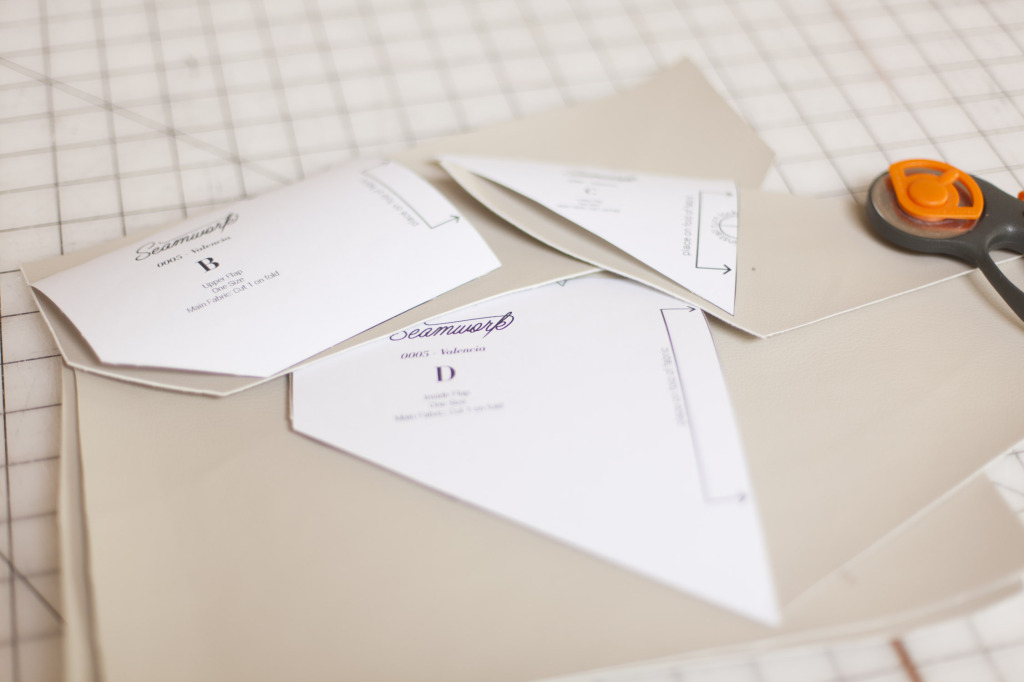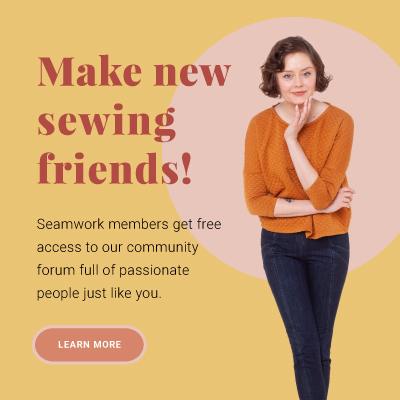 Once you've decided on colors, cut your pattern pieces from the leather or faux leather. For the small bags shown here, we've used the
Valencia
bag pattern to create small clutches. Each pattern was painted before sewing the bag together, which makes it easier to redo sections if there are any mistakes. Read on for three techniques you can use to create these designs.
Freehand patterns
The easiest way to create a painted pattern is by drawing freehand with your brush. This works best for simple abstract patterns with an organic look, such as these irregularly sized dots.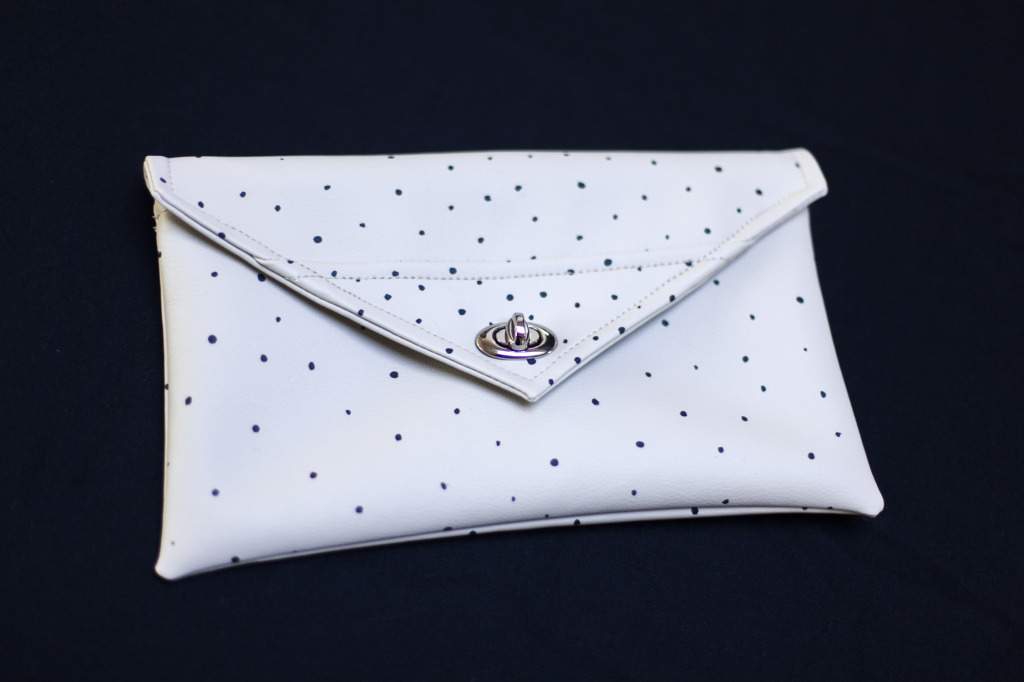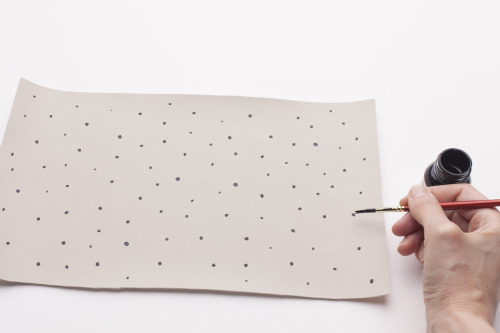 Use your brush to draw patterns on the fly. The look should be natural and irregular, so don't worry too much about mistakes. Small irregularities are a part of the look. If you do make a large mistake, dip a cotton swab in acetone-based nail polish remover to touch up.
Method 2: Simple stencils

For simple patterns such as stripes or blocks of color, use washi or masking tape to stencil your design.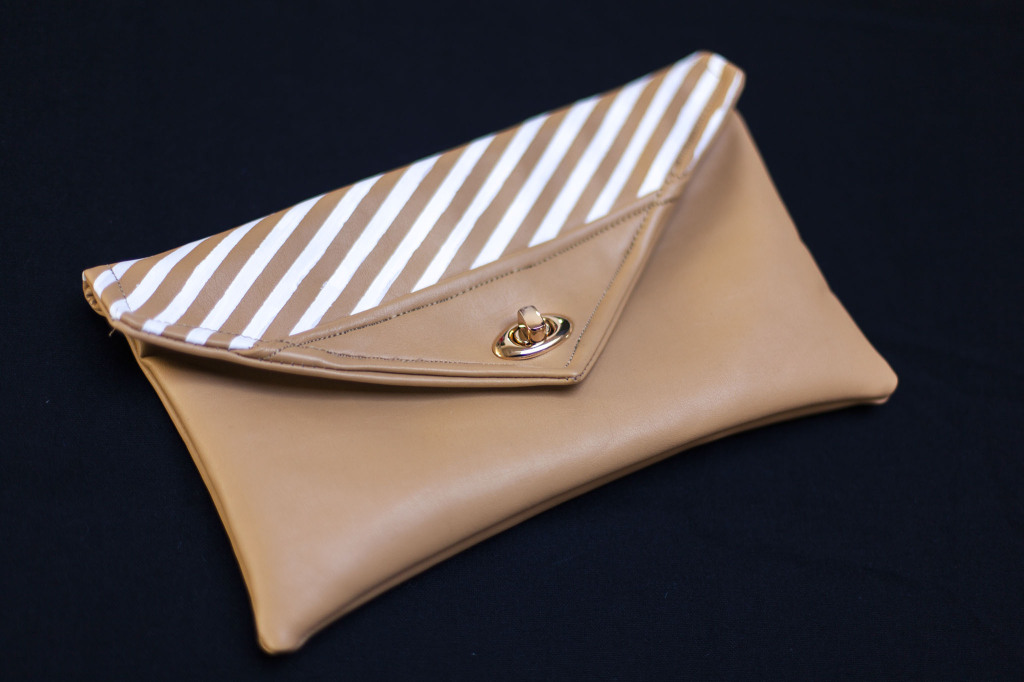 Step | 01


Choose the size of your tape. 1/4 inch tape will create even, narrow stripes. 1/2 inch or larger tape can be used to create broad stripes, or simply create boundaries between larger blocks of color.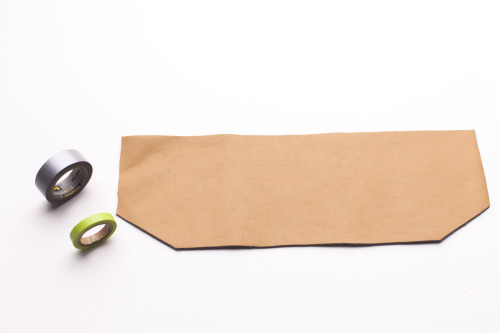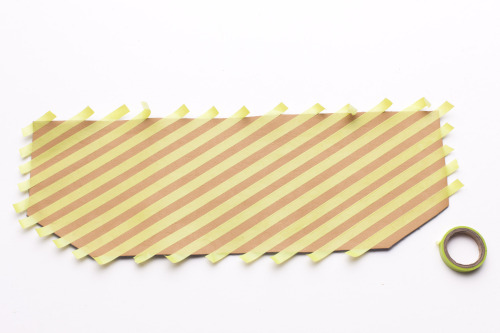 Step | 02


Apply the tape in your chosen pattern. You can create just a few stripes in multiple colors, or go with an overall repeat in a single color. Reposition the tape as you go to finalize your design before committing to paint. Use the edge of your nail or a coin to rub down the edges of the tape to ensure clean lines.

Step | 03


Paint the piece using your chosen color. You may need multiple coats. Once dry, carefully remove the tape and touch up any peeled or imperfect areas.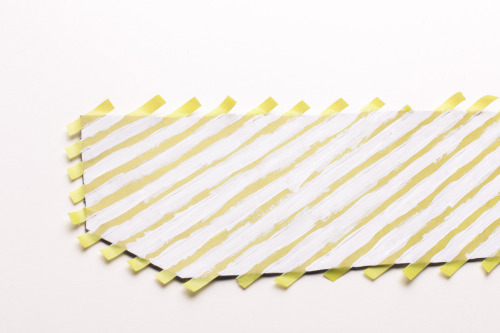 Method 3: Traced design
To create more intricate designs, first trace a design onto the material and fill in with paint. This method gives you the most creative freedom. You can find an existing design to add to your bag, or draw your own. For this bag, we used an art deco motif. You can find books of lovely motifs like this for use in artistic and craft projects (see Resources section below).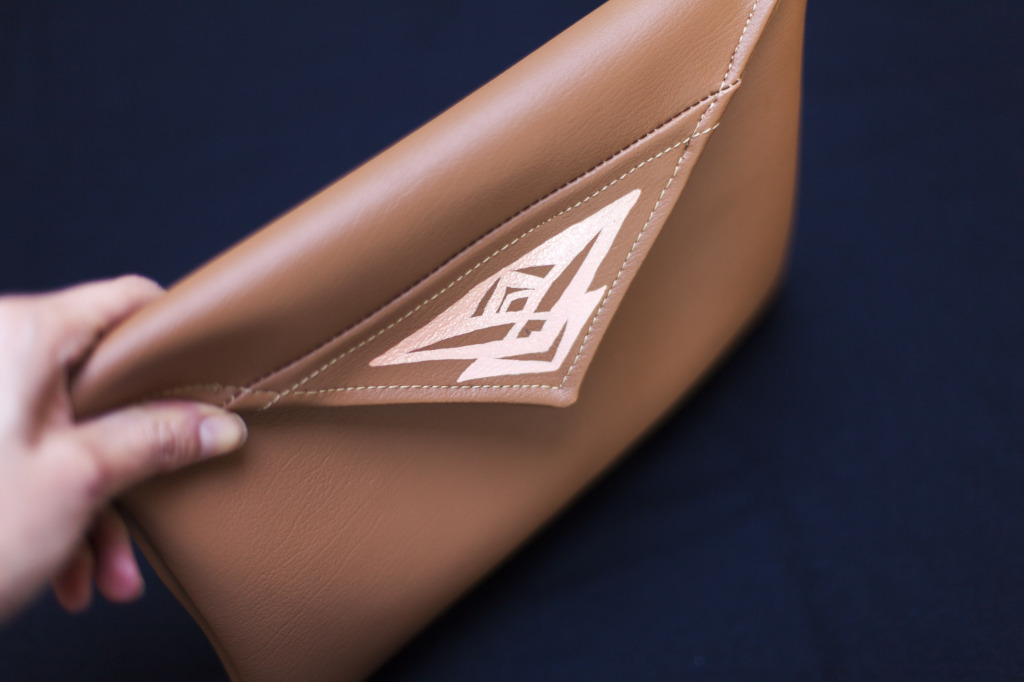 Step | 01


Trace your design onto the material using dressmaker's tracing paper or carbon paper. If necessary, go over the lines with pencil to make them easier to see.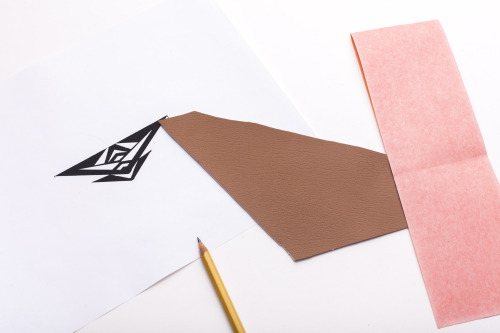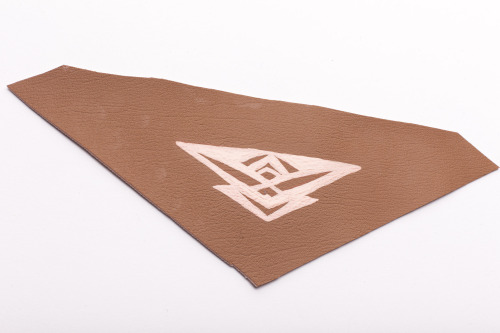 Step | 02


Fill in the design with leather paint and a paintbrush. This technique can be used to create an all over pattern, or a single statement motif that follows the lines of the bag, such as this one.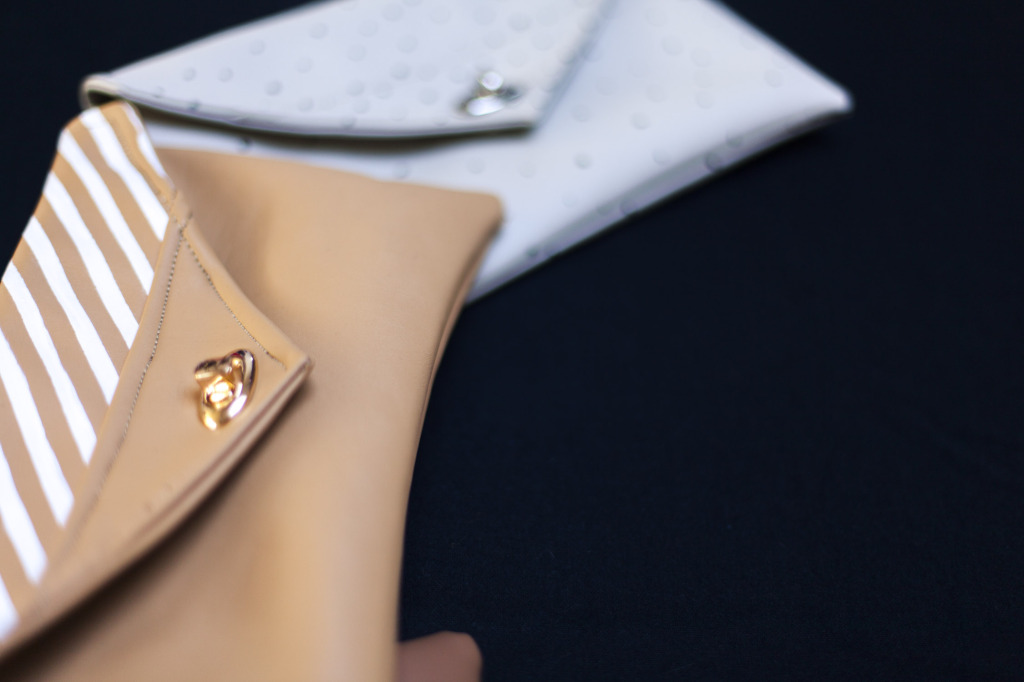 Leather painting supply Resources

Join the Conversation
Sign in or become a Seamwork member to comment on this article.