I love drippy, watery, painterly fabric. It feels so personal and delicate. When you paint with dye, you can create fabric that looks like a watercolor painting. Best of all, this technique won't change the natural texture of the fabric. While it works equally well on several types of fabric, including cotton canvas, my favorite fabrics to paint on are silk and linen.
Supply List


Procion dye powder


Sodium alginate (used as a thickener—it's made from seaweed!)


Urea


Soda ash (necessary for Procion dyes)


Fabric (use a natural fiber such as cotton, linen, or silk, and be sure to match your fabric content to the type of dye)


Rubber or nitrile gloves*


Dust mask


Paintbrushes


Plastic or glass containers* (one large container such as a gallon jug for preparing the thickened base, and several smaller containers for holding the dye while you paint)


Plastic spoons*


Bucket*


Tarp


Towels or cardboard


Synthrapol fabric detergent (optional)


*As with any dye project, once you use a tool for this project it should not be used for food, for health and safety reasons.
Resources
I can't say enough good things about Dharma Trading Company. They have reasonable prices and sell all the supplies you need for this project, which makes it really simple to pull together everything you need to get started.
Jacquard Products also offers an extensive range of dyes, and they sell ready-to-dye silks on their sister site.
A Note about Procion Dye Colors
Procion dyes come in a vast array of colors. When starting a project, first choose a color palette for your project—one or more colors that work well together. You can use almost any of the available colors to paint on fabric, and the result should come close to the swatch color. There are two exceptions you should know about. Black dye is always a bit tricky in my experience, and never quite as inky as I would like it to be; also, it requires heat in order to fully darken, so it just doesn't work very well for cold painting and usually results in a blue-purple. Also, gray dye tends to turn lavender. Both are really beautiful, but can be disappointing if you were hoping for pure black or gray. Whatever your palette, it's always a good idea to paint a small sample before starting your project.
A Note on Brushes
As with all painting, the brush you choose will affect the end result. A wide, bristly paintbrush from the hardware store will produce rough, brushy edges in your design. A soft, fluffy watercolor brush from the art supply store will result in soft-edged, rounded forms. When you're starting out, consider picking out a couple different brushes to see what suits you.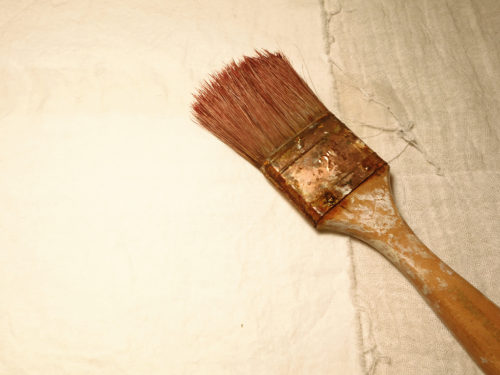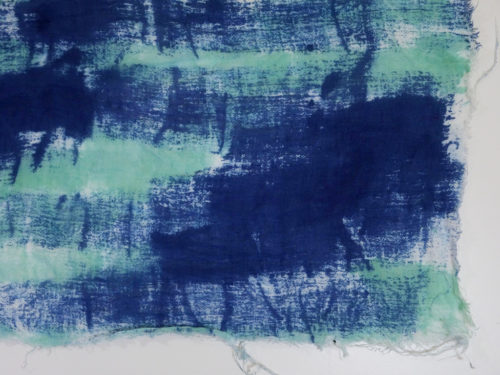 A bristly brush (left) can produce a beautiful, rough look, such as this brushy pattern on linen (right).
Setting Up
To get started, wash your fabric and cover your workspace with tarps to prevent staining.
The next step is to mix up your dye base. Put on your dust mask and gloves, and let's get started. I've found that this recipe is enough for about 1.5 yards of fabric (depending on the absorbency of the fabric and your technique). It can easily be scaled to match the size of your project.


4 c. warm (not hot!) tap water


3/4 c. Urea


1 tbsp. sodium alginate thickener (extracted from seaweed, the sodium alginate is what will thicken the dye mixture so you can paint with it)


Mix these ingredients in a large plastic or glass container with a lid, and let it sit for a couple of hours until the sodium alginate thickener has worked its magic. Use this time to set up your fabric so it's ready to paint. The fabric should be laid out flat on cardboard or towels. If the fabric isn't totally flat, the dye may travel to the low spots and pool. Bear in mind that the towels will also be dyed in the process—double win!
Once your dye base has thickened, put your gloves back on, and then pour the thickened base into the smaller plastic or glass containers. Use one container for each color, and if you're planning on using a lot of one color, then split up the thickened base unevenly at this stage. Make a mental note of roughly how much thickened base is in each container.
Put your dust mask on, keep those gloves on, and mix soda ash into the thickened base. Use one teaspoon of soda ash for each cup of base. Now, grab your Procion dye powders. For each cup of thickened base, I use about ¼ – ½ teaspoon of dye powder. Paste-up the dye powder with a small amount of plain water (start with ¼ teaspoon, and slowly add more water, up to about 2 teaspoons). This is a bit like making gravy—it's important to mix the dye thoroughly so that there is no unmixed dye powder, otherwise you can end up with streaky bits of pigment on the fabric. Some folks strain their dye-mix through silk in order to avoid streaks. I always have good results from slowly and carefully mixing the powder, but if you notice stubborn bits of pigment, you can try straining it.
After your dye is evenly mixed into a small amount of water, slowly add it, one color per container, to the thickened base. This is what you will paint with.
Take note: soda ash activates Procion dye, causing it to bond with the fabric. However, once you mix these two, the dye has a very limited shelf-life. You will want to finish up your project in an afternoon.
Painting
Now comes the fun part: break out those brushes and get painting! Be sure to keep your gloves on throughout this process to protect your hands. Of course you can paint whatever you want, but here are a few suggestions to get you started.
Watercolor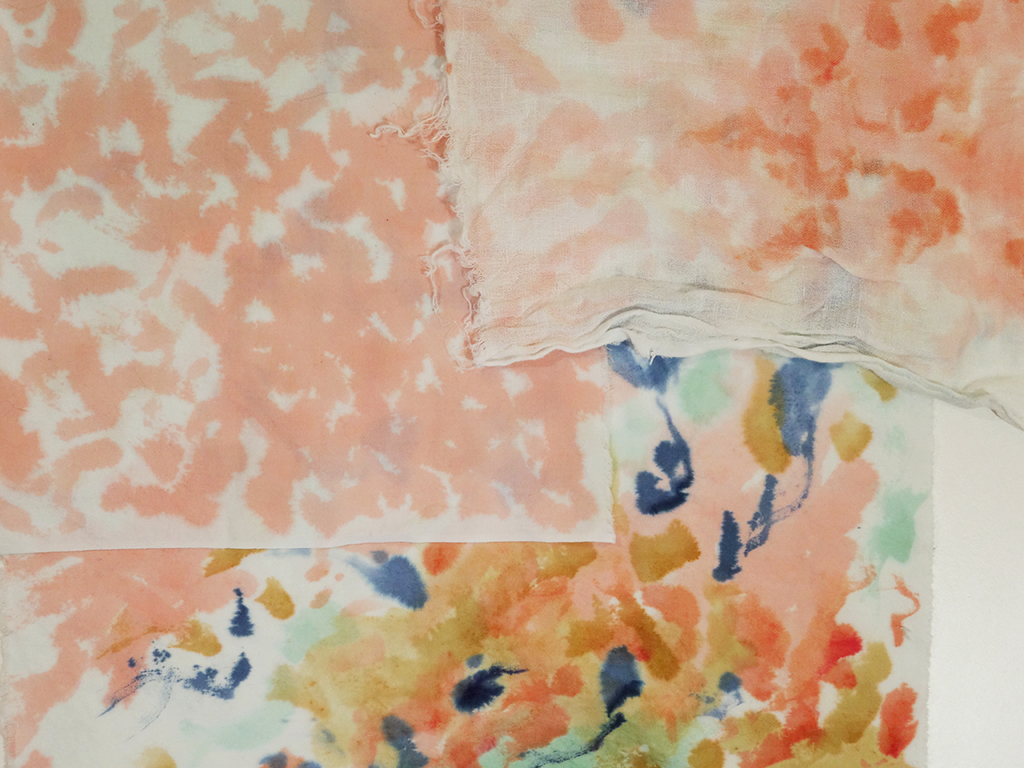 A soft, watercolor-style result.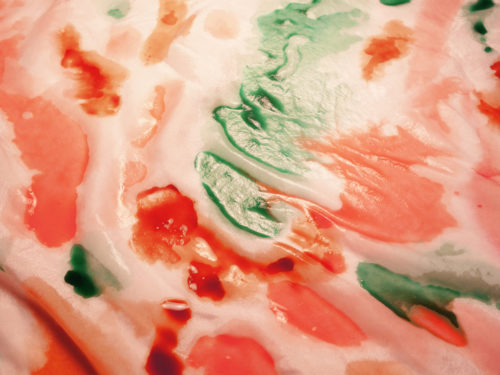 The dye looks a little darker as you paint with it than
it will when it's washed and dried.
First wet your fabric, and then paint in a free-flowing and loose style. If you want pastel colors, wait only 15 to 30 minutes after you have finished painting to wash out your fabric.
Polka Dots
To create polka dots, just paint dots all over the fabric. It's simple, but the softness of the dye and the slight variations from the human hand will add a little something to this classic design. Keep in mind that the dye will spread on damp fabric, but it won't spread too much, if at all, on dry fabric.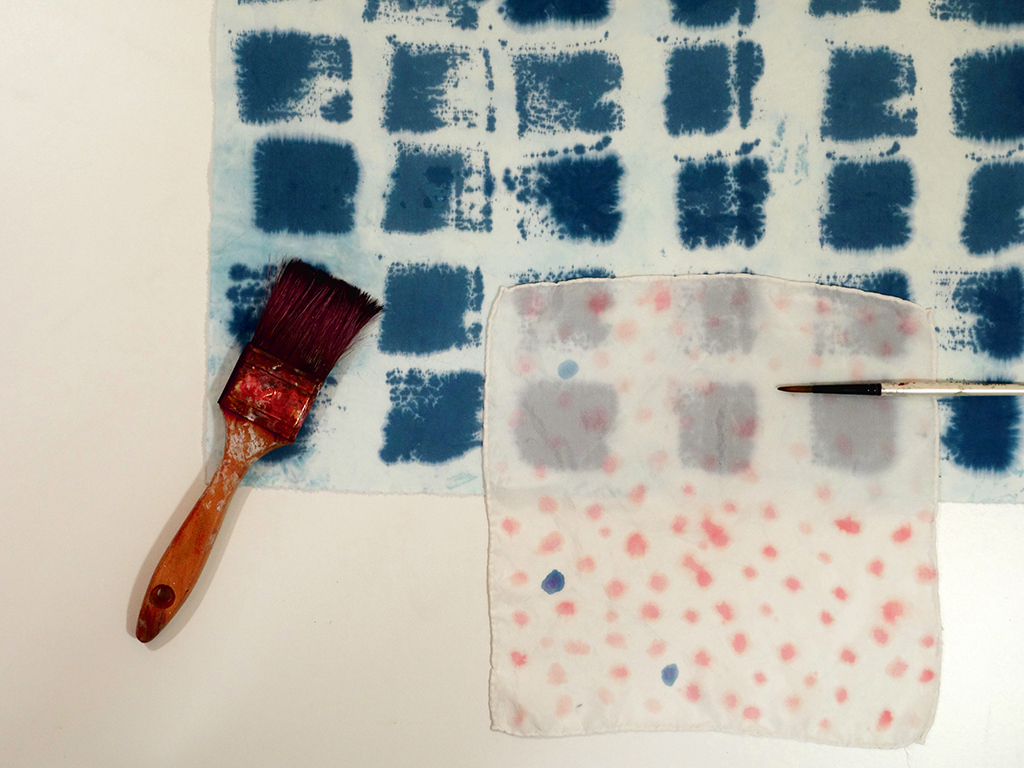 Brush choice can change your design in exciting ways, such as in these two very different takes on a polka dot design.
Two-Tone
Paint your fabric with different colors in two sections, and either let the colors meet and mix to create a third color, or leave a line of undyed white in between the colors.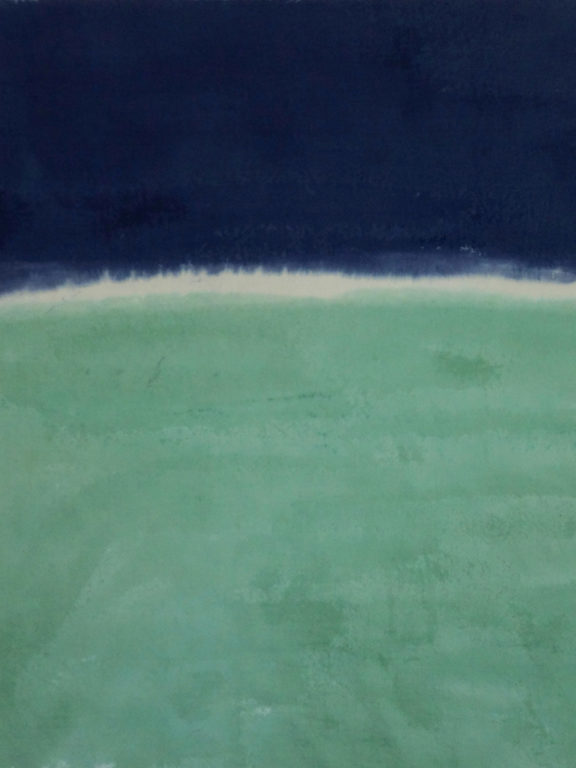 A simple, two-tone design can be very sophisticated. Note the lovely variations in solid colors, which are due to small inconsistencies in the application of the dye.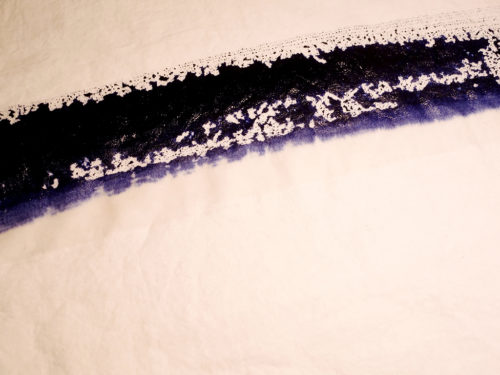 First painting a line of water, then painting dye along that line, will produce this soft, irregular fade.
Pro Tip

A lot of the beauty of this technique comes from keeping things loose and painterly. Keep a bucket of clean water and a clean paintbrush nearby so you can strategically dampen the fabric to create soft, washy edges on your patterns.

A Note on Mistakes
At some point, you may make a mistake. Maybe you drop a second color onto a single-color design, or maybe what you intended to be a small spot turns into a big blob. If this happens to you, just work with it. Once that weird spot is there, it's nearly impossible to remove. Washing it immediately will soften the color, but most likely it will still be visible. You can leave the mistake as an erratic, quirky design element, or you can change your design to make it fit in. Sometimes the changes I make to my design to accommodate a mistake become my favorite part of the design.
After you've finished painting, let the fabric sit flat for 15–90 minutes. The longer that the dye sits on the fabric, the darker the colors will become, and you can play around with the timing (letting the fabric sit beyond 90 minutes, for example). In my examples, the two-tone design sat for around 90 minutes before I rinsed the fabric, whereas the soft pink design on silk (below) sat for only 15 minutes or so.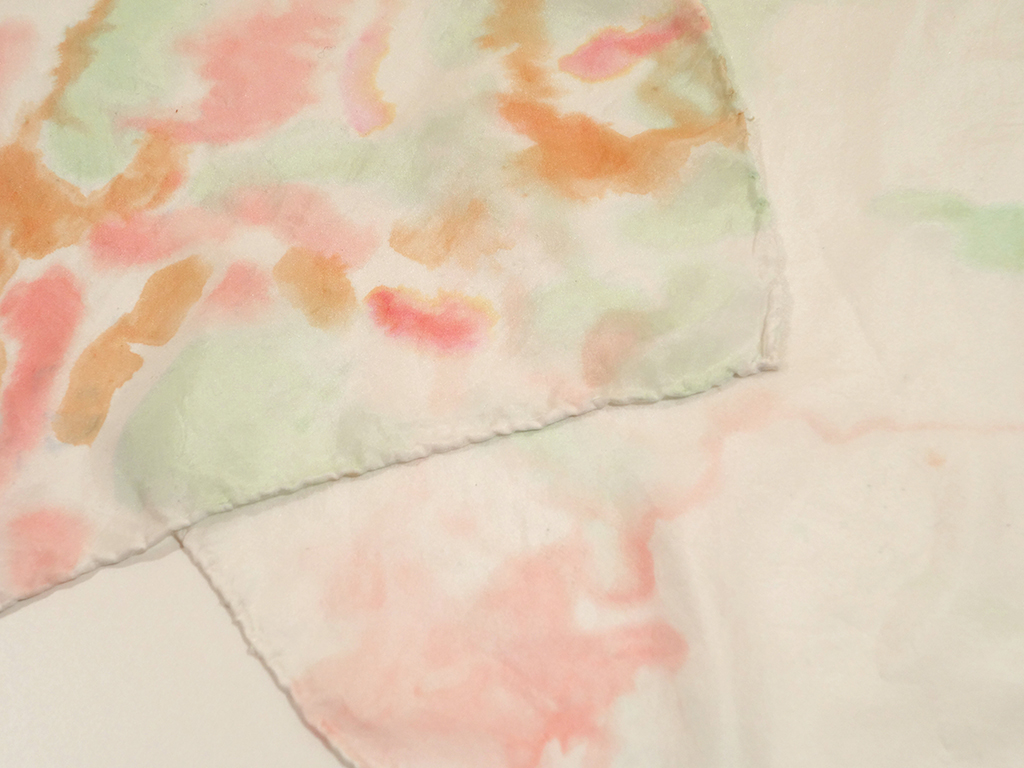 Even small, subtle areas of dye can be stunning, such as the slight pattern on the silk in the bottom right.
Finally, rinse out the dye mixture in cool water, then wash the fabric with synthrapol or your usual detergent.

This approach to fabric dye is so open-ended, and the possible designs are plentiful. The designs covered in this article are just a starting point—you can mix and match them, try for floral or geometric patterns, use repeats, or freehand a completely unique design. Another option is to customize the textile pattern directly to the garment, as well.
Sewing gives us total control over the garment construction and fit process. We can choose materials we love, silhouettes that work for us, and just the right amount of ease. Now, you can take that customization one step further: by creating the look of the fabric you use, in colors you adore. Painting with fabric allows for a nice amount of control, and is an excellent entrée into the world of fabric design and creation.
Join the Conversation
Sign in or become a Seamwork member to comment on this article.