I first learned about Bianca Springer when writing my first article for Seamwork Magazine last summer. The article focused on the creation of Black Makers Matter—a group of Black sewists that formed in response to the events surrounding the murder of George Floyd, to amplify the work and contributions of Black people to the sewing community. Bianca was one of the founding members of BMM. I began to follow her on Instagram and fell in love with her pattern weights. Such a small, but necessary sewing tool, Bianca elevates it from something merely utilitarian to something artistic and inspirational. I was eager to learn why she decided to focus on something so often neglected—or, in my case, lost somewhere in my sewing room)—the pattern weight, to create her business, Thanks I Made Them.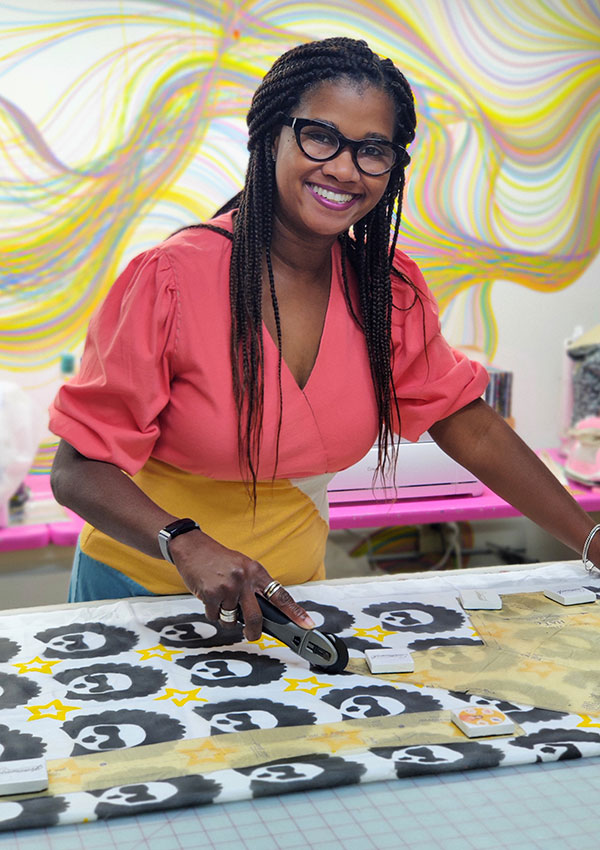 How and when did Thanks I Made Them, Sew Can You begin?
Bianca: I was raised in a home where my mother constantly sewed and made everything for us. She taught me how to use her machine, gave me access to her patterns and fabrics, and she gave me the freedom to make what I wanted. I dabbled a bit, but, because she was so much better at it, I usually defaulted to her to do most of the sewing. I didn't make time to sew while pursuing my undergraduate and graduate degrees or my job in higher education. It wasn't until I got married and became a stay-at-home mom to a premature baby girl that I returned to sewing. Sewing for my family was my inspiration to return to the craft.
Motherhood became an opportunity for me to be creative and fun with my making. I made clothes for my kids; sometimes I coordinated them with clothes that I made for myself. When we would get compliments on our outfits, I was constantly saying, "Thanks, I made them." I joined a mom's group, and, when other mothers expressed an interest in learning to sew, I volunteered to teach them adding the "Sew Can You."
What began as a weekly group of friends sewing at my kitchen table evolved in time to me teaching children and adults to sew in individual and group classes. I starting using social media to share my sewing experiences, to promote my services, and to sell my products.
I know, in my years of sewing, that I've used all sorts of things to hold down my patterns (staplers, face cream jars, you name it). Through your experience as a sewist, what made you zero-in on pattern weights?
Bianca: Cutting out the pattern and fabrics was my least favorite part of the sewing process. I also used random household and hardware items to hold down my patterns and fabric while cutting. While at an estate sale a few years ago, I bought a set of vintage June Tailor pattern weights. They came in a set of four and had fun sewing-themed shapes. My daughter observed that I was smiling while cutting the fabric out. We discussed what made me happy about them, and she suggested I find a way to bring that joy to other sewists who also loathe the cutting process. 
You make more than just a utilitarian tool for the craft of sewing. Your weights are fun, whimsical, inspirational, and affirming in their message. This is pretty hard to do only having a 2-inch square space to work with. Was there a lot of trial and error coming up with prototypes? When did you know you had achieved the look, message, and functionality you wanted?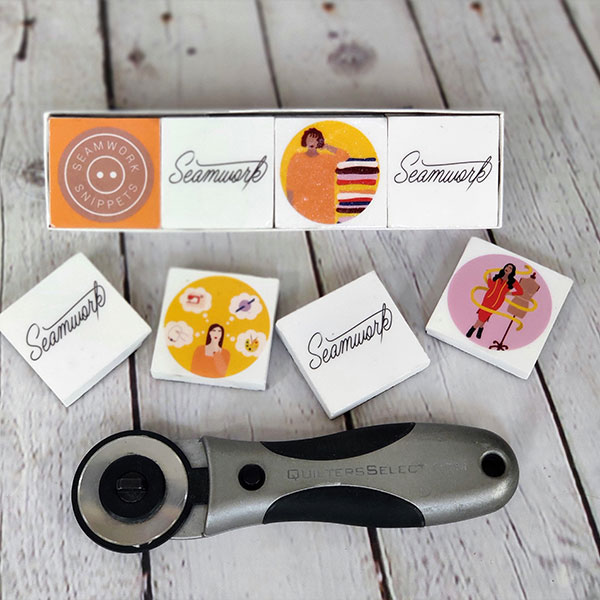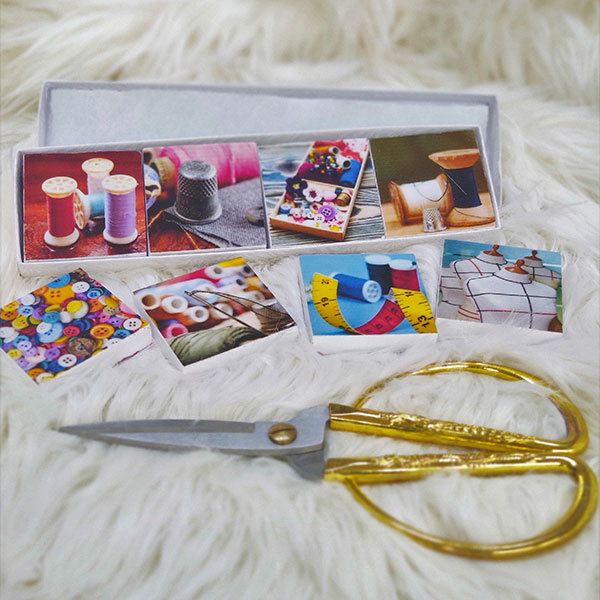 Bianca: A lot of my creative process is about experimentation. Trial and error is where the magic happens. I like to try something and see if it's functional. From there, I refine the idea to get it to the point that I am satisfied. I knew I was onto something when people saw them and were willing to buy them. My first customers and friends were very encouraging and supportive as I navigated the new product. They gave me grace and room to get it right. They collaborated with me on customizations and allowed me to take risks with their orders. 
When I come up with a new design idea, I hope it will be a winner, but I am never certain how it will be received. There are some designs, like "Scripture" and "Sashiko" that I knew would be obvious, overwhelming bestsellers. Others like, "That's What Friends Are For" celebrating friendship did not do well. Many of my customers give the weights as gifts to friends. I thought it would be a hit; however, it was not. I follow my instincts, but pay attention to the support, feedback and advice of the sewing community. They tell me when I am on the right track.
You have a pretty large Instagram following, are one of the founding members of BMM (Black Makers Matter), and have your own business. That's an impressive platform. How do you use it? And, why is it important for you to use it?
Bianca: My perspective on social media is that it is a space for me to authentically share my creative experiences. In my mind, I don't frame it as a platform. As an introvert, that concept is overwhelming to me. I don't follow posting schedules. I don't refine my content to have a curated feed. I also don't spend time making Reels, do Lives, or share extensively in my Stories. Those methods of using and building my platform don't come naturally to me.
Instead, I see social media as a creative path that I walk publicly. It is for me, but I welcome anyone who wants to walk alongside me to do so. On this journey, I share my feelings of heartbreak related to my daughter being teased about her natural hair and how I supported her by designing fabric to celebrate it.  I share the story of the "Nude is not a color" community collaboration quilt that was a response to my feeling marginalized by a couture design company. I share collaborations with woman-owned businesses to offer custom pattern weights to elevate their brands. I share issues of racial disparity in the sewing community that distressed and disheartened me. I share upcycled projects from uncommon materials and reimagine vintage patterns. I share unfiltered photographs with no makeup… just lip color and a smile. What I share communicates values and ideals that are important to me.
I know who I am. I know my style and what I like. I walk my path and show myself in an easy and organic way. That way, I'm confident that everyone who chooses to follow me, read my articles, or buy from me is doing so because something about who I am, resonates with them. Being an "influencer" is not a goal of mine. On this path, I prefer to be a person of influence to impact your thinking, your perceptions, your creativity, your activism, and your making.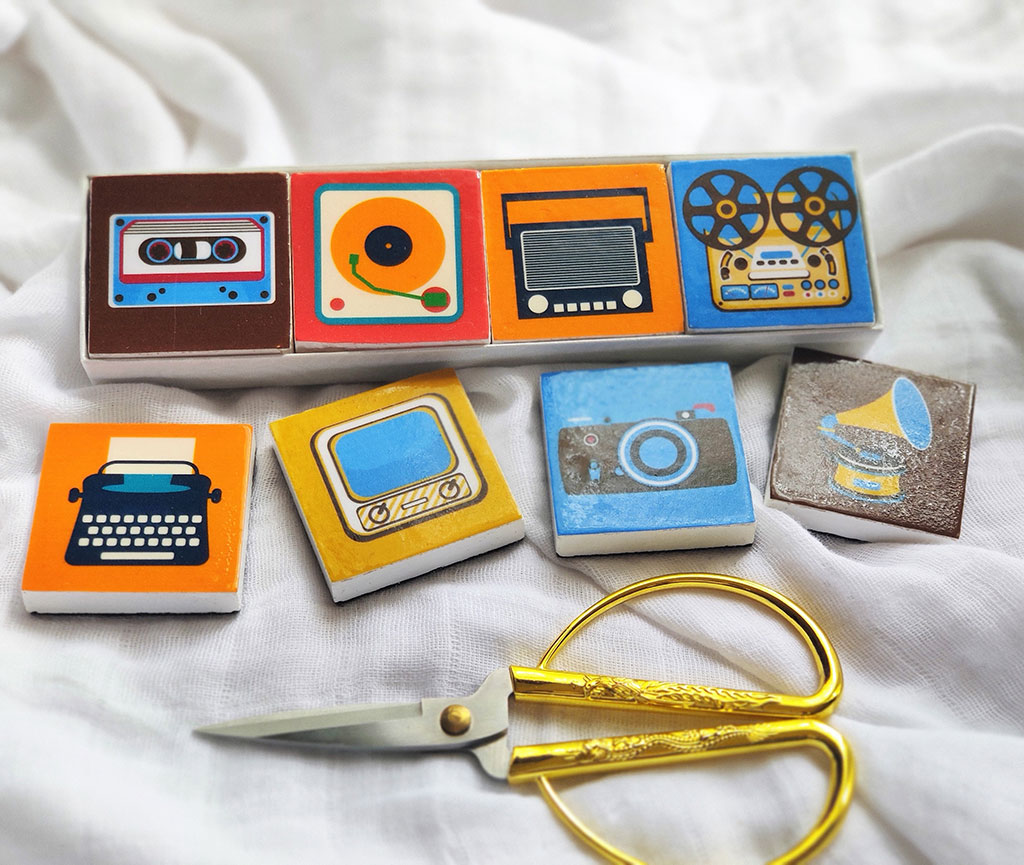 As a Black woman, entrepreneur, social media influencer, and sewist do you feel you offer a unique perspective to what you make and share?
Bianca: As a Black woman from The Bahamas, interracially married, with biracial children, living and working in Texas, my lived experience is different. Each of those identifiers carries a wealth and breadth of positive and negative perspectives that impacts my making and sharing. What I experience on a day-to-day basis is not new to me or the communities to which I belong, it's just life, and what I make reflects my life. To members of the Black community, some of what I make is simply a mirror of the everyday. For some members of the white community, that same thing may be perceived as a brave protest or statement of activism. That perspective appears unique to outsiders whose privilege makes them unfamiliar with the everyday experiences of others.
As a Black woman, entrepreneur, social media influencer, and sewist, collaborating with brands dominated by white people, I know my perspective is unique. The reality is, white makers are not asked questions. I have come to embrace my voice, to identify issues, and to demand representation where I can in the maker community. I have asked for more Black models in the magazines for which I write. I have advised fabric companies on changing collections with problematic names, lack of representation, and blatant racist imagery. I serve on an advisory panel for a publishing company to increase representation in their authors, their visual content and subject matter. I encourage brands to amplify Black voices all year long and not just to celebrate Black History Month.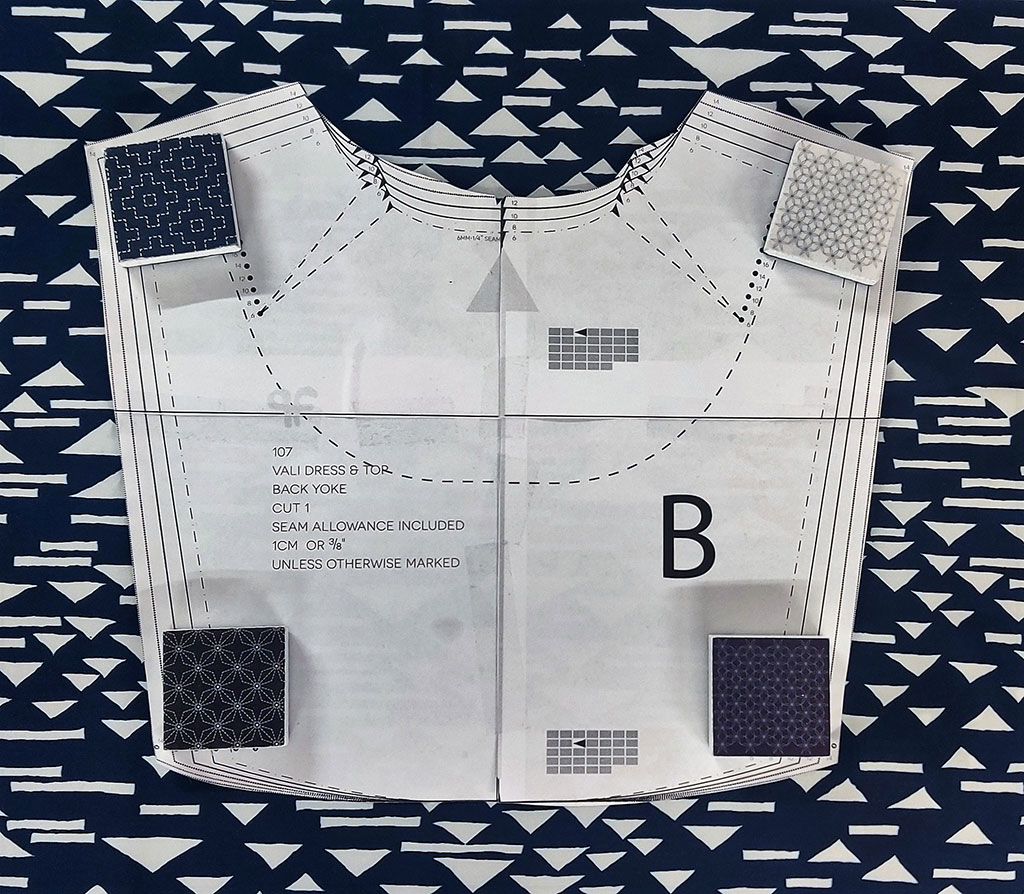 As a long time sewist, what are the 3 most important tools (other than your sewing machine) that you just can't live without?
Bianca: My sewing changed when I started using a rotary cutter, pattern weights, and a large cutting mat. Some of my favorite things to make are maxi dresses and long pants. I was using pins and scissors before and was frustrated by the time it took to cut them out. When I upgraded my cutting system, I became more efficient and enjoyed the process much more.
What are 3 most important tools that you would recommend to a novice sewist?
Bianca: In addition to those that I mentioned above, I suggest buying a serger for edge finishing and sewing knits. I bought a serger and found my garments went from looking homemade to looking handcrafted because I was able to finish the edges cleanly. There are tips and tricks you can use to sew knits on a standard sewing machine, but the ease and stability you get with a serger is unmatched. There are a wide range of sergers with various features at all price points. Buy the best you can afford, read the manual and use it often.
How can the Seamwork community best support you and your work through Thanks I Made Them, Sew Can You?
Bianca: If you like my products, buy them, share them in your posts, tell others about them and give them as gifts. I never get tired of customers tagging me when you use them. Share my products even if you have not bought them yet. I love a good "Check these out!" or "Adding to my wish-list" post. Word of mouth sharing from individuals means so much.

You can save 20% with code SEAMWORK20 on the Thanks I Made Them website now through July 15th.

Join the Conversation
Sign in or become a Seamwork member to comment on this article.