It was hard for me to feel creative when New York City went into lockdown for the Covid-19 pandemic. The things that usually inspired me were closed. I couldn't go to live performances, gallery exhibitions, and restaurants. Sickness, strife, and hardship filled the city, and I struggled with the monotony of being stuck at home inside. However, once I started looking, I was able to find inspiration from my city in unexpected ways—steering my making practice in a new creative direction.
Are you finding it hard to get inspired to plan a handmade wardrobe right now? I'll share three of the unexpected ways that I found inspiration for my sewing practice—including walking around the city, making discoveries in my pantry, and browsing vintage sewing patterns—as well as the projects that ended up in my queue.
Design Your Wardrobe: Round Three
This was my third time participating in Seamwork's Design Your Wardrobe (DYW) program. You can read about my first time following DYW on my blog here.
The second time I completed DYW, I had to abandon my sewing plan. I had pre-pandemic planned a wardrobe of summer officewear—a wardrobe I wouldn't end up sewing because I was stuck at home.
When the next round of DYW was announced in the middle of lockdown, I knew that I was going to participate, even though it was hard to think about a new collection of clothes when I couldn't even envision the next time I would go out of my front door. Signing up for DYW in fall 2020 would at least give me a push to come up with a creative plan.
After months of lockdown inside, I was ready for outdoor socializing—even if it meant standing six feet away from my friend outdoors, with to-go margaritas in our hands, talking about her jigsaw puzzle progress. I coveted the opportunities to connect with my friends outside, but winter in NYC includes the dreaded wintery mix of rain and snow. So, to hang out with friends outside, I needed a warm handmade outfit of my own design. For this round of DYW, my goal was to design and make a micro-collection of social distancing outerwear.
To reach this goal, I'll show you how I found inspiration during lockdown—outside, in my pantry, and with vintage patterns.
Finding Inspiration in the City: Pops of Color
I get inspiration for sewing when I am walking around the city. I'll pick a new destination—like a bakery in a different neighborhood—and walk there and back on different routes. I try to remember to look up and look down while I'm walking. Sometimes I'll stop on the sidewalk to check out a restaurant's takeout menu and find something else that will catch my eye.
This summer, I was especially observant of flashes of life among the buildings. After so much time in isolation, I wanted to see little glimpses of liveliness, bits of color among the glass and concrete. Here are some of the moments I came across during my walks.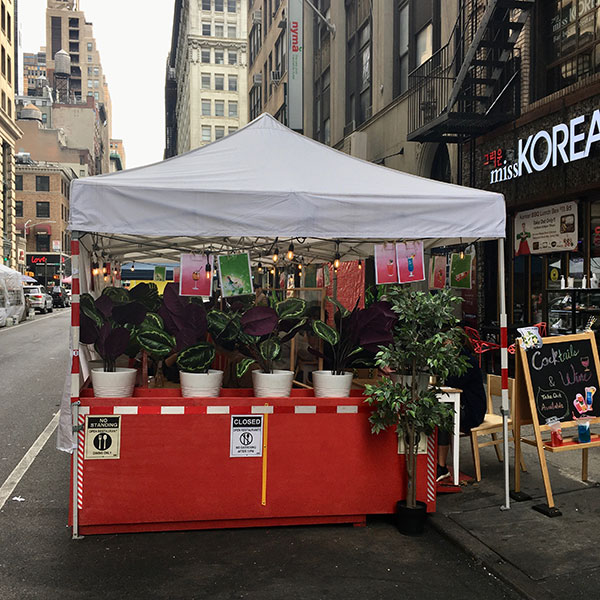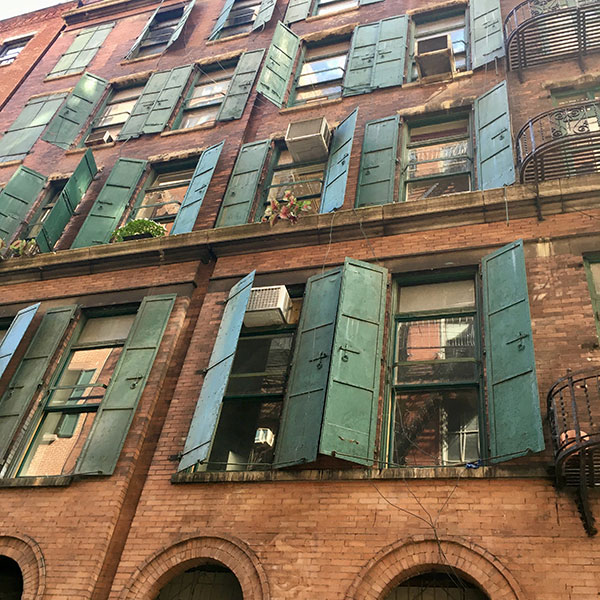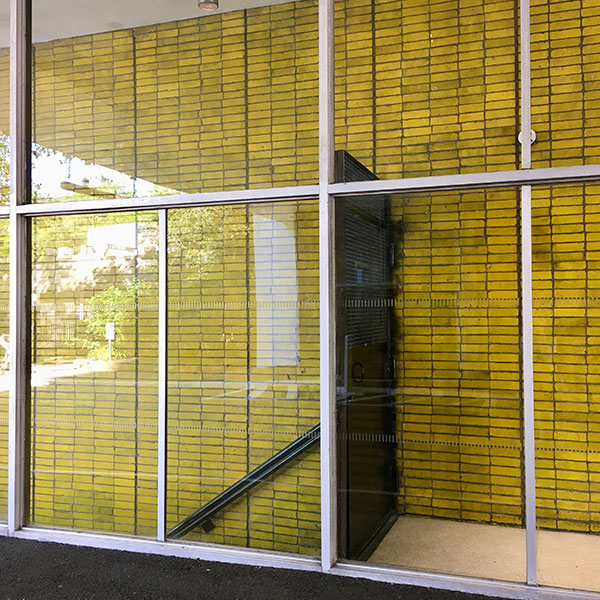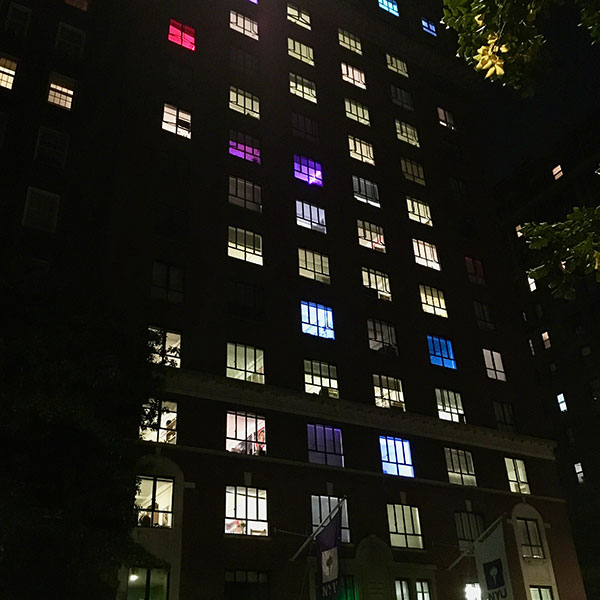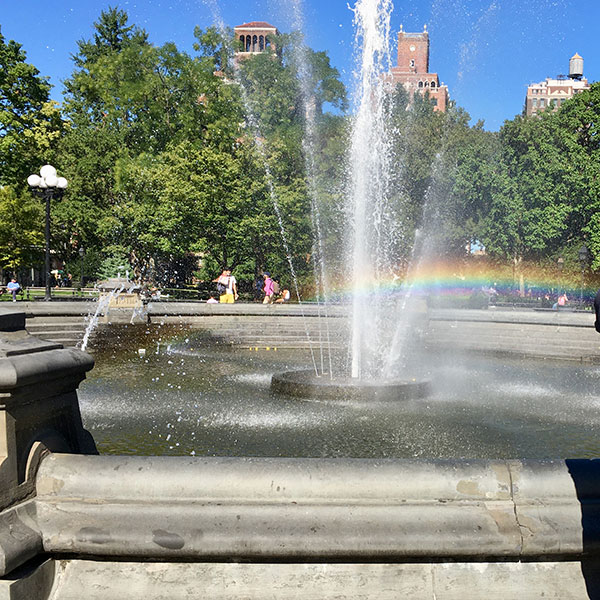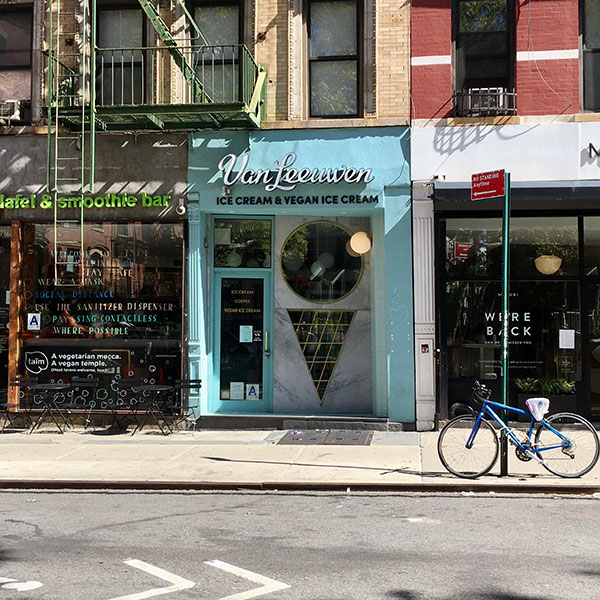 How did walking through the city inspire my wardrobe plans? It set a mood, inspired color, and showed me textures.
Finding Inspiration in the Pantry: Use What You Have
The New York Times ran a series of articles about what to cook at home using pantry items. The start of each recipe was based on a memory, like eating a tuna sandwich as a kid. But instead of recreating exactly the taste of that sandwich, the author would think about the crunch of the celery, the colors and textures, and try to build a new recipe using the pantry items she had on hand.
I tried this idea a few times to cook fried rice—using up the bits and bobs of food in my pantry and fridge. I added peanuts and thin-sliced raw cabbage for their crunchy texture, leftover barbeque for the salty kick, and little pieces of diced vegetables for color. It reminded me of going to the night market last summer, where my friends and I grazed on small bites of local cuisine while sitting outside in a dusky park. 
How did cooking with assorted pantry items inspire my wardrobe collection? Just like building new recipes with ingredients that I had on hand, I could create embellishments for my sewing projects using fabric and other materials I had on hand.
Finding Inspiration Online: Go Vintage
In addition to browsing my pantry, I was also searching for ideas about how to decorate a homemade face mask. After sewing a bunch of masks for friends and family, I grew tired of the repetition. While brainstorming different embellished accessories, I found old photographs of women wearing swim caps with appliqué flowers.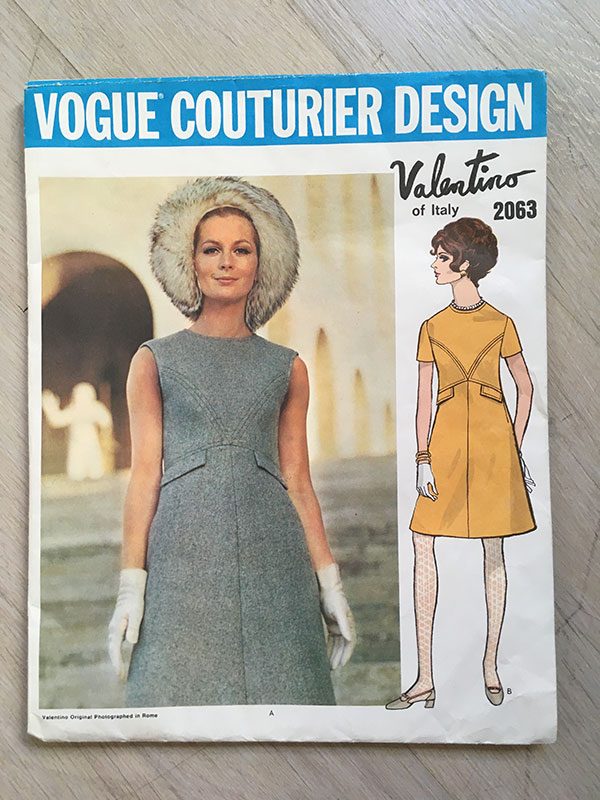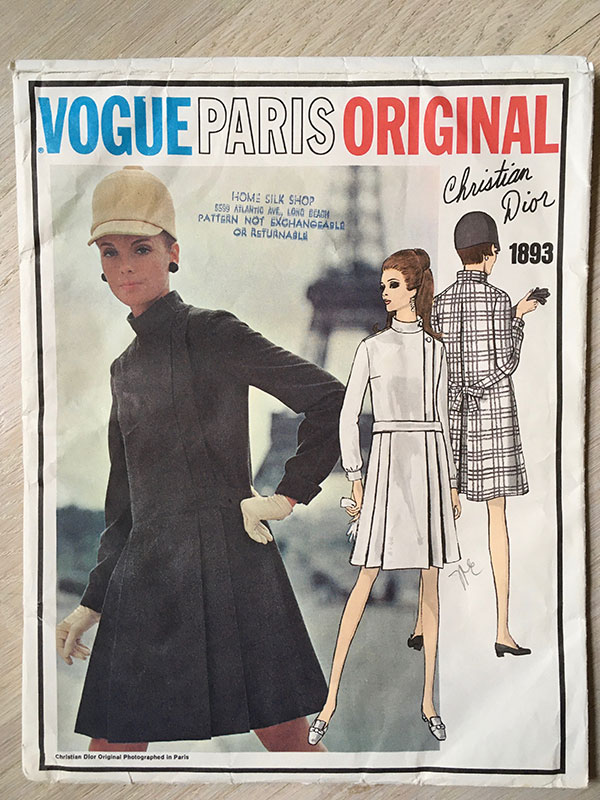 Searching online for one thing will often lead me to another thing—so further down the inspiration rabbit hole I tumbled. A dozen clicks away from images of embellished swim caps were photographs of sewing patterns from the 1960s. I must have spent hours browsing vintage sewing pattern photographs from Vogue Paris Original and Vogue Couturier patterns—these were designer garments straight off the runway, made into sewing patterns for the home sewist. The photos on the front of the pattern envelope showcased the model, outfitted to the max with a hat and gloves.
The details of the garments were inspiring to me, with unusual pattern piecing and decorative pockets. But what I really loved seeing was a little bit of an urban environment in the background of the fashion photoshoots—the surprise of looking at sewing patterns and stumbling upon a city instead. 
This was when my three unexpected sources of inspiration collided. It was time to make my wardrobe plan.
Creating a Mood Board
Now that I had found an inspiration faucet—outside, in my pantry, and with vintage patterns—I wanted to funnel all of my ideas into a cohesive plan. Making a curated inspiration mood board is a central part of the DYW process, and it helped me set a goal, concept, and context for my collection.
After creating a mood board, I searched for contemporary outerwear sewing patterns that would translate my core concepts into a garment.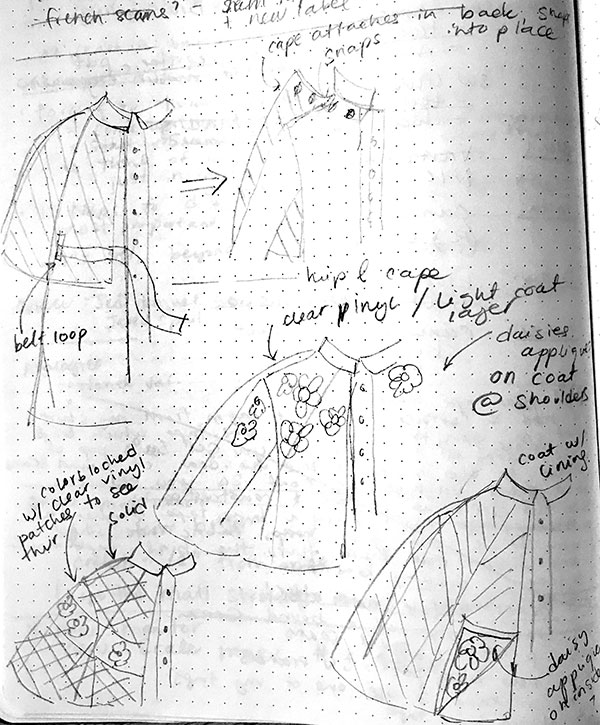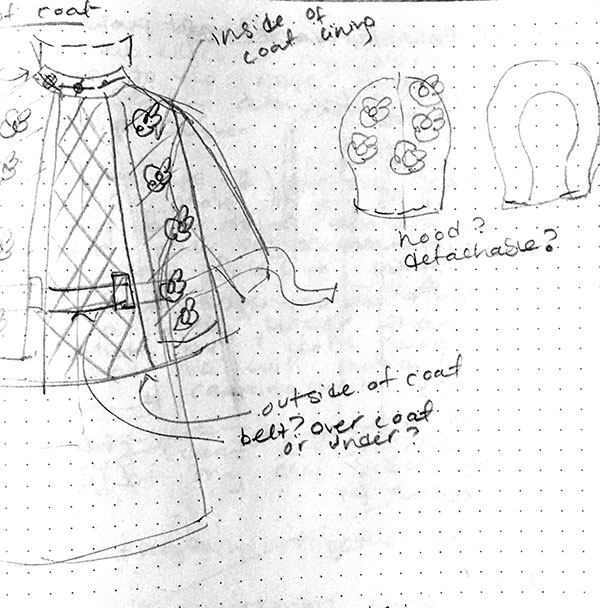 Making a Sewing Plan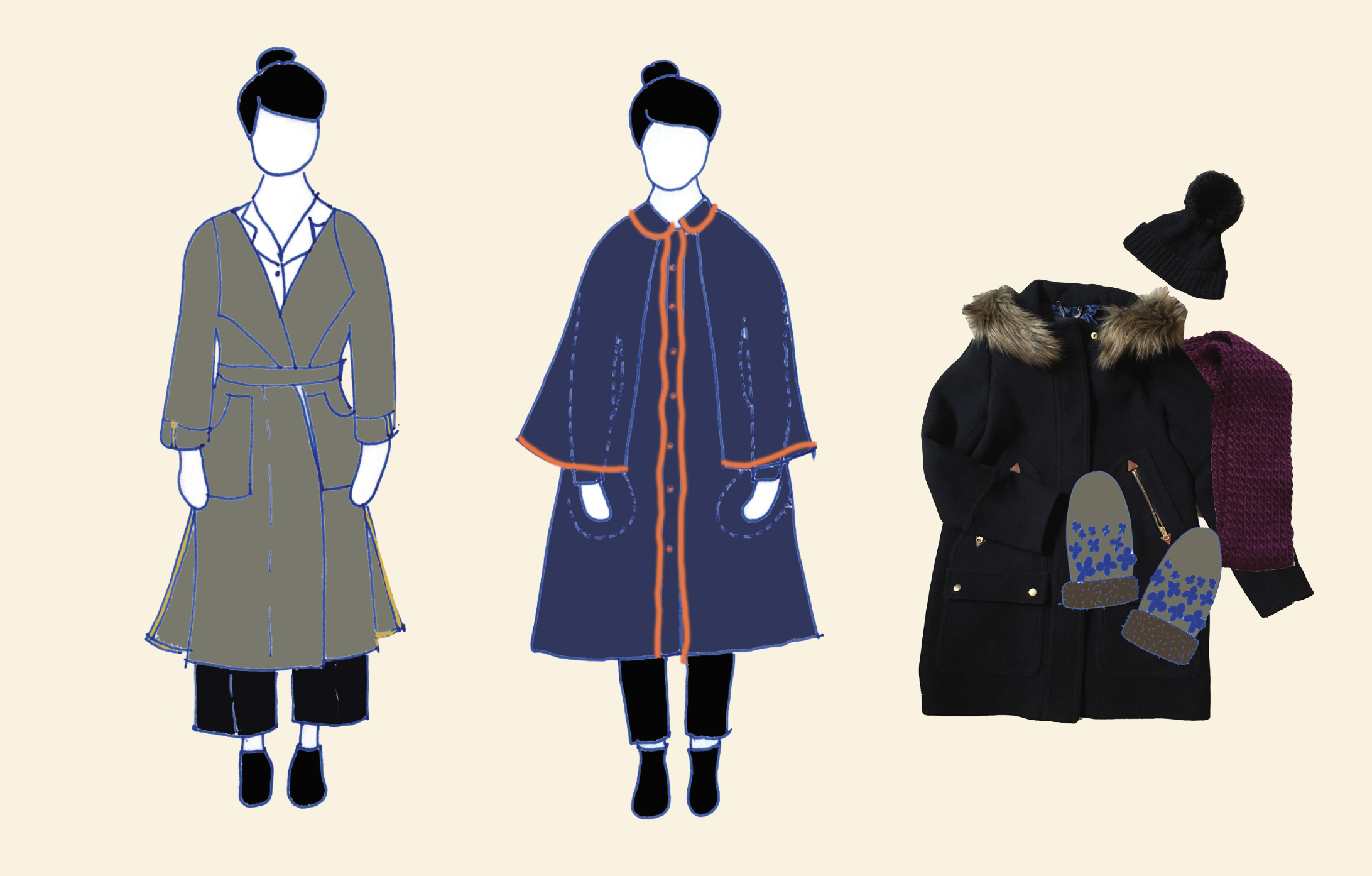 My three sources of inspiration all came together in my wardrobe plan. I planned to sew a few garments and some new accessories to wear with garments that I already own.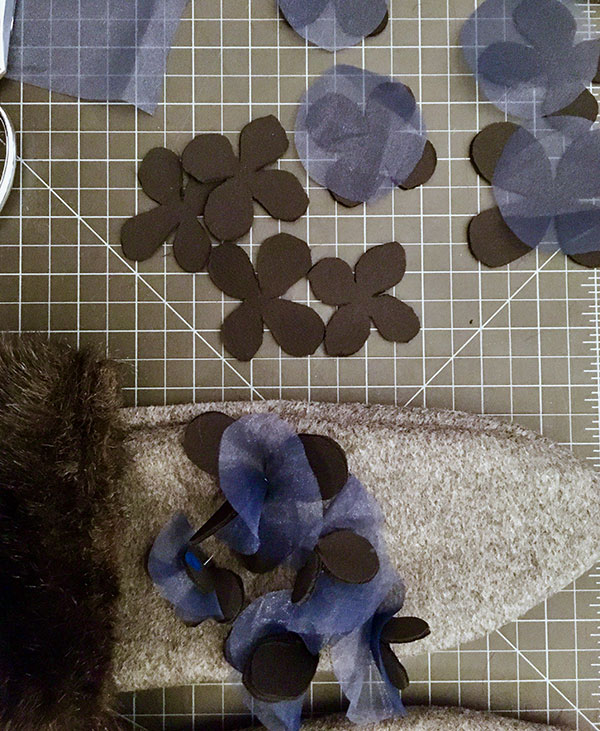 While browsing vintage patterns for inspiration, I came across a few cape-coats and was determined to make one of my own. I liked the idea of full sleeves that would keep my arms warm, paired with a cape for style. I couldn't find a contemporary cape-coat sewing pattern that fit my DYW concept, and I couldn't find a vintage pattern for sale within my budget. I decided to mash up two sewing patterns to make my own cape-coat, much like using on-hand ingredients from my pantry to make something new.
Since my outdoor walks focused on the bright colors and surprises in the city, I thought of adding a pop of color on my neutral-colored coats. I found a bright orange piping in my stash that could highlight the edges of my cape-coat. I also used leftover fabric to make bias tape for bound seams on my duster coat. I liked the idea that the accent color would only appear on an inside flap of the coat—a flash of color if the wind were blowing. 
I thought about how I could substitute different fabrics to create more embellishments, borrowing the experimentation from my cooking process for my creative process. Using scuba and polyester organza fabric, which were less inclined to fray, I played around with layering and bunching these two fabrics together. I ended up with abstract flower shapes inspired by the vintage swim cap petals that I could sew onto my mittens. 
My Lessons Learned
Feeling stuck creatively, DYW pushed me to find unexpected ways to get inspired. I looked all around me for inspiration, browsing not just fashion but other visual media, and examined different activities that touched my everyday life—like cooking and walking through the city. After taking lots of pictures, making sketches, and jotting down notes, I sorted through them and identified common themes to create this micro-collection.
Ultimately, I let my experiences guide my making practice and kept an open mind to new directions, not knowing the final outcome of my creative explorations—which is the best you can do during a pandemic.
What are some unexpected ways that you gathered inspiration while in lockdown? I'll see you outside!
Join the Conversation
Sign in or become a Seamwork member to comment on this article.